News
KonoSuba: Fantastic Days x Re: ZERO Collab Event Begins On November 9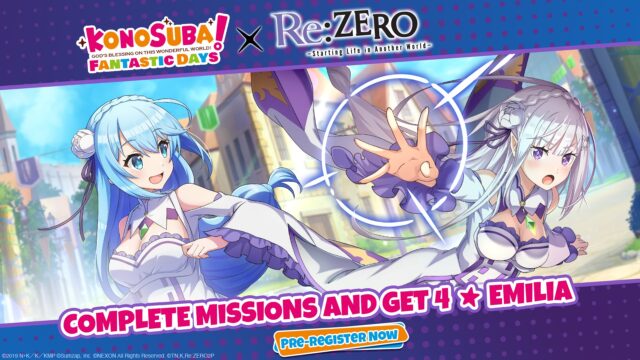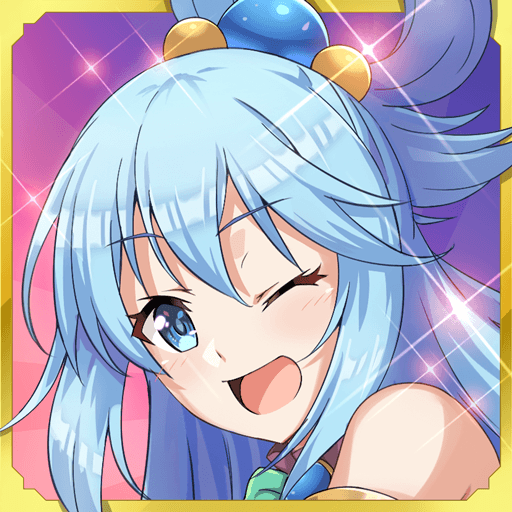 Nexon recently announced a collaboration between their RPG game KonoSuba: Fantastic Days and the popular ISEKAI anime series Re: ZERO. The limited-time collaboration event will last for 14 days starting on November 9th,2021, and ending on the 23rd.
"Stranded in Axel after encountering a mysterious Rainbow Gaint Toad, Sabaru and his friends need the help of Kazuma's party if they're going to find a way back home. Pre-register now and get ready to join Subaru and the gang in an otherworldly adventure!"
KonoSuba: Fantastic Days x Re: ZERO Collab Event begins On November 9 EN1
If you didn't know, KonoSuba: Fantastic Days features fully-voiced & authentic characters, including Kazuma, Aqua, Megumin and Darkness, just like in the KonoSuba anime. The original Japanese Voice Actors reprise their roles, featuring the likes of Jun Fukushima, Rie Takahashi, Sora Amamiya, Ai Kayano, and more.
If you haven't played the game yet, you can download it through the app stores on both Android and iOS devices.
Pre-Registration Event
The event starts on 10/28/2021 (Thur) and ends on 11/8/2021 (Mon). The more adventurers that join, the bigger the benefits. In-game rewards will be given out with each pre-registration milestone.
< Tier 1 > Upon Pre-Reg players get Skip Ticket x30 + Stamina Beef x3

< Tier 2 > At 50K Adventurers players get Mini Skill Potion x1 + Legendary Chalices x5

< Tier 3 > At 100K Adventurers- 1,000 Quartz

< Tier 4 > At 150K Adventurers- 1,500 Quartz

< Tier 5 > And At 200K Adventurers players get 2,000 Quartz + 4★ Guaranteed Ticket x1

Test Your Knowledge of Emilia
Here, on the official KunoSuba: Fantastic Days website, you will find a small "Test Your Knowledge" section. Now there are four True or False questions for you as the fan to answer. Here are the questions;
Emilia has silver hair and purple eyes.

Emilia struck a pact with Puck, the Great Spirit of water.

Emilia is a spiritual arts user who mainly uses ice-based magic. Emilia has a unique ability that allows her to return to a safe point when she dies.

Emilia has a special ability that allows her to return to a safe point when she dies.
For any fans or really anyone who watched the series can these questions without a sweat.
The Collaboration Event Log-in Bonuses
Players who log in daily from October 26, 2021 (Tue) to November 9 (Tue) will receive bonus rewards. Remember log-in bonuses are reset every day at 0:00 AM (UTC+0), and the gifts will be available in your in-game Gift Box for 1 year total. Here are the rewards for each day;
Day 1 -Skip Ticket x20

Day 2 -Stamina Beef x2

Day 3 -Eris x50,000

Day 4 -Large Power Potion x5

Day 5 -Skip Ticket x20

Day 6 -Moderate Upgrade Stone x10

Day 7 -3★+ Guaranteed Ticket x1

Day 8 -Skip Ticket x30

Day 9 -Stamina Beef x2

Day 10 -Eris x50,000

Day 11 -Large Power Potion x10

Day 12 – Skip Ticket x30

Day 13 – Moderate Upgrade Stone x10

Day 14 – 3★+ Guaranteed Ticket x1
Things To Expect From The Event
God's Blessing on Those from Re: ZERO!: Fans will be delighted to see characters from KonoSuba and Re: ZERO interact with each other in this exclusive story. Players who complete the story event will receive a four-star Emilia recruit to use in-game.

Battle Arena EX Boss Petelgeuse: Players will face off against Re: ZERO's Sin Archbishop of the Witch Cult, Betelgeuse, in this all-new game mode.

Re: ZERO Collaboration Recruit: In this recruiting event, players have the chance to recruit Megumin and Aqua in new Re: ZERO-inspired costumes and fan-favorite maid Rem from Re: ZERO.
Apart from these, KonoSuba: Fantastic Days will also receive these major updates along with the collaboration.
Main Story – Chapter 10: Players will be able to enjoy the next part of the main KonoSuba: Fantastic Days story with the addition of this chapter.

Trial of the Ancients: This new game mode allows players to train their team members further.

Battle Arena EX: This new Battle Arena will offer players exclusive and high-value rewards.
That's it for now. Stay tuned for more gaming news.