News
Legend of Pandonia: A New P2E Mobile RPG Game Utilizing Blockchain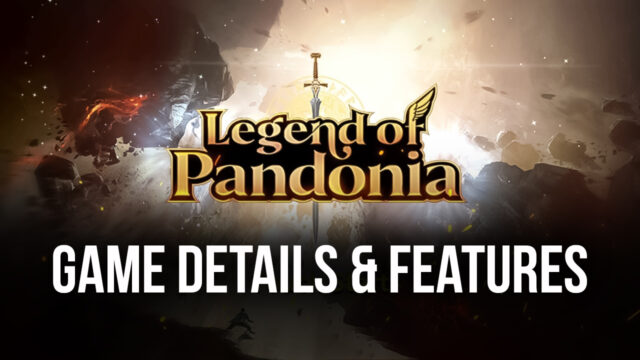 Read all about the newly released P2E game Legend of Pandonia from Pando Software, Inc, learn about the game features as well as the blockchain-based mPANDO coin.
Pando Software, Inc recently launched their newest P2E mobile game, Legend of Pandonia. LoP is a strategy based RPG integrating blockchain technology or NFT in the form of mPANDO coin.
mPANDO Coin is the main in-game currency in LoP, which can be earned by playing game modes and participating in many other activities. Players can also use the coins to upgrade their heroes with the help of Heroes Transcendence, Arena ticket purchase & inventory expansion. Keep reading to find out how to earn mPANDO in-game.
Game Details & Features
Legend of Pandonia is an anime-themed RPG; the players/ heroes must find the Soulstones and save the land from ruin. Warriors of five orders from across all of Hermes seek the five Soulstones to gain the power of the gods, so the Sixth Order, the Albion Knights, must find them first and prevent the destruction of Hermes.
Go on a fantasy role-playing adventure with hero Summons featuring 120 unique heroes gifted with Fire, Water, Air, Light and Darkness abilities. Players use these heroes to battle evil and find the Soulstones to save Hermes. Use strategy and tactics to overcome your opponents, summon, upgrade and collect heroes.
Quest with your best heroes and help save Hermes; feel the fantastic charm of animation RPG heroes and pets. And use tactics and strategy to assemble the best team for any situation.
Hero Games

Summon from over 120 unique heroes

Gacha system makes each new hero a welcome surprise

Upgrade your heroes and equipment to make the strongest team
Strategy RPG

The new Link system binds two to three heroes together to unlock buffs

Raid dungeons with your bounded heroes and head towards incredible battles

Attack using the unique attribute of your hero (Fire, Water, Air, Light and Darkness) to defeat opposing monsters
PvE Meets PvP RPG

JRPG: Go on an adventure with your team and save Hermes on Story mode

Multiple PvE modes: Fight the Evil of Devil's Dungeon to collect runes and battle in the Temple of Hermes to earn gems and precious items

Online PvP: Compete with other players in thrilling PvP Arenas
Battles With Unique Controls

Action RPG gives you control of your heroes.

Battles let you use up to 6 heroes (3 main heroes, three support heroes)

Strategically position your team and target your attacks for maximum control over your battle with a touch-and-drag system

Tag System: collect tag gauges to summon your support heroes to battle!

Use skills and reinforce your attacks.
How To Earn mPANDO Coins In LoP
Players can earn mPANDO by completing six daily quests.
Challenge Daily Quest- Clear Challenge 5 times

Temple Armes Daily Quest- Clear Temple Armes 1 time

Abandoned Fortress Daily Quest- 1 time

Dungeon of Demons Daily Quest- 1 time

Tower of Heroes Daily Quest- 1 time
The reward here is 20 mPANDO for completing these quests. Apart from these, players can also acquire mPANDO by;
Completing the Star is Falling event ( total 620 mPANDO).

Clearing the Hero Achievement, completing the Heroes of Star 6 and the Endless Growth 5. (40 mPANDO)

Clearing the synergy dungeon stage-3.

Completing the Tower of Abyss.

Completing the Tower of Hero.

Clearing the Guide Quest.

Playing Story Quest.

Through Arena Season.

Completing the event of the 7th day of Dispatch Heroes.

Through the Lenia's Purchase Bonus Event

Through the Total Diamond Usage Event
Legend of Pandonia New Event
In this event, players will get rewards by inviting friends to the LoP Discord Server.
Event Duration
1st week: Jan 14 08:00 to Jan 21, 07:00 (GMT+0)

2d week: Jan 21 08:00 to Jan 28, 07:00 (GMT+0)

3d week: Jan 28 08:00 to Feb 04, 07:00 (GMT+0)

4th week: Feb 04 08:00 to Feb11, 07:00 (GMT+0)
Just follow the step below to sign up for the event.
Participate by first joining the LoP Discord Server here

. Then click the 'Create Invite' icon located on the left board to create an 'Invite link'.

Share the Invite link you created with your friends.

If a friend joins the LoP Discord Server through the Invite link you created, it will be recognised as participation in the event.
How To Win
When 100 new Discord participants are reached, the top 10 people who invited many friends will be rewarded.

If there are less than 100 new Discord participants, no reward will be paid.
Rewards are distributed on the last day of the event.
1st position- 1,200 diamonds

2d- 800 diamonds

3d- 500 diamonds

4 to 10th- 300 diamonds
Things To Keep In Mind For The Event
Set the Discord nickname and Game nickname identically.

If any type of abuse is detected, you will be excluded from the event.

Event rewards may change depending on the situation.
Coupons
Be sure to check the coupon issue and expiration date, period: 1/14 ~ 2/11 (GMT+0).

Every day at 08:00 (GMT+0), a coupon number will be released in the official community.

Coupon is valid until 3/31 07:00 (GMT+0).

Each coupon can be used once per account.
Legend of Pandonia: Roadmap
This roadmap can be found on the official LoP site, although mPANDO is currently featured in the game. The backend, including the wallet, is yet to be integrated, have a look below.
Milestone 1 Jan 2022- Launch

Milestone 2 Feb 2022- Integrate mPANDO Wallet, Integrate mPANDO Coin, Deposit mPANDO.

Milestone 3 Q2 2022- Equipment exclusive, Royal Rumble, Guild Battle

Milestone 4 Q3 2022- Maze of Chaos, Altar of Spirits, Stigma Bound

Milestone 5 Q4 2022- Guild Occupation
You can download and play Legend of Pandonia now on both Google Play Store and the App Store. That's it for now; stay tuned for more gaming-related news from us.