News
Lords Mobile Exclusive Deals and Redeem Code for IGG 16th Anniversary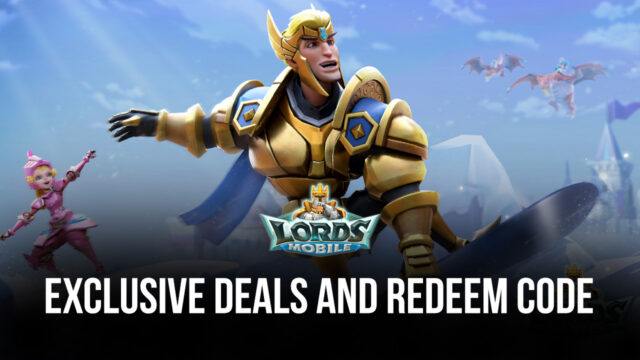 It's celebration time again for all the Lords in Lords Mobile: Tower Defense, the strategic Tower-Defense RPG, the free-to-play title available on Google Play Store and iOS App Store. The game's developers IGG have just turned 16 years old and are looking to share their festivities with all of their developed and published games. Lords Mobile itself celebrated its 6th year anniversary in recent months where it introduced a ton of quality of life changes and improvements to enhance the new player experience. Sadly, we will not be privy to some gameplay changes or addition of content this time but we do see an extravagant amount of offers and deals on the purchase of in-game items or real-life merchandise and goodies. Lastly, a new exclusive redemption code is also revealed for the occasion of IGG's 16th anniversary and is available to be claimed by all players.
Glorious Offers and Deals
There are numerous deals and offers currently live in Lords Mobile: Tower Defense, with players getting different in-game packs at heavy discounts. Apart from in-game packs, players can also purchase different merchandise and goodies at a heavily discounted price. Here are the different deals going on in Lords Mobile: Tower Defense.
DEAL 1: 20% OFF vouchers up for grabs!
Enjoy discounts on top of special deal prices.
DEAL 2: 50% off Monster Mug Sets! Lowest price ever!
Drink with style with the Frostwing Customizable Mug.
DEAL 3: Up to 25% discount for select figures!
Unite with Heroes, such as Child of Light and Petite Devil.
DEAL 4: 10% off all classic merchandise!
Includes huge and exquisite mouse mats, luxury playing cards, Hero T-Shirts, and more!
Players can purchase these merchandise for Lords Mobile: Tower Defense on the official website of IGG. Keep in mind that these deals last only till 13th June 2022. A special voucher code can be used while checking out to avail of even more discounts! The voucher code is – HAPPY16
Redeem Code for Lords Mobile: Tower Defense
An exclusive redemption code for the special occasion of IGG's 16th year anniversary is also being released in Lords Mobile: Tower Defense which provides a ton of gameplay enhancement resources like Speed-Ups, Gold, etc. The Redeem Code is – IGG16YEARS
Contents
–
Research Speed Up (3 hours) x 5
Players can feel free to Redeem this code before 13th June 2022. This code is available to all players but limited to 1 use per account. If you're wondering how you can redeem the code, here is a short guide on how to do it –
Players can avail of the redemption codes by going to Lords Mobile Exchange Center -> Type your in-game IGG ID -> Type the code "IGG16YEARS" and click on Claim. Players can get the rewards for the code in their in-game mailbox.
We highly recommend playing Lords Mobile: Tower Defense on a PC with BlueStacks using a keyboard and mouse for a fast and lag-free 60 FPS gameplay experience.