Updates
Epic Seven – New Hero Eda, Epic Pass Youthful Spring 2021, Sidestory, Web Event, and Much More in 3/11 Patch Notes!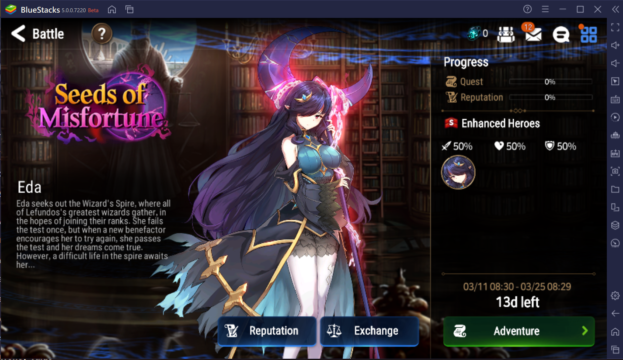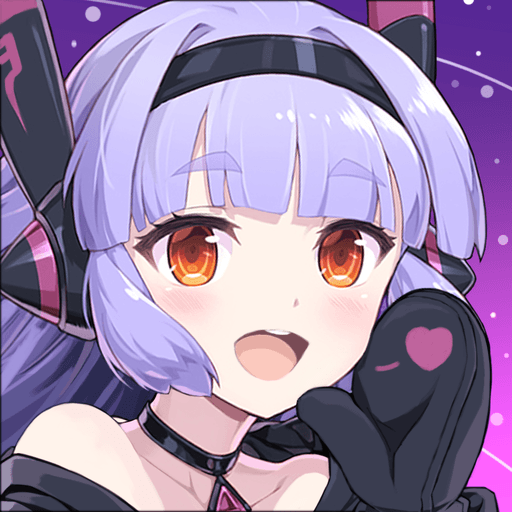 Smilegate introduced another content-rich patch for their popular turn-based RPG game Epic Seven this week in the weekly Patch Preview live stream on their YouTube channel.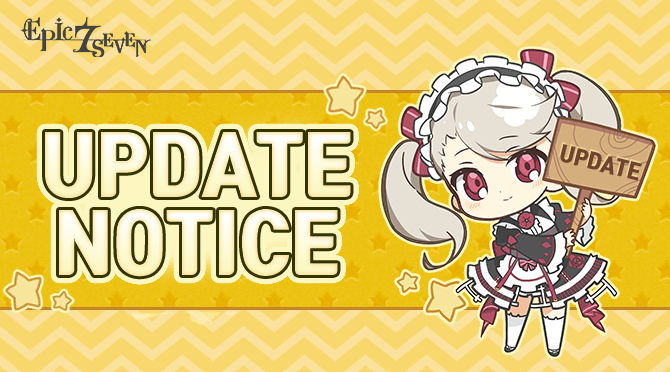 The Patch introduced a new Ice elemental 5 Star Mage Eda, Epic Pass Youthful Spring 2021 with Violet's Ardent Gentleman Skin, Seven Sweethearts Sidestory Week 3, and Seeds of Misfortune Sidestory for the newly released hero Eda.
New Hero Eda
Eda is the newest 5-Star to be released in the game with the current Patch 3/11. Eda is a 5 Star Ice Elemental Mage, who can control enemies by inflicting additional effect when a Critical Hit is triggered. As her official description reads "Eda, a Half-Elf who made a name for herself as a high wizard in Lefundos long, long ago. She disappeared without a trace after causing a massive explosion in a war."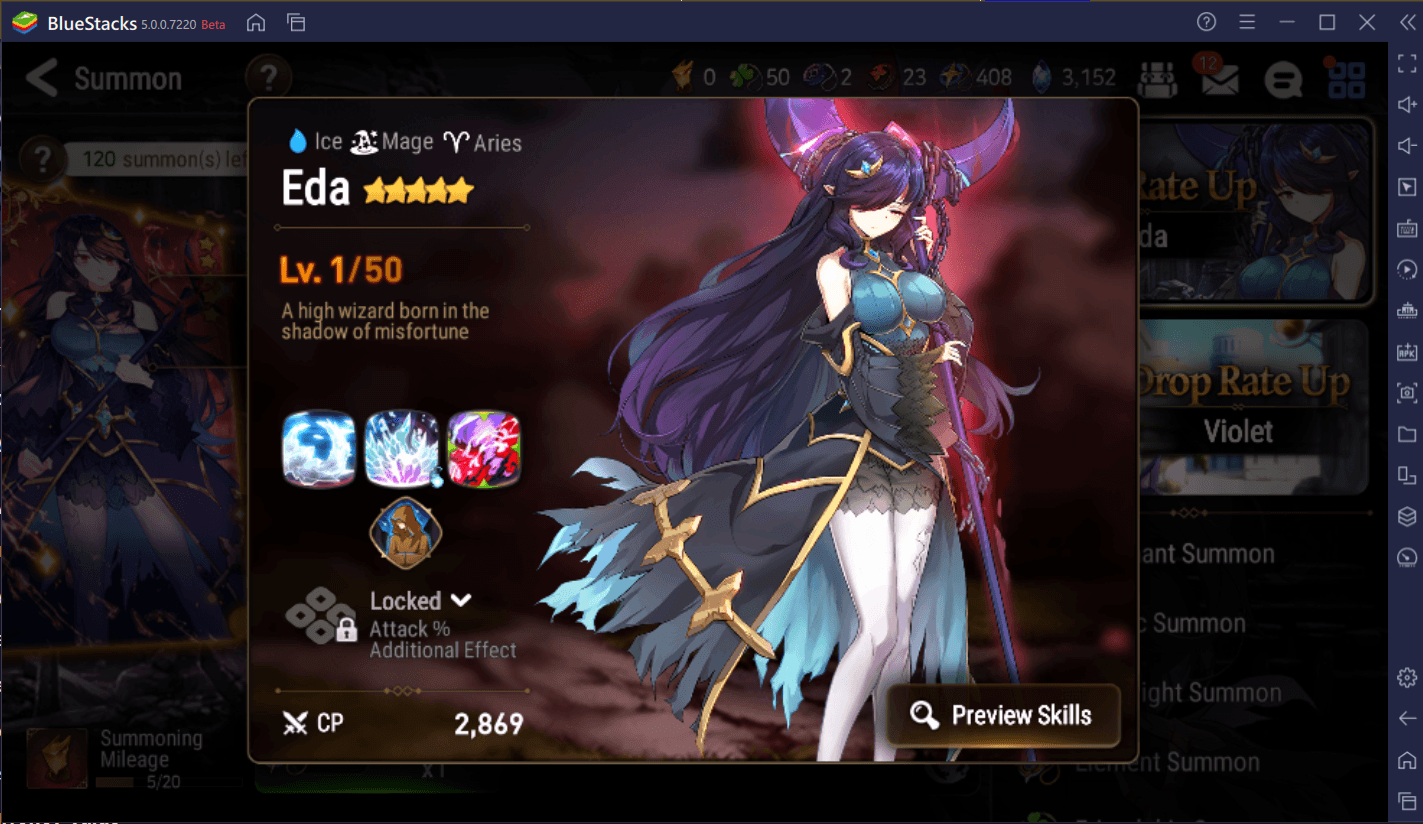 Her skillset involves a lot of combat readiness control and stuns. She can manipulate her enemy's turn bar and provide additional effects when landing a critical hit. Hence, she is highly reliable at a high critical rate to make her most effective in battles. Her abilities are the following:-
ICY IMPACT (Skill 1): Attacks the enemy with shards of ice, with a 65% chance of making them unhealable for 1 turn.
COLD SNAP (Skill 2): Attacks all enemies with the explosion of ice, dispelling one buff before decreasing Combat Readiness by a random amount between 5-20%. A critical hit will decrease another additional 10% Combat Readiness.
ABSOLUTE ZERO (Skill 3): Releases energy to attack all enemies, with a 60% chance to Stun for 1 turn. Increases Combat Readiness of all allies by 5 % according to the critical hits made.
It is recommended to build her speedy with a high critical rate. She can disrupt enemies easily with her high combat readiness manipulation and AOE Stun on Absolute Zero.
Youthful Spring 2021 – Epic Pass
The new epic pass was also revealed during the Patch Preview Livestream by Lead Moderators Mashuu and Nue. Rewards included are the same as those of the previous Passes. The price of the epic pass is 900 skystones for Premium rewards and 1800 skystones for Premium rewards, as well as Violet's new skin Ardent Gentlemen.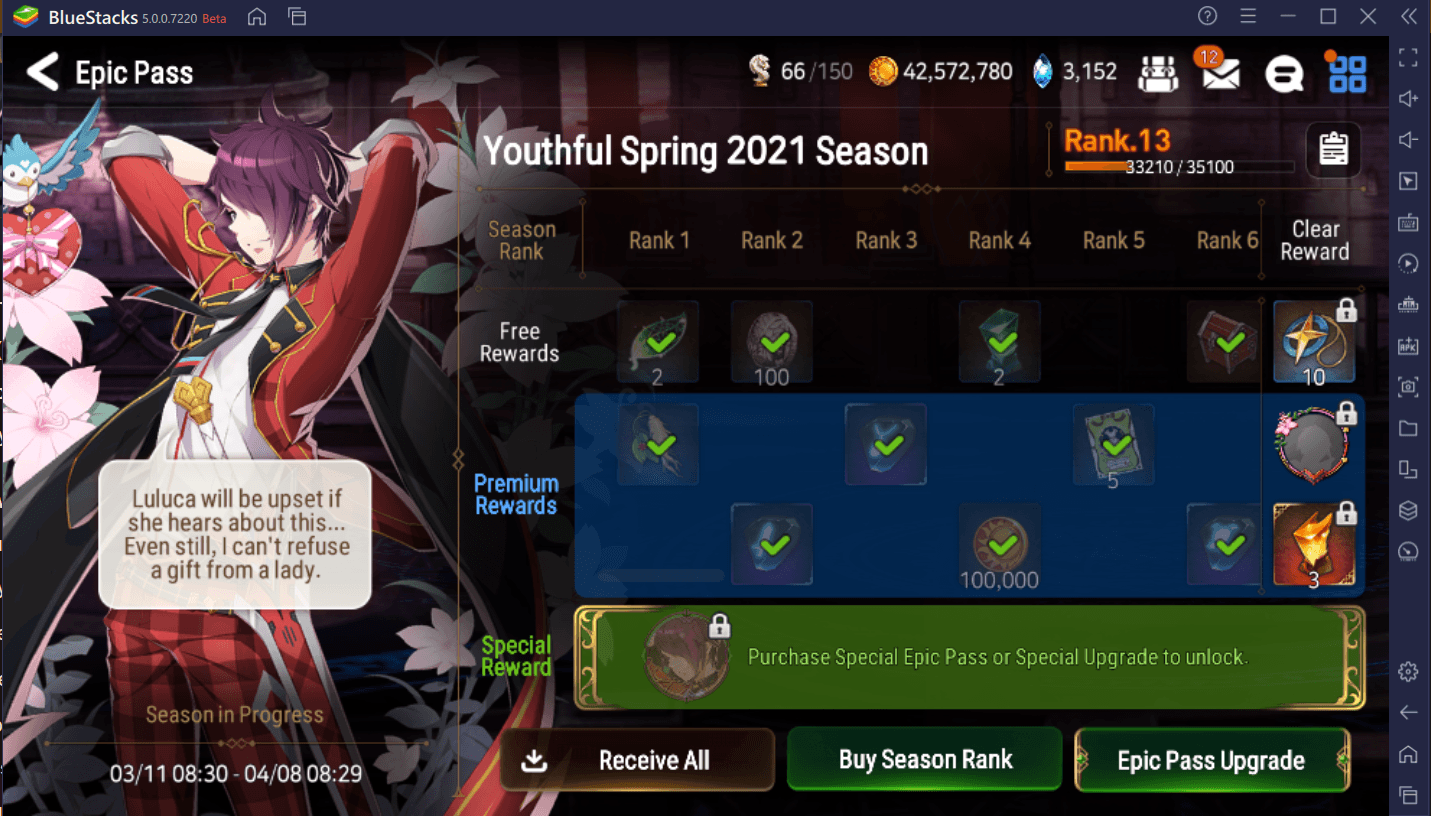 Players can access the new Epic Pass after the 3/11 Patch ends. We have already covered previous Epic Passes and this one is no different. These are always worth your SkyStones and offer higher value than you will be paying for. Epic Passes have 30 Season ranks in total. If the player wishes to purchase the Premium epic pass upgrade worth 900 skystones, which is highly recommended if you have saved up that amount, then 10 Season ranks will be cleared automatically for the user. Season ranks can be completed by spending energy, abyss tokens, arena tickets, labyrinth tokens, or can be bought by spending 100 skystones per Season rank.
Seven Sweethearts Sidestory – Week 3 Update
The Special Valentines Sidestory Seven Sweethearts will finally start its Week 3 "Our First Spring" Update after the 3/11 Patch is implemented. The Week 3 update will cover rounds 7 and 8 including Lucy, the newest 3-star hero available only through this special side-story. Players will get to know more about her background as well as her mysterious relations with other Reingar Club students.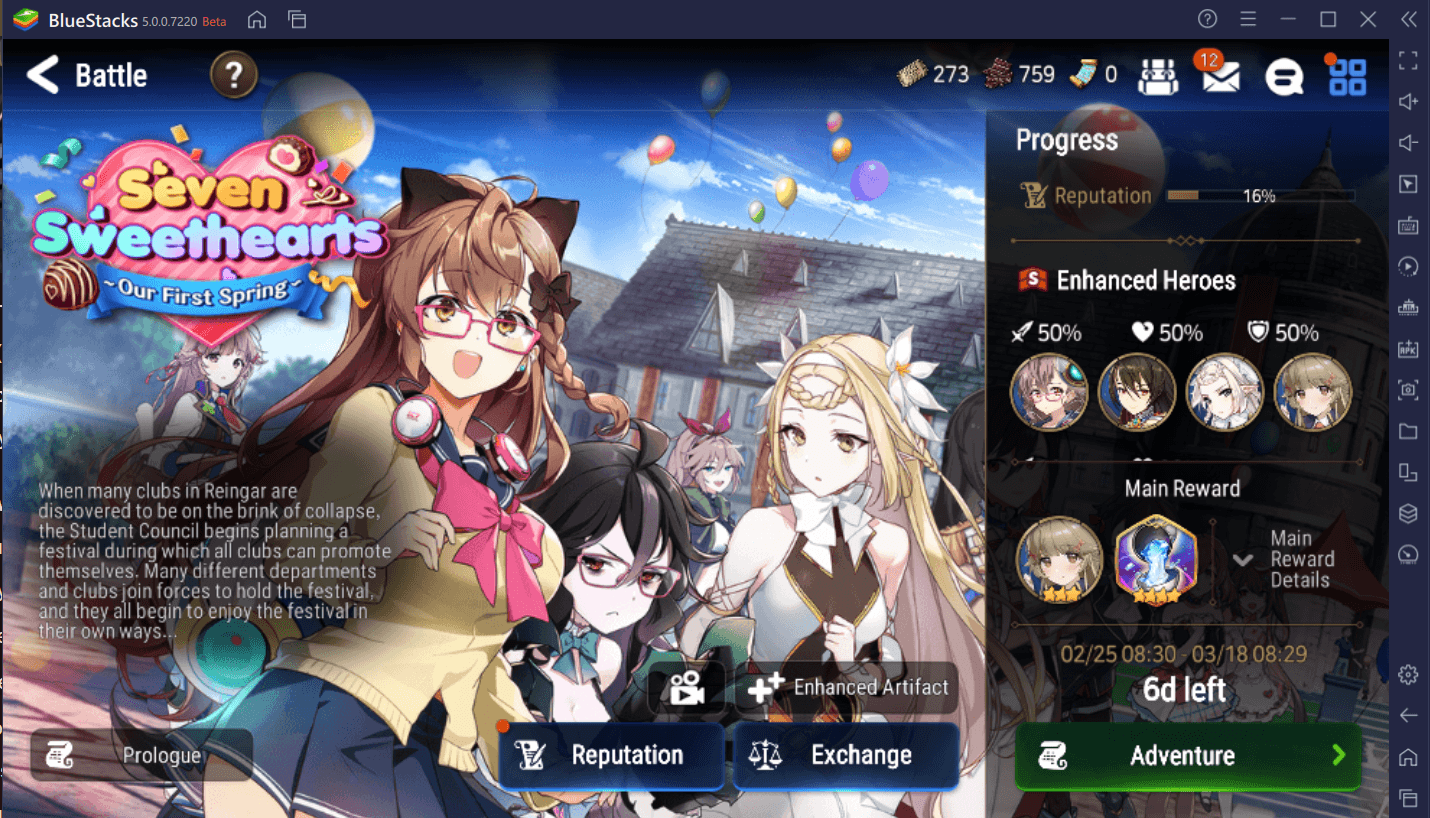 As we know, Seven Sweethearts is a special side story with a new mechanic included called "multiple endings". Players will have to deduce the 8 different endings and their paths on their own. Each week gave players more endings and this week 3 updates will conclude the last 2 remaining endings. As a spoiler, if players are confused about how to access the round 7 endings, players will need to finish the round 6 endings after which round 6 will become forever inaccessible but will open the round 7 endings. This week's event currency is called "Temporal Trace" and can be used in the side story exchange shop for valuable items like MolaGora, Copies of 3-Star hero lucy, Artifact XIV Temperance, Epic and rare catalysts, phantasms, covenant bookmarks as well as gold. A Special MolaGora challenge will also be available for 1 time clear after clearing round 8 of the side-story.
Seeds of Misfortune Sidestory
As the side story's description reads "Eda seeks out the Wizard's Spire, where all of Lefundos's greatest wizards gather, in the hopes of joining their ranks. She fails the test once, but when a new benefactor encourages her to try again, she passes the test and her dreams come true. However, a difficult life in the spire awaits her…"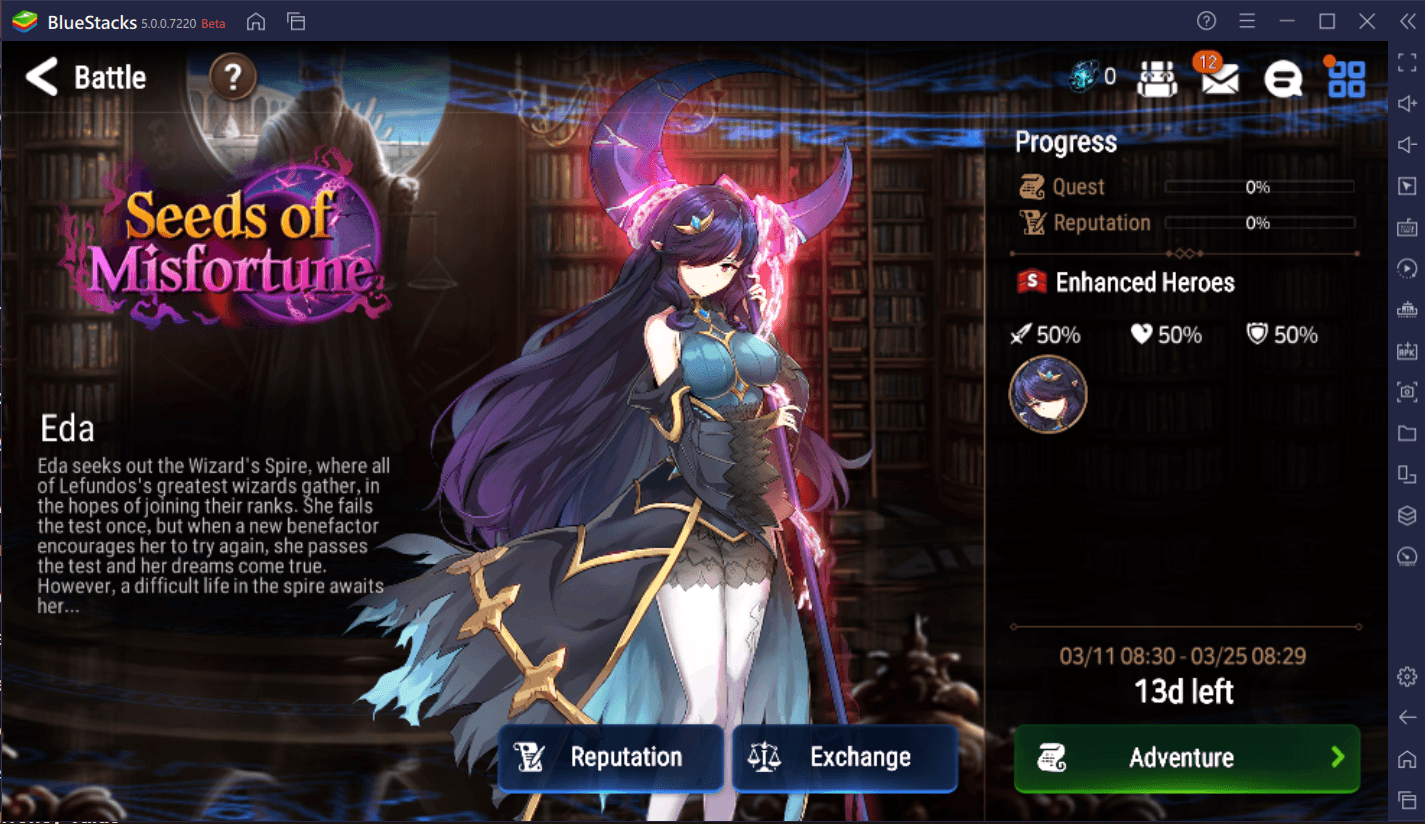 Seeds of Misfortune is a 2-week side story focusing on the unfortunate past of the newest hero Eda. Players can encounter new 2 star monsters while playing this side-story. Rare catalysts will also be randomly dropped while farming this side-story. The Event currency for this side-story is called "Mysterious Meteorshard" and can be earned by clearing the different stages of the side-story. This currency can later be exchanged in the Event currency exchange shop for valuable items like MolaGora, Epic, and rare catalysts, phantasms, covenant bookmarks as well as gold. During this side story, if players use Eda, her stats will be buffed as follows:-
Attack, Health, and Defense +50%
Rate Up Banners March 3/11 – 3/25
The rate up banners for the following weeks is as follows:-
Eda with Artifact Twilight Calamity ( 3/11 – 3/25)

Violet with Artifact Violet Talisman (3/11 – 3/18)
Lucky Point Shop Web Event
A new web event titled "Lucky Point Shop" is ongoing. The new web event rewards players for playing in Adventure Mode/Hunts/Spirit Altar/Expedition. The rewards include 200 Energy every day after completing any of the modes mentioned above 20 times as well as 4 points. These 4 points can be used for selecting different tier rewards like Energy, Leafs, Charms of different quality, and Gold. Players are also rewarded based on how many points are collected by them during the event period and are called "Bonus Point Rewards".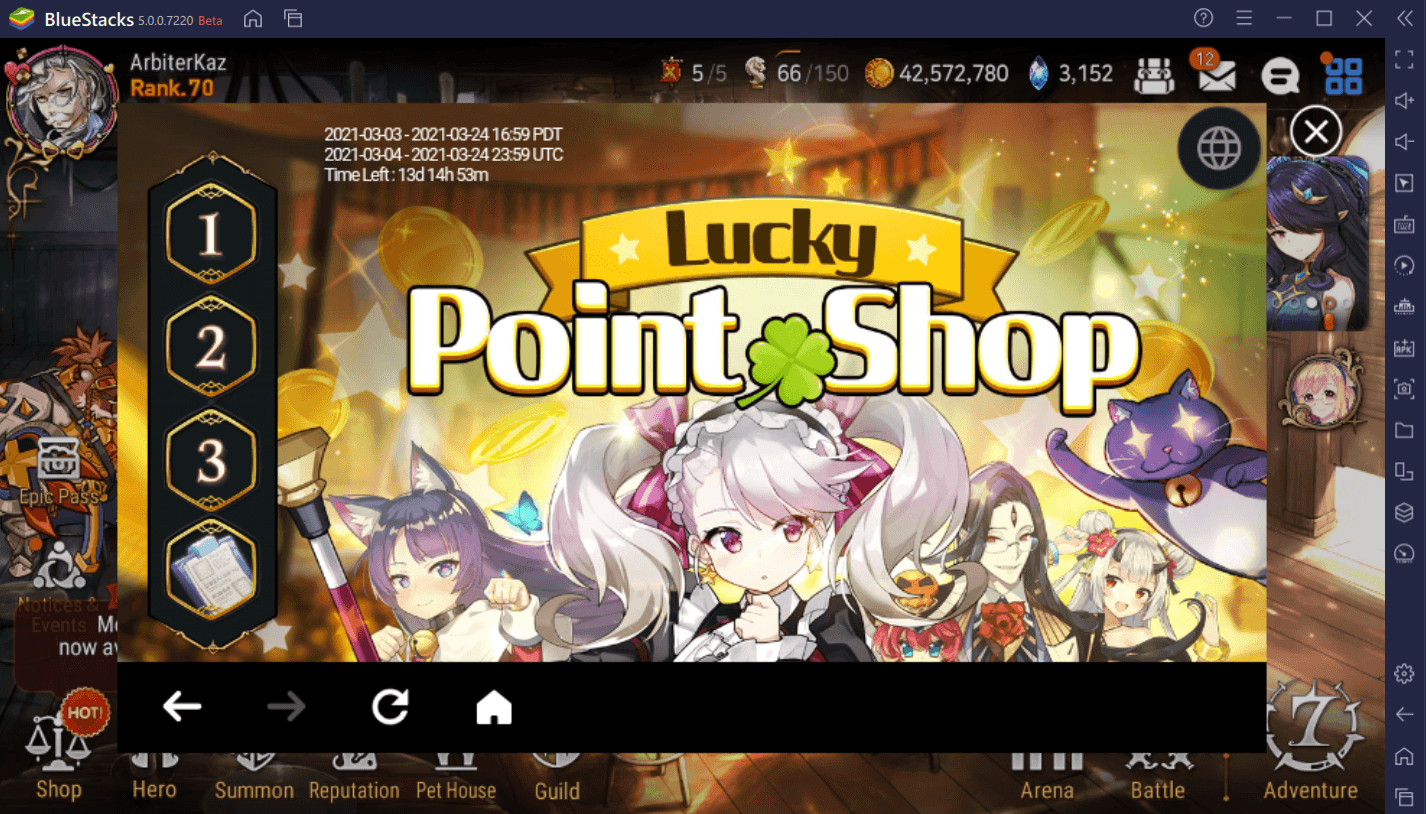 This is the first web event where Smilegate lets players choose their rewards and we recommended getting the Tier 1 rewards as soon as possible. Rewards included after completing collected point milestones are Free Unequip(12 Hrs), MolaGora, 15 Covenant Bookmarks, and 1 Gold Transit Stone. Overall, it's a great web event with generous rewards, so make sure to complete the event on time.
This is all from our side on this month's latest Patch Preview. To know more, feel free to read the official patch notes. Enjoy Epic Seven at its best on BlueStacks 5 with a keyboard and mouse.