Updates
The Seven Deadly Sins: Grand Cross 11/10 Update- New Hero, New Knighthood Boss and much more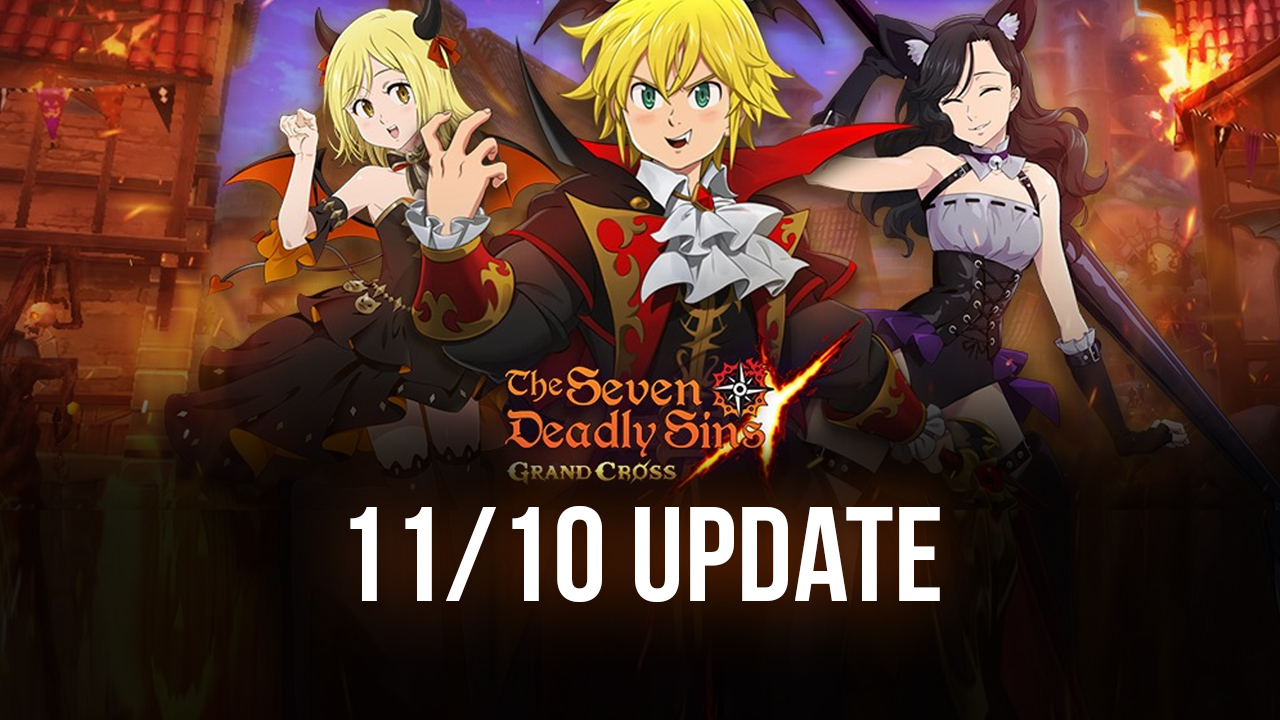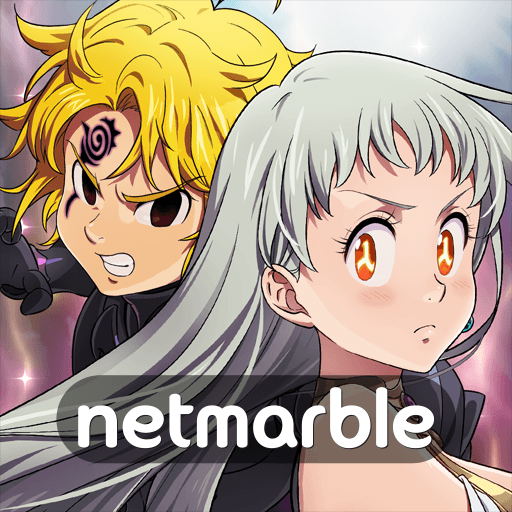 *Please make sure to close the game before maintenance starts to avoid any progress or data loss*
In celebration of Barta's birthday, Netmarble has decided to give out lots of new content. First and foremost, story chapter 12.5 is being released in which you will be able to receive lots of rewards by completing the new chapter.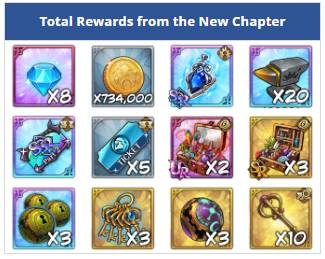 New Hero
The most awaited Goddess Elizabeth Festival banner is available after this update. This new banner will also include the previous festival banner hero "Virtual Body Doubles" Lostvayne Meliodas. After spending a total of 900 diamonds, you can choose an SSR hero of your choice from the above-mentioned heroes.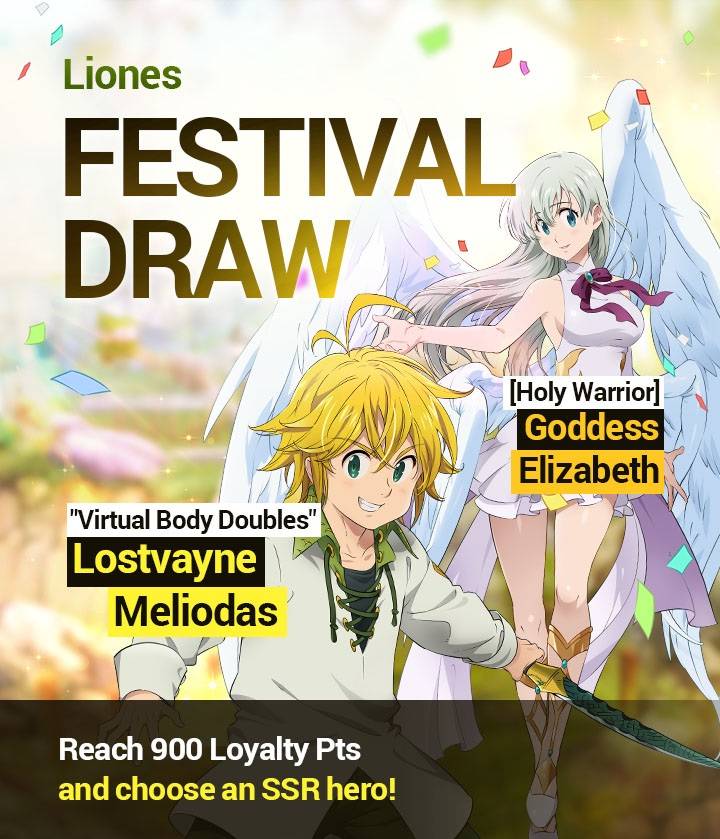 Along with this our most favorite Captain of the Knighthood of Scrap Disposal, Sir Hawk-Sama will be featuring. You can find more details about getting him for free in the post below.
Amazing rewards are just waiting for you to come and grab them by completing all the content of the Liones Festival Event.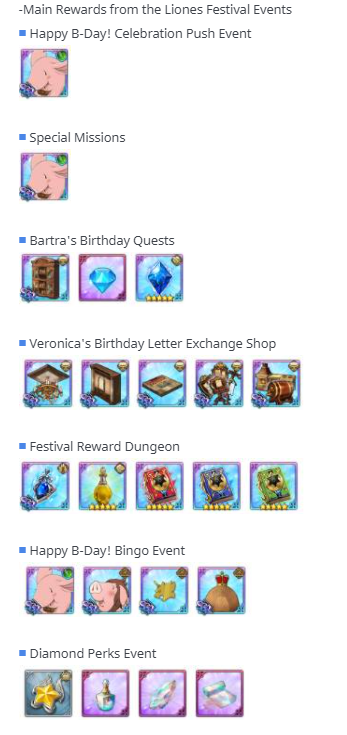 Knighthood Boss Battle, Demonic Beast Akumu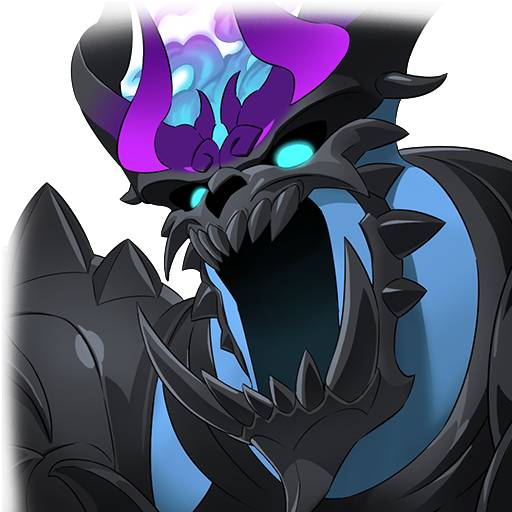 Finally, a new Knighthood boss is here. Prepare your best equipment for the terrifying Demonic Beast Akumu (Strength attribute) which will be available to battle after the maintenance is over.
Recommended Combat Class
Normal: 80,000
Hard: 130,000
Extreme: 180,000
Some basic info about Akumu is:
Immune to stun, petrify, freeze, coerce, and skill disable effects/ can attack while ignoring Evade
Can't be targeted when there are ally monsters present.
Invincible for 2 turns when alone.
Increases defense-related stats by 30% for each living ally monster and increases Attack-related stats by 30% for each dead ally monster.
Shield of Evil Spirit (HP Attribute)- Assumes a Taunt Stance every 2 turns.
Blade of Evil Spirit (Speed Attribute)- Performs a Weak Point attack every 3 turns.
Tips to battle Demonic Beast Akumu
Cancel the Shield of Evil Spirit's Stance every 2 turns.
Be prepared for Demonic Beast Akumu's Debuff Attack that targets everyone.
Don't waste your skill cards on Demonic Beast Akumu during his 2-turn invincibility.
New Costumes and Bundles
Three new costume sets can be bought for Goddess Elizabeth. Along with this, 'Honor and Scars Holy Knight Costume Sets' for Guila, Jericho, Gilthunder, Howzer, Griamore, Slater, Hendrickson and Drefus is available again.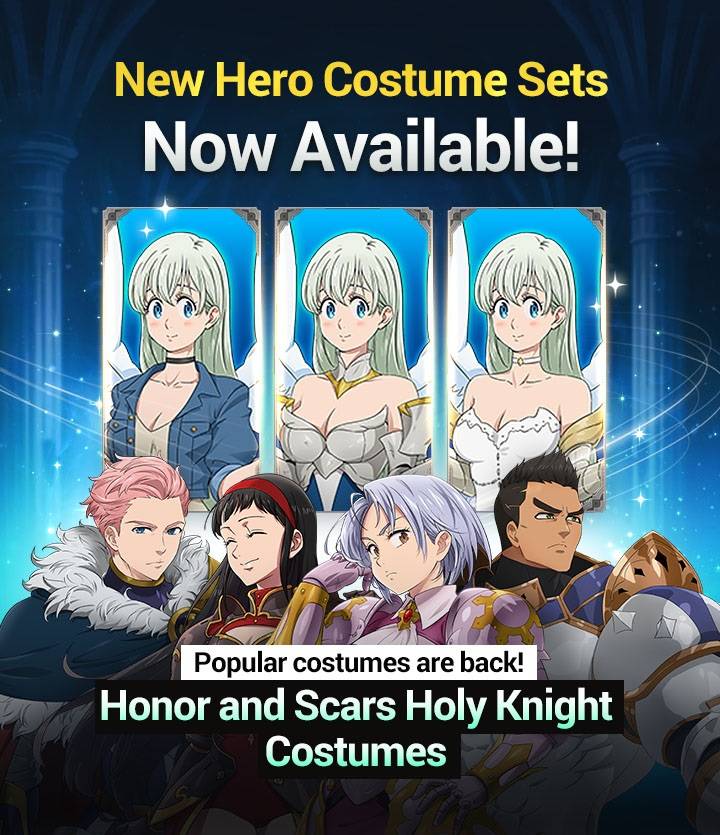 New products will be added to the Diamond Shop bundles, so be sure to check them out.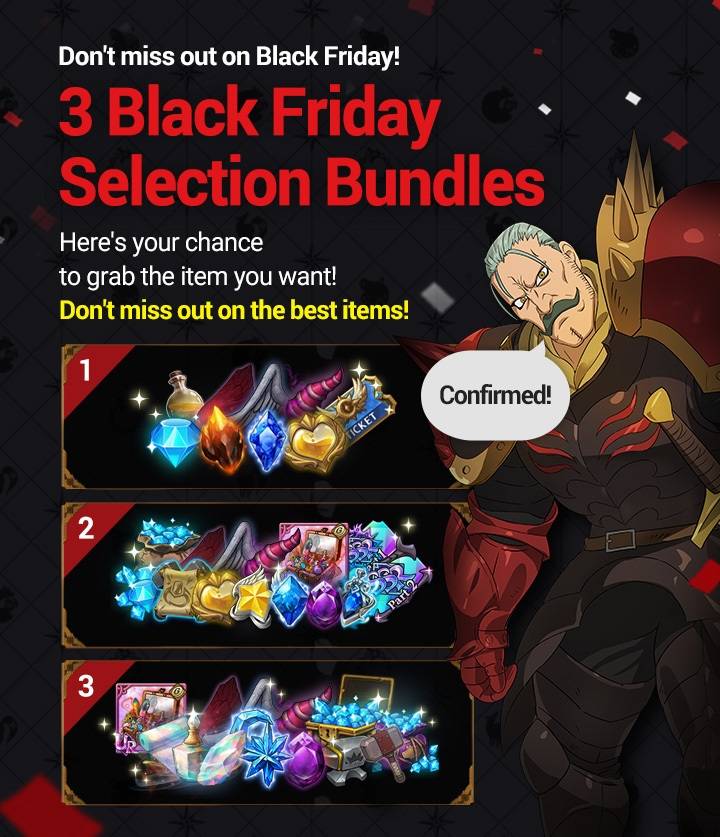 Other Small Updates
Buff at Account Combat Class 3,000,000 is available (Increase heroes' HP by 9%).
New tavern furniture will be available via Liones Festival Events.
[Nunchaku] Adventurer Ban has been moved from Part 1's normal and guaranteed SSR draws to Part 2's normal and guaranteed SSR draws.
Ending Events and Bundle
7DS & KOF '98 Pick Up Draw
7DS & KOF '98 Guaranteed SSR Draw
Special Missions
Heartthrob Athena's Gift
World Quests
KOF: Britannia
Ultimate Final Boss Omega Rugal
Vaizel Fight Festival Victory Rewards
Event Exchange Shop
Hero Enhance Super and Ultra Success Rate Increase
Salvage Super and Ultra Success rate Increase
KOF '98 Guaranteed SSR Bundle
Knighthood Shop Double Purchase Limit Event\