App Reviews
Days Of Empire Heroes Never Die Review: The Ottoman Empire Is Back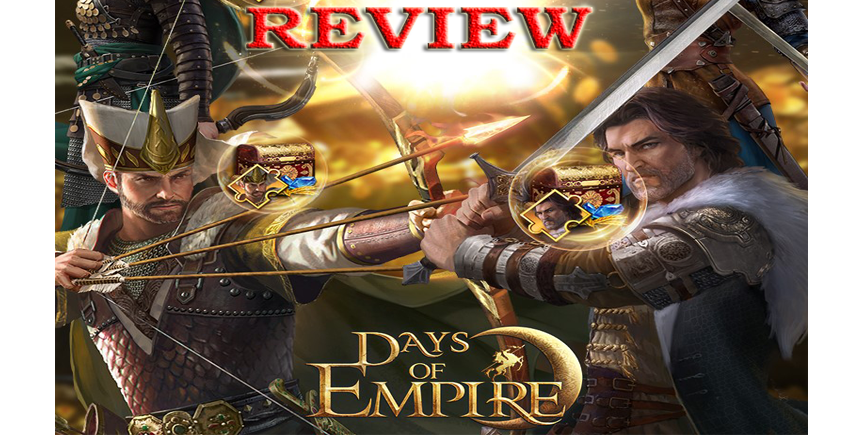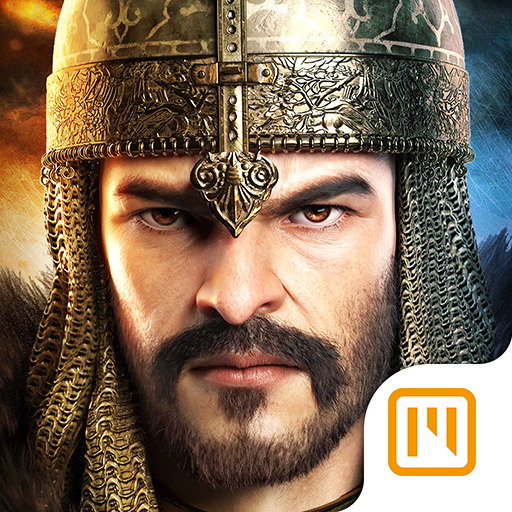 If you want to return to the glory days of the Ottoman Empire and conquer the world once again, Days Of Empire Heroes: Never Die, developed by ONEMT, is the game for you. Days Of Empire contains all the usual features of mobile conquest games, has a unique art style and manages to attract the attention of Turkish players especially because it is about their history. However, ONEMT is not a Turkish company: It is based in China and develops games for Arab and Turkish countries, and as a matter of fact, there is a completely Arabic version of the Days Of Empire game called "Sultan's Revenge". In this review, we will take a closer look at Days Of Empire: Heroes Never Die and explain what it truly offers. As a "lord", are you ready to rule the world once again on behalf of the Ottoman Empire?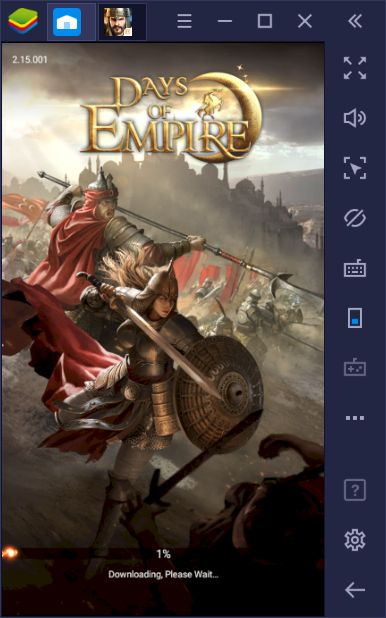 What To Expect From Days Of Empire: Heroes Never Die?
Days of Empire is a mobile conquest game using real time strategy (RTS) mechanics. We are sure you have played many games in this genre before. Even if you have played King of Avalon or Guns of Glory so far, you know everything you need to play Days Of Empire, because exactly the same mechanics are used. In fact, we can say that the only difference is that Days Of Empire is played from a vertical, not horizontal perspective. Simply put, you are a "lord" sent by the Ottoman Emperor to conquer distant lands, and you start the game by conquering a palace. Your next goal is to construct production and training buildings in your kingdom, raise their level, and train a large army: There are still lots of kingdoms to conquer.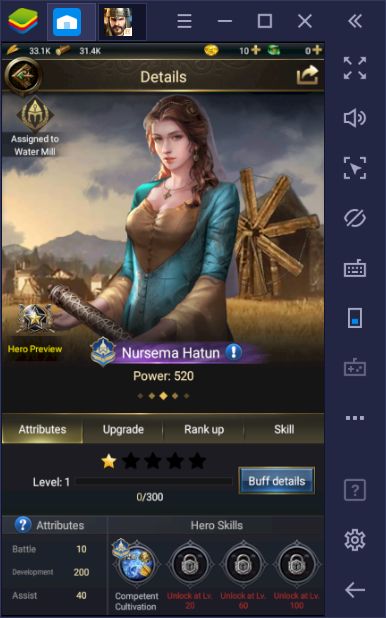 "Nursema Hatun" is a peasant girl who joins you as soon as you conquer the palace.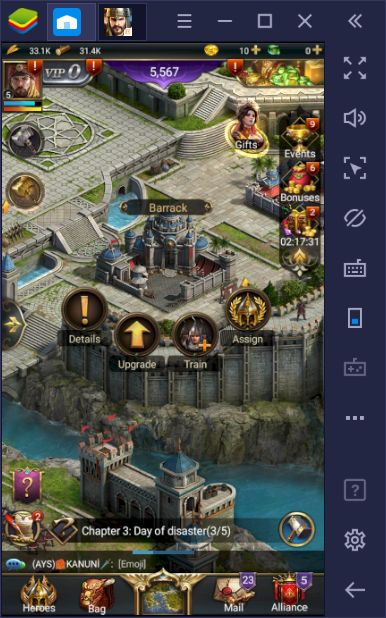 The first thing we do after conquering the palace is to build a barracks and train soldiers. Nursema Hatun looks pretty but you need soldiers too.
However, if you think that all you do is construct buildings and train soldiers, you are wrong. Days Of Empire also includes gacha mechanics. Indeed, a few minutes after starting the game, you are asked to make a "summon". There are two summon options, regular and advanced. As can be guessed, advanced summon gives better results and you are allowed to use it once for free. As we explained in the BlueStacks setup guide, you can use this to your advantage and continue to summon heroes until you get a good result. Summoned heroes are experts in different subjects such as battle and development, and they can assist you with various bonuses. Nursema Hatun, for example, can increase your resource collection speed. Another hero can increase your military power. Each hero needs to be assigned to a building related to the subject he/she is an expert.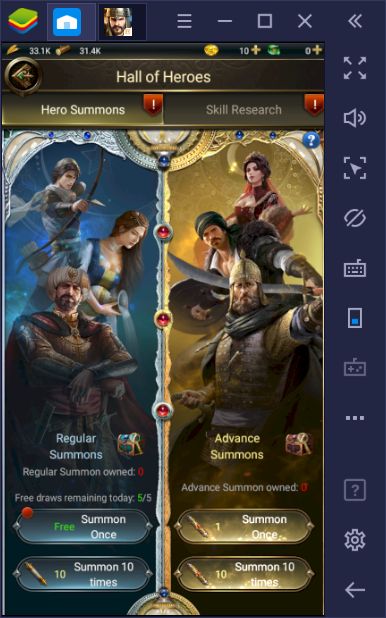 This is the summon screen: You can do five free regular summons every day.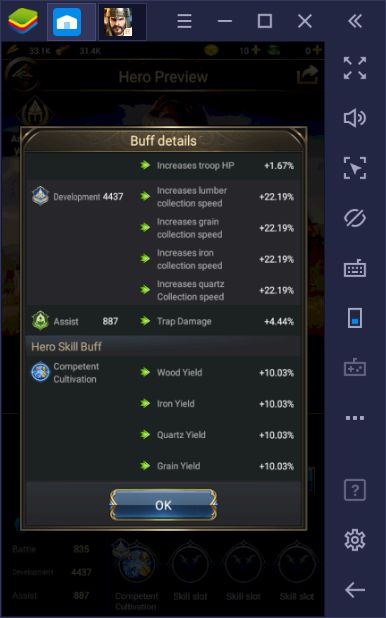 You have to assign each hero to a building. Nursema Hatun, for example, must be assigned to a Water Mill because she can increase the collection speed of various resources.
Build And Conquer
Using gacha mechanics through the "heroes" feature was a smart choice and adds a certain dynamism to the game. At least you have another goal other than constructing buildings and training soldiers. Speaking of which, building and fighting are still the basic mechanics of Days Of Empire. You are the sole ruler of a huge palace and must focus primarily on resource production first. You have to produce grain, lumber, and precious metals. For these, you have to construct and level up many production buildings. Once you have produced enough resources, you also need to start training soldiers because you are in a foreign land. You need a huge army to protect yourself and conquer new palaces. Soldier training also requires different types of buildings to be constructed. In other words, building construction is one of the most time-consuming tasks in the game.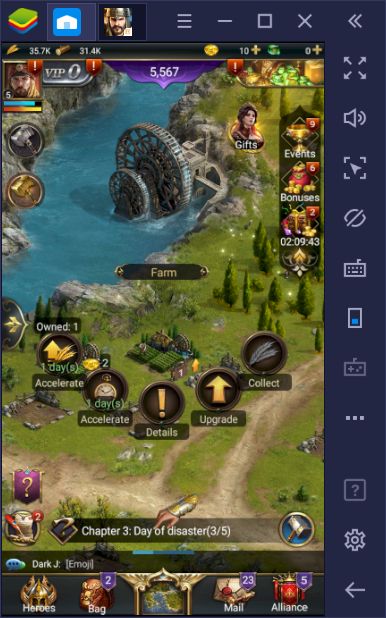 You need at least 5 of these tiny farms.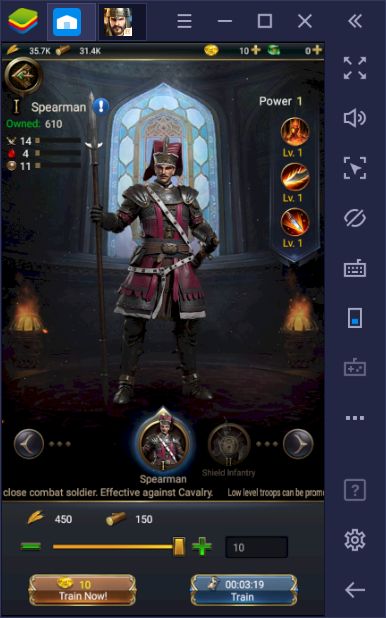 You can train different units for your army in military buildings. As you increase the level of the building, new types of soldiers will unlock for you to train.
Besides these, there is a world map and it is full of both enemies and resources. Once you have enough military strength, you have to start exploring your surroundings. On the world map, you can attack looters, collect additional resources, and raid other players' palaces if you feel brave enough. However, keep in mind that if there is a transparent bubble around a palace, you cannot attack it.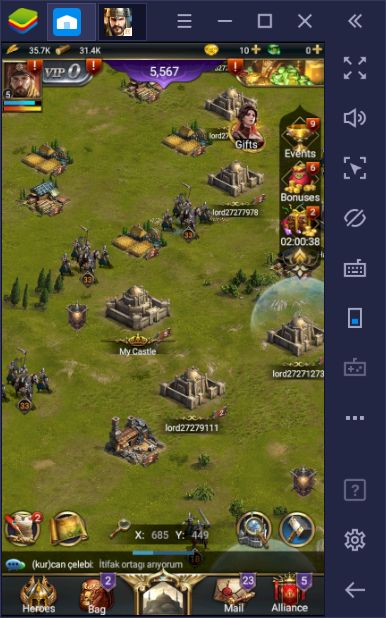 The world map is full of dangers, but if there is no risk, there is no reward: Don't forget to occasionally raid resource points near you.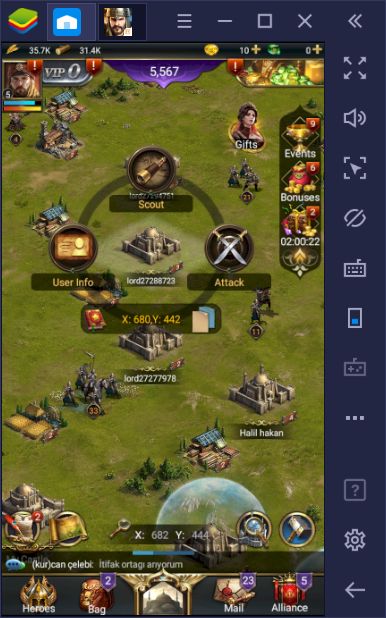 You can attack other players' palaces, but be careful. If you do this before your military strength increases enough, you will only lose your soldiers and gain an enemy. Also, remember that there is an alliance system in the game: If the palace you are attacking is a member of an alliance, you may be attacked by the whole alliance. Fun!
Speaking of alliances, we strongly recommend that you join an alliance if you are looking for allies for yourself. By doing this, you will not only earn 200 gold but also unlock some useful features. For example, alliance members can help each other to complete construction and research faster. You will also get access to a special alliance shop. It is also possible for alliances to fight each other on the world map too: Days Of Empire also supports large-scale PvP battles.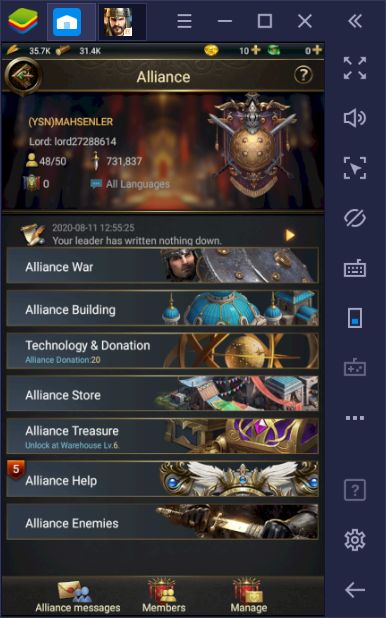 You can get many advantages by joining an alliance.
To sum up, Days Of Empire: Heroes Never Die offers almost nothing that we are not used to. It is possible to find all the usual mechanics of mobile conquest games in it, even the gacha system. But just because it doesn't offer anything new doesn't mean it doesn't deserve to be played. Days Of Empire is still a good game and manages to offer satisfying gameplay. Yes, it's not new, but it's not bad either – it contains tried and tested features. So if you like mobile conquest games, we are sure that you will like Days Of Empire too.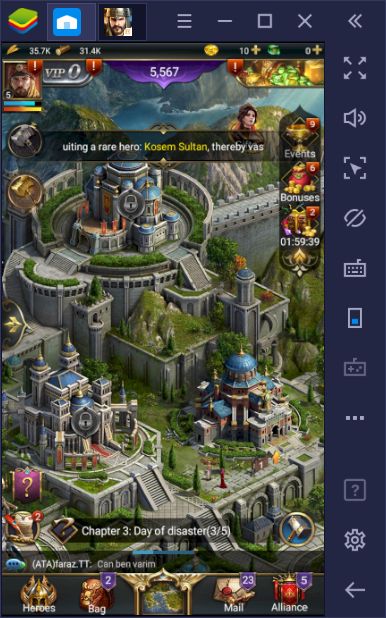 It looks more like an Elven palace than an Ottoman, but we are on foreign lands: This is normal.
Although the story is no different from a cliché action movie, it still catches your attention and after a while, you start to feel like a real "lord". If a game can do that, it's good – we strongly recommend you try Days Of Empire: Heroes Never Die. You can grow your kingdom faster and start challenging other kingdoms without wasting time by checking the other guides we have prepared for the game. Do not forget to send us your comments and opinions about the game, you can share your ideas with the entire BlueStacks community by leaving a comment.