App Reviews
Stellaris Galaxy Command Review: Say Hello To The Mobile Version Of A Legend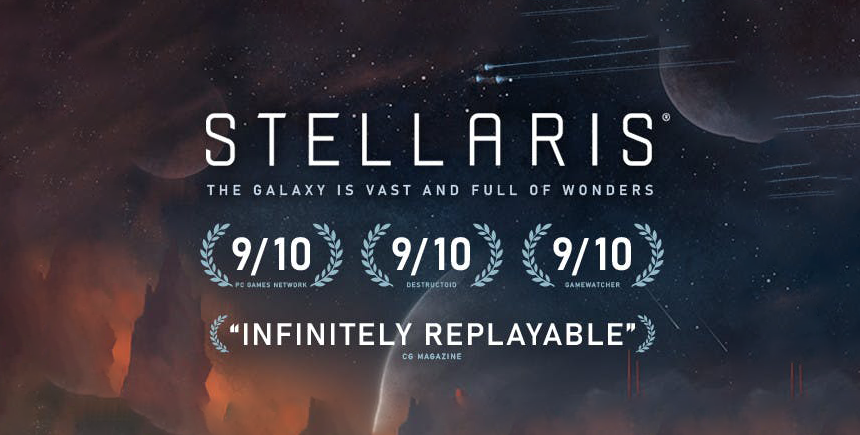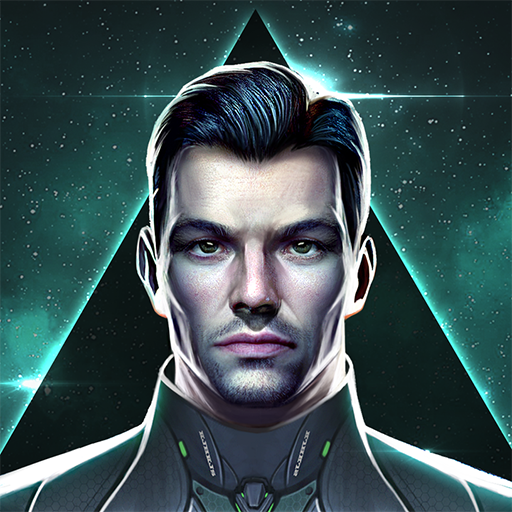 If you like strategy games, you've definitely heard of Stellaris. Developed by Paradox, this game is considered one of the most successful 4x grand strategy games ever. If you are a fan of this game, we have good news for you: Stellaris now has a mobile version that can be played on Android. If you haven't played Stellaris before, this is the best time to start because BlueStacks offers you numerous advantages for this game. Just like the original, you can play Stellaris Galaxy Command on your computer and establish your space empire to rule the entire galaxy. Moreover, with BlueStacks, you will be able to take advantage of many features that will make your job easier – we have explained them in detail in our setup guide. In this review, we will take a closer look at the game itself and find out how successful this adaptation has been. Are you ready to start a space opera adventure and become the most powerful person in the galaxy?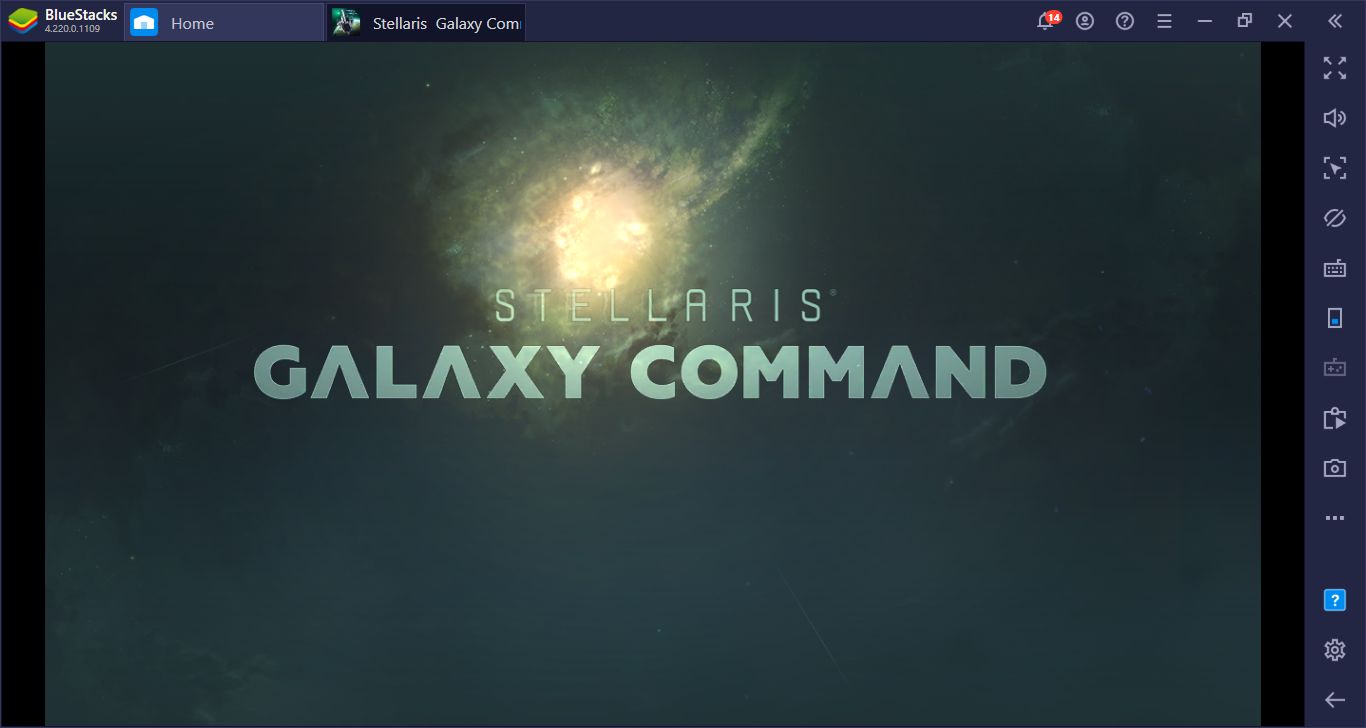 About Stellaris
Stellaris is a 4x strategy game released for PC in 2016 and for Xbox and PS4 in 2019. It is named so because it uses both turn-based and real time strategy mechanics and offers a huge game area. 4x is short for "Explore, Expand, Exploit, Exterminate" and Stellaris offers all of these mechanics. Set in the year 2200, the game shows what happens right after the discovery of faster than light (FLT) technology and lets you conquer the universe by fighting, building, and trading.
You fight both on the ground and in space, and you control a fleet of many ships to expand the area you rule. Stellaris includes both micro and macro management elements, and contains many features that will attract the attention of players who like to delve into details. Stellaris also has a large number of expansions and is still considered one of the most popular 4x strategy games, even after 4 years since its release. So, what does the mobile version look like?
Not That Big, But Still Big
First of all, let's point out that 4x mechanics cannot be fully adapted to the mobile version. Stellaris Galaxy Command is still a great game and has a lot of features, but it looks more like an advanced conquest game than a 4x strategy game. This is due to the restrictions of mobile devices: It is very difficult to adapt a game genre like 4x to touch controls and therefore Paradox Studios have had to make some sacrifices. We understand why: 4x has a niche audience even among computer gamers, and mobile gamers expect much simpler gameplay. Therefore, you start the game by building your base, and you don't see anything very different for a long time. Stellaris Galaxy Command is played just like a standard conquest game, such as King of Avalon.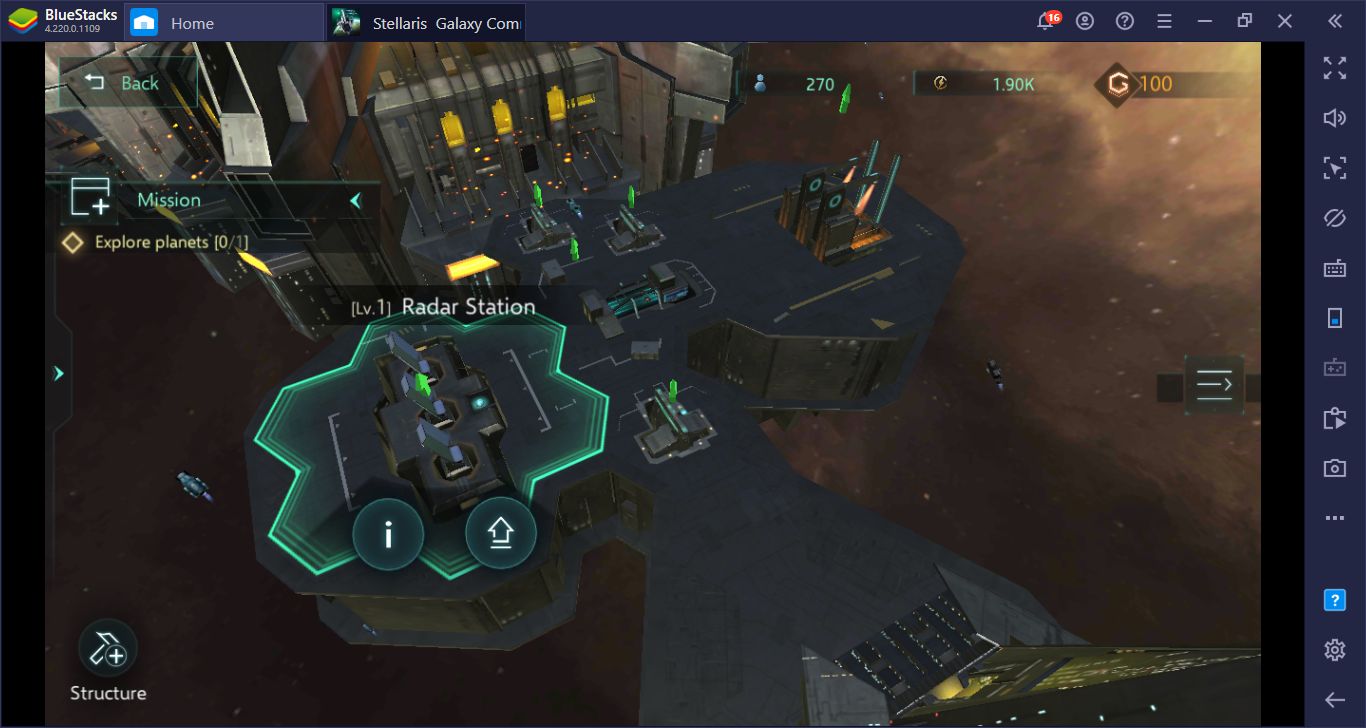 This is your base and the blue spots are the areas you can construct buildings.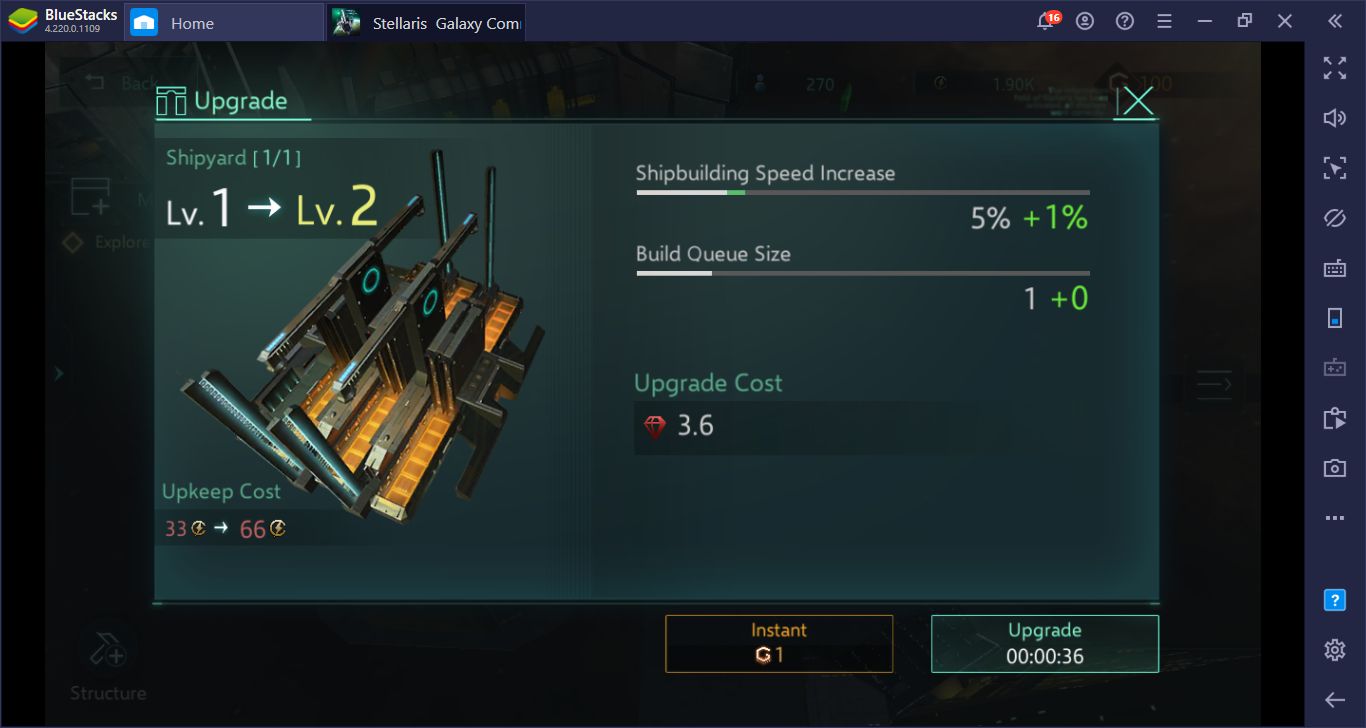 All buildings can be upgraded, just like a conquest game. However, most of the buildings can be upgraded individually, you don't need to upgrade your "castle" first.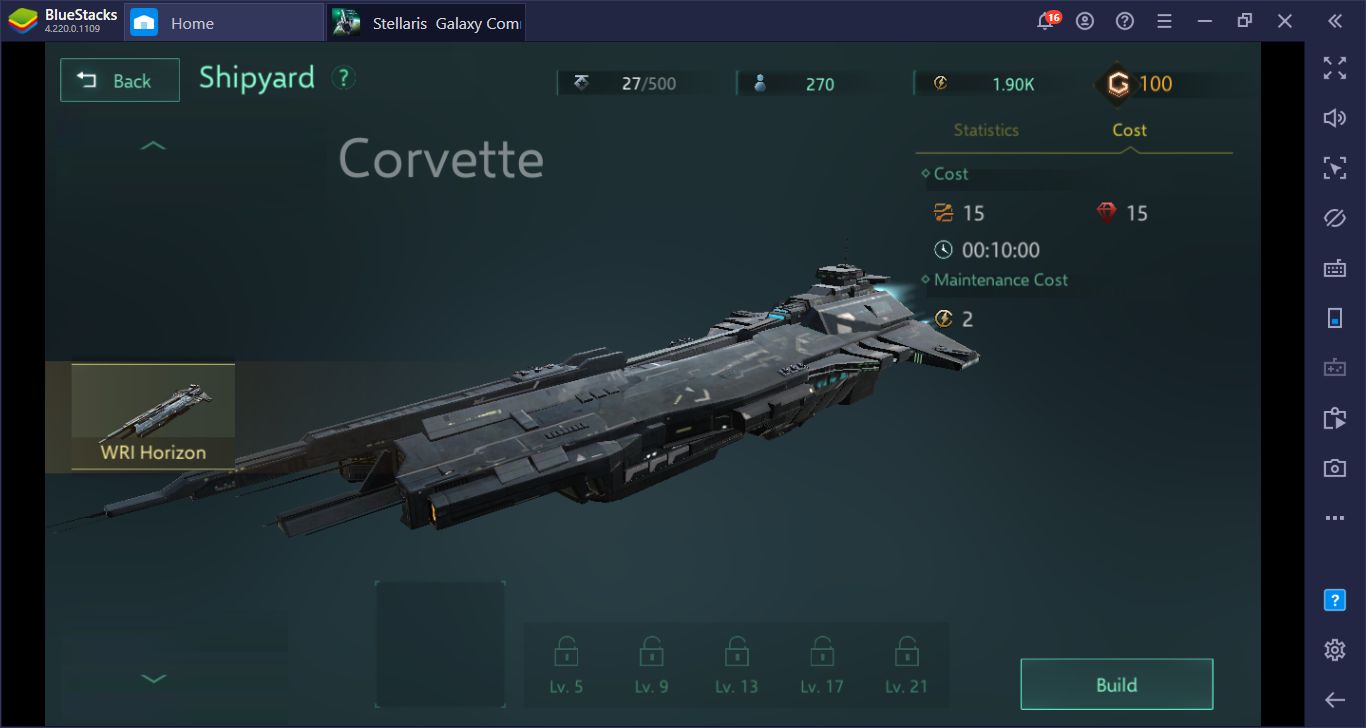 In order to start exploring the galaxy, you need a fleet: This is the first ship you can build.
After you get a ship, you can start exploring the galaxy: Your first mission is to attack pirates, which lets you learn about the combat mechanics. The battles are automatic – you select the target and that's it. Your ships handle the combat by themselves. You also need to assign a "commander" to a fleet, in order to take advantage of various bonuses.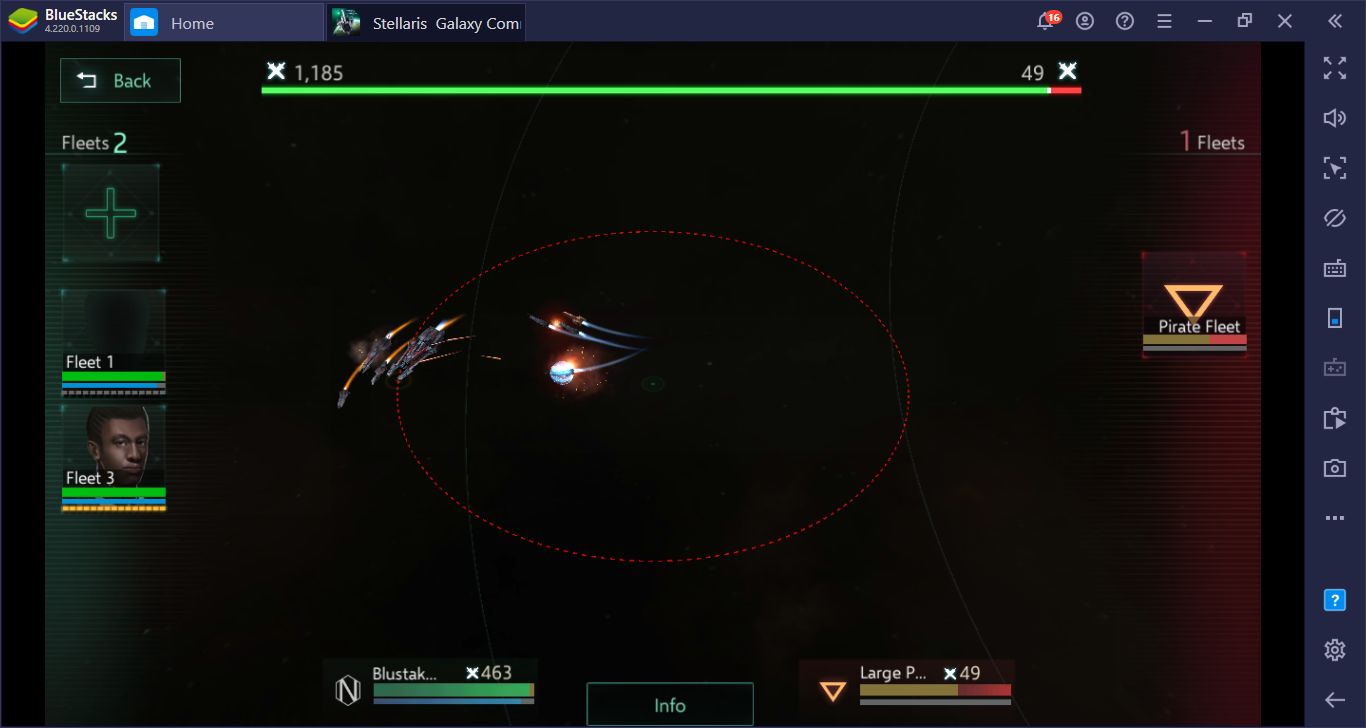 This is the combat screen: You can only watch the fight.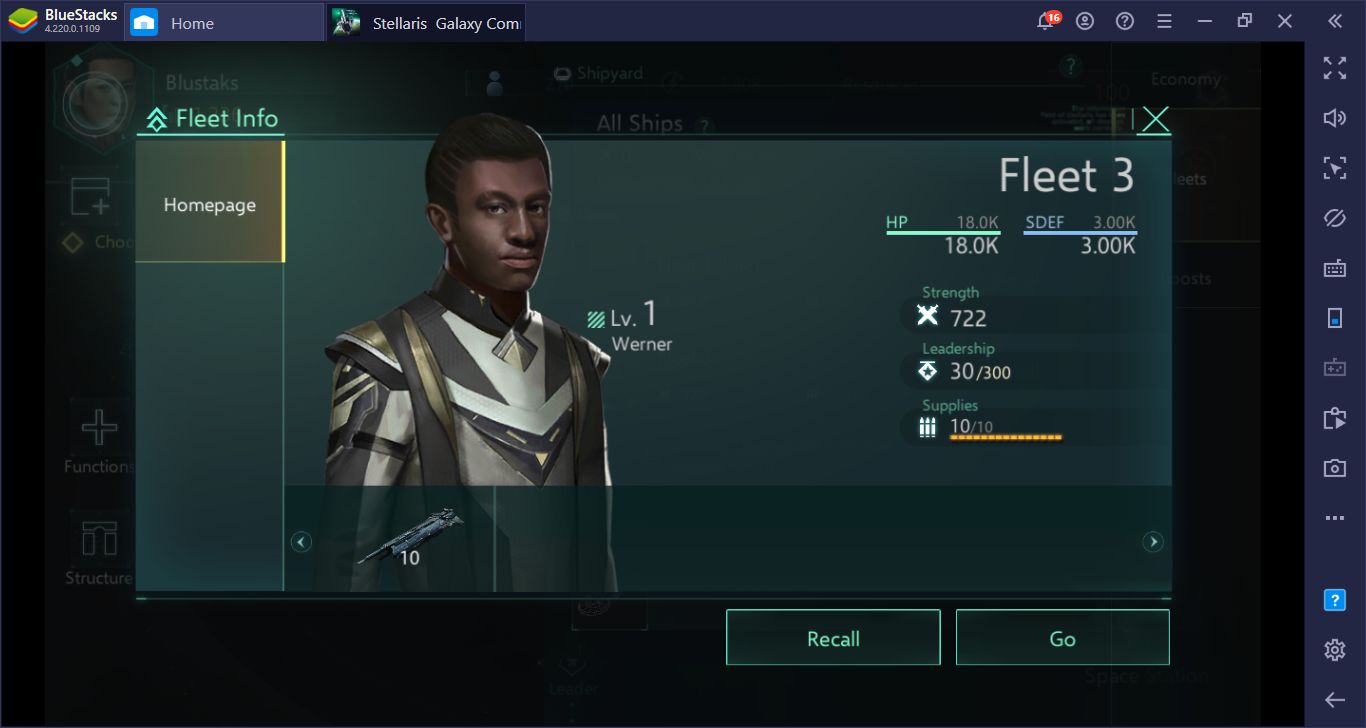 And this is one of your commanders. You can see the bonuses he brings on the left side.
Stellaris Galaxy Command is no different from the classic conquest games in terms of the basic features it offers. You mainly build and develop a base and do automatic battles with enemies around you. However, the playing field is extremely large, so you do all of these on a huge playing field. You are also asked to make political choices that will determine the growth of your empire. When you reach a certain level, the game asks you to choose a new "ethic". For example, you can reduce the maintenance costs of your fleet by choosing "militarism". Each option has its pros and cons. For example, by choosing xenophobia, you can increase your internal stability but your trade income will decrease.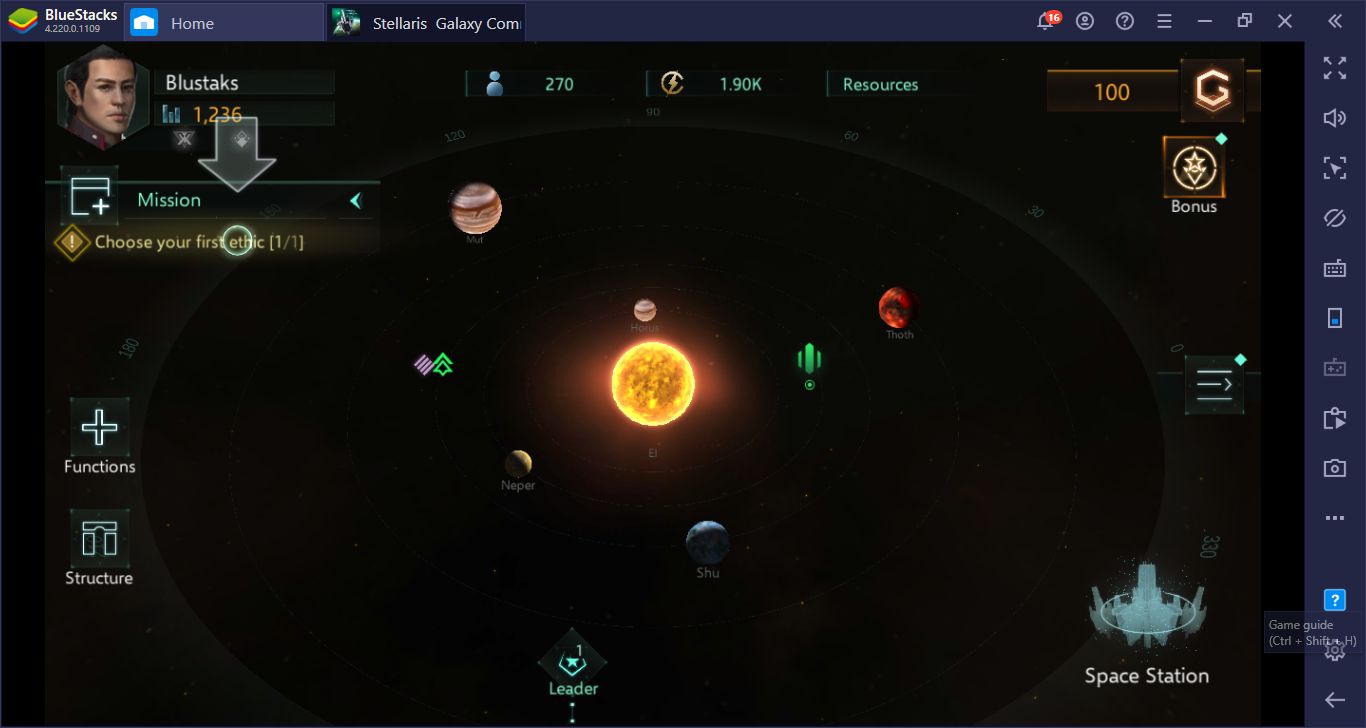 This is your solar system. It may seem quite small, but you just started: There is a huge universe to explore.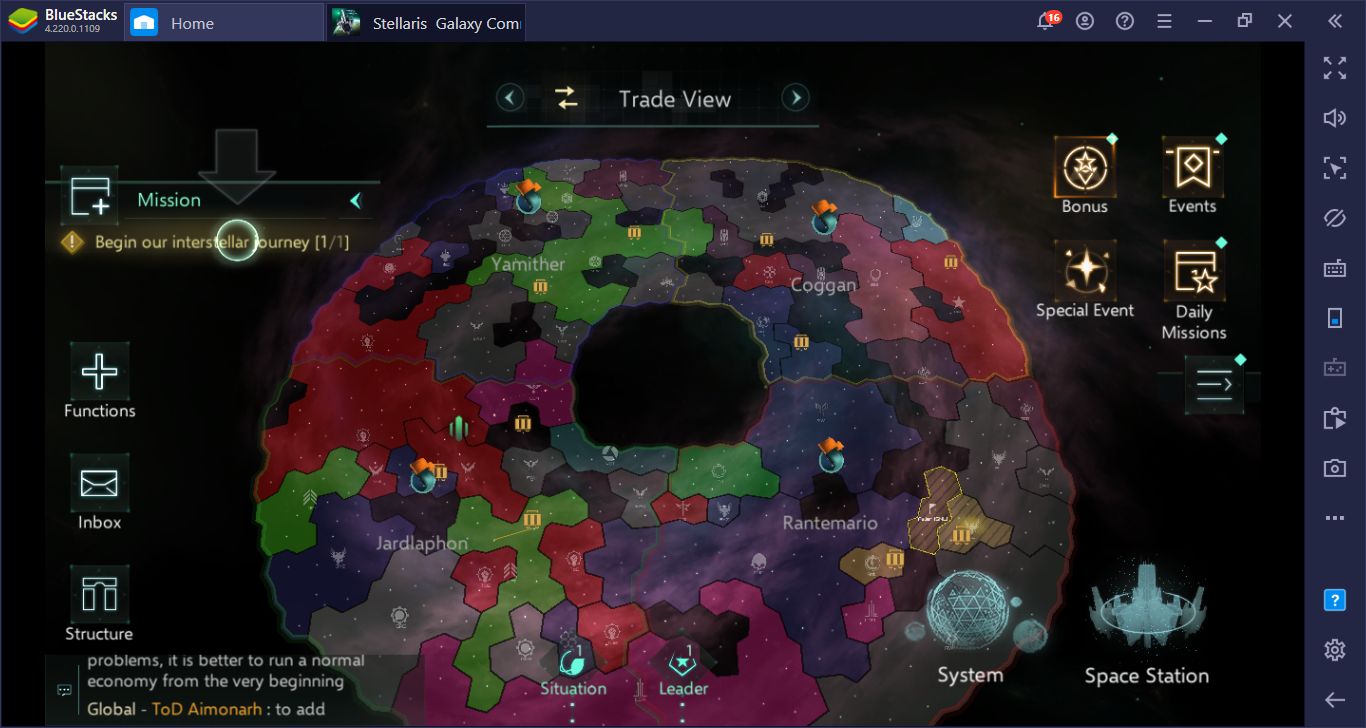 We were not kidding when we said a huge universe. Each of these galaxies contains numerous solar systems.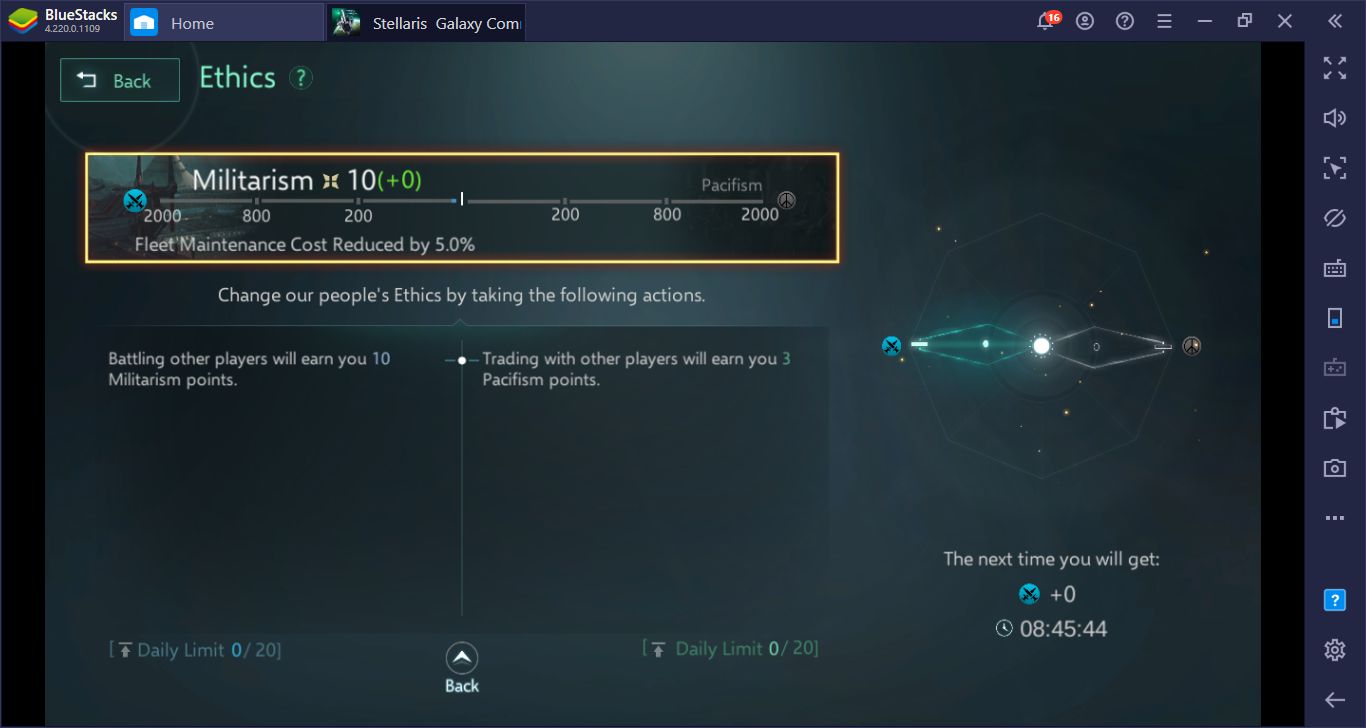 If you choose militarism, you have to fight other players almost constantly. Moreover, you should stay away from trading or you can switch to "pacifism".
Exploring planets, trading, joining an alliance, fighting other players, or doing research: Stellaris Galaxy Command offers you all these options. Which ones to use is up to you. You can switch to militarism and increase your military power, or you can strengthen your economy by focusing on trade. In other words, although it includes all of the classic conquest mechanics, Stellaris Galaxy Command still offers a gameplay that has unique features and can appeal to different game styles. This is a huge advantage and something you won't easily see in regular mobile conquest games.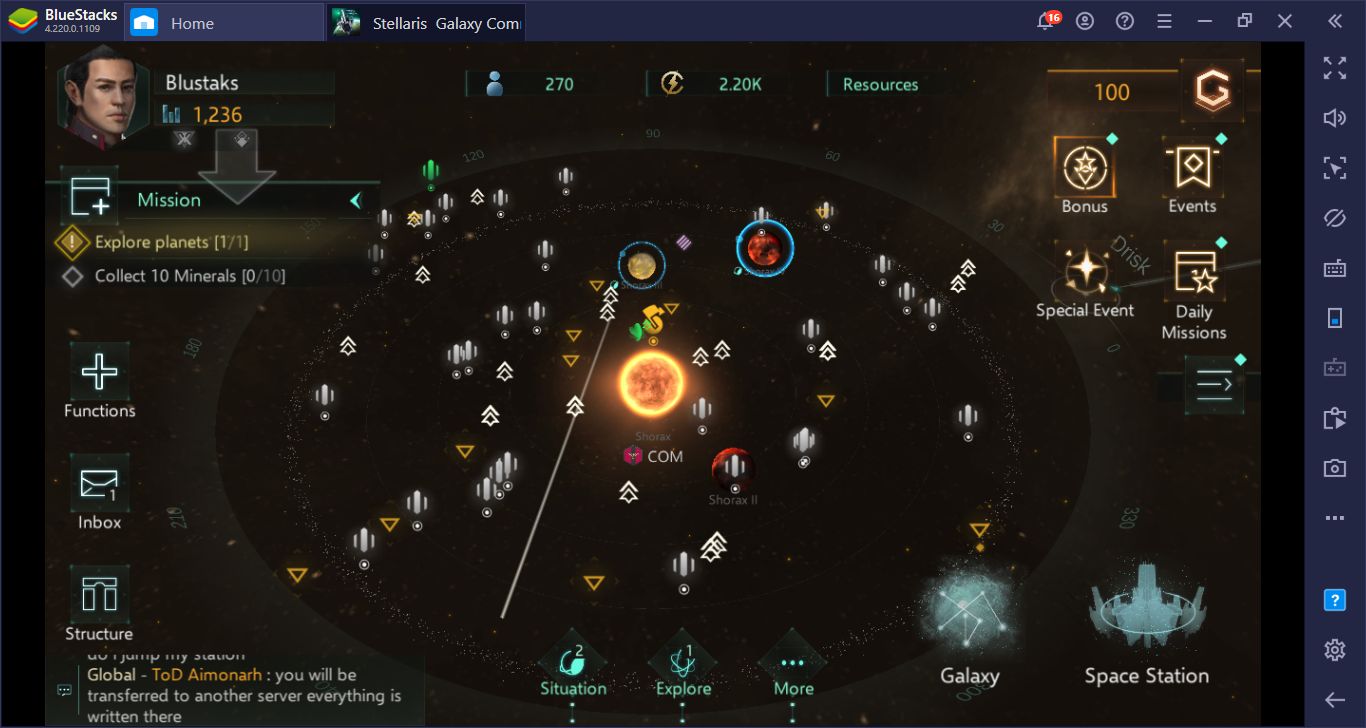 All of the white triangles on this screen represent a player. You can fight or trade with them, the decision is yours.
Should we attack now or later? All in the name of galactic peace, of course.
If you like conquest games but want them to offer a little deeper gameplay, you can be sure that Stellaris Galaxy Command is exactly the game you are looking for and will keep you entertained for months. It's not an exact adaptation of Stellaris on the PC, but that's not a bad thing: Stellaris Galaxy Command manages to create a unique new style by combining different features. We plan to play it for a long time and if you are thinking the same thing, we suggest you take a look at the other guides we have prepared. Let's conquer the galaxy together on BlueStacks!