App Reviews
World War Rising: BlueStacks Game Review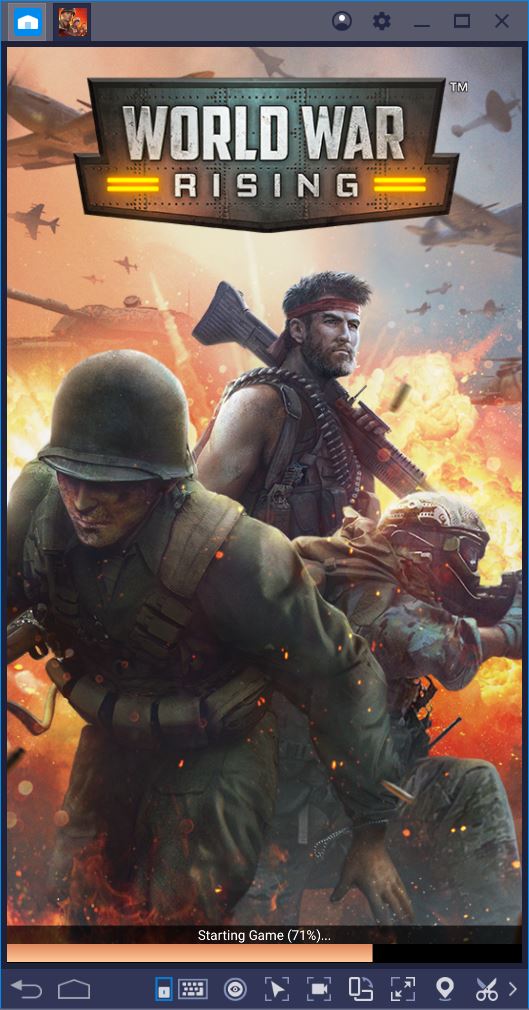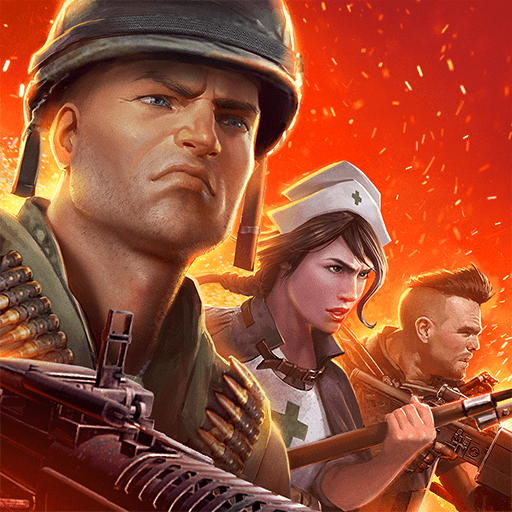 At the time of its launch, World War Rising caused quite a bit of a stir in the mobile market. Having been downloaded over half a million times in less than two months by the end of 2018, WWR took everyone by surprise, including us. Keep in mind that we're talking about a new game coming from a new developer.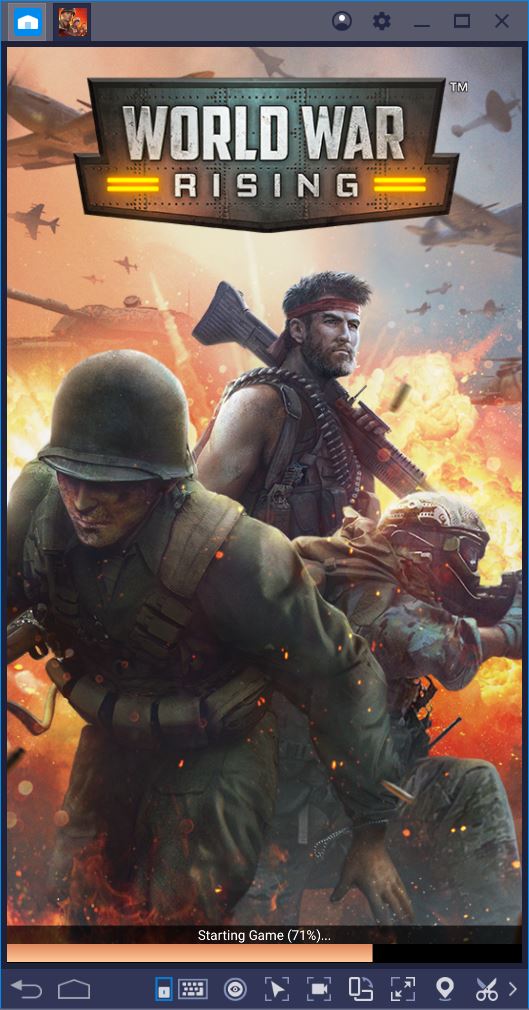 In this article, we'd like to focus on what distinguishes this release from the myriad of others just like it. Sure, it has a solid foundation of mechanics you'll find in almost any MMO game, but we found that Mobile War LLC, the game's developers, have also spiced up the traditional recipe with some new ingredients.
The First Few Days
As with any strategy game, starting new isn't necessarily easy. It's a bit fun, because you're given plenty of resources to establish a strong base, but it usually takes some time before you can play the game properly, so patience is a must. If you find that this beginning phase is not to your liking, we've also put together a guide to help you grow as fast as possible. You can go to it now to find out how to reach Command Level 15 quicker than everybody else.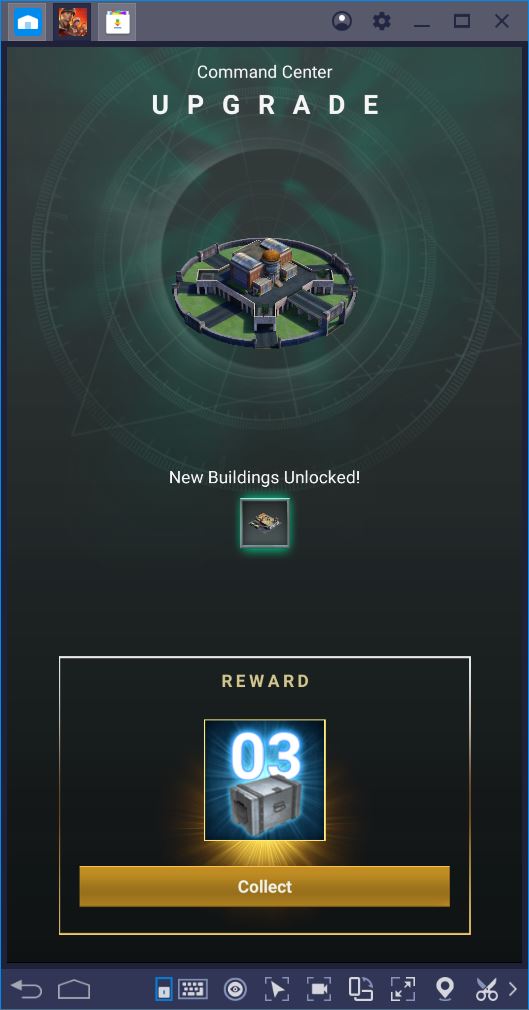 The core of this real-time strategy are the resources, namely how you get them and what you use them for. Looting resource nodes, as well as enemy players will ultimately help you upgrade your buildings faster. Researching also plays a major role in this equation, since it gives you incrementally bigger edges in terms of how much your troops can carry, how much you can produce, how fast you can construct, and much more.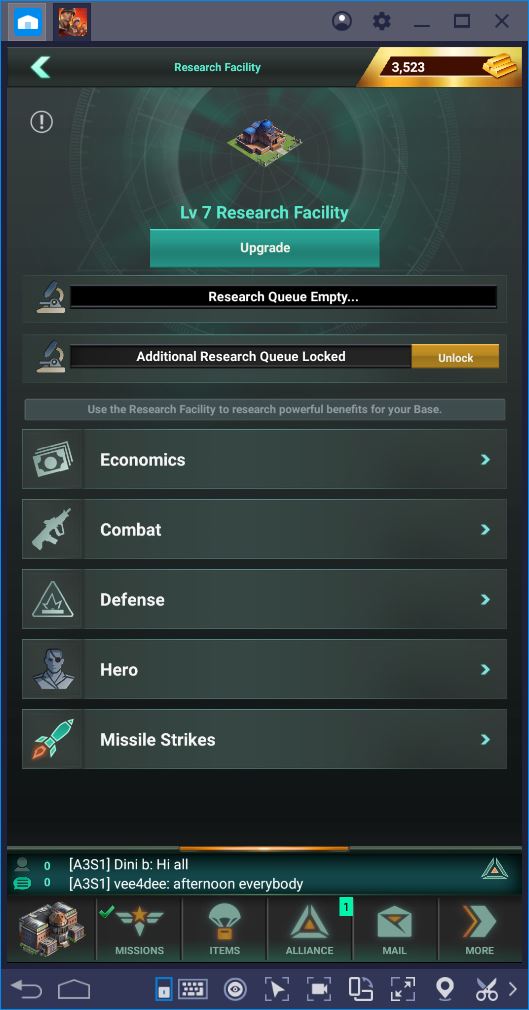 Your hero can contribute to everything you do and more. By attacking Syndicate NPCs on your map, you'll get plenty of goodies, mostly in the form of resources and powerful items you can equip, in addition to hero experience. The higher your hero's level, the more skill points at your disposal. These can be invested in passive bonuses that can help you out a great deal. We can't wait to see how they improve our troops' deployments.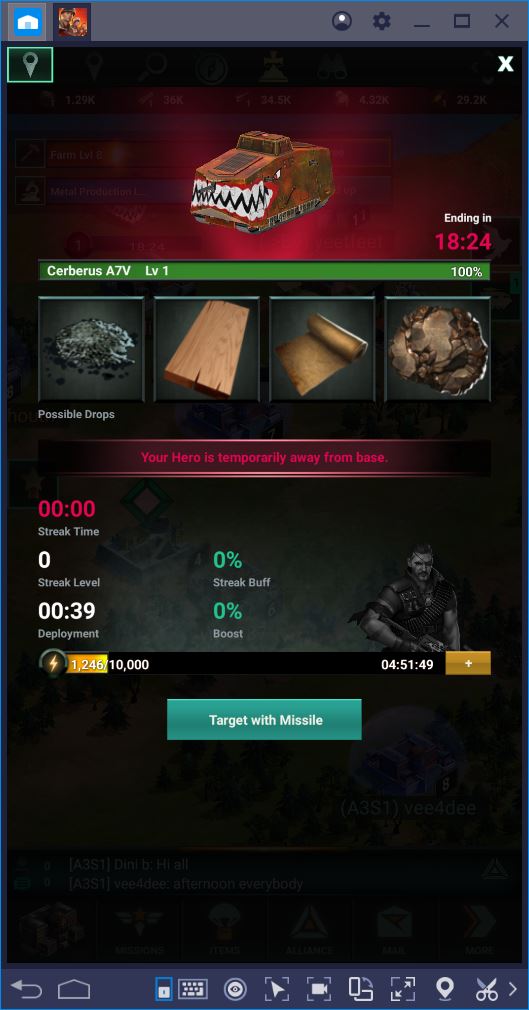 One interesting feature we've yet to see in other games of the kind is the WWR's Missile Attack feature. With this, you can either attack Syndicate targets, supply drones, enemy players farming resource nodes, or enemy troops. It will take a bit of time to load the silo, but the damage is well worth the wait. You can do this either by clicking on the Missile Silo North East of your Command Center or by going on the map, clicking on a target and selecting the Missile Attack option. We're certainly partial to witnessing the grant kaboom!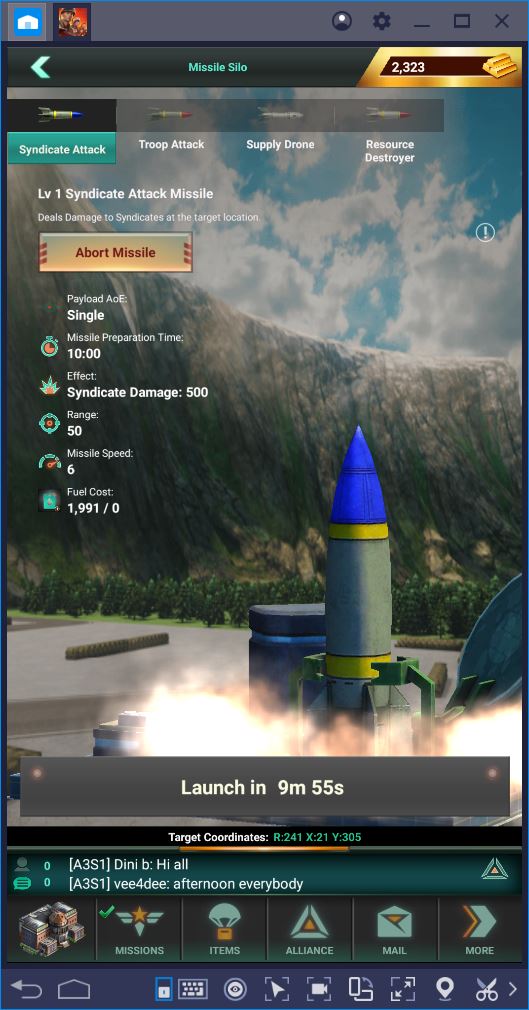 Another neat feature is the Treasury, because WWR's version of it doesn't really work like other typical banks. It's not meant to protect your goods from raiders or anything else, but it does give you an interest on any Gold deposit. 10 Gold over 2 hours is not that bad. Since this also happens to be the premium currency of the game, we recommend you do this on cooldown as often as you can.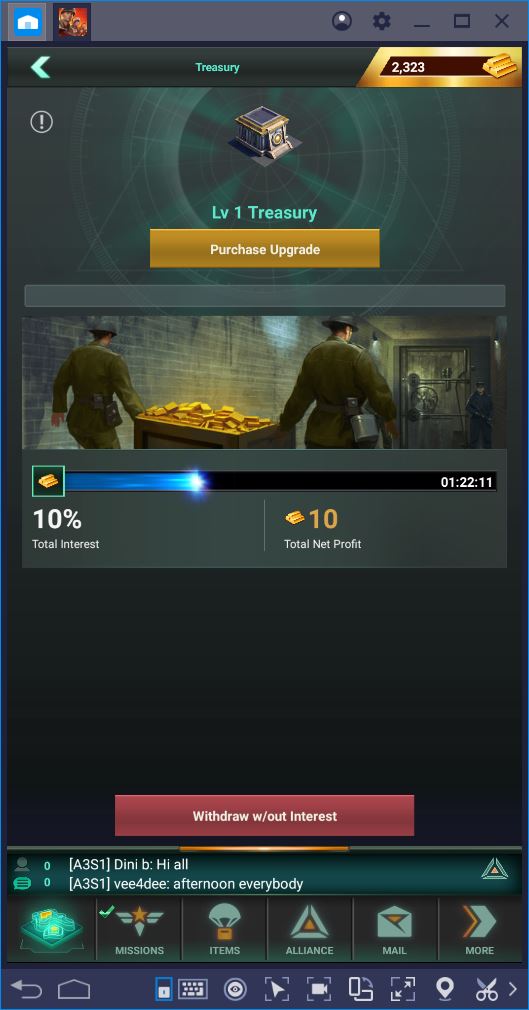 For those who are fans of shooting in addition to strategy, the game's got you covered. The Combat Simulator will give you a chance to practice your shotgun spread, while also handing out neat rewards. What's more, if there's an event going on, you'll be getting even more value from your target practice.
Experience the Awesome Mid- and Late-Game
World War Rising looks and feels just like somebody made a burger with all the goodies from Final Fantasy XV: A New Empire and Mobile Strike. The result is delicious. To get to the awesome part of the game, everything you have to do is focus on research, hunting monsters, and constructing your base as much as possible. The gear you get from killing Syndicate mobs will increase your potential to defend against other players looking to loot your base.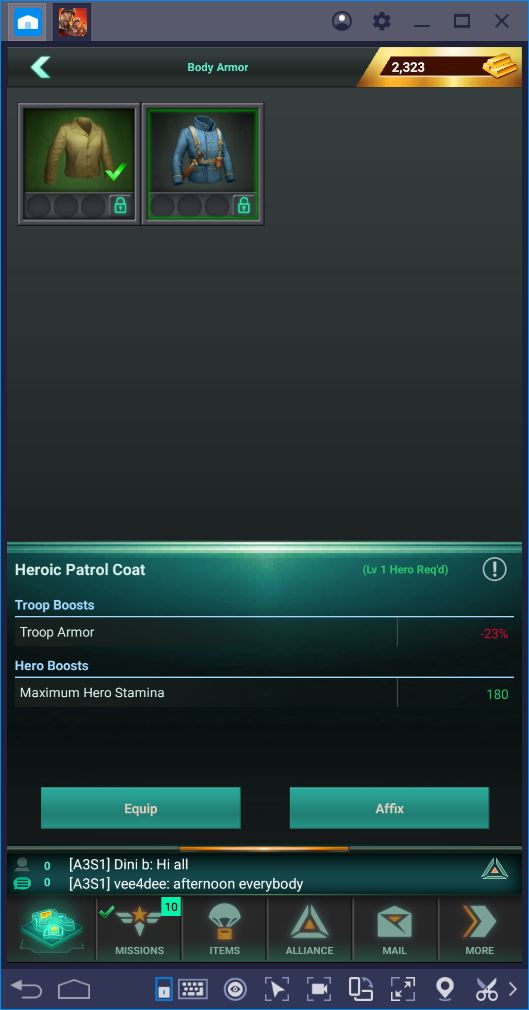 If you want to find out more about combat, feel free to check our dedicated guide to WWR warfare. The more complex aspect about this elite strategy game is how you manage your troops. Basically, you'll want to have enough to loot neutral resource nodes at a good rate, but no more than you can afford to upkeep.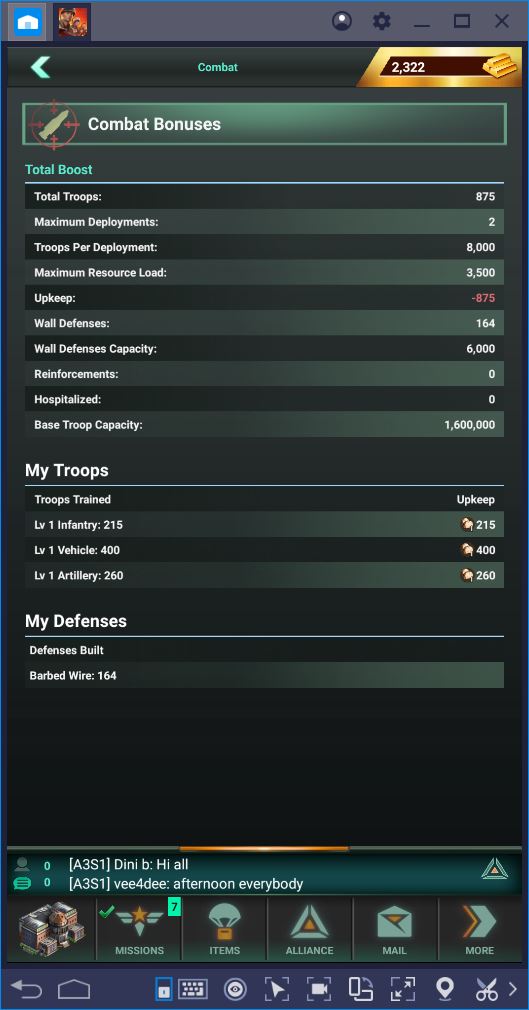 As you can already see, we've been a bit enthusiastic with our recruitment – after all, this is a game about military conflict – and we've slightly exceeded our Food upkeep. Now, we could kill off some of the units, but they've been way too helpful so far, so we'll just have to manage the drain. Ideally, you'll want to keep a close eye on these numbers, particularly if you're an F2P player.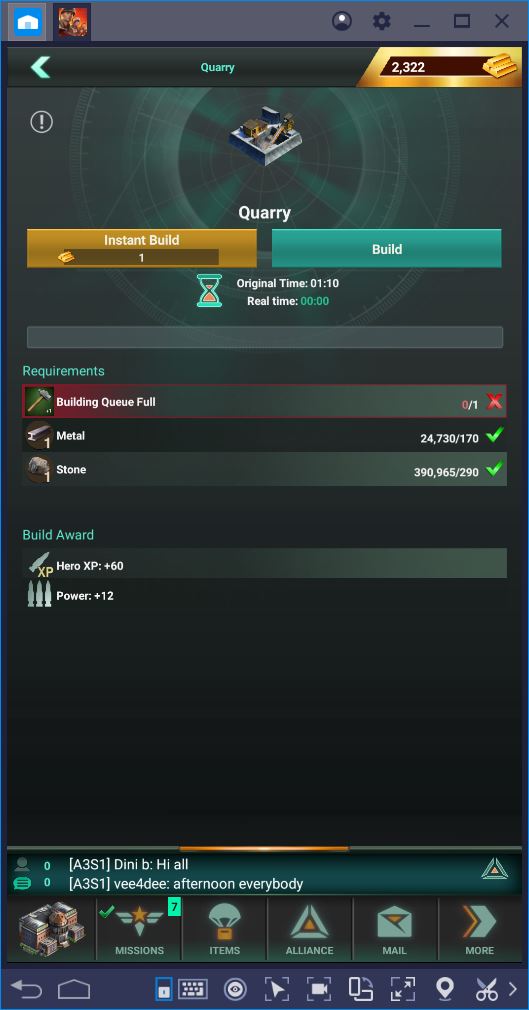 Another aspect that we love about WWR is that it fully enables playing for free – at least to begin with. Because all buildings cost little to make and can be upgraded instantly up to level 5, this means that you can get a good flow of resources in your base early on. All you have to do is occupy some of those free construction tiles with some farms, shafts, and, most importantly, quarries.
Finally, this RTS will give out noteworthy rewards for consistent players who complete missions on a regular basis and who generally… do stuff, which we always find is a neat touch. Most of the times, it's quite difficult to keep people interested or help them overcome progression walls. Luckily, it seems that, at one point or another, there will be several kinds of events running at a time in World War Rising.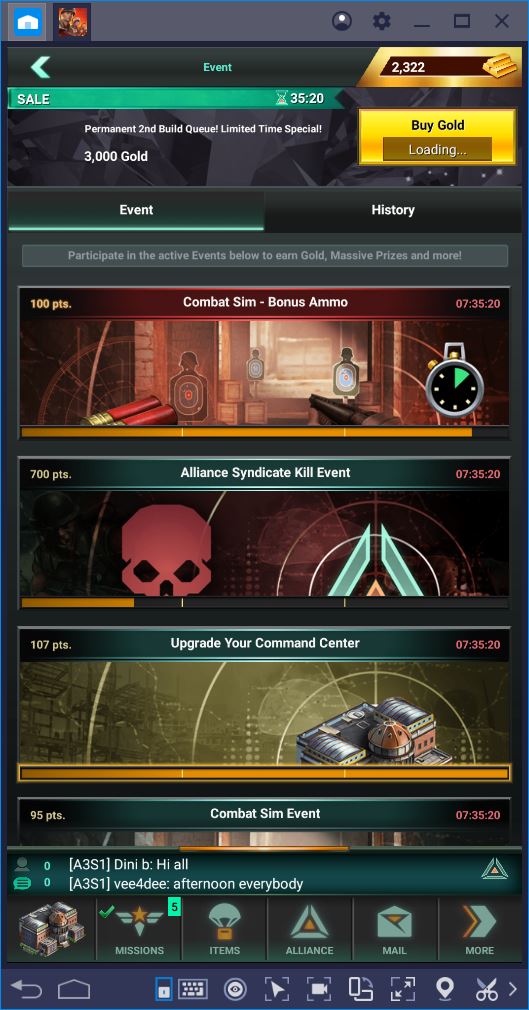 So far, we're stoked about the game. Aside from the basic MMORTS mechanics available on the mobile market, WWR also contributes with a personalized touch. If you love base building, recruiting troops, and attacking stuff, this is definitely a strong contender. At least, in the beginning, we're absolutely convinced that the game is F2P-friendly. Whether this will also be true in the mid- or late- game remains to be seen.