BlueStacks Exclusives
BlueStacks 5 Vs. BlueStacks 4 – Performance Comparison for AFK Arena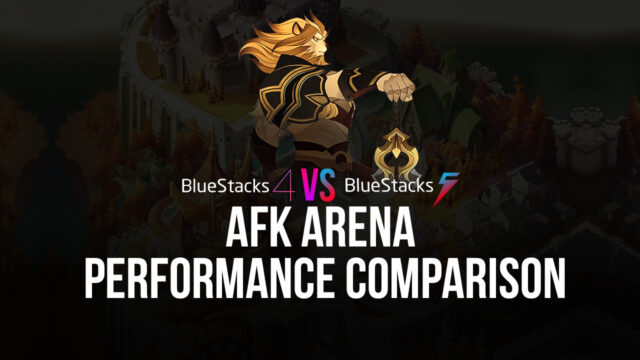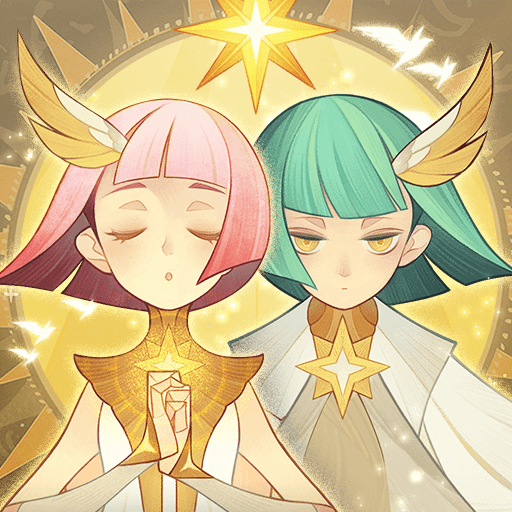 It's a proven fact that playing Android games on PC with BlueStacks is always the better choice in terms of performance and graphical quality. In other words, playing on your PC is always going to be better than on your phone as games will run and look better than they could ever do on the mobile platform. However, when it comes to gaming on Android emulators, these software often require lots of resources to power their gameplay, and players need to have decent PCs in order to run them.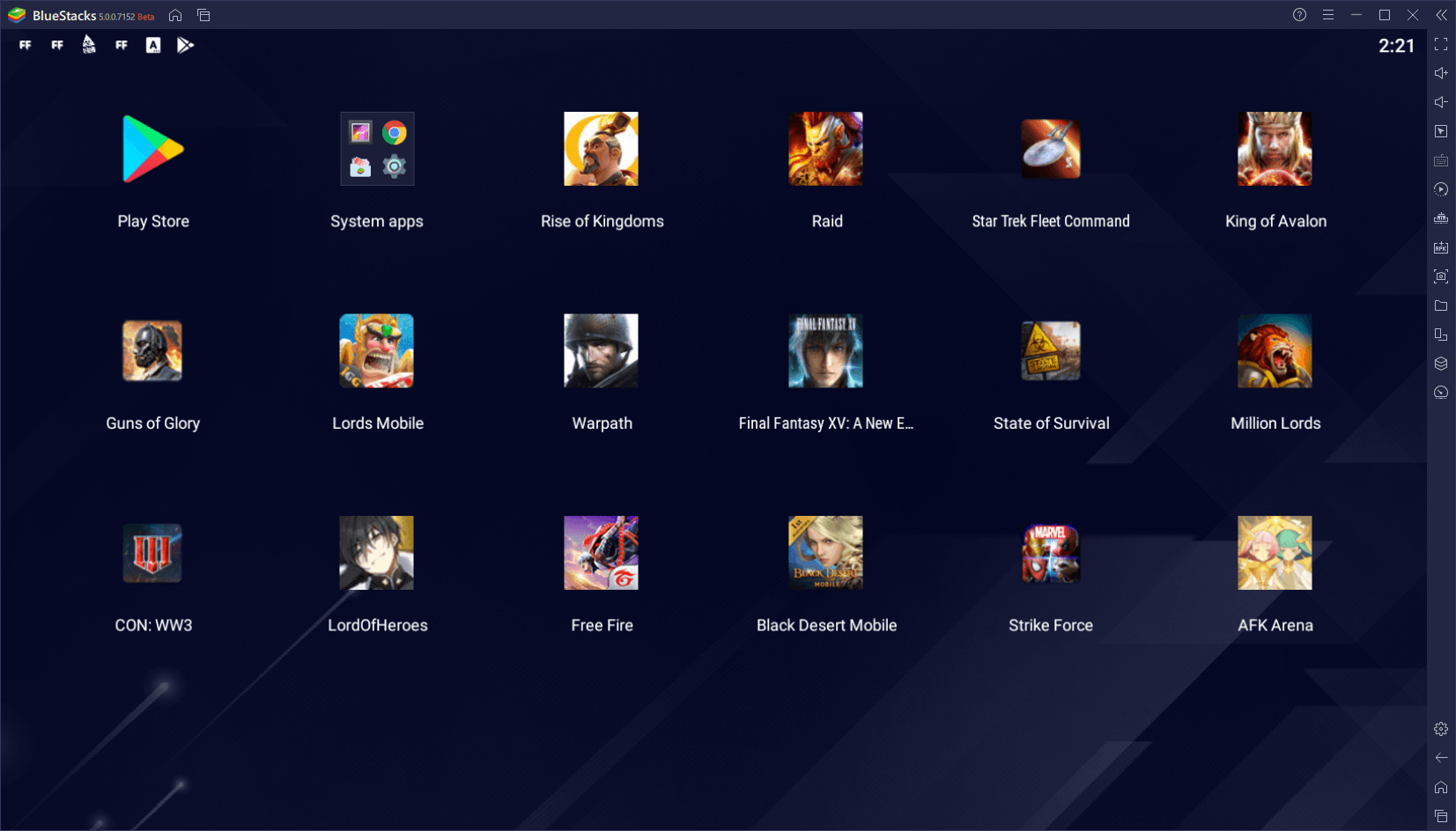 BlueStacks is one of the many Android emulators in the market available for downloading; one that happens to be the very best at what it does. It not only allows players to enjoy everything their favorite mobile games have to offer, but it also does so with the least resource requirement, allowing even players who have low-end machines to run it. BlueStacks 4 was the previous iteration of our Android emulator, which reigned supreme among others in all aspects. However, the new BlueStacks 5 recently arrived and completely outclassed the previous version in every aspect.
In this series of articles, we're going through some of the most popular mobile games that gamers often play on our BlueStacks 4, and comparing them to their performance on BlueStacks 5 in relation to the resource consumption, load times, in-game performance, and more.
On this occasion, we're going to talk about the popular Idle RPG, AFK Arena, so let's get started!
Load Times
Even in the smaller games like this one, the very first thing you'll see after clicking on the icon and launching the game is a loading screen. Evidently, this first loading time is meant to load all the game's assets into the RAM so that the software can easily access all its features, and the length of the process depends on several aspects, including how well optimized the game is. In the case of gaming on emulators like BlueStacks, however, the programming of the platform is also important as there are key optimizations that can be made to reduce load times.
With that being said, we see how the quality of the platform you're using to emulate your games can significantly alter your experience, and BlueStacks is no exception. The new BlueStacks 5 was built from the ground up to provide the very same services as the previous version, but in a more optimized and streamlined manner. These optimizations extend to the load times as, in some cases, they can be much quicker than before.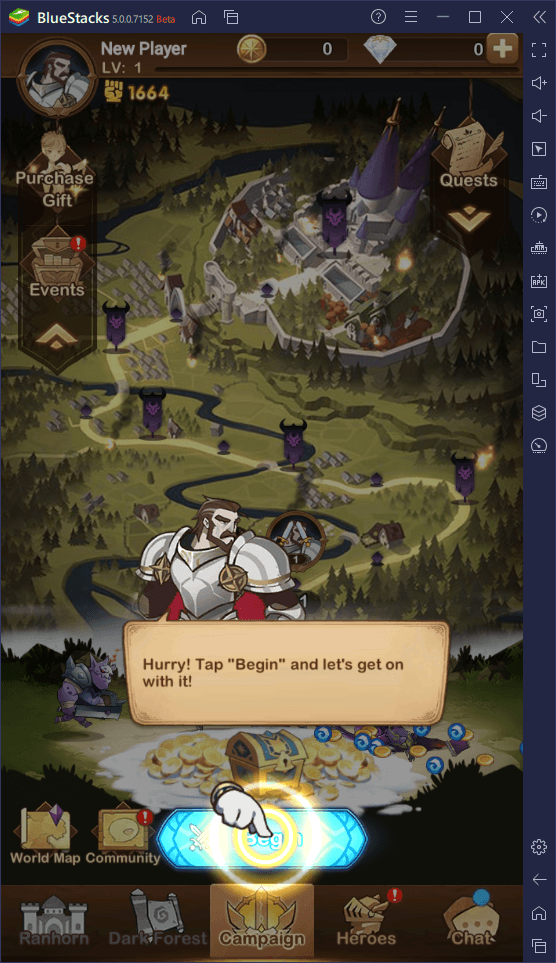 The new BlueStacks 5 running AFK Arena, with a loading time of only 15 seconds after launching the game.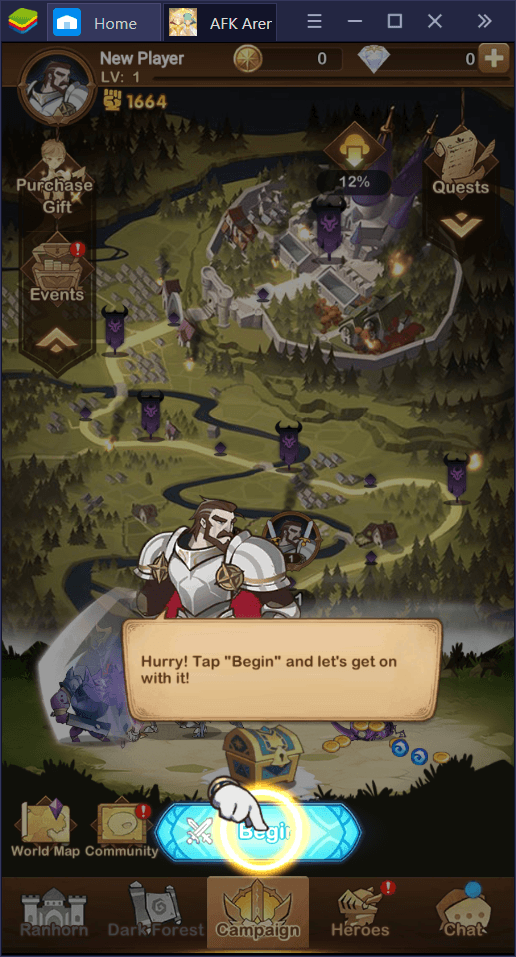 Similar, but on BlueStacks 4, where loading the game under the same circumstances took 24 seconds.
As you can see, in this regard, BlueStacks 5 is superior to its predecessor. And as you'll see further down in this article, not only will your game run better, but it will also load faster, allowing you to jump into the action in AFK Arena around 60% faster.
CPU Consumption
AFK Arena was never a very demanding game; it's designed to run on all types of phones regardless of their specs, as it's a casual title with boatloads of automation elements that most players can have fun with without having to invest lots of time into it. In other words, you really don't have to log in for many hours a day in order to progress, and this casual design is also reflected in the game's resource consumption.
Most emulators, to power their gameplay, are heavily reliant on the device's CPU more so than the GPU. While having a good dedicated graphics card is paramount to achieving the best performance, the CPU is the component that will most often bear the brunt of the load, and AFK Arena is no exception to this. Nevertheless, BlueStacks 5 was optimized to consume fewer resources to power its gameplay, and this includes reducing the load on your CPU even when playing lighter games like AFK Arena:

Both versions of BlueStacks running AFK Arena under similar circumstances. Notice how BlueStacks 4 consumes more CPU.
Though the difference is negligible in practice if you're gaming on a modern gaming PC, these optimizations will greatly impact the performance of those who are playing on low-end machines, especially when it comes to multitasking. In other words, as the games require fewer resources to run, players will be able to perform more tasks on their computers simultaneously with no issues. This will be particularly useful for those who often spend time working on their PCs with the games minimized in the background, or for those who frequently use BlueStacks' multi-instance capabilities to game on several instances at the same time.
RAM Consumption
While CPU consumption can often vary according to what's happening in game, RAM is very much the same, as the game is often loading and purging assets from the memory according to the need. However, while CPU usage is measured in percentages, RAM is often represented in flat numbers, and as this number reaches its limit, which is the amount of RAM installed in your system, your computer will progressively get slower. If your RAM usage is maxed out, you might start experiencing massive slowdowns and crashes.
Regarding RAM consumption, BlueStacks 5 is also optimized to require less of this crucial resource, even in AFK Arena, a game that's frankly quite small and lightweight:

Comparison of the RAM consumption of BlueStacks 5 and BlueStacks 4.
If you've been keeping up with our blog, you'll probably know by now that we've been advertising BlueStacks 5 as having at least 40% less RAM usage. This statement holds true with AFK Arena, as the game consumes around 113 MB of RAM on BlueStacks 4 which, compared to the 72 MB of the newest version of our emulator, corresponds to the 40% improved RAM consumption.
Once again, AFK Arena is a very lightweight game, which most PCs can handle easily. However, it's the lower-end machines that will benefit the most from these optimizations as players will be able to multitask more effectively. In practice, gamers can multitask by working on any project on their computers while keeping BlueStacks 5 in the background with no issue. Furthermore, it'll be quintessential for multiboxers as players can have many more instances of our emulator running at the same time thanks to its optimizations.
And speaking of multiboxing, gaming on multiple instances is something you'll definitely want to do in AFK Arena as this will allow you to reroll much easier and faster, and unlock the very best characters from the beginning of the game, significantly streamlining your progress through the main story missions.
Maximum Number of Active Instances
When it comes to gaming on multiple instances, BlueStacks has always been king thanks to its Instance Manager feature, through which gamers can create several instances of the emulator and use them to access the same game.
Though not as important in gacha games like AFK Arena as in, say, war games like Rise of Kingdoms, multiboxing is a very important aspect in this RPG in the beginning, when players are trying to reroll to unlock the best characters from the start to give themselves a headstart in the challenges on the game. And in this regard, BlueStacks 5 is king as well, as you'll see in a few moments.
To test this aspect, we decided to run five instances simultaneously in both BlueStacks 5 and BlueStacks 4, and measure their resource consumption. The reason we chose this number is because it's a fairly high number of instances that not many people use, but that is often more than enough to cover the needs of the average user.
Here's how both versions measure up in this regard: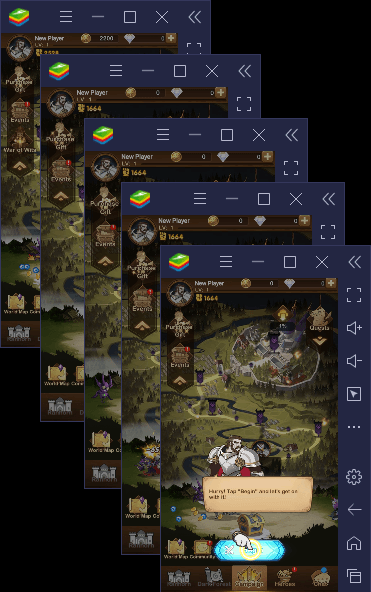 BlueStacks 5 Running five instances simultaneously.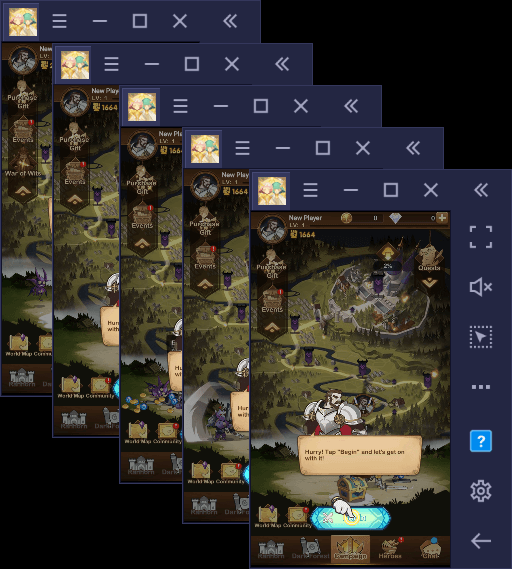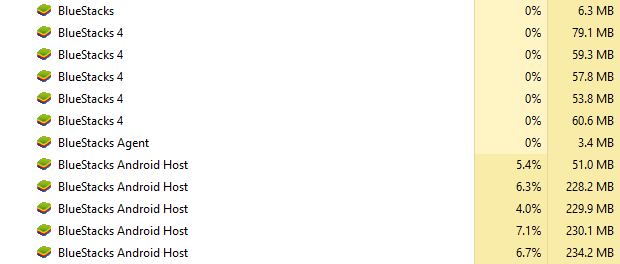 Ditto, but on BlueStacks 4.
The results speak for themselves in this regard. BlueStacks 4 has a lot more processes going on in the background in order to power its gameplay, and therefore consumes much more RAM per instance—over 1 GB of RAM to sustain the five instances. Compared to the 500 MB of BlueStacks 5, this corresponds to about a 50% reduction in RAM usage when multiboxing with the Instance Manager. However, both versions are about equal in CPU usage under the same circumstances.
When it comes to gaming in multiple instances, most players opt to use Eco Mode in combination with the Multi-Instance Sync features, allowing them to play on multiple instances at a fraction of the cost. The way this works is that, when activated, Eco Mode limits the FPS of the selected instances, drastically reducing their CPU usage. This tool also got a few upgrades in BlueStacks 5, which help it to reduce CPU consumption even further:

BlueStacks 5 running five instances with Eco Mode activated and limiting the performance to 5 FPS.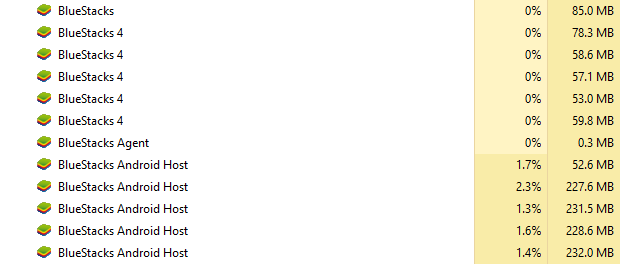 Same here, but on BlueStacks 4.
Similar to the above comparison of RAM usage when multiboxing, BlueStacks 5 is about 50% more efficient than its predecessor when activating Eco Mode, allowing gamers to potentially create even more instances than before, at a fraction of the cost. And while gaming at 5 FPS could sound tedious, you can actually do it quite easily with the aforementioned Instance Sync tool.
In-Game Performance
AFK Arena is a very simplistic game that, while featuring a unique and distinctive art style, is very lightweight and easy to run on most devices. This is to say that both versions of BlueStacks can run it effectively and with no issues at all. However, for the sake of consistency, since we've added this section on our other comparison pieces, here's how both versions measure up in this aspect: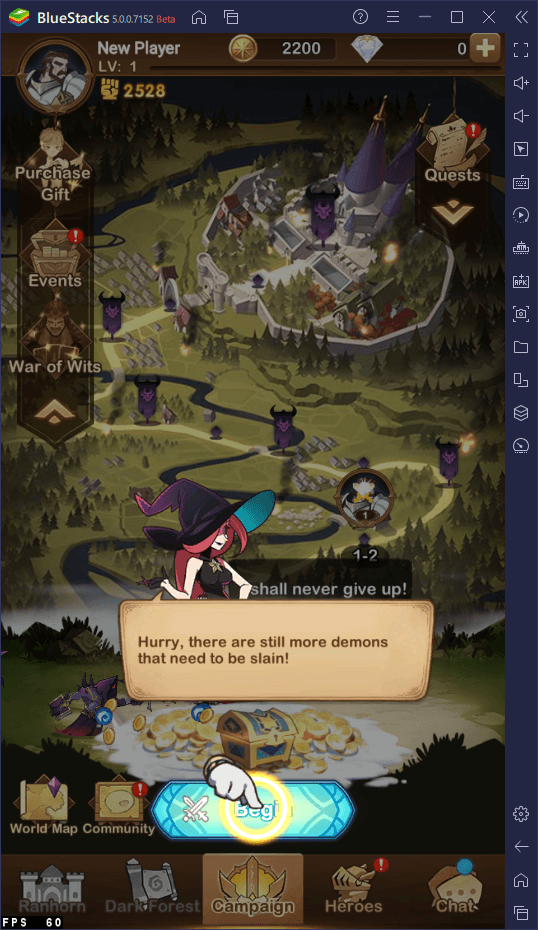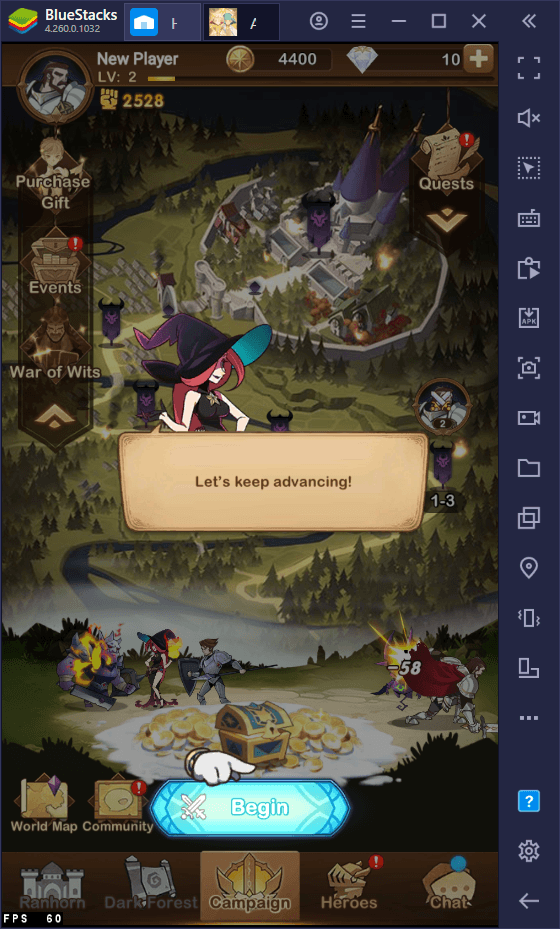 BlueStacks 5 and BlueStacks 4 running AFK Arena at a silky smooth 60 FPS each, but with slightly different resource consumption.
AFK Arena doesn't really have any graphical settings, so what you see is what you get, which is fine. The game looks well enough thanks to its awesome art style and animations, and it runs spectacularly on any device. Of course, if you play it on BlueStacks, you'll get access to plenty of tools that can help speed along your progress, including the aforementioned Instance Manager that will be extremely useful for rerolling.
Regardless, it's clear that while the game runs well on both versions of BlueStacks, the consensus is, once again, that BlueStacks 5 achieves this performance much more efficiently.