BlueStacks Roundups
Top 10 Android Puzzle Games in 2022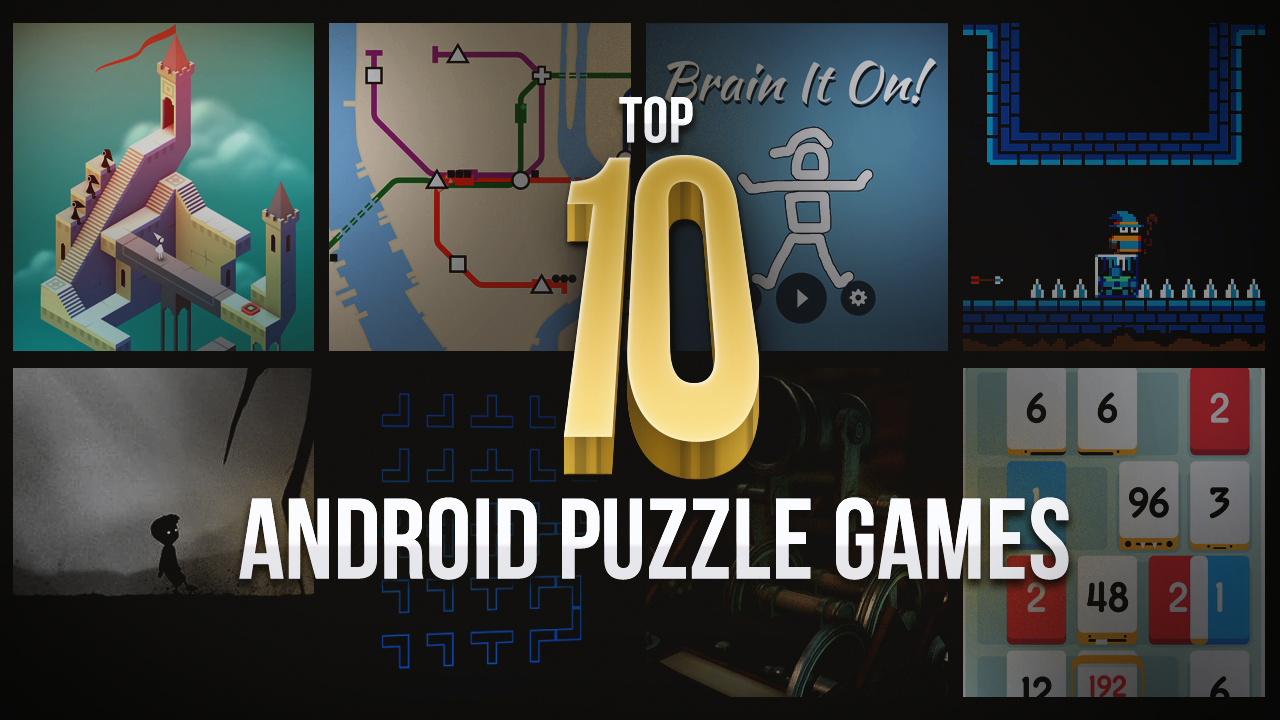 Puzzles have been part of our lives for thousands of years. They intrigue us and satisfy us when they are completed, and it is hard to deny that the pleasure of finishing a long and complicated puzzle is unparalleled.
In this article, we will be listing the ten best puzzle games for you to play on your Android device.
1. Unblock Me (Free)
First on our list of the best puzzle games for Android is Unblock Me, a highly popular sliding puzzle game. The game presents you with some blocks in a square space, with a small opening through which you must slide the red block out. The blocks are arranged in such a way that you must try to slide them around in all the open spaces available in the square in order to find a passage for the red block to slide out.
While the premise may seem simple and easy, the game can become extremely tough, especially as you level up. Unblock Me has over forty thousand different levels for you to play, ranging from easy, intermediate, to hard levels. The game also has three different modes for you to try out. The first one is called Relax mode, in which you need not worry about a timer or countdown and you can play the game at your own pace. The second mode is called the Challenge mode, in which you must try to finish the puzzle in as few moves as possible. Once you finish a puzzle in Challenge mode you are ranked according to how well you scored and how many moves it took for you to finish the puzzle. You can use the Challenge mode to beat your own records and finish puzzles as fast as you can. The final mode is called the Daily mode, in which the game provides you with a daily puzzle that sometimes doesn't follow the same schemes as the puzzles in the other two modes.
Unblock Me also has a multiplayer mode which you can use to play against friends and family to see who is the best puzzle solver of them all.
With over fifty million downloads, Unblock Me is rated 4.6 out of 5 stars on Google Play Store.
2. Woodoku (Free)
Next on our list is Woodoku by Tripledot Studios. Woodoku combines the beloved old game of Sudoku with wood block puzzles to create a brand new puzzle game. The basic premise of the game is simple. You will be presented with a 9×9 board with rows and columns, and along with this, you will be given wooden pieces of different shapes and sizes that you must place on the board. Placing these wooden pieces on the board and filling rows and columns will lead to those areas being cleared. Clearing areas allows you to place more wooden pieces in those same spaces again.
You must keep filling in the various rows and columns until there is no longer any space, or you place a piece in such a way that it doesn't fit within the 9×9 grid. The game doesn't require an internet connection, meaning you can play it anywhere and at any time, without any worry of going offline. Woodoku also has hundreds of different levels for you to play and finish, meaning there is no scope for you to get bored of this game anytime soon.
With over ten million downloads, Woodoku is rated 4.4 out of 5 stars on Google Play Store.
3. Empty. (Free)
Created by Dustyroom, Empty. is a relaxing puzzle game that works on a very basic concept: the room with which you play must be empty. How does that work exactly? Empty. provides you with a room full of objects, such as chairs, tables, ladders, vases, etc., which you must try to eliminate by spinning the room around. Surrounding the objects are the walls of the room, and each wall is of a different color. The objects in the room correspond to these colors and you must eliminate the objects by spinning the room in such a way that the objects blend in with the walls of the same color.
While this may sound complicated, Empty. is actually a very easy and calming game to play. Along with the objects that you must eliminate from the room, you must also put together different quotes that the game provides to you. These quotes are often related to zen, mindfulness, and minimalism, all of which fit right in with the game's overall theme.
The colors in Empty. are bright and beautiful, and the gameplay, as mentioned, is very simple. Spinning the room around is a lot of fun and so is watching the objects slowly disappear into the walls. Empty. is a very relaxing puzzle game that anyone can enjoy at any time.
With over one hundred thousand downloads, Empty. is rated 4.7 out of 5 stars on Google Play Store.
4. XOB (Free)
Next on our list is Rule Weaver's XOB, a kinetic puzzle game with psychedelic graphics that will keep you hooked for several hours. The first thing you notice going into XOB is its amazing graphic design and visual aesthetic. As mentioned, the game has weird and curious psychedelic imagery which keeps things very interesting as you play the game.
The main premise of XOB is for you to move your phone around in such a way that you get the tiny box you control into a portal so that it can move on to the next level. While that sounds incredibly simple, XOB can get very tough at times. The box you control is surrounded by other boxes that serve as platforms for you to get to the next level. These 'platform boxes' come in various shapes: if on one level they make a perfect square that is easy to maneuver, on the next level they may come in the shape of a heart, making it harder for you to move your box to go on to the next level.
The game also has a fantastic soundtrack that matches the visual of the game perfectly. All of these features combined make XOB a must-play for any puzzle game fan.
With over one thousand downloads, XOB is rated 3.9 out of 5 stars on Google Play Store.
5. Infinity Loop (Free)
Infinity Loop is a challenging, yet relaxing, puzzle game, in which one must connect different parts of a loop in order to create a perfect, infinite loop. The game is very simple in the way it works. The user will be shown a disjointed loop, with all of its parts wonky and sideways, not connected to each other. The only job of the player is to fix this loop by rotating the different parts of the loop in different directions in order to make these parts connect perfectly.
The player will know they have connected the various parts correctly when the loop is infinite and doesn't stop anywhere. Once this is done, the player can move on to the next level. The game also has another mode in which you must do exactly the opposite of what you accomplished in the earlier mode. This mode is called the Infinity Dark Mode, and in it, the player must disjoint the perfect loop in such a way that not a single piece of the loop is connected to each other in any way.
The game has a seemingly endless number of levels for you to play, and it is a great way for you to relax your mind after a long day.
With over ten million downloads, Infinity Loop is rated 4.7 out of 5 stars on Google Play Store.
6. Puralax (Free)
Created by Muses, next on our list is Puralax, a relaxing puzzle game that involves tiles and vivid colors. The main aim of Puralax is to make all the tiles presented to you on the grid the same color. The color you must spread across the grid is indicated at the top of the screen, and you must strategize and make the right moves in order to make the grid that color.
The grid ranges from small to large and is made up of several smaller squares. Some squares are colored, while others are blank. Each colored square has a set number of moves, indicated by the white dots within that square. You must try to move the colored tiles around in order to make all the squares within the grid the same color. Sometimes you can also trigger a chain reaction if the square whose color you change also has other squares of the same color connected to it.
There are dozens of levels for you to play through and complete on Puralax, and the first six levels come with an assistant to help you understand how the game works and how tiles can move in order to change colors.
With over five hundred thousand downloads, Puralax is rated 4.3 out of 5 stars on Google Play Store.
7. Two Dots (Free)
Next on our list is Two Dots, a puzzle game involving, as one may guess, dots! Created by PlayDots, Two Dots is a puzzle game in which the user must connect dots of the same color in order to score points or to achieve particular objectives.
The game provides you with a grid of dots of different colors, and the main objective is for the user to connect as many dots of the same color as possible. Once these dots are connected, they will vanish and new dots will take their place from above. This means that you must connect your dots strategically in order to create more opportunities for you to connect dots later.
The game doesn't just limit itself to simple gameplay. Two Dots has a variety of different objects for you to explore and try out in-game. You can create bombs, fight fire, sink anchors, etc. The game also has different maps for you to explore as you get further into the game. There are over four thousand different levels for you to play through, with more levels being added regularly.
Two Dots also has a multiplayer system in which you can challenge your friends to a game of Two Dots to see who is the better player. You can also attain points and go higher up on the leaderboard.
With over fifty million downloads, Two Dots is rated 4.2 out of 5 stars on Google Play Store.
8. Not Not (Free)
Up next is Alt Shift's Not Not , a puzzle game so simple yet so complex that it calls itself a "Brain-Buster". Upon first glance Not Not seems like a very simple game. You are shown a cube with instructions written on top of it which ask you to move the cube in a particular direction. Follow the instructions and win the level. Easy, right?
The complicated part comes in when you read the instructions the game has in store for you. While they can only point to four directions (up, down, left, right), the instructions are so complicated that you will have to read them several times in order to know which direction you're supposed to move the cube. For example, instructions can range from as simple as "Up" or "Right", in which case you will have to swipe up, and right, respectively, to as complicated as "Not Right", in which case you will swipe left, and "Not Not Right", in which case you will swipe right.
These are still fairly simple instructions. As you go further into the game you will encounter more and more difficult instructions. Make sure to set aside some time for this game because you will need it for all of the times you fail a level. The game has two modes: the Classic mode, in which you will learn one new concept of instruction in each level, and the Challenge mode, in which the instructions will keep getting more and more complex the longer you play the level.
With over ten million downloads, Not Not is rated 4.6 out of 5 stars on Google Play Store.
9. Monument Valley 2 ($4.99)
Ustwo Games published Monument Valley 2, the follow-up to the original, in 2017. With more characters and chapters than its predecessor, it is an improved version of Monument Valley. The core gameplay mechanics are the same: Ro, the lead character, must go through stunning structures while studying the rules of Sacred Geometry by solving puzzles and determining whether or not the pathways are real illusions intended to trick them. This time, she is joined by her daughter.
The goal is simple: advance through each level by mastering visual navigation strategies to locate the greatest feasible path through convoluted, maze-like structures and architecture. To find the way, you must solve riddles that imitate exquisitely made pieces of art. Obstacles occasionally take the shape of huge trees that emerge from potted plants when exposed to sunshine. The in-game prize awarded to the player after finishing a level is a beautiful kaleidoscope.
While the gameplay and touch-friendly components of Monument Valley 2 appear to be way too complicated to provide a fun experience, they are quite straightforward and easy to pick up. Monument Valley 2 also calms you with soothing pastel-hued graphics and a captivating soundtrack; in fact, the graphics accurately depict the situation: when Ro and her daughter are separated, they are dull and low in color, but when they are together, they are joyful and tranquil.
With over one million downloads, Monument Valley 2 is rated 4.8 out of 5 stars on Google Play Store.
1o. Linelight ($1.99)
The final game on our list of the best puzzle game for Android is Linelight, a simple, elegant, and minimalist puzzle game that reduces gaming to its most basic element: lines and movement.
In Linelight, the user controls a small, bright line, and must move it within a grid of lines to a particular point on the grid that will help the user complete the level. The way to that point, however, is filled with adversities, and the player must strategically move their line in order to get to the endpoint. These adversities include, among many others, enemy lines that are red in color, which when touched, result in you losing the round.
The game has six different worlds, and over two hundred different levels for you to play through and complete. The graphics are minimalist yet stunning, and the soundtrack compliments the game perfectly.
With over fifty-thousand downloads, Linelight is rated 4.9 out of 5 stars on Google Play Store.