BlueStacks Roundups
Top 10 Thanksgiving Games for Android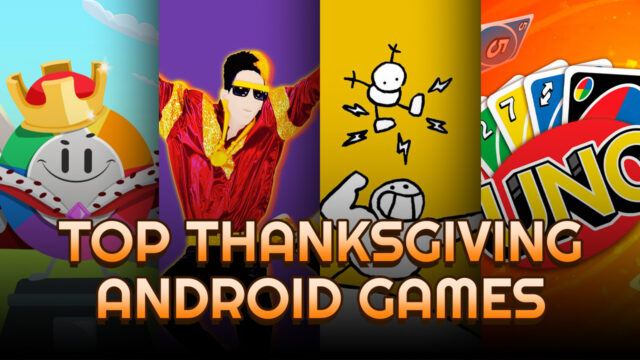 Thanksgiving is a time for family, friends, and fun, and what better way to spend time with your loved ones than by playing games with them? In this article, we list the ten best games for Thanksgiving. These include trivia games, dance games, and many others.
1. Spaceteam (Free)
The first game on our list of the top Thanksgiving games for Android is Spaceteam, which was created and published by Henry Smith. The gameplay of Spaceteam is best characterised as a "cooperative screaming game," according to its designers. Spaceteam requires a minimum of two players and a maximum of eight players concurrently. Each player in the game is in charge of a separate area of the spaceship, which the users are in. Their portable displays will display their respective section of the spaceship's control panel, which will contain a variety of buttons and knobs that will be used as the game progresses.
Each participant receives a list of directives for their portion of the ship after the game has started. By orally explaining to everyone involved in the game what their jobs are and how they are to be fulfilled, all within a set period of time, the participants can choose the proper sequence in which to complete the chores. Even though it sounds simple, playing Spaceteam can be rather challenging, especially when a big number of players are engaged.
The spaceship enters warp speed and the users are sent to the following level, which is more challenging than the one that came before if the instructions are correctly carried out and all of the tasks are completed in the proper order.
At any level, following directions incorrectly will result in the ship being damaged. The control panels used by the players also sustain damage. A supernova will destroy the spacecraft if there are too many errors, which will terminate the game.
As you go through the stages, Spaceteam becomes more challenging. Players can come across damaged or incorrectly labelled equipment, and they'll have to figure out how to follow instructions precisely and mistake-free under such challenging circumstances. In certain of the game's sections, players are also tasked with doing three-dimensional activities. For instance, if your spaceship is approaching an area with asteroids, all users must shake their smartphones to prevent hitting one.
With over one million downloads, Spaceteam is rated 4.6 out of 5 stars on Google Play Store.
2. Heads Up! (Free)
The next game on our list of the best Thanksgiving games for Android is Heads Up!, released by Warner Bros. International Enterprises. The game is based on the real-life game that Ellen DeGeneres plays on her shows with guest celebrities, and you can now play it with your friends and family. Heads Up! is a game of charades with many twists and with the addition of many decks and cards.
To play the game, the users must select a deck category, and place the phone to their head. There are a variety of decks for you to play with, including popular franchises such as Harry Potter, Friends, and Marvel. Once you have put the deck to your head, the other players in front of you will shout out clues about the card until you guess what is on the card. Once you have guessed right, you must simply tilt your head down and move on to the next card. If you can't guess what is on the card, you can tilt your head up and move on to the next card by skipping the current one.
As mentioned, Heads Up! has a multitude of card decks for you to play with. Some of these include Celebrity Head, in which you must guess celebrities based on the clues provided to you by other players. Blockbuster Movies allows you to guess movies, with Mr DJ you can guess songs and artists, among many others. Overall, Heads Up! is a really fun game to play with family and friends during the holidays.
With over ten million downloads, Heads Up! is rated 3.5 out of 5 stars on Google Play Store.
3. Triple Agent (Free)
A great board game for your phone is Triple Agent by Tasty Rook, which is perfect for gatherings that could become monotonous. The game clearly draws inspiration from popular social deception board games, including Werewolves or Secret Hitler, but Tasty Rook has reached a wider audience by making it available as a mobile application. Between 4 and 9 people can participate in Triple Agent, which sees you as a member of either the Agency (the good guys) or the V.I.R.U.S. (or the bad guys).
The various participants learn their duties as the gadget is passed around, and they attempt to play the remaining rounds of the game in a way that will ensure their team succeeds. In terms of role swaps or shifting goals, the game also throws in a few curveballs. For instance, the game may announce to Player X that their role has been switched with that of Player Y during the Operation phase of the game, in which players get to go on different tasks, or the game may inform you that the only way for you to win is if you eliminate Player Z from the game. Triple Agent prevents boredom in the game by breaking up the monotony in this way.
The three-colour design of Triple Agent is appealing to the eye. Even in terms of sound design, there isn't much else that demands your attention besides the game itself. But it's not until the timer starts that you realise how important sound design was for this game since it raises your anxiety level as you try to play the round and make the best and most educated choice.
With over five hundred thousand downloads, Triple Agent is rated 4.1 out of 5 stars on Google Play Store.
4. Trivia Crack (Free)
A game that is not just fun to play but is also incredibly informative, next on our list is Trivia Crack, which is a quiz game in which you must answer trivia questions from a wide-ranging selection of subjects.
The game has a vast variety of topics for you to test yourself on, including arts, sports, science, and many more. Not only can you test yourself on the quizzes already provided by the game, but you can also create your own quizzes in order to test your friends and family and to see who amongst you all is the smartest. The game has several modes, and all of them are incredibly fun to play.
First among the game modes is Triviatopics, in which you can pick different topics on which you and your friends can quiz each other. As mentioned, there are several topics for you to choose from, which makes this standard game mode one of the most popular ones in the game. The next mode is Survival, in which you must answer questions correctly on a variety of topics in order to stay alive. This mode is played in real-time and you must answer questions within a certain time limit in order to continue to the next question. Triviathon is the next game mode, in which you must answer questions non-stop in order to see how high of a score you can get. Trivia Crack also has an international leaderboard in which answering questions correctly will get you a higher spot.
The game also has daily mini-games and rewards such as the Daily Question, Guess and Grab, and Pick-a-prize, which make the game even more interesting.
With over one hundred million downloads, Trivia Crack is rated 4.4 out of 5 stars on Google Play Store.
5. Just Dance Now (Free)
Released by Ubisoft, the next game on our list is Just Dance Now, a dance game that is perfect for the holidays. A part of the popular Just Dance series, Just Dance Now is made for those users who may not necessarily have access to video game consoles on which to play the other Just Dance games. In Just Dance Now, the users must mimic the movements of the character on screen who will perform a series of dance moves on a chosen song. While this is the gist of the gameplay, there is a lot to the game that makes it incredibly special and a wonderful game to spend time playing with your family and friends.
To begin with, there are hundreds of licensed songs for you to dance to, and most of them are popular chart-toppers. While these are all free of cost, you can also add your preferred songs to the game for a small price, allowing you to dance to all your favourite songs, either for free or for cheap. You can play Just Dance Now in casual mode, in which you can simply have fun and dance either alone or with friends and family. However, the game also has a competitive mode, in which you can compete with players globally to see if you can make it to the top and become the dancer of the week.
With over fifty million downloads, Just Dance Now is rated 3.9 out of 5 stars on Google Play Store.
6. Uno! (Free)
We now have the option to play one of the most well-known card games in the world with our friends and family members anywhere in the world thanks to the creation of a video game adaptation. The popular card game Uno! has a new version that you can download to your smartphone that was created by Mattel. The goal of the card game Uno! is to get rid of as many cards as you can in the shortest amount of time. Three types of cards are used in the game: wild cards, colour intersections, and number intersections. Each of the four colours—red, blue, green, and yellow—has playing cards with values from 0 to 9.
Each of these colours has a total of nine cards. In addition, each colour has a set of special cards that can be used to skip a player's turn, alter the order in which the game is played, or instruct a player to draw two more cards from the deck after being given a special card. The wild cards, or cards that can change the colour of the playing deck to any of the four colours, are the last type of card. They include the Draw 4 card, which compels the player after you to draw four cards, and Wild.
Each player receives seven cards at random from the shuffled deck to start the game, and a random number card is placed in front of each player. The player who starts the game must play a card that is either the same colour as the starting card or has the same number as the starting card in order to start playing. For instance, if there is a green 8, the person holding it must either play a green card, regardless of its value or an 8 card, regardless of its colour, depending on the situation.
The game then proceeds in a clockwise direction (unless someone plays a reverse card, in which case the game moves in the opposite direction). When a player is down to their last card, they must yell "Uno!" to let the other players know they are going to win.
With the added convenience of internet connectivity, the app is an exact replica of the board game Uno! that you can play with your friends and family from anywhere in the globe. You can also play online with random individuals, whom you can later join as friends in the app if none of your friends or family members is available to participate in a game.
With over one hundred million downloads, Uno! is rated 4.5 out of 5 stars on Google Play Store.
7. Out of the Loop (Free)
Another offering from Tasty Rook, the next game on our list is Out of the Loop. The game is very simple to understand. You will need anywhere between three to nine players to play the game, and in each round, all players except will get to know a secret word or phrase. The person who doesn't know the secret word is the one who is out of the loop. The people who are in on the secret must figure out which player is the one who is out of the loop and vote them out of the round. On the other hand, the player who is out of the loop must try to figure out what the secret word or phrase is in order to not be kicked out.
Once the phrase has been intimated to most of the players, each player will have to answer a question based on the phrase itself. This is where players will figure out who is the player that is out of the loop. Did their answer not make sense at all, or was it too vague?
After this round of questioning, each player will vote for one player who they think is out of the loop. If the player who is actually out of the loop survives, they win the round, and if they get kicked out, then the rest of the players win. Out of the Loop is very fun to play with friends and family and will make for a great game to play during Thanksgiving.
With over one hundred thousand downloads, Out of the Loop is rated 4.6 out of 5 stars on Google Play Store.
8. Gogogo! (Free)
Created by Robert Thomson, the next game on our list is Gogogo!, an incredibly creative and exciting party game for 3-16 players. The game is played on one device and requires no internet connection.
The gameplay involves the players selecting a challenge in which everyone will compete in turn by turn. Once the challenge is complete, there will be three random challenges provided to you out of which you can choose the next one to play, and so on. There are over fifty different challenges for you to try out, and each one is unique in its gameplay and the abilities it tests. For instance, the various challenges test your memory, precision, listening ability, mimicry skills, and even your sense of humour. Challenges include remembering the details of a short story and answering questions based on the story, hitting the centre of a circle with your eyes closed, holding a yoga pose for as long as possible, mimicking noises to see who is the closest to the original sound, etc.
The game is accessible to players of all ages, and there are settings to increase or decrease the level of language difficulty for children and non-native English speakers. The character design is cartoonish and very fun to see, and the overall aesthetic and gameplay style of Gogogo! makes it perfect for the holidays.
With over fifty thousand downloads, Gogogo! is rated 4.6 out of 5 stars on Google Play Store.
9. How Well Do You Know Me (Free)
Have you ever questioned how well your loved ones know you and how well they know them? A number of tests with challenging and thought-provoking questions will put you and your friends and family to the test in the entertaining party game How Well Do You Know Me, which will help you determine just that.
It's an extremely easy game. The game asks you a series of questions about yourself, which you must then respond to. After that, you can ask your loved ones the same questions about you to see how well they know you.
You and your loved ones will be kept occupied for a while by the game, which requires two players to play simultaneously on the same device. The tests come in a variety of formats and are geared toward various audiences. There are questionnaires that best friends can take to gauge how well and how much they know each other, and there are also quizzes that family members can complete. Each quiz contains a unique collection of questions that are meant to be answered by specific demographics. There are quizzes on How Well Do You Know Me with questions designed exclusively for your loved one to respond to for partners and people in relationships.
You can also play How Well Do You Know Me both ways, in which case your loved one responds to questions about you first, followed by your responses. You are given a percentage at the conclusion of the game that indicates how well you or your loved one know the other. For instance, if your quiz contains ten questions and your friend correctly answers nine of them, they are very familiar with you and will obtain a 90% score. You can also invite folks to take your quiz and find out how well they know you by sharing the answers on social media or messaging services like WhatsApp.
With over five million downloads, How Well Do You Know Me is rated 4.3 out of 5 stars on Google Play Store.
10. Keep Talking And Nobody Explodes ($9.99)
The final game on our list of the best Thanksgiving games for Android is Keep Talking And Nobody Explodes by Steel Crate Games.
In the game, the players must attempt to defuse a bomb. There will be two groups, one which is in control of the mobile device which has the bomb, and the other which has the manual, in which are the instructions to dismantle the bomb. The latter team, however, cannot see the bomb and its configuration, due to which it becomes incredibly difficult to dismantle the bomb. The team with the manual will have to speak out (and occasionally scream out) the instructions to the team which is dismantling the bomb. The dismantling team will have to describe the bomb's configuration so that it becomes easier for the team with the manual to help them keep the bomb from exploding.
The game is intense, the rounds are short, and you are all sure to explode several times over the course of the game. However, that being said, Keep Talking And Nobody Explodes is an exceptional game to play with friends and family and it is sure to keep you entertained for many hours.
With over fifty thousand downloads, Keep Talking And Nobody Explodes is rated 4.8 out of 5 stars on Google Play Store.