BlueStacks Roundups
The 5 Best Mobile Game to Play with Friends and Family This Thanksgiving Day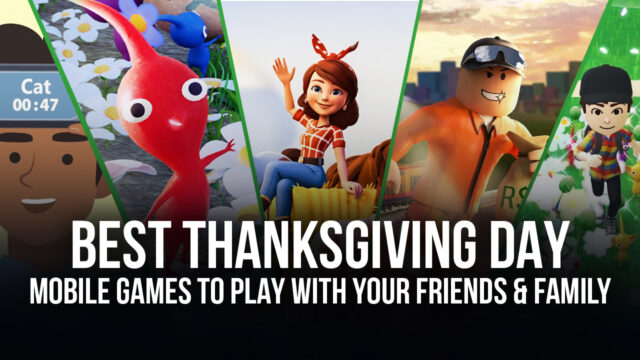 With Thanksgiving upon us once again, it's the perfect time of the year to get together with friends and loved ones, reminisce about what we're thankful for in the past year, and spend some good times together. Heck, with how chaotic and uncertain these past months have been, we could all use a bit of reprieve from the real world. And what better way to do it than by gathering around the big ol' roasted turkey and sharing a few moments with our most cherished people?
However, after all is said and done, and the turkey, gravy, and mashed potatoes are all sitting nicely within our tummies, those that don't immediately doze off will often want to partake of a few activities together. Whether it's a friendly board game, some physical activities in the backyard, or any other fun games, there are quite a few entertaining alternatives to enjoy on this Thanksgiving Day.
For our part, as a group focused on mobile gaming, we compiled a list of fun games and apps that anyone can enjoy with their friends and family this Thanksgiving. Read on to learn the 5 best mobile games to play on this special occasion.
1. Farmville 3
With over a decade of experience in the gaming industry, as well as millions upon millions of gamers, Zynga apparently struck gold with their massively successful browser-based Facebook game, Farmville. Played by gamers of all ages and genders, this simple and straightforward consisted mostly of monitoring your land, planting crops, harvesting produce, caring for your animals, and working to expand your own little farm by purchasing different decorations and adding other interesting elements. And over ten years later, Zynga has finally moved their popular franchise to the mobile platform with Farmville 3 – Animals.
As its title implies, this installment of the popular farming sim franchise revolves more around tending to and caring for animals, including feeding and breeding them, as well as expanding your farm by constructing more facilities for your livestock to live in. Meanwhile, and just like in the previous titles in the franchise, players also need to plant and harvest crops, which are then used both for completing requests and missions, as well as for processing them into animal feed for the large variety of cute pets that you can keep in your farm.
Though the farming gameplay is just what you'd expect from a Farmville game, this newest installment features lots of multiplayer aspects where gamers can join up together and complete tasks to receive special and unique rewards. This aspect makes Farmville 3 on PC a great game to play with your friends and family during this Thanksgiving.
2. Pikmin Bloom
This is an interesting addition, considering it's based on an existing Nintendo franchise and is developed by Niantic, the same team behind the widely acclaimed Pokémon Go. In fact, Pikmin Bloom has similar mechanics in that it's also an AR game, which means that it takes aspects of our world and adds the gameplay on top of it. Specifically, players can collect a variety of Pikmin and have them follow them around, growing as the players walk around the neighborhood. And as the players walk, the Pikmin extract nectar from fruits in the environment, which they can then be fed to make pretty flowers sprout and bloom on their heads. And the more you walk, the larger your squad of Pikmin will become.
Though this isn't strictly a multiplayer game that anyone can play with friends and family, Pikmin Bloom makes for a nice experience as players can show off their Pikmin collection to their friends. And eventually, the developers will add co-op events that will let players collaborate to plant, grow, and develop their Pikmin as a team. So, play Pikmin Bloom on PC with your friends and family this Thanksgiving Day.
3. Heads Up!
Of course, this list would never be complete without a game that involves a regular mobile app, but combined with the physical activities that are so entertaining when played with friends and family.
Heads Up! Is an exciting party game where the players take turns guessing the words that appear on the phone. The idea is that the current player holds the phone to their forehead, while the other participants give them hints on the words that appear on the screen. The player can tilt their head down to get another clue, or tilt up to pass on the word entirely. At the end of the round, the player who had the most guesses is the winner. So, play Heads Up! on PC and enjoy playing this game with your favorite combination of mouse and keypad.
Aside from the fun gameplay itself, Heads Up! also has an interesting party feature where it can record through the frontal camera the reactions and desperation as the audience tries to give hints and clues for the player to guess. These videos can then be edited, shared, or stored to relive the fond memories later on.
4. Ludo Neo-Classic: King of the Dice Game
Ludo Neo-Classic: King of the Dice Game basically doesn't require an introduction at this point—it's simply one of the most popular board games, which soared in popularity due to the recent lockdowns. And while the game is quite simple, consisting of taking turns rolling a dice to move a chip to the end of a maze, it's the shenanigans that ensue from the dice rolls that make this title truly memorable.
If you're looking for a nice board game to play on Thanksgiving, Ludo is definitely one of the best choices, particularly if you want a simple yet very fun and exciting title.
5. Roblox
Last but not least, the game of games, at least when it comes to the mobile medium. And yet, Roblox is more than just a game; it's more like a platform of games with thousands upon thousands of creations that players can download and enjoy.
Especially for the little ones in the family, Roblox is both a safe and fun environment for them to play and have fun during Thanksgiving. Whether they want to pass the time playing a few minigames, or simply relax and share fun moments in any of the countless "multiplayer hub" games where they can chat, interact, and even customize their own in-game avatars with a large variety of clothing items and accessories, Roblox has a little bit of something for everyone. So, play the adventure game Roblox on PC and enjoy it with your friends and family this Thanksgiving Day.