BlueStacks Roundups
Best Android Games to Play with Controllers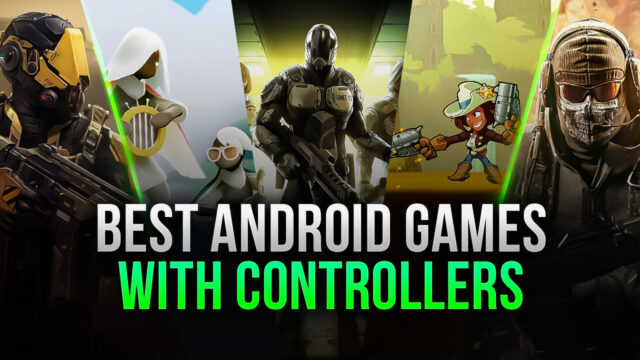 Let's face it, touch-screen controls for mobile games are functional at best, and annoying and disruptive at worst, and can ruin your gaming experience if your screen is not big enough to hold all the different controls a game may have to offer. Having a good control system can also make the difference between winning a game and losing it, since the stray and unintentional press of the reload button when you meant to press the shoot button, can lead to your death in a game such as Call of Duty: Mobile.
There is a fix for this, however, and one that is slowly on the rise, with many new games being released for mobile, such as Diablo Immortal, incorporating it. This fix, as you may have guessed, is the controller. Controller support in games is something that is becoming increasingly popular, especially with the release of consoles such as Android TV and Nvidia Shield Console, which make playing mobile games on controllers or gamepads easier than ever. It may come as a surprise to many, but several games on the Google Play Store have additional controller support, although Google Play Store does not mention it, and many game developers neglect doing so as well. For this reason, users who may have access to an additional controller may not be able to make use of it for the game they're playing since they're unaware that the game even has controller support in the first place.
To help with this, this article will list ten of the best Android games to play with your controller. If you have a controller already and are looking to make the most of it by playing games that have controller support, this list is a great place to start.
1. Call of Duty: Mobile (Free To Play)
One of the most popular mobile games on the market right now, Call of Duty: Mobile, is also compatible with additional controllers. Many may not know this, but Call of Duty: Mobile supports both the PlayStation 4 DUALSHOCK 4 controller and the official Xbox, One controller. Except for the first-generation controllers, all other PS4 controllers are supported by the game, and users can improve their playing experience by using these controllers. Controllers are especially useful in competition-type matches, such as the ranked matches in Call of Duty: Mobile, which requires fast and precise aiming and shooting, with minimal mistakes, all of which both these controllers offer.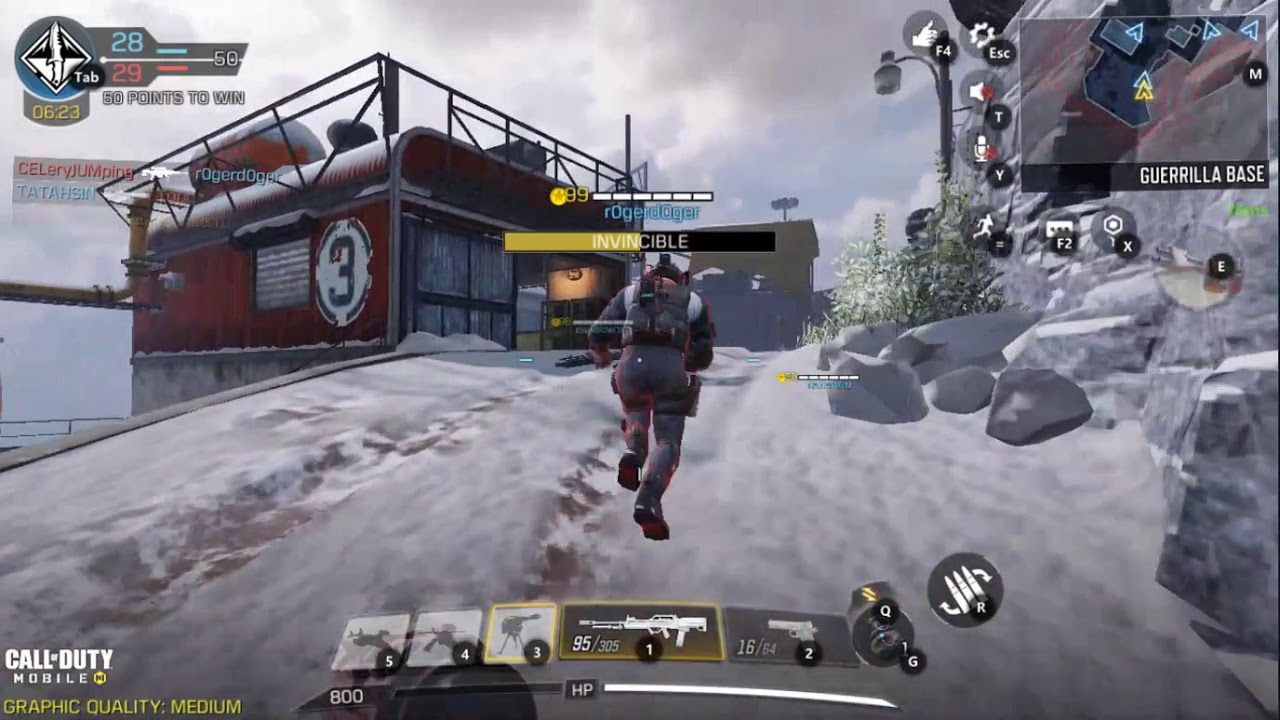 As for the game itself, Call of Duty: Mobile was released on 1st October 2019 by Activision for both iOS and Android. The game is developed by TiMi Studio Group, and it quickly rose in popularity to become one of the most downloaded mobile games of all time, with over 270 million downloads within the first year of release alone. The game is a free-to-play shooter game that acts as a greatest hits type game for the Call of Duty franchise, with the most popular characters, weapons, and maps, all being included in the game. Activision, the company behind the game, has kept the best parts of the original console series alive while also optimizing the game for mobile devices. However, playing the game with a console brings back nostalgic memories of playing games such as Call Of Duty: Black Ops or Call Of Duty: Modern Warfare on the Xbox or Playstation. The game has a very wide selection of weapons and maps to choose from, along with various different fight modes such as Deathmatch, Search and Destroy, Capture The Flag, Gun Game, etc., all of which are highly exciting and bring something new to the gameplay. Along with the regular multiplayer mode, the game also has a battle royale mode, similar to games such as PUBG, where a hundred players battle it out in one large map, and the last one standing wins.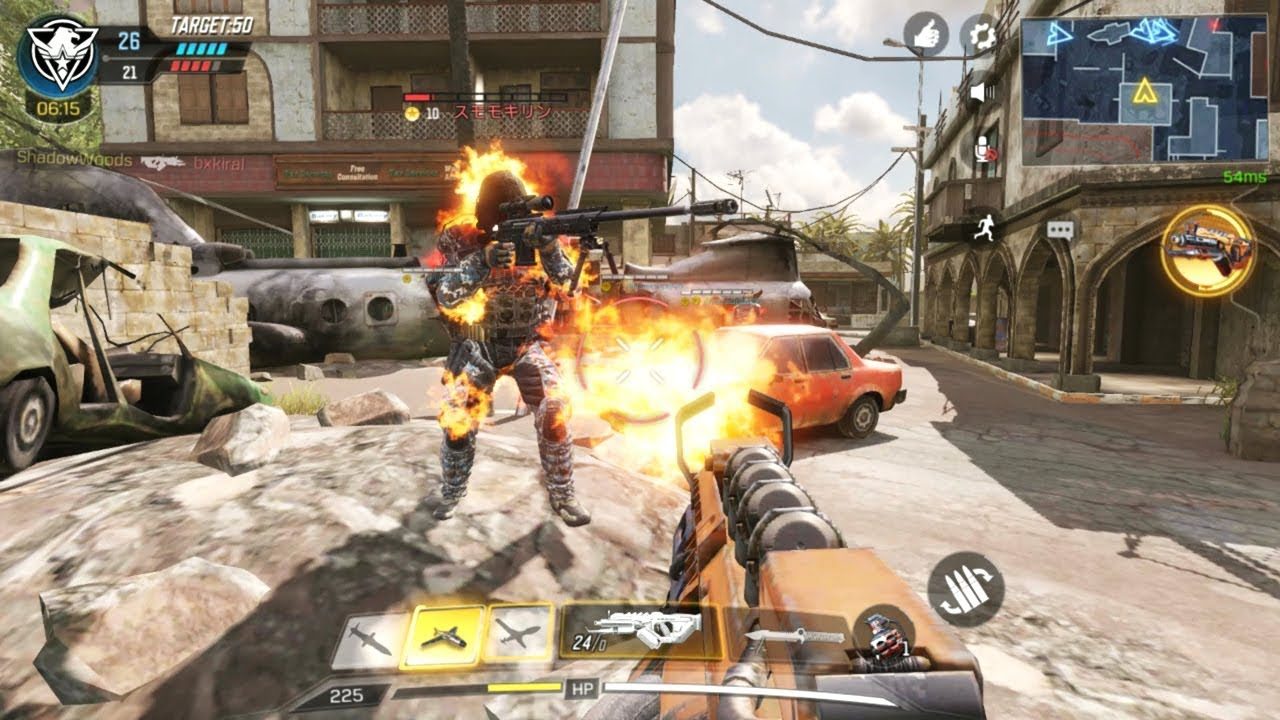 An incredibly popular game, and one that rightly deserves its popularity, Call Of Duty: Mobile is one of the best mobile games to play with a controller.
With over three hundred million downloads, Call Of Duty: Mobile is rated 4.4 out of 5 stars on the Google Play Store. Download and play Call of Duty: Mobile on PC.
2. Oddmar (Free To Play)
Oddmar is a game that finds itself consistently among the likes of The Banner Saga, Gorogoa, and other such niche games that are incredibly beautiful to look at and also provide an incredibly enjoyable gaming experience. Another line that runs through all three of these games, and others like them, is the storytelling that goes behind them. Oddmar seems and sounds like a simple, unassuming game, and to a large extent it is, but the story of Oddmar, and the visible work put into the game by Mobge Ltd, the developer of this game, makes the game more than just another platformer.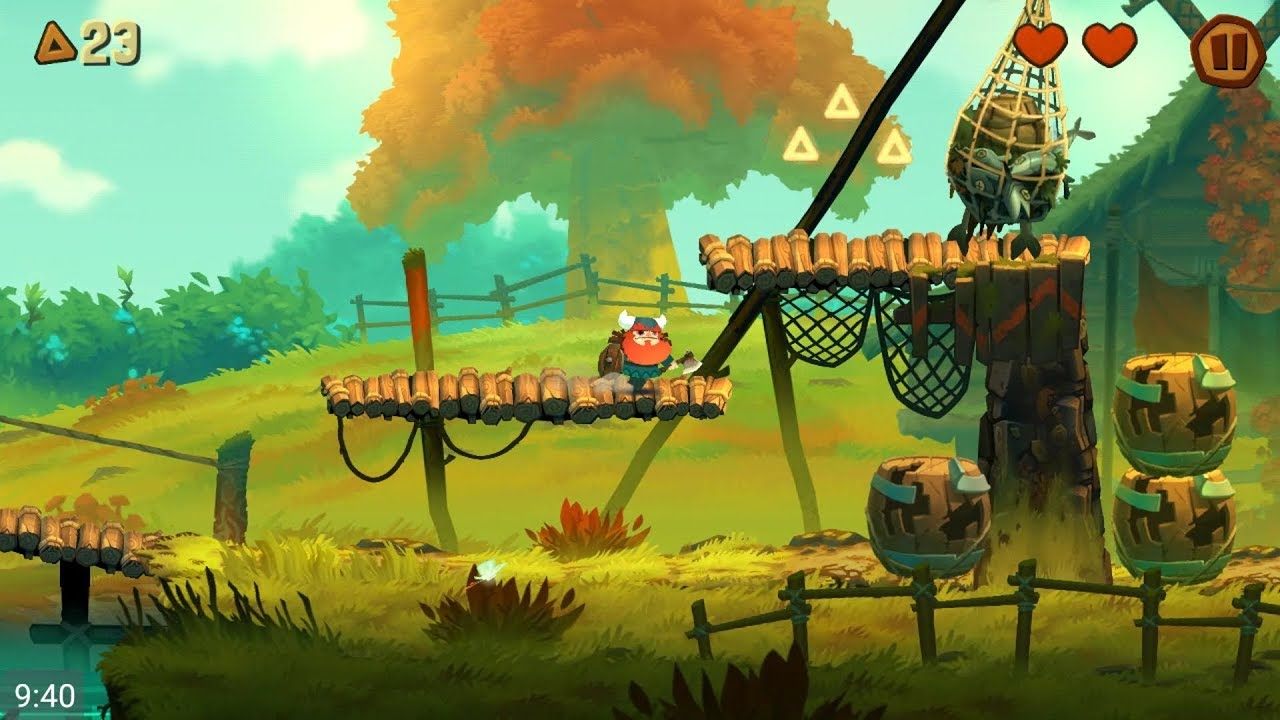 The story of the game revolves around Oddmar, a Viking warrior who has placed upon him the immense weight of bringing back his entire village when it suddenly disappears. Usually a selfish oaf, Oddmar now finds himself straddling immense responsibility, and he must fight through every monster in his way to get his village back into place. Doing this will also earn him a place in Valhalla, a majestic hall of Norse mythology, that is reserved for the greatest warriors. This is the ultimate objective of the game, and to help Oddmar find his place in Valhalla, the user must fight through a multitude of monsters.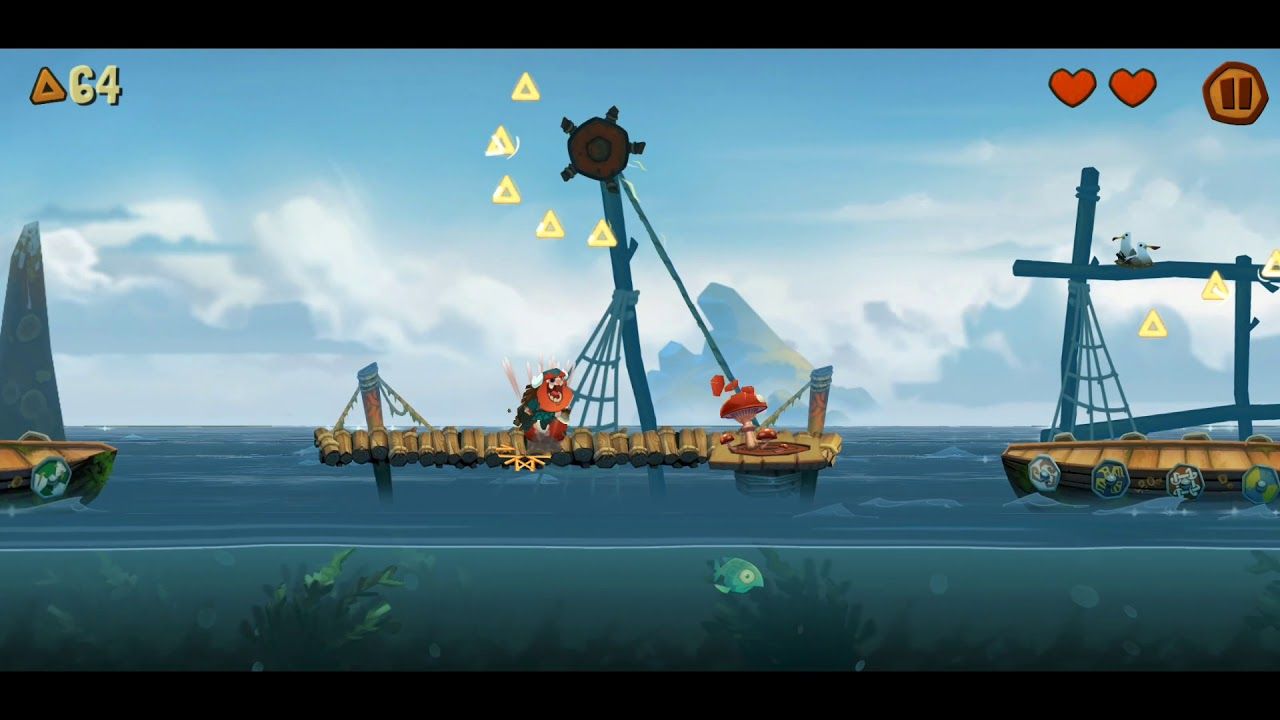 The game's graphics have been lauded by critics the world over, with many calling it one of the best-looking platformers to have ever been released on mobile. It is easy to see why this has been said. Every single visual element in Oddmar seems to serve a purpose, but, at the same time, the visuals are well-spaced, and the screen doesn't look too busy. The cut scenes and sound acting are also immensely well made, and really bring to the fore the story of the game. The controls are very simple. You move your finger to the left side of the screen to run and swipe up with the right to jump. Tapping the screen on the right will give you an attack sequence while swiping down when in mid-air will make Oddmar perform a destructive shield bash. The controls feel just as smooth on a controller as they do on the screen, and given how good the game is, don't be surprised if you're sucked into Oddmar's world for a good couple of hours every time you play. Play Oddmar on PC using BlueStacks and use its smart control Macros to record a combination and recall it with a single keystroke.
With over a million downloads, Oddmar is rated 4.6 out of 5 stars on Google Play Store.
3. SKY: Children of the Light (Free To Play)
From thatgamecompany.inc, the creators of widely celebrated games such as Flower and Journey, comes SKY: Children of the Light, an adventure role-playing game. Launched in 2019, SKY was initially a mobile game, but because of the critical appreciation it received following its release, the game was relaunched in 2021 with a console option and is now accessible on the Nintendo Switch. This is fortunate because a game like SKY with its stunning visuals and easy gameplay is best enjoyed with a controller. Set in a gorgeous kingdom, SKY is a game that involves traveling to various landscapes in order to encounter spirits and the Children of the Light. The former help customize your appearance by vesting you with capes, hairstyles, and accessories in return for in-game money, and the latter help in advancing your flying capability as you progress forward. The more of these gifts you acquire, the more able you are to go further into the kingdom. There is no cutthroat fight or tactical play in SKY — it's a simple game with serene visuals and an aesthetically pleasing setting.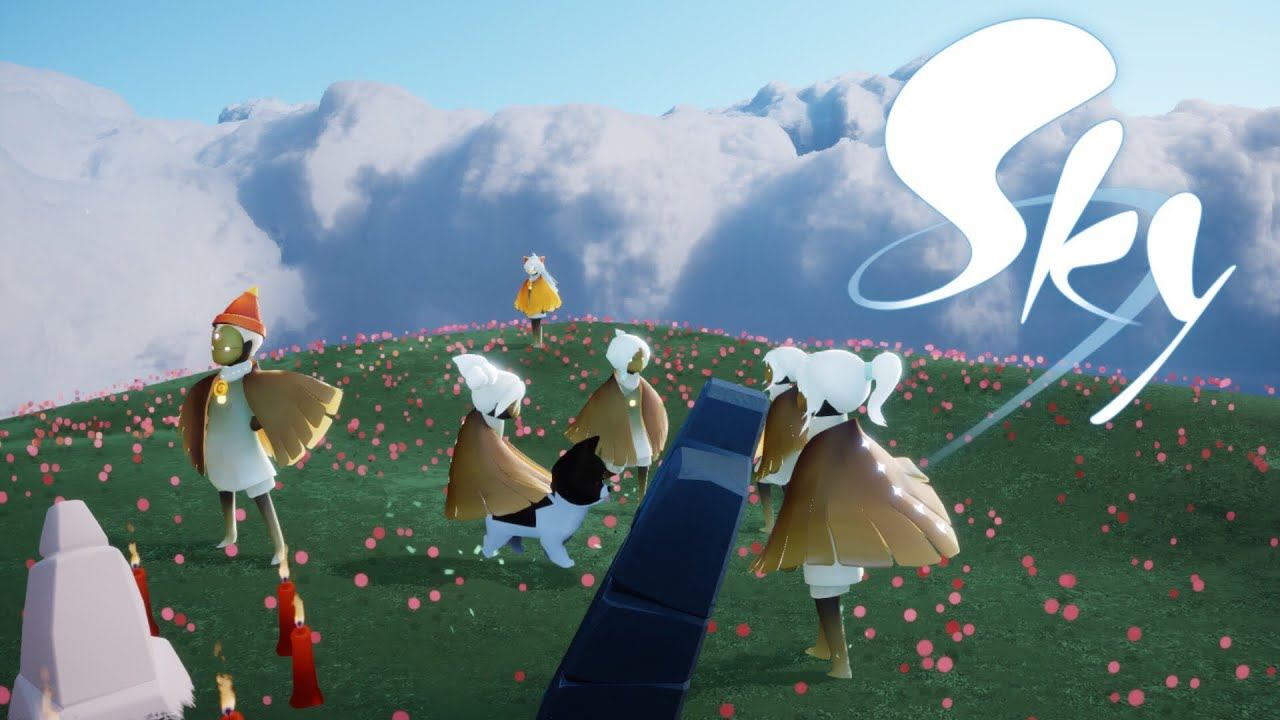 SKY is reminiscent of Journey in some ways, the players glide about the kingdom in the same charming manner, but SKY is far more expansive, and has an exceptional multiplayer strategy. You can travel through seven different landscapes of the realm, each with gorgeous scenery of its own. What's most impressive about SKY is the social interaction element to it – social interaction is an essential component to the game, you come across many players embarking on their own journey, you can engage and become friends with these players as you progress through the game (and, assign them a nickname of your choice!). The socialization doesn't feel forced, you just build a natural rapport with fellow players, you can help each other while saving the spirits, exploring the realm and discovering precious treasures, and give each other 'Gifts of Light'. SKY also includes cross-play with players opting for the mobile version of the game. SKY focuses on an endearing development of friendship and interaction between players to engage you — and it works, your friends accompany you as you go along on this journey of exploration. Your main objective when encountering the dangling spirits is to set them free which is a soothing experience. There is a profound aspect to the game that keeps the player emotionally invested.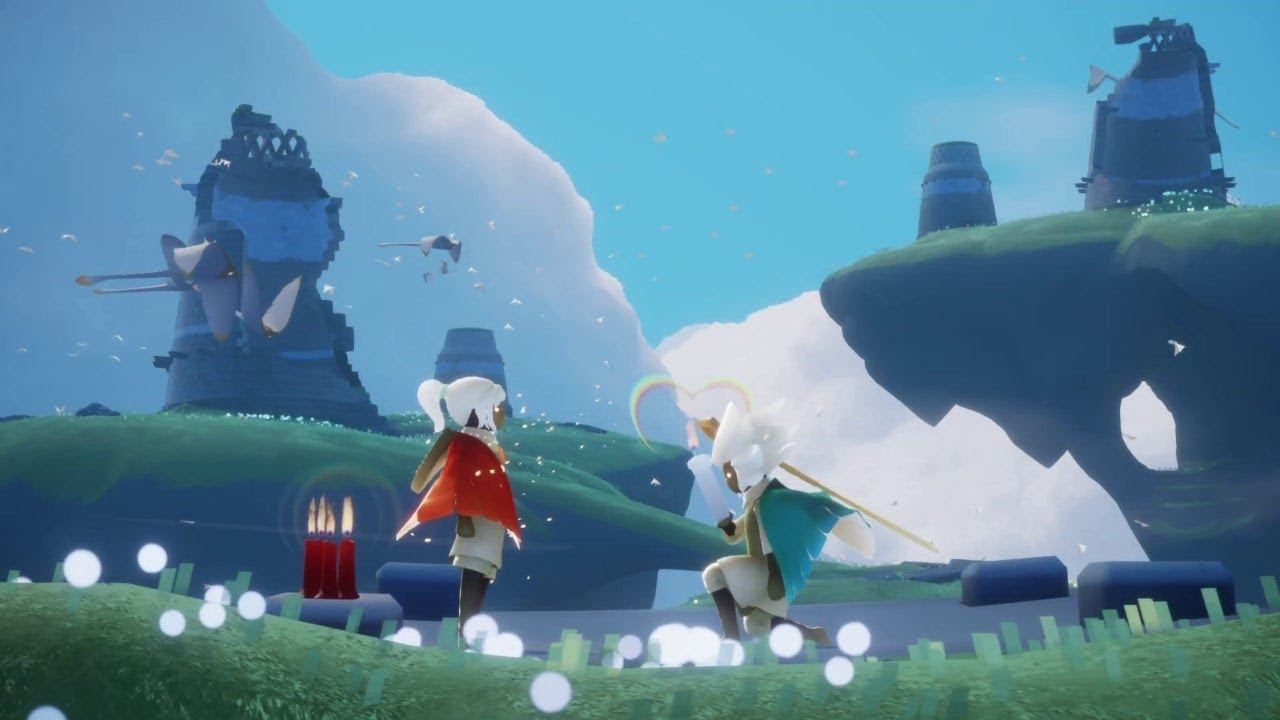 SKY: Children Of Light is an enchanting game, with delightful visuals and a beautiful music score, it combines both adventure and interaction to create the perfect journey. It also has magnificent lens flare effects to add to the visual appeal, in fact, you can change the visual resolution as per preference as well. You have access to a 'Starter Pack' which comes with 75 candles (SKY's currency), capes, a hairstyle, and a flute. The game also regularly introduces new seasons to remain engaging. It's truly rare to find a free-to-play game with such advanced features, visuals, and gameplay. Download and play SKY: Children of the Light on your PC using the BlueStacks app player to have a lag-free gaming experience.
With over 10 million downloads, SKY: Children of the Light is rated 4.5 out of 5 on the Google Play Store.
4. Brawlhalla (Free To Play)
A Ubisoft release that is the premier alternative to Nintendo's Super Smash Bros, Brawlhalla is a platformer that works with the basics and does them well. Unlike other fighting games such as Tekken, or Street Fighter, which also work on the 2D plane, Brawlhalla doesn't ask you to defeat your opponents by slowly beating them down and emptying their health bar, instead, what you need to do to win is knock your enemy out of the battlefield, having them slowly inch their way towards the edge until you can dish out the final blow and watch them fall to their defeat. This is the case with many other platformer fighting games as well and is not something unique to Brawlhalla, but seeing it done so well makes the old-head gamer in you scream with joy. The nostalgia doesn't stop there, however. The ability to play the game on your phone with a controller brings back memories of arcade games, and Brawlhalla is just as much, if not more, fun to play with a controller than with the on-screen controls provided to you by default.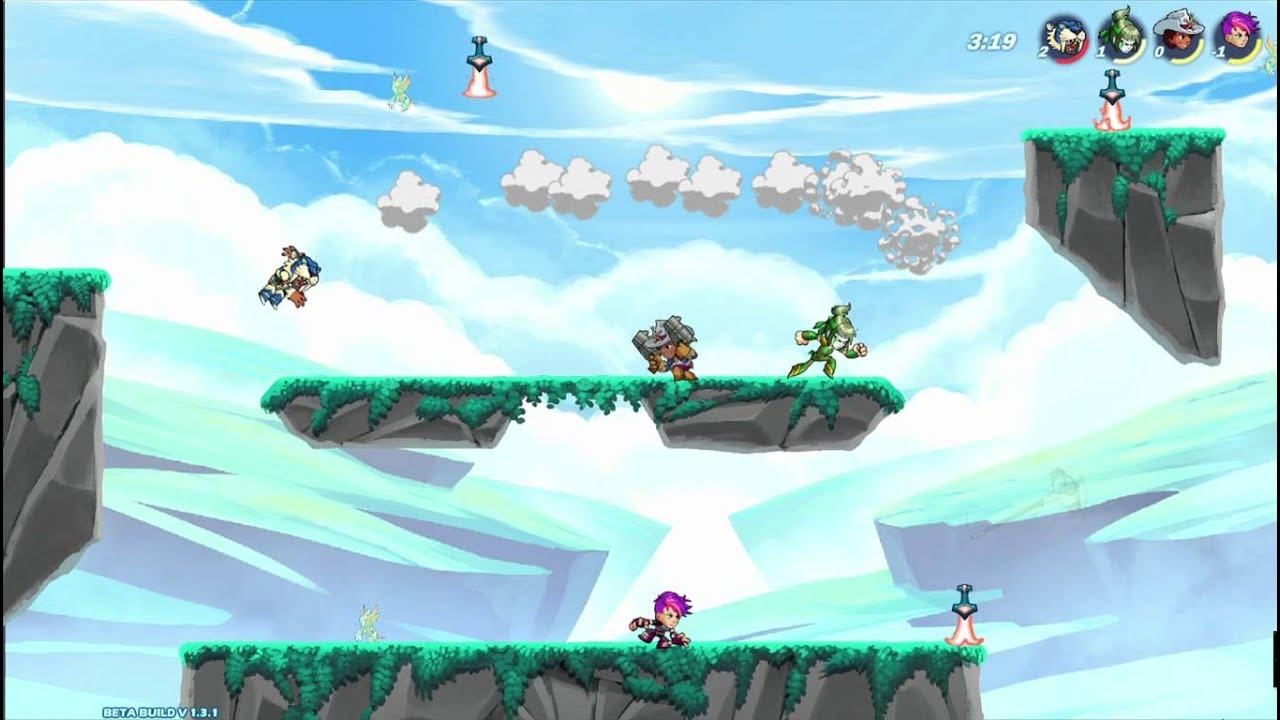 The game is often taken to be a casual combat game because of its lack of unique attack moves that are specific to characters in the game, but, as mentioned, Ubisoft takes the approach of working with the basics, and the attacks that are provided to you by the game are more than enough to make for a fantastic playing experience. This, coupled with the playful art style, over 50 playable characters, and the online mode that lets you compete with fellow fans of the game, makes Brawlhalla a must-play for anyone that is interested in an arcade-style combat game that is not Tekken or Super Smash Bros. The game has a bunch of different casual modes, and also a featured mode that is updated regularly, ensuring that you will always have something new to do in the game, and makes playing it a unique experience every time.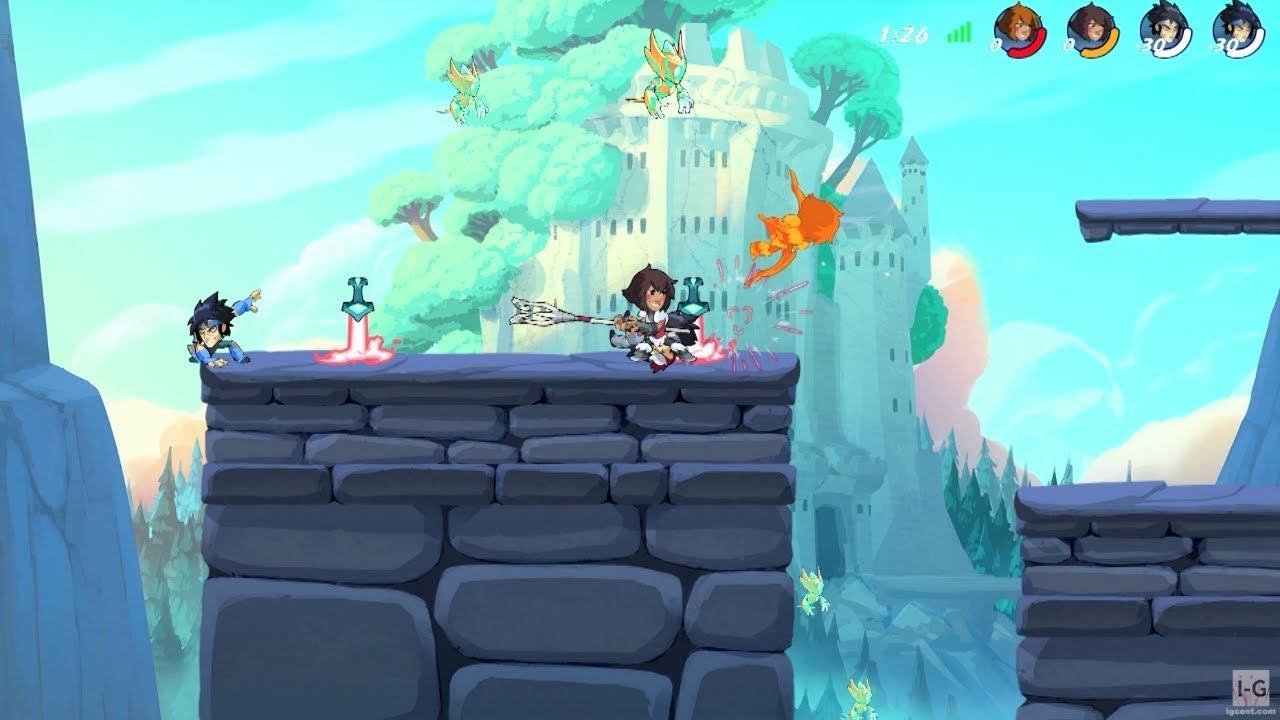 With over five million downloads, Brawlhalla is rated 4.2 out of 5 stars on Google Play Store. Enjoy this action game Brawlhalla on your PC.
5. Roblox (Free To Play)
Roblox has been around for over a decade now and recently announced that it has over one hundred and sixty million active monthly players. For a game that has flown under the media radar for so many years, and one that has not spent even a fraction of the amount on advertising as some of its competitors such as Fortnite and Minecraft have, it may seem quite surprising that it has reached a user base that large and diverse. But, the main reason for Roblox's popularity is the fact that it is not one game, but an inventory of millions of user-generated games that players can choose to play. In a way, Roblox is similar to Youtube, except instead of uploading videos, its users upload full-fledged games, creating a community of people who are fans of the game and spend a lot of time on it. This sense of community is another reason why Roblox has gotten as popular as it has. Users invite their friends to play the game with them, and this creates a large network of friends who play different games together, strengthening Roblox's user base.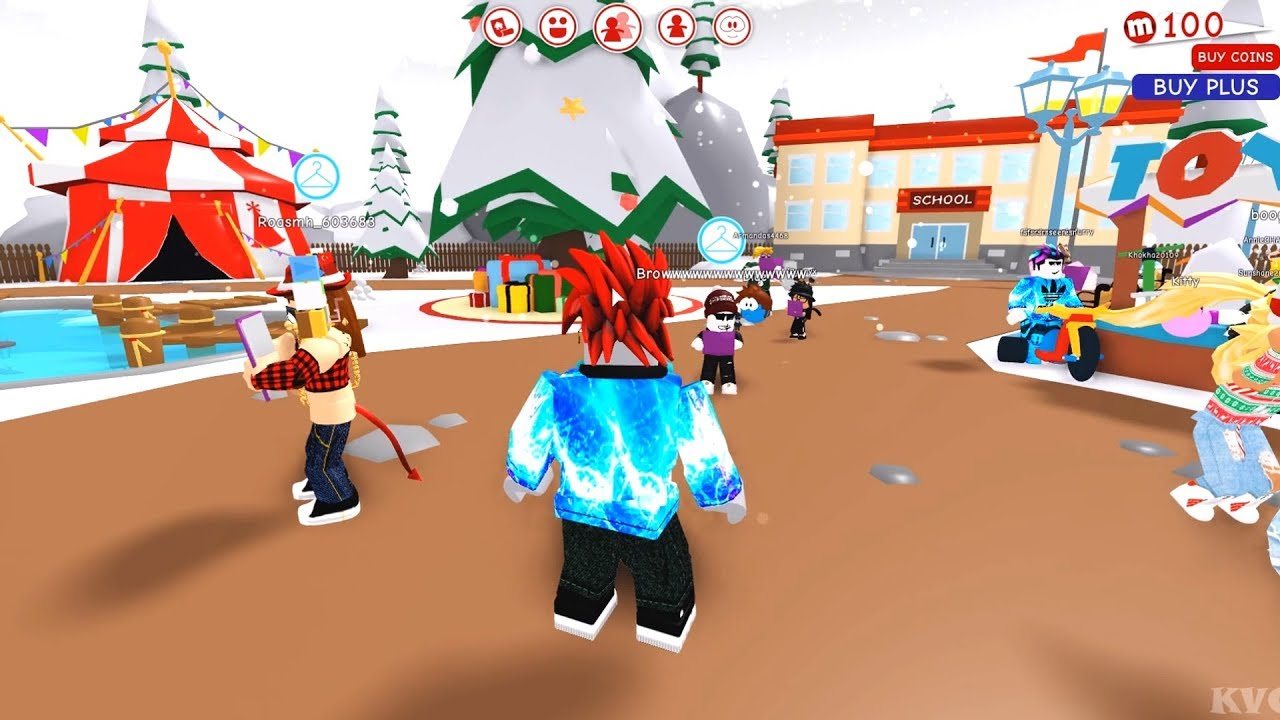 The game's graphics are a mixture between high-end graphics and low-end graphics, with the environment and surroundings being extremely well made, while the characters themselves are inspired by 8-bit game characters, with boxy bodies and comical faces. The game's environment is unstructured and offers more control to users than most other games, which is another reason why so many players flock to it.
Roblox also allows users to create and sell virtual objects and items that can be used to decorate the avatars users have in the game. Although anyone can buy such items, it is only those with premium memberships of the game who can sell them. The game is playable on multiple devices, including Windows, macOS, iOS, Android, and Xbox. For those who play the game on mobile devices, controller access allows them to play competitively with other users who may be on more powerful devices such as a PC or an Xbox.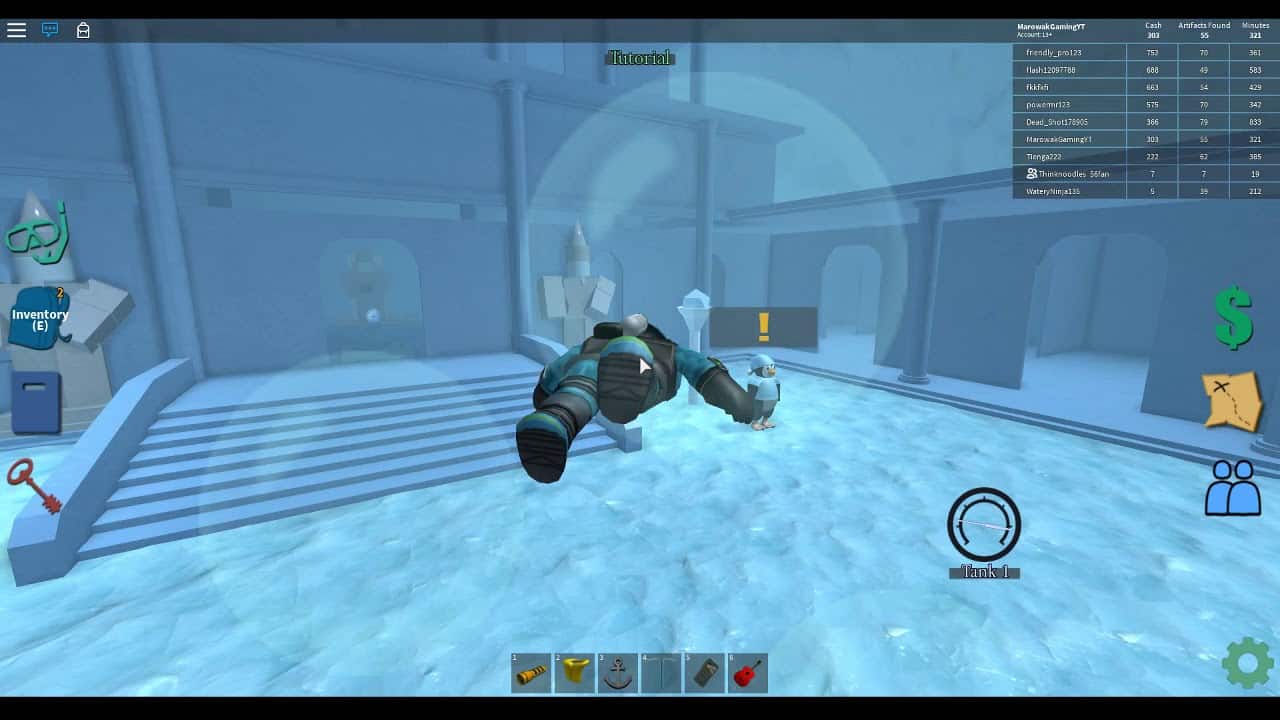 With over three hundred million downloads, Roblox is rated 4.4 out of 5 stars on Google Play Store. Download and play Roblox on your laptop.
6. Modern Combat 5 (Free To Play)
Modern Combat 5: Blackout is a free-to-play FPS game developed by the French video-game company Gameloft, who have also published the Asphalt series, Dragon Mania Legends, Gangstar Vegas, Brothers in Arms, and the Disney Magic Kingdom, among others.
Modern Combat 5 is a game that provides an adrenaline rush, you jump from one location to the next in the quest to fulfill a variety of challenges. The game has a set of multiple locations, from Italy to Tokyo, and the missions are divided into six-story chapters, each with a specific mission of its own. It is vital to fully complete each story mission in order to move on to the next. These stories are riddled with plot twists and deception, fighting and kidnapping, battles and wars. There is a series of soldier classes, all of which are customizable; you can easily unlock tactical skills specifically related to your class and different weapons from the 100+ available options through skill points. Modern Combat 5 has both multiplayer and single-player gameplay options — multiplayer gameplay involves team battles called Squad v Squad matches and, you can interact and communicate with your fellow squad allies through a feature called Squad Chat. You can embark on a solo campaign or opt for one of the many multiplayer modes: Free For All, VIP, Squad Battle, Capture the Flag, and Battle Royale. The single-player campaign involves different side-missions within each of the chapters, and the multiplayer allows you to form your own squad to compete with other squads. There are a total of 11 multiplayer maps that can be used as an arena for your combat training. All the characters have animal surnames that best represent their qualities, our main hero is named Cayden Phoenix and other characters include Jonathan "Bull" Taylor and Alex Hawk.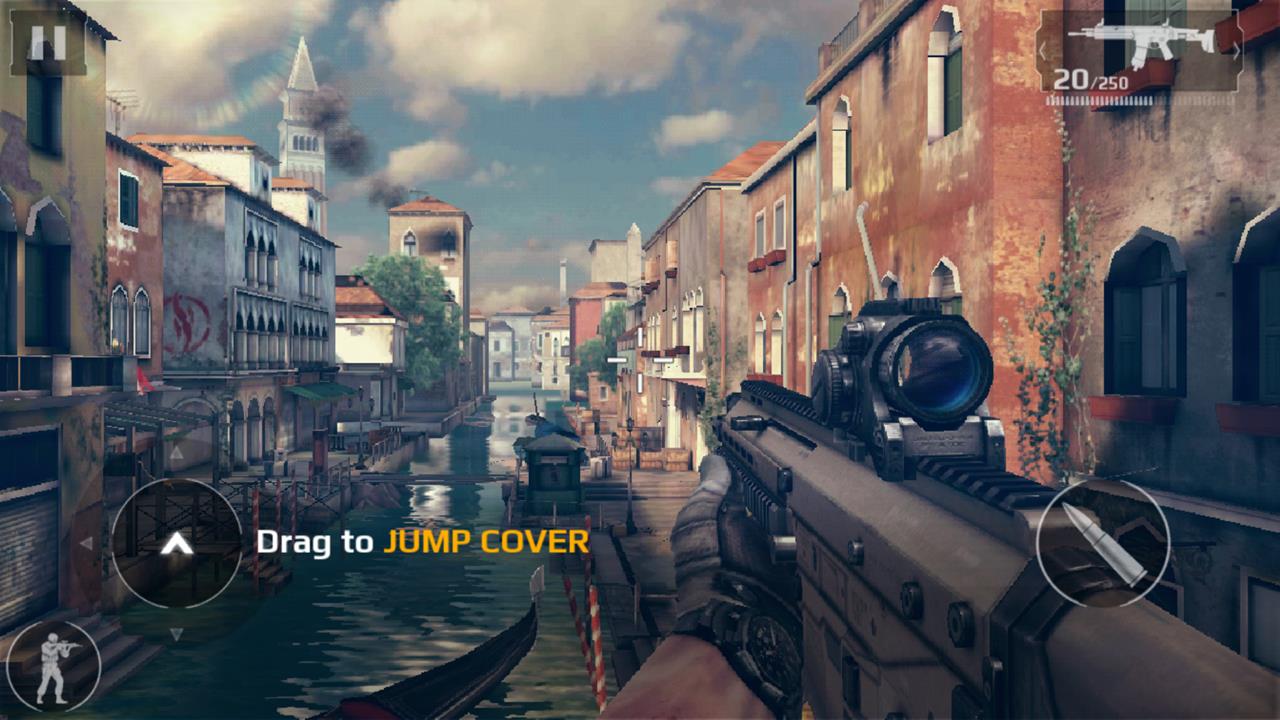 As is traditional with previous versions of Modern Combat, the gameplay is the most engaging aspect of the game because it constantly surprises you with new challenges. There are four control classes: Recon, Sniper, Heavy, and Assault, and every class is customizable and comes with a set of weaponry that can be unlocked as you progress through the game. Shooting, sniping, rifling, knifing, etc. are the primary functions, and these functions also come with a feature that allows you to slow down the speed of the bullet's motion. The graphics are quite detailed and have a lens-flare style, with gorgeous scenery and premium quality visuals of the setting all around. Modern Combat 5 has a distinct music score with loud sound effects of the characteristic shooting, bombing, and crashing; rendering the whole experience more real than simulation. As an FPS game, Modern Combat 5 is far more interesting to play when using a controller instead of a touch-screen, you can't go wrong with a controller because it adapts very well with the control classes.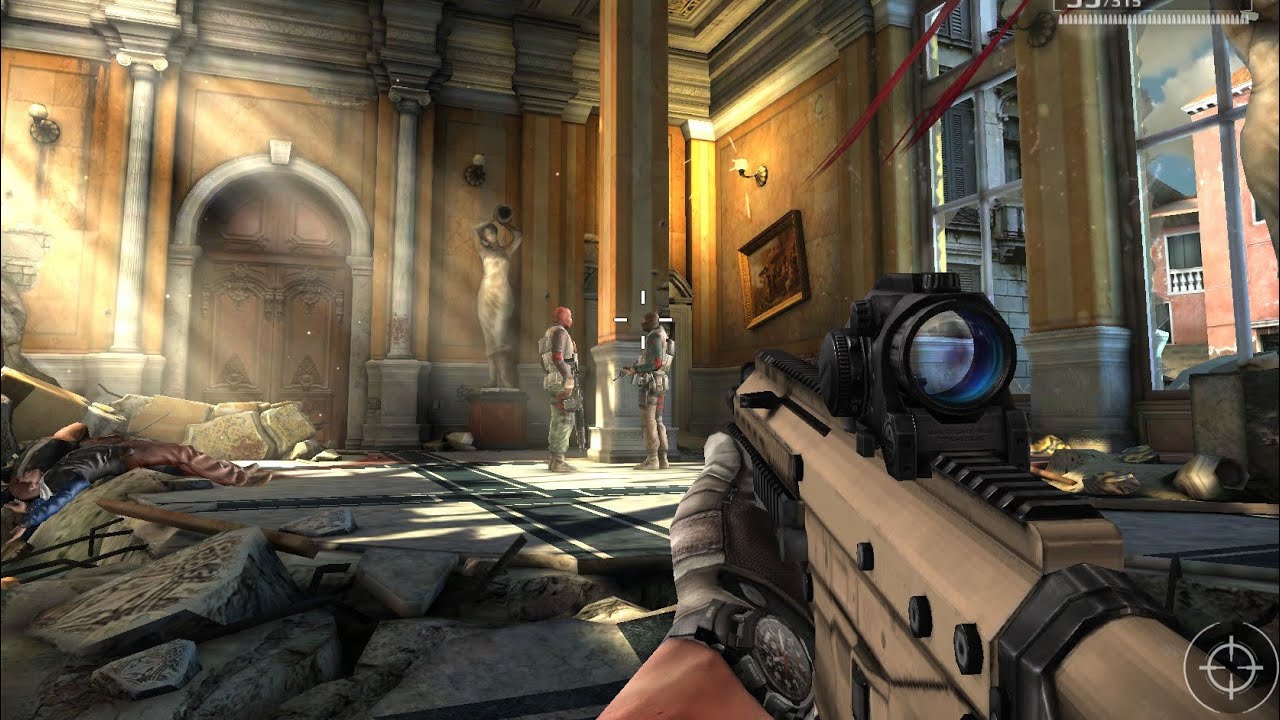 With over a hundred million downloads, Modern Combat 5 is rated 4.3 out of 5 stars on Google Play Store. Enjoy this action game Modern Combat 5 on your PC.
7. Dead Effect 2 (Free To Play)
Badly Interactive's Dead Effect 2 is a horror survival game set in space. A spaceship called ESS Meridian housing highly intelligent scientists from earth embarks on a trip to discover a planet. These scientists eventually misuse their intellect and technology to turn themselves into monsters. The user is the sole survivor of this disaster and must now save the ESS meridian and find a way to save themselves from the debilitating infection. You can choose one of the three standard classes character options, each with distinct combat styles; Gunnar Davis comes with heavy weaponry, Kay Raynar comes with melee weapons and Jane Frey comes with shotguns. There are more than 100 upgradable body implants and gear sets available, along with 40+ upgradable weapons. Dead Effect 2 is essentially a combination of elements of horror and sci-fi adventures, it's a game infested with zombies, drones, mutts, monsters, and soldiers. You are guided by a woman named Dannette who directs you toward missions, Dannette, Minikin, who is a mechanic suffering from brain damage, and Dr. Bielik, the scientist, help you acquire skill-based points and body upgrades as you progress through the game. Initially, the missions are minor and easy to pull off, but as you move forward, they become increasingly difficult.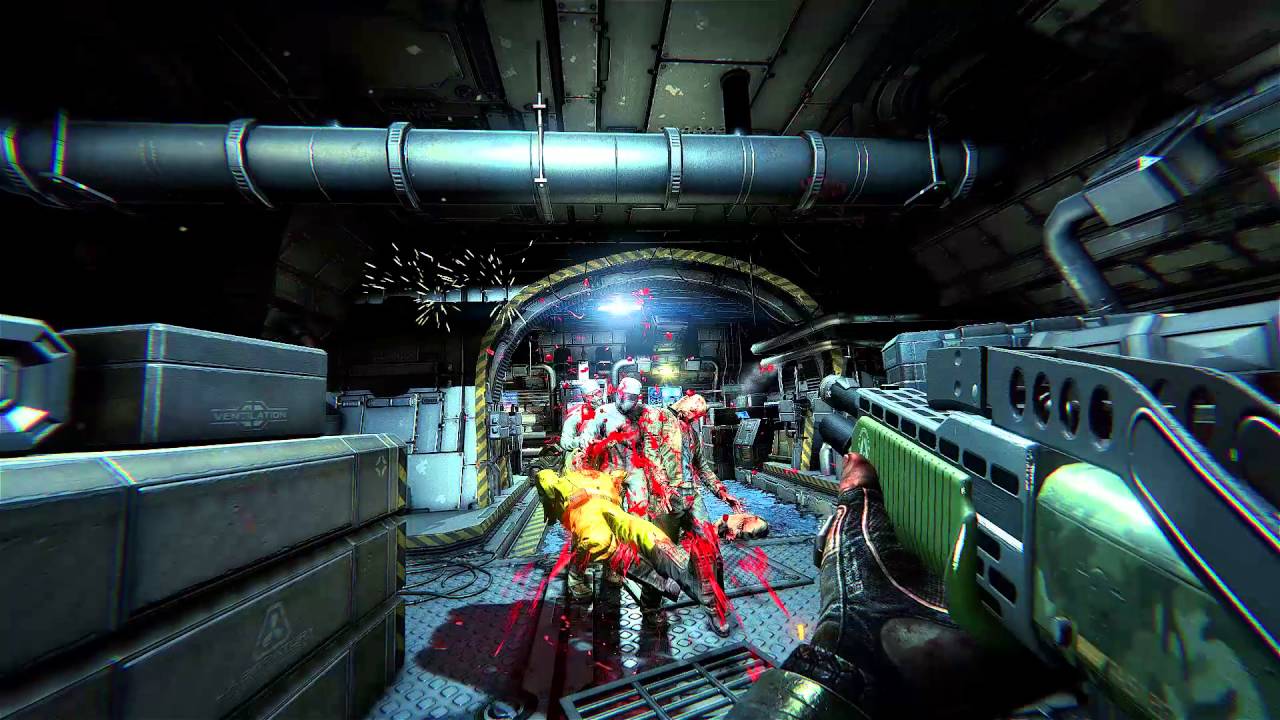 Dead Effect 2 is an FPS game and involves extensive use of guns, and can be played in one of many available story modes — Generic Missions, Biohazard Mode, Survival Mode, Infestation Mode, and Lone Wolf Missions. Each model comes with a separate challenge, in Survival Mode, you have to simply survive an attack from the undead enemy troops, while in Infestation, you have to actively defeat them in battle. These story modes ensure that the game doesn't become monotonous after a period and retains the player's interest, while also helping them acquire more collectible credits for upgrades. You also have to occasionally work on pretty easy puzzles to access ammunition.
Dead Effect 2 has outstanding visuals of various scenes set on the spaceship and realistic sound effects. The soundtrack is simply sublime, the content is captivating and the gameplay is absorbing. With action-packed 20 story missions, you are bound to be engaged while playing Dead Effect 2.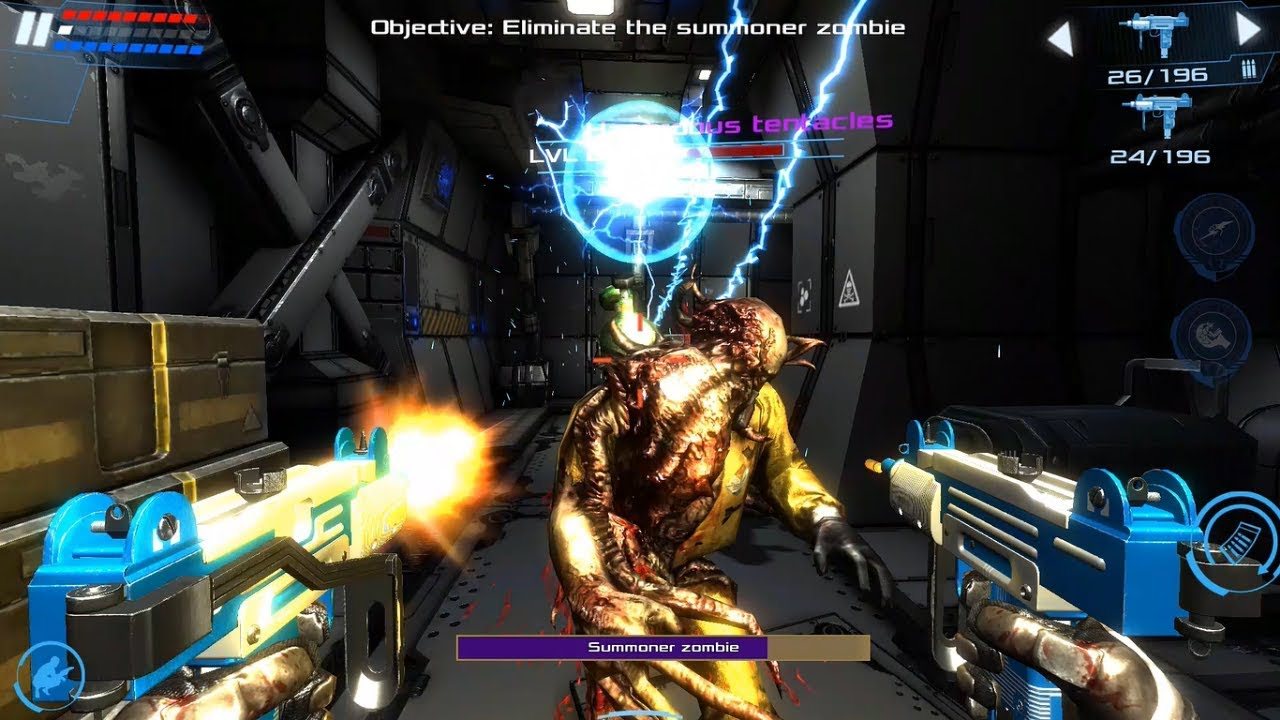 With more than five million downloads, Dead Effect 2 has a rating of 4.4 out of 5 on Google Play Store.
8. SHADOWGUN LEGENDS (Free To Play)
From MADFINGER games — the developer for Dead Trigger, Unkilled, and Samurai Vengeance; comes Shadowgun Legends, a first-person shooter and role-playing game with PvP, Co-Op, and exciting story campaigns. Reminiscent of Halo and Destiny, Shadowgun Legends is a game that asks its mercenary players to seek fame. The amount of fame you accrue as a mercenary determines your global ranking, and if you do well, you'll be surrounded by paparazzi camera drones. Essentially, you're a 'Rockstar Warrior', in fact, if you have enough fame, you can commission a statue of your likeness or have your name embedded on the Walk of Fame.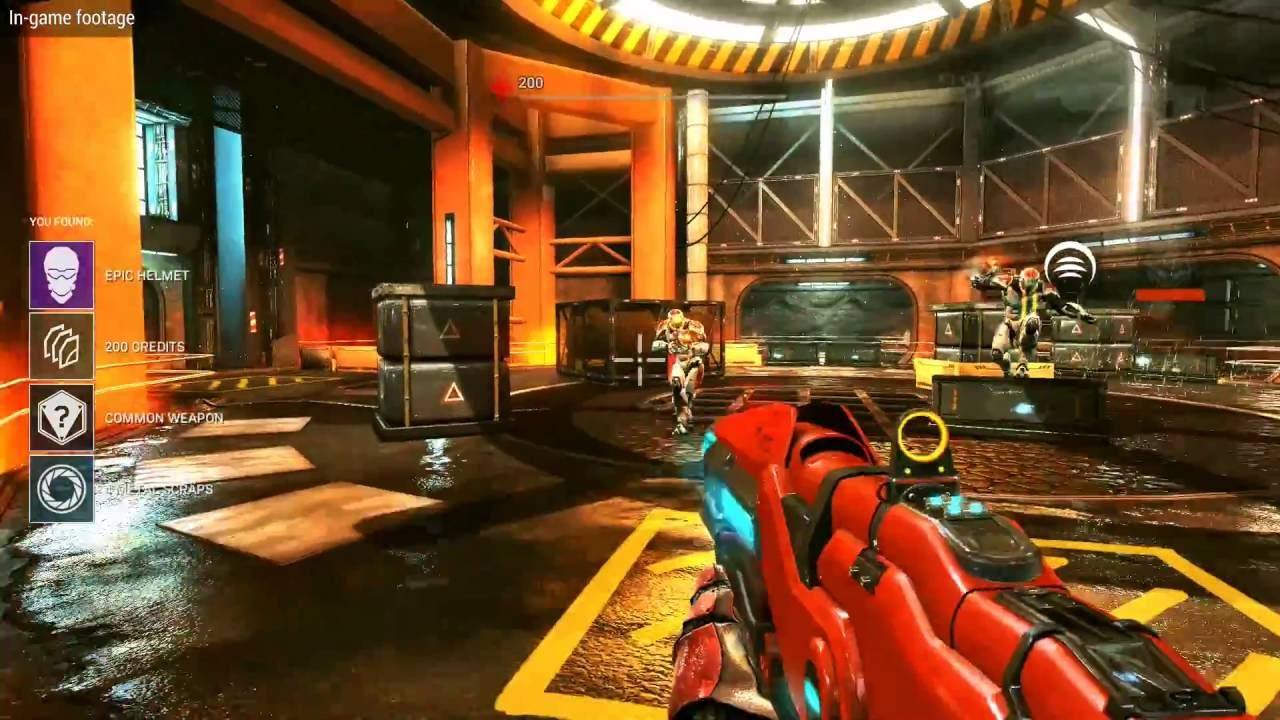 Your first set is a Hub that comprises many local businesses — a bar, a casino, a costume shop, an area allotted for PvP, and various other establishments, like the shops for weaponry, armor, and cosmetics. The vendors aim to fulfill your requirements as you embark on your quest for fame. There are more than 500 weapons and 1000 armors accessible to you, you can embark on the in-game bar, casino, or multiplayer missions which are assigned to you by NPCs. A mission may be given as a side mission or part of a story campaign, and you are awarded 'experience' points for completing them. Your objective is to protect the endangered humanity from an impending alien invasion, and the single-player campaign spans over the course of more than 200 missions set on 4 different planets. There are many multiplayer modes, such as Ascendancy, Duel, Elimination, Arenas (Gold Arena, Silver Arena, and Bronze Arena), and Dungeons (Hive Mind, Voltaic Fist, Brothers of Fire, and Blade Dancer). You can participate in Co-Op missions by allying yourself with three acquaintances to defeat the enemy and raid loot.
There's a compelling element of humor in Shadowgun Legends, the dialogue is witty, the interactions are entertaining and the basic premise of a point system based on fame is downright hilarious. You can engage in PvE gameplay alone or with other players, you can play side quests in either single or duo mode, you can coordinate with other players to perform minor operations, you can enter one of the dungeons or arenas with three other players and you can engage in PvP gameplay through Duel, Ascendancy, and Elimination. You basically have to defeat the big bosses and prevent an invasion from Torment. Shadowgun Legends also has a captivating range of characters to grab your attention: Slade, the legendary main hero, Vendors like Pedro, Big Red, Nitro, Hakim, and Willow; and S.A.R.A, the AI bartender.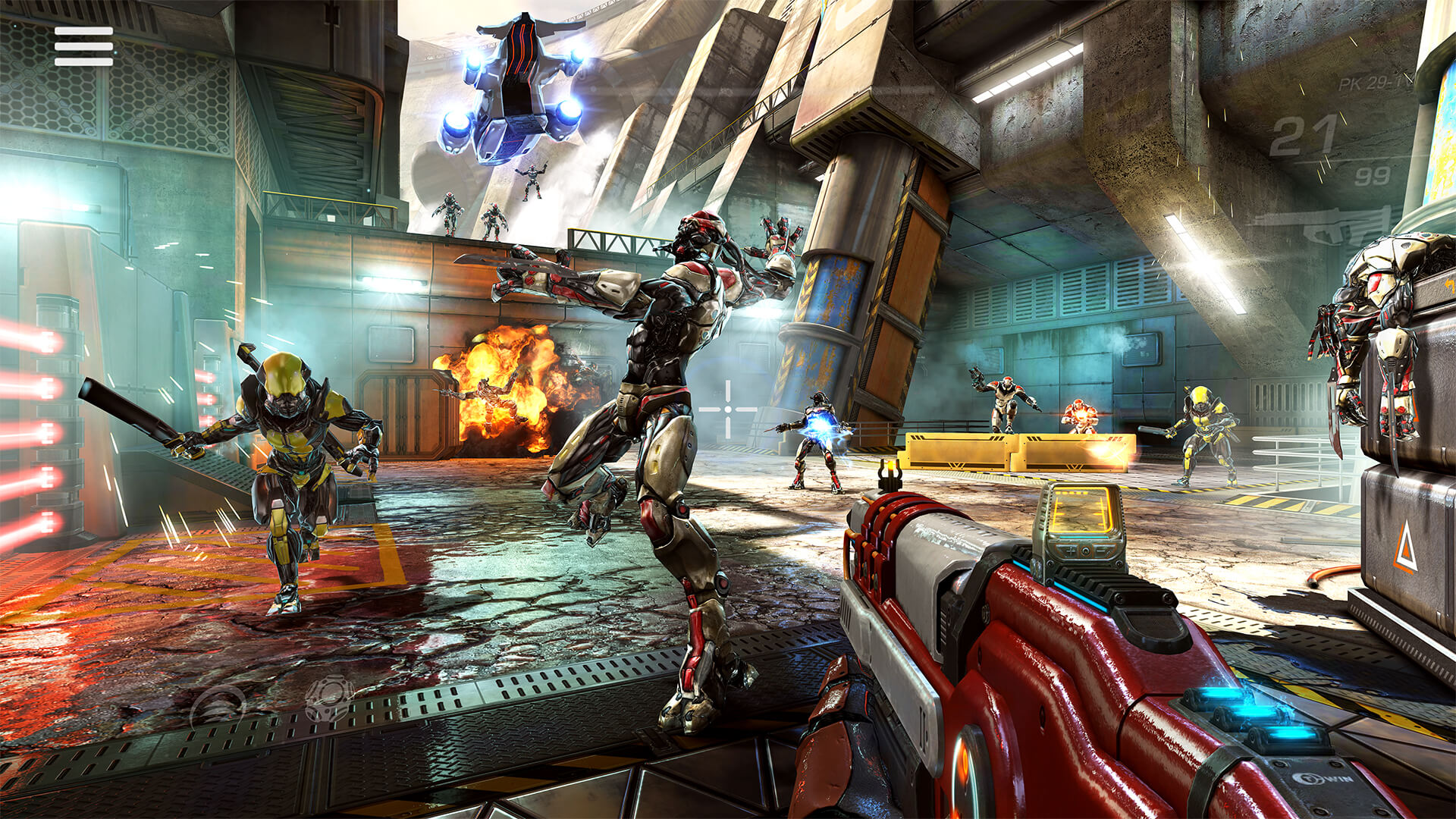 The graphics of Shadowgun Legends are, without a doubt, exceptional. The lighting is subtle, the visuals are fun and the overall ambiance is enjoyable. The Hub incorporates a great social interaction element — you can drink, loot, upgrade, find missions and interact with vendors and other players.
With over 10 million downloads, Shadowgun Legends has a rating of 4.4 out of 5 on Google Play Store. Download and play SHADOWGUN LEGENDS on PC.
9. Evoland 2 ($8.49)
Developed by Playdigious, Evoland II: A Slight Case Of Space Continuum Disorder is a role-playing adventure game and is a play on video-game nostalgia. Evoland isn't a single game, but a series of games that reference video-game classics over the course of 20 hours. Basically, you travel across time through an ever-changing game, with a different style, visual, and design for every point in time. The gameplay changes as well from a Mario-esque jumping up and down, to a Gameboy adventure.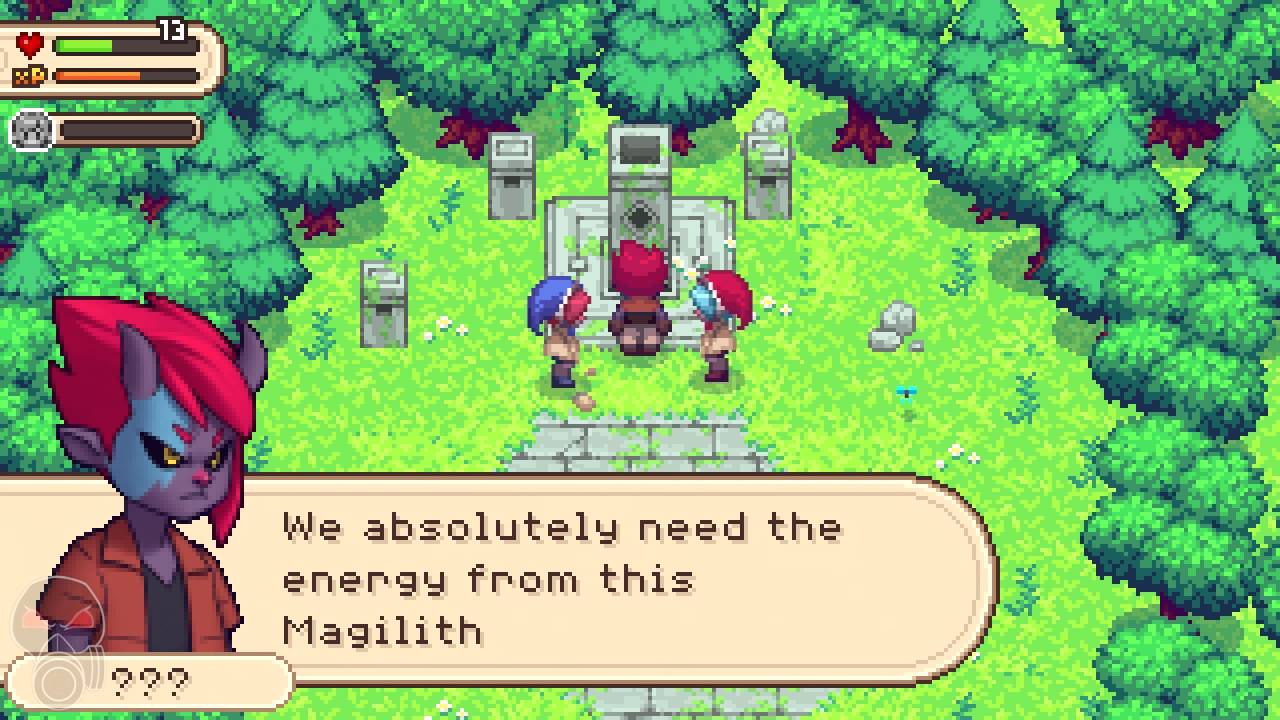 What's impressive is how organically we transition from one game to another, the visuals are breathtaking for each game, and the movement from one game to another is so smooth and effortless that you don't even realize that the landscape has changed. The game is filled to the brim with witty and niche references to each game it's inspired from — from Zelda to Street Fighter. It's a very eclectic mashup, you have courtroom games, classic arcade quests, standard fighting games, puzzles, and rhythm rockers and this mixture of games doesn't feel overwhelming or forced, on the contrary, despite the differences among these games, they make a very enthralling combination in Evoland II; one thing's for sure, you won't ever be bored while coasting through these games.
The graphics are the most commendable aspect of the game, we glide through dimly lit landscapes to vibrant sceneries, and it all feels very natural. It's a visual amusement park that you can explore with great enthusiasm. The animation quality is excellent and manages to fully capture the tribute to classic video games; whether it's a 2D role-playing game or card game or 3D fight game — there is no expense spared in creating the most wonderful atmosphere to play in. And while Evoland II may seem simple enough, it actually becomes harder as you progress through the levels, taking up a good chunk of your time. Whether it's to recreate the euphoria you felt while obsessively playing these games as a child or to find an amusing way to occupy yourself in the present — Evoland II is the perfect game to play with a controller.
With over one hundred thousand downloads, Evoland 2 is rated 4.1 out of 5 stars on Google Play Store. The fun gets even better when you play Evoland 2 on PC with the BlueStacks emulator that comes with a hassle-free autosave feature.
10. GRID™ Autosport ($9.99)
Developer Codemasters GRID Autosport is a full-on racing simulation game. Released initially in 2014 only on PC, PS3, and Xbox 360, GRID Autosport's mobile version was launched again in 2017 following widespread critical acclaim. GRID Autosport aims to re-capture the nostalgia of vintage racing games by incorporating classic elements like sophisticated driving models and a wide range of cars.
You can access up to 100 cars and 100 circuits as you cross the many tracks, roads, and laps. On par with its realistic theme, GRID Autosport includes models from Mercedes, Nissan, Ford, and Mclaren. There's plenty to choose from. Each car has a different speed and a different style to it, every time you change cars, you can feel it. What's more, is that the cars and racing styles have a realistic component to them, you can completely immerse yourself in the game to the point that you forget that you're not on an actual racing track — and it's completely enthralling. There's hardly any space for boredom.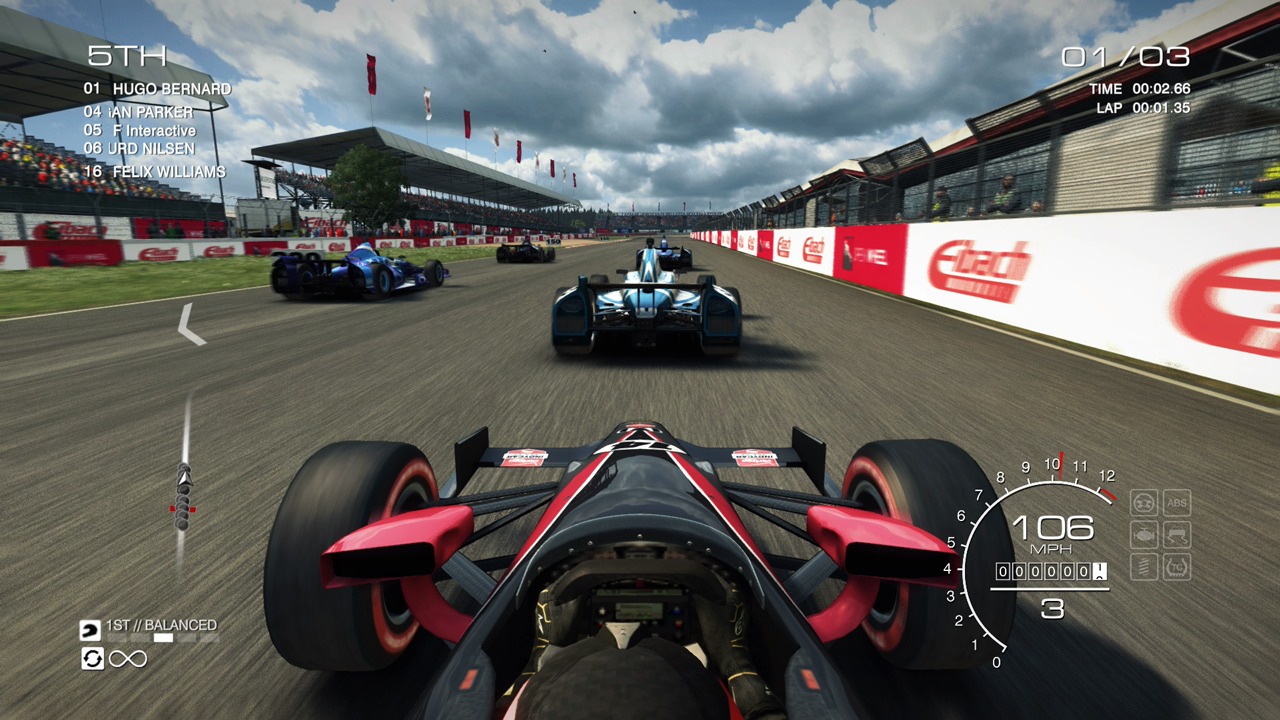 Gameplay is made efficient through customizable controls that are intuitive. You can tilt, wheel touch, arrow touch, or simply use a gamepad. As you drive forward, GRID Autosport becomes progressively difficult — the levels are scaled on a range of difficulty, from nice and easy to devilishly hard, and you can master about five career modes — Open-Wheel, Tuner, Touring, Endurance, and Street-Racing. Playing on the same track would grow old quickly, which is why each model has different sets of cars and tracks, and you can either opt for a career mode or choose to participate in Drag Championships and Sprint Cups. You can also decide between automated or mechanical gears, control the traction and choose the level of AI assistance you require. Each car has a different speed and a different style to it, every time you change cars, you can feel it. What's more, is that the cars and racing styles have a realistic component to them, you can completely immerse yourself in the game to the point that you forget that you're not on an actual racing track — and it's completely enthralling. There's hardly any space for boredom. There's an additional flashback feature that enables you to go back to your mistakes and take note of them, which helps in training yourself to be better.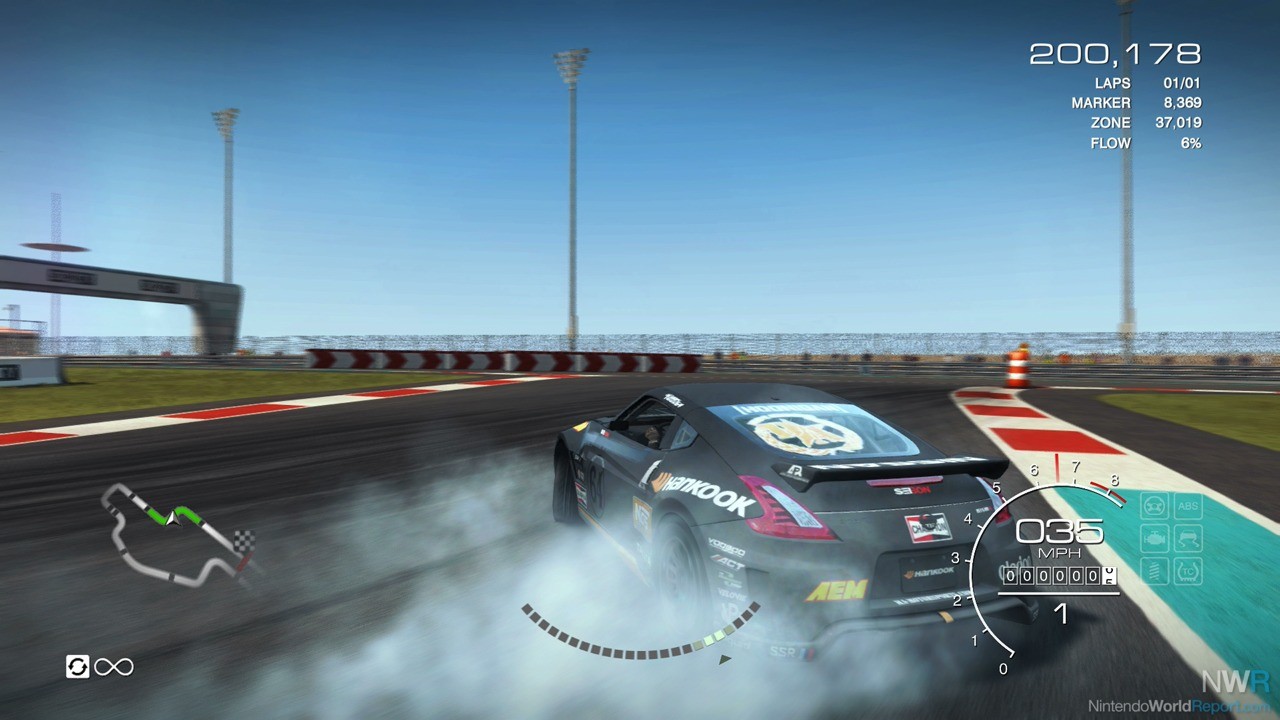 GRID Autosport is pretty advanced as far as racing games go, it can be a little intimidating, but once you get the hang of it, it makes for a thrilling experience. The visuals of every minor component, from the car models to the racing tracks seem to be taken straight from an actual race, the sound effects perfectly encapsulate the roaring of cars crashing against a race track and create a very authentic feel. With GRID Autosport, Codemasters perfectly recreates the traditional racing game. The gameplay has got much appreciation with lots of thumbs up. Enjoy this racing game GRID Autosport on your PC.
With over fifty-thousand downloads, GRID Autosport is rated 4.4 out of 5 stars on Google Play Store.