BlueStacks Roundups
Top Android Games to Play in 2023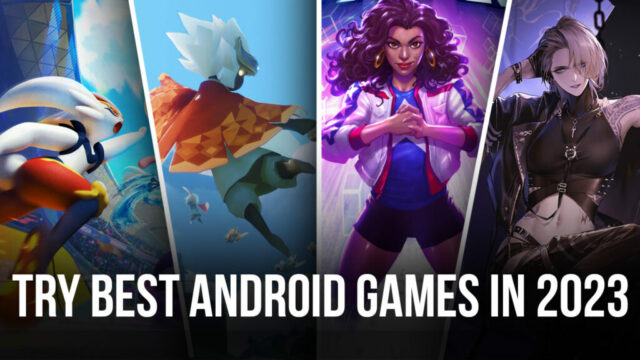 In terms of gaming, 2022 has been a rollercoaster ride. While there have been a few incredible video game debuts, the year has primarily been an improvement ground for all sorts of games by releasing new content, revolving the audience, and creating more opportunities for the players. The developers have started to implement new technology, which has led to the elegant design and user-friendly gameplay of android games as well as the all-time high popularity of niche genres like gacha games and turn-based games. Many unique and renowned games will be available in 2023, therefore we have taken all of these factors into account while compiling our list of the best Android games to play in 2023.
1. Pokémon Unite [ Free ]
Pokémon Unite is a multiplayer online fighting arena based on the Pokemon franchise's roster of characters. It has received over 10 million downloads and an overall rating of 4.3 stars on the Google Play Store.
Pokémon Unite is unlike any other Pokémon game before. To test which team can score the most points in the allocated time, you compete in 5-on-5 team matches. As you and your teammates battle wild Pokémon, level up, evolve your own Pokémon, and attempt to keep the other side from scoring, cooperation is essential. Returning MOBA players may recognize the gameplay, and there are several Pokémon to choose from, each of which feels different.
The MOBA game was first released in September 2021, and since then, it has only become better with the addition of modes, Pokémon, and even a ranked mode based on a leaderboard. With a focus on Pokémon aficionados specifically, the game is a must-play for MOBA enthusiasts. Pokémon Unite is the best opportunity to fall in love with either, if not both. To enhance your experience, Try Pokemon Unite on Bluestacks.
2. Sky: Children of the Light [ Free ]
One of the oldest and most ambitious indie open world social games on the list, Sky: Children of the Light has amazing visuals and an engrossing story. On Google Play, it has received over 10 million downloads and a 4.7-star rating.
Sky is a three-hour exploration-focused adventure game that is just stunning. The game fully draws you in with its music and graphics. The game may also be played with a friend, in which case you'll both have a good time flying through the air while listening to soft music. It's one of those games with a narrative mode that shouldn't be missed.
When playing Sky, you'll question if the game is truly running on your phone due to how amazing it is. Although the game was released in 2019, it has always been among the top android story-based games after certain updates and It was also on our list of the best Android games in 2022.
3. Assassin's Creed: Codename JADE
Assassin's Creed: Codename JADE is an upcoming assassin's creed game for the handheld platform that is exactly like the previous versions. The game has not yet been launched, but there is enough stuff to be excited about.
Codename Jade, according to Ubisoft, will be an open-world mobile title set in Ancient China circa 215 BCE. The most intriguing aspect of the game is that it will be the first in the series to bring the core gameplay and exploration of the console experience to the mobile version. The franchise's classic gameplay has been enhanced for an experience with touch controls and even the ability to parkour atop the Great Wall of China was teased recently.
The game is still known as Codename Jade, but the newly released demo shows that production is on track, and the ride will be insane thanks to the visuals and gameplay that Ubisoft has promised players. The game is expected to be released in the third or fourth quarter of 2023.
4. Marvel Snap [ Free ]
Marvel SNAP is the most recent entry into the realm of card games, with over 5 million downloads and a 4.6 star rating on the Google Play store.
Marvel Snap is a fast-paced, adrenaline-pumping, strategic card battler that puts you in charge of constructing a Marvel dream squad from an incredible selection of superheroes and villains. The game has multiple venues and settings, but what makes it unique is the competitive aspect and the exciting SNAP element, which allows you to snap in between games to play on high stakes by raising rewards.
There are over 50 areas to battle it out in, as well as many more famous abilities, which feels incredible once you experience it. There are also different cards based on art style, which is fantastic for a card enthusiast. The game was just released in the month of October 2022. If you're new to the card genre, you won't regret trying out Marvel Snap on Bluestacks!
5. Racing Master [ Free ]
Racing Master is a next-generation simulation racing game created by NetEase Games and Codemasters. It is one of the few games that is anticipated to utilize the Unreal Engine 4 to its fullest potential.
Racing Master bills itself as the most realistic racing simulator on the market and promises to put the most lifelike racing experience right in the palm of your hand. With their new physics engine, new completely licensed luxury cars, and magnificent racing courses for multiplayer as well as story, developed from the bottom up, the game offers an incredibly realistic racing experience. These tracks include Yas Marina, Sicily, Barcelona and more.
With NetEase aiming to make gameplay as realistic as possible, the game is anticipated to be a wholly immersive experience. Racing Master uses the Unreal Engine, thus the graphics are going to be really gorgeous. The game has had several playtests in North America, and it is anticipated to be published worldwide in the first quarter of 2023. You can also Play Racing Master Beta Access on Bluestacks.
6. Apex Legends Mobile [ Free ]
Apex Legends is a new generation Abilities based Battle Royale game developed by Electronics Arts, with over 10 million downloads and a 4.2 star rating on the Google Play store.
Apex Legends Mobile is a Battle Royale game that combines incredible skills with unique environmental factors to create an immersive experience unlike any other. The game was initially released in 2019 for consoles and PC, while the mobile version was created by the same team and released in 2022. All of the original's characters, locales, and graphic intensity have been extensively improved during development.
The characters in this game are known as legends, and they have three separate abilities: passive, tactical, and ultimate. In the other arena, you may queue with up to two other players in a 60-player Battle Royale or warm up in 3v3 competitive combats. Apex Legends isn't your usual realistic battle royale game; instead, it focuses on complicated mechanics and combat rewards, with the chance to bring back a teammate if he loses the fight. If you're tired of the same old Battle Royale games, Try Apex Legends Mobile on Bluestacks.
7. COD: Warzone Mobile
COD: Warzone Mobile is a direct port of the hugely famous PC game COD Warzone 2, which was launched in the fourth quarter of 2022.
image 9
After COD Mobile, COD Warzone Mobile is positioned as the next phase in the Call of Duty mobile series. It claims to deliver a breath-taking new battle royale experience right in the palm of your hand, complete with simple controls, gorgeous visuals, accurate gunplay, and realistic physics. The game will feature the beloved Verdansk terrain from COD Warzone as well as an assortment of elite weapons like the M4 – Archfiend and X12 yet adhering to Warzone 2's current features.
The 120-man fully human battle royale experience and the cross-generation Battle Pass progression system, which enables players to advance in any current-generation Call of Duty game on any platform, are the most anticipated mobile features. The game is now undergoing beta testing, and a release is anticipated for 2023. Pre-register COD: Warzone Mobile to receive regular updates.
8. Path to Nowhere [ Free ]
Path to Nowhere is an action-packed real-time strategy RPG game. It has over 1 million downloads and a 4.6 star rating on the Google Play store.
Path to Nowhere introduces the player to the MBCC, a mighty institution that has escalated its battle against sinners and criminals, whose mission is to save the city from crumbling by clinging to the light amid the darkness. Players take on the role of the newly appointed bureau boss. It will take hours to unlock characters that will increase your gaming performance, thus surviving the end of the world will grow more difficult as time goes on.
Nowhere's aesthetics are one of its best features; every image in the game looks magnificent, and the characters all have a swagger that wonderfully sets the vibe for the game. After a few hours of play, the game feels considerably more adaptable. You may choose and assemble your squad from a variety of jobs. Voice acting and music are usually added bonuses that keep you intrigued. The game plays nicely on Android, but for an improved experience try Path to Nowhere on PC.