BlueStacks Roundups
Top 7 Android Games Like GTA 5 To Play With BlueStacks 5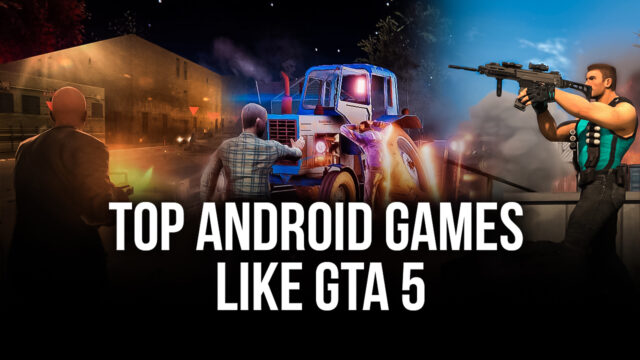 Grand Theft Auto, or GTA as it is more popularly known, is one of the most critically acclaimed and best-selling game franchises in the history of gaming. Having sold more than 345 million units worldwide, the series published by Rockstar Games is fifth on the all-time list of best-selling game franchises, behind Mario, Tetris, Call of Duty, Super Mario, and Pokemon. The series began with the original Grand Theft Auto, released in 1997 for the PS1 and PC, with the display being top-down, and the narrative of the game an early, rougher version of what we've come to love from the series: gritty scenes of crime in the underworld inspired by real locations and real stories. Ever since this initial release, Rockstar Games has continually improved upon the series and made changes to different aspects of the game with each new iteration. This has given us classic games such as Grand Theft Auto: Vice City, and Grand Theft Auto: San Andreas. Although storylines differ in each game, the main design and premise of each GTA game is the same; an open-world where the user is allowed to engage in the main mission and story, while also engaging in side missions or simply exploring the game's map.
The latest release in the Grand Theft Auto franchise is GTA 5, which was released in 2013. The game follows three different characters, and the user can switch between the different characters and play the game as any of the three characters. The game was received with immense excitement when it was finally released after months of waiting and created over a billion dollars in revenue within the first three days of its release. This, however, was almost a decade ago, and Rockstar Games do not plan on releasing a new GTA game anytime soon. For that reason, this article, divided into two parts, will detail ten android games like GTA 5 that you can play on your Android mobile phone, or using an emulator such as BlueStacks 5.
1. Payback 2: The Battle Sandbox
First on our list of games like GTA 5 is Payback 2: The Battle Sandbox, which is the sequel to the original Payback game which was released in 2001. Payback 2 was designed and released by Apex Designs Entertainment Ltd. in October of 2012 for iOS, and October of 2014 for Android.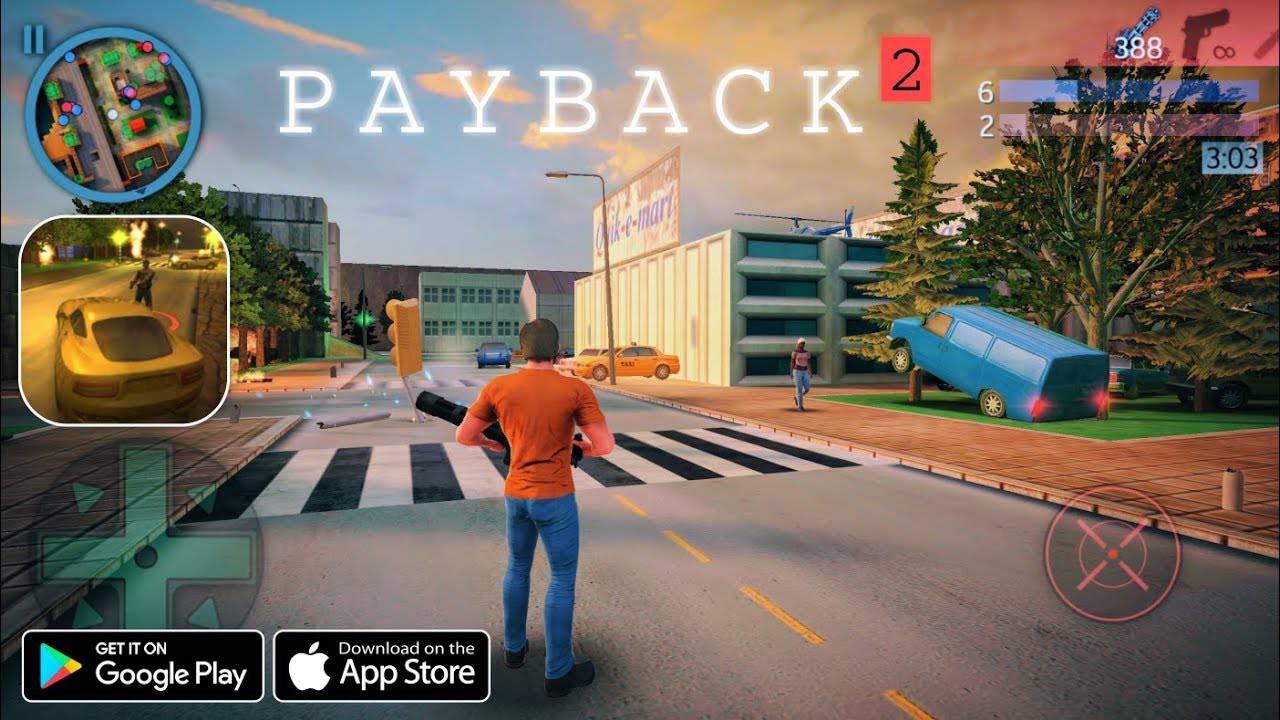 The game functions on a story mode which has missions to complete, and multiple characters for the user to play with, as is the case with GTA 5. Players must unlock missions by accomplishing the tasks given to them when the game begins, and each new mission is unlocked when the tasks are complete and when the player has enough money to unlock the next mission of the game. Tasks include answering the ringing telephone which will relay to the player the next assignment they must accomplish. These assignments are given by two bosses who the player's character works for, and in order to progress further into the story, these tasks must be accomplished as they are given. Finishing these tasks also gives the character money, which, as mentioned, is necessary to progress further into the game. Money can also be earned by committing crimes such as killing pedestrians and destroying vehicles, although this means that, similar to GTA games, you have a whole police squadron chasing after you, wanting to either kill you or arrest you and put you into prison. The more crimes you commit, the harder it becomes for you to escape the authorities. If multiple crimes are committed, you are chased by not just the police but also by SWAT teams, and the army.
An interesting aspect of the game is the selection of events available for you to participate in, which also include events with or against AI characters. These events include "Brawl", in which the objective is to kill as many opponents as possible. The next event is called "Gang Warfare", in which, similar to "Brawl", you must kill as many opponents as possible, except this time you're fighting with your gang against a rival gang, and you must help your gang get the most amount of kills. The game also has an event called "Capture The Swag", which is an obvious parody of the popular game "Capture The Flag", in which teams attempt to capture the opposing team's flag, which is located in the team's base.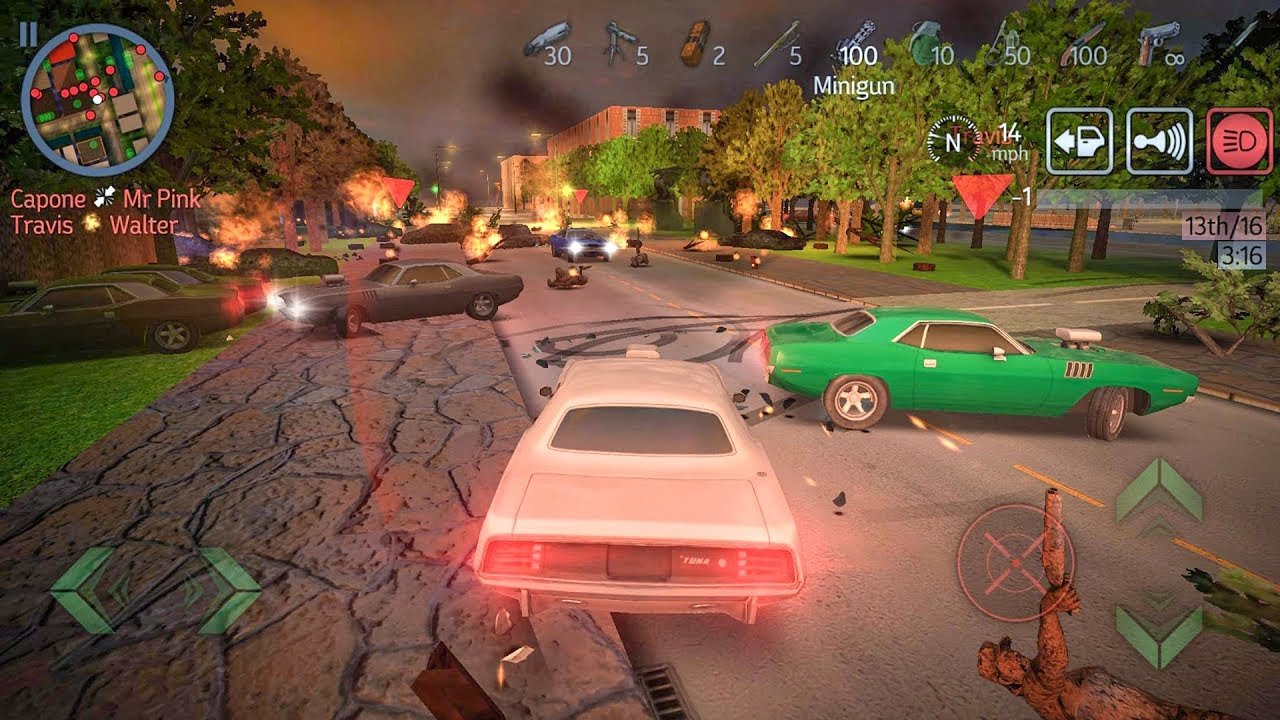 Other events include "Conquest", which entails the player capturing an opponent's zones in a stipulated amount of time, and "Kingpin", which is similar to "Conquest", except the first person to capture a zone wins the event. The game also includes a host of racing events such as the aptly titled "Race", in which players race against AI characters in different vehicles on different places across the map, "Sprint", which is the same as "Race" but has shorter routes, and "Knockout", which is a last-man-standing type racing event in which the last player at the end of each lap gets eliminated until there is only one racer left. These events can also be played in multiplayer mode with other users, and to do this the player must simply share the "shortcode", which is four characters long and is required to join the race. Completion of such events also earns the player experience points, or XP, which then adds up and places the player on the game's leaderboard.
Although Payback 2 is much like GTA in many ways, it does differ from it in many other ways as well, such as the game's birds-eye-view perspective, which resembles the original 1997 GTA more than it does GTA 5, which was in both third-person and first-person point of view. The top-down view also makes controlling characters and viewing things in the game easier, since you can view more things around you than would be possible or feasible in a third-person, or first-person point-of-view game. Another way Payback 2 differs from GTA is the way in which missions in the game are structured. Unlike GTA, which has all of its missions connected to one another in one long, smoothly-flowing narrative, Payback 2's missions are more haphazardly placed, with each new mission taking place in a completely new setting. Although this may strike some users as odd, once you get used to it, it's really fun to play.
With over a hundred million downloads, Payback 2: The Battle Sandbox is rated 4.4 out of 5 stars on Google Play Store.
2. Go To Town 5
Although it might not compare very well, or at all, to GTA 5 if the comparison is being made on the basis of graphics or storyline, if the comparison is made on the basis of how fun both games are to play then Go To Town 5 is brings out just as much excited frenzy inside its user as the latest iteration of the Grand Theft Auto games. Designed and released by the game studio Biceps, Go To Town 5, as the name suggests, is the fifth release in the Go To Town series by Biceps. All the games in the series function on similar mechanics, much the same way most, if not all, GTA games work on the same mechanics.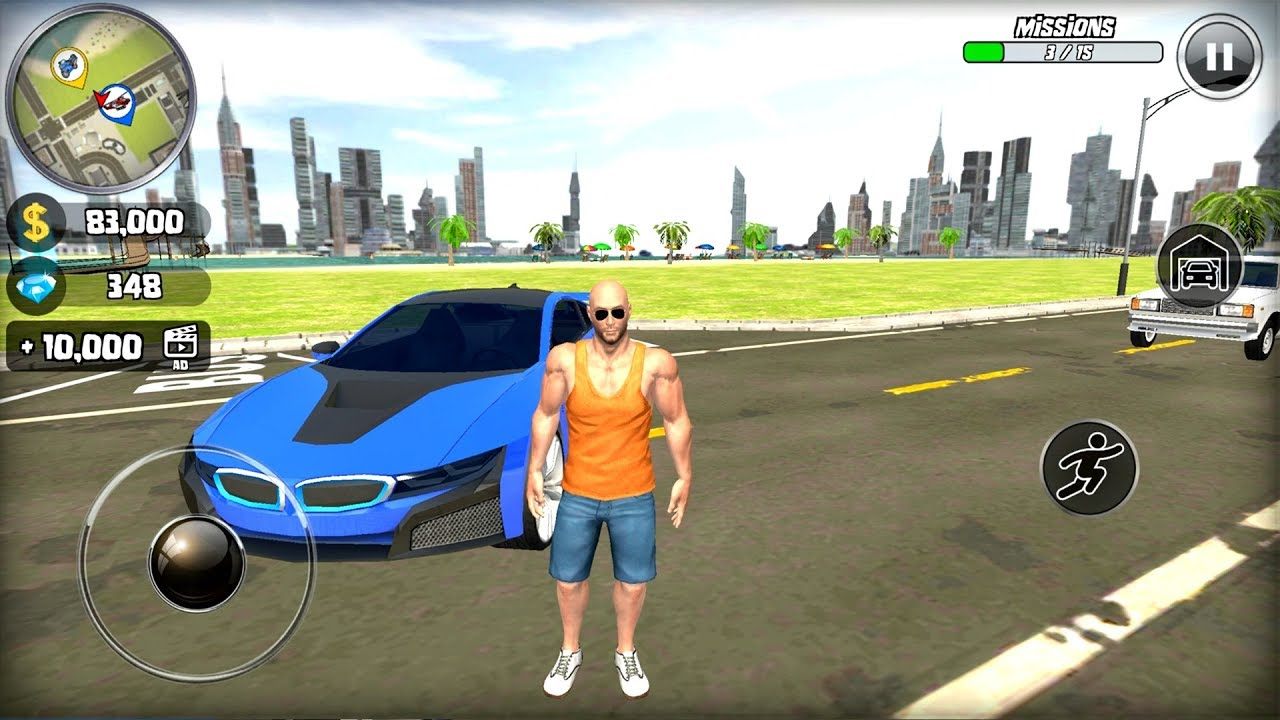 The way in which Go To Town 5 differs from GTA 5, however, is its complete disregard of any sort of proper storyline. The creators of this game want you to have fun driving around the city in stolen vehicles and create as much mayhem and chaos in the city as you like. As the name of the game might suggest, the designers want you to go to town in the game, and this experience is enhanced by the lack of any police presence in the game. It doesn't matter how outrageous your crimes are and how many backflips you do with your bike (and how many pedestrians you harm in the process), the police will never chase you in this game, which means you are free to do essentially anything that the game mechanics allow you to do without fear of consequence. This, however, can get boring after a while, since there no longer exists the thrill of the chase and the satisfaction you feel after you have successfully warded off the police, or perhaps caused them a lot of damage while they were chasing you in games such as GTA 5.
Go To Town 5 is a simple sandbox in every sense of the word. Not only are the graphics raw and rough around the edges, with a storyline that barely exists, but the controls of the game are also very simple and easy to get used to as well. The hovering joystick on the left side of the screen is used to control your character and the buttons on the right to perform various actions such as jumping, firing, running, etc. Its description as a simple sandbox game shouldn't fool one, however, into thinking that the game lacks variety or is boring in any way, shape, or form. On the contrary, Go To Town 5 has an extensive map with tons of places for you to explore, from cities and skyscrapers to water bodies (with lots of fish!).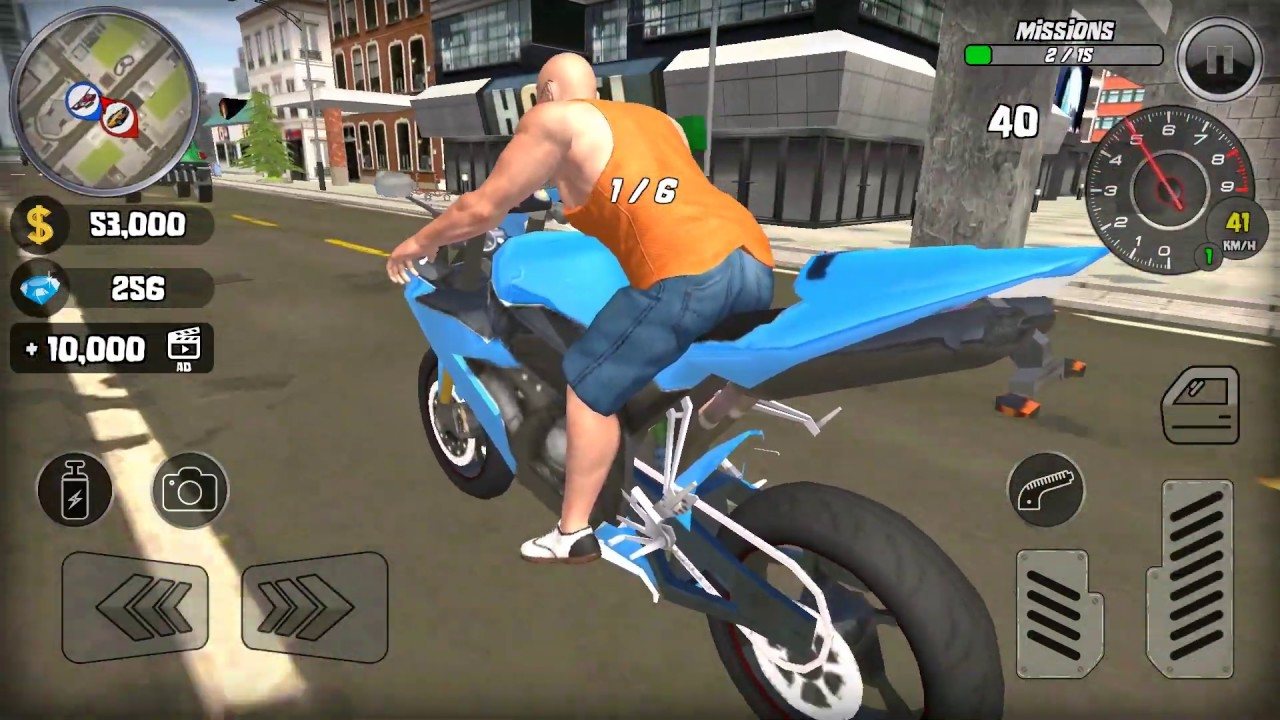 The game also has a whole host of vehicles for you to drive around and create mayhem in. In fact, one could say that the extensive collection of vehicles in the game is its best feature since it allows you to enjoy different rides and do different things with different vehicles. From cars to bikes to trucks to helicopters, this game has it all. Another great feature of the game is how visually appealing it is. Although, as mentioned, it's winning no prizes in the graphics department, the bright colors and varied landscapes sure are pleasing to the eye.
With over a million downloads, Go To Town 5 is rated 4 out of 5 stars on Google Play Store.
3. Grand Gangsters 3D
Grand Gangsters 3D, published by Doodle Mobile Ltd., was released in February of 2019 and has become an extremely popular alternative to GTA games. The game looks and feels like an older GTA game, such as GTA: Vice City or a GTA: Liberty City, but has its unique features that separate it from all the other sandbox games out there.
Grand Gangsters 3D is set in Sin City, and the main purpose of the game is for you to complete the various missions provided to you in-game, as part of the game's storyline. Taking inspiration from Grand Theft Auto's name, Grand Gangsters 3D mostly involves missions of automobile theft and the consequences your character has to face as a result of their crimes. From police chasing after you in the event that you are caught to other gangs wanting you dead, this game has plenty of adversities for you to face up to and fight your way through to become one of the leaders of Sin City's underworld.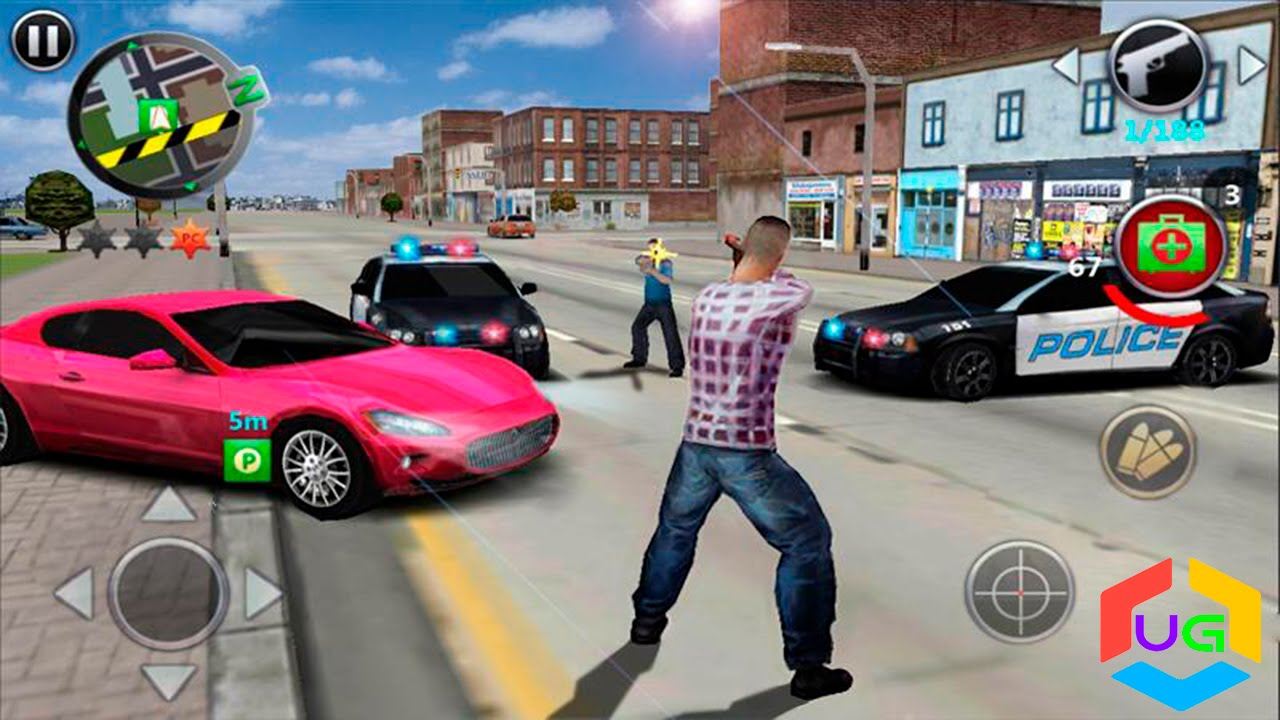 In terms of gameplay, Grand Gangsters 3D lays emphasis on high-speed car chases and the more exciting stuff available to you in-game. This is done by slowing down your character's running speed and their ability to move from one place to another without availing the help of a vehicle. The game's controls are also really easy to use and have certain features that make playing the game much more exciting and fun, such as the target lock-on feature which enables you to shoot accurately at an NPC even when moving around or running.
The game's world and landscape aren't cause for awe and are there merely to serve a purpose, but it does serve that purpose well. Contrary to what one might expect from such a game, the game's map doesn't have a feeling of sameness but instead has four distinct sections that are vastly different from each other in terms of layout and feel, which makes completing missions in different districts that much more fun. The game requires you to put effort into the way you complete the different missions given to you, and it's only after you receive a specified amount of stars for a particular mission that you are allowed to play the next mission of the game. This keeps the competitiveness and intensity of the game high and also introduces a trial-and-error element to the game (since you're not going to finish every mission on the first go), which makes the game fun to play. The missions themselves are fairly straightforward, with most missions being some mixture of driving and shooting. Finishing missions also earns you rewards apart from the star rating, and these rewards usually include new weapons such as handguns and machine guns, and also new vehicles which can all be upgraded using the money you earn by completing missions.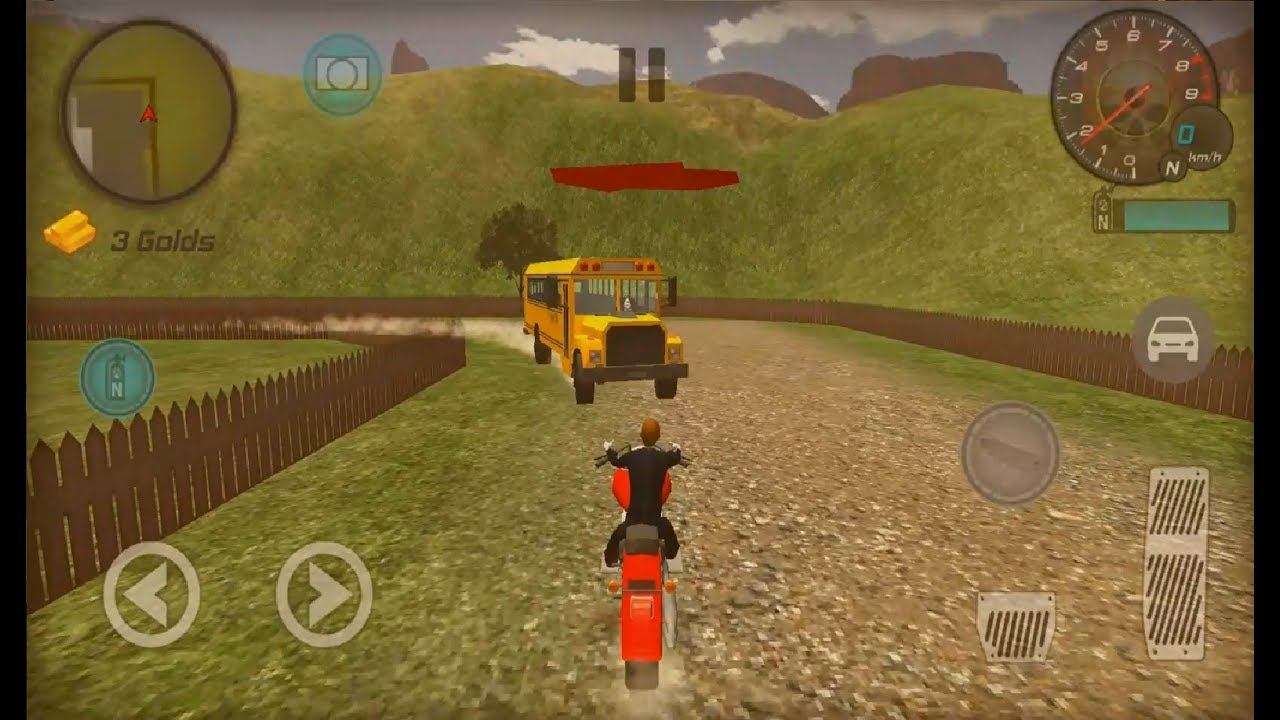 Upgrading vehicles is a must since the police surveillance and the intensity with which the police chase you down increases more and more the farther you progress into the game. Upgrading vehicles will help you get an upper hand on the cops and keep you at a safe distance from their cop cars and handcuffs. There is also an auto-racing element to the game, much like Payback 2, which adds an interesting and fun layer of gaming to the overall experience. All in all, Grand Gangsters 3D is an excellent game for those who want to get a taste of old-school GTA or want to kill some time playing a fun game in which anything goes.
With over fifty million downloads, Grand Gangsters 3D is rated 4 out of 5 stars on Google Play Store.
4. MadOut2 BigCityOnline
MadOut2 BigCityOnline is the next game on our list of the best games that resemble GTA 5. The thing that sets MadOut2 apart from most of the rest of the games on our list is its online mode, which can be used to play with as many as one hundred other players online. This is perhaps the game's biggest selling point since there are not many shooter sandbox games that have an online mode, and even fewer that execute the idea well.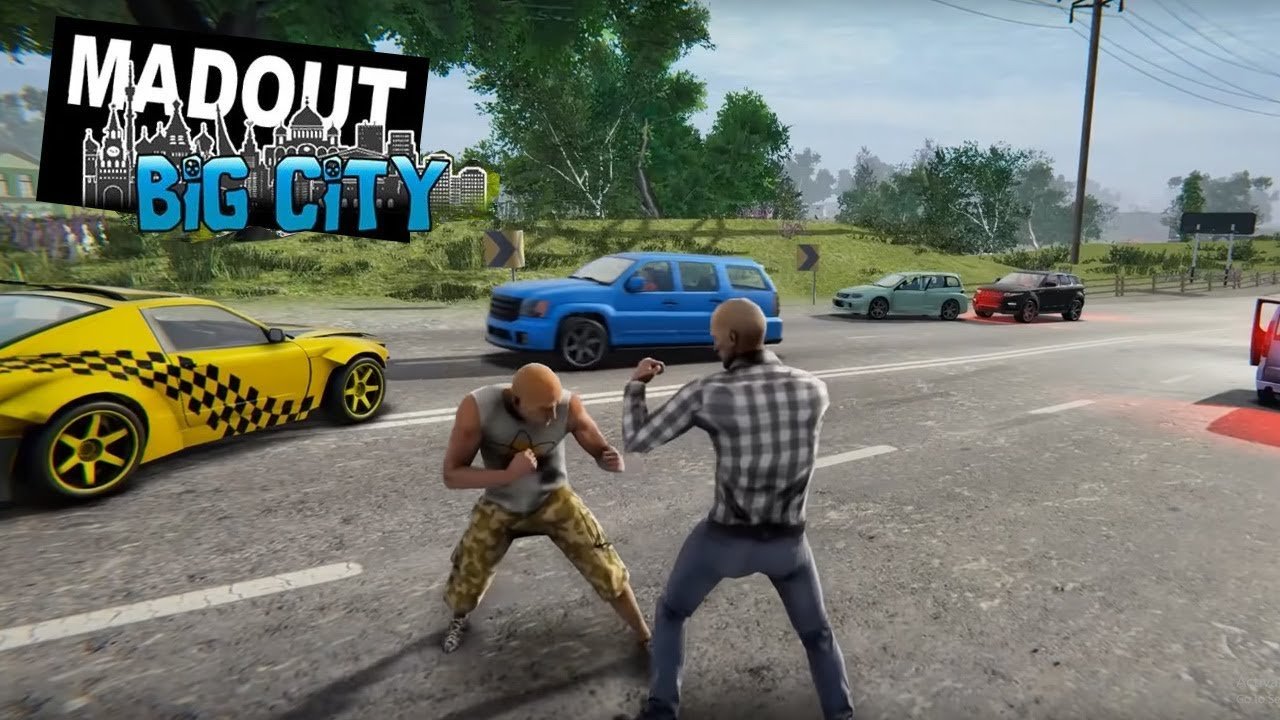 Although it does not have a particularly integrated storyline the way the various GTA games do, MadOut2 does have some semblance of a story, as your character grows from being a petty criminal who does two-bit jobs for mob bosses to becoming a big and important figure in the underworld himself. This means that when you begin the game your missions are fairly simple, straightforward, and easy to accomplish, but as you progress further into the game and the story, the jobs you need to do become more complex and also have a lot more at stake now that your character has a lot to lose.
Unlike other sandbox games in the same vein, MadOut2 has fairly complex controls, with a whole bunch of buttons for you to memorize functions of and then execute without accidentally hitting a different button. This can get quite frustrating sometimes as one false hit of a button at a crucial moment can cause you to fail your mission and have to attempt it all over again. The buttons in-game also change depending on whether you're in a vehicle or on foot. To make things easier, however, you can choose to connect the game to a Bluetooth controller or a keyboard since MadOut2 is compatible with both of those accessories.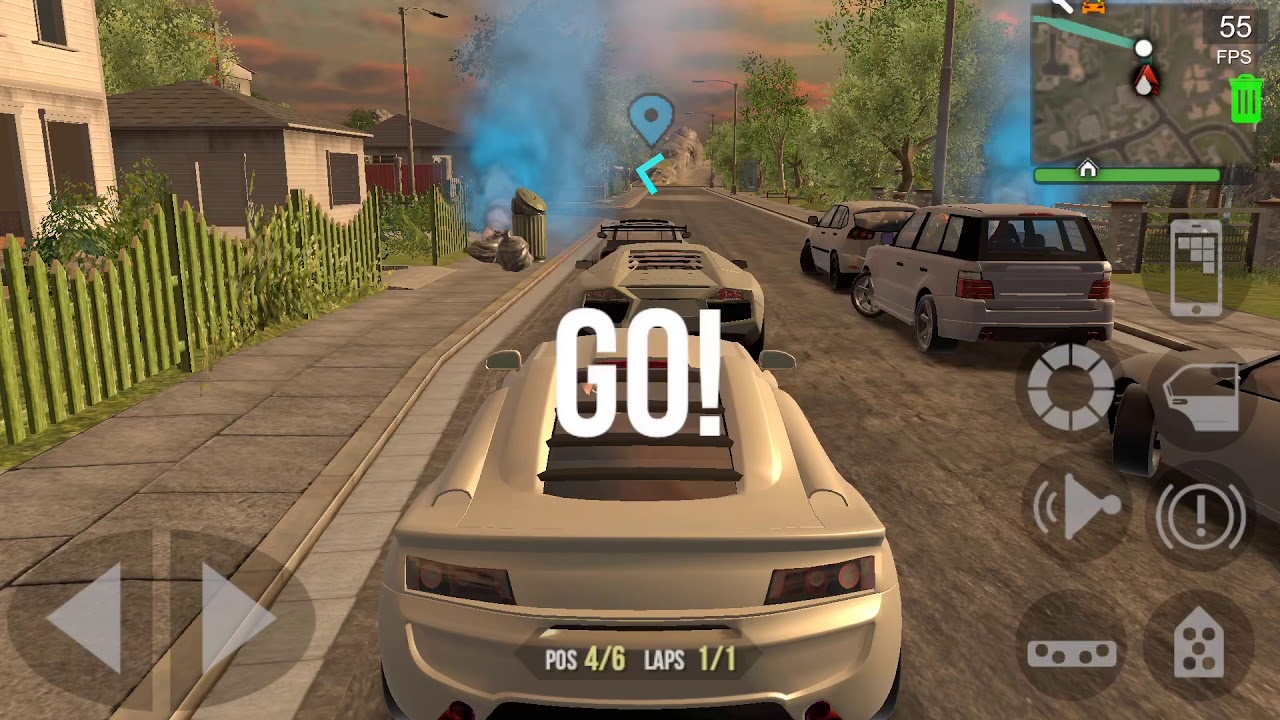 Another thing that sets MadOut2 apart from other sandbox games, even some of the ones we mention on this list, are its high-end graphics. The creators of the game have put in a lot of effort to make this game look as realistic as possible while also keeping the game decently sized, and this is evident from the moment you run the game and begin playing it. For those whose devices don't have the best specifications, however, the game offers the option to turn down the graphics from the settings menu, allowing everyone to enjoy MadOut2 and its great gameplay.
MadOut2 has a fairly big map that spans over 10kmx10km, and over thirty different vehicles for you to try out and ride in the game. The game also comes with a whole host of weapons including handguns, shotguns, machine guns, rifles, etc., each with its specialties. Overall, this game is great for anyone who is looking for a GTA alternative but wants to play online and also wants a more premium-feeling experience, with great graphics and dozens of hours of gameplay.
With over ten million downloads, MadOut2 BigCityOnline is rated 4.2 out of 5 stars.
5. Dude Theft Wars
Dude Theft Wars is possibly the weirdest game and the game most unlike any other GTA game on this list. That being said, however, it is similar to the Grand Theft Auto series in some ways, but with its unique direction and its twist. Created by Poxel Studio Games, Dude Theft Wars is a bit-graphic open-world sandbox with accurate ragdoll physics, an immensely funny storyline, and an online mode that rivals the best multiplayer online games topping the charts right now.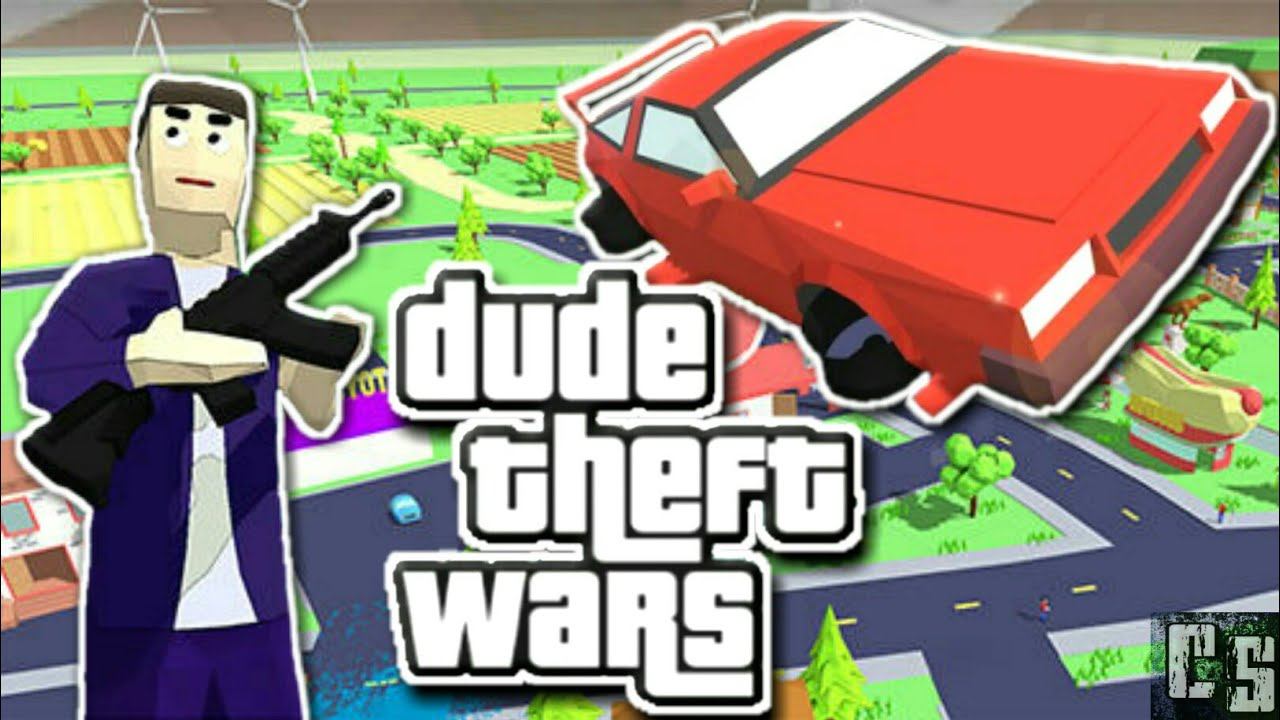 The game's story revolves around Jack, who led a regular life until it was changed by a sudden Call of Duty, and this Call of Duty was the call for PvP Online FPS Multiplayer in Parkour Playground! So Jack, along with his buddies Chad and Richie, entered the world of Mafia City, which is where the game takes place. Much like the other sandbox games on our list, Dude Theft Wars too has an offline mode that has a bunch of missions for the user to complete, but what the game does best, and what is arguably its best feature, is the online mode which allows up to sixteen players to play together. The online mode involves killing as many enemy ragdolls as possible in a stipulated amount of time. The multiplayer mode also has several different maps for you to choose from, and all of them have their unique features and favor different weapons, based on their size and terrain.
The game also has a multitude of vehicles to choose from, and not only can you drive cars and bikes in this game, but also planes and helicopters. Similar to that, there are several different weapons for you to choose from and play with, from melee weapons to machine guns. The game also functions as a life simulator, and you can see the life of your character grow and make decisions for them as you keep playing. Along with this, you can also play through the host of minigames that Dude Theft Wars has to offer, including sports games such as basketball and bowling, to taxi driving games and zombie games, and much more.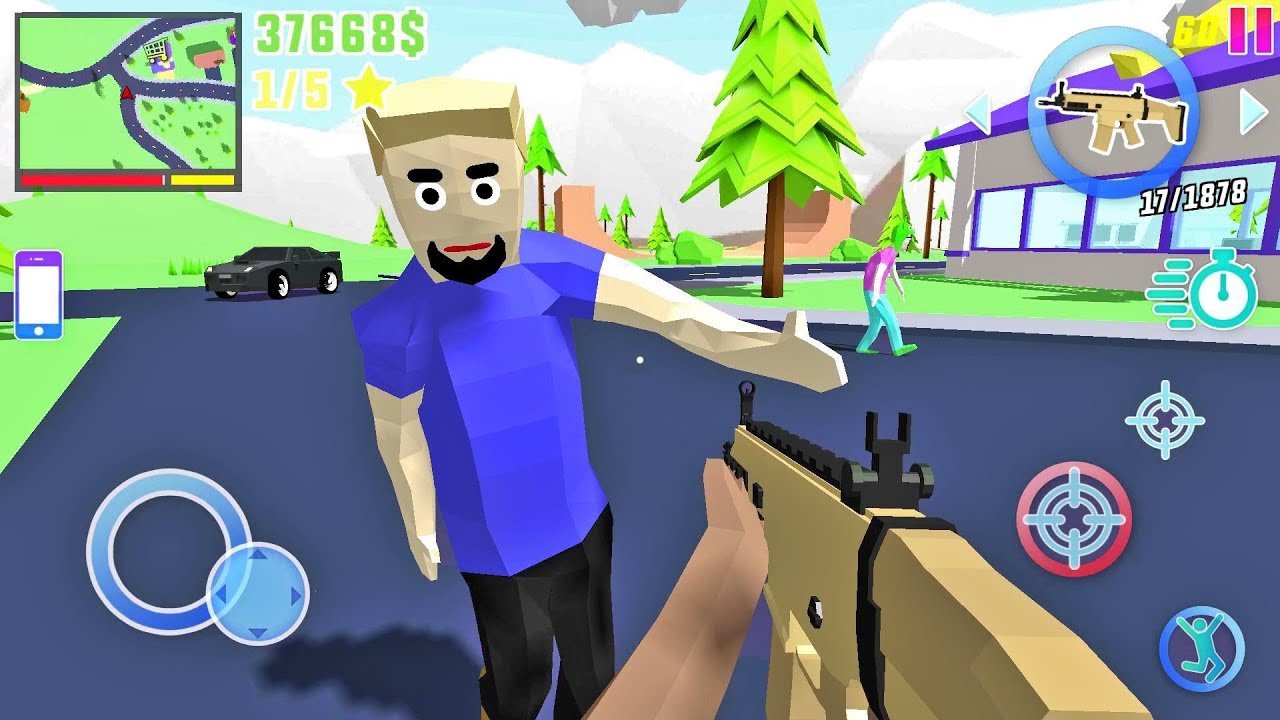 Although the game is not meant to be taken very seriously and doesn't make any claims to be the best open-world sandbox game out there, it is extremely fun to play and has so many different things to offer users that there is no way anyone can be bored of Dude Theft Wars, even after several hours of gameplay.
With over fifty million downloads, Dude Theft Wars is rated 4.3 out of 5 stars on Google Play Store. Enjoy this action game Dude Theft Wars on your PC.
6. Gangstar New Orleans
Next on our list is Gangstar New Orleans, Gameloft's March 2017 release that has quickly become the go-to action/shooter game for mobile devices. The game's story revolves around a power vacuum in the city of New Orleans, Louisiana, caused by the sudden arrests of the city's leading mob bosses. This causes several small-time mobsters to try to take the place of the mob bosses and control all of the city's shady dealings. One such small-time mobster, and nightclub owner, is Alain Boudreaux, under whose wing the player's character works. The missions in the game usually involve killing someone or saving someone important for Alain and his plan from being murdered by other mob-bosses and their goons; and as you slowly rise in the ranks, and as the story progresses, you find yourself becoming more and more important to Alain's mission and how successful it will be, which makes sense since you are the main character.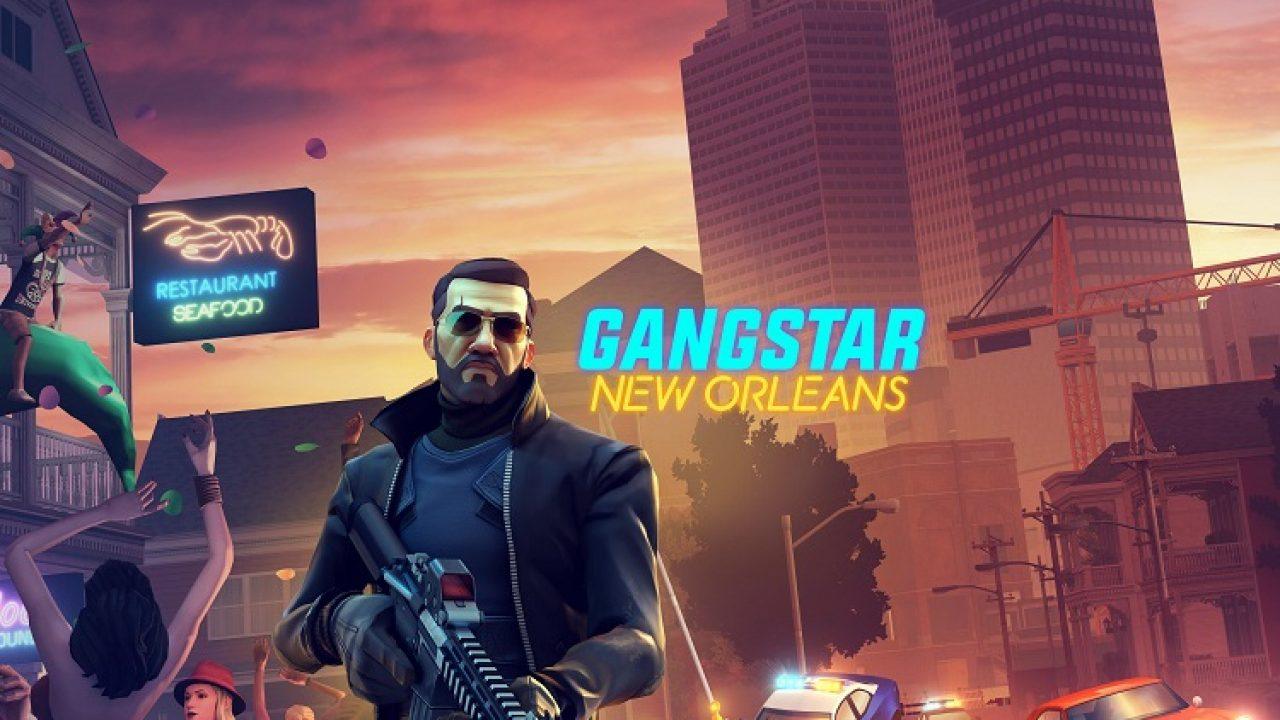 The gameplay in Gangstar New Orleans is similar to most of the other games in the series (of which there are eight), which in turn are pretty similar to the gameplay of the Grand Theft Auto games. You traverse the map on foot or a vehicle, and with how well made both the landscape and the vehicles in the game are, it is very fun to just cruise around the map when you're not gunning down goons for Alain. The missions in the game are detached from the open world, however, which means that you don't necessarily have to drive or run to a certain location on the map to begin a mission (although it is possible to do that), you can simply click on the highlighted location of the mission on the map and you can begin going about your day's work. The game's missions are also divided into two types: story missions and turf missions. Story missions, as the name suggests, move the story along and keep you engrossed in the narrative of the game and all the characters that are part of it. Completing story missions earns the user money and Spirit Jars, which are the in-game equivalent of loot crates. Turf missions, on the other hand, help increase the player's dominion over a turf, which is a subsection of an area controlled by a particular mob boss. Completing turf missions increases the percentage of control you have over that particular turf, and once your control is over fifty percent, you can choose to raid the mob boss who controls the turf. Doing this will put you in direct conflict with the boss, and you will have to kill the boss' goons and the boss himself, after which you will be in full control over the turf. There are twelve such turfs spread across the map, and all of them are subject to your control.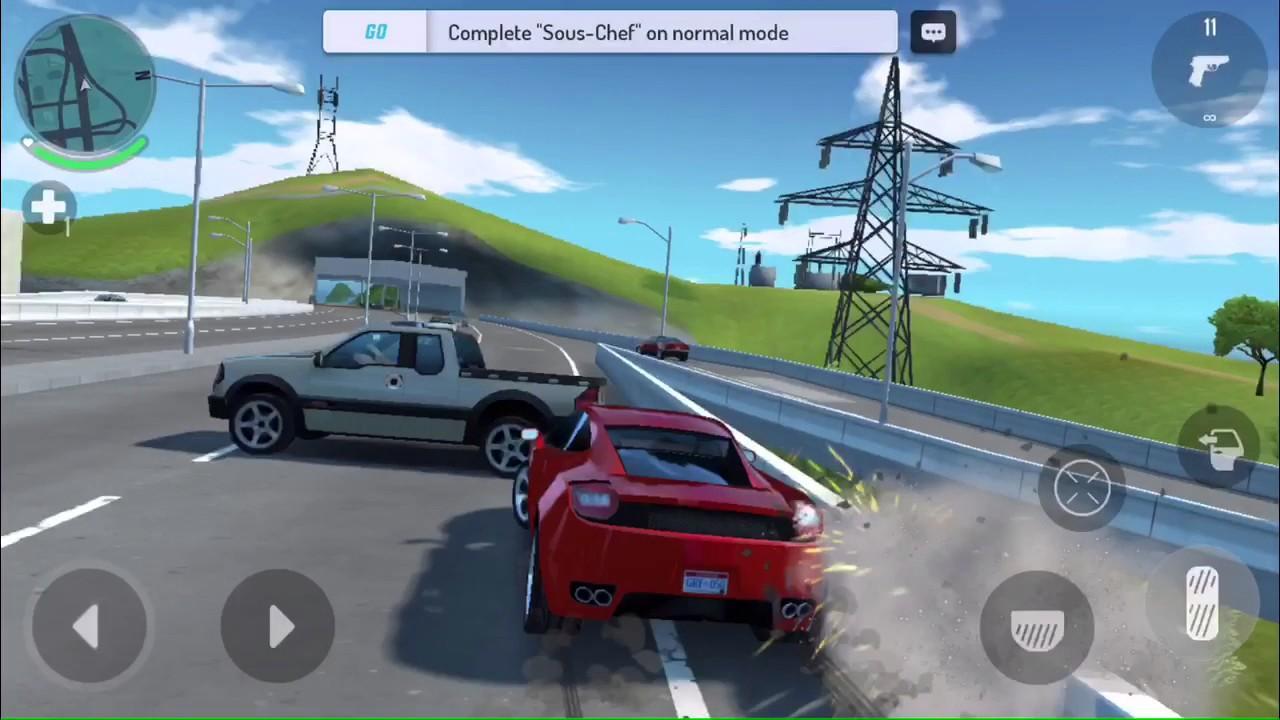 Like most other such games, there is a wanted level that the player receives every time they commit a crime in the open world. Killing civilians, for example, will result in a one-star rating, while destroying a vehicle results in a three-star rating. Every time the user has a star rating they will be followed by the police who will not stop until the player has been killed, arrested, or if the player has managed to escape their grasp. Once you have created enough distance between yourself and the police, a timer will begin counting down. If you manage to stay undetected until the timer goes off, you will have successfully evaded the police and you will lose your star ratings.
Although the game is not too big in size, the designers have managed to pack in a lot of content, and a city that is truly beautiful to look at, especially for a game that is built for smaller, less powerful devices. The missions in the game are challenging and immensely fun, and there are so many of them that you'll never run out of content. But if you do eventually get bored of completing story or turf missions, there is always the option to drive around the city of New Orleans in one of the fifty different vehicles the game offers.
With over ten million downloads, Gangstar New Orleans is rated 4.3 out of 5 stars on Google Play Store.
7. Gangstar Vegas: World of Crime
The final entry on our list is another game from the Gangstar series, Gangstar Vegas: World of Crime. Released by Gameloft in June of 2013, Gangstar Vegas is the sixth installment in Gameloft's Gangstar series and is one of the most popular installments of the series. In this game, you play the character of a successful underground MMA fighter who becomes entangled in a world of crime after a bribe he takes for a fight goes awry. Don Frank Veliano pays your character, Jason Malone, money to intentionally lose a fight in the fourth round, but during the match Jason accidentally punches his opponent too hard, knocking him out cold, which leads to Frank losing a lot of money, and hence chasing Jason across the city of Las Vegas, looking for revenge.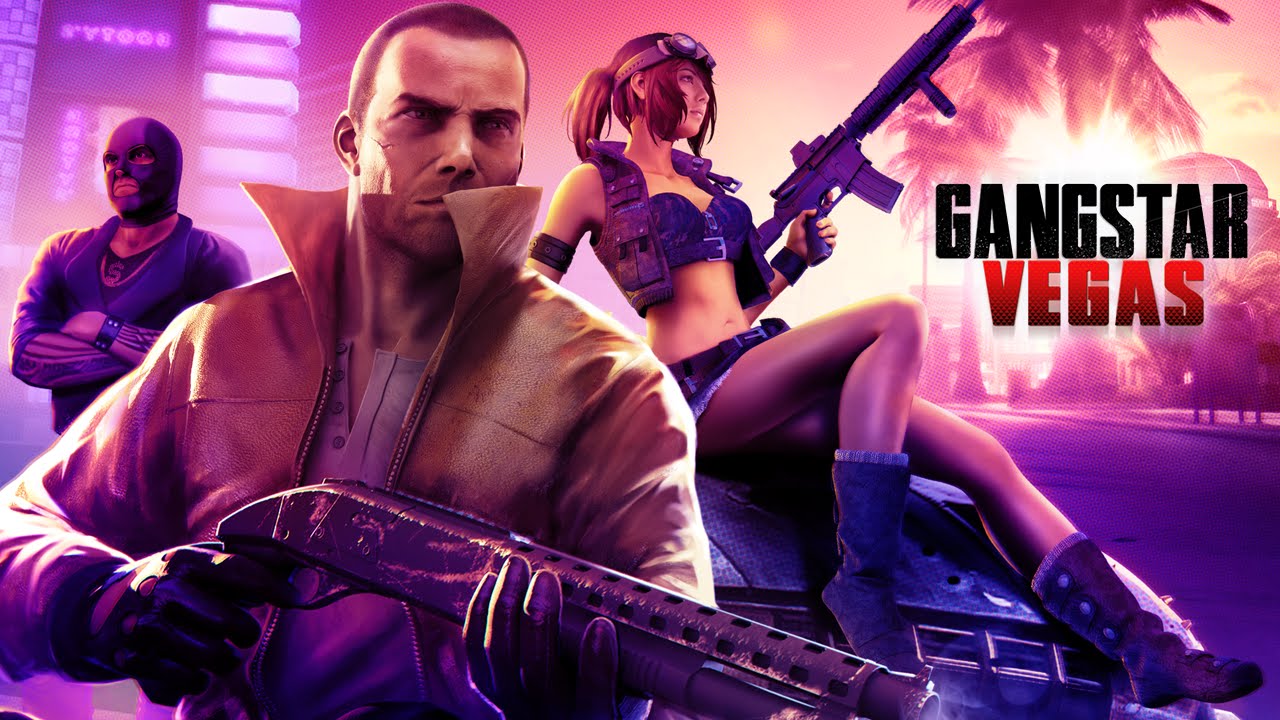 The effort put into the game is quite evident from the beginning, with the way the game looks to how well the voice actors have played their roles as the different characters in the game. The game's graphics are solid, both in terms of characters, which are all unique and have different face shapes and sizes, and also the city itself, which is large, bright, and detailed. When you load up the game for the first time you are given an introductory tutorial that gets you acquainted with the various controls of the game. Gangstar Vegas gives you the option of controlling your character and his vehicles using a hovering virtual joystick, or by tilting your device.
Combat in the game is fairly straightforward, and there is not a lot you need to learn in terms of controls to be able to properly fight your opponents in Gangstar Vegas. There are over a hundred different weapons for you to choose from, including exoskeletons, drones, sniper rifles, throwables such as Molotov cocktails, amongst many others. You can also choose to fight using your fists, and this is especially fun when you take part in the underground fighting tournaments which are present as a side mission in the game. Shooting in the game is cover-based, and you can lock onto opponents when attempting to fire at them, which makes it easier for your shots to be more accurate and precise.
The gameplay in Gangstar Vegas is in the third-person point of view, but you have the ability to pan your perspective. Just like Gangstar New Orleans, traveling in the game can be done both on foot and in the various vehicles available to you in the game. Apart from the main story mode missions which take you forward into Jason's narrative and how he eventually escapes Don Frank Veliano, you can also complete a bunch of side missions, including gang wars, bank robberies, and street racing, as well as underground fighting tournaments. Since the game is set in Las Vegas, you also have at your disposal several casino-style mini-games, such as slot machines, and blackjack. In total, there are as many as 80 missions for you to complete, and these missions consist of several different objectives, including shooting, racing, theft, etc.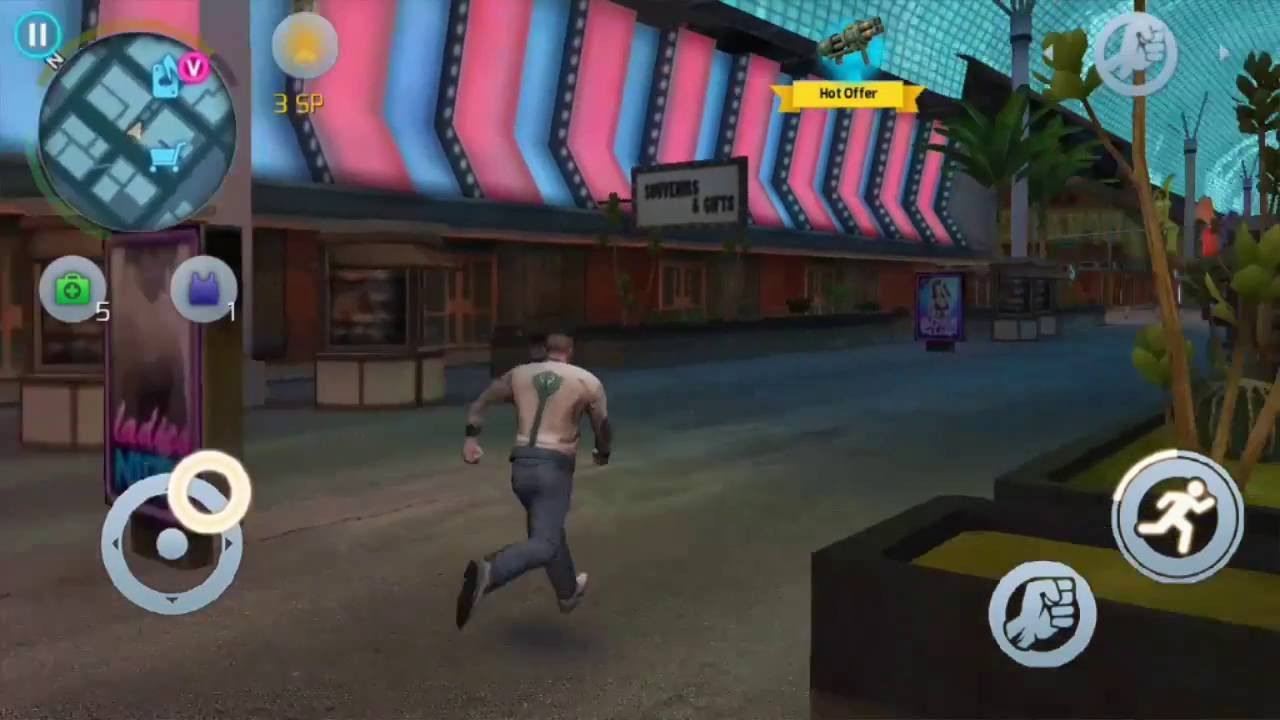 After the initial release of the game, there were several update packages available for users to download, which included new clothing and vehicles, and also a Gangstar vs Aliens pack. While the game is free to play, it offers several in-game transactions, ranging from "Handful of Diamonds", which costs $0.99, to "Bagful of Diamonds", which costs $19.99.
With over a hundred million downloads, Gangstar Vegas: World of Crime is rated 4.3 out of 5 stars on Google Play Store. Enjoy this action game Gangstar Vegas: World of Crime on your PC.