BlueStacks Roundups
The Top 10 Games That Are Similar to Merge Dragons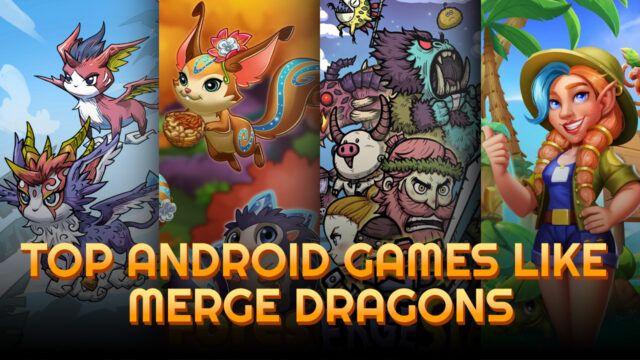 So you like Merge Dragons but are somewhat tired of playing the game for so long? The merge gameplay phenomenon has been blowing up as of late, with games in this subgenre popping up everywhere. And while some of these are new to the market, there are also many mainstay games in this niche that have existed for the past few years, and that have gathered their own fanbases.
Needless to say, if you're a fan of this subgenre of casual games, then this list is for you. In the following paragraphs, you'll find a list with 10 games that are like Merge Dragons in their basic gameplay, but that could also offer many different elements to explore and enjoy.
Read on!
1. Puzzle Forge 2
Starting off this list with what could be one of the best crafting and merchant apps out there. Puzzle Forge 2 is not just about simply combining items to create new ones; you also have to carefully consider how and when you combine items, as space on the board is limited and you need to complete several sales every single day.
Specifically, the gameplay in Puzzle Forge 2 is identical to Merge Dragons, considering that you put together identical items in order to turn them into something else. However, in this game, you also have molds, which you need to combine with the raw materials, in order to synthesize a variety of items. Moreover, these items can then also be combined to create masterworks like swords, armor, and other pieces of equipment, which you can then sell to your clients for profit.
True to its name Puzzle Forge 2 puts you in charge of your very own forge. Do you have what it takes to become the Blacksmith that the realm needs?
2. Park of Monster
Now, without venturing too far from the source material, Park of Monster is a game that combines Merge Dragon gameplay, while adding its own visual style. There's really not much to say about this game other than it offers the exact same gameplay as Merge Dragons. In this sense, if you're looking for a similar game, but with a different visual presentation, then we strongly suggest giving Park of Monster a try.
Regardless, if you want a better explanation, then Park of Monster is a merge game in which you travel across a wide variety of levels that you must complete by merging specific items and creating certain structures. To do so, however, you'll often need to progressively combine other items in order to cleanse the land and make your way towards the target items. As such, you'll be combining and merging items nonstop in order to clear stages and obtain valuable rewards.
At the same time, you can also visit your home whenever you're not completing stages, which is where your cute monsters live. Moreover, this is also where the spoils and rewards from completing stages will be taken, and where you'll be able to either use them to score tons of currency, or combine them into massive forms in order to achieve better profits down the line.
As we mentioned before, everything that you can find in Merge Dragons, you'll also be able to enjoy in Park of Monster. As such, if you want a break from the former's visual style and want to keep playing it, but with a different coat of paint, then Park of Monsters is your best bet.
3. Merge Star : Adventure of a Me
This game is a bit more dynamic as it follows the story of a hero or heroine seeking revenge on a mighty monster that once bested them in combat. To achieve this goal, they must run around the kingdom slaying lesser enemies to farm for resources and enhance their skills. In other words, this is an idle game where your character improves automatically, even while you're offline. However, the merge aspect comes into play when you pick up different pieces of gear and armor, and can merge two similar models to create another piece of a higher quality.
To defeat all your enemies in Merge Star, you must continuously combine your equipment to enhance your character's gear, while also building up your personal skills and perks by spending gold and gems. In this manner, you'll be able to challenge the bosses of every stage, and progress towards fighting tougher and deadlier beasties as you get stronger.
4. Merge Dungeon
The sequel to Merge Star above, by the same devs. The gameplay here is similar to its predecessor, though it features a much grittier and detailed art style, reminiscent of the game Darkest Dungeon. Moreover, this game also has a few differences here and there, including the fact that you start with multiple characters from the very beginning, which you must individually gear up by crafting and merging pieces of equipment in order to progressively unlock stronger armor and weapons.
Just like with Merge Star, most of the gameplay here is idle, which means that your squad is always fighting and farming for resources automatically, even while you're offline. As such, your role is to keep them geared and upgraded so that they can defeat any enemy and boss that stands in their way during their journey.
5. Age of 2048™: City Merge Games
Taking a step back from gritty combat and violence, we have a more laid back experience with Age of 2048, a game that's simply about merging identical structures in order to develop your very own civilization. From tribesmen living in huts and hovels, to a bustling metropolis jam-packed with buildings and structures, you're the architect of your own civilization.
In Age of 2048, things are slightly different than in other merge games, in the sense that you don't actually drag individual pieces to put them together. Instead, whenever you drag a piece, all connected tiles come along with it, making it a bit trickier to control than other games. A good approximation to this would be to say that this game moves like a rubik's cube, where all the connected tiles move together. Nevertheless, the premise is the same: drag identical pieces together to combine them and create more advanced buildings, and eventually help develop your civilization with every tile that you put together.
6. DragonSky : Idle & Merge
Coming back to merge games with interesting combat mechanics, DragonSky is precisely one of these titles in which the point is to fight against unending hordes of enemies. The way you do this here is through an idle gameplay system, in which your squad of powerful dragons are constantly shooting and defeating enemies to farm for resources. Meanwhile, you can drag and drop these dragons to merge them into powerful creatures of higher levels—the higher the level of the base dragons, the stronger the resulting creation.
The idea here, as usual, is to continuously merge your dragons to enhance the power of your army, so that you can defeat all your enemies with ease. And while there will definitely be many occasions where you'll get stuck, unable to defeat the current boss, all you need to do is build up your forces with more low level beasties, combine them into stronger versions, and rechallenge the boss with a bigger and stronger army.
DragonSky is one of the better looking merge games on this list, which is also great if you're a fan of good graphics. If so, then you'll definitely want to play DragonSky on PC with BlueStacks, since it'll let you get the best graphics and performance using your superior PC hardware, as well as play it on your large computer monitor, so that you can get a better view of the battlefield at all times.
7. Merge Mayor – Match Puzzle
While Age 2048 had a grand scope spanning from the early ages of civilization, and building up into modern metropolises, Merge Mayor is much more focused in its gameplay, putting you in charge of your very own city. Your role here is to help develop your city by completing a wide variety of tasks and challenges. One of the main ways to do so is by making deliveries of items that your townspeople request, and the only method for procuring these items is, you guessed it, by creating them through merging other items.
The main gameplay loop in Merge Mayor revolves around merging items in order to complete quests, and help your city expand in the process. As such, you'll spend most of your time in your warehouse interacting with a wide variety of items in order to merge them and synthesize new creations. And one you've managed to create quest items, you can turn them in to progress your city development and keep your people happy.
Do you have what it takes to turn around the city's spree of bad luck and transform it into a huge and successful metropolis?
8. Merge Magic!
Like Park of Monster this is another game very similar to Merge Dragons, in the fact that it's mission-based, and the objective of every mission is to complete the level by merging specific items. In this sense, you'll need to drag identical items and combine them in groups of 3s in order to make different creations.
A few levels into the game, you'll unlock your Garden, which is where the spoils that you receive from completing levels will be taken. This place is where you can build a humble abode for all the creatures that you rescue from levels, and it's also where you'll be creating your own space for farming a wide variety of resources, by merging the items that you get from your regular gameplay.
If you're a fan of Merge Dragons, then there's no way you're not going to enjoy Merge Magic as well, since they're basically very similar games in all but appearance.
9. Merge Tower Bots
Merge gameplay meets tower defense goodness! As the name implies, Merge Tower Bots is all about using your powerful bots to defend lanes against hordes of marching enemies. To this end, you must purchase and place them in strategic locations where they can have the maximum effect. Moreover, instead of placing them directly, you could also merge identical bots right in your inventory, in order to create new bots of a higher level. This merging will quickly become imperative, as enemies will rapidly become faster and tougher, so you'll need the highest firepower if you want to win.
Merge Tower Bots is a simple yet fun little merge game, ideal for passing time when you have a few minutes to spare.
10. EverMerge: Merge 3 Puzzle
There's nothing that we can say about this game that its title didn't make immediately apparent. In other words, this game is all about merging items in order to create new stuff. And as usual, every time you create something, you can use it to complete quests or missions. The big difference that makes this game stand out from the rest is that it doesn't actually take place through missions across different boards, but in one same place that progressively expands as you level up and complete requests. Moreover, some of your creations can actually lead to unlocking new characters and elements that give this game more variety and stuff to discover.
And there you have it, 10 merge games that are like Merge Dragons for you to try and enjoy. Leave us your favorites in the comments below!