BlueStacks Roundups
Top 10 Music Apps for Android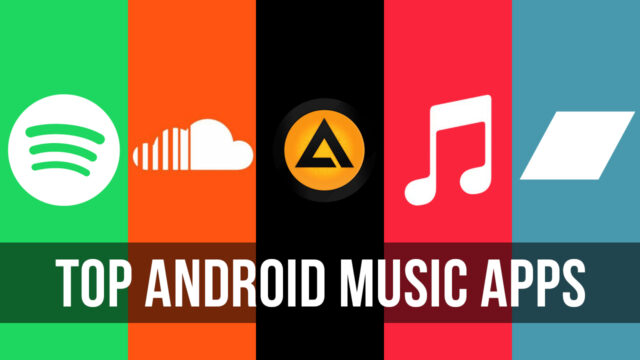 Music is an integral part of our lives. Almost everyone is a fan of music of some kind, and it is impossible to escape no matter where you go. While music was only accessible through physical devices up until not so long ago, the advent of the internet and the applications that have sprung up as a result of it have made music a lot more accessible and a lot more democratic, both for artists and listeners. These applications have also made a lot more music available to a lot more people, with streaming services having catalogs of tens of millions of songs.
In this article, we'll be looking at the ten best music apps for Android, ranging from streaming services, platforms for artists to upload their music independently, to apps that allow you to make music on your phone, letting you unleash the creative musician inside you.
1. Spotify (Free)
With over a billion downloads, Spotify is rated 4.4 out of 5 stars on Google Play Store.
Starting off our list of the best music apps for Android is Spotify, perhaps the biggest and most popular music streaming app in the whole world. Founded in 2006 in Stockholm by Daniel Ek and Martin Lorentzon, Spotify has grown quickly into being one of the most downloaded music streaming apps of all time. The app currently has over 70 million songs, podcasts, and shows in its catalog and is available in more than 180 countries.
One of the reasons Spotify has gotten so popular is that it is free. Of course, you can purchase a premium version of the app if you so wish, and many do, but the majority of the users of the app use the free version which interrupts your music listening with ads every few minutes. While that may sound annoying and unappealing, it is a small price to pay when you have practically endless high-quality music at your disposal without having to download any songs or albums. Spotify is also available for most devices and operating systems, and you can use one device to control another if you have the two linked and open. For example, if your Windows laptop and your Android smartphone are connected to Spotify and both devices have the Spotify app open, you can use your phone to remotely change songs playing on your laptop.
Another reason for Spotify's skyrocketing popularity is its playlists; especially the curated weekly playlists that are one of the best features of the app. Spotify tracks your music listening and curated weekly mixes, or short playlists, that pander to different moods or genres. So you may have one Weekly Mix that is all art-pop and electronica, while another may have punk and classic rock. This allows users to discover new artists and listen to a particular genre they enjoy or may be in the mood for. Speaking of discovering artists, Spotify also has a weekly renewed playlist known as Discover Weekly, which curates a list of new artists that you haven't heard of that Spotify's algorithm thinks you may enjoy. Since there is no dearth of music on the platform, there is always something new to discover, making this feature a boon for music enthusiasts. You can also create your own playlists on the app, adding as many songs as you like, with the option to make the playlist collaborative too. Once you make a playlist collaborative, anyone can add songs to that playlist and share it with the world.
As mentioned, Spotify also has a premium option which gives you a lot more control over your music listening. The premium version allows you to download songs, albums, playlists, podcasts, etc. so that you can play them offline. You also no longer have to listen to ads. Premium also lets you enhance your music quality, allowing you to listen to music in the highest possible quality setting. The Individual plan costs $9.99 per month, the Duo plan costs $12.99 per month, the Family plan costs $15.99 per month (up to 6 accounts), and the Student plan costs $4.99 per month. You can also enjoy music on Spotify with BlueStacks on PC.
2. SoundCloud (Free)
With over one hundred million downloads, SoundCloud is rated 4.7 out of 5 stars on Google Play Store.
Created in 2007 by Alexander Ljung and Eric Wahlforss in Berlin, Germany, SoundCloud is a music-sharing application as opposed to a music streaming application. This means that the music uploaded on SoundCloud is uploaded only by users of the application. The introduction of SoundCloud and other such websites and applications into the music sphere has helped immensely to democratize the music scene, with many Billboard charting artists of today having found their beginnings and initial audiences on SoundCloud. The application currently has over 76 million active monthly users and over 265 million tracks uploaded to the platform. The stardom found by many artists who initially uploaded their music to SoundCloud also implies that the platform has the most cutting edge music out there today, and artists that you are to listen to on the radio 5 years from now are most likely uploading their music to SoundCloud today.
For this reason, it can be said with confidence that SoundCloud is one of the best platforms for up-and-coming artists to release their music on. Not only can you upload your music onto the platform and have it potentially blow up and gain viral popularity, but you can also earn royalties while doing so. SoundCloud has two distinct royalty-generating programs: SoundCloud Premier and Repost by SoundCloud. Both are completely different from one another but serve the same purpose- getting an artist's hard-earned money into their bank account. SoundCloud Premier is an invite-only program for artists and musicians. An artist must qualify certain parameters in order to be invited to the program. One must be of age, be a SoundCloud Pro Unlimited subscriber, own 100% of the copyrights to their music, have no copyright strikes against them, and have at least 500 streams in the past month. If an artist qualifies all these parameters they are invited to the SoundCloud Premier program and can monetize their music simply by inputting their International Standard Recording Code (ISRC) and selecting the countries in which they want to monetize their music.
The second way to monetize your music on SoundCloud is through Repost by SoundCloud which costs $30/year. This program allows you to monetize your music and share it on other platforms such as Instagram, Spotify, Apple Music, etc., and it then collects the revenue from the streams acquired on the various platforms, sending them to you. Repost by SoundCloud is great if you have multiple collaborators on a particular project and want to divide streaming revenue by percentage.
SoundCloud also has paid plans for listeners on the platform. The free version of the app only lets you play music on a certain level of sound quality, and also has ads. The two paid versions of the app, SoundCloud Go and SoundCloud Go+ take care of both these concerns. SoundCloud Go allows you to play music without ads and also save tracks for offline listening, while SoundCloud Go+ allows you to do all of that as well as access high-quality audio and tracks that have been made for SoundCloud Go+ members only. SoundCloud Go costs $4.99 per month, while SoundCloud Go+ costs $9.99 per month. The latter also has a 50% discount for students. You can also enjoy SoundCloud on PC with BlueStacks.
3. Bandcamp (Free)
With over one million downloads, Bandcamp is rated 4.0 out of 5 stars on Google Play Store.
Next on our list is Bandcamp, one of the most underrated music streaming services out there today. Created in 2008, Bandcamp offers a type of freedom to both artists and listeners that is unparalleled in the music industry. It has been the case historically that artists and musicians have struggled to keep the money from their music, with many different people such as the production company, the streaming service, etc., taking a large piece of the pie. Due to this, many musicians have sought alternate ways to make money off their music and to keep themselves independent, without any bigger players keeping a large chunk of the profits. While this was a lot harder to do when the internet wasn't as big of a thing as it is now and information technology wasn't yet very advanced, being an independent artist and supporting such independent artists is a lot easier now, especially due to websites and applications such as Bandcamp.
Bandcamp allows artists to upload their music on the app for free and at a price set by the artist themselves. On streaming services, artists receive a small amount of money per stream, and only those who have thousands or even millions of streams can make good money off of such streaming services. For more independent, underground, or up-and-coming artists, making money off of streams isn't very sustainable, which is why setting the price for their music on an app like Bandcamp allows them a lot more control over their own art. Listeners can purchase the songs or albums they like off of the app and download the music. This means that purchasing the music is a one-time purchase and you don't have to pay Bandcamp any money in terms of a subscription as a listener. Artists also sell other items such as physical copies of their music and other merchandise which can also be purchased from the app itself. The money from these purchases goes directly to the artist, with Bandcamp taking 15% of the revenue as commission from the artist. This turns to 10% once the artist has reached $5000 in sales.
In November 2020, during the COVID-19 pandemic, Bandcamp also released a service called Bandcamp Live, which allows users to buy tickets and watch their favorite artists perform live online. This comes at a time when live shows, which are an integral part of any artists' overall revenue, have reduced drastically, if not stopped entirely in many countries. Bandcamp takes 10% of the ticket amount from these live shows, with the artists taking home 90% of the revenue. Bandcamp also offers vinyl pressing for the artists that make use of its platform, with the company selling over 2 million vinyl in the year 2020 alone.
4. Shazam (Free)
With over five hundred million downloads, Shazam is rated 4.8 out of 5 stars on Google Play Store.
Imagine you're at the mall and a song is playing that you think sounds incredible, but you don't know what it's called, or you're at the cafe and a show is playing on the big television that you think is hilarious, but you don't know its name or when it was released or who the lead actors are. Wouldn't it be nice to have an app that tells you exactly what both those things are based on a short sample? Shazam allows you to do just that.
Released in 2002 by Shazam Entertainment, which now belongs to Apple Inc., Shazam is an app that allows you to figure out what songs, television shows, or movies are playing around you simply by holding your phone's mic up in the direction of the speaker through which the source audio is playing. In a few seconds, the app will tell you exactly what song, television show, or movie you were looking for. Shazam uses a graph called a spectrogram to take a short acoustic sample of the audio which the user wants to find the author of. Once the acoustic sample has been formed, Shazam analyses the sample and tries to match it with any of the millions of songs, television shows, and movies in its database. If there is a match, the name of the song, the artist, the album name are all sent to the user, helping them identify the song. The user also receives links for the song on major music streaming platforms such as Spotify, Apple Music, YouTube Music, and others.
Once the song has been identified, the app also sends the real-time lyrics of the song over to the user so that they can sing along to it. Other information given to the user from the app includes additional information on the artists and other songs or albums from the artist that you may enjoy. You can also share the song, television show, or movie you have just identified using the Shazam app to social media sites such as Instagram, Twitter, etc. You can also share the identified audio using SMS. In case you don't have an internet connection but want to identify a song playing near you, don't worry. Although the app doesn't work without the internet, you can still create a sample of the audio that you want to identify which the app will try to match with its database once you have a stable internet connection.
5. Bandsintown Concerts (Free)
With over ten million downloads, Bandsintown Concerts is rated 4.7 out of 5 stars on Google Play Store.
Although live music isn't exactly safe to attend right now due to the pandemic, it is good to prepare for when it will be safe to go out and attend live shows and see your favorite artists performing in front of you. But how exactly do you know which artists are in town and when? And how much do their tickets cost? And where do you buy them? Bandsintown Concerts answers all of those questions.
Created while keeping in mind the average live-show attending music lover, Bandsintown Concerts makes it extremely easy for you to find out when your favorite artists are in town. The app provides users with a comprehensive calendar of all the artists that will be in town that month. This can help you figure out when and where to go if you're planning on going to multiple shows in a month. If you would only like to know the dates and timings of your favorite artists, then the app can curate that list for you as well, detailing all the tour dates of the particular artist you want to see live. This way you can also see if the artist is performing somewhere near your city if not in it so that you can travel there if the place of the show is accessible to you. The app also gives you music recommendations based on the music you already listen to, so you can explore new music and perhaps see a new artist live if they're playing a show near you. The app connects to other music-related apps such as Last.fm, Pandora, and Google Play in order to give you as personalized a list of recommendations as possible. You can also turn on notifications for when your favorite artists are in town so that you never miss a show you want to attend.
You also need not go to an external site to buy tickets for the shows you're interested in. Bandsintown Concerts allows you to purchase tickets on the app itself in order to make the experience as hassle-free as possible. Keeping in mind the pandemic, Bandsintown Concerts also released a subscription package of $10 a month in which users can experience 25 online live shows a month as part of their package. The service is called Bandsintown Plus, and it is a great way for music fans to experience live music while keeping themselves safe in their homes.
6. Last.fm (Free)
With over five million downloads, Last.fm is rated 3.0 out of 5 stars on Google Play Store.
We all love the yearly round-ups that our streaming services of choice bring to us at the end of each year. You get to see who your top artists were, how many minutes and hours of music you played throughout the course of the year, which songs were your most played, what were your top genres, and many other such categories. These round-ups, however, only come at the end of the year and cannot be accessed at any other point of time throughout the entire year. There is, however, an app that lets you see your listening history on a daily, weekly, monthly, and yearly basis. This app is called Last.fm.
Released in 2002, Last.fm is an app that collects your listening data from various sources and compiles them into daily, weekly, monthly, and yearly reports. This is done through the process of "scrobbling". Scrobbling is another word for track logging, or the app taking the information about what music you listen to from any of the compatible streaming services that you may use. Last.fm supports all the major streaming services such as Spotify, Apple Music, YouTube Music, Deezer, Tidal, etc. Every time you listen to a song on any of these and the many other compatible apps, the app "scrobbles" the track information into its database. But there must be a criterion for scrobbling, or else listening to a song for 1 second would count as a scrobble. To combat this, Last.fm's criteria of a scrobble are as follows: the streaming service will send data of the artist, the song, and the album to Last.fm's database if half of the song or the first four minutes of the song have been listened to, whichever comes first. So if you have a song that is 6 minutes long, listening to 3 minutes of it would count as a scrobble, while if you have a song that is 12 minutes long, listening to the first 4 minutes would count as a scrobble. In this way, Last.fm collects your listening data and creates detailed reports of your listening which you can see and analyze. You get information on Top Tracks, Top Artists, Top Albums, Weekly Top Artists, and Weekly Top Tracks.
Not only can you see who your favorite artists are on a regular basis, but you also get recommendations on new music based on the music you have been listening to. Last.fm gives its users very personalized recommendations that they are sure to love.
7. AIMP (Free)
With over ten million downloads, AIMP is rated 4.0 out of 5 stars on Google Play Store.
In case you're a little old-school and like to listen to the music you already have downloaded on your device, AIMP is the app for you. Released in 2006, AIMP is a free audio playing app that works on both Android and Windows. The app allows you to play the music that you already have stored on your device. AIMP supports many different audio codecs, including MP3, AAC, Dolby AC-3, Ogg Vorbis, Opus, Speex, Windows Media Audio, Apple Lossless, FLAC, WAV, Audio CDs, APE, True Audio; DTS audio, MP1, MP2, Musepack, OptimFROG, WavPack, MIDI, Impulse Tracker, MO3, MOD, MultiTracker Module, S3M, Tom's lossless Audio Kompressor (TAK), and Fasttracker 2 Extended Module. This allows users to access all sorts of music and play it on their device without the need to download dedicated apps for each audio codec type.
The app also has several features built-in that allow you to adjust the audio based on your preference. Not only do you have access to an equalizer that allows you to change things such as the Bass, Treble, etc., but you also have several built-in sound effects such as Reverb, Flanger, Chorus, Pitch, Tempo, Echo, Speed, Bass, Enhancer, Voice Remover, making AIMP an extremely versatile app that can manipulate audio in many different ways. AIMP also has a 250MB RAM backup that can cache the music you are currently listening to. You can create playlists, share them, and the app even works with Last.fm, so in case you're worried your music won't be scrobbled, then you have nothing to worry about. You can also listen to music from internet radio channels since AIMP supports internet radio as well. The app also works in several different languages and has other interesting features such as the alarm clock/auto-shutdown feature, internet radio stream capturing, plug-in support, etc.
8. WhoSampled (Free)
With over a hundred thousand downloads, WhoSampled is rated 4.6 out of 5 stars on Google Play Store.
Sampling has been a part of music for a very long time. Early evidence of sampling can be found as far back as the 1940s, but it is generally agreed that sampling gained a lot more popularity a few decades later when producers used different funk and soul records in order to create new music. In this way, a completely new genre and style of making music were born. Over the years, countless songs have been sampled and used to create new music, and many of the top-charting songs we listen to these days use sampling as well. WhoSampled is a free app that lets you see which songs have used which samples, with an extensive database of sampled music and sample-based music.
Released in 2008, WhoSampled lets you see which songs have used which samples, which in turn may have used samples of their own. In this way, the app allows you to find new music based on the music you already listen to but in a way that no other music streaming service does. You not only get immense information about the music you're already listening to, but you also get recommendations based on that music in the form of sampled music. Every time you click on a song on the app, you can see which samples it has used, and in turn which songs have sampled it. On the "Charts" section of the app, you can find the hottest samples on the charts and the chart-topping songs that have used those samples. The app also provides you with a convenient timestamp of the beginning and end of the sample so that you can hear for yourself when the sample kicks in on a particular track. The app has a catalog of over 400,000 songs, and all of this data is user-generated and reviewed by moderators of the app. If you are a die-hard music fan who wants to get deep into the history of the music you love listening to, WhoSampled is for you.
9. Apple Music ($9.99)
With over fifty million downloads, Apple Music is rated 3.9 out of 5 stars on Google Play Store.
Apple Music is the second biggest music streaming service in the world behind Spotify, and it assuredly deserves a spot on our list of the best music apps for Android. Launched in 2015, Apple Music is a hub of music streaming as well as radio broadcasting. Although in its nascent stages it only provided these two services, after a few years of release it also began video streaming. Jimmy Iovine, an executive of Apple Music, said that Apple wanted Apple Music to be a "one-stop shop for pop culture", and it is certainly staying true to that statement.
Apple Music is a paid app and has no free version available to users. Although this may turn off many potential users, Apple's paid plans are surprisingly affordable, and they even have a Student plan that is half the price of the Individual plan. Apple Music has over 90 million songs available for streaming, a number considerably larger than some of its immediate competitors. This massive catalog of music has also helped attract many additional customers who have not been able to find the music available on Apple Music on any other mainstream music streaming service. As mentioned earlier, Apple Music is also known for its radio services which offer 24-hour streaming in over 200 countries. Many of the world's most popular radio hosts have dedicated channels on Apple Music and it is an amazing way for you to get your daily dose of radio coverage. The app also has exclusive interviews, music videos, and behind-the-scenes footage that isn't available on any other streaming service.
One of the most important aspects in terms of the user interface is the app's ability to bring you new music that you'll like on a consistent basis. Apple Music's AI tracks the genres and artists you listen to on a regular basis and brings you mixes of potential songs, albums, and playlists that you are likely to enjoy. You can also sort all the music in your library in a variety of different ways, according to Name, Artist, Album, Genre, etc., which can help keep your library organized. The app also allows you to upload music from your own device into the application so that you can stream that music any time you like as well. All songs, albums, podcasts, etc. can be downloaded for you to stream offline, and you can control the quality of the music streaming in accordance with your data usage. Better streaming quality requires a better connection and a larger amount of data, and vice versa.
One of the best features about Apple Music is its extremely clean and easy to use user-interface, which we have come to expect from almost every Apple product. You can sort and access all your favorite music easily, and your playlists are also easy to share on any social media app of your choosing. The Individual plan for Apple Music costs $9.99 per month, the Family plan costs $14.99, and the Student plan costs $4.99
10. FL Studio Mobile ($14.99)
With over five hundred thousand downloads, FL Studio Mobile is rated 3.8 out of 5 stars.
Finally, the last app on our list of the best music apps for Android is Imageline's FL Studio Mobile. Released in 2011, FL Studio Mobile is the mobile version of Fruity Loops Studio or FL Studio for desktop computers and laptops. The mobile version of the app is very powerful and has many of the same capabilities as the desktop app. For starters, you have the step sequencer, piano roll, keyboard, and drum pad, all the same as the desktop version.
The track editor lets you edit up to 99 different tracks at once, which means you have immense room for layering and to make your tracks as full of elements as you would like. You can add, delete, or duplicate tracks, or add a track signature and tempo to the track if you so wish. The piano roll feature allows you to draw in notes manually in order to create melodies, basslines, chords, etc. You can also change the length of the notes in order to make the sound last longer, and notes drawn on the piano roll can have their volumes adjusted so that certain notes are more prominent than others.
The app comes with more than 130 instrument packs that have sampled real instruments. These range from genres such as rock and metal to jazz and funk, meaning that there are sounds for every kind of music you want to make, and there is no dearth of instruments for you to use to make music using this app. Effects such as reverb, delay, echo, etc, are also available on FL Studio Mobile.
Since you've read it all here, take a look at our article on the best Rhythm games on Android.