BlueStacks Roundups
Top Android Racing Games in 2022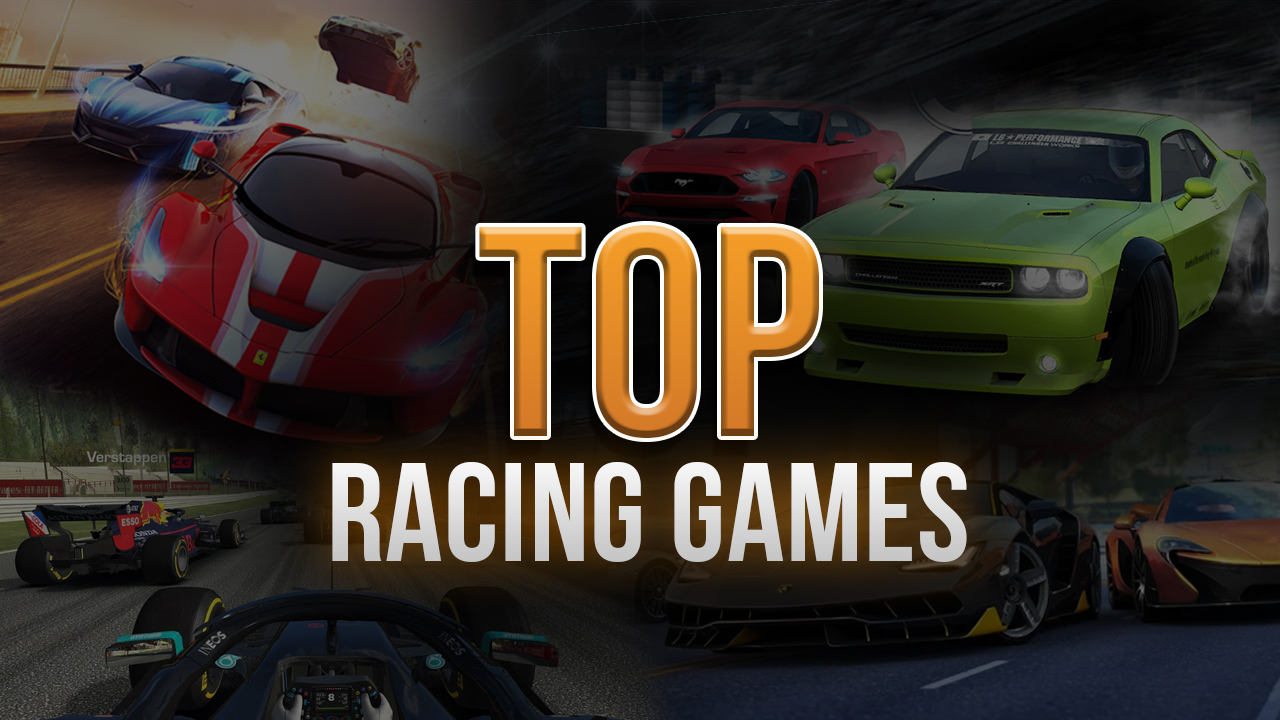 Racing is one of the oldest and most popular video game genres. The competition in the games is tough, and selecting the top games from among them is no simple feat. There are many different sorts of racing games, ranging from realistic simulation to crazy fun street racing. Racing games make full use of high-end technology, and there are always new titles to test out, some of which provide a realistic driving experience as well as new cars to drive. We've taken all of this into account while compiling a list of the best racing games to play in 2022.
1. Real Racing 3 [ Free ]
Real Racing 3 has been on the market for over 8 years, with over 10 million downloads and a 4.5-star rating on the Google Play Store.
Real Racing 3 is one of the most realistic games on the list. From driving physics to aesthetically attractive visuals, the game provides an exceptional racing experience. It includes a variety of real-life courses as well as a vast collection of car manufacturers from across the world. Real Racing 3 is continually being updated with new race events to try out as well as a real-time multiplayer option to challenge your friends in.
It has fully licensed tracks with 40 circuits in 19 real-world locales, making it a top-notch simulation game. You may race up to 43 vehicles at once in real-time multiplayer mode. There are around 250 automobiles from various brands, including Aston Martin and Porsche, on display.
Because the game is built by the well-known EA Sports, the driving experience is second to none, and if you're seeking a realistic racing game, this may be it.
2. CarX Highway Racing [ Free ]
The game CarX Highway Racing, from the makers of the CarX franchise, has over 50 million reviews on the Google Play Store, with an average rating of 4.6 stars.
CarX Highway, one of the most popular street racing games, combines stunning graphics and aggressive driving, with more than enough automobiles to travel around the city. There are several modes to explore in the game, including a feature-rich campaign mode in which you may drive around the cities of Australia, France, and Russia. The gameplay is quite smooth, and the controls are simple to learn. The game's music effects do not let you down and help you get into the flow.
There are 40 cars available in the game, including supercars and muscle cars. CarX Highway also has a Free Ride option that allows players to drive as they like with no limits, but beware if you pick the flawless Police mode, where officers are chasing you down no matter how fast you go.
There's a lot to appreciate in CarX Highway, featuring many Unique modes and an addictive campaign that rewards you for your wins. This game is for you if you enjoy street racing.
3. Beach buggy Racing 2 [ Free ]
The popular Kart-Racing Action game is a successor to the Beach Buggy Racing 1 (2014), with over one billion downloads on Android. Vector unit is the company behind the game.
Beach Buggy Racing 2 is the ultimate mobile kart racing experience that brings back memories of Mario Kart and Crash Team Racing. The circuits are created in a unique form, exactly like any other kart racing game, with several ways to complete the race. This game also has an exciting multiplayer feature where you can compete with gamers from all over the world, as well as a tournament mode that rewards you in the best way possible.
The game's visuals are really attractive, and the cars are well detailed. It also contains a standard racing mode as well as the well-known kart racing option, in which you may collect various weapons (aka upgradeable power-ups) to use throughout the race. Since the game's release, the developers have been quite active in providing a variety of limited-time events for you to enjoy, and the exhilarating races make you want to play it again and again, making this a must-have game for arcade kart racing fans.
4. Grand Prix Story [ $6.99 ]
Grand Prix Story is the only classic racing game on our list, with over 100,000 downloads and a 4.7 rating on Google Play.
Grand Prix Story is a racing simulator game in which you act as the management of various racing teams rather than driving. You'll create the team and do research on them, tune components and locate new ones, set up and establish lucrative sponsorships, and discreetly direct your team to success by incorporating all of the simulation's materials and constituent elements into your cars.
The game's vintage style aesthetics are unparalleled in any other game. It takes some time to grasp the basics, but once you do, there's nothing stopping you from preparing for the next grand Prix.
You may spend hours upon hours improving team members, cars, and specific parts, but the excitement will keep you determined to win any challenges you face.
5. Asphalt 9: Legends [ Free ]
Asphalt 9, is the latest installment in the popular Asphalt series, with over 50 million downloads and a 4.5-star rating on the Google Play Store.
From shiny cars to expensive yet extremely rewarding tuning features, this game is the one for racing lovers. With gorgeous visuals, simple controls, and a number of settings to select from, the game seems new. Even after three years, Gameloft continues to offer new events without hesitation. The multiplayer aspect of the game is lacking, but the racing experience is excellent.
The game does take some grinding to unlock the vehicles, without which it would be unplayable. Asphalt features a variety of tracks and modes to select from, including a career mode, but if you want to enhance your multiplayer game, we recommend grinding for these top-tier vehicles.
Asphalt 9 is just as enjoyable as its predecessors, and if you enjoy racing even a little, it will undoubtedly increase your passion for racing games.
6. Mario Kart Tour [ Free ]
Mario Kart Tour is a mobile arcade version of Nintendo's popular Mario Kart game. The game has received over 100 million downloads and a 4.2 rating on Google Play.
Mario Kart Tour is a one-finger racing game, but it stays true to the Mario universe; it's as polished as the other Nintendo games and as snappy as console games. Before each race, you'll be able to select a driver, kart, and glider, and this is where the main modifications come into play. The race circuits are directly from the Mario universe, which adds to the game's appeal.
The game also has gyro controls, which make driving a lot easier for players, especially since we're more used to wrecking our gamepads with split-screen Mario kart races.
7. GRID Autosport [ $9.99 ]
Grid Autosport is the other simulation racing game on the list, with over 100,000 downloads and a 4.2-star rating on the Google Play Store.
Grid Autosport has one of the highest levels of graphic fidelity on mobile without sacrificing gameplay. There are hundreds of vehicles to try out, as well as an equivalent amount of race circuits built from the ground up. The game is aimed at pure racing simulation enthusiasts using a smartphone, since it attempts to bring the console experience to the portable.
Grid Autosport has a number of control choices and focuses on a single-player experience, with not just configurable difficulties but also a variety of racing styles and extras like hardware controller compatibility.
If you are a vehicle fan who wants to go into the realm of gaming, this may be a good place to start.
8. Hill Climb Racing 2 [ Free ]
Hill Climb Racing 2 is the perfect timed racing game to replace the previous edition. The game has over 100 million downloads and a 4.5-star rating on Google Play.
Hill Climb Racing 2 is the most distinctive game on our list, with a 2D timed racing playstyle, a large number of vehicles to unlock, upgrades to purchase, car and character customization, and a variety of game modes including adventure and arcade. A campaign, an online multiplayer option, achievements, daily tasks, and challenges are all included in the game. It also performs admirably on older smartphones.
This game's basic controls and colorful nature make it a simple-to-learn adventure; if you're searching for a game with a fast learning curve, this is it.
9. Off The Road – OTR Open World Driving [ Free ]
This is the ultimate off-roading experience. Off The Road has almost 10 million downloads and a 4.5-star rating on Google Play.
Off-road driving allows you to drive anywhere and everything in the game, including a helicopter. The game allows you to travel on the road in the car of your choice, allowing you to live out your driving fantasies while completing particular objectives to unlock new automobiles.
There is no clear direction for what you want to do next, yet once you've completed certain challenges, there are constantly new things to do and even other islands to explore. The well-optimized controls and visuals are always a delight, and the wide environment keeps you entertained.
10. Horizon Chase [ Free ]
Horizon Chase is a retro-inspired racing game with over 10 million downloads and a 4.3-star rating on Google Play.
Horizon Chase is an addictive racing game based on popular songs from the 1980s and 1990s. Horizon Chase recreates traditional arcade racing gameplay with each curve and lap, giving you unlimited fun. There's a lot to do, and the graphics are retro-inspired. There are hundreds of tracks to unlock, as well as a variety of cars to unlock. To complete off the experience, there is an online multiplayer mode and also in-game leaderboards.
This game provides players the sense of playing 16-bit games again, complete with dynamic weather conditions such as sandstorms and rain to put their abilities to the test. Some of the songs are Death Valley, Los Angeles, Easter Island, Santiago, Salvador, Cape Town, and Taj Mahal. During the race to win, the players can also do a number of stunts.
This game will undoubtedly bring back memories for all 16-bit fans in some form.