BlueStacks Roundups
Top 10 Survival Games on Android in 2022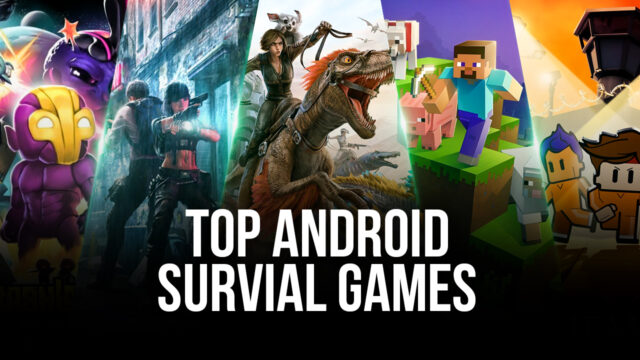 In recent years, the popularity of survival games has skyrocketed as people have learned the charm of the genre. They provide us the opportunity to experience a variety of environments, from space odysseys to exploring prehistoric eras that are difficult to experience in the normal world.
Survival games are simple to begin with. Your main motivation for jumping on a bewildering trip is to struggle for survival. You'll be placed in difficult areas where they'll have to fight with a range of risks while working with specific resources.
These games encourage you to be optimistic, bringing in ideas from all around the world to assist you to find new things while surviving for the rest of your life. We acknowledge that each survival game is unique in its own way, but we've made it easier for you to pick one. We have compiled a list of the top ten Android survival games.
1. Minecraft [ $6.99 ]
Minecraft, developed by Mojang, is the first game on the list. With over 10 million downloads and a 4.6-star rating on Google Play, this app is a hit.
Minecraft is a building game in which you must search for items to mine and use to help you survive. The game is not only entertaining, but it also challenges you to be creative in order to develop and discover new structures.
You may also begin your Minecraft adventure with your buddies. There are many other sorts of creatures to look up to across the world, not just buildings. Minecraft's captivating environment is eerily similar to real life, in that it encourages you to seek out more and more resources in order to improve your situation. The story's main goal is to defeat the ender dragon, which you may be able to do if your survival adventure is up to par.
The game has virtually endless possibilities, and the makers provide updates on a regular basis to keep it looking new for you to play every now and again. You can also use Minecraft with BlueStacks on PC.
2. Dead By Daylight [ Free ]
Dead By Daylight is a survival horror game developed by Behaviour Interactive that has received over 5 million downloads and 3.7 stars on the Google Play Store. It is highly recommended by critics.
Dead by Daylight (DBD) is a horror-action multiplayer (4vs1) game in which a vicious Killer hunts down four Survivors who are fighting to avoid being eliminated. Four players assume the roles of survivors trapped in a gruesome Saw-style bloodsport, fixing generators in order to activate an exit gate before fleeing to safety. The fifth character is a serial killer. The killer's mission is to prevent the survivors from fleeing by dismembering them.
Dead By Daylight is based on the PC version of the game, which was released in 2016. DBD Mobile is entertaining, and the controls are simple to learn.
Players will be reminded of the other version of the game by developing visuals. This is a fantastic mobile game with a lot of interesting components, and if you like horror games, you should give it a shot. Download and Play Dead By Daylight on your Computer
3. Don't Starve: Pocket Edition [ $4.99 ]
The most unique game on this list is Don't Starve Pocket Edition. Klei Entertainment Inc. is in charge of the game's development. The game has been downloaded over 5 million times and has a rating of 4.2 stars on the Android Market.
The game is full of fear and laughter, as well as dread and joy. You take on the role of Wilson, a Gentleman Scientist who has been captured by a demon and taken to a weird wilderness environment. Wilson intends to escape and return home so he must learn to fight his environment and its inhabitants.
Don't Starve is full of fear, pleasure, fright, and joy, not to mention Wilson, the game's humorous protagonist who will constantly make you leap with happiness.
It's a difficult game to master, especially after you have the hang of it. It's a dark, twisted survival game in which you must scavenge, make items, and defend yourself while attempting to avoid the aesthetically disturbing surroundings. It is highly recommended if you are really into spooky games. Play Don't Starve: Pocket Edition game on your PC with BlueStacks.
4. Life After [ Free ]
NetEase Games' Life After is an online multiplayer survival game with a twist. The game has received over 10 million downloads and a 4.1 rating on Google Play.
The game is a multiplayer online game featuring open world and zombie survival aspects. The sole aim is to stay alive. You must gather materials, make tools, and construct a shelter for yourself.
Life After is rated M for Mature because it involves blood, violence, and gore. It also allows us to play more passively by grinding for resources and uniting with other survivors to establish a safe paradise.
It's one of the greatest sandbox survival games out there, with the grind, guilds also known as camps, zombies, crazy PVP, tonnes of PVE, random treasure boxes and secret chests, and frequent updates from the devs.
The post-apocalyptic adventure incorporates the greatest features of survival games such as Minecraft and Ark Survival and is highly recommended if you enjoy any of them. You can also enjoy Life After game on your PC.
5. This War of Mine [ $13.99 ]
This War of Mine gives you a thrilling experience of living through the war as a civilian even after so many years of launch. 11 bit studios created the game, which has a 4.2 average rating.
You play as a group of residents fighting to live in a besieged city, with a shortage of food, medication, and constant risk from snipers and malicious scavengers. The game allows players to experience war conflict from a whole different perspective i.e. survival.
The game isn't really fun to play because it provides you with a realistic simulation of wartime survival. The game may appear to have a large price tag, but it regularly comes with a discount on the shop. It is loaded with challenging decisions and open-ended gameplay.
The game's gorgeous visuals and tough in-game decisions will keep you hooked throughout the adventure. It emphasises realism above thrills and makes you unhappy by providing the most intense survivor experience. If you enjoy games on war, this is one to keep an eye out for.
6. Ark Survival Evolved [ Free ]
Ark Survival Evolved is a classic mobile adaptation of the award-winning PC game Ark Survival Evolved, which was released in 2017. This is one of the most popular survival games on the market, with over 10 million downloads and a 4.1 star rating.
You wake on a seashore with a strange artifact in your hand and are faced with surviving the environment and its numerous perils while progressively outfitting your character, constructing a house, and going off to explore.
The game transports you to a time when dinosaurs and humans coexisted peacefully. In the Ark Survival, you may tame many sorts of creatures while concentrating on your survival.
The creators actively support this open world sandbox game, which provides a highly realistic survival experience. In this very addictive survival game, Studio Wildcard has done an excellent job. There isn't much else to say, but you'll undoubtedly make survival gear, construct dwellings, and befriend dinosaurs over a large landscape while fulfilling quests to learn more about the game's environment. We strongly suggest that you play this game. Have a fun time with your friends while playing Ark Survival evolved on PC.
7. The Escapists [ $6.49 ]
The Escapists is a very realistic prison escape simulation game produced by Team 17 Digital Limited, with a 4.5 rating on Google Play.
The Escapists is a delightfully entertaining sandbox strategy game that sets you the difficult task of escaping from prison. You can purchase, barter, and beat your way to getting the things you need to make thousands of crafting combinations to help you get away.
You'll feel like a genuine prisoner at times as you struggle to withstand the game's harsh challenges, but its charm makes this stay in the large mansion a surprisingly enjoyable experience. Even after you've finished the game, you'll be thinking about how to get out of these jails. Escapists 2 is a large game in a little box, packed with humor, adorable visuals, and unexpected depth.
If you like escaping from prison, you will undoubtedly enjoy spending hours devising innovative approaches to this game. Enjoy Escapists on PC.
8. Westland Survival [ Free ]
Westland Survival is a western-style survival adventure game developed by Helio games with an average of 4.3 Stars on the Playstore.
In the Mexican county, you will experience the life of a lone ranger, battle criminals, trade with native Americans, build traps, and duels. However, you must exercise caution, since bandits and even sheriffs are willing to sell any courageous guy for a fraction of money.
Your wagon gets ambushed by bandits, leaving you as the sole survivor. Before you battle, you'll need to perform some crafting, gather some shelter for the night, do some wood logging for bow and arrows, and perhaps even mine some ore for horseshoes and do some trades.
The game has all of the hallmarks of a great survival game, with the added bonus of a western touch for something new to discover. Play Westland Survival.
9. Terraria [ $4.99 ]
Terraria is still one of the finest sandbox games. The game was created by 505 Games and has a 4.6-star rating on Google Play.
The game is a version of the popular Terraria PC game for Android. It is a 2D platformer with free construction and handicraft. This game can have you playing for hours if you enjoy the notion of survival in a non-3D universe. The game is a worthy addition to the open sandbox creation genre.
Terraria has more depth than its 3D cousin Minecraft, but has one fewer dimension. Terraria contains practically every necessary trait that a survival game should possess, including superb pixel visuals, a lovable soundtrack, and a slew of antiquated elements.
This is also one of the few survival games that can be played on a budget mobile device without sacrificing a good gaming experience. Enjoy Terraria on PC.
10. Crashlands [ $6.99 ]
Butterscotch Shenanigans created and released Crashlands, an action-adventure role-playing video game that is also regarded as one of the finest games for survivalists. The game has received over 100k downloads and a 4.5-star rating.
Crashlands is a top-down space humor horror game in which Flux, a female space courier, is the protagonist. Flux is on a delivery assignment with her robot friend JuiceBox when they are ambushed by an extraterrestrial.
They've been stranded on an unknown planet, and the goal is to become acquainted with the locals and their surroundings in order to develop hope for survival. The plot is full of Friends-style gags and innovative gameplay that keeps you interested throughout.
Crashlands is really well-designed, right down to the smallest detail, and you can't help but admire each and every piece of artwork. Putting all of that aside for the time being, Crashlands is a fantastic game that is a lot of fun to play, and we strongly advise you to do so. Play Crashlands on PC and have a fun time with your gaming buddies using BlueStacks.