BlueStacks Roundups
The Top 5 Games to Enjoy This 2021 Christmas Season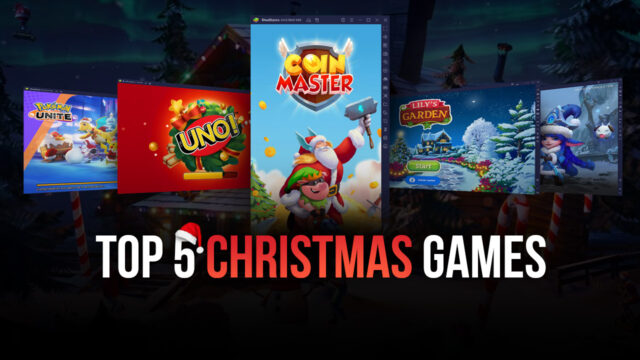 This is the season to be jolly yet again as Christmas is just around the corner. This season always marks an occasion to get together with friends and family and share warm and meaningful moments together, preferably in front of a toasty fireplace and with lots of good food to enjoy. And once all the treats have been eaten, and the stories have been shared, what better way to pass the time with loved ones than by bonding over a few games together?
Fortunately, the mobile gaming platform gives us the opportunity to enjoy awesome games on the go, simply by installing apps on your phone and running them. This makes phone games some of the most entertaining pieces of media that you could have at any moment. Alternatively, while it's very convenient to play games at any time and any place, you can also get the best experience with your favorite mobile games by playing them on PC with BlueStacks, in which you can enjoy these titles on your large computer monitor, mouse and keyboard controls, and with a variety of tools and features to streamline your experience. You can also check out Best Android Games to Try from here.
With that being said, whether you're looking to share a few good gaming moments with your friends or family this holiday season, or if you'd rather fly solo and entertain yourself on your phone or PC, here are five awesome mobile games that you can enjoy this Christmas season.
Coin Master
Mobile games, at their core, started out as quick, easy, and simple ways to pass the time simply by whipping out your phone, launching the app, and starting playing just a few seconds later. These apps were usually lightweight and designed so that they could run on most devices; even older models. And while the mobile gaming industry has been evolving and breaking the mold in relation to what it can achieve with their games, there's still a large community that seeks out simple and casual titles.
Coin Master is, in many ways, the most iconic casual game out there, offering a variety of straightforward mechanics, a degree of player interaction, and city building as well as PvP elements. The objective of this game, as its name implies, is to collect as many coins as you can, which you can then use for building and developing a variety of cities. You can get these coins via an in-game slot machine, which can also grant other prizes such as hammers for assaulting other players' cities and stealing their coins, and raid icons that let you pillage the current coin master and score huge amounts of currency.
Coin Master offers very straightforward and casual gameplay that anyone can enjoy at a whim, which makes it perfect for passing the time during these holidays if you ever get bored. Alternatively, you can also get your friends to play it so you can attack and rob each other blind, which can make for a spot of cheeky fun. And if you're thinking of getting into it, now's the best time to install this game since there's a Christmas event active in which you can score many free prizes from the shop.
Pokémon Unite
As we mentioned above, mobile games started out as casual experimental titles to pass the time. However, fast forward a few years, and now we have full-blown competitive games on this platform, the likes of which you'd only see on PC or consoles. Pokémon Unite is one of the latest competitive MOBA games to land in the market, based on the hugely successful and ubiquitous Pokémon franchise.
Pokémon Unite has two teams of five players each face off against each other in a race to see who can score the most points by the end of a 10-minute timer. To achieve this, players must go around defeating wild pokémon to collect orbs and experience, leveling up in the process, evolving their pokémon, and unlocking stronger skills. Once enough orbs are collected, players can go to the enemy's goals to deposit them, which is how points are scored.
Of course, the enemy won't just stand there while you score; they will always try to stop you, and this is where the PvP and competitive aspects come into play since matches in Pokémon Unite can get quite hectic and intense, as players go back and forth on the map, farming and fighting against each other in an attempt to get the upper hand and outscore their opponents.
Pokémon Unite is a perfect game for sharing with friends and family since you can create groups with them and challenge other teams together, or create custom lobbies and enjoy personalized matches between yourselves. It's a title ideal for the most competitive among us, in case the more casual games don't tickle your fancy. Play Pokémon Unite with your friends and family on PC.
UNO!
Who doesn't enjoy a good match of the classic card game, Uno? This title singlehandedly must be responsible for breaking countless friendships and for putting former buddies at odds after one of them throws a +4 at another, when the latter was just one card away from winning. Jokes aside, Uno! is an awesome card game for enjoying with friends and family; and though most people would rather buy the actual physical deck of cards to play it, this mobile version is a great alternative for the more tech-inclined crowds.
There's really not much to say about this game that you probably don't already know, so we'll just say that it's definitely one of the best titles to enjoy with friends and family in this Christmas season. Play UNO! to have a fun time with your buddies on Computer.
League of Legends: Wild Rift
League of Legends is, arguably, one of the original games responsible for popularizing the MOBA genre, even going on to inspire other titles like the Pokémon Unite that we mentioned above in another entry. And while League of Legends was itself inspired by the original Defense of the Ancients (DotA) when it was just a Warcraft 3 mod, it also innovated upon the formula that it offered and set out to do its own thing. Nowadays, LoL is debatably just as popular as DotA 2, its main competitor, occupying a large share of the MOBA game market.
This popularity is precisely why League of Legends: Wild Rift was such a big deal when it launched, as it brought everything that we all liked and loved from the original LoL to the mobile platform, with a variety of upgrades and features to make it a superior experience. In this sense, while the original is very much enjoyable on PC, Wild Rift is one of those rare mobile titles that can be said to be just as good as its original counterpart, if not better, since it offers the exact same experience, except with a superior and more cohesive art style, and all the action that you would get from the PC version.
Just like with Pokémon Unite, Wild Rift offers a very enjoyable experience with your friends as you can team up and challenge other players from around the world. And if stomping scrubs in ranked matches isn't your idea of a good time, then we don't know what is!
Lily's Garden
To close this list, we're going with another casual game, this time in the match-3 genre.
Most of you will probably already know about Lily's Garden through the ads that you get on Youtube videos or on social media, and with good reason; it's one of the most enjoyable casual titles that you can find on the mobile platform, rivaling the enjoyment Candy Crush, the iconic game that's arguably responsible for popularizing the genre in this platform.
This game, however, is a bit more casual and easier, and also adds another gameplay aspect in the form of a garden that you can progressively clean and expand with decorations, a variety of plants, and other features. In this sense, while you'll spend most of your time completing match-3 puzzles with many different objectives and special pieces, you will use the stars and resources you earn for your efforts to slowly decorate your lot. In this manner, you can show off your creations to everyone, while also enjoying fun and engaging stages and challenges.
Just like with Coin Master, this is the perfect time to get into Lily's Garden if you're on the fence, since there are not only lots of limited timed Christmas-themed decorations to choose from but there are also tons of freebies and gifts you can get simply by logging in during the holidays, as well as special festive items and offers on the store. So, enjoy Lily's Garden on PC with friends and family.
From the team here at BlueStacks, we wish you happy holidays, and for you to have a great new year gaming on our Android app player!