BlueStacks Roundups
Top 6 Android Relaxing Games to Play on PC with BlueStacks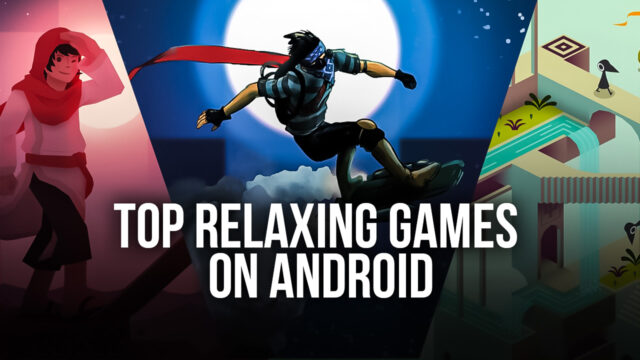 There is an endless supply of games to play to stimulate competition, invigorate energy and heighten the senses – games with relentless quests and objectives. These games, while enjoyable, are often demanding and require a large amount of intellectual energy and strength, which can lead to stress. Recently, there has been an increasing demand for games that help bring about stress relief after grueling workdays. After all, what better way to spend a few hours after a stressful day than by playing a game that helps occupy our time while simultaneously serving as a source of comfort. Since we are constantly on our phones, which are often a source of stress, using our phones to play relaxing games utilize our devices to help induce a sense of calm when we are burdened with the pitfalls of everyday life.
These games consist of certain core characteristics – they don't warrant excessive competitiveness, they don't pressurize you to fulfill a certain number of tasks in a certain amount of time, they don't include time limits or contending scoring systems. The best relaxing games are designed to produce contentment and serenity, they soothe you with an appealing audio-visual experience, they retain your interest by creating fun and quirky challenges through puzzles or tasks, and above all, they give you as many chances as you may need to move forward.
Relaxing games come in many different forms and genres – the popular sim games that help you simulate a peaceful life with a partner or a pet, casual games, puzzle games, endless-runner games, and many more. Some of these games may even seem a tad bit too nonsensical to us, and that's the point! These games are supposed to be light and entertaining, as opposed to the complicated and taxing games we have become so accustomed to.
The common denominator here is the exclusion of any duress or constraint. These games intend to generate a pacifying effect while also motivating you to play, and they do so by incorporating simple rules, easy mechanics, small minigames or goals, and beautiful and tranquil graphics into the fabric of the game. These games are especially fruitful for people who may not be able to step outside since they can kill stress by simply playing a relaxing game on their phones.
These games help break free from hectic schedules and remove anxiety and thus prove to be very successful in producing a comforting effect in players. We have compiled a list of six relaxing games, which meet all the criteria for effective stress relief, and which work with Android and on BlueStacks.
1. Alto's Adventure (Free)
First on our list of best relaxing games for Android is Alto's Adventure, developed by Noodlecake Studios. Released in 2015 by video game developer Snowman, Alto's Adventure is an endless runner game that simulates the serene and soothing experience of snowboarding. The side-scrolling gameplay of Alto's Adventure is quite simple- your player automatically moves toward the right side of the screen to progress through various picturesque landscapes; for your player to jump or perform a backflip, you need to tap the screen at appropriate points; that is, tap the screen once for a jump and tap the screen and hold when midair for a backflip maneuver.
The objective is for the player to accomplish any number of Alto Adventure's goals, which are 180 in number, and given to the player in sets of three. These goals involve various activities – fulfilling a certain distance requirement, grinding across village rooftops, saving rogue llamas, jumping across dangerous chasms, and outmaneuvering the mountain elders for safe passage. Your player can also gather points by performing tricks in fast progression or in combos to enable the purchase of upgrades. Linking combos together effectively increases the point count. Covered distance and trick combos are measured by the game to mark the player's progression, and accomplishment of the goals also results in an accumulation of awards.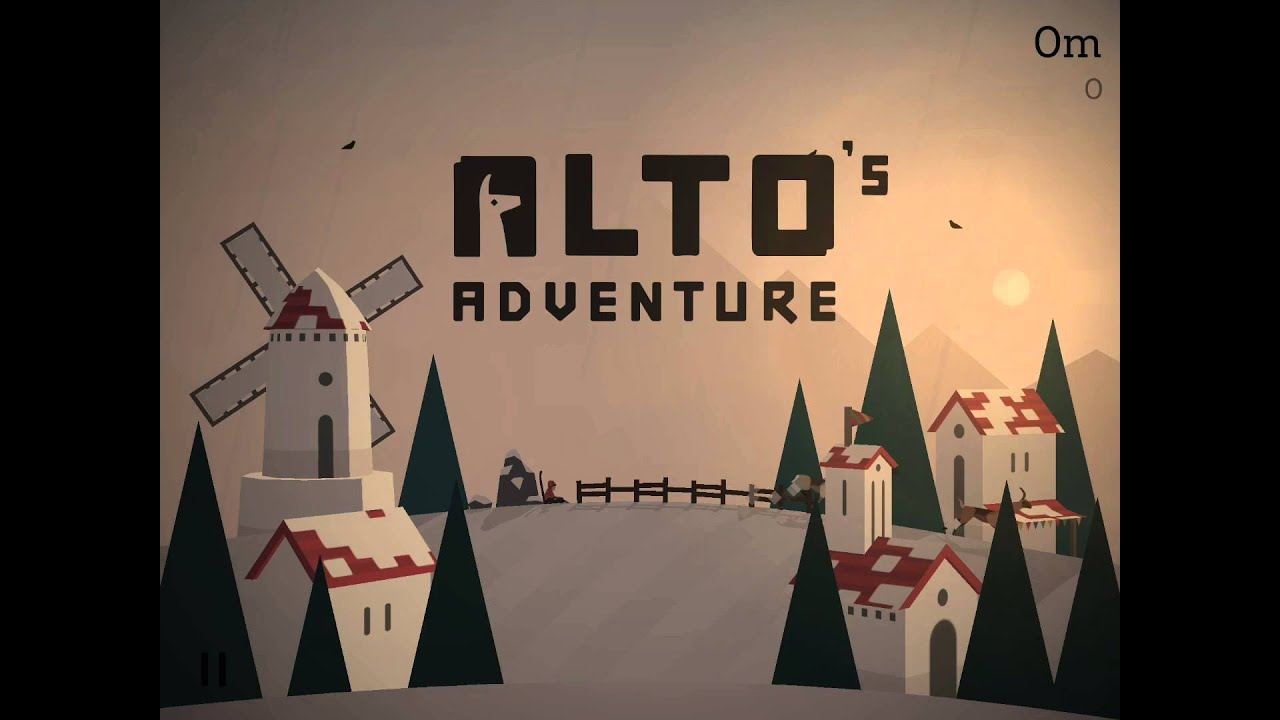 Alto's Adventure on PC boasts features like power-ups and quest objectives as well. Most notably, it introduces the unique concept of the trick system which is designed to help retain the player's interest in the game. Further into the game, your player can also adorn a wingsuit from Izel's Workshop while snowboarding. The wingsuit slightly alters the gameplay and deviates toward a different dynamic, which helps break the monotony while playing for extended periods. The more tricks you master, the more points you manage to collect. As you progress onto higher levels you start to unlock characters with advanced abilities, like the ability to connect tricks. You can access six snowboarder characters, each with a unique set of tricks and skills up their sleeve. And, if you feel like the game isn't competitive enough for you, you can also compete with friends to achieve the best high score, best distance, and best trick combo.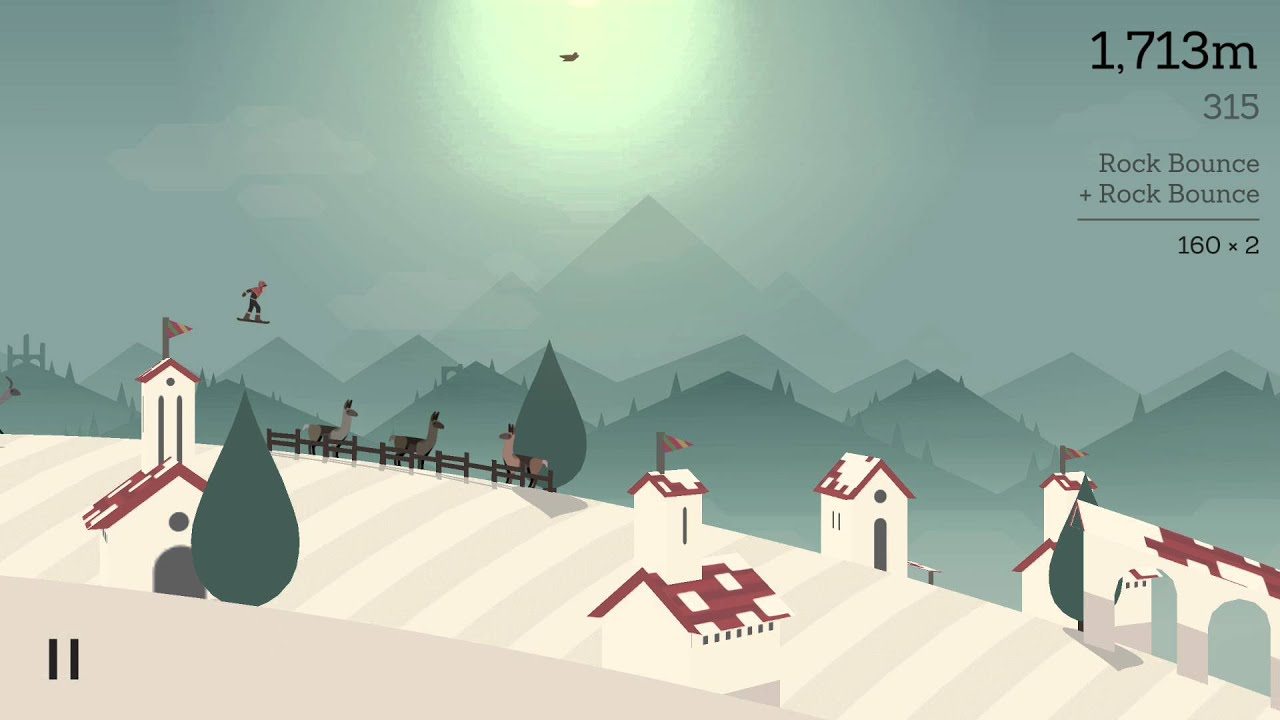 Alto's Adventure manages to capture the relaxation generated by easy, free-flowing movement brought about by snowboarding. The gorgeous landscapes, constantly changing to incorporate the cyclical day-night patterns and changes in weather, with flashes of lightning, snowfall, thunderstorms, blizzards, fog, rainbows, shooting stars, rainfall, and many more through procedurally generated scenery which give Alto's Adventure a soothing and realistic quality. This proves to be quite appealing to a player looking to find something interesting and comforting to occupy themselves with.
The scenic mountain landscapes received largely positive feedback from audiences for the delectable visual treat they provided. The goals are not meant to be competitive; instead, their purpose is to invigorate the player without the anxiety of strenuously moving toward some far-fetched objective. The audio-visual experience provided by the striking atmospheric visuals is immersive without the game itself posing too much of a challenge for players looking for playful amusement.
With over 10 million downloads, Alto's Adventure is rated 4.6 out of 5 stars on Google Play Store.
2. Alto's Odyssey (Free)
Second on our list is Alto's Odyssey, the sequel to the aforementioned Alto's Adventure by creator Noodlecake Studios. Like its predecessor, Alto's Odyssey is an endless runner scrolling game, but unlike the former, this time in Alto's Odyssey, instead of snowboarding, Alto has to sandboard through a desert landscape with rocky terrain, coast through tricky sand dunes, ride across bumpy wall formations, evade clever lemurs and grate past twisted vines and desolate ruined surfaces to unravel the secrets wrapped within the wilderness of the desert. Although Alto's Odyssey is the successor to Alto's Adventure, you don't need to have played one to know how to play the others since the game can be easily navigated through without any previous experience with Alto's Adventure.
The task at hand is simple – to skid through the desert landscape flowing into the right-hand side of the screen. Like Alto's Adventure, the user must tap the screen to jump, tap and hold the screen to perform tricks, link combos together to master movements and add to the score and attempt to fulfill the intricately designed 180 goals through means of intuitive control.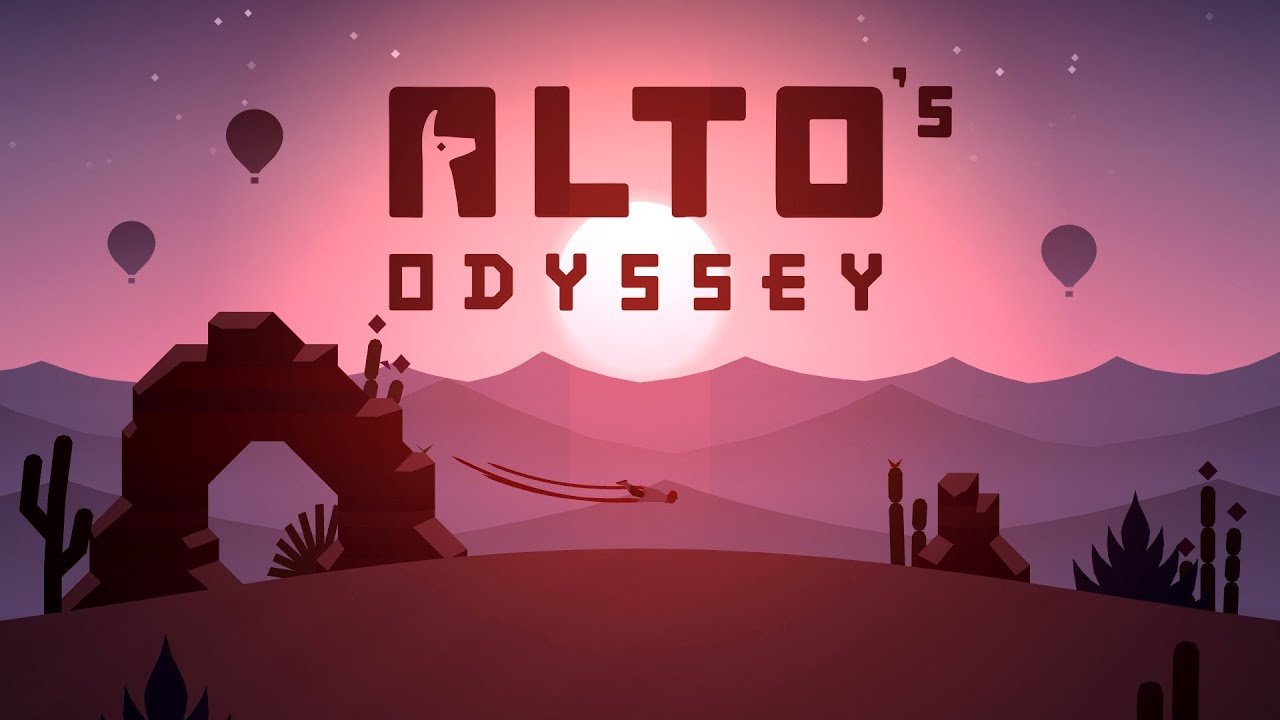 Alto's Odyssey on PC incorporates a more exploratory element to it, with vast and wild terrain of ecosystems and biomes to discover. There are three biomes present in the game – the rich dunes with rippling hills and rocky terrain as obstructions, ancient temples with vines and waterfalls that enhance speed and movement, and, finally, the unrestrained canyons, where the player has to climb onto the canyon walls to move forward. Each biome comes with its unique characteristics and visuals.
Further into the game, you can purchase a compass using coins (the in-game currency) to help you navigate trickier biomes. We also experience the constantly changing and dynamic cyclical weather and day-night patterns of Alto's Adventure, but improvised to cater to a desert landscape, with a background of lightning flashes, sandstorms, tornadoes, cyclones, gushing water, and shooting stars. Your character can also progress to greater heights by employing the use of a hot-air balloon, by jumping off grind rails, and by skidding off rocky wall formations. Like Alto's Adventure, as you move onto higher levels, you can unlock the wingsuit and six different sand boarder characters, each with a unique crop of skills and qualities.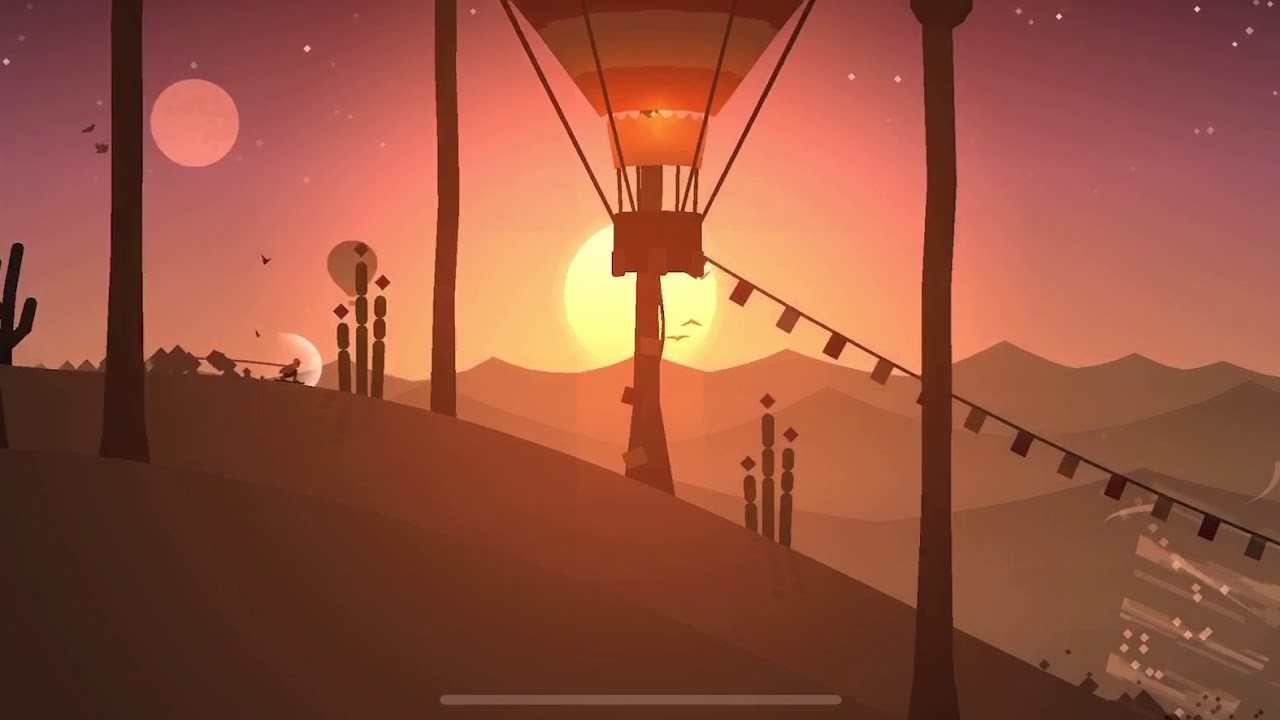 Perhaps the greatest distinction between Alto's Adventure and Alto's Odyssey lies in the integration of the 'Zen Mode' in the latter. The Zen Mode essentially removes any competitive components to the game. There is no tracking of a score, no point system, and no access to power-ups. The Zen Mode renders the player immune to any hindrances that might have bothered them in the normal mode.
The competitive system still exists, with an odyssey workshop to purchase skills, power-ups, and upgrades from; and you can unlock characters and features as you progress through the levels, but the game's Zen Mode offers you a chance to take a break from the stress that comes with competitive gaming, and it is up to your preference to choose between the two modes. Another unique feature in Alto's Odyssey is the 'Photo Mode' which enables us to pause the screen during particularly memorable moments of the game and capture these moments to share with friends, family, and fellow players.
Alto's Adventure uses biomes to expand the playfulness and charm of the changing visual experience; it creates a dynamic movement to invigorate the players. The game also boasts gorgeous visuals of the desert landscape and a handcrafted score with an original audio background of serene piano notes and meditative crescendos, thus allowing users to take a break from and unwind. All in all, if you are looking for a cathartic game that helps you relax, but also offers a competitive incentive, look no further than Alto's Odyssey.
With over ten million downloads, Alto's Odyssey is rated 4.6 out of 5 stars on Google Play Store.
3. Zen Koi (Free)
The next game on our list is Zen Koi which was created in 2016 by LandShark Games and is a soothing aquatic game about the 'Zen' journey of the player as they collect and track the growth of Koi fish, from a miniature egg to a dragon. Zen Koi boasts a relaxing hybrid of excellent music, calming graphics, and smooth gameplay.
The objective of the player is to direct the movement of the tiny koi fish as they navigate life in water. The koi fish can chase down plankton and smaller fish to consume, which then allows the player to progress to the next level. Occasionally, other koi also make an appearance, suitable for the player's koi fish to mate with. Initially, the koi fish find it very difficult to chase plankton to consume since their pace is quite slow, but these characteristics are improved upon as the koi move onto advanced levels. There is an availability of more than 300 possible Koi versions in different and beautiful colors, not to mention breeding and ability points. The gameplay is quite simple – all you have to do is use touch to indicate the direction you want your fish to move to, which allows the koi fish to eat plankton and other fish. You can also use the other fish to create gems, which is the game's in-game currency.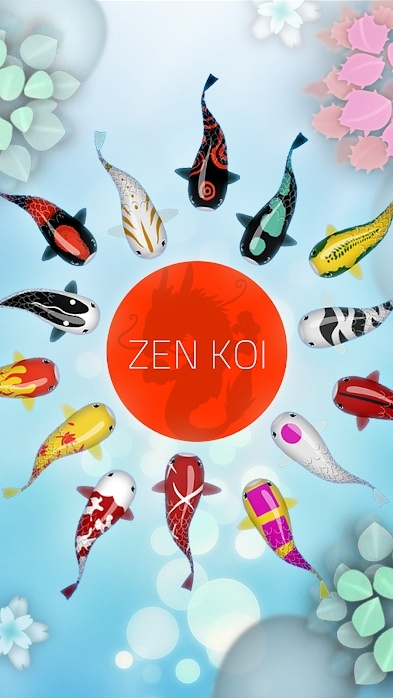 Users can grab onto useful instruments such as power-ups to enable the koi to move faster through the pond, and activators, to expand the width of the pond, allowing the koi to move more freely. There is also an important breeding component to the game because it helps the player progress toward the climax – the transformation of your koi into its ultimate form, a majestic dragon. Essentially, we breed the Japanese koi fish and track their growth and progression. This breeding can be done by finding other suitable koi fish to mate with, to produce unique and patterned progeny. There is also an 'integrated friends' option that allows you to barter koi fish with friends to diversify your collection.
The transformation into dragon form is brought about by ceding ability points to the koi fish. Users also occasionally come across pearls to collect without having to purchase them, and these pearls can be utilized to replicate previously owned koi, to purchase extra slots, and to grab onto rare collector koi versions.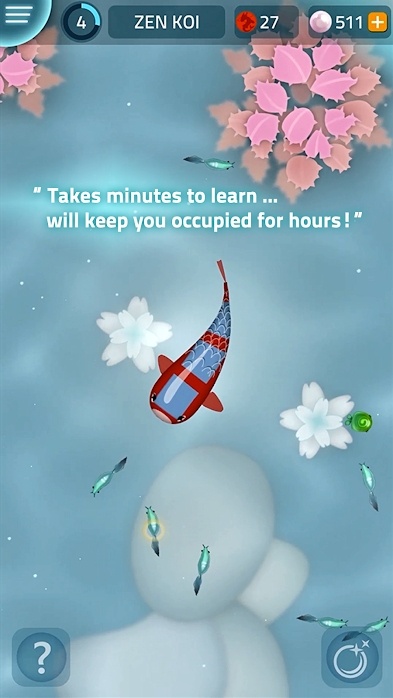 Zen Koi on PC is intended to, and succeeds in, creating a zen experience for its players. It is a meditative audiovisual experience, with a score by System Sovereign and SFX by IMBA, meant to stimulate the player while simultaneously sedating their nerves. Together with the myriad colors and forms of koi and dragons, the serene effect of the flowing water simulation, and the tinkling music, we experience an immersive relaxation. All that is required from the players is languid finger motions to facilitate gameplay. The game doesn't require excessive participation, the graphics are colorful, vibrant, and yet tranquilizing at the same time, and the gameplay is simple, but engaging enough to hold onto the player's attention.
With over five million downloads, Zen Koi is rated 4.5 out of 5 stars on Google Play Store.
4. KelptoCorns (Free)
From the creator of the popular KleptoDogs and KleptoCats game, HyperBeard, comes KleptoCorns, another vibrant and calming game. Before the existence of cats and dogs, the mystical unicorns reigned supreme as the most adorable animals, which is why they have been integrated into this collection of casual, yet addictive Klepto games. Each of the Klepto games by HyperBeard has a colorful and stimulating graphic style that captures your attention, and while the game may be meant for younger players, its appeal is universal – unlike most relaxing games, this game is not dull or monotonous, instead, it creates an exciting and immersive experience which is calming at the same time.
Not to mention the fact that this is a casual game, which means that there is no direct aim apart from the restoration of the lands, caretaking of the KleptoCorns, and the player's enjoyment. The lack of any relentless competition makes it all the more relaxing!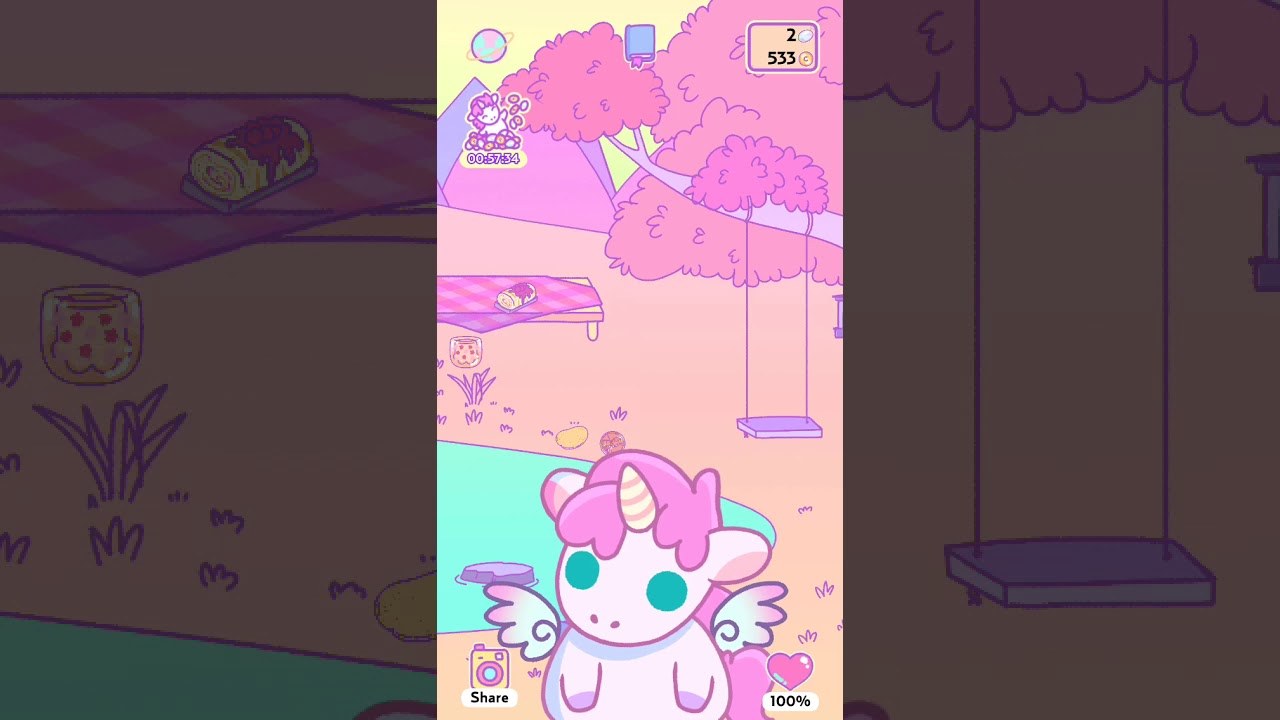 Through the KleptoCorns in this game, the players have to navigate many a magical realm within the galaxy, to collect trinkets and surprises along the way. Each player has their own individual KleptoCorn, which they have to feed, bathe, clothe, accessorize, photograph, and cuddle with. These features create an engagement factor by ensuring that the player isn't bored too quickly into the game.
The requirement for the player to take care of their own KleptoCorn and ensure that its heart meter is healthy before they depart for the quest keeps them all the more invested in the game and their KleptoCorn – virtual pets have always made for interesting companions! All you have to do is explore the magical realms for artifacts that may help revive the dying realms, such as Glitter Lands and Aquinea. A map of each realm consists of 100 artifacts and can assimilate up to 15 KleptoCorns. These trinkets could be donuts, potions, magical boxes, etc.
KelptoCorns on PC also consists of several minigames; carnival games which award you points, for you to purchase dresses and accessories for your KleptoCorn to customize its appearance. The carnival games are meant to engage you whilst your KleptoCorn embarks upon its adventure. These carnival games – ring toss, fishing, coin toss, and dozer – are unbelievably simple and enjoyable. Losing is impossible, and your KleptoCorn is bound to easily collect points. There is also a slightly interactive component to the game, with a herd of KleptoCorns ready to be acquainted with, and you also get to react with characters!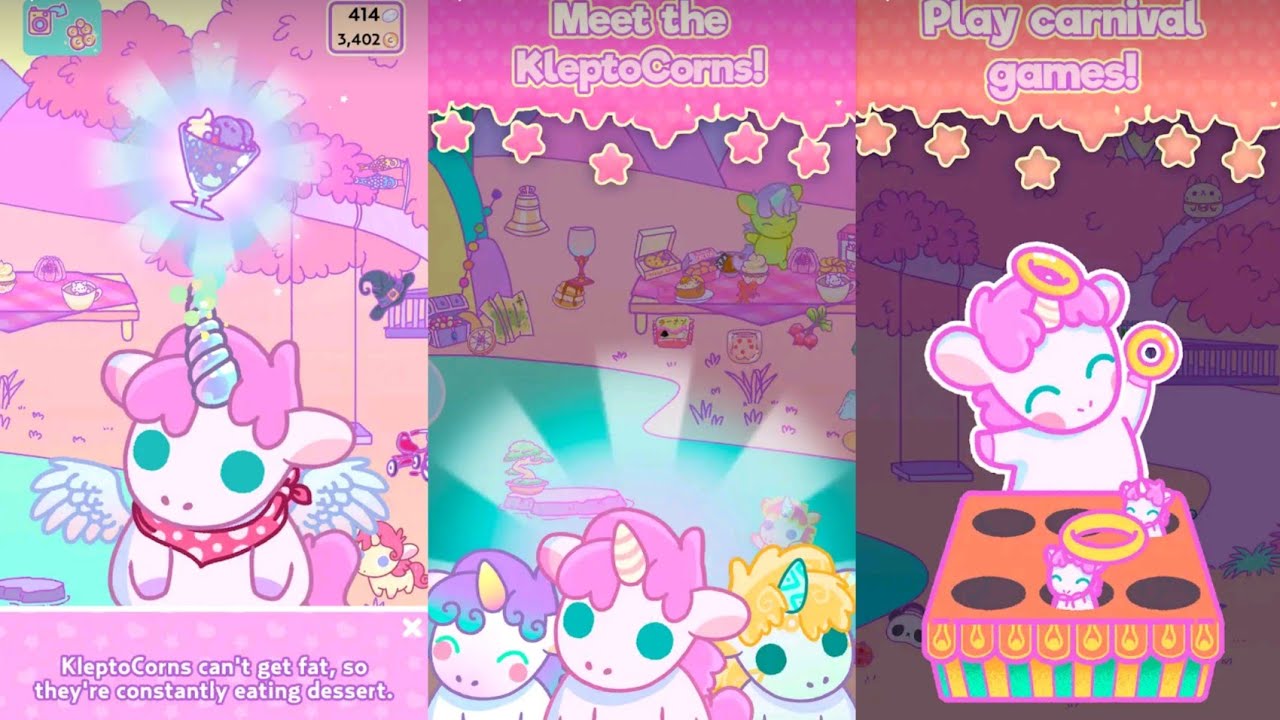 The KleptoCorns are enchanting and beautiful, you can customize their appearance by purchasing accessories like unicorn horns, gorgeous wings, vibrant eye decorations, etc., through in-game currency. The pink and purple pastel hue to the adorable graphics makes the game even more inviting, and the gameplay is easy to navigate and invigorating. KleptoCorns is meant for casual gamers who want to unwind; it is simple, colorful, and interesting.
With over five hundred thousand downloads, KleptoCorns has a rating of 4.5 out of 5 stars on Google Play Store.
5. Adorable Home (Free)
Adorable Home, another top contender for the most relaxing game available currently, is an incredibly enjoyable game created by the same developer for KleptoCorn, HyperBeard – and, like most HyperBeard creations, requires minimalistic effort, and is fun and quirky. Adorable Home is categorized as a sim game, a type of game that integrates the daily ritual and homely atmosphere of everyday life and recreates the routine virtually for the player's enjoyment through simple tasks like chores, cooking, running errands, redecorating the house, and taking care of a pet. Adorable Home, however, deviates from the norm of most sim games and introduces a refreshing relationship aspect to the humdrum of everyday routine. The player is allowed to pick two partners for a couple, and the game sequence is initiated when these partners begin to live together in their apartment with their adorable pet feline named Snow.
After this couple moves into their apartment, they have to clean it, and since initially the home only has a sofa, a coffee table, and a TV stand, they have to design it according to preference, by purchasing desire decorations through the in-game currency of hearts called Love points, which is earned through unique methods – from being loving towards your partner to being tender towards your pet, the underlying reason to this system being that being loving and kind to the people in your life helps you score points, metaphorically in real life and literally in the game. Special actions or occasions are saved as important 'Moments' that can be replayed; these moments are captured through a retro camera and the photographs can be compiled in a virtual photo album.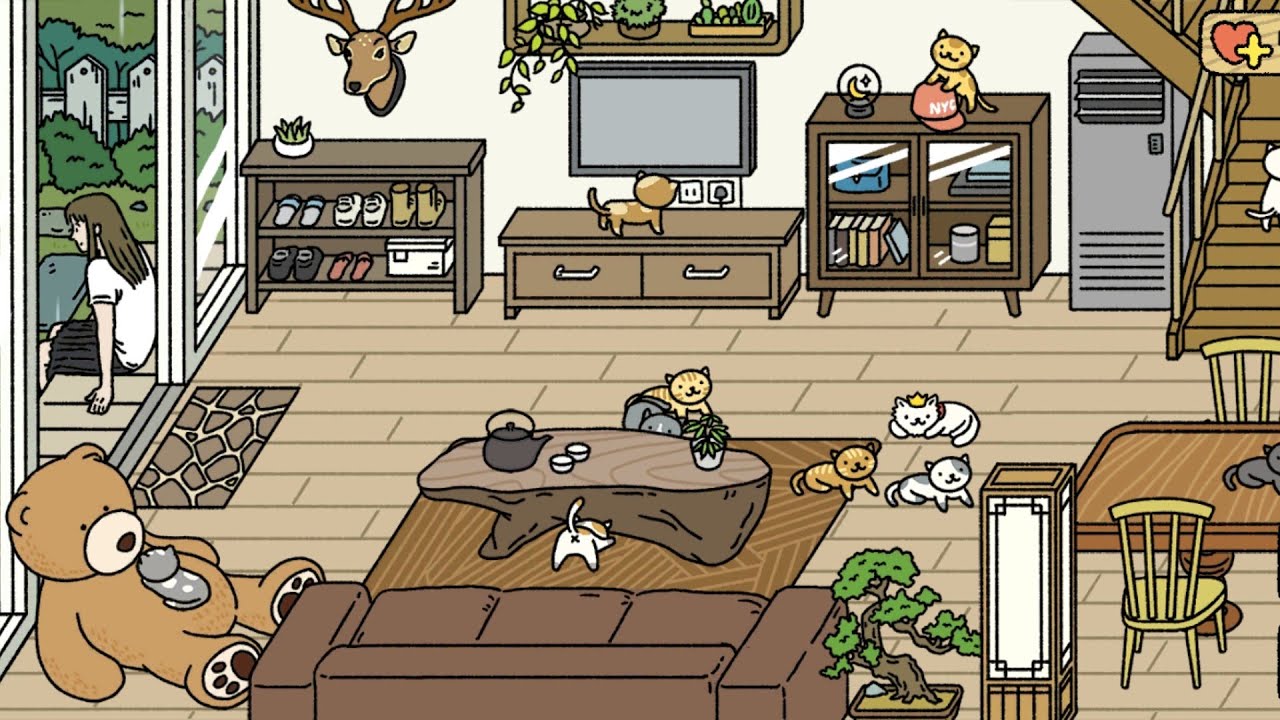 Adopting more pets and branching out your home will also help earn more Love points. The aim is to remain committed. Snow is the first pet, and you can adopt more cats and also adopt other pets, like a dog, by clicking onto cat and dog boxes respectively, both of which are found in the shop. You can also express affection for your partner by preparing a meal for them, you can add dishes you own to your bento box tray or purchase more dishes to increase your significant other's joy and earn love points. The items to purchase are divided into six categories, Lounge Items, Garden Items, Cat Boxes, Foods and Boxes, Bedroom Items, and Bathroom items, each with its subdivision of items; for example, Lounge Items has subgroups like electronics and furniture.
Like most HyperBeard ventures, Adorable Home on PC also consists of small games within the game designed to keep the player preoccupied and to break away from monotony when the game gets too predictable. There are three such games, a stroking-the-cat game, guessing where to pet the cat when it's moving around, and washing the cat by regulating the water temperature to an appropriate level.
The game primarily involves the performance of actions that enable taking care of the significant other, such as meal prep, laundry, chores, doing dishes, etc. Once the user has managed to unlock the garden to their home, the couple will also be able to entertain visitors from the neighborhood like Albert the Golden Retriever, Barney the Sea Lion, Alex the Red Panda, Brandy the Beagle Dog, Brownie the Brown Bear, Dave the Red Canary, Emily the Scottish Fold Cat, and many more. There are also seasonal upgrades available for furniture and decorations. For instance, spring is celebrated through the inclusion of azalea, magnolia, and cherry blossom furniture sets.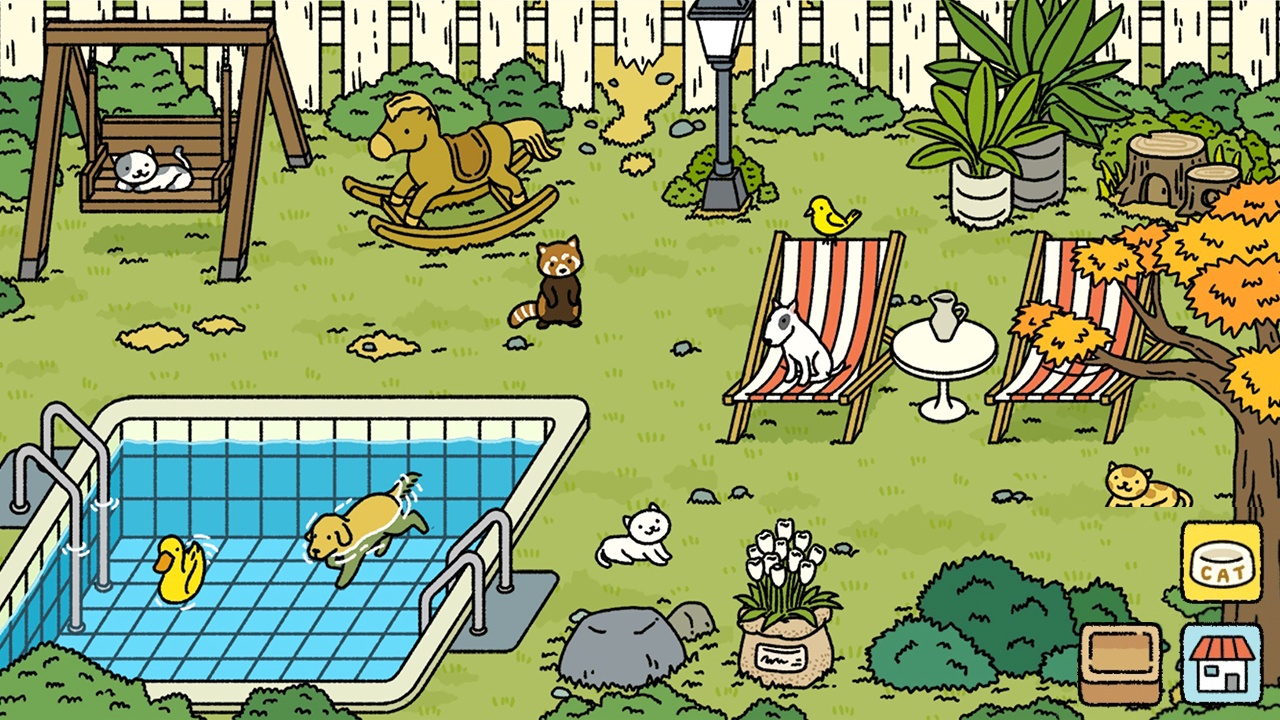 Overall, the game is considered a masterpiece by both critics and users alike. It integrates intricate details to recreate the experience of navigating life with a live-in partner. The gameplay is easy and divided into brief sessions, the graphics are reminiscent of a comic book design – but the characters also exhibit an expressive attitude. The game is also open-minded, with an LGBTQ+ friendly attitude and a positive perception of live-in relationships. The game is meant to cater to more mature audiences, who often find it difficult to play more childish games when trying to relax. Above all, Adorable Home manages to fuse two popular simulation genres, Pets and Relationships, which makes it one of the best relaxing games available right now.
With over ten million downloads, Adorable Home is rated 4.3 out of 5 stars on Google Play Store.
6. Monument Valley 2 (Paid)
A successor to the much revered Monument Valley, Monument Valley 2 is last on our list of the most relaxing games for Android. Monument Valley 2 is essentially an amped-up version of Monument Valley, with an addition of more characters and extra chapters. The basic premise to the gameplay remains the same, Ro, the lead character (accompanied by her daughter this time around) must navigate through majestic monuments by solving puzzles and discerning whether or not the pathways are merely illusions meant to trick them as they assimilate to the rules of Sacred Geometry.
Monument Valley 2 separates itself from its predecessor by including 4 more chapters, 14 in total, making the game a tad bit longer. It is also distinctive from Monument Valley because this game adds the nurturing aspect of parenting into the mix, thereby attaching an emotional quality to it; Ro embarks upon this adventure with her daughter and interacts with far more characters than she did in Monument Valley. The objective is clear – to progress through each level by learning to operate their path from tricky, maze-like buildings and architecture using visual means of navigation to understand the best possible route. This involves solving puzzles akin to gorgeously rendered paintings to gauge directions. Occasionally you might encounter obstructions in the form of gargantuan trees that rise from within potted plants when exposed to sunlight. On completion of a level, the player receives a lovely kaleidoscope which is the game's unique version of a reward.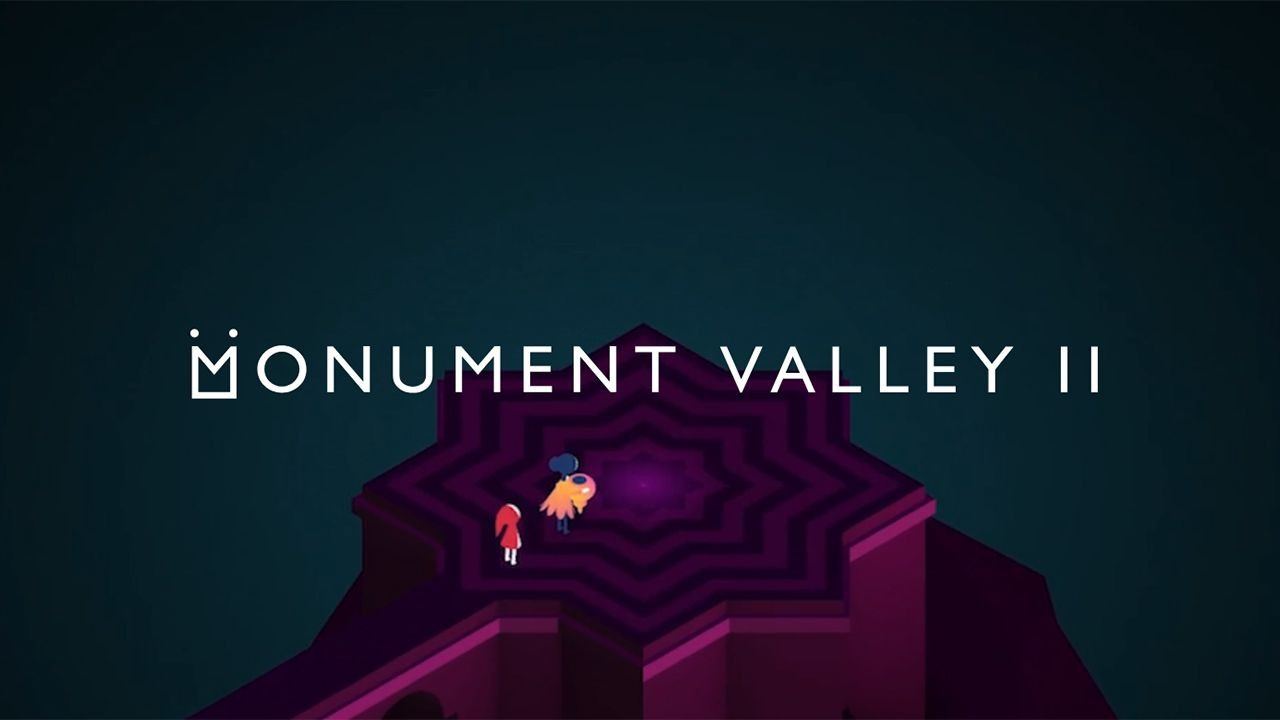 The iso-metric structure comprised of blocks, pillars, doors, and elevators, the serene and surrealist visual experience, the awe-inspiring puzzles, the playful quality of the characters, and the profound interaction between Ro and her daughter – these are just some of the most riveting features of Monument Valley 2.
And, while Monument Valley 2 on PC may seem far too convoluted to generate a relaxing experience, its gameplay and touch-friendly mechanics are quite simple and not at all difficult to get a grip on. The added mother-daughter duo bonding element and the profound storyline help engage the player without demanding an excessive amount of participation. The game also soothes you through means of calming pastel-hued graphics and an enchanting score; in fact, the visuals are representative of the state of affairs, dull and subdued in color when Ro and her daughter are apart, vibrant and serene when they are together. There is a minimalistic challenge posed in the form of visual illusions, a unique form of gameplay, subversive and intriguing, because while it's not necessarily difficult, it does require a certain amount of attention directed towards the game, thus ensuring that the player remains invested without putting in too much of an effort.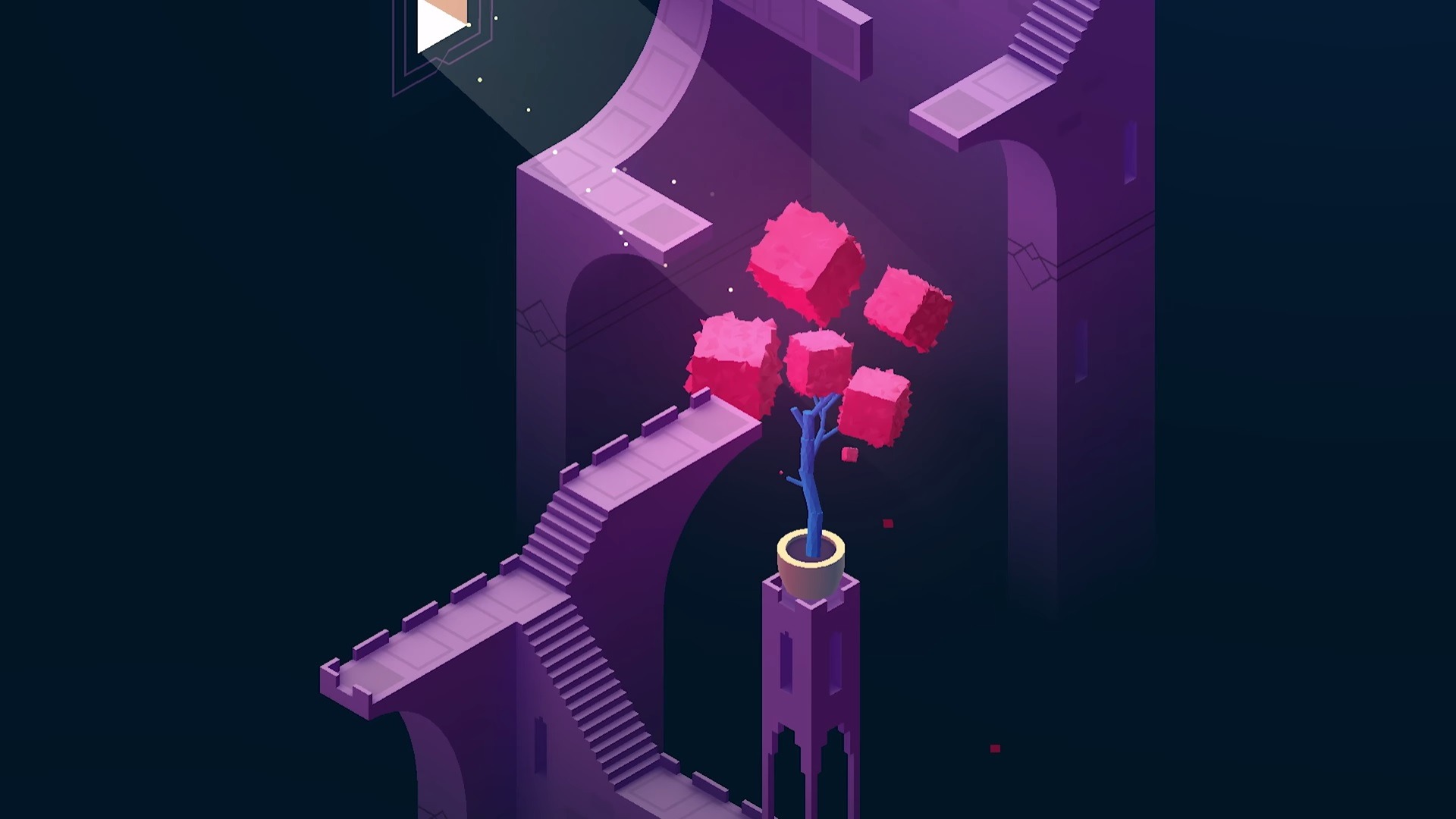 The artistic style of the graphics is incredibly appealing and pleasing to the eye, and the creators have deliberately incorporated elements of various art movements, architectural styles, paintings to induce feelings of awe, wonder, and comfort within the players. Not to mention, the emotional component to Ro and her daughter's relationship, which might be Monument Valley 2's most commendable feature. They are emotionally involved and visibly care for one another, even sharing a warm hug towards the end before Ro's daughter embarks on her own adventure. It replicates the adventurous nature of Monument Valley, but also adds a touching familial relationship to it. Emotional involvement in this game is probably the most foolproof method to facilitate relaxation.
With over a million downloads, Monument Valley is rated 4.8 out of 5 stars on Google Play Store.