BlueStacks Roundups
Top 10 Casual Games For Android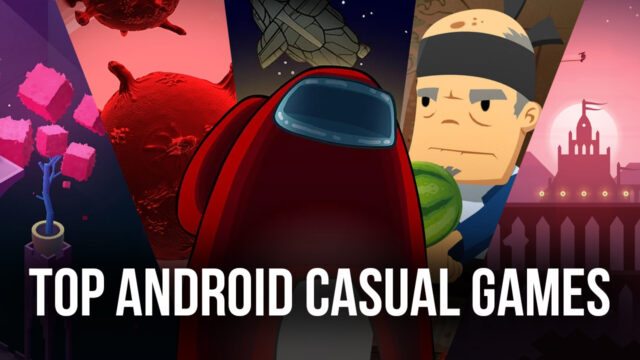 With gaming becoming as big of an industry as it has, video games have become bigger and better, with modernized graphics, better storylines, higher stakes, and intense gameplay. Be it MMOs, RPGs, mystery games, or action games, every video game being released right now seems to demand hours of your attention. Now, while it may be fun to spend many hours on your device, engrossed in a game, sometimes all you wanna do is sit back, relax, and take it easy. Video games can be a great tool for stress-busting, with many video games being designed expressly for that purpose. In this article, we will be listing out ten of the best casual games available for Android for you to play whenever you want to take a break, kill some time, or distract yourself.
1. Candy Crush Saga (Free)
Candy Crush Saga is one of the most downloaded and best-known Android apps of all time. Released in 2012 by King, Candy Crush Saga is a match-three game in which users must attempt to create matches of three or more candies of the same kind in order to clear the board, which may also lead to more matches being created. Matching three candies of the same kind clears those three candies in particular, but matching more than three candies of the same kind creates a special type of candy that has some form of board-clearing power. For example, matching four candies of the same kind creates a striped candy, which, when matched with another candy can clear a row and a column of the board, allowing you to accumulate a lot of points at once.
The game is divided into many different levels, and the objective of each level is different from the last. You may need to make a certain number of matches in order to clear one level or collect a certain number of points to clear another. The levels also have a fixed number of moves or a time limit within which you must accomplish the goal presented to you in order to finish the level. Some levels have special areas on the board that have their own rules with respect to creating matches. For example, on areas of the board covered with jelly, one must create a match on that particular space in order to clear the jelly and then proceed with making matches in other areas of the board. Other challenges may include bringing some "special ingredients" to the bottom of the board by clearing candy in a strategic way. These kinds of challenges are often time-bound or bound by the number of moves one can use in order to accomplish the goal.
King has added several special modes and episodes to the game over the years and there are hundreds of levels for players to complete. Along with this, the game also has many sequels, such as Candy Crush Friends Saga, Candy Crush Jelly Saga, and Candy Crush Soda Saga. While the basic concept of these may remain the same – match-three – the execution is different, making each sequel different from its predecessor and definitely worth playing. Candy Crush Saga in particular is the most popular out of all the games in the series and is one of the most beloved Android games of all time. Part of the reason for this is that Candy Crush Saga is one of the first successful examples of the freemium model of gaming. To win at Candy Crush Saga you don't necessarily need to pay any money. The game is free and the lives you need in order to play a level get renewed at their own pace, usually half an hour for one life. However, many have opted to pay for in-app purchases in order to buy things such as extra lives, special powers that will help them win a level, etc. In fact, it was reported that at the peak of the game's popularity, the creator, King, was earning $1 million a day off of in-app purchases alone. This number by itself shows how exceptionally popular the game had gotten in the mid-2010s. You can also play Candy Crush Saga on your PC.
With over two billion downloads, Candy Crush Saga is rated 4.6 out of 5 stars on Google Play Store.
2. Among Us (Free)
A game that has recently blown up in popularity during the pandemic and the consequent lockdowns, Among Us is a 2018 release by Innersloth. The game is a social-deduction and mystery game akin to board games such as Mafia, but it is set in a spaceship in which the players must figure out who exactly are the players that are killing all the crew members on the ship. What made Among Us so popular in the last few years was the fact that it is a social deduction game and requires at least four people to play. At a time when it was impossible for people to get out of their homes and with no other source of social interaction, games such as Among Us provided people with a platform to interact with their loved ones in a fun way, and also as a method to pass the time.
As mentioned, Among Us is a multiplayer game and requires at least four and can accommodate up to fifteen players (known as crewmembers in the game) at a time to play the game. Set in outer space, the game begins with one or two players becoming "imposters". Imposters have only one job throughout the game, which is to disrupt the functioning of the spaceship in any way possible and to kill as many crewmembers as possible without getting caught. Imposters can cause malfunctions in the spaceship such as causing power cuts which lead to lights being shut off and the automatic doors being shut, which often leads to some crew members getting stuck in spaces with imposters, providing the latter with the perfect opportunity to kill the former. After each kill, the imposter must wait for a period of time before being able to use the "Kill" button again. This cool-down period allows crewmembers to flee in time and also keeps the imposter from becoming too powerful. Imposters also have the ability to "vent", which means making use of air vents to stealthily transport from one area of the spaceship to the other in order to avoid being seen with a dead body or to find their next victim.
Once a dead body is discovered by another crew member, they can call an emergency meeting in which all the crew members, including the imposters, will have the opportunity to indict one person as the imposter. Once the crew members are done talking and making up their minds as to who the imposter is and who has killed the crew member whose body was discovered, the issue is put to vote and the crew members must choose to kick out one player who they deem to be the imposter. Crew members can also choose to abstain from voting. If the majority votes to kick one person out, that crew member will be kicked off the ship and the game will let you know if they indeed were an imposter or not. Another way the crew members can win against the imposter is by completing the tasks given to them at the start of the match. These include menial things such as body scans, turning off and on some switches, etc. Every crew member apart from the imposter is given such tasks and if all the tasks are completed before the imposter can kill most of the crew members then the crew members automatically win the match.
The game has several maps available for users to play on, each with a different layout and different conditions to which the players must adapt. Users can also customize their characters in the lobby before they enter a match. They can change their character's suit color, as well as give them skins, hats, and pets of different kinds. Some of this additional content is paid and one must purchase them in-game. Enjoy Among Us on your PC with BlueStacks.
With over one hundred million downloads, Among Us is rated 3.6 out of 5 stars on Google Play Store.
3. Plants vs. Zombies 2 (Free)
Next on our list is EA's Plants vs. Zombies 2, a tower-defense game that has become a worldwide phenomenon ever since its release. The game has gained immensely in popularity over the previous decade, with tens of millions of downloads worldwide. It was launched by Electronic Arts or EA in 2013, with its predecessor, Plants vs. Zombies, being released in 2009. The plot revolves around a zombie apocalypse in which the player must protect their home from invading hordes of zombies by growing various types of plants in the garden in front of their house. Each plant has a unique ability that negatively affects the zombies, such as the peashooter plant, which shoots peas at the zombies, causing them to deteriorate in health until they die, or the sunflower plant, which produces "Sun," the in-game currency that allows users to purchase any of the other plants in the game. "Sun" also appears at random throughout the lawn where the struggle between plants and zombies is taking place; although they appear slowly, they are a big aid when combating the undead.
The zombies in the game are also of several varieties, each with its own set of abilities and limitations. The Balloon Zombie, for example, may float above all of the plants in the lawn except the Cactus plant, which can bust the zombie's balloon, transforming it into a standard zombie that can be killed by other plants. The game also features the concept of Seed Packets which can be earned in-game and used to strengthen your various plants. Using Seed Packets on plants will boost up defenses and give you better strength offensively as well.
Plants vs. Zombies 2 brings a new narrative element to the game: time travel. In order to avoid a time paradox, the game's protagonist must go back in time through several time periods. Because of this storyline, players may play the game in a variety of settings, including the Middle Ages, the Far Future, the 1980s, and even the Ice Age. The game features eleven different worlds for you to play through and over three hundred levels for you to attempt to complete. Apart from these, there are also the Endless Zones in which you must see how long you can go without having the zombies invade your house, as well as several fun mini-games spread throughout the main levels. Plants vs. Zombies 2 also introduces the freemium concept, in contrast to the series' previous game, which was entirely free. However, players are not required to purchase anything in order to complete the game, and the game can be played normally without purchases if that is what the player prefers. Plants vs. Zombies 2 also offers multiplayer action in Arena mode where you can battle it out with other users to see who gets the highest score. Partaking in the Arena also helps you earn several rewards such as Piñatas, coins, and many more. Try playing Plants vs. Zombies 2 on PC.
With over ten million downloads, Plants vs. Zombies 2 is rated 4.3 out of 5 stars on Google Play Store.
4. Stumble Guys (Free)
A mobile replica of the smash-hit PC and Playstation game Fall Guys, up next on the best casual games for Android is Kitka Games' Stumble Guys. Stumble Guys is an MMO game in which up to 32 players come together to compete in matches in which each player must attempt to cross hurdles and avoid pitfalls in order to make it to the finish line and advance to the next round of the competition. Each match has around three different rounds, and you must make it through every round in order to be able to win the entire match. After the first round, half of the thirty-two players will be eliminated from the match. In the second round, half of the remaining sixteen will be eliminated, and finally, in the last round, one player will win the entire match and the seven others will be eliminated. Although this may make it sound like playing Stumble Guys is a huge time investment and you will need to spend a lot of time on each match, in reality, each round lasts only a few minutes (even less if you lose early), and if you end up making it through the entire match, it will hardly take you five to seven minutes.
The game is incredibly easy to play and the controls are very intuitive, so you need not worry about needing to learn how to control your character in order to make it move across and around the hurdles as you want to. The game has tons of different maps, each with its own set of challenges and hurdles for the players to make their way through. For example, there is one particular level in which players are situated on top of a giant honeycomb with multiple floors, and as the hexagon on which the player is standing gets redder, they must jump to another hexagon before theirs disintegrates and they are thrown below into the lower floor. If you fall through all the floors, you lose, and the players that survive will win the round. Stumble Guys also has many other such fun and challenging levels for you to play through, with newer levels and game modes being added to the game on a regular basis. You can also play the game together with your friends. This can be done by adding them as your friend in-game using social media log-in and entering matches together.
Although the gameplay and the creative levels are a huge reason why Stumble Guys has gotten to be as popular as it has, another major reason is because of the way the game looks and the many non-gameplay aspects of the app. The graphics are simple yet incredibly vibrant and appealing, with each level filled to the brim with colors, hues, patterns, and shapes of different kinds. From the hurdles used in the game to the background, to the character design, each visual aspect of Stumble Guys is a treat to behold and definitely adds to the character of the game and its playability. The game also has a variety of avatars to choose from. Your default will be a man wearing an orange shirt, blue pants, and a green hat, but you can choose from the hundreds of options available to you in the store. From animal outfits to pirate outfits to disco outfits, you name it, the game has it. Adding to all of this is the soundtrack which is bouncy and fun, and all of these different aspects put together ensures that you don't have a single boring moment when playing Stumble Guys on PC with BlueStacks.
With over fifty million downloads, Stumble Guys is rated 4.1 out of 5 stars on Google Play Store.
5. Fruit Ninja (Free)
If you grew up during the 2010s then you definitely remember playing Fruit Ninja. The game was all the rage when it was released a decade ago, owing to the creative concept, the smooth gameplay, the colorful and vibrant graphics, and the overall playability of the game. Released in 2010 by Halfbrick Studio, Fruit Ninja is an arcade-type video game in which the main objective is for you to swipe across the screen and cut through the various fruits that pop up in front of you. Chopping the fruit will earn you points but beware, on occasion, there will be bombs that pop up instead of fruits, and slicing into those will lead to an explosion and your round ending. Slicing several fruits at once with one swipe earns you bonus points known as combo points. Players can make use of more than one finger to swipe across the screen in order to chop all the fruit popping up in front of them. It is extremely important to be quick and chop fast because leaving a total of three fruits unchopped will lead to the game ending.
Fruit Ninja has several modes for you to play through. The one described above is the classic mode in which missing out on three total fruits leads to the game ending, and so does accidentally slicing into a bomb. The main objective is to get as high a score as possible and with every subsequent round, to beat the previous high score. The game provides you with three "lives" and losing out on a fruit leads to the loss of one life. If your score is in multiples of 100, however, and you have lost a life, you will be rewarded with an extra life so that you can continue playing the game. The game will also occasionally throw up special fruits such as the pomegranate, which, when hit, can be sliced several times before it finally explodes. Once it does explode, the player is rewarded with as many points as the number of times they sliced the fruit. So, say you swiped the pomegranate 20 times before it exploded; you will be rewarded 20 points for that one fruit alone.
Fruit Ninja also has other modes to play through apart from the classic game mode. While the premise of the game remains the same in all the modes – slicing fruit – modes such as the Zen Mode allow you to play the game without any worry of bombs. Zen Mode has no bombs to distract you from your fruit-slicing, and the objective of the mode is to get as many combos as possible and slice through as many special fruits as possible in order to get the highest number of points within the stipulated time period. Each game in Zen Mode lasts for a minute and a half and within these ninety seconds, the player must accumulate as many points as possible.
Another game mode available for users is the Arcade Mode, in which bombs do appear but only take away 10 points from your total in case you do hit one. This mode also has special bananas that pop up on the screen from time to time. These bananas have special powers such as doubling the points one scores for a certain period of time or slowing down the game so that the player can avoid bombs easily and get many more combos. Arcade Mode also has a guaranteed pomegranate that appears at the end of the match, so you can be ready to slice through it as many times as possible in order to get your total score even higher. So, play Fruit Ninja on PC and have a fun time with your gaming buddies using BlueStacks.
With over five hundred million downloads, Fruit Ninja is rated 4.5 out of 5 stars on Google Play Store.
6. The Battle Cats (Free)
Originally released in 2011 and then re-released in 2014, The Battle Cats is a tower-defense game created by PONOS Corporation. The main objective of the game, as with any other tower-defense game, is to protect your base from enemies by deploying your own soldiers and defeating enemies before they get to your base. As the name might suggest, your soldiers in the game are cats- scribbly, black and white, cartoony cats of various kinds, all with different powers and abilities, who must go up against your enemies in different locations and attempt to keep your tower safe from their attacks.
There are two bases set out on the battlefield; one yours and one your enemy's. The default base in the game for the user is a laser tower which can be used to damage enemy health in the match. Once the match begins, you must deploy your cats as and when your meter recharges. Deploying cats requires energy, and the energy bar refills every one minute for each cat, although this can be upgraded to 30 secs later in the game. Deploying cats also requires the in-game currency known as cat food, which continually refills on the top right corner of the game as you play any match. The first cat you unlock, for instance, requires 50 cat food to be deployed, and you must wait for your money counter to get to at least fifty before being able to deploy the cat. Cats in the game have been divided into six different categories, namely, Basic, Special, Rare, Super Rare, Uber Super Rare, and Legend Rare. Basic and Special cats can be unlocked through regular gameplay, while Rare, Super Rare, Uber Special Rare, and Legend Rare (also known as ??? Rare) can be found using rare cat capsules. These capsules can be found using platinum or gold tickets found at special stages of the game.
The Battle Cats is divided into three main parts, namely, Empire of Cats, Into the Future, and Cats of the Cosmos, as well as additional parts known as The Legend Stages and Catclaw Dojo. As it stands, the game has hundreds of levels for you to battle through and an amusing and interesting story for you to follow. The action in the game is pretty automatic. All the user must do is deploy cats from time to time. Since many different types of cats can be deployed, one must make sure to analyze the situation and deploy a cat based on the help needed by your troops. You can also fire the laser from your tower from time to time, which will help keep enemies back in case they have advanced towards your base.
With over ten million downloads, The Battle Cats is rated 4.6 out of 5 stars on Google Play Store.
7. Alto's Odyssey (Free)
Noodlecake Studios' Alto's Odyssey, the sequel to Alto's Adventure, comes up next on our list. Alto's Odyssey, like its predecessor, is an endless runner scrolling game, but unlike the former, Alto must sandboard through a desert landscape with rocky terrain, coast through tricky sand dunes, ride across bumpy wall formations, evade clever lemurs, and grate past twisted vines and desolate ruined surfaces to unravel the secrets wrapped within the wilderness of the desert. Although Alto's Odyssey is the successor to Alto's Adventure, you don't need to have played one to understand the other because the game can be played without any prior knowledge about Alto's Adventure. The objective at hand is straightforward: slide through the desert terrain that flows into the right-hand side of the screen. The player must touch the screen to leap, tap and hold the screen to execute tricks, connect combinations together to master motions and add to the score and strive to complete the elaborately constructed 180 levels through intuitive handling.
Alto's Odyssey also has an exploration element, with wide and untamed terrain with ecosystems and biomes to explore. The game has three biomes: lush dunes with undulating hills and rocky terrain as obstacles, ancient temples with vines and streams that boost speed and mobility, and unrestricted canyons where the player must climb up canyon walls to progress. Each biome has its own set of traits and graphics. Later in the game, you may buy a compass with coins (the in-game currency) to assist you in traversing more difficult biomes. We also experience Alto's Adventure's continually changing and dynamic cyclical weather and day-night cycles, but adapted to desert terrain, with a backdrop of lightning flashes, sandstorms, tornadoes, cyclones, gushing water, and shooting stars. Your character may also reach new heights by using a hot-air balloon, jumping over grind rails, and skidding down rocky wall formations. As you go through the stages, you may unlock the wingsuit and six distinct sand boarder characters, each with their own set of talents and attributes.
The inclusion of the 'Zen Mode' in Alto's Odyssey is perhaps the most significant difference between the two games. The Zen Mode effectively removes all competitive elements from the game. There is no scorekeeping, no point system, and no access to power-ups. The Zen Mode shields the player from any obstacles that would have annoyed them in regular mode. The competitive system remains, with an odyssey workshop where you can buy skills, power-ups, and upgrades, and you can unlock characters and features as you progress through the levels, but the game's Zen Mode allows you to relax from the stress of competitive gaming, and you can switch between the two modes depending on your mood. Another distinguishing element of Alto's Odyssey is the 'Photo Mode,' which allows us to stop the game during particularly memorable moments and photograph these memories to share with friends, family, and fellow gamers. Alto's Adventure employs biomes to enhance the fun and appeal of the shifting visual experience; it generates dynamic movement to energize the gamers. The game also has stunning desert landscape images and a background score of soothing piano notes and contemplative crescendos, allowing users to relax and unwind. Overall, if you're searching for a cathartic game that helps you relax while simultaneously providing competitive motivation, look no further than Alto's Odyssey. Enjoy Alto's Odyssey on your Computer.
With over ten million downloads, Alto's Odyssey is rated 4.5 out of 5 stars on Google Play Store.
8. Plague Inc. (Free)
Plague Inc., produced by Ndemic Creations, is the next game on our list and one of the most popular simulator games in recent years. The goal of the game is simple: construct a lethal infection capable of wiping out the world's population before a vaccine for the sickness can be developed. The user may select from a variety of disease types, including virus, fungus, bio-weapon, parasite, nano-virus, and prion. The game also includes fictitious illnesses like the Zombie Pathogen, the Necroa Virus, and the mind-controlling Neurax Worm. All of these infections have distinct characteristics, and how the pathogen infects individuals, what climates it can survive in, and what kind of mutations can occur to the virus are all depending on the pathogen the player selects. At the start of the game, the only disease kind that may be employed is bacteria. Winning games in Normal or Brutal settings unlock new pathogen varieties. It's also worth noting the differences between these modes and how they affect your game. For example, the game notes that "sick people are given hugs' in Casual mode, the easiest setting possible, and "sick people are locked in prison" in Brutal mode. This means that in Brutal mode, the infection will be much more difficult to spread due to the reduced quantity of interaction between sick and healthy individuals, and the user must adjust their approach accordingly to ensure maximal pathogen transmission.
As previously said, the user's primary task is to build and modify their pathogen in such a manner that it infects the whole world's population. This entails adopting a variety of ways to infect people. The user can be extremely aggressive, generating a pathogen that kills individuals as soon as they catch it, or the user can choose to first raise the infection's infectivity, disseminate it throughout a huge percentage of the population, and then develop the virus to mutate into something deadlier.
There are several elements to the virus's mutation, including the virus's propagation, its resilience to climate, which regions of the body it affects, and which illnesses can arise once a person has been infected by the pathogen. The virus can spread from birds, rodents, animals, air, water, insects, or blood. All of these have varied characteristics and impact the pathogen's ability to live in different parts of the planet. A virus that is mostly spread by water, for example, will thrive in warm, humid climates or in areas with active docks. It will not thrive in landlocked regions or those with colder, desert conditions. The game allows you to evolve the pathogen's skills so that it may spread even to such nations and live in severe temperatures. These abilities include things like heat resistance, cold resistance, drug resistance, and so forth. There are also a plethora of other symptoms that you might acquire in your infection, ranging from innocuous symptoms like a cough, which goes unreported by physicians and helps the disease grow quicker, to more serious illnesses like Pulmonary Oedema, which can be fatal.
Once you've decided on a country in which to infect your first patient, the game will provide you with DNA points, which are the in-game money required to purchase all of the disease mutations described above. The more individuals and nations you infect, the more DNA points you'll get. As you evolve your pathogen, it will be found by medical specialists, resulting in the development of a treatment for this condition. You must evolve your infection at such a rapid and effective rate that the whole world's population succumbs to the illness before the treatment is complete. Have a fun time with your friends while playing Plague Inc. on PC.
With over a hundred million downloads, Plague Inc. is rated 4.6 out of 5 stars on Google Play Store.
9. Uno! (Free)
One of the most popular card games in the world has been turned into a video game, allowing us to play it online with friends and family. Published by Mattel, the classic card game Uno! can now be played on your mobile phone. For those that are unfamiliar, Uno! is a shedding-type card game in which the main objective is to get rid of your cards as soon as possible. The cards in the game are divided into intersections of colors, numbers, and wild cards. There are four colors, namely, red, blue, green, and yellow, and each of these colors have cards from 0 to 9. Apart from these, each color has certain special cards which have features such as skipping the next player's turn, reversing the order in which the game is played, or getting a player to draw an additional two cards from the deck. Finally, there are the wild cards, which include Draw 4, which leads to the next player drawing four cards, and Wild, which allows the player to change the color of the deck to any of the four colors.
The game begins with each player being given seven random cards from the shuffled deck, and a random number card being placed in front of all those playing. The player that begins the game must play a card that is either the same color as the beginning card or is the same number as the beginning card. So, for instance, if the random card is a green 8, then the player whose hand it is must either play a green card of any number, or an 8 card of any color. In this way, the game continues clockwise (unless someone plays a reverse card, in which case the game moves in the opposite direction). Players must say "Uno!" as soon as they have one card left in their hand in order to warn other players that they are about to win the game.
Uno! the app is a replica of the real-life version of the game, with the added benefit of internet connectivity, so that you can play the game with your friends and family no matter where they are in the world. In case none of your friends or family is available for a game, you can also play with random players online, who you can then add as friends in the app. The game's graphics are crisp, clear, and bright, and all the animations are incredibly well made. The soundtrack only adds to the overall homely and nostalgic feel of the app, and you are sure to have a great time playing Uno! whether it be with your loved ones or with other players online.
With over fifty million downloads, Uno! is rated 4.5 out of 5 stars on Google Play Store.
10. Monument Valley 2 ($4.99)
Released in 2017 by Ustwo Games, Monument Valley 2 is the successor to Monument Valley and is the last game on our list of the best casual games for Android. The game has more characters and chapters than its predecessor and is a spruced-up version of the game. The primary gameplay idea stays the same: Ro, the central character (joined this time by her daughter), must journey through gorgeous structures by solving puzzles and determining whether or not the routes are actually illusions designed to fool them as they learn the laws of Sacred Geometry.
Monument Valley 2 differs from its predecessor by containing four additional chapters, for a total of fourteen, making the game somewhat longer. It differs from Monument Valley in that it incorporates the nurturing part of parenthood into the mix, giving it an emotional quality; Ro starts on this trip with her daughter and interacts with considerably more characters than she did in Monument Valley. The goal is simple: proceed through each level by learning to navigate their way through complex, maze-like buildings and architecture utilizing visual techniques of navigation to discover the best available approach. To gauge directions, you must solve puzzles resembling beautifully created artworks. Obstacles in the shape of massive trees that sprout from within potted plants when exposed to sunlight may appear from time to time. When a level is completed, the player receives a magnificent kaleidoscope as a reward, which is the game's unique form of a prize.
Monument Valley 2's isometric structure made up of blocks, pillars, doors, and elevators, the serene and surrealist visual experience, the awe-inspiring puzzles, the playful quality of the characters, and the profound interaction between Ro and her daughter are just a few of the game's most captivating features. And, while Monument Valley 2 may appear far too complicated to provide a pleasant experience, its gameplay and touch-friendly features are relatively straightforward and easy to grasp. The extra mother-daughter bonding element and the poignant plot combine to captivate the player without requiring too much interaction. The game also calms you down with soothing pastel-hued graphics and an enticing tune; in fact, the images are indicative of the situation, dreary and low in color while Ro and her daughter are separated, brilliant and tranquil when they are together. A minimalistic challenge is posed in the form of visual illusions, a unique form of gameplay that is subversive and intriguing, because while it is not necessarily difficult, it does require a certain amount of attention directed towards the game, ensuring that the player remains invested without putting in too much effort. The visuals' aesthetic style is extremely attractive and agreeable to the eye, and the creators have purposefully combined aspects of numerous art movements, architectural styles, and paintings to elicit feelings of amazement, wonder, and comfort in the players. Not to mention the emotional aspect of Ro and her daughter's bond, which is maybe Monument Valley 2's most admirable element. They are emotionally invested in one another and clearly care for one another, even exchanging a loving hug at the end before Ro's daughter departs on her own quest. It captures the adventurous character of Monument Valley while also incorporating a poignant familial dynamic. Playing this game is perhaps the easiest way to induce in yourself a sense of calm. So, play Monument Valley 2 on PC and have a fun time with your gaming buddies using BlueStacks.
With over one million downloads, Monument Valley 2 is rated 4.8 out of 5 stars on Google Play Store.
We also picked up the best android puzzle games you should try.