Game Guides
Tips And Tricks For Becoming A Master Pooler In 8 Ball Pool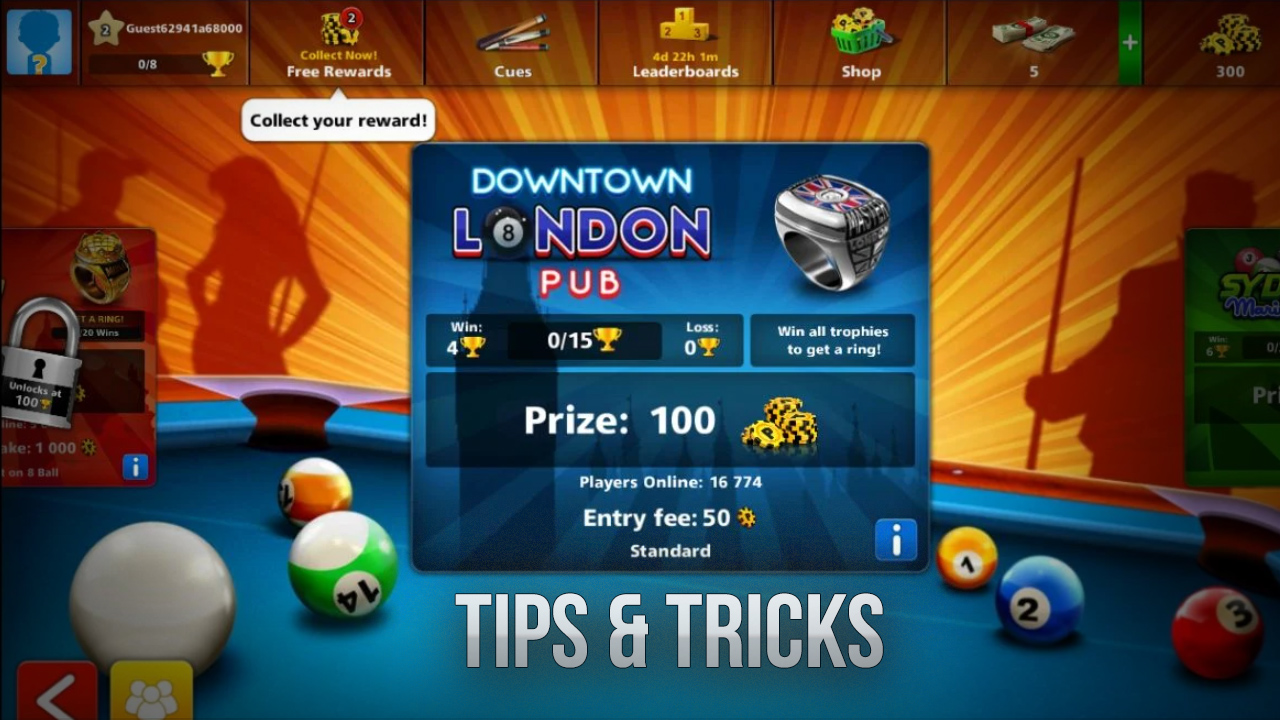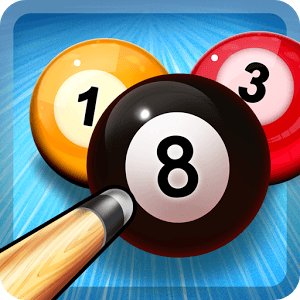 In our setup guide, we mentioned that the 8 Ball Pool game is perhaps the best option for those looking for a mobile billiard game. It really is: 8 Ball Pool includes everything you would expect from pool games and more. You can be sure that even if you have not played billiard before, you will not have any difficulties. With visual cues, even beginners can make impossible strikes. But if you want to master this game and play like a pro, there are still things you need to know. Even though 8 Ball Pool looks like a simple game, it contains many features that will be useful for master billiard players. Moreover, it is possible to start your billiards career quite quickly with some useful tips. We talk about all of these below and list what you need to know to become a master pooler.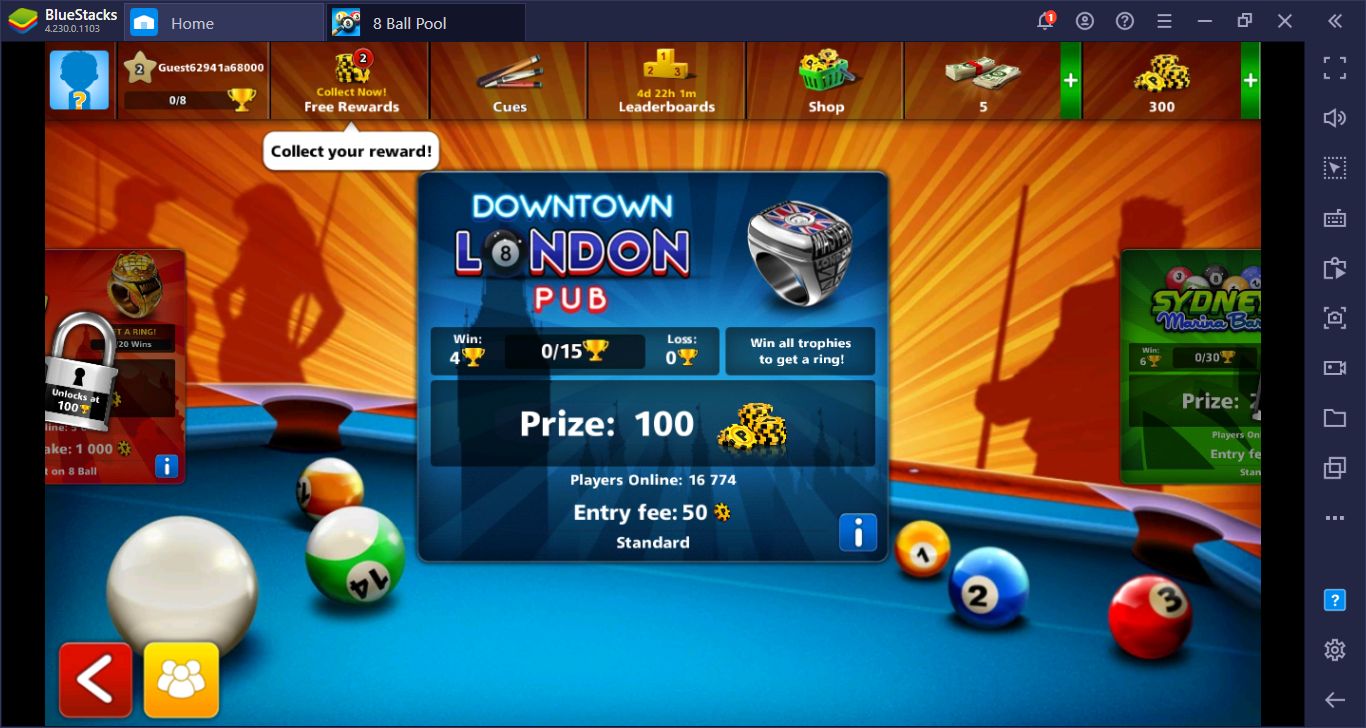 Connect Your Facebook Account As Soon As Possible
Almost every mobile game requires you to connect your social media account, and most players will pass this offer. Truth be told, most of the time we do the same. However, we can consider the 8 Ball Pool game as an exception because it gives you really useful things in return for doing so. If you connect your Facebook account to the game, you will earn 5 pool cash for free and activate some game features. You need to do this to play with your friends, get free coins every 4 hours, and win free gifts. Moreover, you get the chance to play on multiple devices. So you can continue your career that you started on BlueStacks on your mobile phone. Therefore, we recommend completing Facebook integration as soon as you start the game.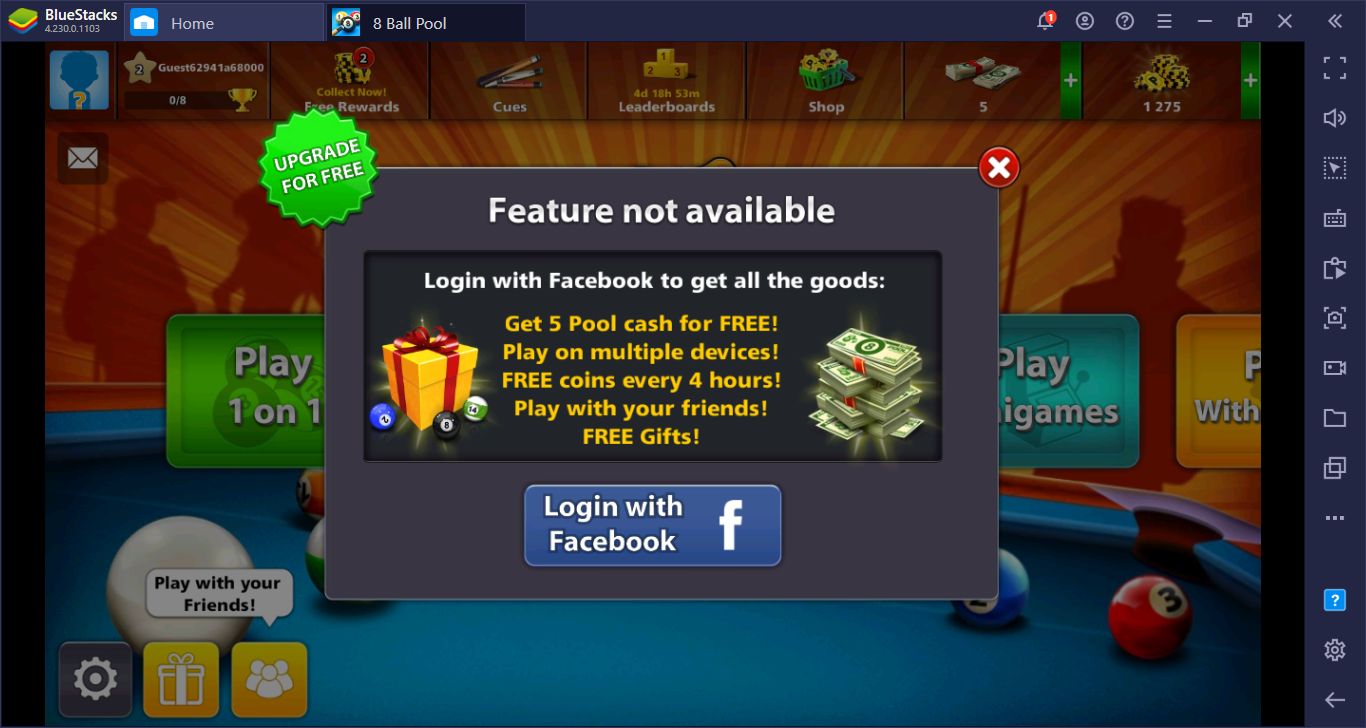 Learn Your Cues
The cues you can use aren't just simple wooden sticks: Each of them has different features. If you want to hit accurately, you need to learn all of them. Each cue has four different properties, and they are important enough to affect your style of play.
Force: Determines your strike intensity. If you want to hit harder, you should choose cues with higher force values.
Aim: Determines how far the visual strike aids will show. If you are just starting out, you should go for the high aim cues as they make your job very easy.
Spin: Increases the spin of your ball. If you are going to try trick hits, go for cues that have high spin values.
Time: Allows you to use more time for each shot. While useful in the beginning, it's not a crucial feature – as you master the game, you won't need more time.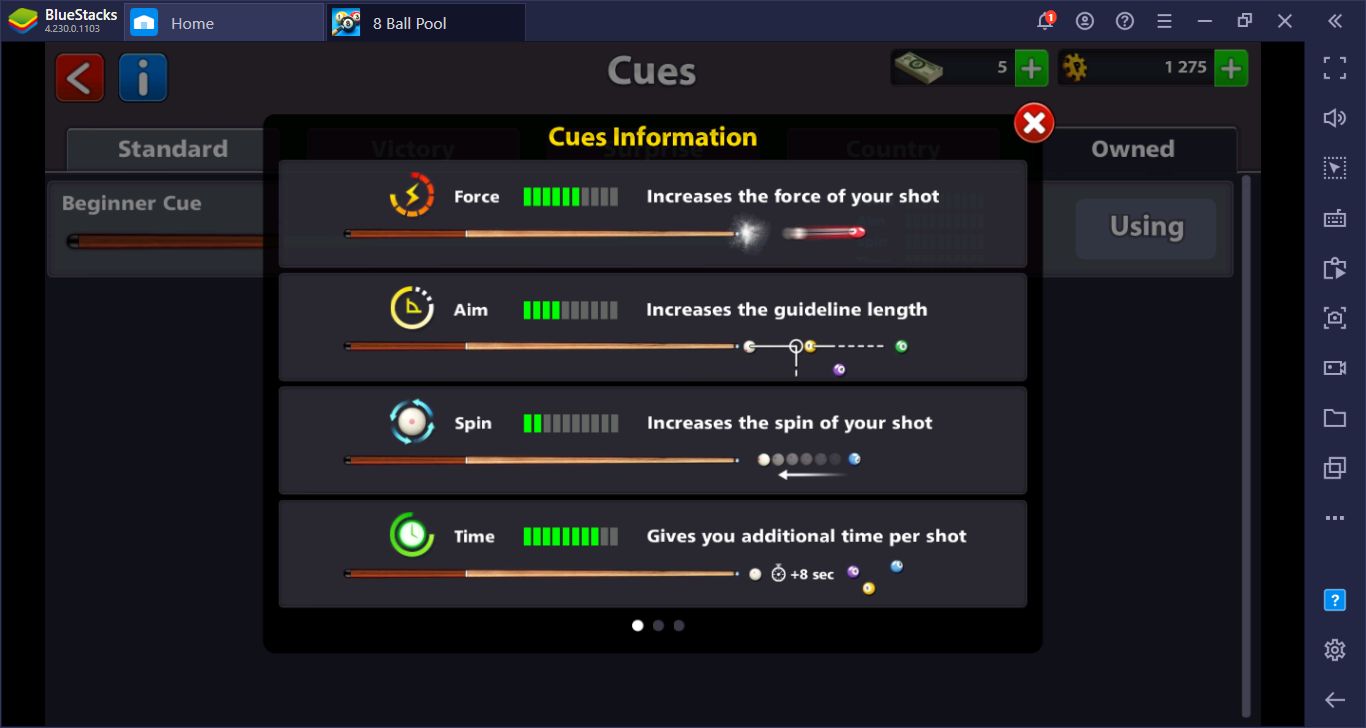 Each cue has 50 energy. This does not change regardless of its type and features. Each hit costs 1 energy. This means you can make a maximum of 50 hits with one cue. After that, you need to replenish energy for 250 coins. This is not a serious problem as coins can be earned fairly easily, but make sure your cue is fully energized before starting a match.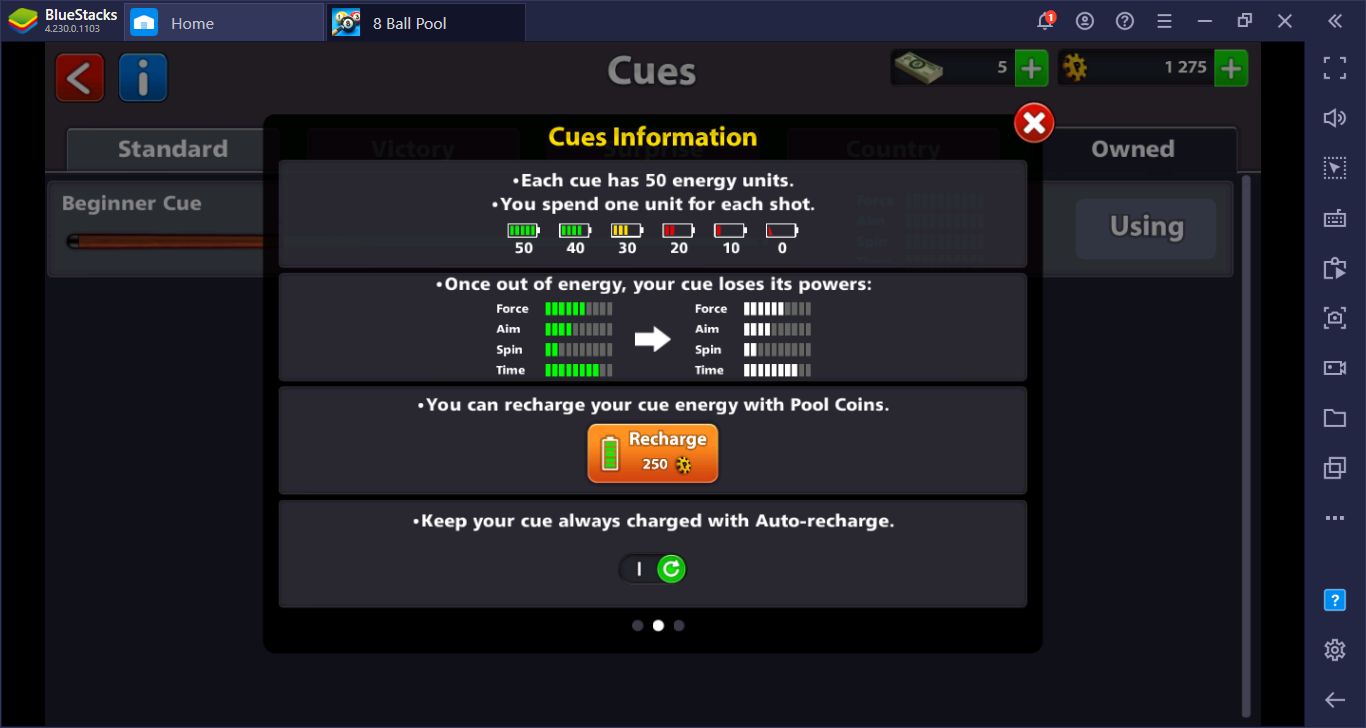 Finally, let's note that all cues can be upgraded. This process makes the features listed above become even stronger. For example, by upgrading a cue that does not have Aim, you can add this feature to it or strengthen a feature that it already has. Sometimes upgrading works better than buying a new cue. Therefore, always check the upgrade options and results before making a change.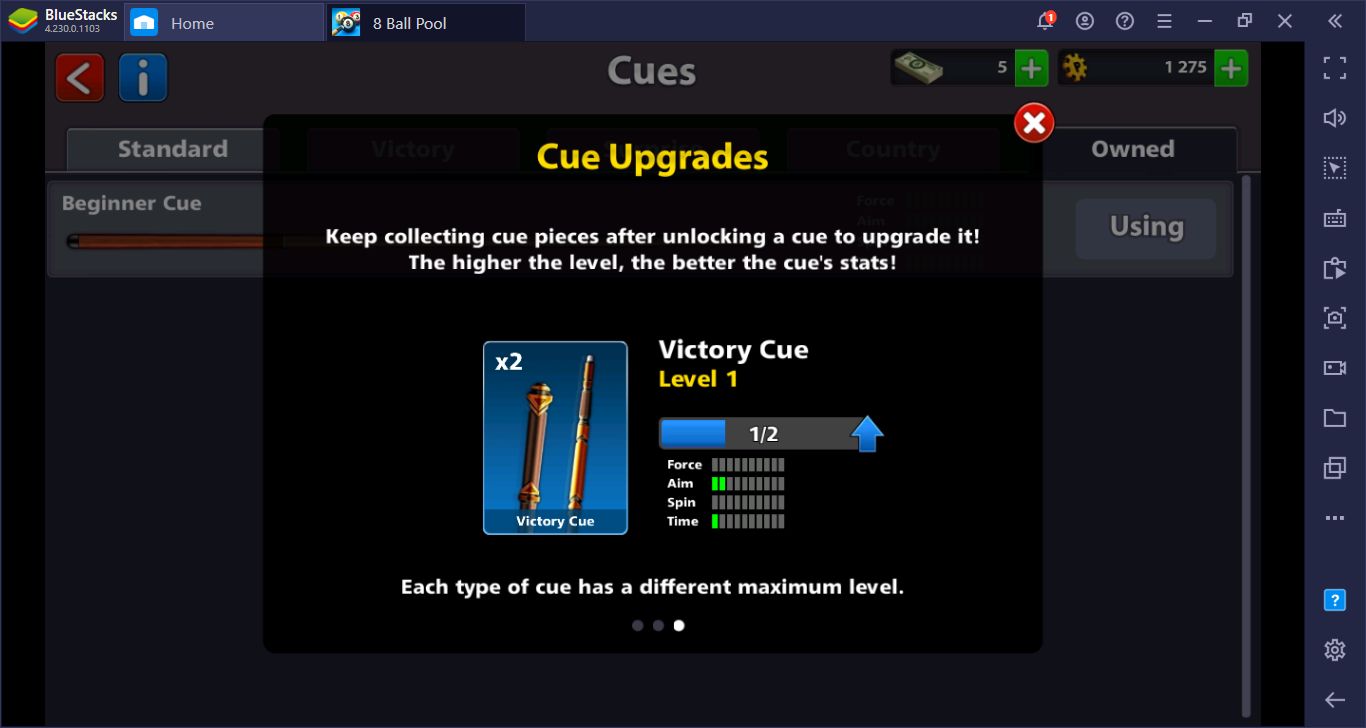 Play Your Mini Games Every Day
8 Ball Pool has four mini games that you can play for free every 24 hours. We can list them as follows: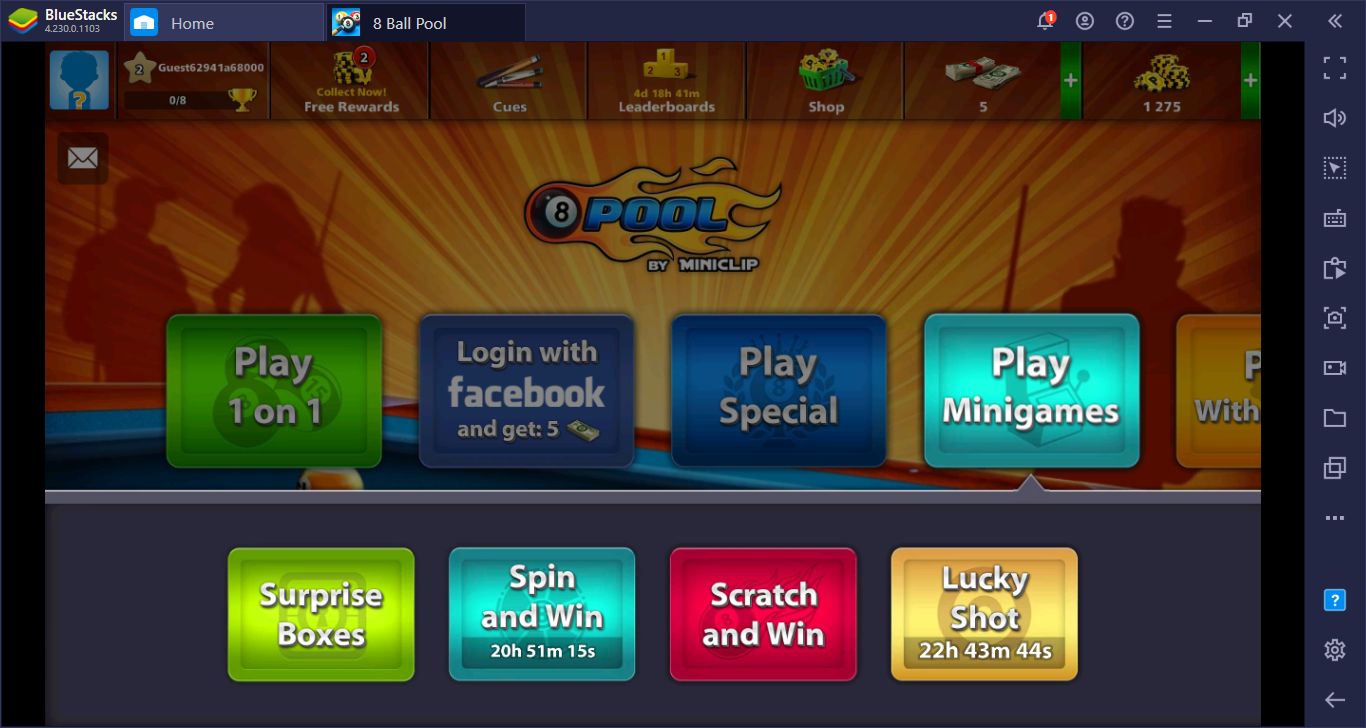 Surprise Boxes: A game that allows you to win loot boxes. Inside the boxes are cue pieces, XP points, coins, and free charge tickets. After collecting four pieces, you can get a new cue. However, the results are always random, so you may need to play this game for a long time.
Spin & Win: You spin a wheel where you can earn different amounts of coins.
Scratch & Win: Classic scratch card game, you can win up to 500,000 coins.
Lucky Shot: You are asked to make a hit and stop the billiard ball inside a target icon. The closer the ball is to the target, the better the reward you earn.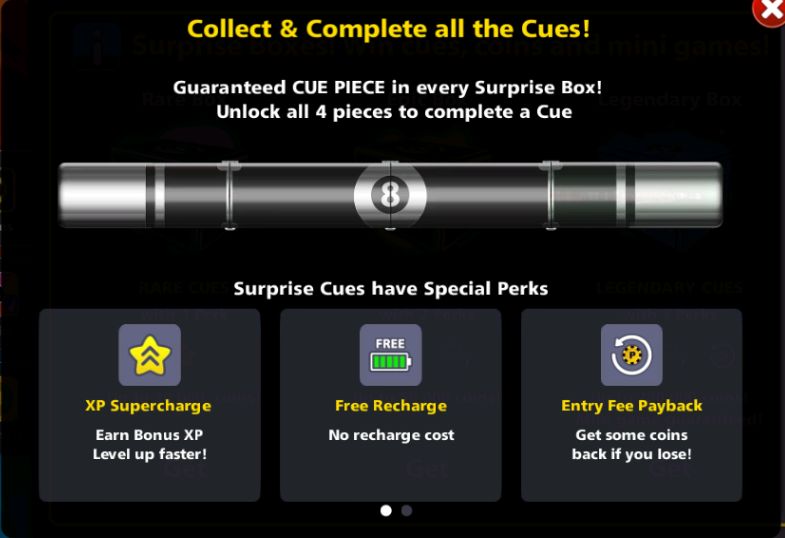 These are surprisingly useful gifts and you can easily earn the money you need to recharge cues just with them. Don't forget to play these games for free every 24 hours.
Win Free Coins and Cash
There are many features where you can earn free coins and cash. The first is to watch a video. By doing this, you can earn 1 cash and 15 coins every day. Completing the Facebook integration mentioned above will allow you to earn 50 coins. In addition, it is possible to take advantage of various offers and earn tens of thousands of coins for free. For example, at the time of this guide, there was even an offer that allowed you to earn 65,979 coins. You can also earn free coins and cash with the achievement system, but these methods allow you to do this every day.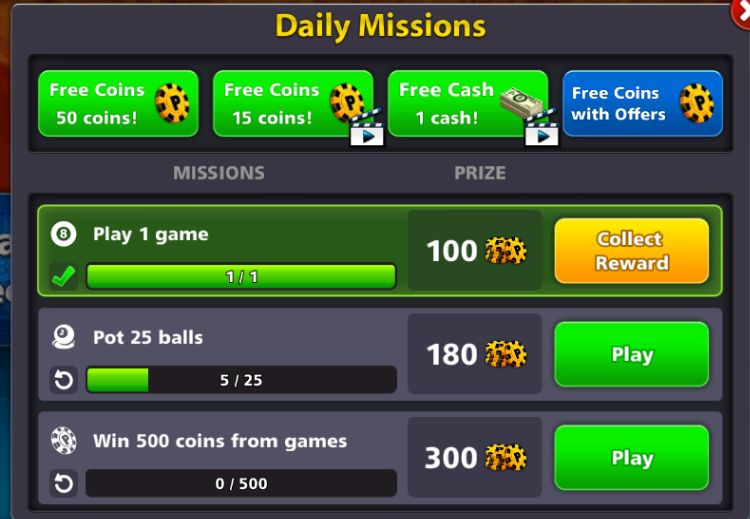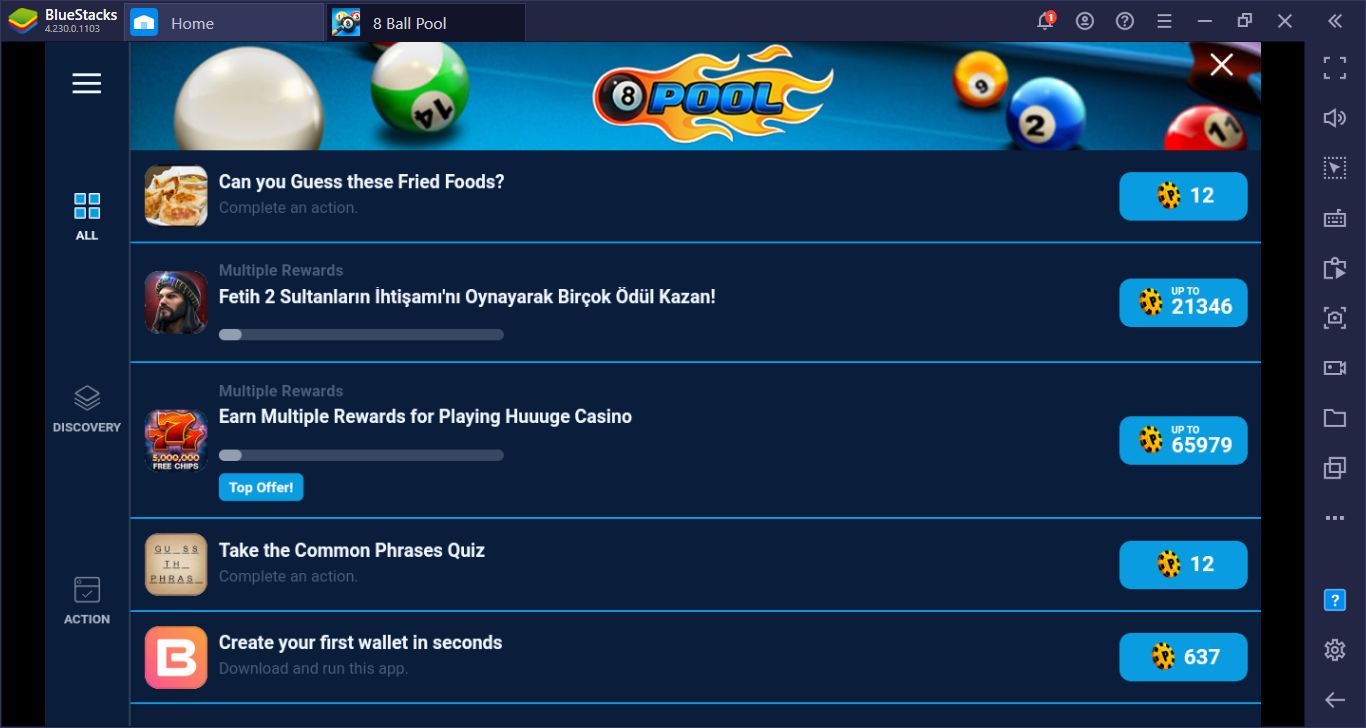 Try Different Game Types
The game is called 8 Ball Pool, but this is not the only type of billiards you can play. If you want, you can also play 9 ball pool. If you think the visual cue aids make the job much easier, there is also a game mode with them turned off. And if you are tired of playing a single match, you can enter a tournament and literally test your skills against multiple opponents. You can access all of these game modes under the "Play Special" menu. Do not hesitate to try these mods once in a while as they offer quite different experiences.

You are now ready to play billiards and challenge your opponents. As we mentioned in our setup guide, BlueStacks gives you a real advantage by allowing you to aim and strike with your mouse: You can be sure that you can hit more accurately compared to other players. If you have any other tips to share with us, don't forget to leave a comment – we always enjoy reading your opinions. See you at the pool table!