Game Guides
Mastering The Pool Table With BlueStacks: 8 Ball Pool Setup & Installation Guide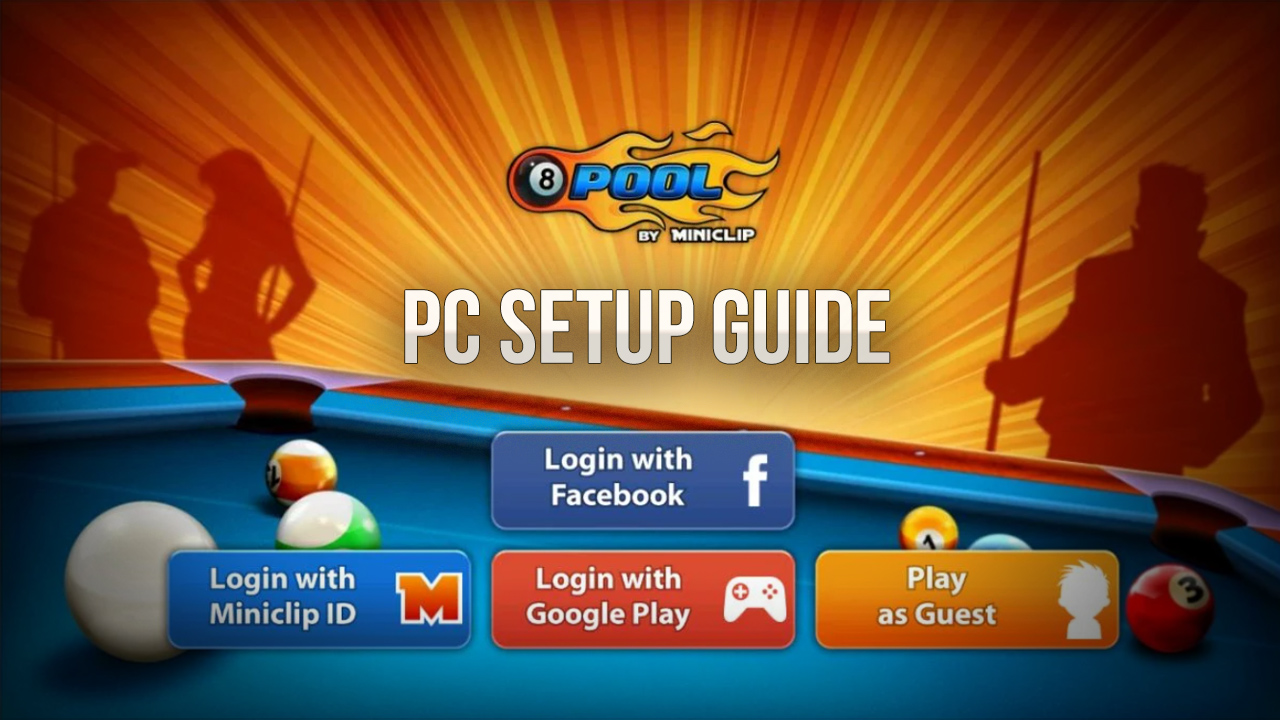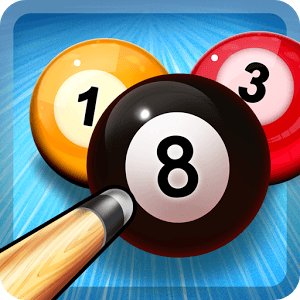 We have good news and bad news. Let's start with the bad news first: If you enjoy billiard games, you don't have much choice on the Play Store: There are not many options in this category. The good news is that you don't need a game other than 8 Ball Pool, as it might be the best mobile pool game you have ever played. 8 Ball Pool, which was ranked second among the most downloaded free sports games at the time of this article, includes everything you would expect from a billiard game. You can try different types of billiards, challenge real players, or practice against the computer. As always, BlueStacks allows you to play this game on your computer with various benefits. However, to start your billiard career, you first have to install the game and then configure it. Don't worry if you don't know how to do these things, we are here to help you. Below, we explain how you can play the 8 Ball Pool game with BlueStacks.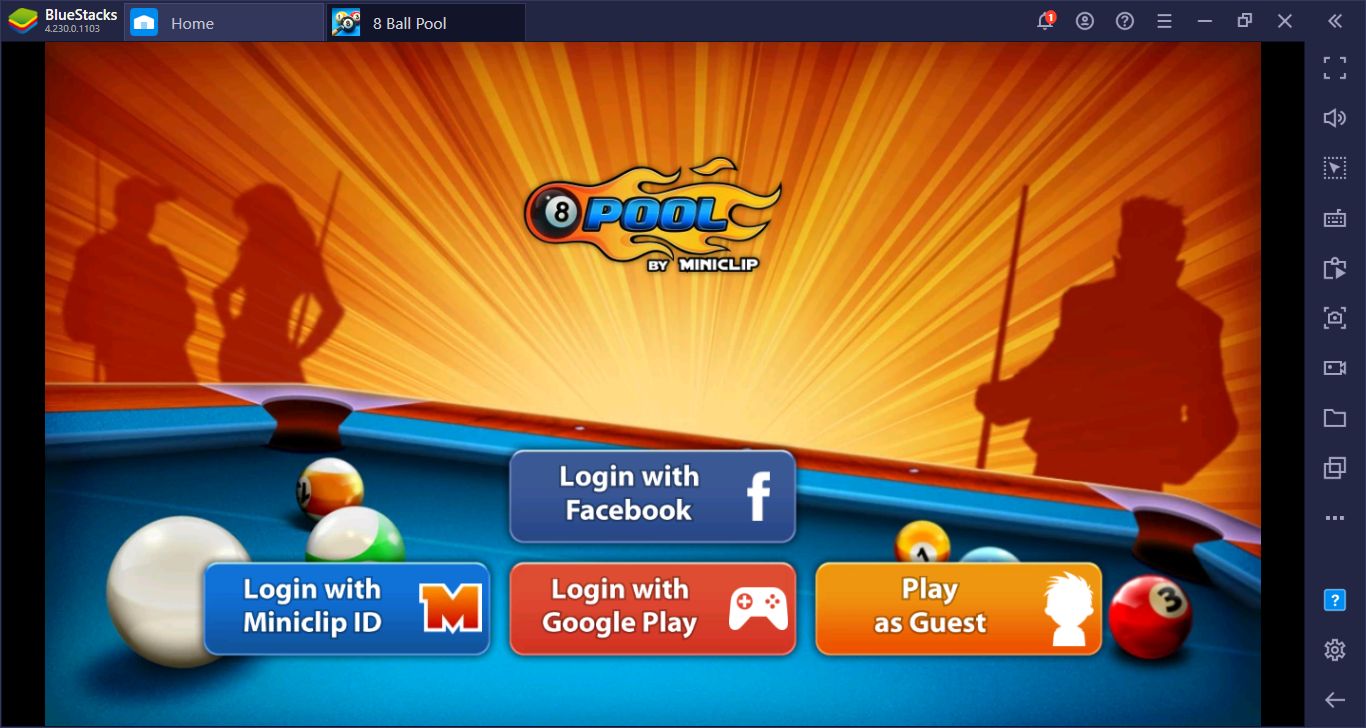 How To Download And Install 8 Ball Pool To Your PC?
You don't need to find an APK file to install the 8 Ball Pool game: Everything you need is in the BlueStacks Game Center. You can easily complete the entire setup process in no more than 10 minutes. To get started, launch BlueStacks and look in the upper right corner: You will see a search box. Type the name of the game in this box and press "Enter".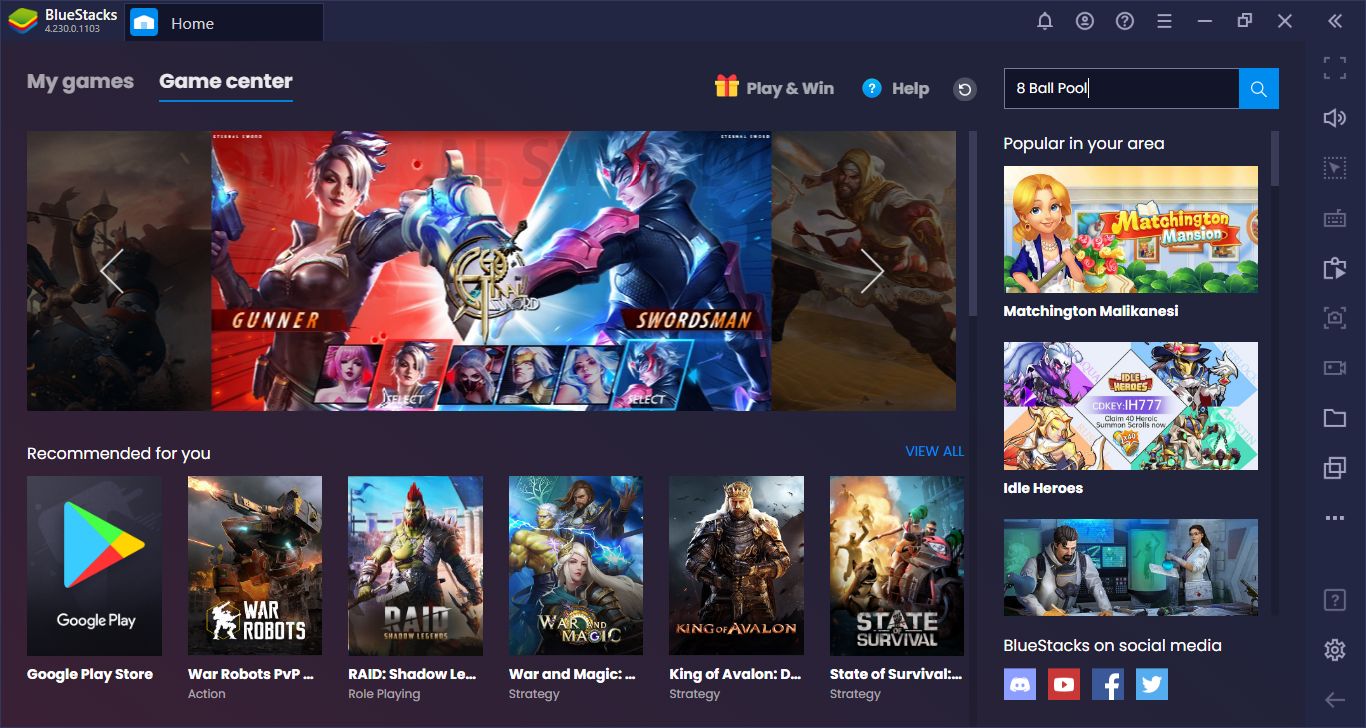 You can write the name of the game in this box.
Select the 8 Ball Pool game in the search results displayed and click on it. By doing this, you will open the game's Play Store page.

Just click on the game's icon on this screen.
There is only one step left. Start the download by clicking the "install" button on the Play Store screen. 8 Ball Pool game has a small installation file (less than 100 MB), so this will take a short time. After clicking that last button, you can leave everything else to BlueStacks. The game will be downloaded and installed automatically. When it's ready to play, you'll see a notification. You can now start your billiards career by clicking the game's icon on the home screen.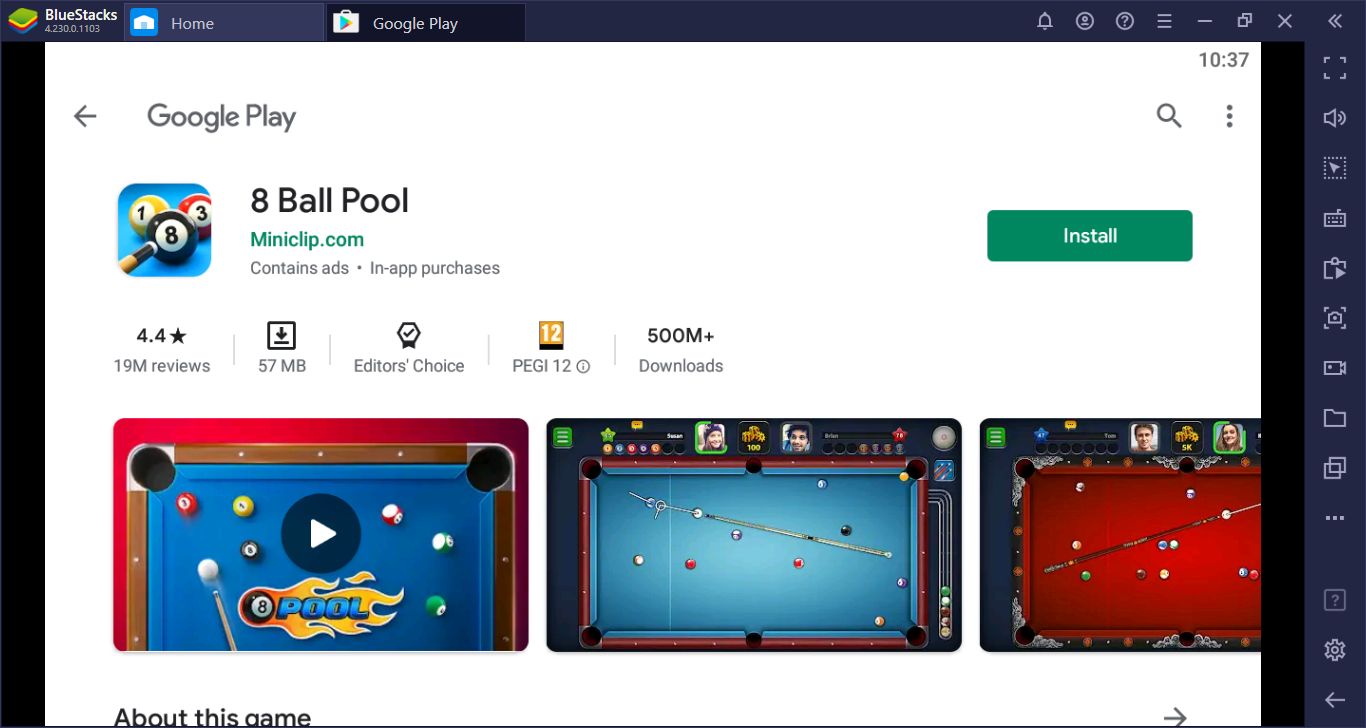 Hit the install button on this screen and wait. BlueStacks will download and install the game in a very short time.
How To Change 8 Ball Pool Game Controls?
A mouse is all you need to play 8 Ball Pool game. You direct the cue stick with the mouse and adjust the striking intensity also with the mouse. BlueStacks allows you to use the left and right mouse buttons for both. However, if you are a master billiard player, you also know how important the cue angle and cue stick type are. By default, W and E keys are used for these two functions. You can change the cue ball setting by pressing the W key and press the E key to open the menu that shows the cue stick types you can use. To be honest, you don't need any other keys: 8 Ball Pool is a game that you can play with only three keys.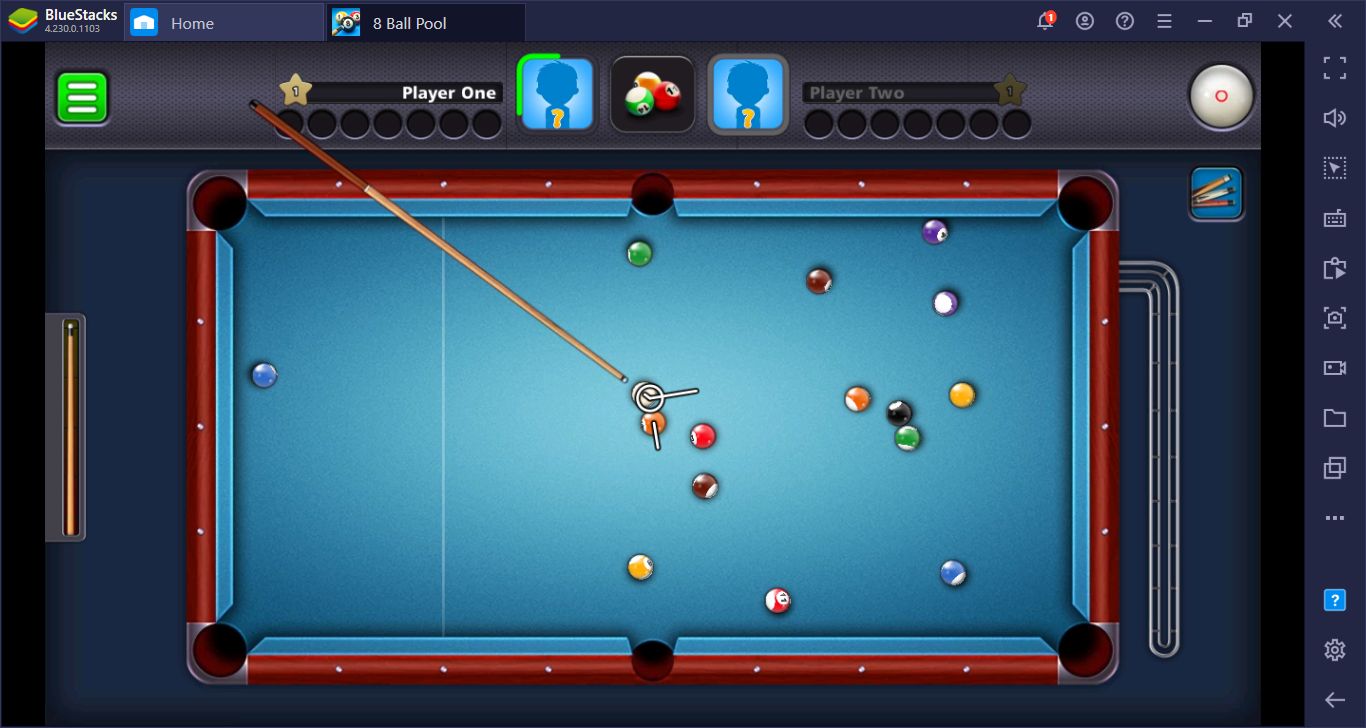 You can use your mouse to move the cue stick.
However, it is possible to change these controls if you want. For example, you may want to use the arrow keys to control the cue stick, not the mouse. BlueStacks allows you to do this easily. You will see a question mark icon on the right sidebar, click it to see the default controls. On this screen, you can assign a different button for each function by pressing the "edit" button in the lower right corner. Don't forget to click the "save" button when you're done. On the same screen, you can also watch a video showing how you can play the game on BlueStacks.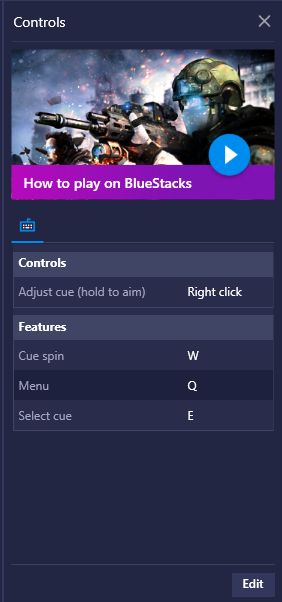 Press the Edit button to customize the controls. The video above shows how you can play the game on BlueStacks.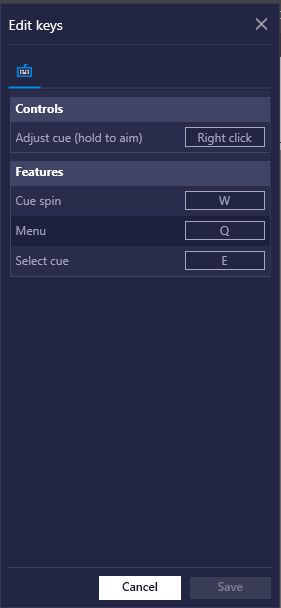 Don't forget to hit the save button after assigning new keys. Otherwise, the changes will not be saved.
You are now ready to become a master billiard player. We recommend that you practice playing against the computer first, and then challenge real players after gaining enough experience. Since each table and game will be unique, it is unfortunately not possible to record and repeat your strikes with the Macro Recorder, but you still have a serious advantage: You can use your mouse to aim. In this way, you can make more accurate strikes compared to your opponents. In other words, BlueStacks allows you to use the best control tools you need to become a professional billiard player. You can also check out our tips guide to learn more about 8 Ball Pool game, there are many tips in it to make your job easier. Now, if you excuse us, we will return to the game to play a little more: Join us right now!