Game Guides
A3: Still Alive Tips, Tricks, and Strategies for Progressing in Netmarble's new MMORPG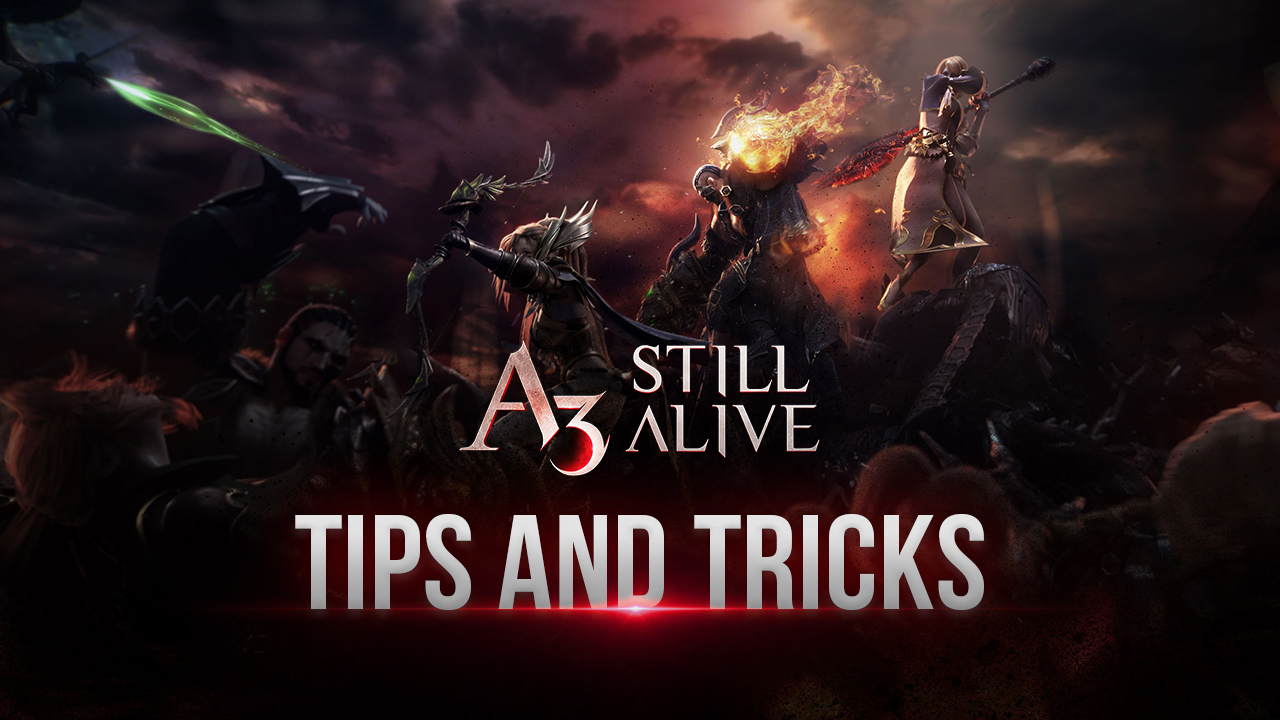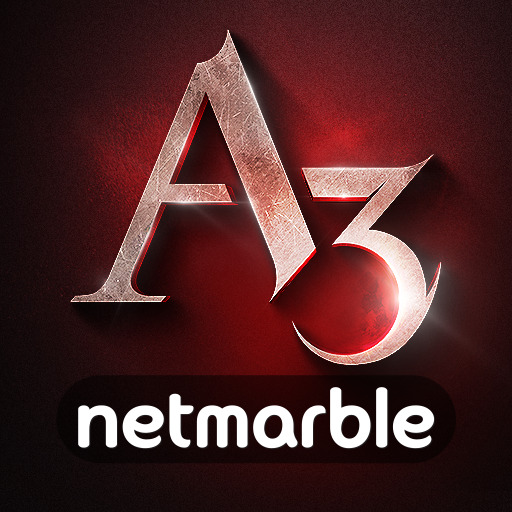 A3: Still Alive released just a few days ago and we couldn't be more thrilled to dive in and explore all its mechanics and systems. This game is quite unique in the MMORPG genre as it also offers an exciting battle royale mode, which we've covered in a few other guides. If you're new to this game, we recommend checking out our beginner's guide for A3 to find your bearings.
Today, we're going to give you a few A3: Still Alive tips and tricks that you can keep in mind to quickly progress and power up your characters.
Grind While Playing in Battle Royale
Let's get real for a second, we all know that, when it comes to A3: Still Alive, most of you will only be interested in the battle royale aspect since it's what sets it apart from other games in the genre. As such, you'll likely be spending lots of time in "Dark Presence" fighting other players and trying to win all your matches.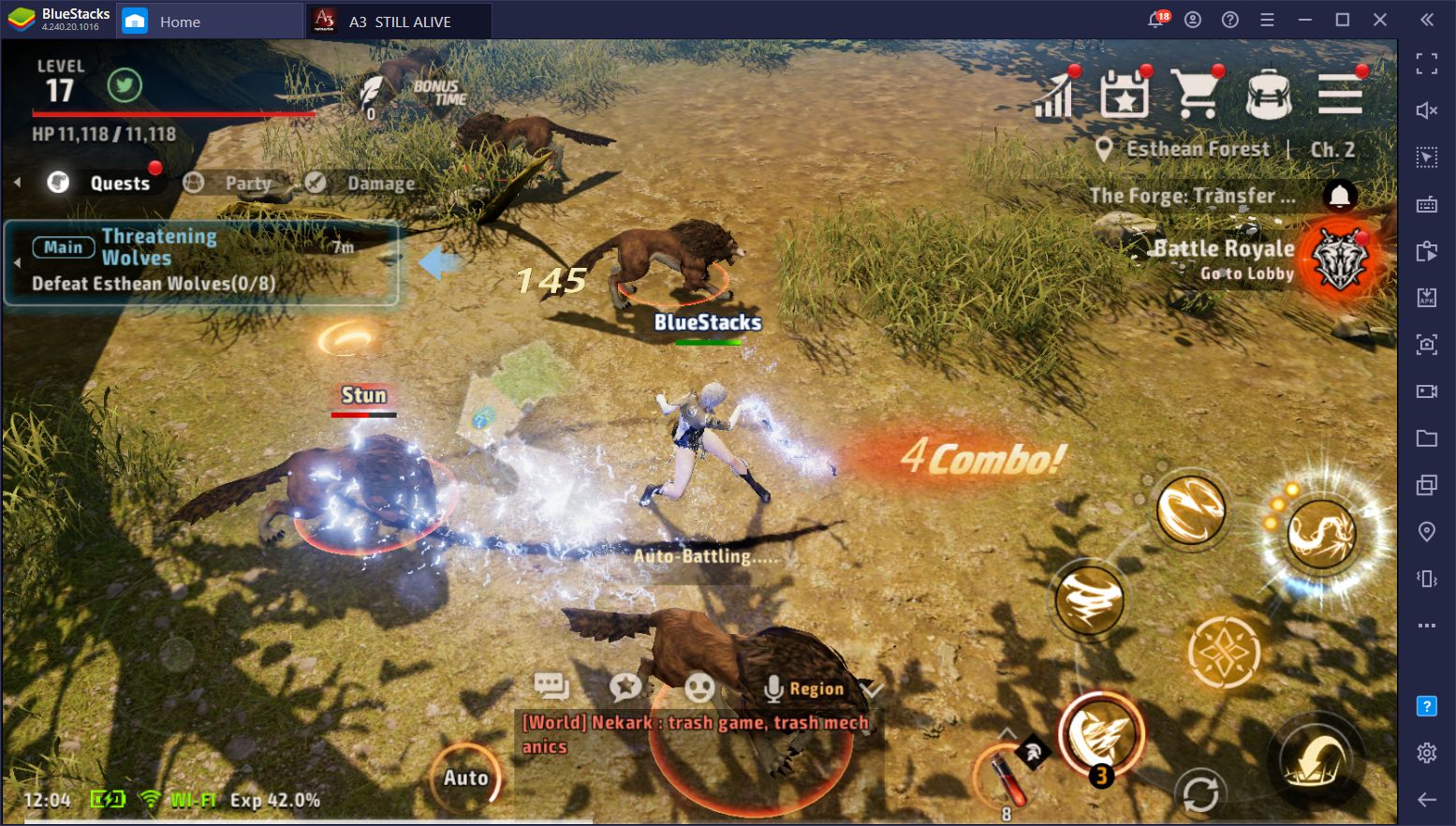 Nevertheless, at the end of the day, you'll always come back to the regular mode and find that it's actually a great game with awesome graphics, animations, combat, and a gripping storyline to keep you engaged. The fact that we also get an awesome battle royale mode to break up the monotony of questing and grinding is the icing on the very delicious cake that is A3: Still Alive.
And speaking of grinding, even if you're completely into playing the battle royale mode, you can still continue leveling up your character in the main game since, while you're in Dark Presence, your character keeps fighting monsters for you. All you need to do to ensure that you're still leveling up while playing the battle royale mode is to go to an area with monsters that give good experience for your level, and activate auto-combat. In this manner, while you're running around fighting other players in Dark Presence, your character will continue auto-fighting mobs and leveling up.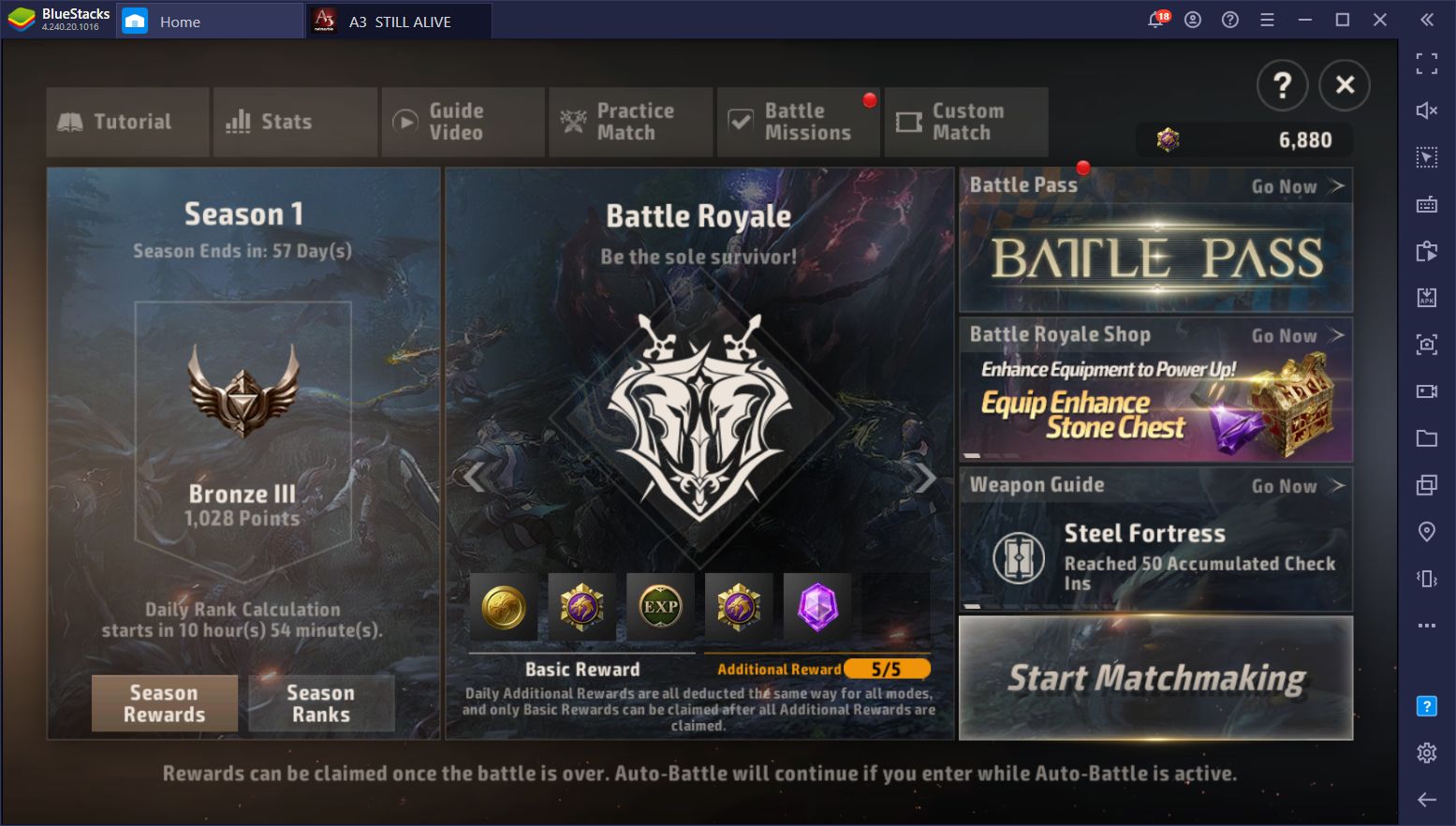 Whenever you want to spend a few hours in battle royale, remember to activate auto-combat; it's free experience! Just try to grind in an area where the monsters can't hurt you or they might kill you while you're away.
Grind With Auto-Combat, Except When Fighting Boss Enemies
Despite being a game with a heavy emphasis on auto-combat and auto-questing, A3: Still Alive is actually a pretty decent action MMORPG when you play it manually. The animations are smooth; the skills are meaty and satisfying, and there's something oddly cathartic about destroying hordes of enemies with a single spell – we love it!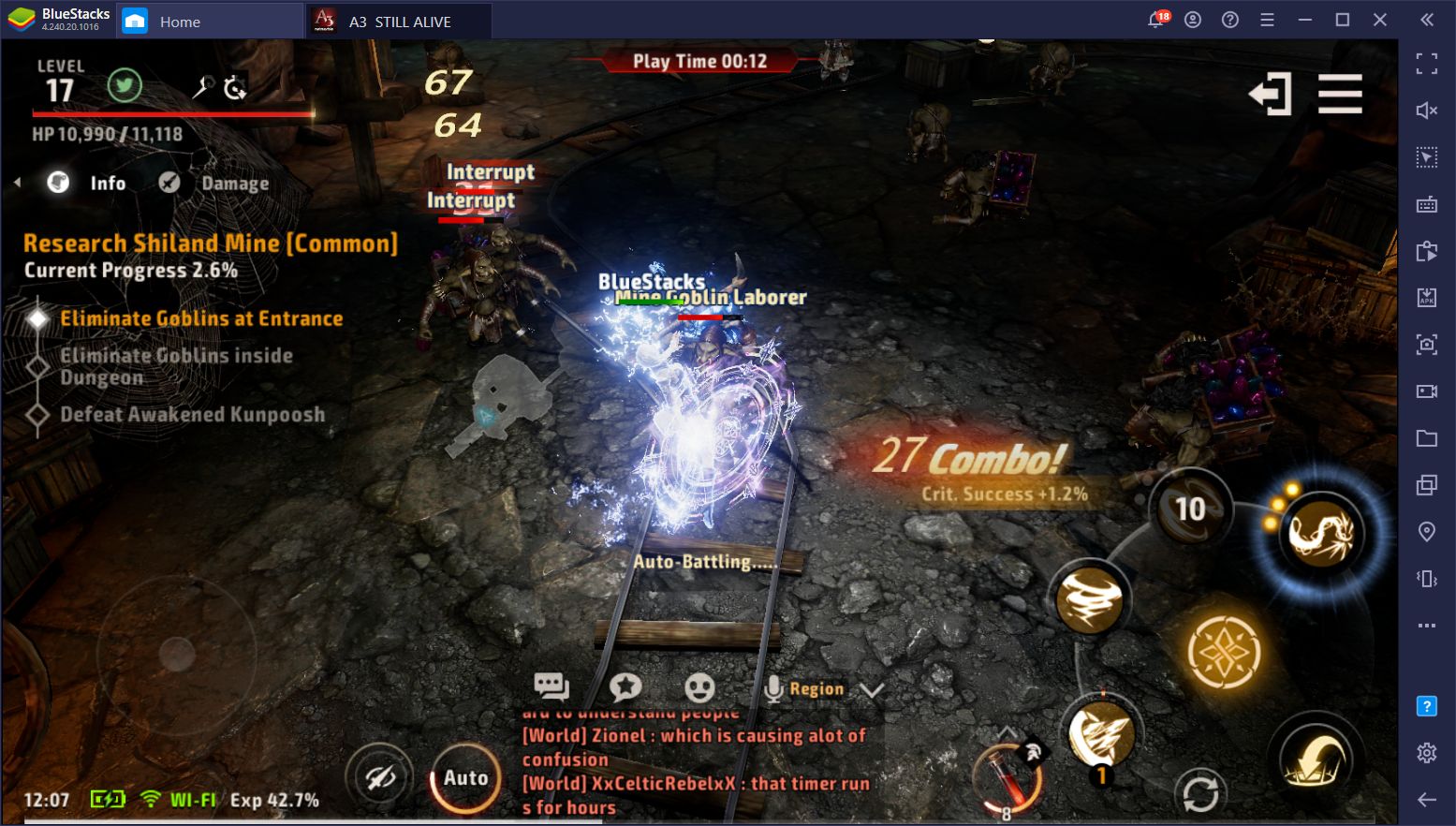 Nevertheless, you'll likely be spending most of your time with auto-combat activated to make your character grind while you focus on something else. If you're playing A3 on PC with BlueStacks, you can even activate auto-combat and minimize the emulator to the background, and use your PC for something else while your character grinds.
However, when it comes to defeating the most powerful enemies and bosses, we strongly suggest taking manual control of your character. This is because bosses, unlike the other normal enemies that we've seen so far, can unleash powerful telegraphed AoE skills that can really chip away at your health if you don't avoid them. Luckily, dodging these attacks is quite easy since you can see where they're going to hit by looking at the orange telegraph markers on the ground.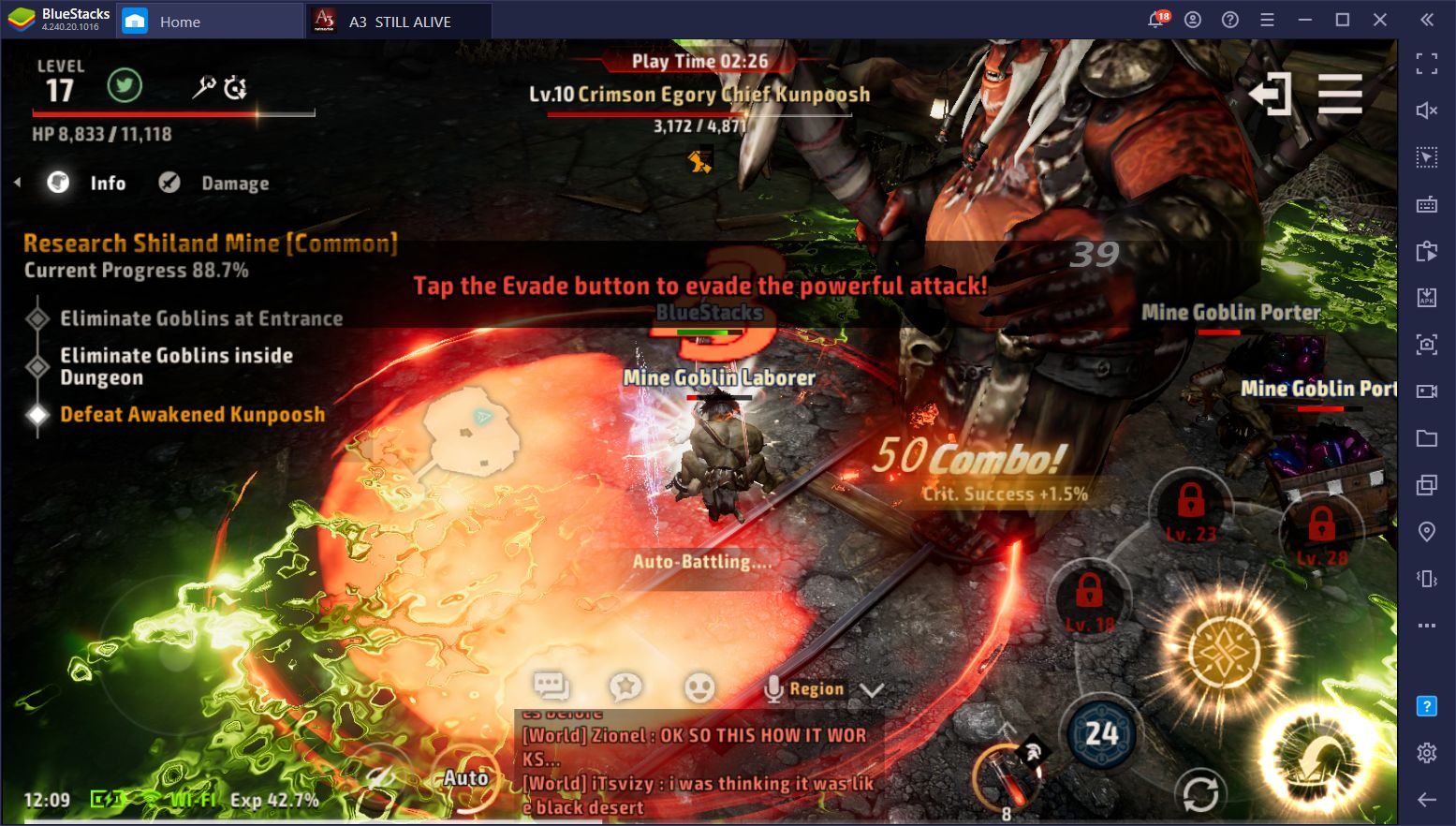 This is something that BlueStacks can also improve significantly as, with the Keymapping Tool, you can control your character with your keyboard instead of the virtual joystick that your phone offers, giving you much better precision when fighting and dodging, and allowing you to stay alive for longer.
Complete The Daily Activity Quests to Score Extra Loot
To help players progress, A3 offers a series of quests that refresh daily, known as the "Today's Activity" tab in the "Quests" menu. These missions, as their name implies, refresh every 24 hours and consist of very simple tasks that you commonly complete as part of your daily routine in this game.Some of these missions include things like using HP potions, crafting gear, playing in the battle royale mode, using gold, salvaging equipment, and so much more.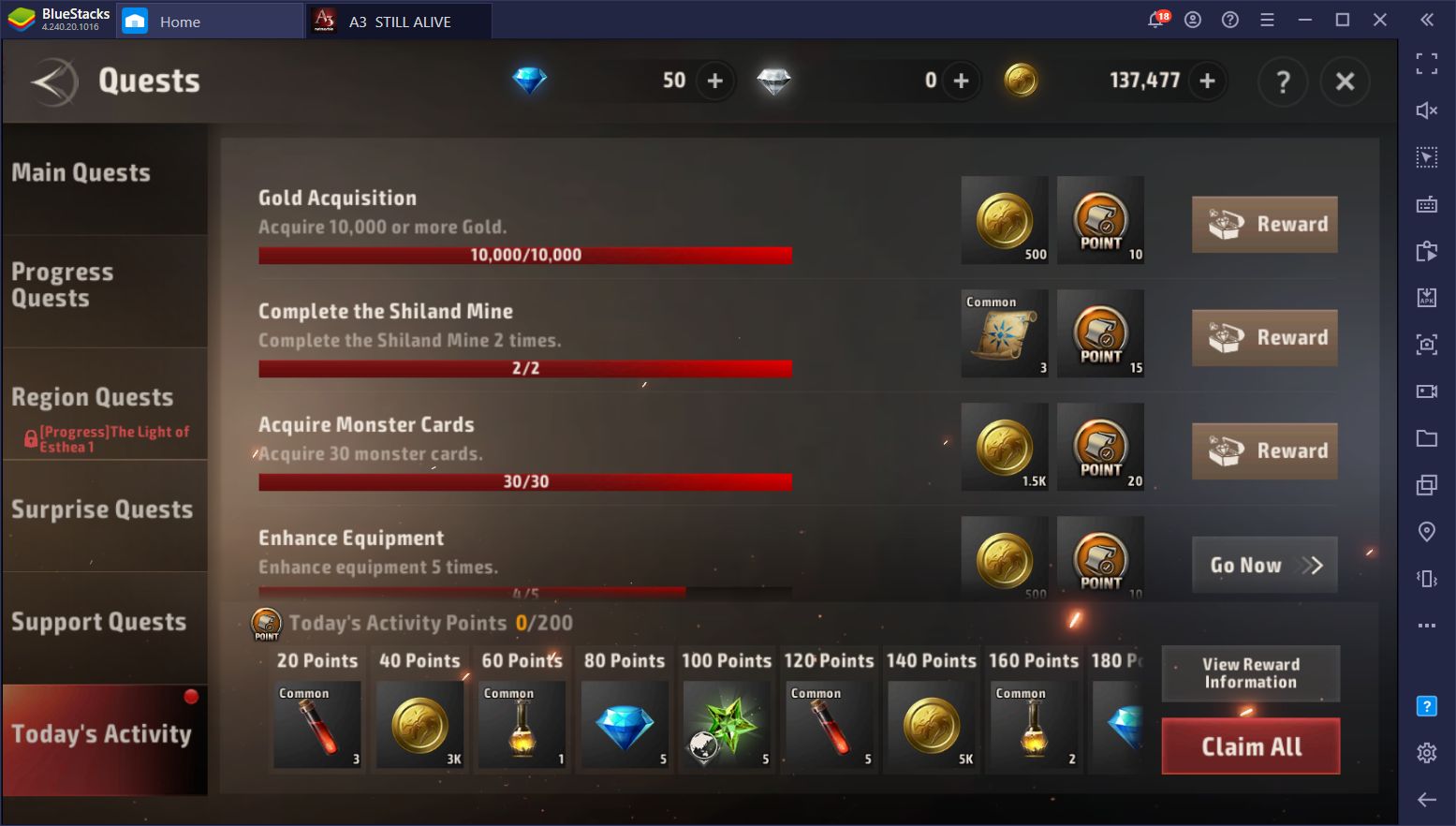 Upon completion, you'll not only get some basic rewards like gold and Hayrens' Essences, but you'll also score activity points that accumulate in the bar on the bottom of the activity menu. The real rewards come from these activity points as, when you reach certain milestones, you'll score valuable prizes that include blue diamonds, soulstars, potions, and gold, among others.
In this sense, a good way to progress in A3: Still Alive is by not just completing a few daily tasks, but by collecting all your daily rewards from activity point milestones.
Collect and Register Monster Cards to Increase Your Power
An interesting system in A3: Still Alive is the Monster Codex, in which you can view all the enemies you've defeated along your travels. This menu is also where you register the card fragments dropped by fallen enemies. Every card you assemble will contribute slightly to your overall power, which means that collecting cards is a great way to boost your stats.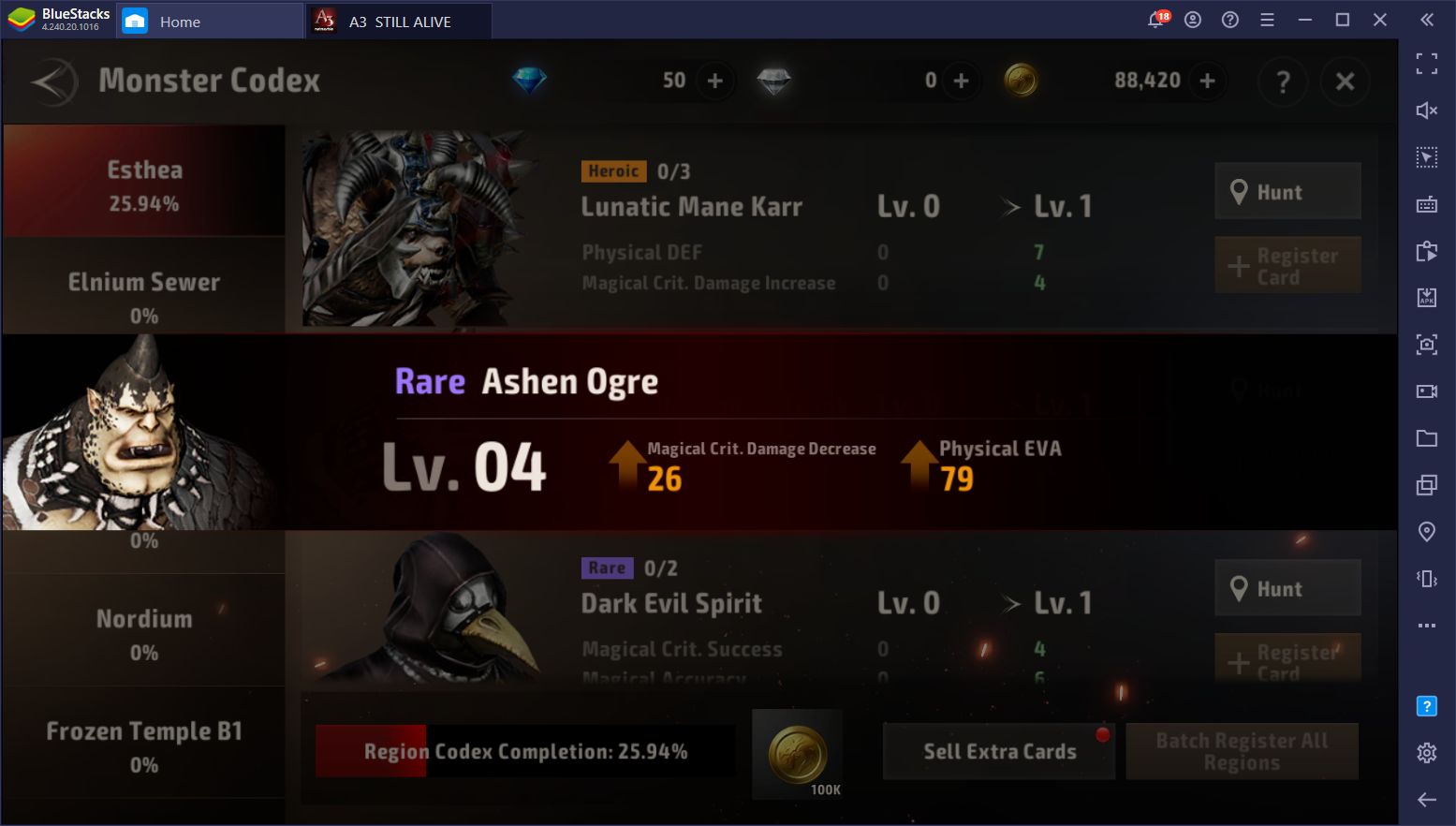 Luckily, the Monster Codex also shows you where every monster spawns, and even offers a button to auto-navigate to their locations so that you can grind for the missing cards. Keep in mind that the monsters are split into regions and, once you complete one of these, you will get valuable one-time rewards for your efforts. Furthermore, once you complete a certain region in the Codex, you can sell your excess cards for a bit of extra gold.
Complete Your Daily Dungeon Allowances for Maximum Progression
Lastly, another great way of powering up in A3, which is a habit that you'll already have if you come from other MMORPGs, is completing your daily allowances in the dungeons as they begin to open up from completing the main story quests. You can find these dungeons in the "Normal Adventure" menu, where you can also check how to unlock them as well as the rewards for clearing each of them.
These dungeons have limited daily allowances that prevent players from spamming them in order to level up quickly. As such, you should always use up these daily allowances as they are a way to score a very decent chunk of XP for no effort at all. In fact, for best results, we recommend simply entering the dungeons, activating auto-combat and, if you're not strong enough, assume manual control when fighting the boss. On the flipside, if you're significantly above the recommended power level, you can simply activate auto-combat and go AFK while your character clears the dungeon.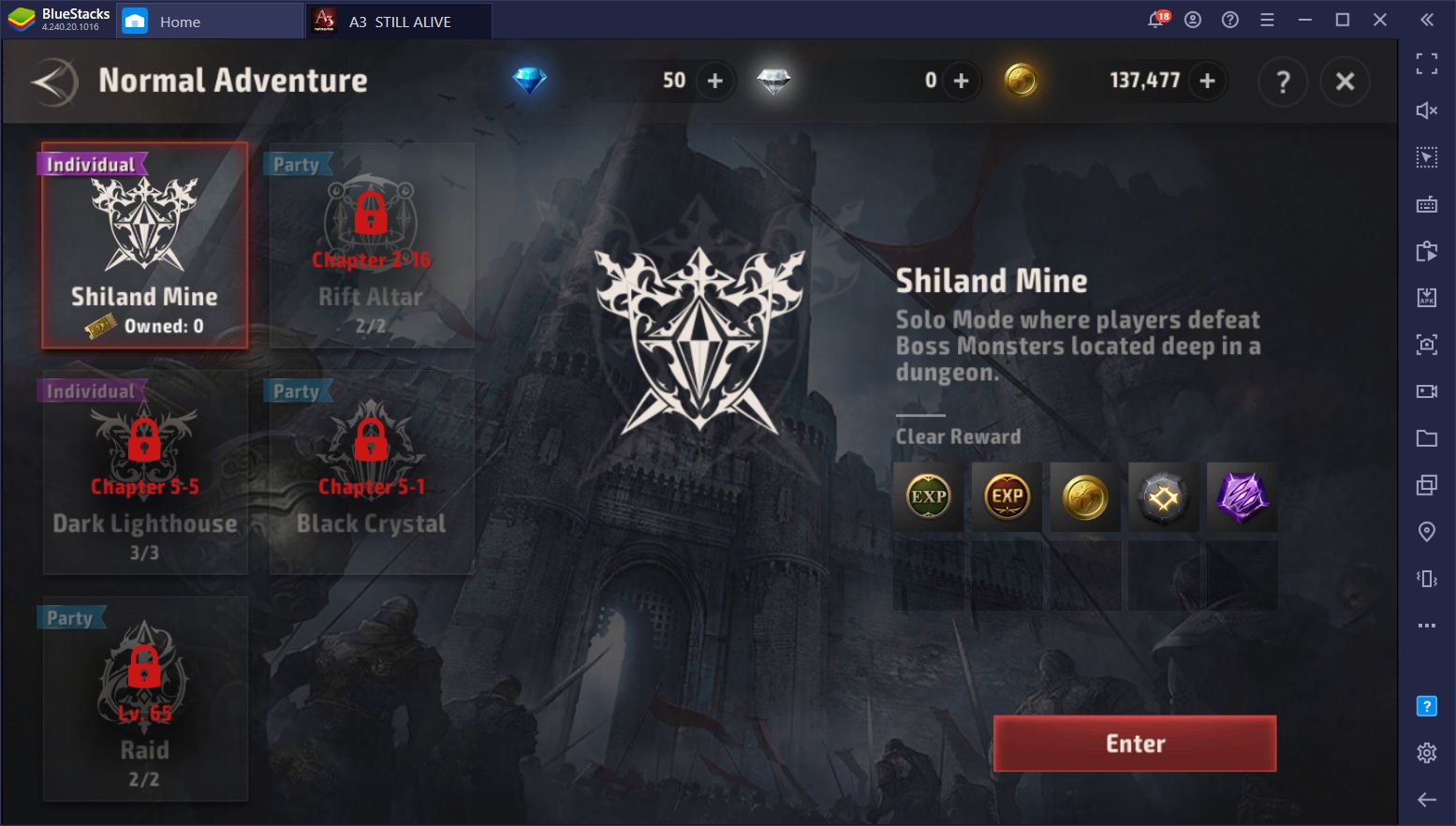 For added automation, we recommend using the BlueStacks Macro Recorder, through which you can automate clearing your daily dungeon allowances with the press of a button. You can even minimize BlueStacks to the background while the macro is running, and your character will complete all these challenges for you with no manual input required; just sit back and let BlueStacks do the dirty work for you.
Let us know if you have any other awesome tips and tricks for A3: Still Alive in the comments section below!