Game Guides
The Best AFK Legend Tips, Tricks, and Strategies for Beginners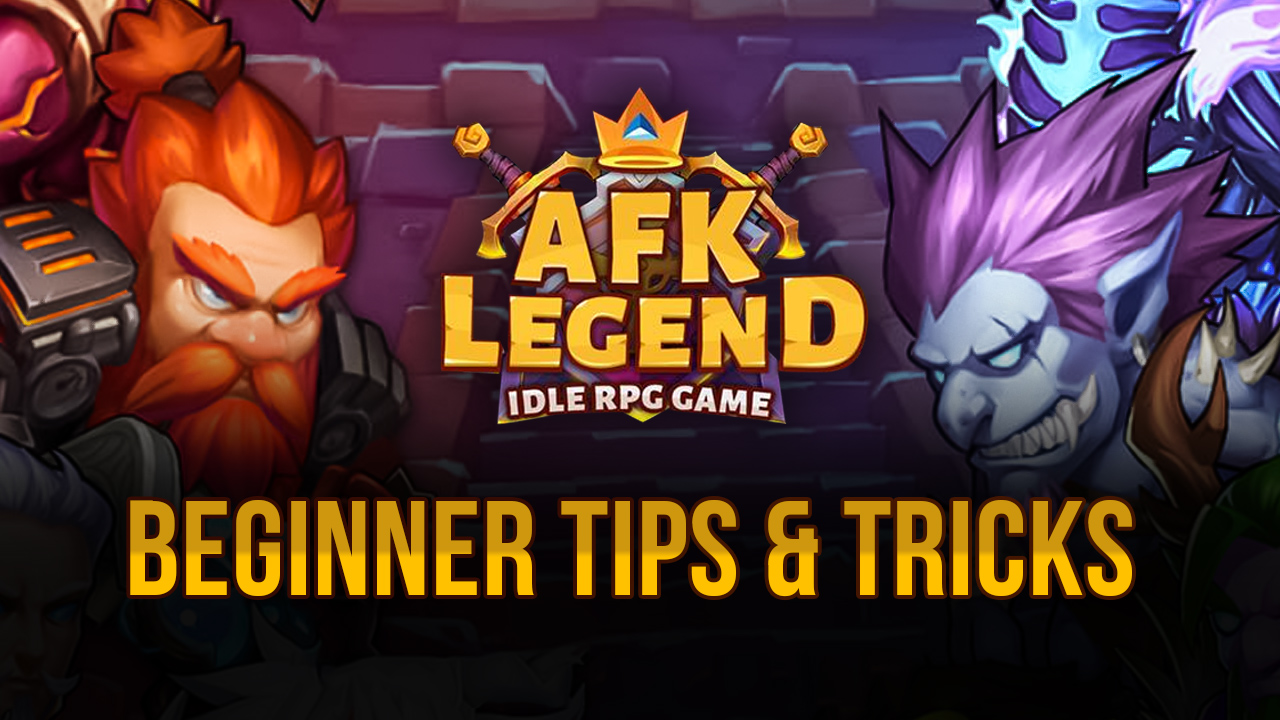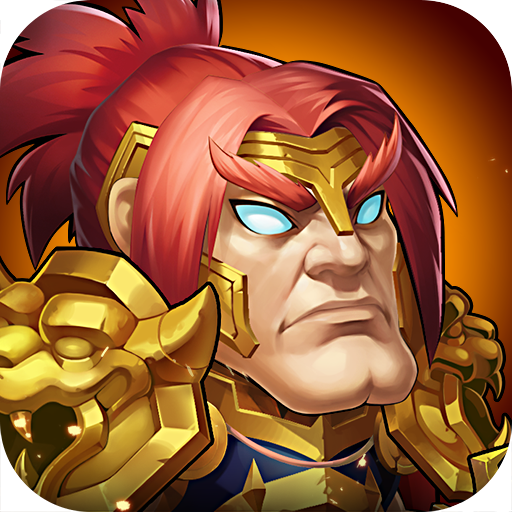 True to their name, idle games stand out due to their vast automation features and hands-off approach to their gameplay. They are designed so that everyone can progress at a steady pace, even if they don't have much time to play. As such, they are the best choices for casual gamers that simply don't have the disposition to play other, more committed RPG titles. AFK Legend falls into this category.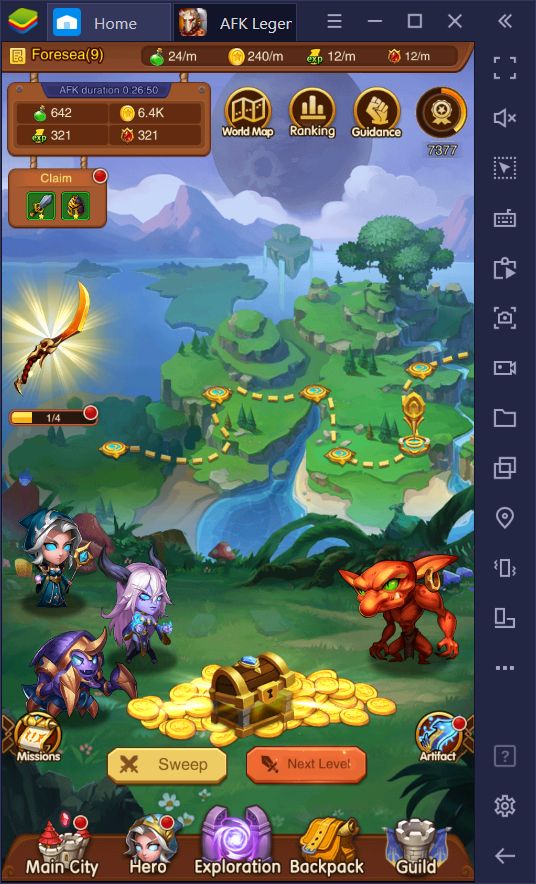 However, as games where players can progress steadily without having to put in much effort, it's those who actually take the time to go one step further who will take the lead and climb the leaderboards. For this reason, we decided to share a few useful tips and tricks for AFK Legends, which will help you to advance quickly in this idle game.
Let's get started!
Play on BlueStacks to get Access to Useful Automation Tools
AFK Legend, by design, comes with many different systems in place to automate most of the gameplay. In fact, the majority of its combat is completely automated and doesn't even require player input. Similarly, your characters continue to grind even while offline, giving you much more liberty with how to progress as you won't have to slave away at farming and grinding.
However, while the game has its own share of automation features, you can significantly improve and streamline your experience even further by playing AFK Legend on PC with BlueStacks, our powerful Android emulator. Our platform not only gives you the best performance in virtually any game, since you're using your powerful PC hardware instead of playing on your phone, but it also has many exclusive features that can help to further streamline your gameplay.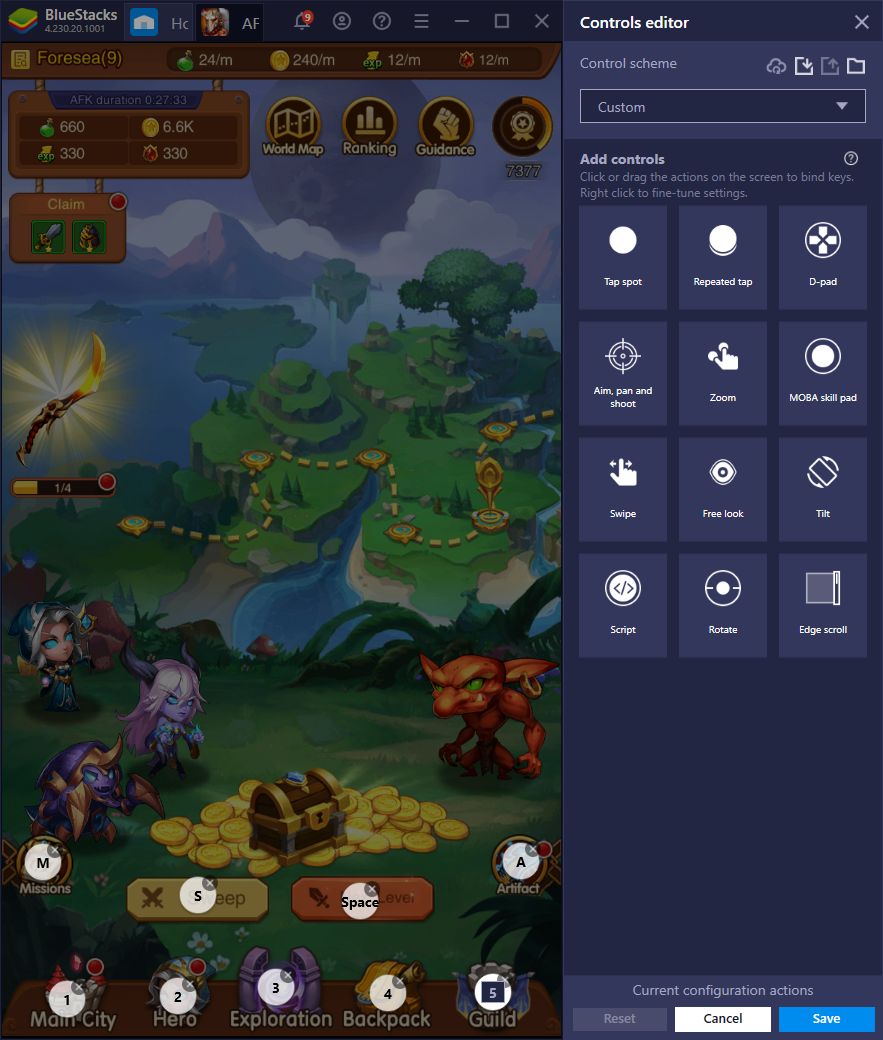 Starting with the Keymapping Tool, this feature lets you create intuitive control schemes for any mobile game, essentially letting you play using your mouse and keyboard, as opposed to awkwardly having to tap and swipe at the screen. In this sense, while AFK Legend isn't a game that requires much input, BlueStacks can make it much easier to navigate through its numerous menus.
An important part of this game is completing the main missions in order to level up and unlock additional features. However, while most of the game, including the combat, is automated, you still need to manually click on the buttons to progress and challenge the subsequent levels of the campaign, With the Macro Recorder, however, you can automate your progression in this mode by recording yourself completing a level, and then using the macro to progress automatically to the next one, for as many levels as you need.
The way this works is the following:
Go to the Exploration feature and activate the Macro Recorder (Ctrl + Shift + 7).

With the Recorder running, enter a level and wait until your characters defeat the enemy.

After winning, click on the screen to go back to the missions menu, and then on "Next Level" to advance to the next stage.

Turn off the Recorder and give your macro a name.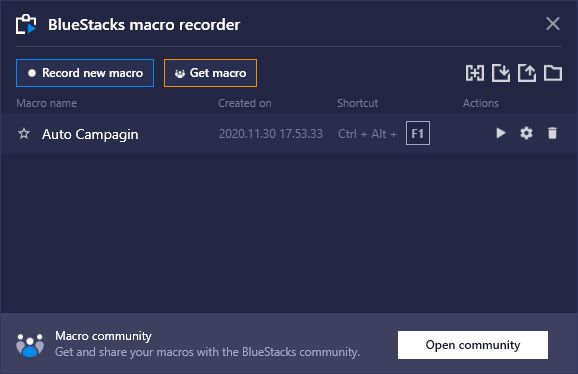 With this simple macro, you can effectively automate your progression in the main missions. After finishing the recording, simply go to the macro options and set it to loop indefinitely, and your team will continue clearing levels until they either run into a difficulty wall, or you tell them to stop.
These are only two things in which BlueStacks can help you when playing AFK Legend. Check out our installation guide to learn how to easily set up this game on PC in a few easy steps.
Complete Your Daily Missions
A good way to progress in AFK Legend is by completing your daily quests as these give you lots of different treasures and goodies that you can use for unlocking and upgrading your characters. These missions refresh every day and are a good source of not only the aforementioned materials, but also of diamonds, the game's premium currency. Luckily, they're quite easy to complete since they involve tasks that you'd do during your regular gameplay such as upgrading characters, completing stages, participating in the arena, and sending friendship points, among others.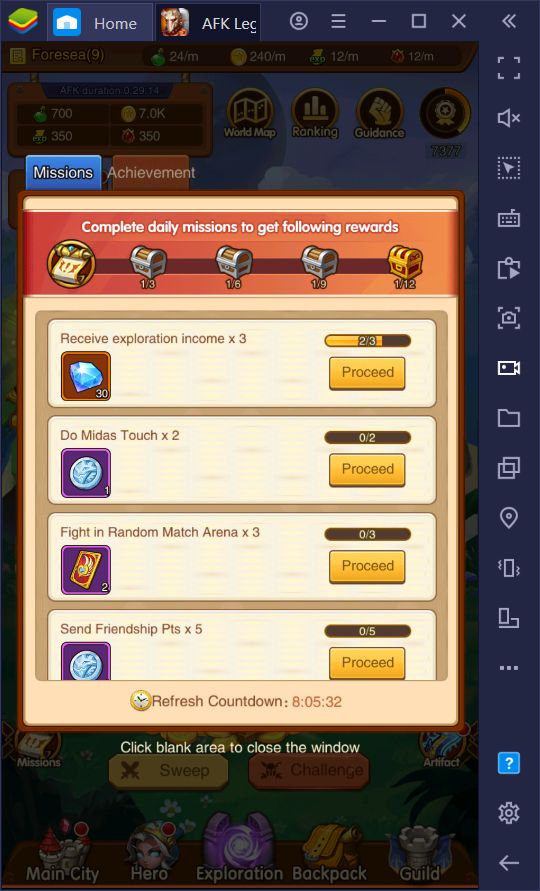 For every 3 daily quests that you complete, you'll also get a chest containing extra rewards including gold, diamonds, and hero fragments. In fact, completing your daily quests for 25 days will net you a free 5-star character, which is a great reward!
Check the Store for Good Deals Often
During your adventures in AFK Legend, you'll receive lots of different tokens and currencies, some of which can be traded in the Grocery Store for different goods. It's worth taking a look at their stock every day as they often have good deals on important materials such as hero fragments, arena tickets, and even summoning materials.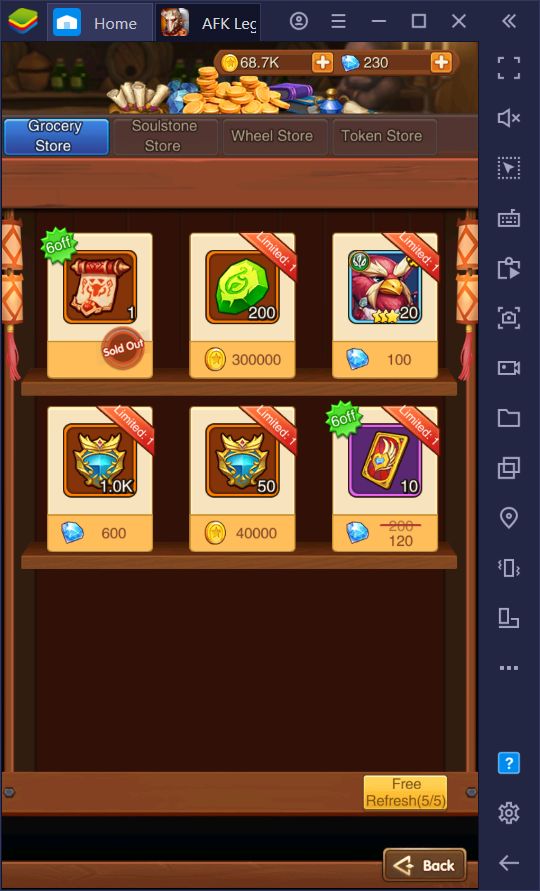 If you ever have a surplus of certain currencies, make sure to drop by the store to turn them into something useful.
Always Upgrade and Equip Your Heroes
Since most of the gameplay in AFK Legend is automated, your best bet when it comes to winning fights, either in the campaign or in the Arena, is to keep your team upgraded at all times. Luckily, you'll get most of the upgrade materials necessary simply from completing missions, as well as from the AFK grinding feature. In this sense, make sure to always keep your characters at their highest possible level in order to increase their odds of winning all their fights.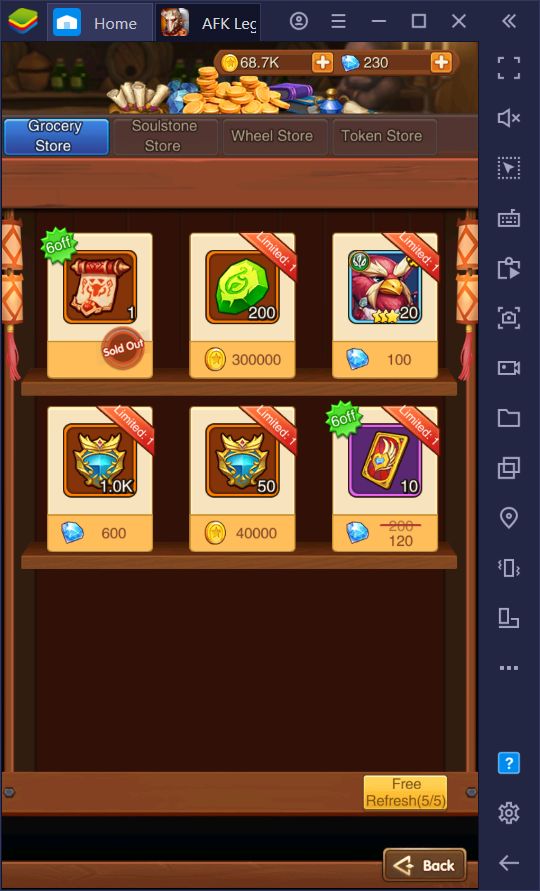 Unlock Your Artifacts ASAP
AFK Legend has a special system in place called Artifacts, consisting of objects that, when unlocked, give your party several different bonuses in combat. These boosts can help to win the toughest battles by damaging the enemy and softening them enough so that your group can easily wipe them out.
You can unlock an artifact per chapter by completing specific tasks within that same chapter. In this sense, aside from the daily missions, one of your priorities should be working towards unlocking the full potential of your artifacts.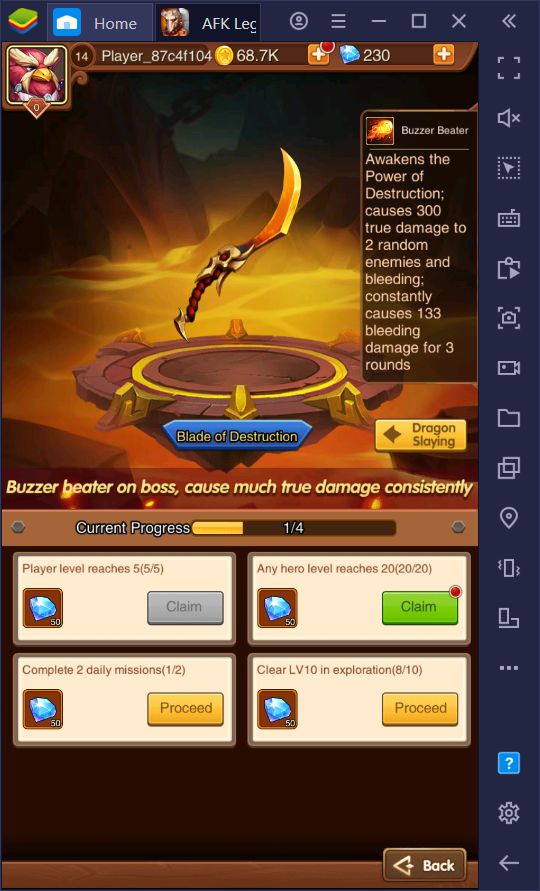 AFK Legend is not meant to be a difficult game to pick up and play. In fact, it's all the contrary as it's designed to be a casual title that anyone can enjoy without having to invest too much effort. However, with these tips and tricks, you can advance faster than the rest, blaze through the campaign, and climb the ranks in the Arena.