Game Guides
How to Play Alchemy Stars on PC with BlueStacks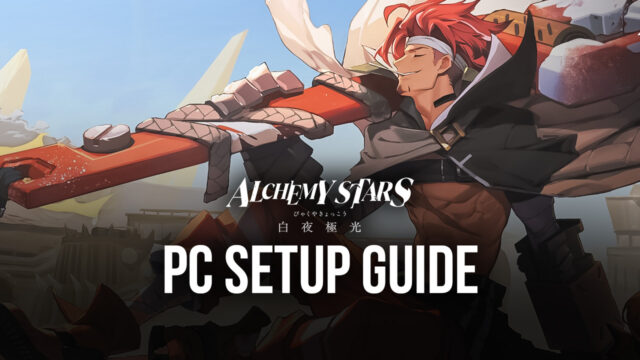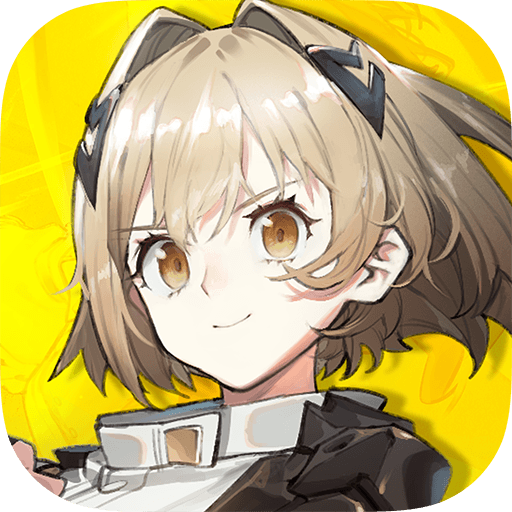 The new Alchemy Stars just released in several regions, bringing an outstanding new concept to the strategy RPG genre, featuring the standard, grid-based combat popularized by games like War of the Visions, Langrisser, and Fire Emblem Heroes, but with an entirely unique approach to the style, making it into a intense, fast-paced, one-of-a-kind strategy experience that you will most definitely enjoy if you're a fan of the genre.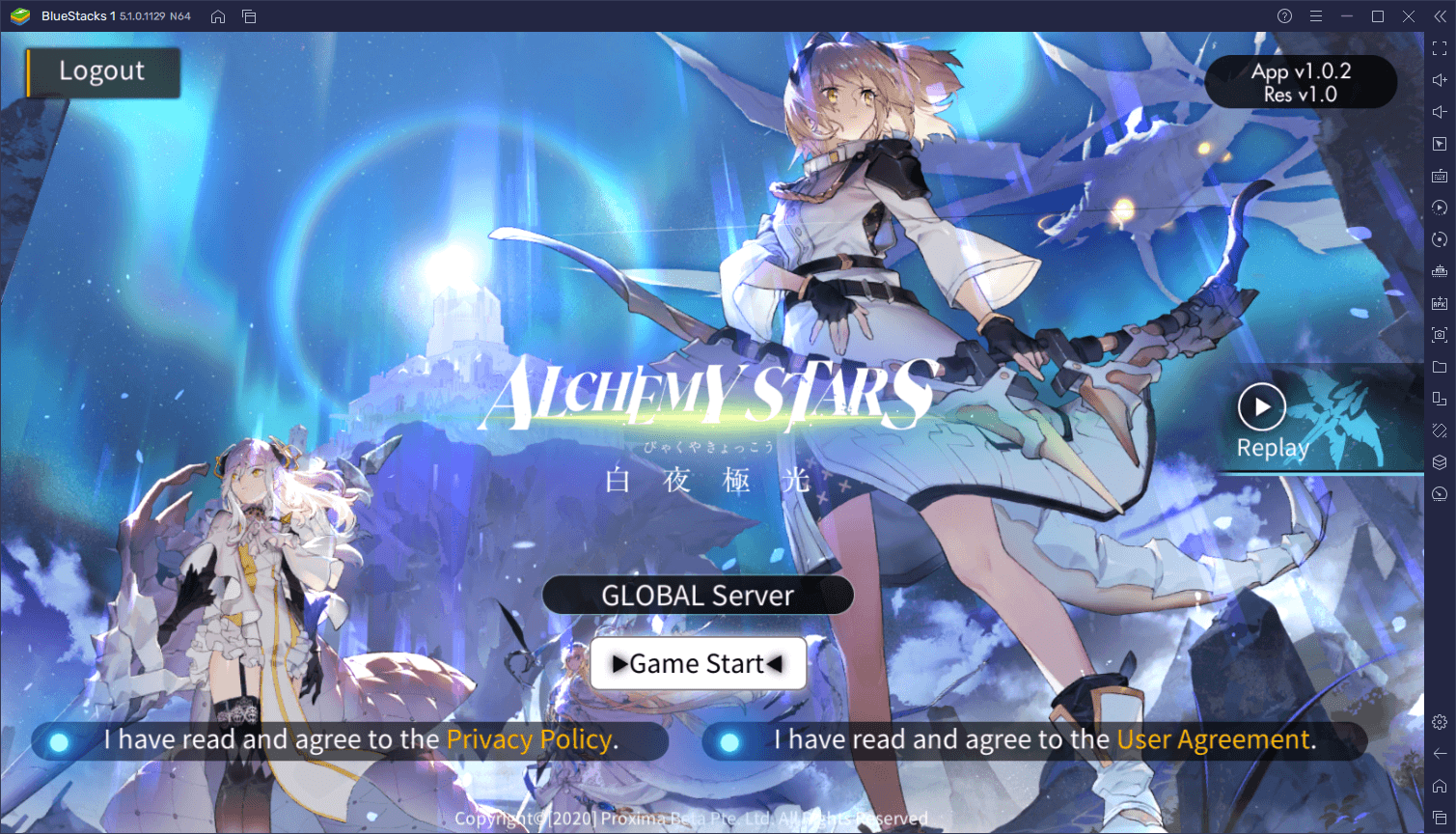 Alchemy Stars combines many elements that make up a great game: Stellar presentation with gorgeous, hand drawn characters and portraits, detailed 3D models with an anime aesthetic, a great and interesting storyline with lots of ups and downs, and more importantly, an excellent combat system that breaks the mold and gives us a brand new experience. And considering how similar some mobile games can get within the same genre, the uniqueness in Alchemy Stars definitely makes it worth your while to play, if only for the novelty of it alone.
We'll not get too much into the story, since we believe that a good plot is best when experiencing it blind. However, the gameplay aspects alone in Alchemy Stars are enough reason to give it a try, as it's among some of the best we've seen in the genre.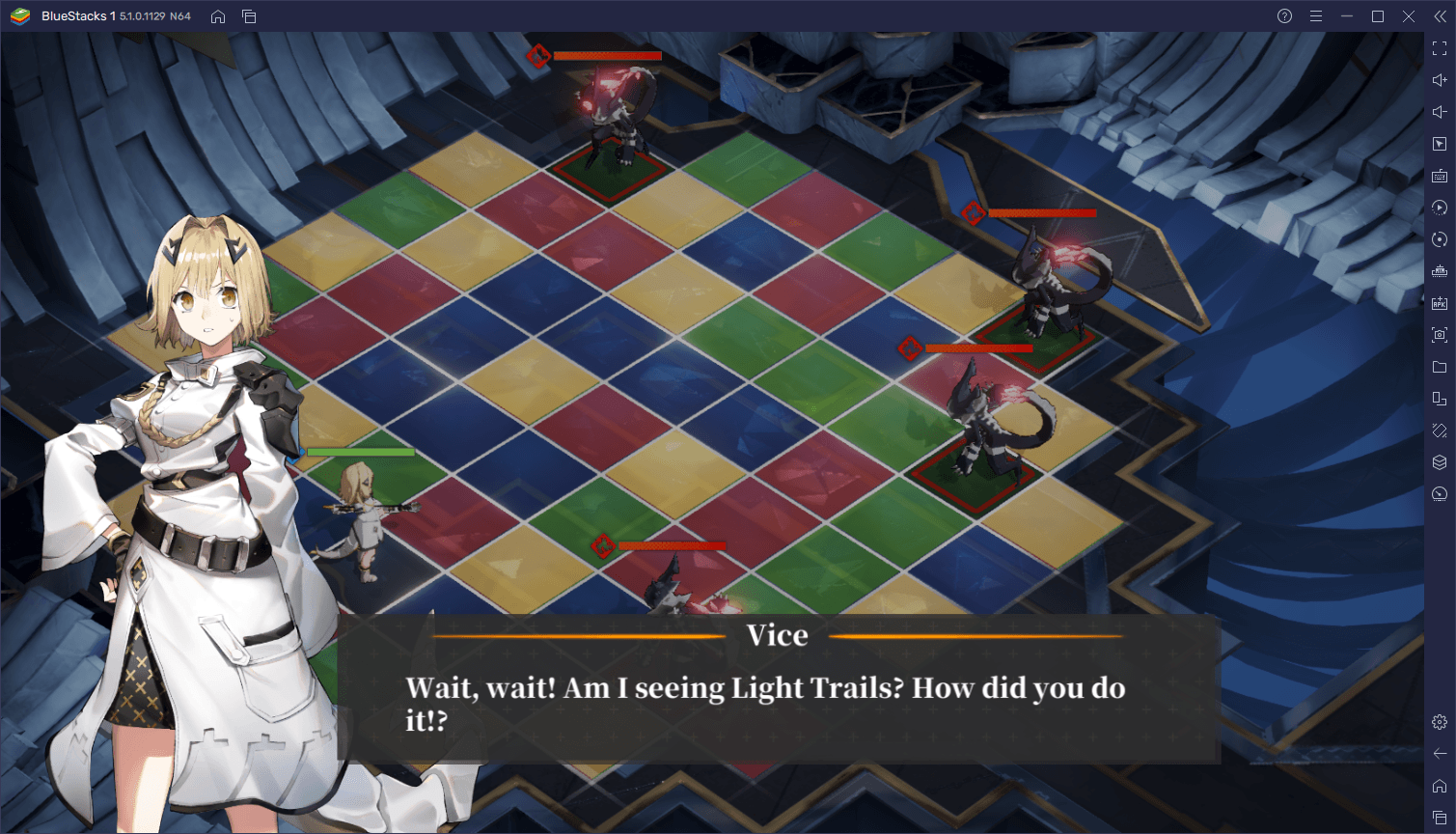 Battles in this game play out in a grid and in turns. In each turn, you must plan out the optimal movement routes for your team, passing by as many enemies as possible in order to attack them along the way. However, there's a catch; the grid is divided into tiles that can have four different elements, represented by colors. This is important since, while your main character can freely move across tiles, your allies can only attack and assist when running on tiles of their same color, which adds a layer of strategy to every single move. In this sense, battles are more about planning your movements carefully in order to inflict as much damage as possible, while also staying safe from the hordes of enemies and taking care not to get surrounded and overwhelmed.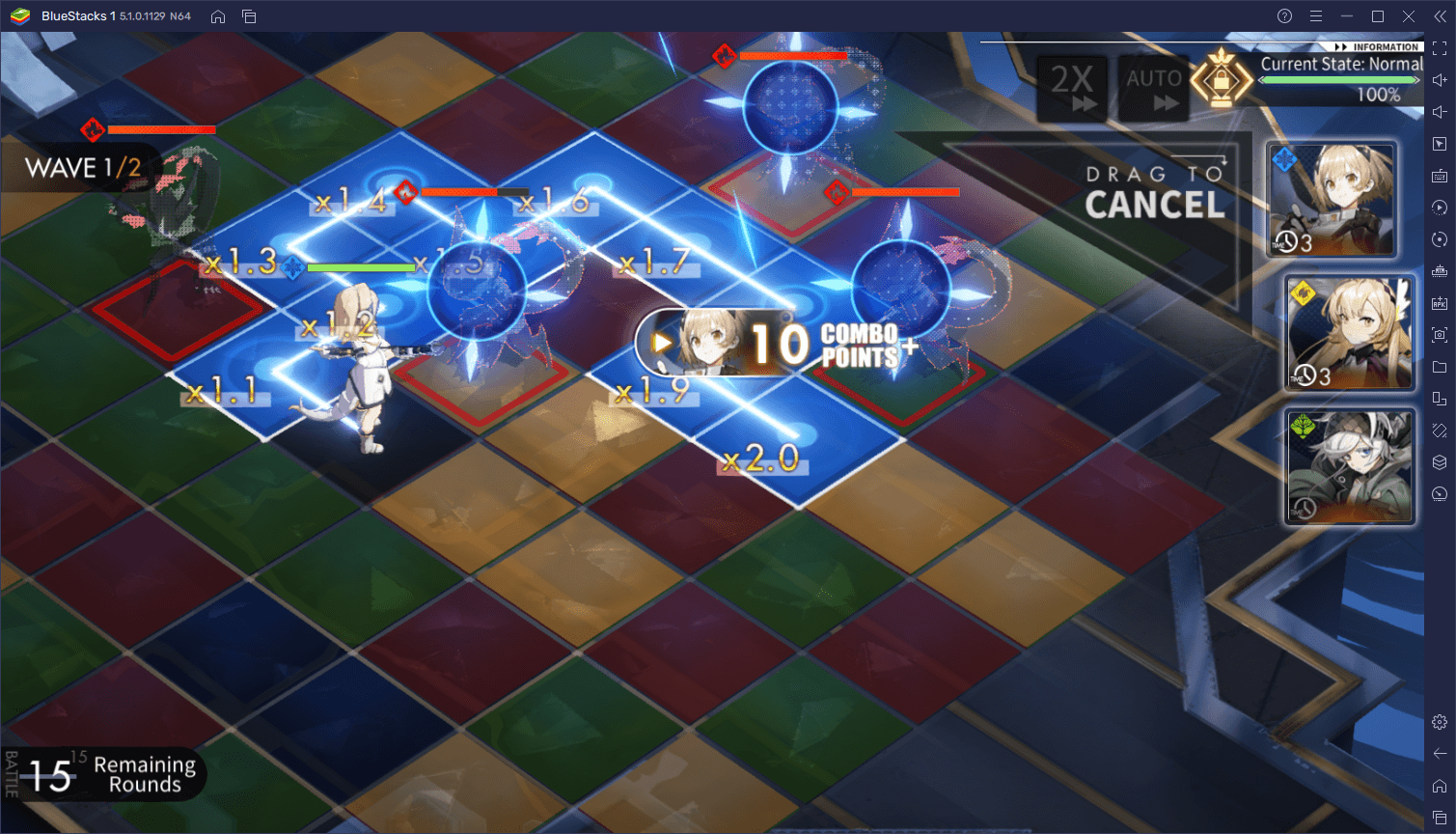 And just like there are many elements, each character in the game has their own Active Skills, divided into Preemptive Skills, and Non Preemptive Skills. These skills can be used in battle, some of them even before moving, and offer different effects that can often turn the tide of a fight. Some of these abilities can move your character's starting point, letting you carefully choose optimal routes, while others can hurt enemies or heal your team, among others. In this sense, you'll not only have to plan out your movements, but also carefully consider the allies you're bringing into every fight.
How to Install and Play Alchemy Stars on PC
There's tons more to be said about Alchemy Stars; much more than what we could cover in a single introductory guide. However, the only drawback we've found in this game, so far, is that it's only available on mobile devices. If you want to try it, you'd have to play it on your phone, which is far from being the optimal experience for enjoying top-tier mobile games like this one.
Usually, all it'd take is a few steps to install your favorite Android games on PC with BlueStacks. However, since Alchemy Stars only runs on 64-bit Android, we first need to create a 64-bit instance. Luckily, while the following steps may look long, they only take a few seconds, at most. In fact, if you've already been playing on BlueStacks using the Instance Manager in the past, then these steps won't seem complicated at all to you: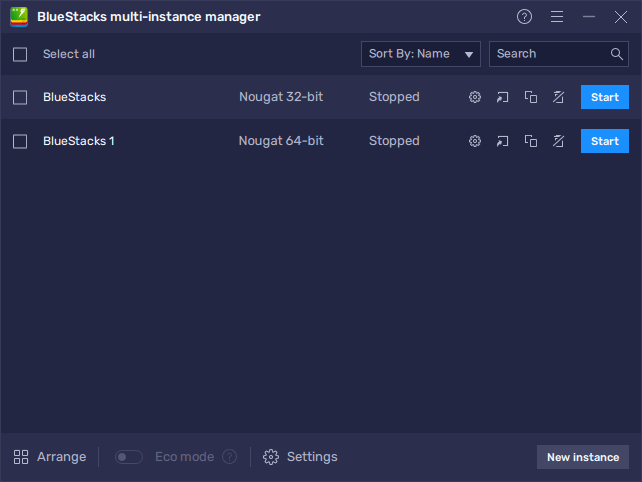 Download and Install BlueStacks

on your PC.

Launch the emulator and, once loaded, open the Instance Manager by pressing Ctrl + Shift + 8.

Click on "New instance" on the bottom right, and select

Fresh Instance > Nougat 64-bit

.

Assign enough resources to the new instance for it to run adequately. If your PC fulfills the recommended requirements to run BlueStacks, just assign it 4GB of RAM and 4 CPU cores.

Once done, launch the new 64-bit instance by clicking on the "Start" button beside it in the Instance Manager.

On the new instance complete Google Sign-in to access the Play Store, or do it later.

Look for Alchemy Stars using the search bar on the top-right corner.

Click to install Alchemy Stars from the search results.

Complete Google Sign-in (if you skipped step 6) to install Alchemy Stars.

Click the Alchemy Stars icon on the home screen to start playing.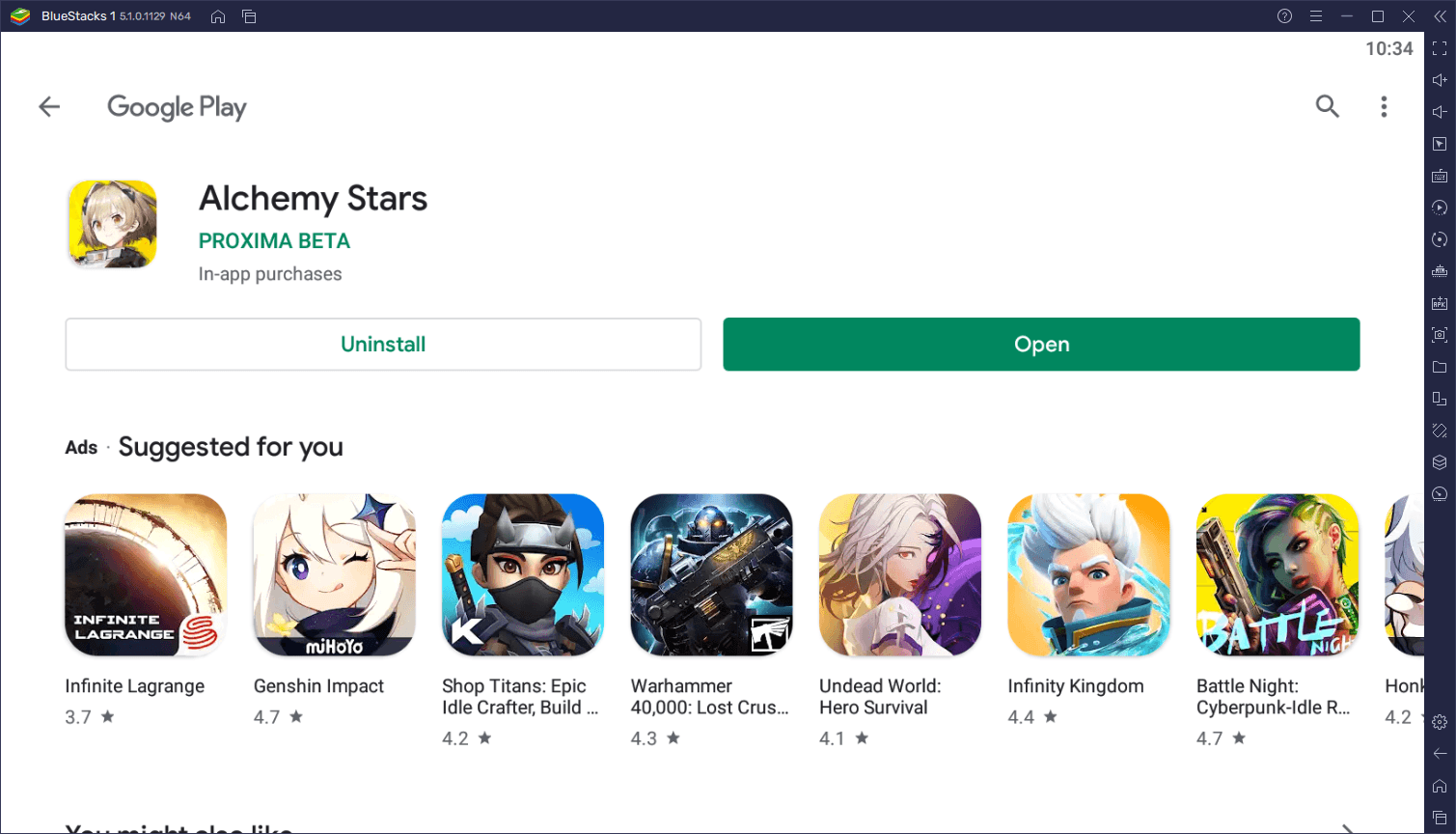 After a few moments, you'll be enjoying Alchemy Stars on PC and with the best tools and performance to enhance your experience.
Installing Alchemy Stars Using an APK From QooApp
Also, it's important to note that, while Alchemy Stars has already launched globally, it might still be unavailable in some regions. In these cases, you can still install and play it on PC with BlueStacks by using an APK. Just remember to download this APK exclusively through the QooApp as there's always the risk of malicious programs infecting your devices if obtained from other sources.
Once you've acquired the APK, you can install it directly to BlueStacks by pressing Ctrl + Shift + B, browsing to where you downloaded the file, and double clicking on it. BlueStacks will finish the installation in a few seconds, and then you'll be all set to enjoy Alchemy Stars on PC, and with the best tools and features to enhance your gameplay experience.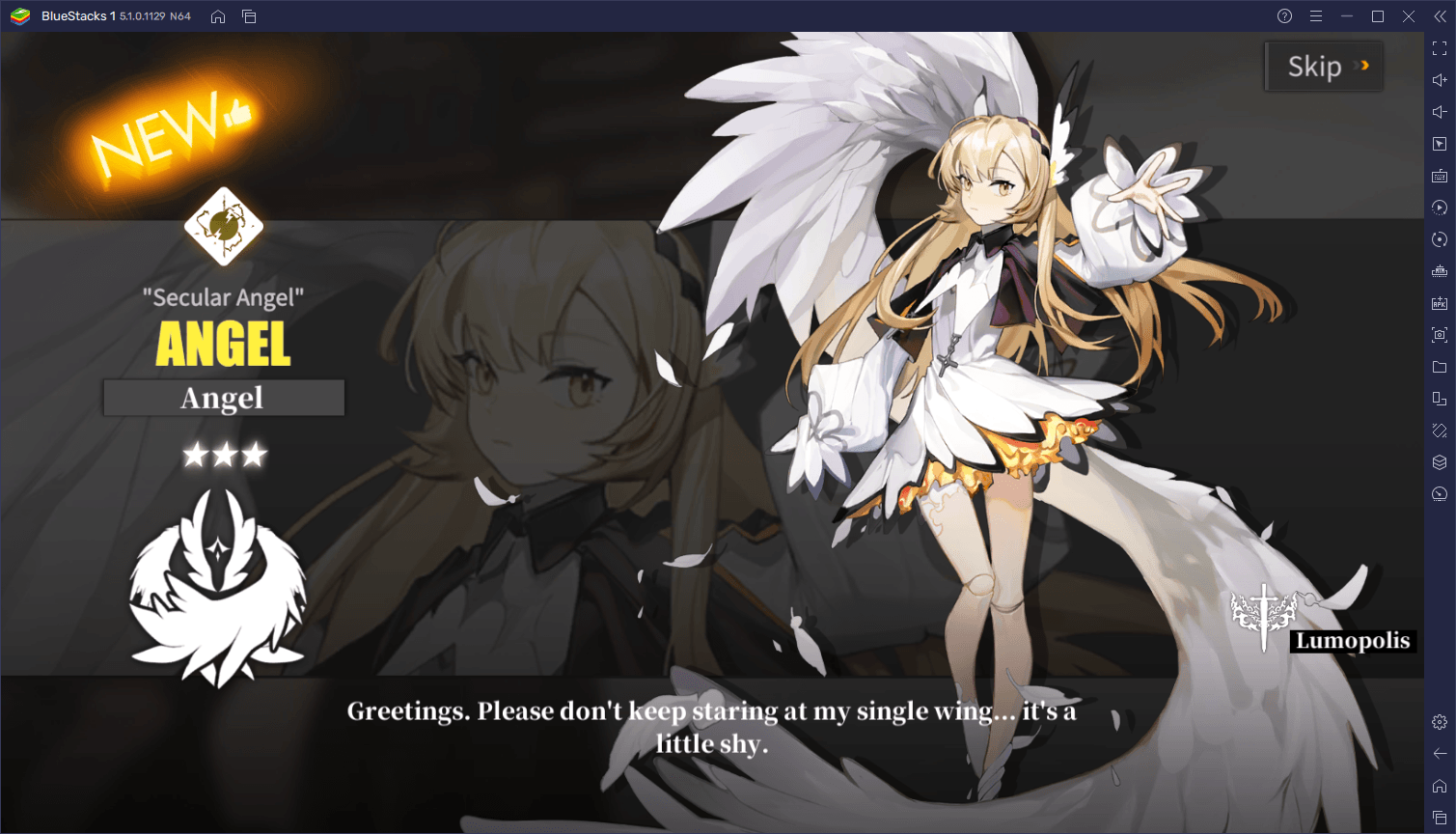 Have you already tried Alchemy Stars on PC? What do you think of it's strategy gameplay? Let us know your thoughts in the comments below. Also, leave us a message if you're having issues with installing the game on your computer, and we'll get back to you as soon as possible.