Game Guides
Tips and Tricks on Winning More in Coin Dozer: Sweepstakes on PC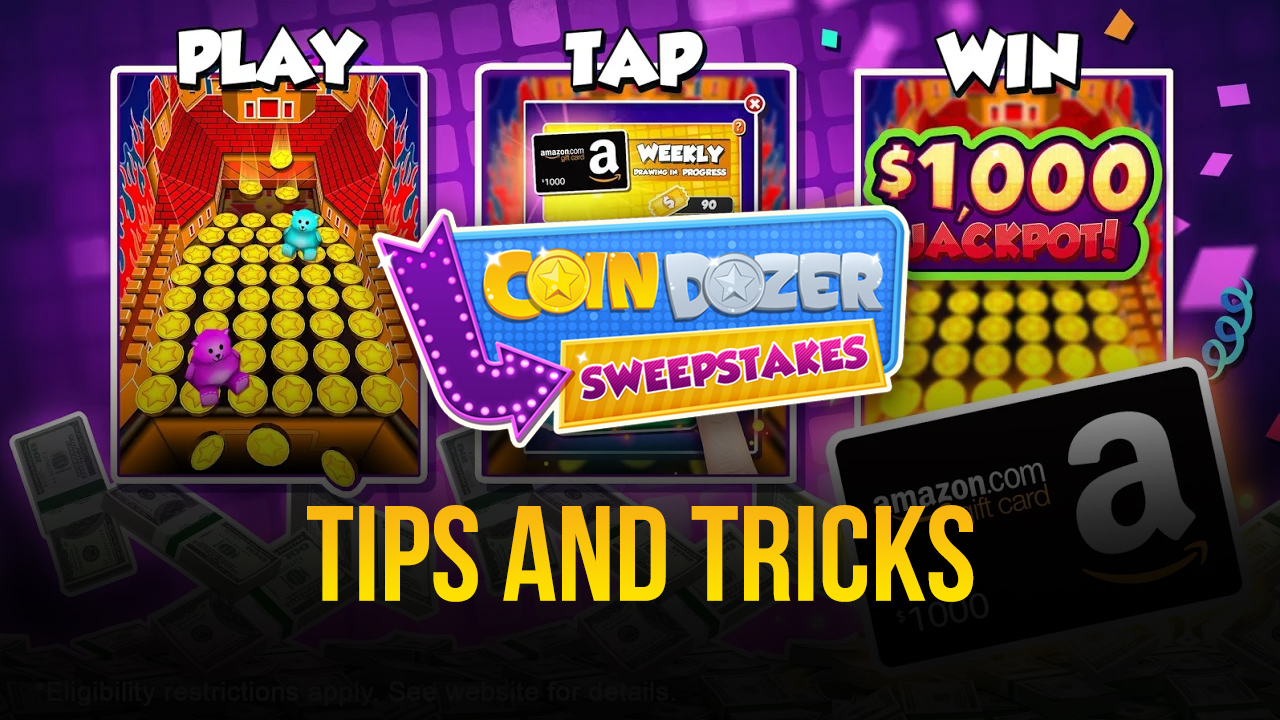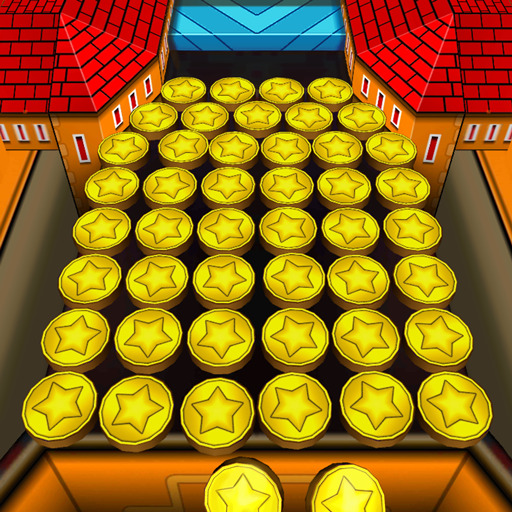 The stakes are high and there a plenty of prizes that need to be won. Claiming these prizes in Coin Dozer: Sweepstakes is undoubtedly going to be a long adventure that is going to take a lot of patience. However, there are some tips and tricks around this coin dropping game that can allow you to win more prizes in a shorter amount of time.
In this game guide, we'll show you the things that can make your gameplay more efficient. Let's start with a classic trick in the book, which is multi-tasking the game.
Play the Game While Multi-tasking
Coin Dozer: Sweepstakes is not really meant to be played for a long period of time. Let's face it, constantly staring at your phone for 10 minutes just to wait for your coin stock to refill is and will most definitely not be a fun way to play. Because of this, the best way to play this coin dropping game is by playing passively or more specifically, play it while multi-tasking.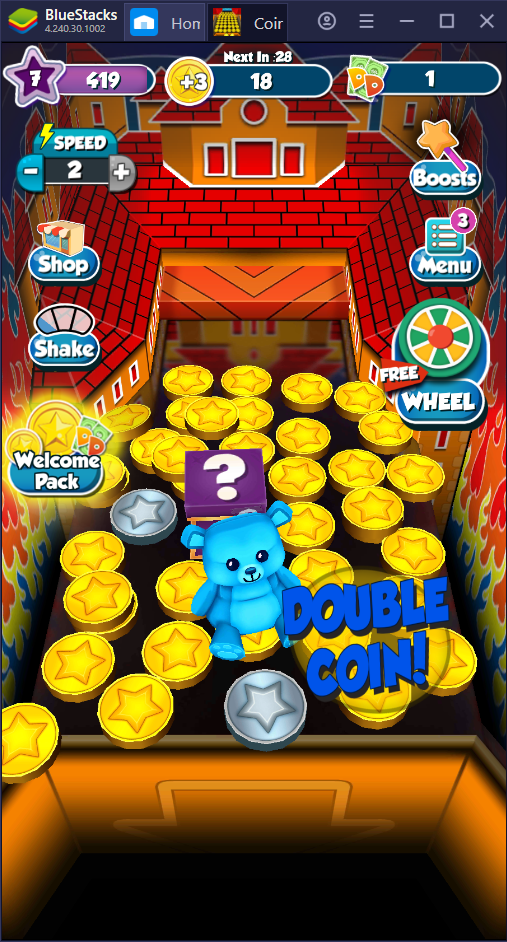 You should try playing the game in the background while at the same time doing something else on your PC or Mac. Whether it would be browsing the internet, typing documents, or even playing another game, just let the game run while you're doing these things.
However, you cannot exactly leave it alone for a long time because ads will stream through the game and it can actually stall progress until the said ad is closed. Because of this, you need to go back and check on the game every once in a while (preferably every five minutes) to keep an eye out for ads.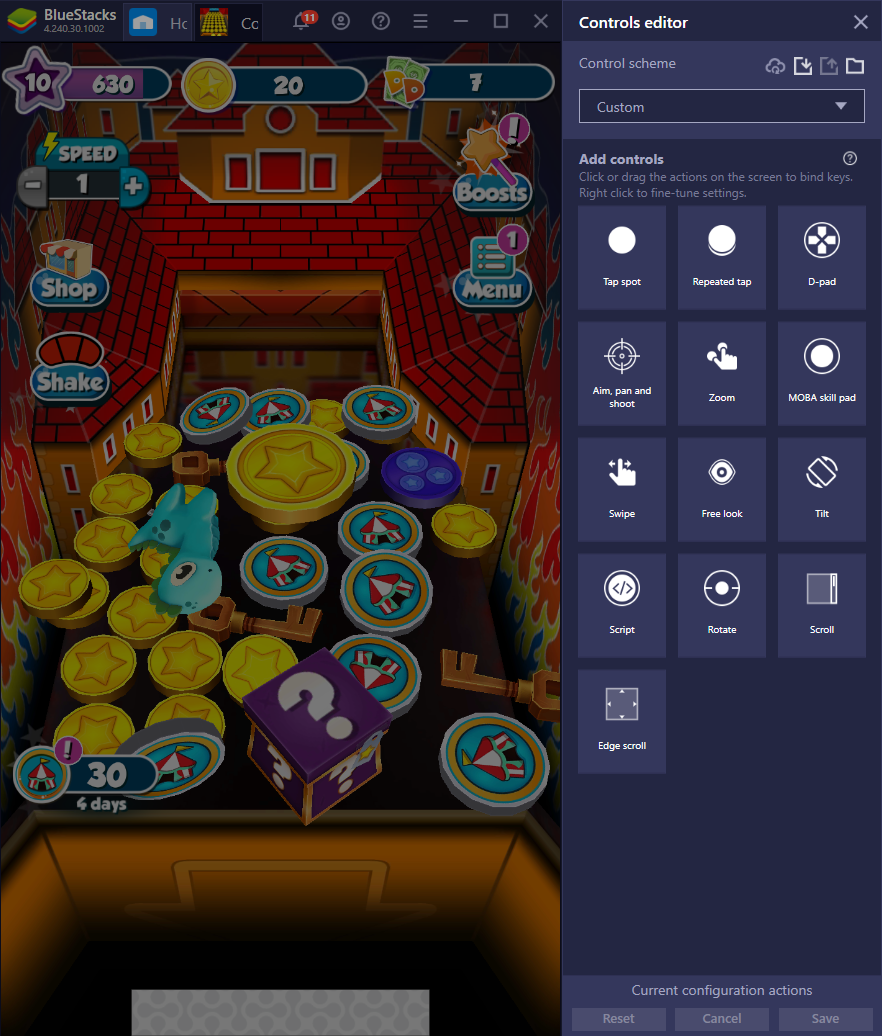 Multi-tasking with this game is made easier because BlueStacks does not really take up the entirety of your screen (by default). This means that you can move its window anywhere and we suggest placing it on a secondary monitor (if you have one) to make multi-tasking much easier. If you don't have an extra monitor, you can minimize it instead.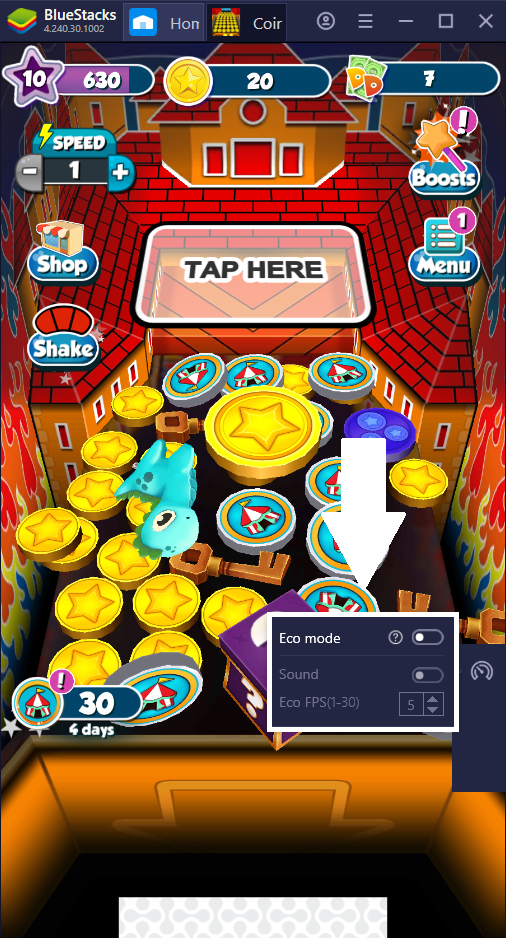 For laptop users, power consumption may be an issue but BlueStacks has this covered with its built-in eco-mode. With eco-mode, the emulator will run with lower power, effectively preserving more of your battery life while still allowing you to win prizes in Coin Dozer: Sweepstakes.
Strategically Drop Your Coins
Back in the arcade, it may have been a wise strategy to continuously drop coins into the machine until coins start falling off the edge. In Coin Dozer: Sweepstakes however, that may not be an optimal way to play the game. If you are want to play efficiently and maximize your rewards, you will need to start strategically dropping your coins to the right spots.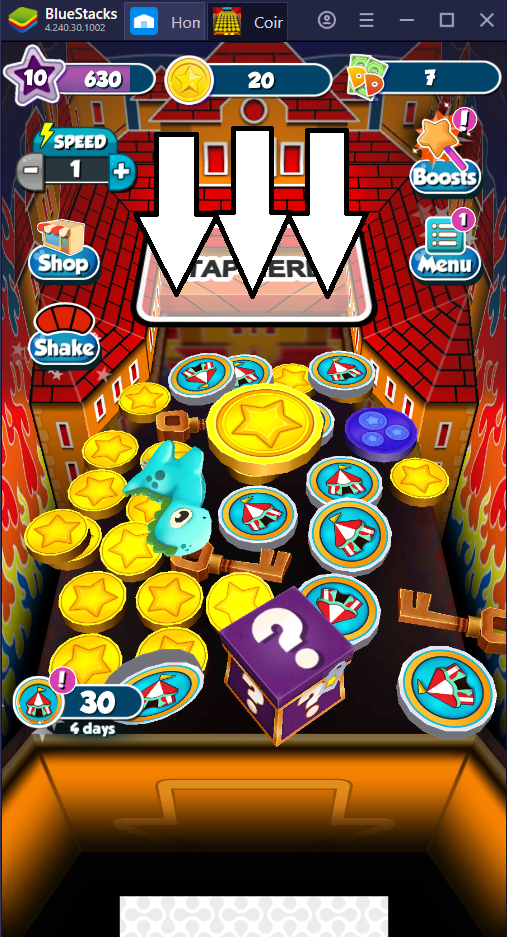 When dropping your coins, do not just repeatedly tap one spot of the screen because this will just cause the coins to stack up. Consequently, this will likely restrict the dropped coins to cover and push one part of the coin pusher machine. You need to make sure that the coins are evenly spread across the surface area of the "broom" (the mechanism that pushes the coins). This will ensure that the coins push every area of the pile of coins closer to the front edge.
You can actually automate this entire process by creating a script with BlueStacks' scripting feature. Read this game guide (How to Use Scripts & Macros to Play Efficiently Coin Dozer Sweepstakes) to know more.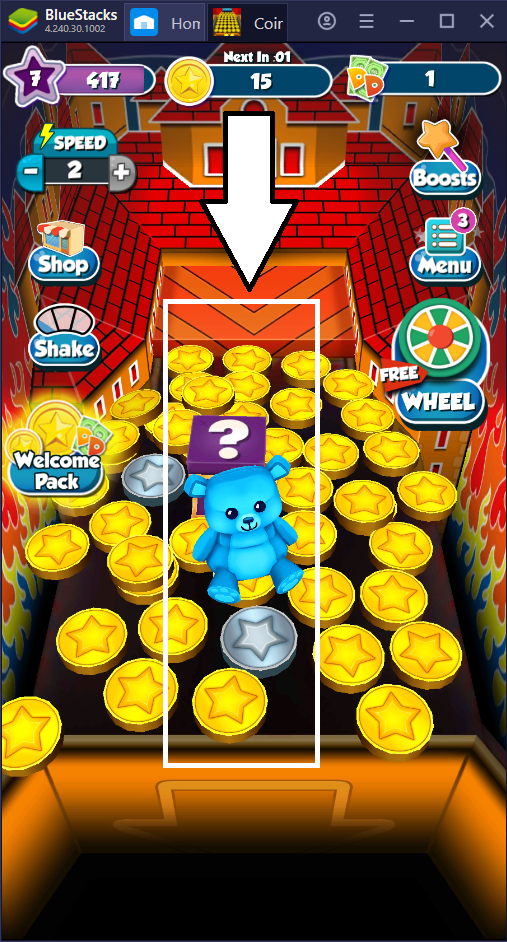 If there is a particular coin or prize that you want dropped, then you can drop more coins aimed at side at which the said coin or prize is resting. For instance, if a prize is staying at the center of the machine, drop more coins at the center of the broom so that the prize will be pushed off easier.
Use Shake Only When Necessary
The Shake is a useful feature in Coin Dozer: Sweepstakes that allows you to force coins and prizes to finally fall off the edge without the need for coins to push them. The caveat is that you need to fill up the Shake Meter first before using trembling the coin pusher machine.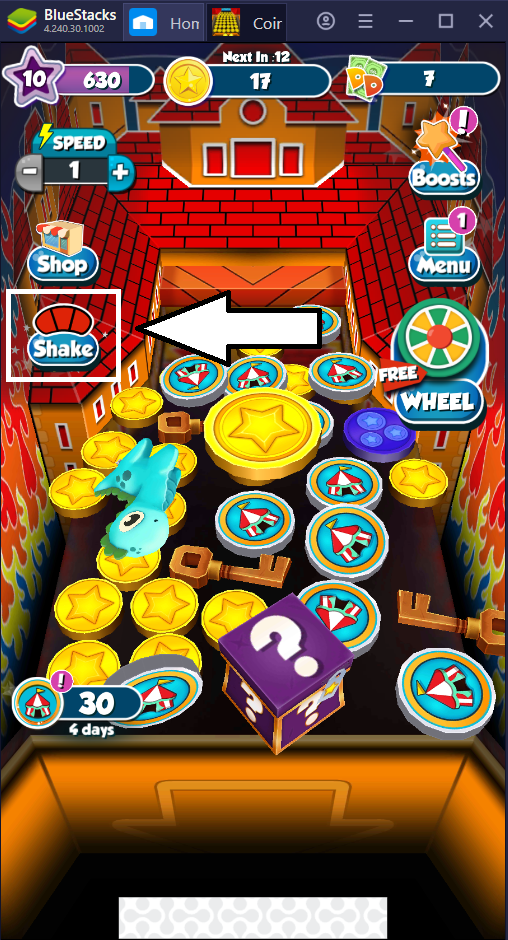 A completely filled meter will give the strongest effect so you need to aim for that. As much as possible, only use Shake when there are plenty of coins piled on the machine. Using Shake if your machine is lacking in coins or prizes will just waste it.
Play the Fortune Wheel
If you are in need of more coins to drop or Dozer Dollars to spend boosters on, you can test your luck by playing the fortune wheel.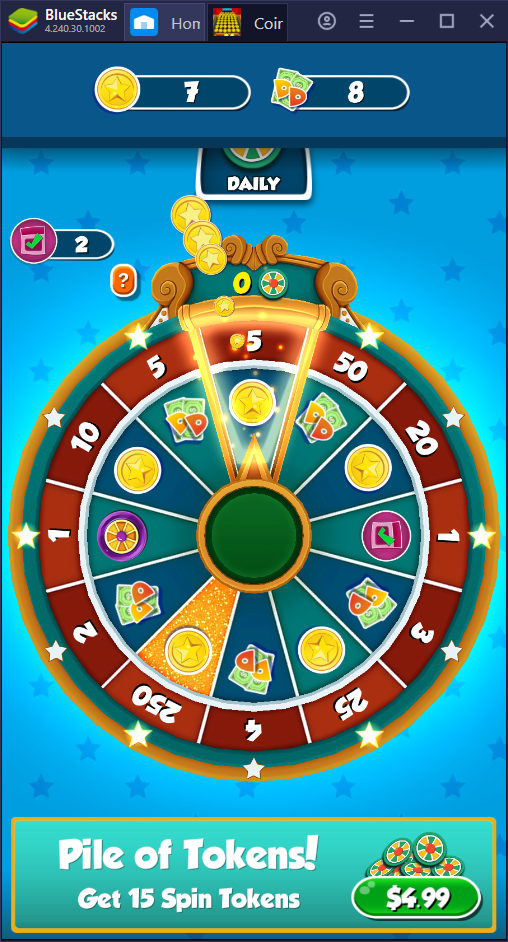 You receive one free spin of the fortune wheel every day. More spins can be earned by dropping fortune wheel tokens – which are indicated by cyan coins embedded with a fortune wheel icon – to the front edge of the coin pusher, watching a short ad, or by buying more spins from the in-game shop (with real money).
Complete Quests
Every day the game provides a set of quests that handsomely rewards you after completing them all.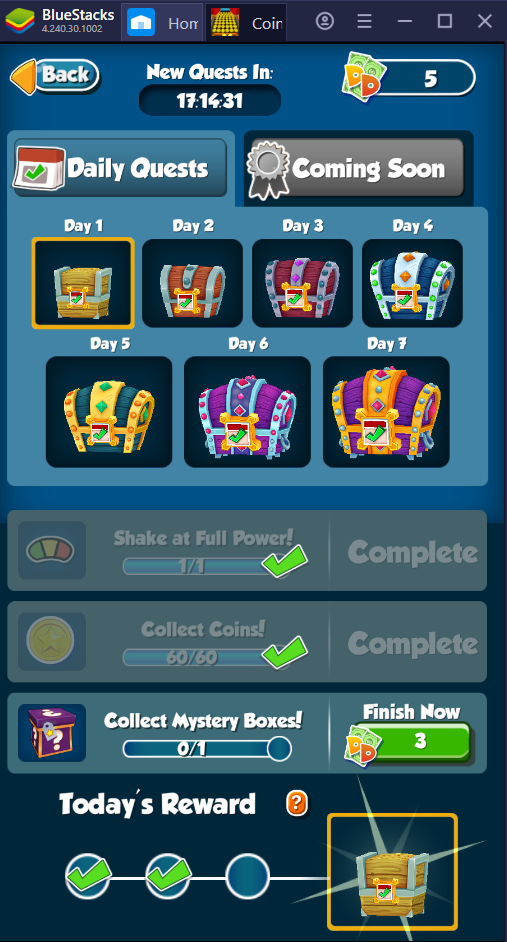 The quests usually require you to complete some of the game's natural objectives such as collecting prizes and puzzle pieces. If you find that one quest seems too difficult to accomplish, you can spend three Dozer Dollars to instantly skip it. Completing all three daily quests will reward you with a chest that can randomly give you a variety or prizes. These include coins, prizes, and even keys that you can use to open treasure chests.
Open Treasure Chests
After reaching Level 8, you gain access to treasure chests, which offer bigger rewards compared to the fortune wheel and quests. You can win common or even rare prizes by opening these chests.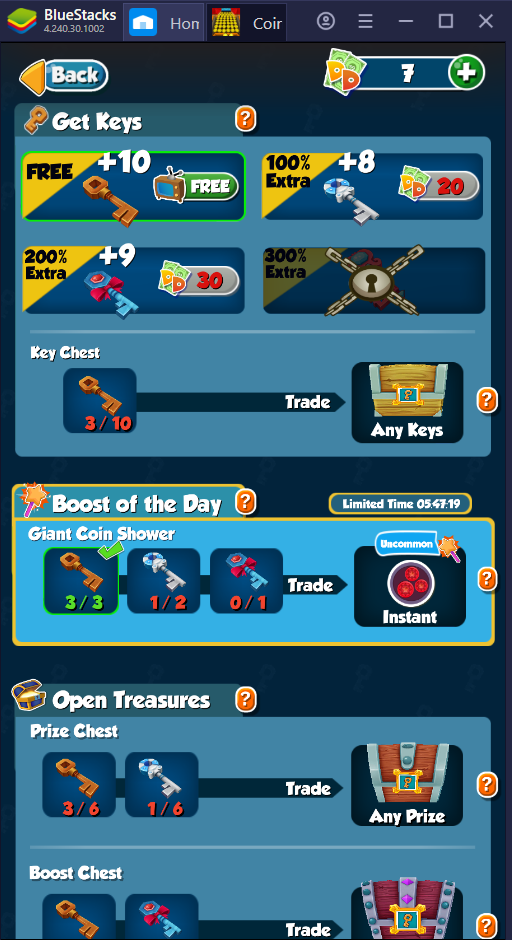 Treasure chests require a certain amount of keys of different types in order to be unlocked. Keys randomly drop on the dozer and if it does, you need to make sure that it falls off the front; otherwise, the key will automatically be void and you will have to wait until the game drops a new one.
Participate in Events
Coin Dozer: Sweepstakes frequently starts special themed events wherein you can win plenty of awesome rewards. These events function similarly to the daily quests system.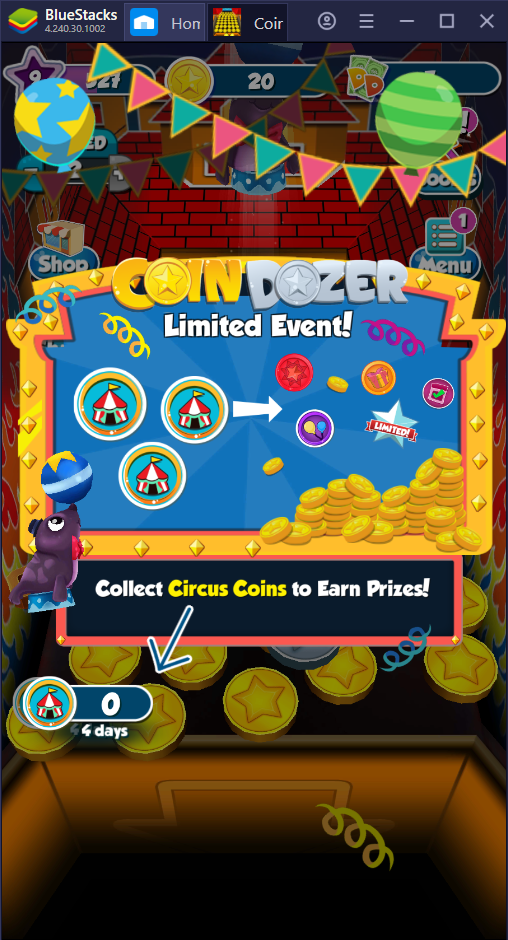 Event rewards can range from special coins to reward chests that contain prizes so don't waste the opportunity to claim these. As of writing, the game's currently undergoing a circus-themed event wherein you need to collect a number of coins in order to unlock the prizes.