Game Guides
Guide to Getting Higher Scores in HATSUNE MIKU: COLORFUL STAGE!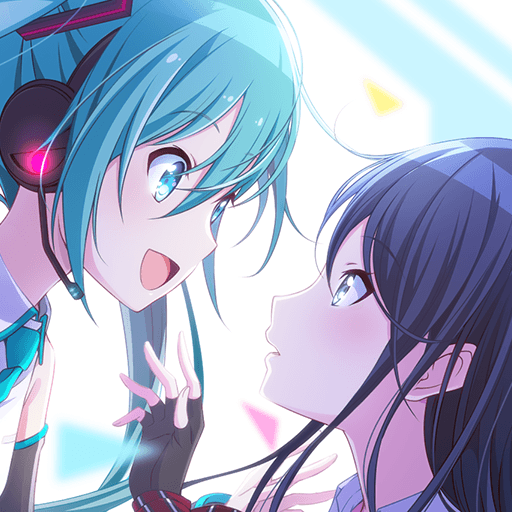 Unlike in most rhythm games, skill alone is not enough to warrant a high score in HATSUNE MIKU: COLORFUL STAGE! There are plenty of variables that can affect the score in this game such as the characters that you use, the stats of said characters, and even purchasable items that can positively influence them. In this guide, we'll show you the ways on how to attain the highest score in playing live shows in the game.
But before proceeding, understand that your score is categorized into four ranks: C, B, A, and S. C is the lowest rank that you can earn whereas A is the highest one. You are awarded different rewards depending on the rank that you attain. However, you cannot attain the reward for a certain rank twice or more. So, if you earn a C rank and redeem its rewards, you cannot redeem those same rewards again. Instead, you need to earn a B rank in the next playthrough to unlock the rewards for that rank.
Now, let us look at the things that you can do before playing a live show to maximize your score.
Increase Your Characters' Talent
Every show requires five characters to be assigned into a group. Each character has their own talent rating, and this adds up to the group's cumulative talent. The talent of every member is an important element to consider as it influences your score. The higher the talent, the higher the score. Luckily, there are several ways to increase the talent of a character. To access these ways, click on 'Characters' in the home menu, and then click on 'Training'.
Practice
Characters can utilize Practice Scores to receive EXP. After garnering enough EXP, they will eventually level up and have their talent increased.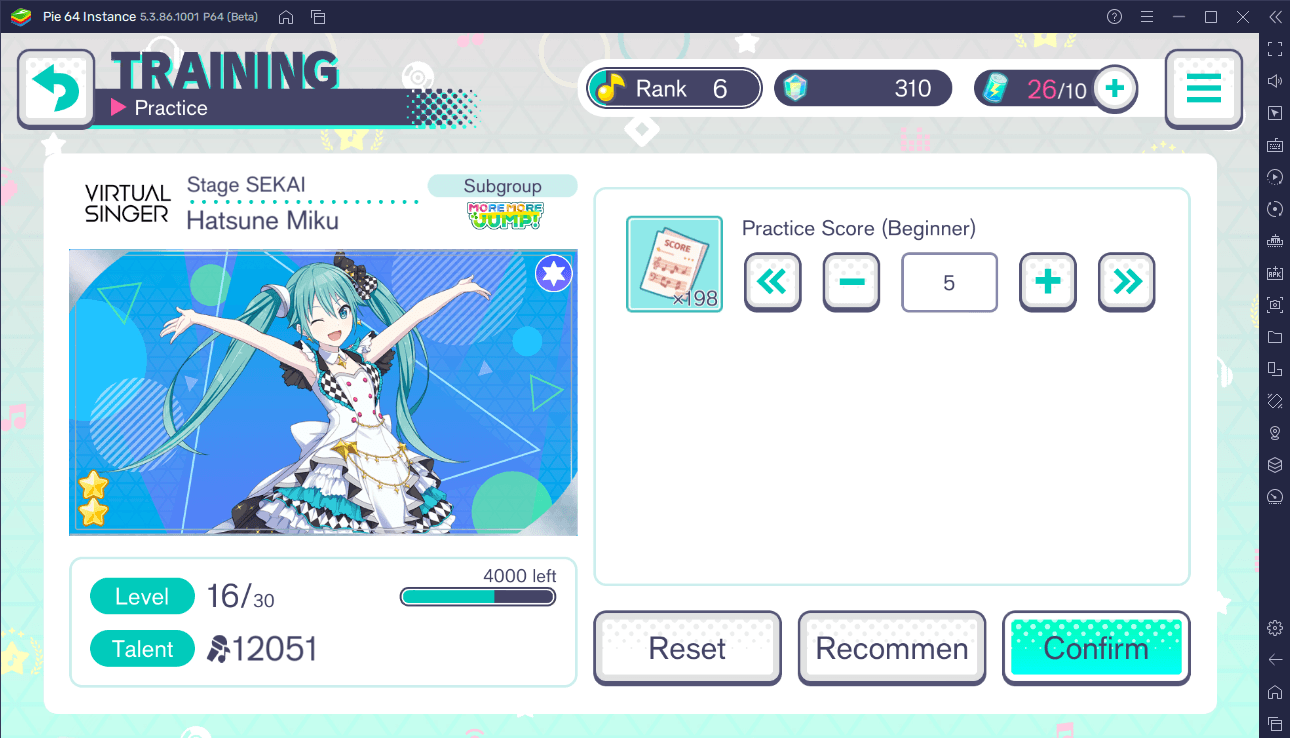 Practice Scores can be consumed repeatedly for as long as your supply does not run out. There are different types of talent sheets in the game that each give out a different amount of EXP to the character using it. The earliest version that you will receive is the Practice Score (Beginner), which gives out 200 EXP. More scores can be obtained by playing live shows. You can earn even more scores by playing Co-Op shows instead of 'Solo' shows.
Upgrade
A character's level has a cap. To keep levelling up the character, you can upgrade them to increase the level cap and their talent. Charms and Gems are required to upgrade a character, which can be acquired from playing live shows. Like Practice Scores, more Charms and Gems can be obtained by playing co-op shows. More importantly, the upgrade feature is only available for three-star characters or higher.
Mastery Rank Up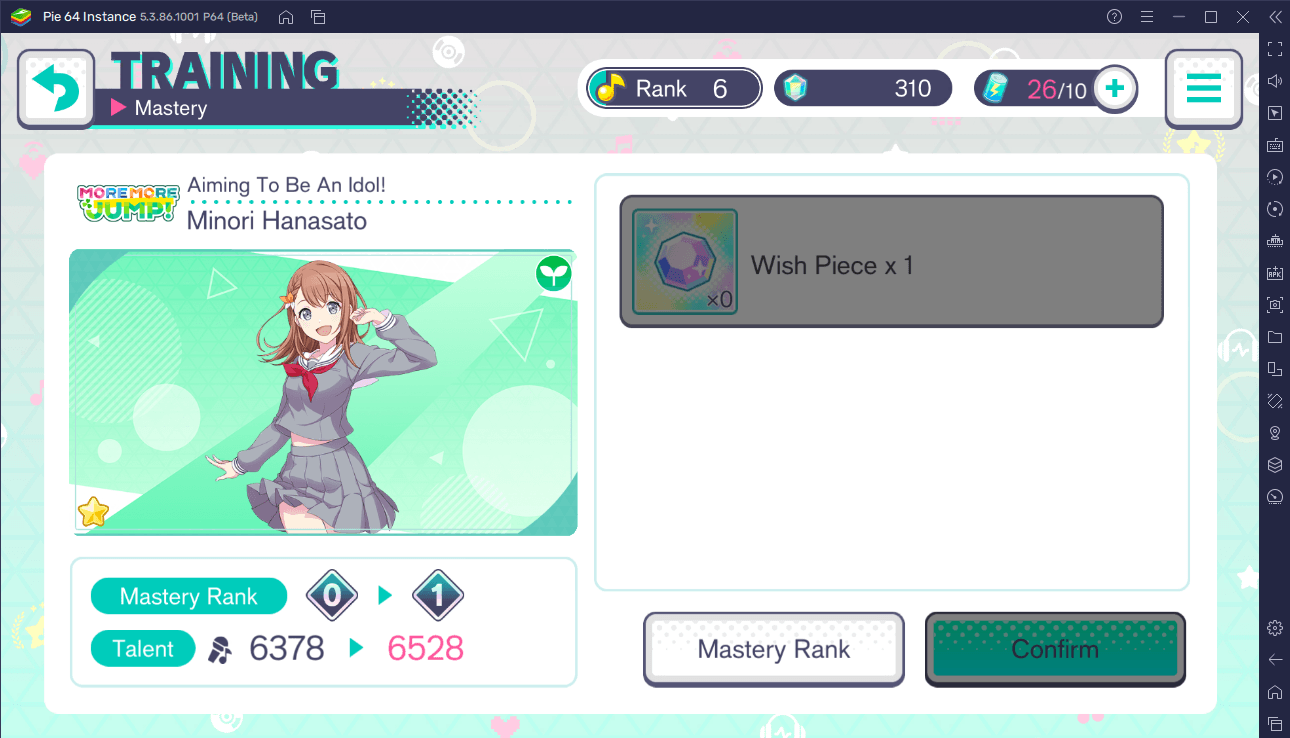 Increasing a character's Mastery Rank significantly buffs their talent. Wish Pieces and Wish Jewels are required for this enhancement. These items can be acquired by trading spare characters in the 'Green Room'.
Character Rank Up
Do not be confused. Mastery Rank and Character Rank are two different things. Unlike promoting the Mastery Rank which directly changes the talent value to a higher one, promoting the Character Rank adds a percentage multiplier to the character's talent called a 'Talent Bonus'.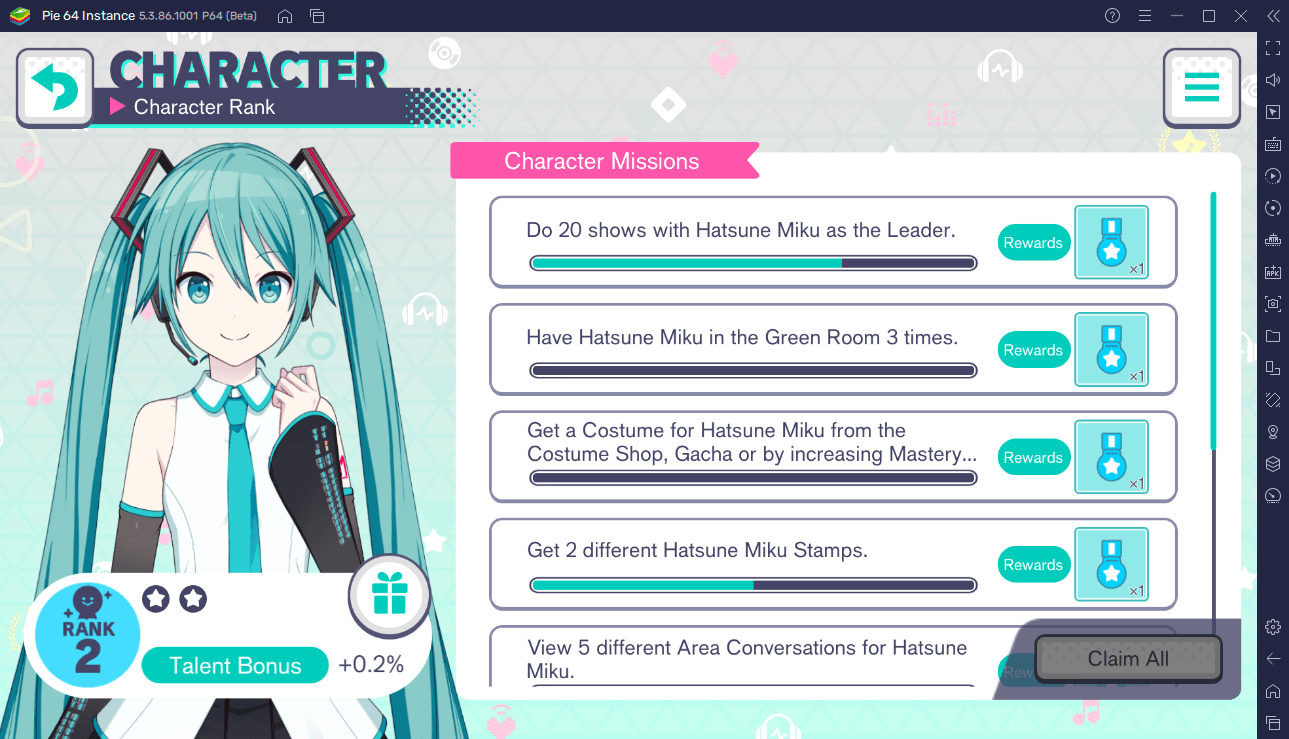 Character Rank promotion is easier to do as you are only required to accomplish one out of several tasks to earn a star. Two stars are needed to upgrade the rank. Additionally, ranking up also rewards you with a plentiful number of Crystals.
Buy Sekai Decorations
There are five explorable Sekais in the game and each Sekai contains a store that takes the form of a Hatsune Miku doll where you can buy decorations for the world.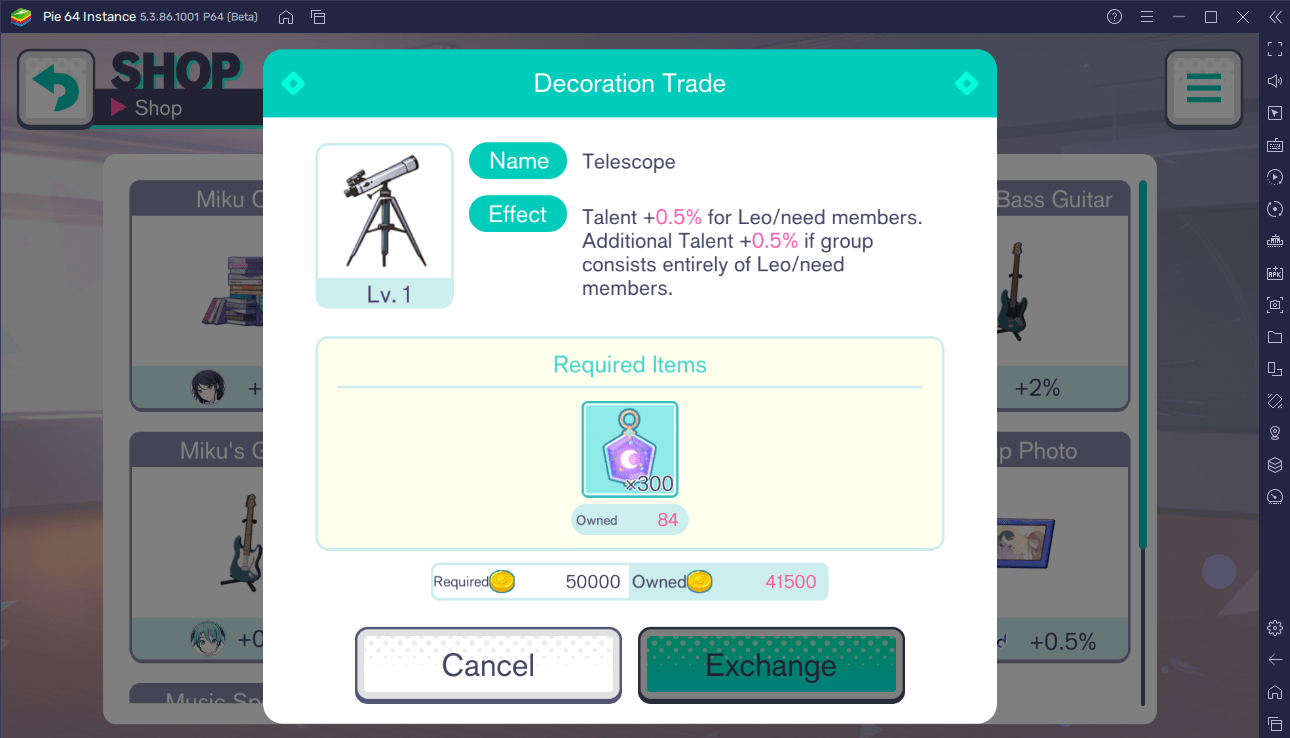 These decorations do not merely serve as visual improvements to the Sekai but they can also give talent bonuses to the character or group associated with them. For example, purchasing the Telescope in the School SEKAI gives a 0.5% talent bonus to all characters under the Leo/need group. Furthermore, it gives an additional 0.5% bonus when all members in a custom group are from Leo/need.
Purchasing a decoration requires specific Charms and Coins. Note that there are five different types of Charms: Pure, Happy, Mysterious, Cool, and Cute. Charms and Coins can be obtained by playing live shows.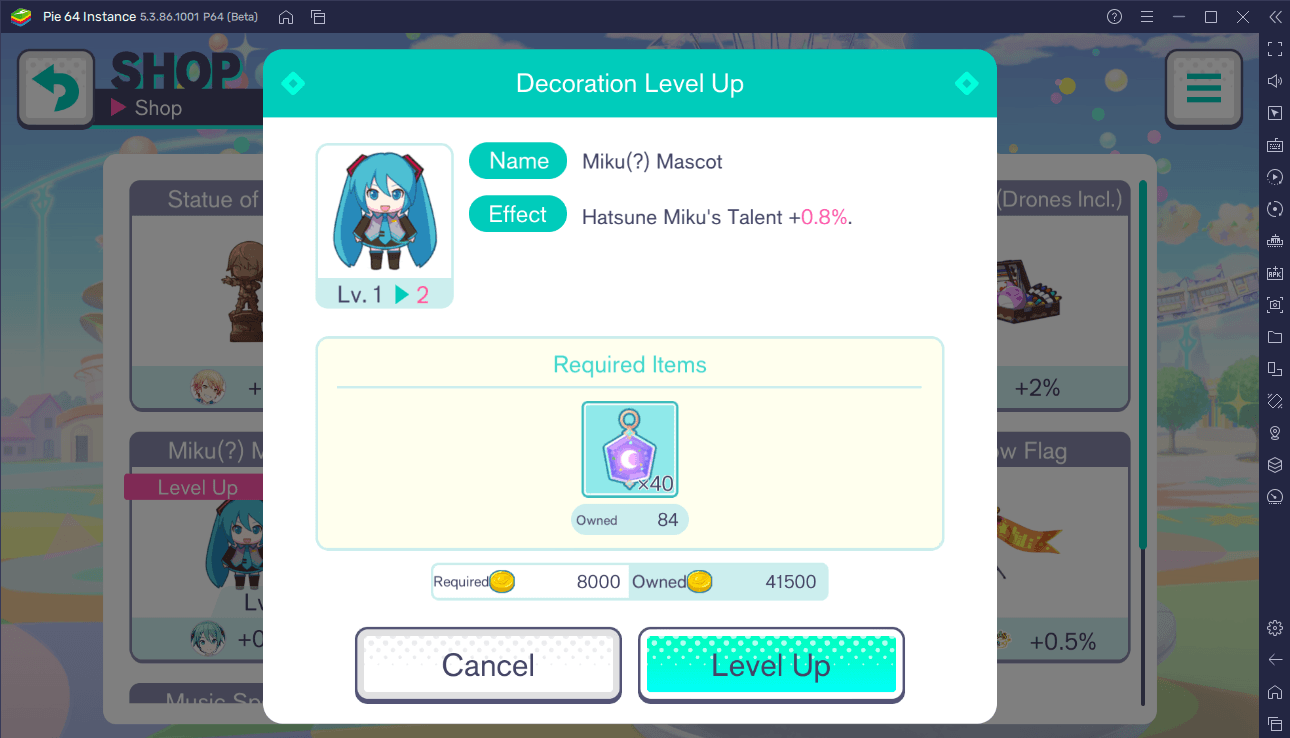 Upon purchasing a decoration, it can be levelled up by expending Charms and Coins again to upgrade its talent bonuses.
Gacha
The characters that you have in your roster are represented as cards that each has its respective level, star rating, and the like. The cards that you start with are just regular version of the characters; however, you can obtain rarer and significantly stronger versions of these characters through the game's gacha feature.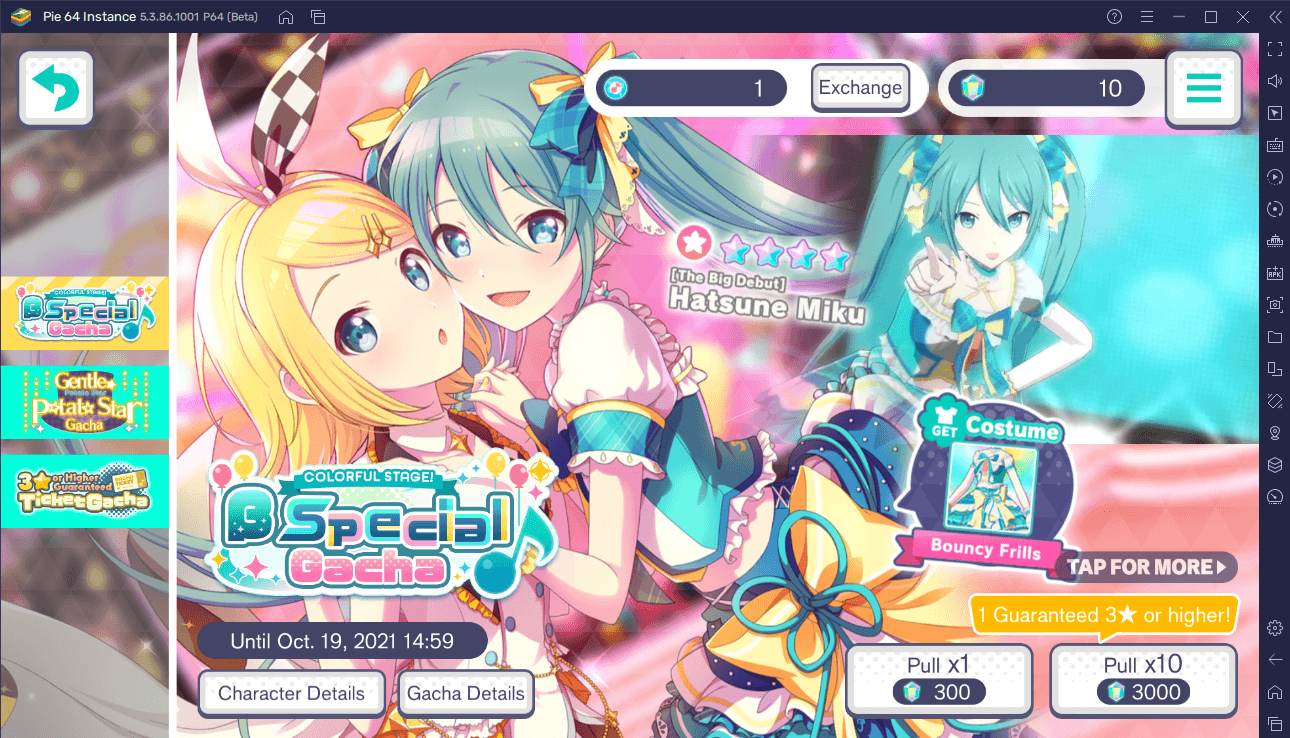 With this feature, you can spend Crystals to 'pull' new cards which can range from two-star cards to as high as four-star ones. The exact probabilities of pulling certain cards are detailed in the 'Gacha Details'.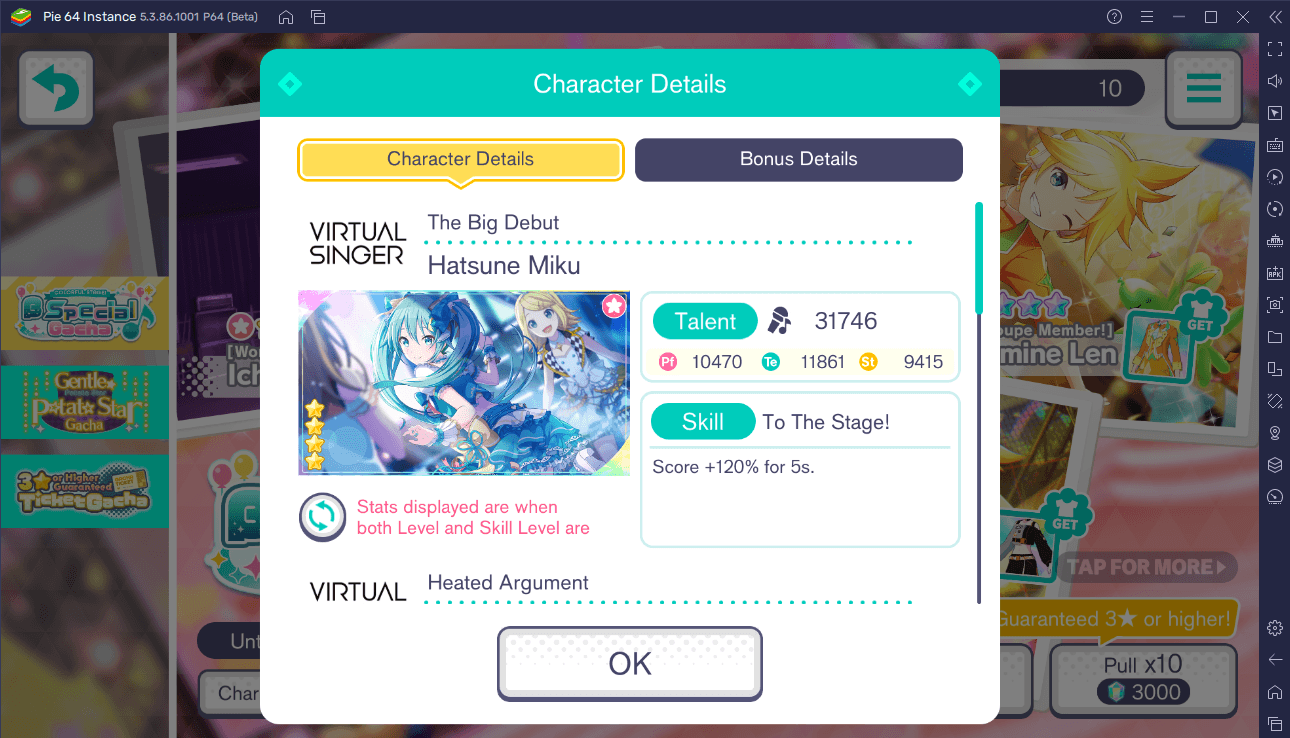 You can also know more about the characters that you can get in the 'Character Details'. Pulling once costs hefty 300 Crystals whereas pulling ten times at once costs 3000 Crystals; however, choosing the latter guarantees you one three-star or stronger card.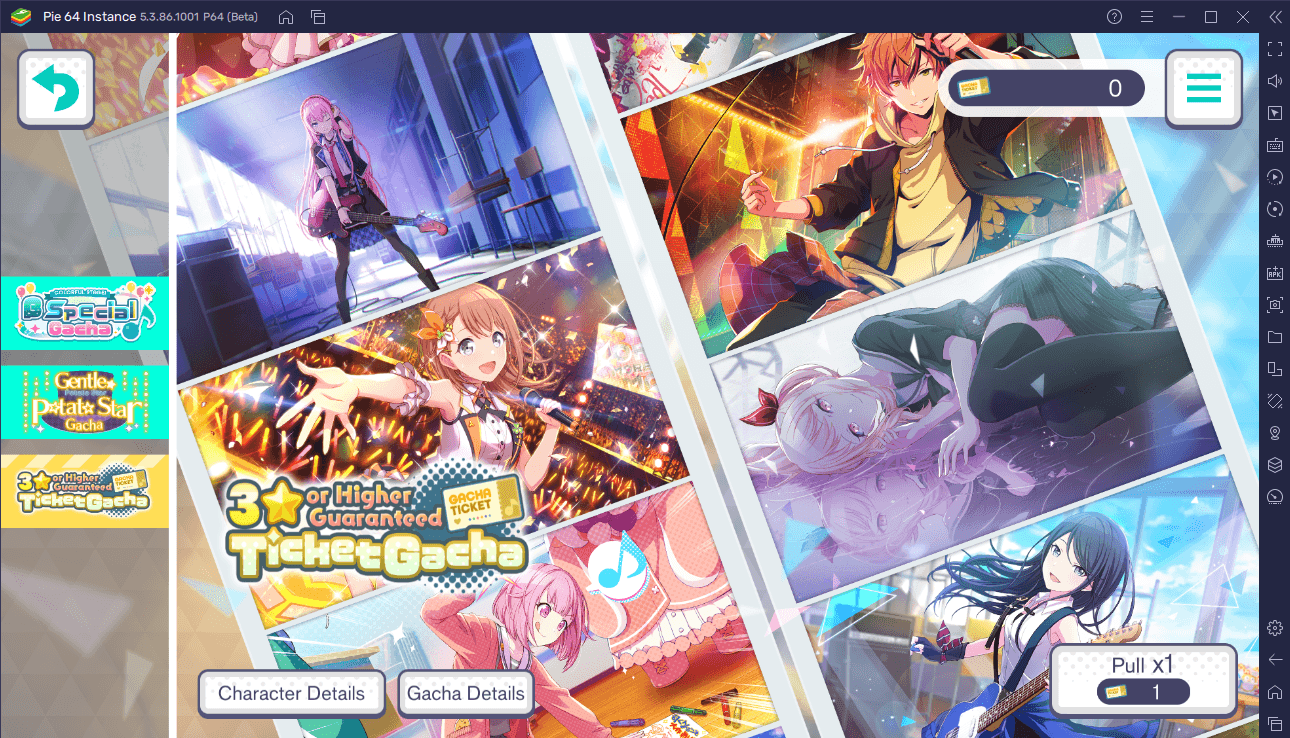 The gachas that require Crystals are timed events, so you only have a limited amount of time to test your luck. As an alternative, you can also pull from the Ticket Gacha, which guarantees a three-star or higher card in every pull.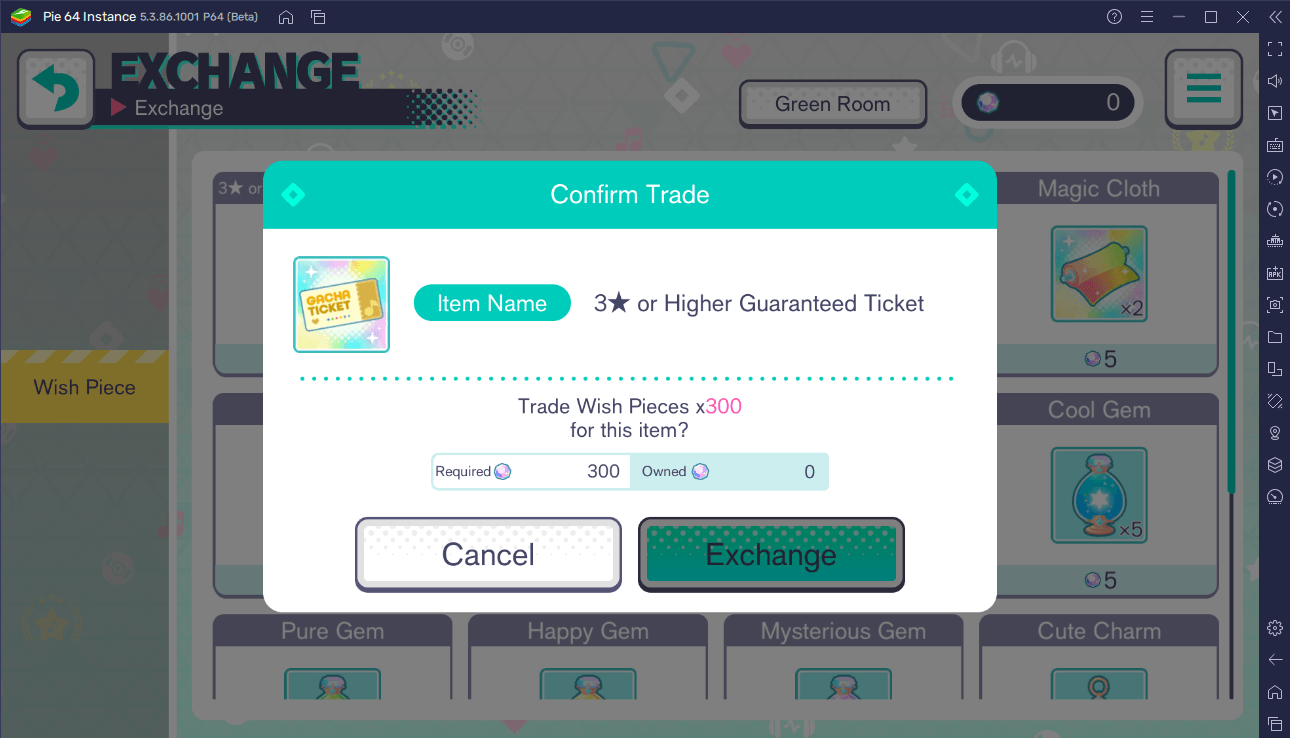 Gacha Tickets are required for this, and one ticket can be obtained by exchanging 300 Wish Pieces in the Exchange Menu.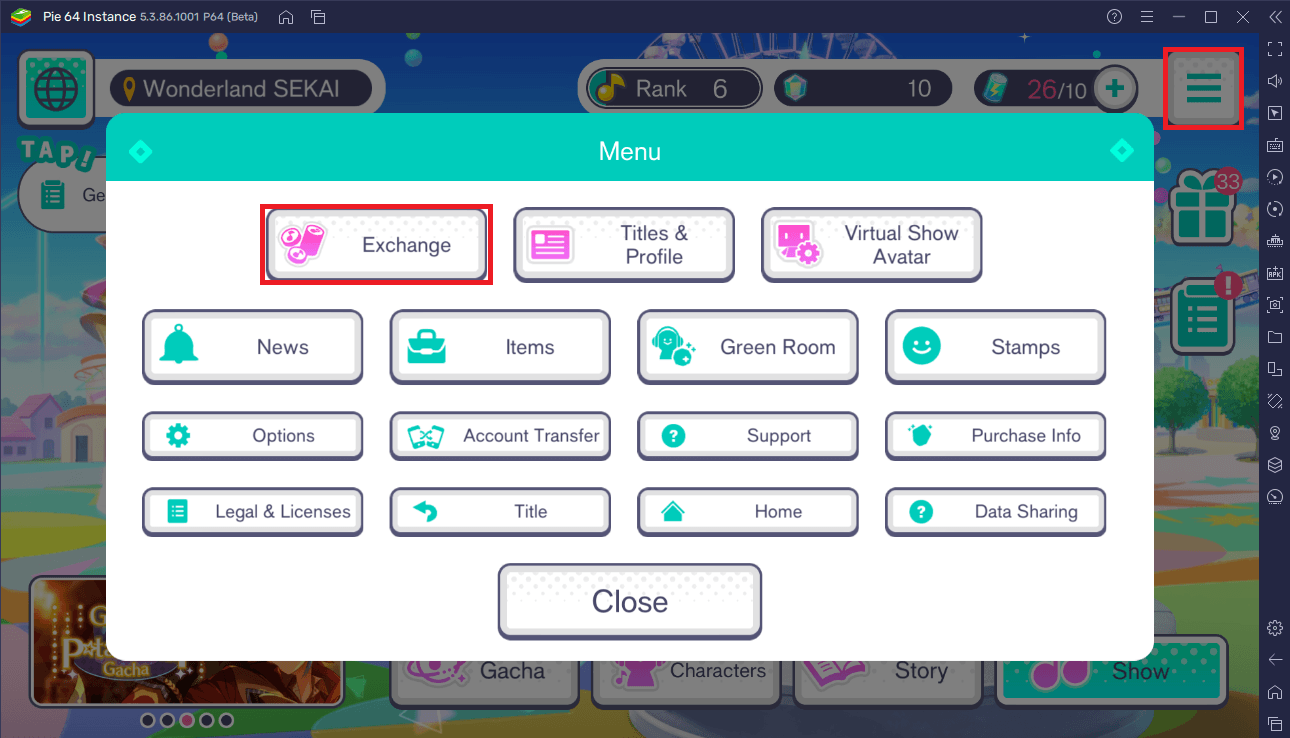 The Exchange Menu can be accessed by clicking on the hamburger menu (icon with three stacked horizontal bars) and then clicking on 'Exchange'.
Practice the Song
If you want to earn a high score in your live shows, then obviously you will need to extensively practice the song to be performed.
A good feature of the game is that you can play songs as many times as you want as there is no 'energy' system that limits the number of times that you can play.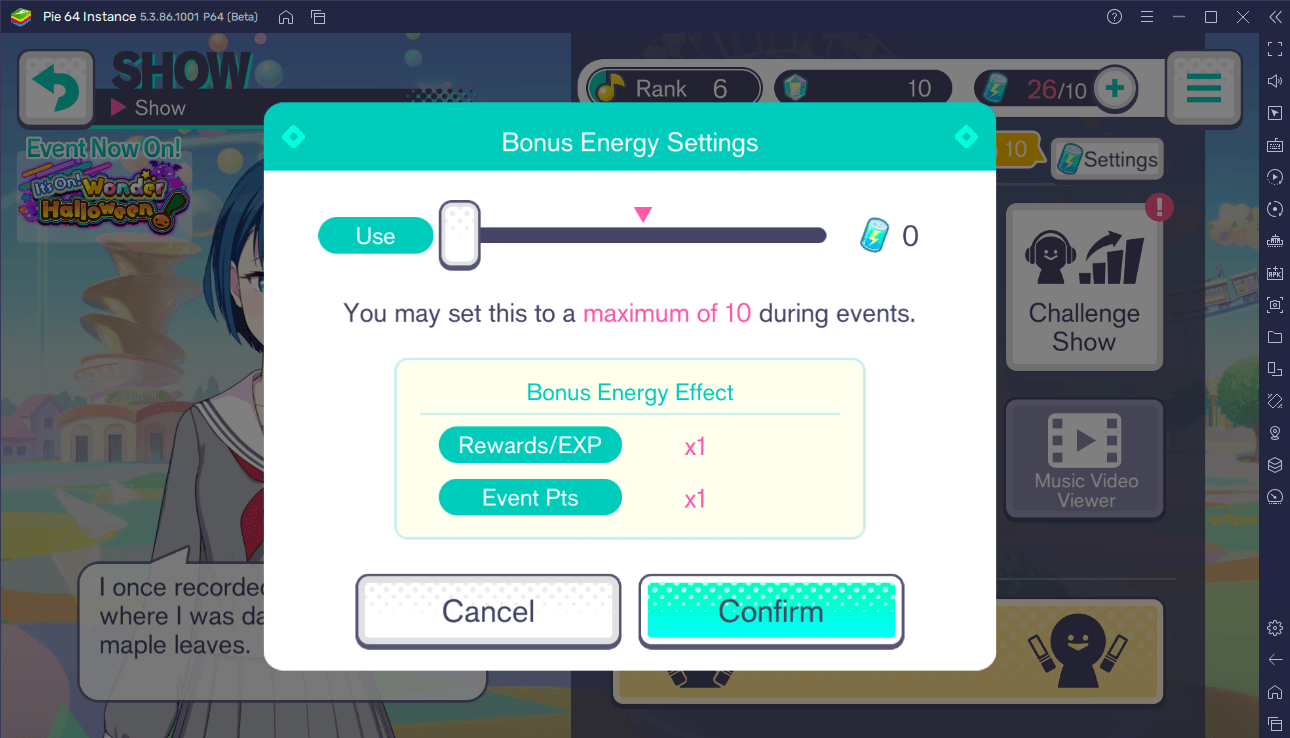 The game does feature an item called Bonus Energy but this only affects the rewards and EXP that you get per show. When you want to practice a song, make sure that no Bonus Energy is consumed. You can do this by going to the 'Shows' menu, click on the 'Settings' button on the top right, and then set the Bonus Energy settings to zero.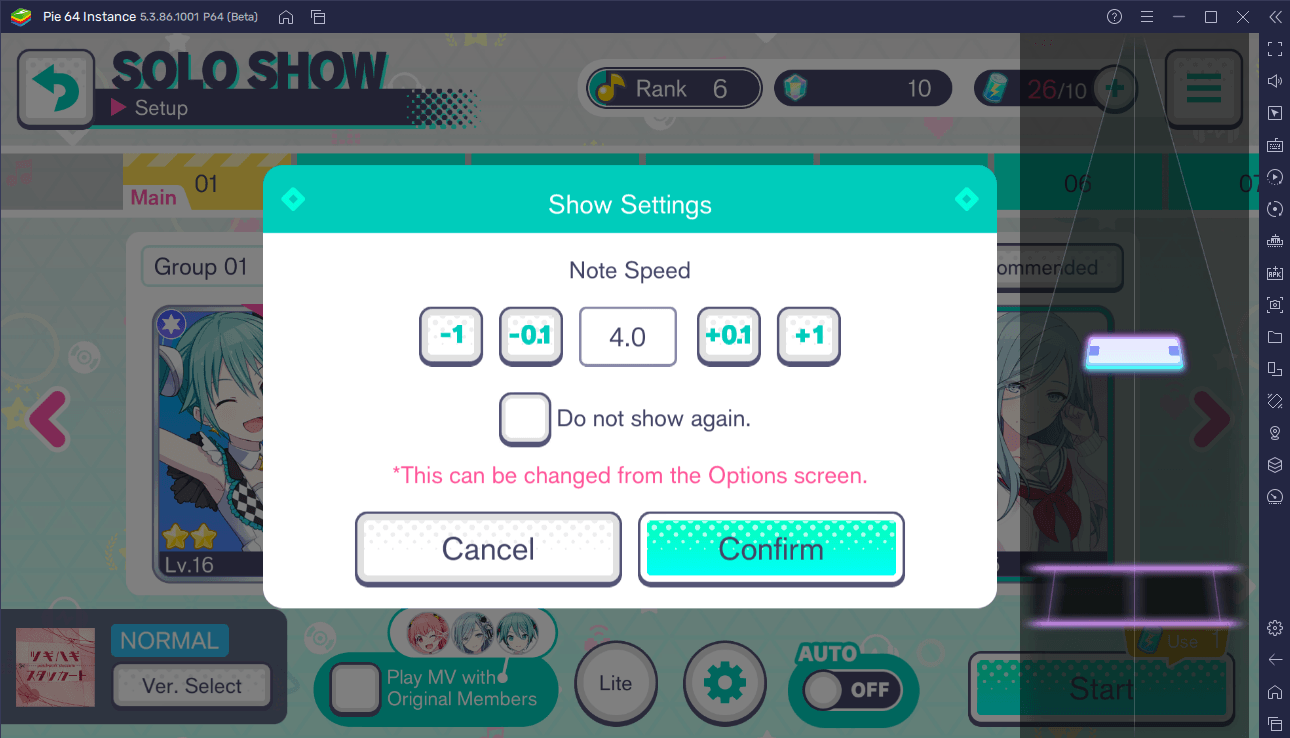 You can also adjust the note speed of the song that you are playing, and you can take advantage of this to master the song easily. When playing a new song, you can set your note speed to 4.0 or below to give you enough headroom to learn the placement of the notes. You can then keep increasing the note speed to continue mastering the song until you feel that you are ready to grind for the high score.
Aim for a Perfect Combo
Once you are playing the live show to earn the high score, it is crucial that you do not miss a single note and that for each note, you always get a high rating. All of these are needed to attain a perfect combo count.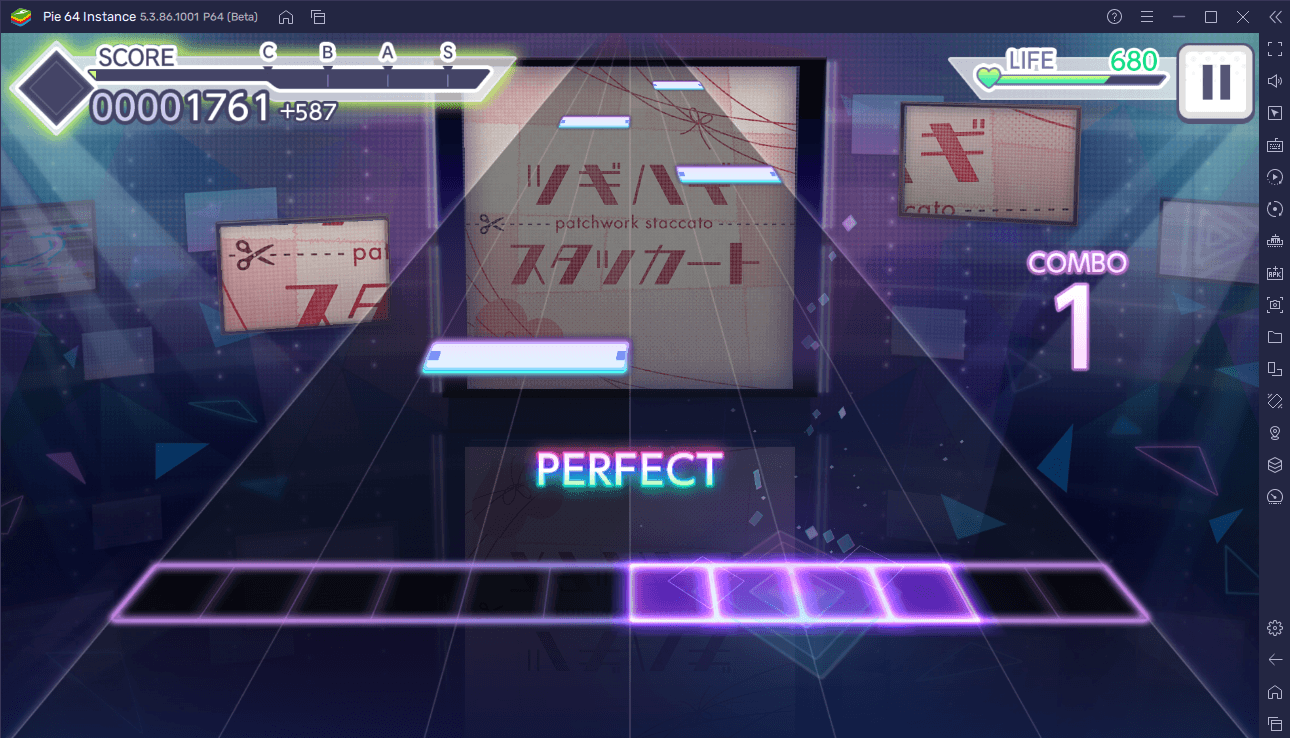 Each tap is rated with five different ratings: Perfect, Great, Good, Bad, and Miss. From the first note all the way to the last, the tap ratings must always be Perfect or Great; otherwise, the combo counter will go back to zero and jeopardize your attainment of the highest possible score.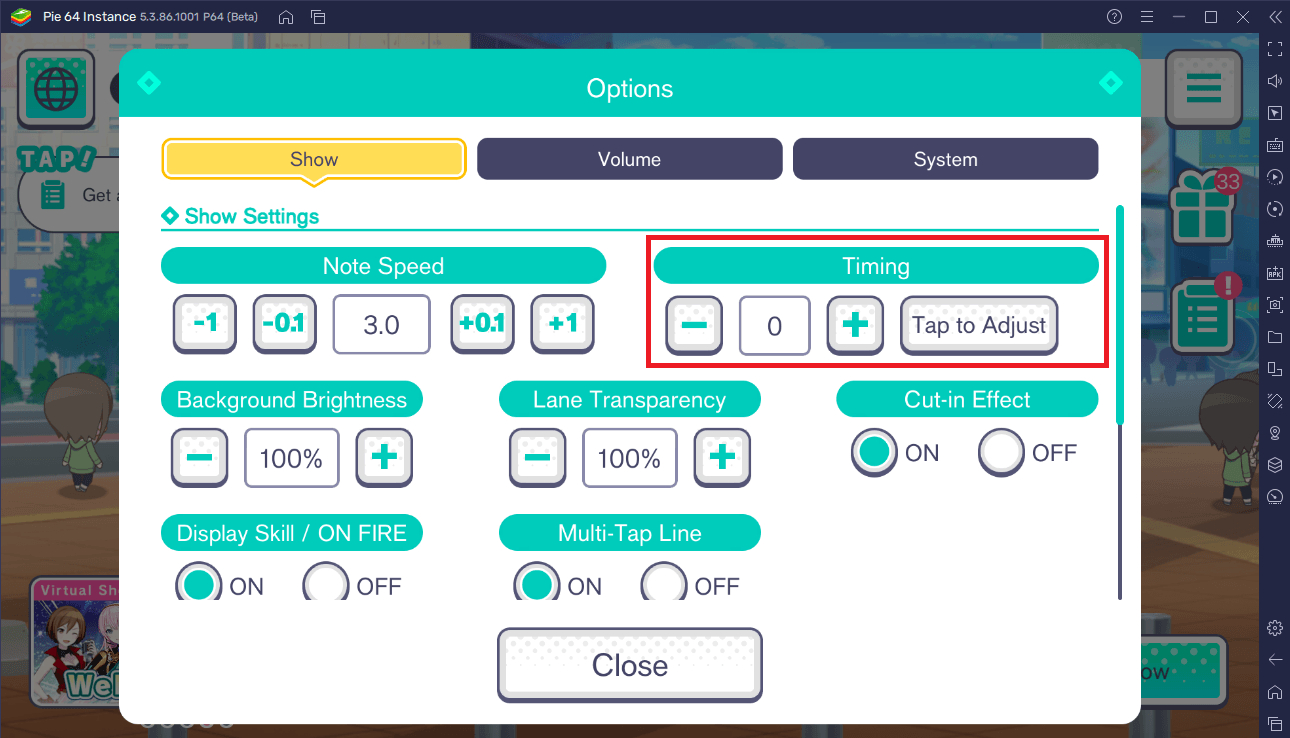 Aiming for a perfect combo can be quite difficult but your timings can be improved by continuously practicing the song. Speaking of timings, you can also adjust the game's responsiveness to your taps in the 'Options' menu.