Game Guides
Crush Them All on PC – Getting Started in This Awesome Idle Game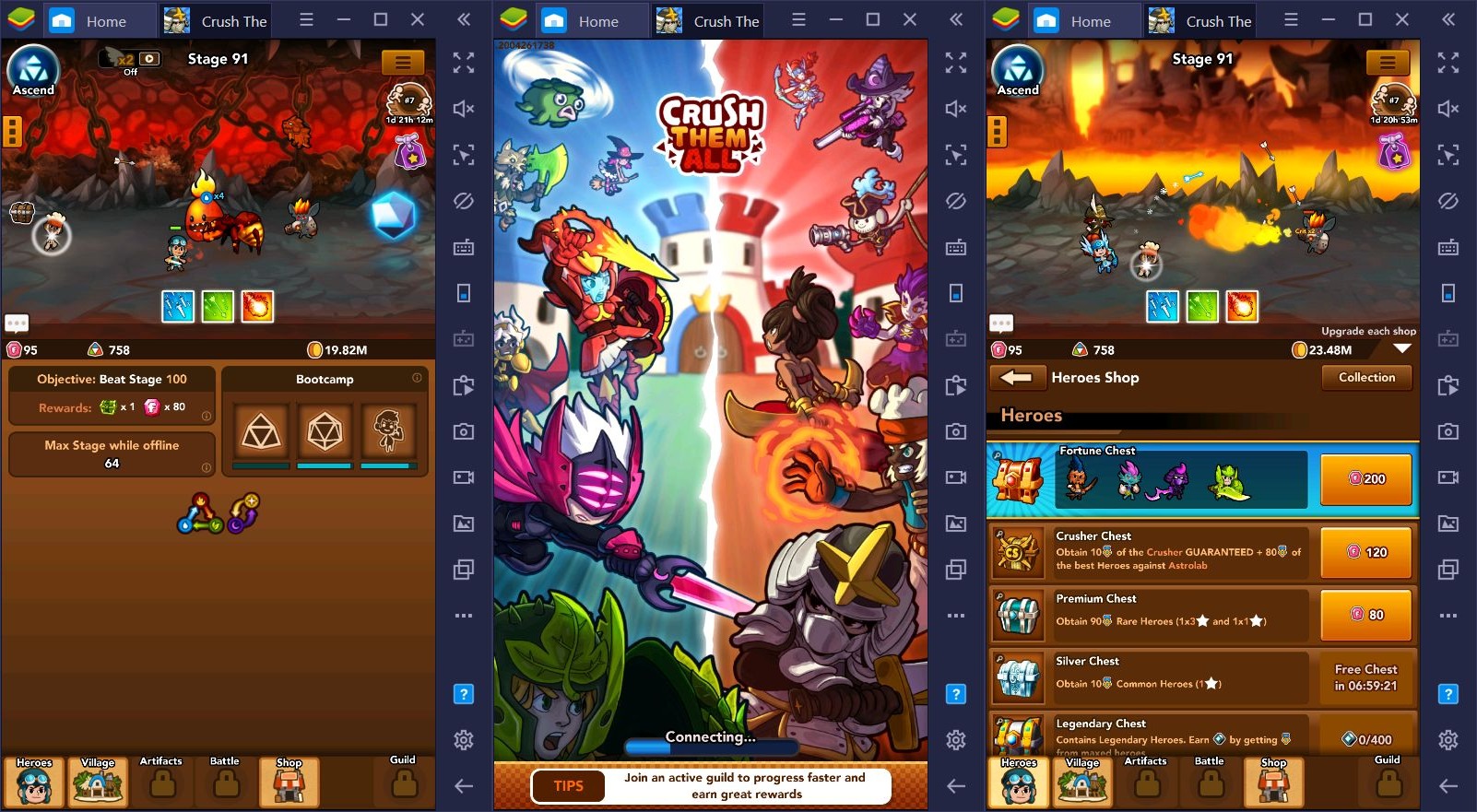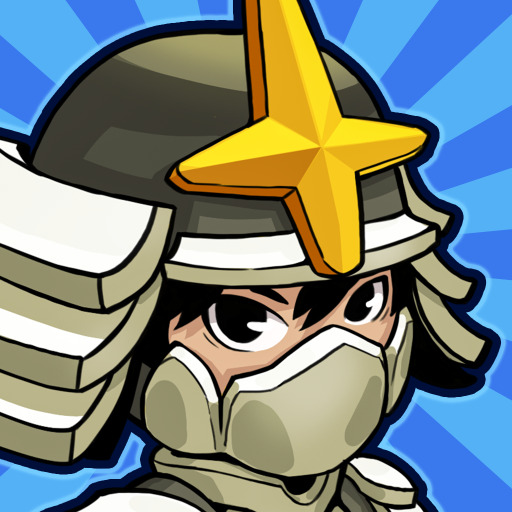 With all the games that are all about action, hacking and slashing, and careful planning and strategizing, it's no wonder we get burned out at times. Sure, we enjoy a fine round of Hearthstone or an intense match of Call of Duty: Mobile quite often. However, at the end of the day, when we're just wrapping up with our work and only want to unwind, idle games are some of the best choices for having some fun without having to put in much effort and Crush Them All is no exception.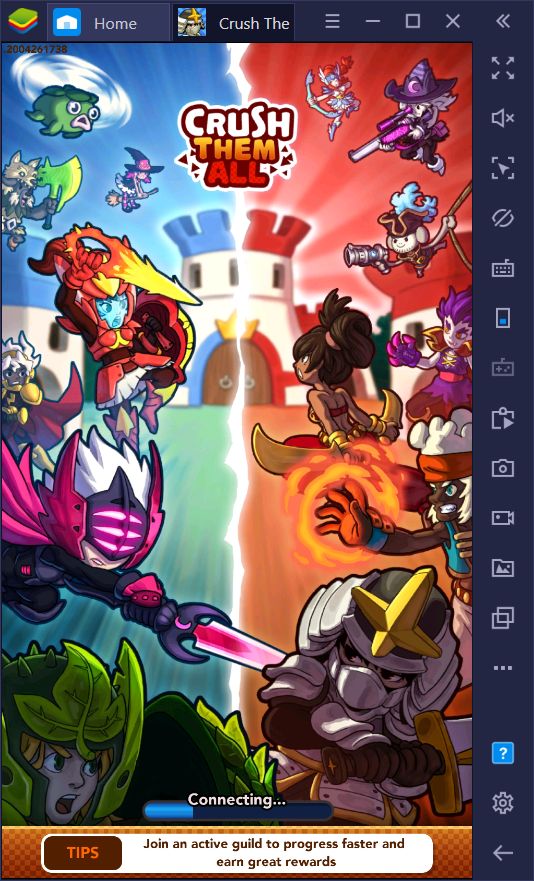 Crush Them All is the latest idle game that we've had the delight of trying out. Even though the global version has been out for around 3 years now, we've just run across it in our endless quest to find and review games, and we can definitely say that we're not disappointed at all.
Truth be told, expectations aren't really high when it comes to idle games; we mostly expect these games to give us an excuse to click on the screen a little and watch as the action unfolds and how our characters grow stronger. Because of this, when a game like Crush Them All goes the extra mile and gives us some awesome visuals to complement the action, as well as a variety of unlockable and upgradeable aspects, then we know we're in for an awesome hands-off experience.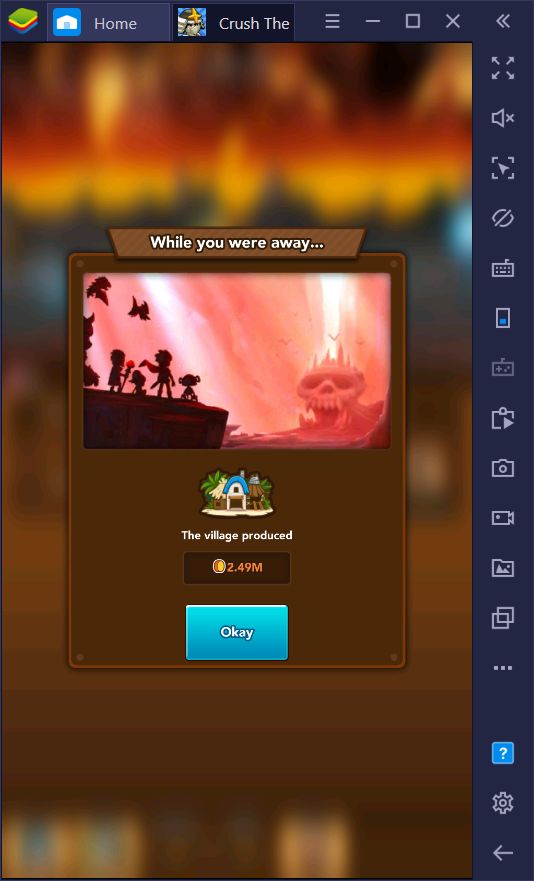 Nevertheless, even though the point of these games is that they are played mostly automatically, it still has a learning curve, especially if you want to progress quickly without wasting any time. Sure, the game might be a time-waster of the finest quality, but that doesn't mean you have to remain stuck on the same level for days. In this sense, we've written this guide to help you in getting started in Crush Them All.
The Main Battle Screen
The action in Crush Them All goes down on the top half of the screen at all times. You can see your heroes battling against the enemy and progressing through the different levels in the game. In this part, you really don't have any input other than using your special abilities, which you can do by clicking on the corresponding skill icons. Other than that, your characters will battle the enemy and advance through levels automatically, in true idle game fashion.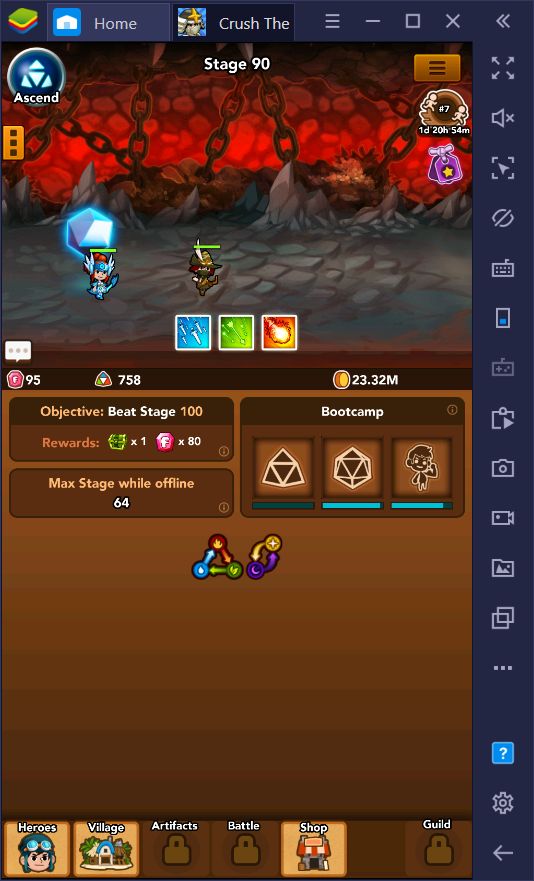 On the bottom half of the battle screen, you'll see all sorts of info related to the performance of your current team. Some of the information initially available is your current objective, as well as the max level you can beat while offline. While your characters continue fighting and grinding even when the app is closed, they can only advance up to a certain point by themselves. If you're already over the max level, you will continue generating resources, but your team will stop advancing, after which you must grind or control them manually.
Luckily, playing Crush Them All on BlueStacks provides the inherent advantage of allowing you to continue grinding and playing with the emulator minimized or in the background, while you're busy doing something else on your computer. In fact, while we're writing this article, our team has worked all the way up to level 91, but our max stage while offline is only 64. In any other case, you'd have to upgrade your heroes or keep the app open at all times (rendering your phone useless) in order to manually grind through the game.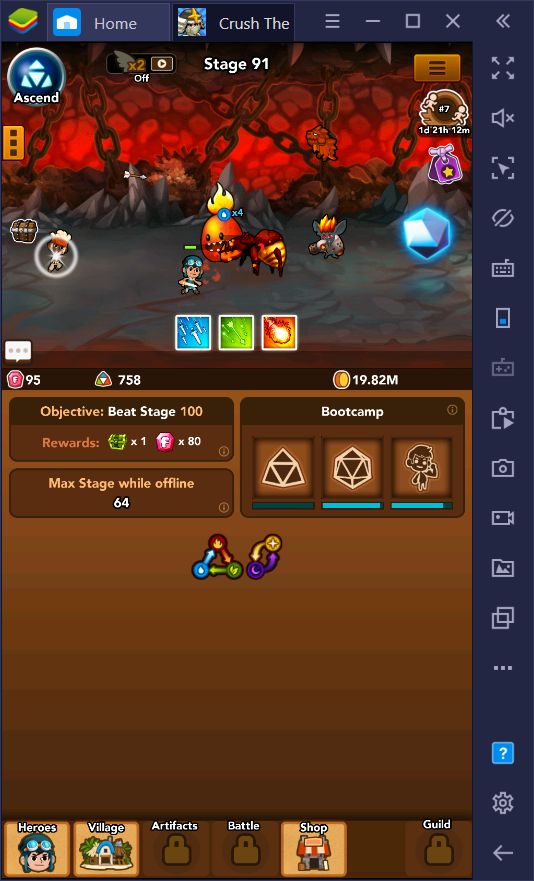 The only other element in the info section of your battle screen is the Bootcamp, where you'll find lots of challenges that, upon completion, reward you with many useful items. Make sure to visit it often in order to claim your freebies after completing an assignment.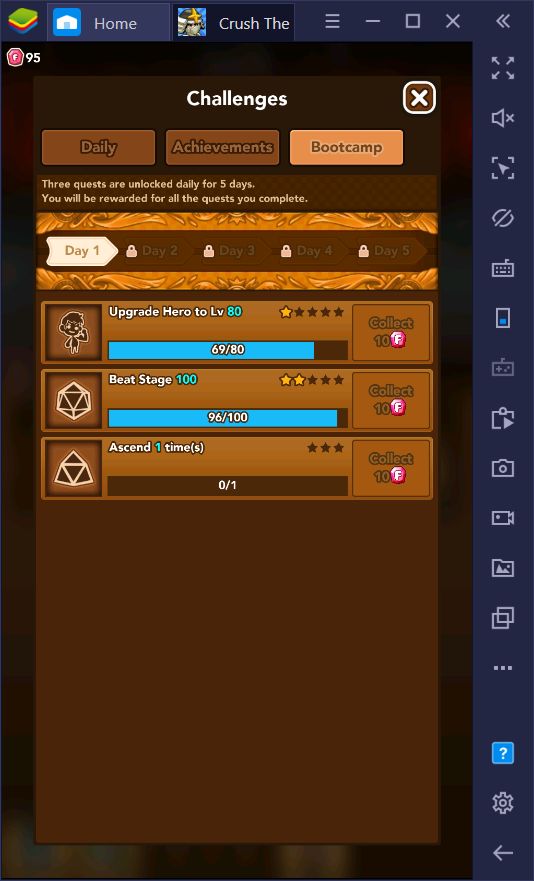 The Hero and Village Screens
The only other two screens available at the beginning are your hero and village screens, which are tremendously useful and ones that you'll be visiting frequently throughout your playthroughs.
The hero screen is, as its name implies, where you'll be able to configure your squads, unlock new heroes, and upgrade the characters you've already obtained. Most of the upgrades here are purchased with gold, though you'll unlock further upgrades using Prisms later on via the Ascend system.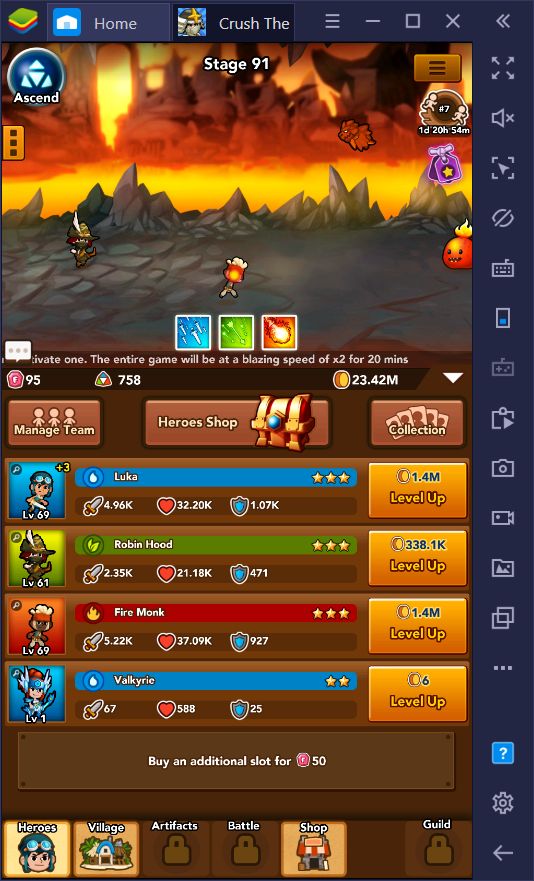 The main view encompasses your currently active squad and shows their attack, defense, and HP. You can upgrade each of your heroes individually by clicking on the button to the right of their info. Above your squad, however, you will find the collection menu where you can view all the heroes available for unlocking in Crush Them All, as well as the Hero Shop where you will purchase new heroes and other related items.
In order to unlock new heroes in the shop, you must either pay with Flooz (premium currency) or use your free allowances, of which you get a few every day. You can then assign these heroes to your team in the "manage team" section.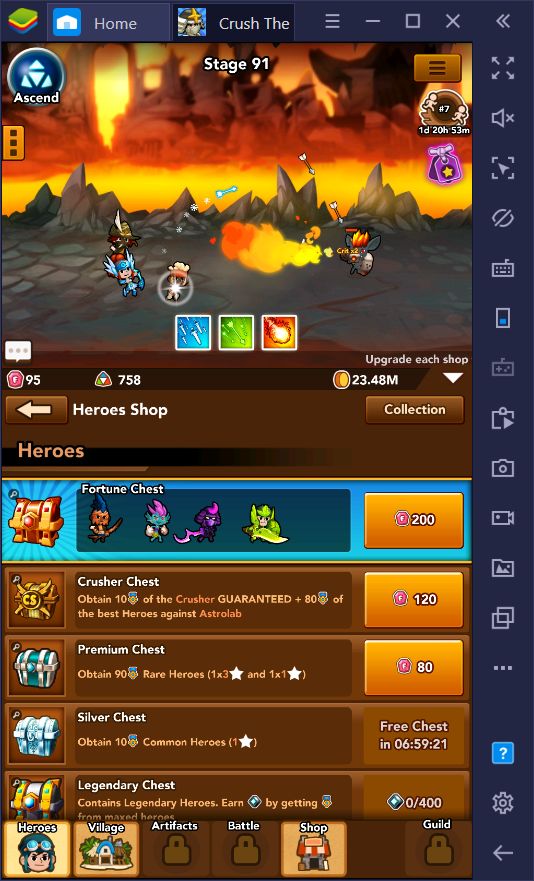 The Village screen is one of the most important parts of Crush Them All as it's where you will make most of your money. This section has many buildings that you can unlock and upgrade and, once they reach a certain level, you can automate their gold production. As you unlock and upgrade better buildings at higher levels, you'll be producing millions of gold in seconds, which is good considering that most upgrades can cost exorbitant sums of gold.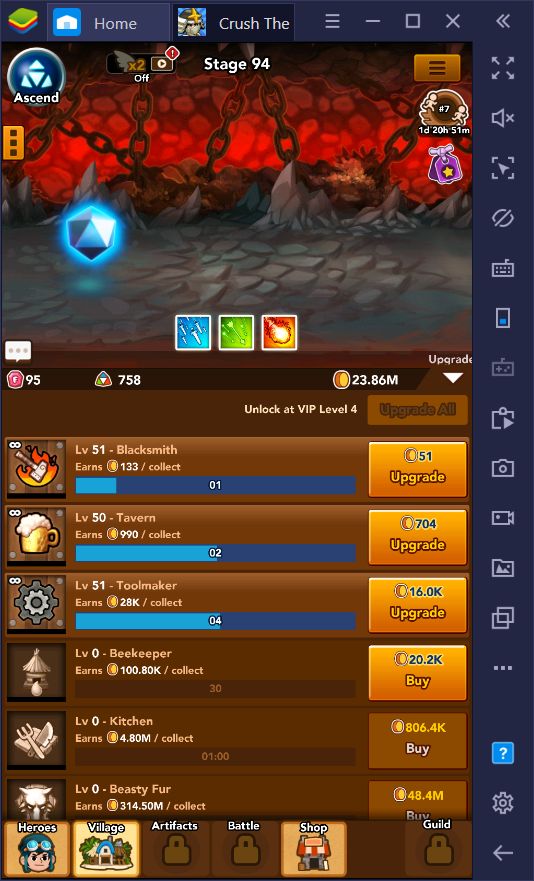 These two screens are where you will be spending most of your time in Crush Them All. You'll need to get used to them if you want to advance fast in this idle game. Remember that, even if the game is mostly played while AFK, you can still influence the pace at which you progress by unlocking new heroes, and upgrading your structures.