Game Guides
Boss Fight Tips and More – Several Tips and Tricks for Deserted Dawn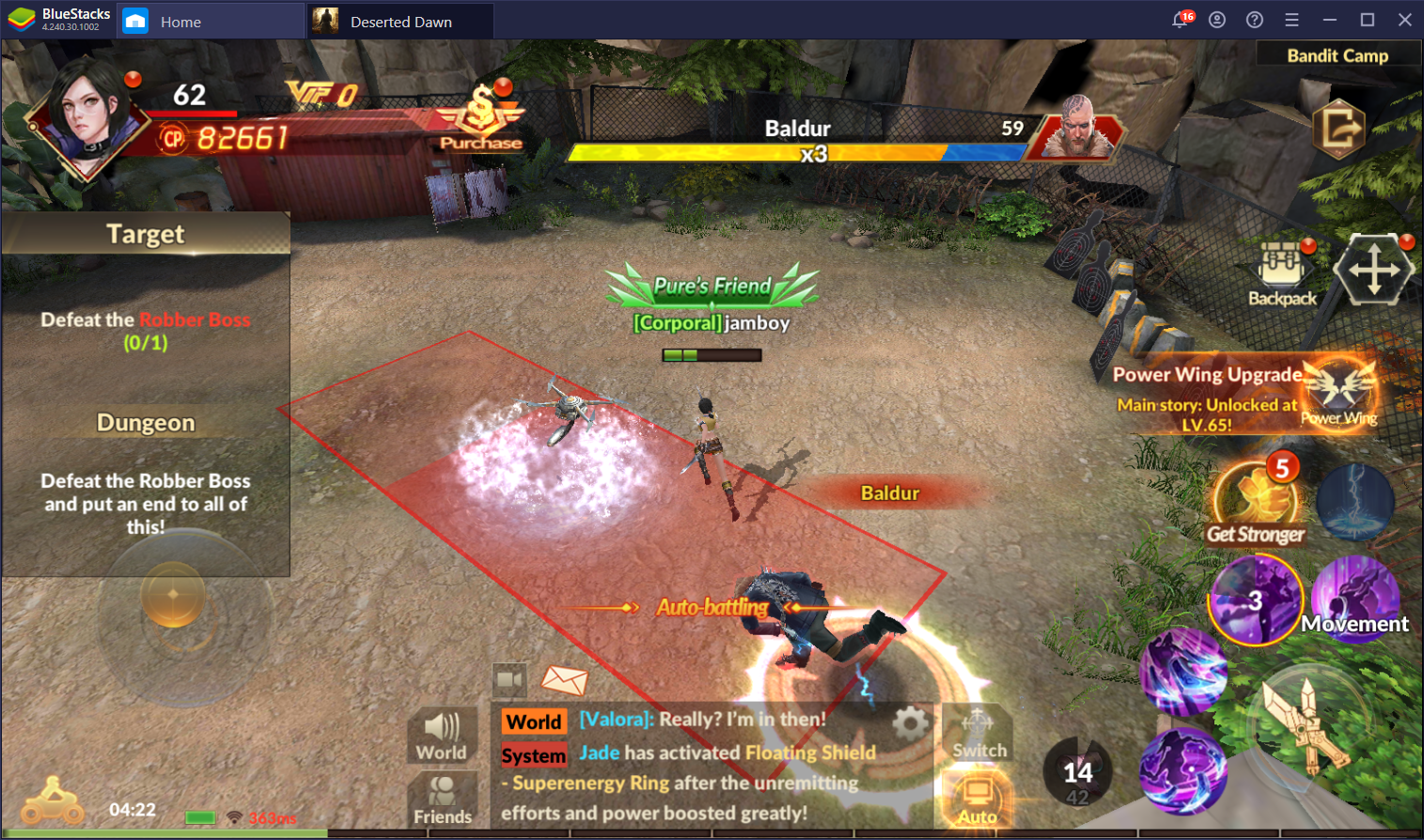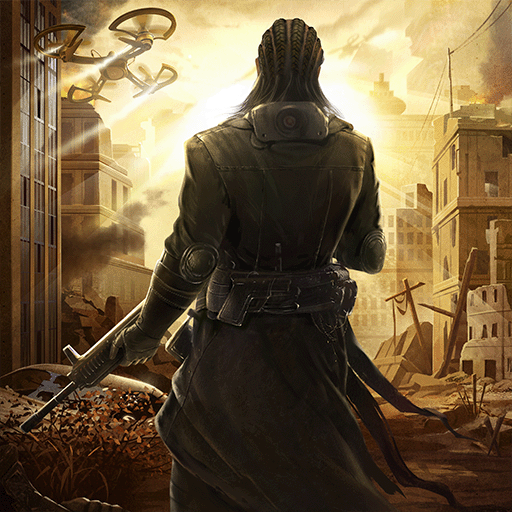 There are plenty of features and mechanics in Deserted Dawn that make it quite a complex MMORPG. These can quickly become overwhelming for you, especially for players who are new to the genre. At the end of the day, it leaves you questioning, what are the most important things that I need to know?
This game guide will answer that question for you. Throughout this article, we'll share some tips and tricks that you can apply in Deserted Dawn that will greatly aid you in your journey to defend your home. Let's start off by talking about character titles.
Equipping Titles
If you click on your character icon on the top-left part of the screen, you access the option to place titles onto your character. Essentially, titles are special labels that display itself on top of your character. But these are not just mere decorations because they actually provide an in-game benefit.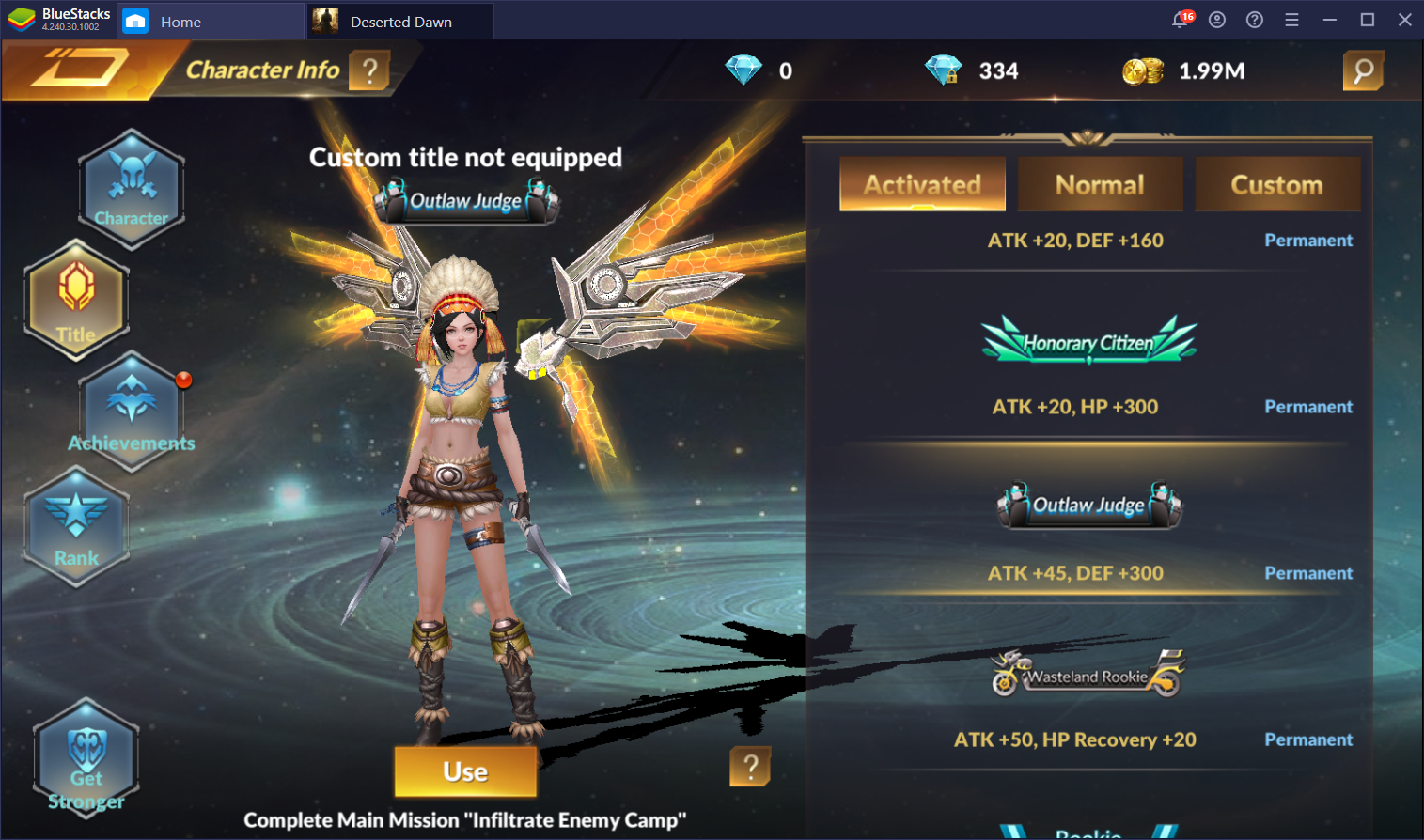 Titles equip your character with a set of passive stat boosts. Your character receives a different set depending on the title that they equip. For instance, the "Pure's Friend" title gives additional 20 ATK points and 160 DEF points. You can unlock more of these titles when you complete main quests and or collect special rewards.
Completing Achievements
An MMORPG is not complete without achievements and Deserted Dawn certainly has plenty of them for you to attain. Accomplishing basic milestones in the game such as levelling up, upgrading your gear for the first time, and the like, are some of the earliest achievements you can complete in the game.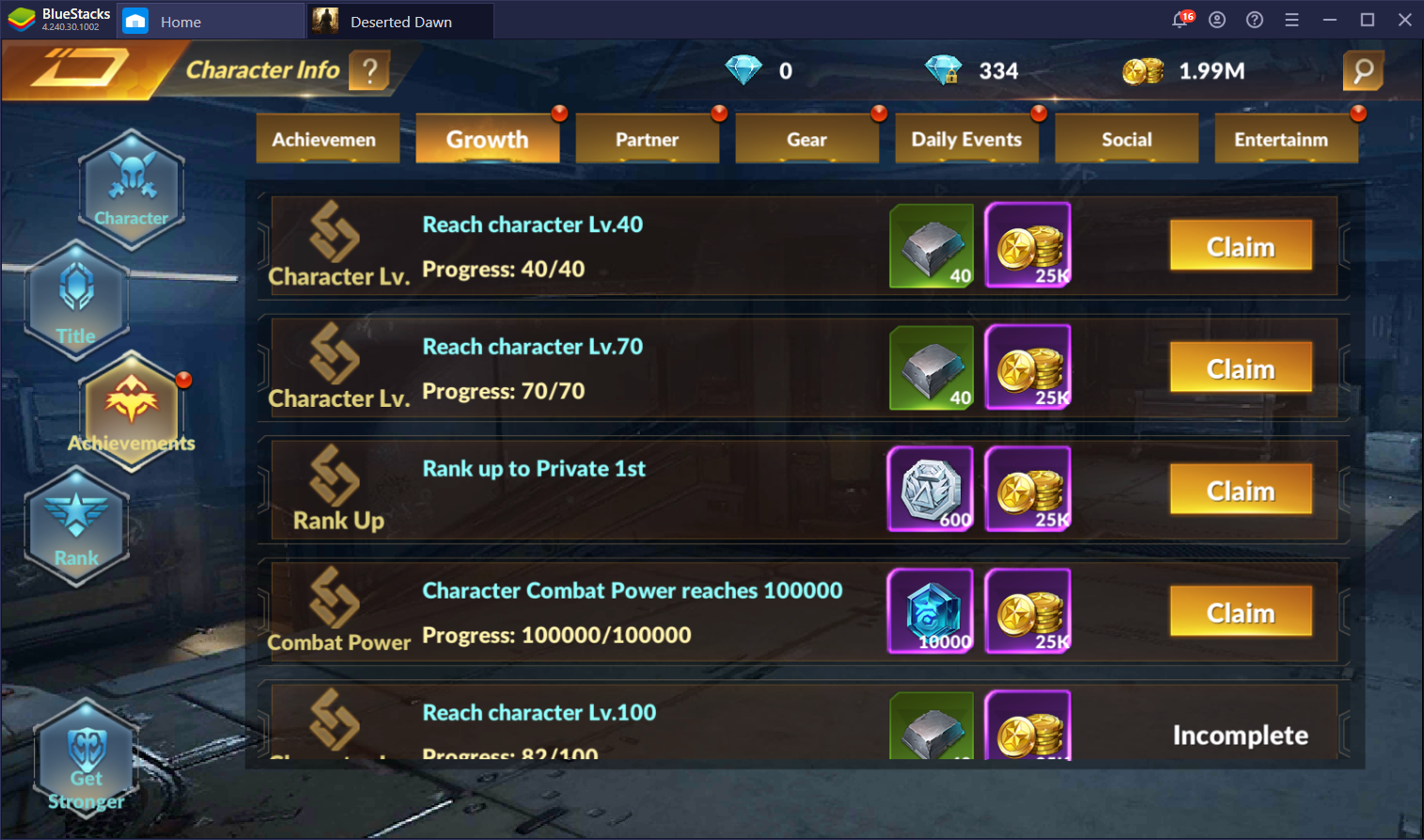 The game generously rewards you for completing said achievements. The prizes are usually gold and fine iron, which are resources that you need in order to upgrade your gear. Make sure to check on the achievements page every once in a while to claim these rewards as soon as possible. Alternatively, you can just save them for later.
Defeating Bosses
There are multiple bosses that you can and will encounter throughout your adventure in Deserted Dawn. You can selectively fight certain bosses through the game's five different boss modes, which you can access any time by clicking on "Boss" on the top of the screen. Let's start with solo bosses.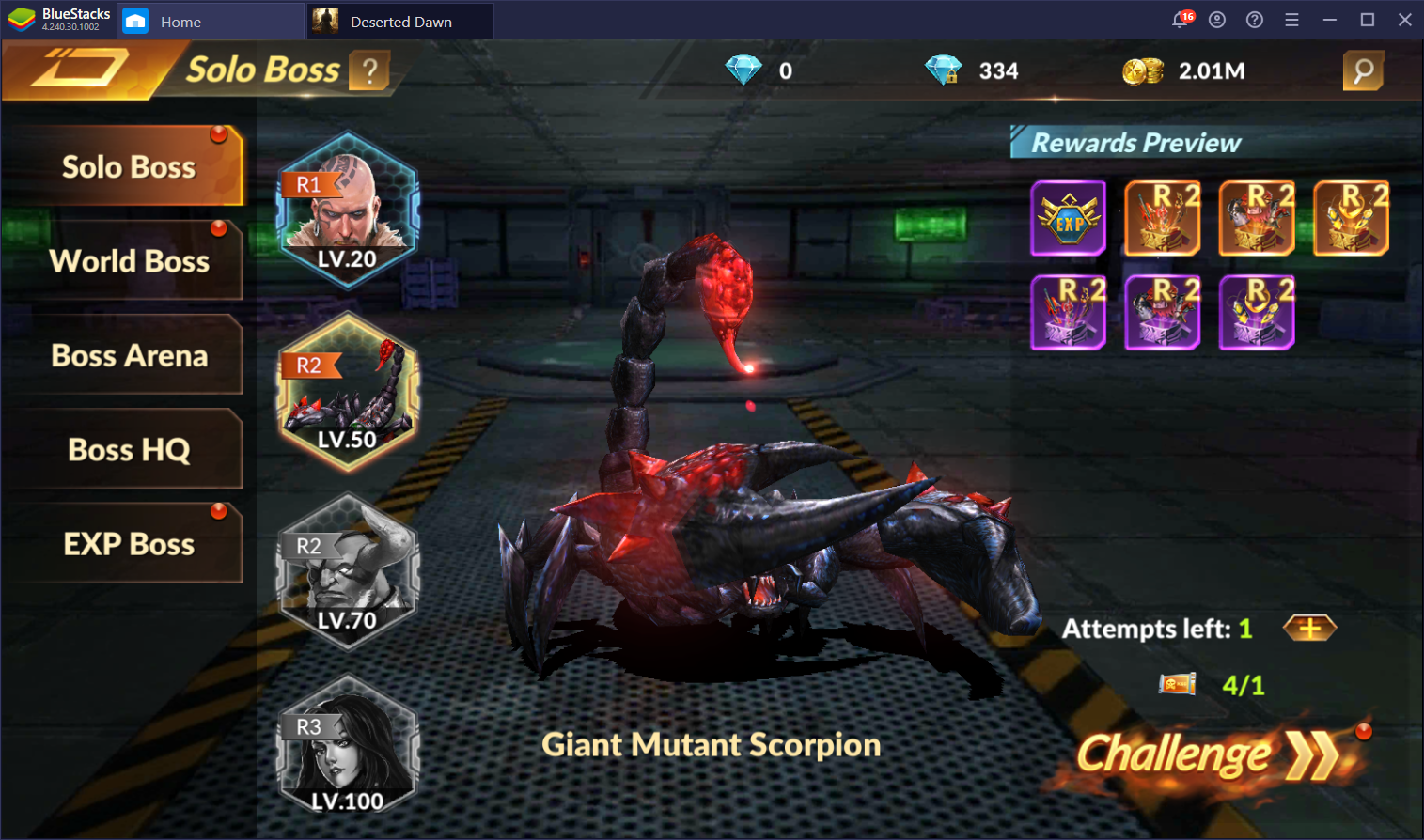 In Solo Boss mode, you are simply put into a 1v1 battle against a boss with a fixed level and is great if you want to have all the rewards for yourself. You have a limited number of attempts to defeat a boss and you replenish one attempt every day. Spending you attempts will also deplete at least one Challenge Pass.
Keep in mind that you need to have both a sufficient amount of attempts and Challenge Passes in order fight a boss in the first place. Stronger bosses will require more Challenge Passes so you really need to make sure that you have enough.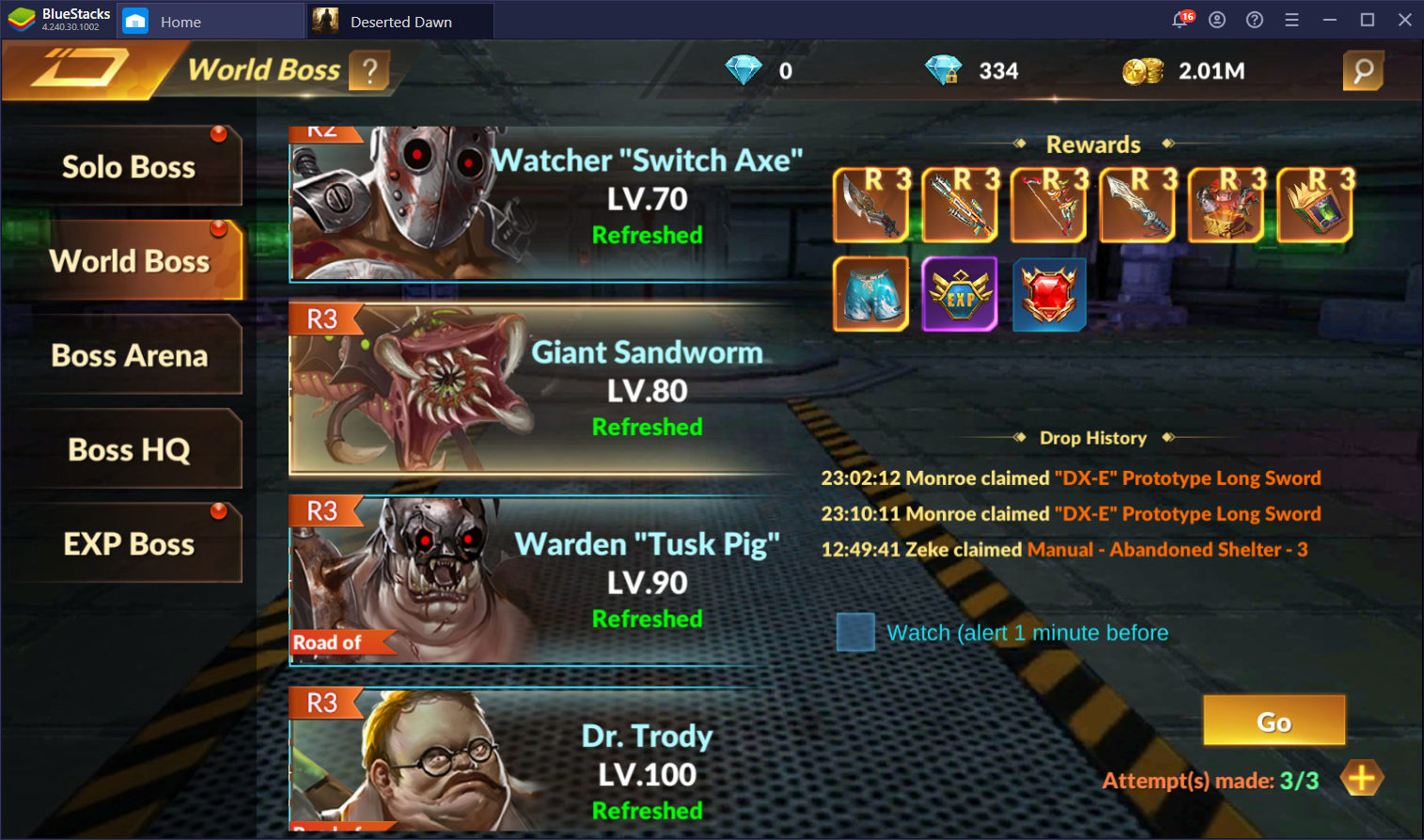 In World Boss mode, you fight bosses alongside other players. The rule here is that whoever deals the most damage wins all of the rewards so make sure your character is strong enough for this one; otherwise, stick to solo bosses. After defeating the same boss three times, you will no longer be able to deal damage to said boss; subsequently you will no longer receive rewards.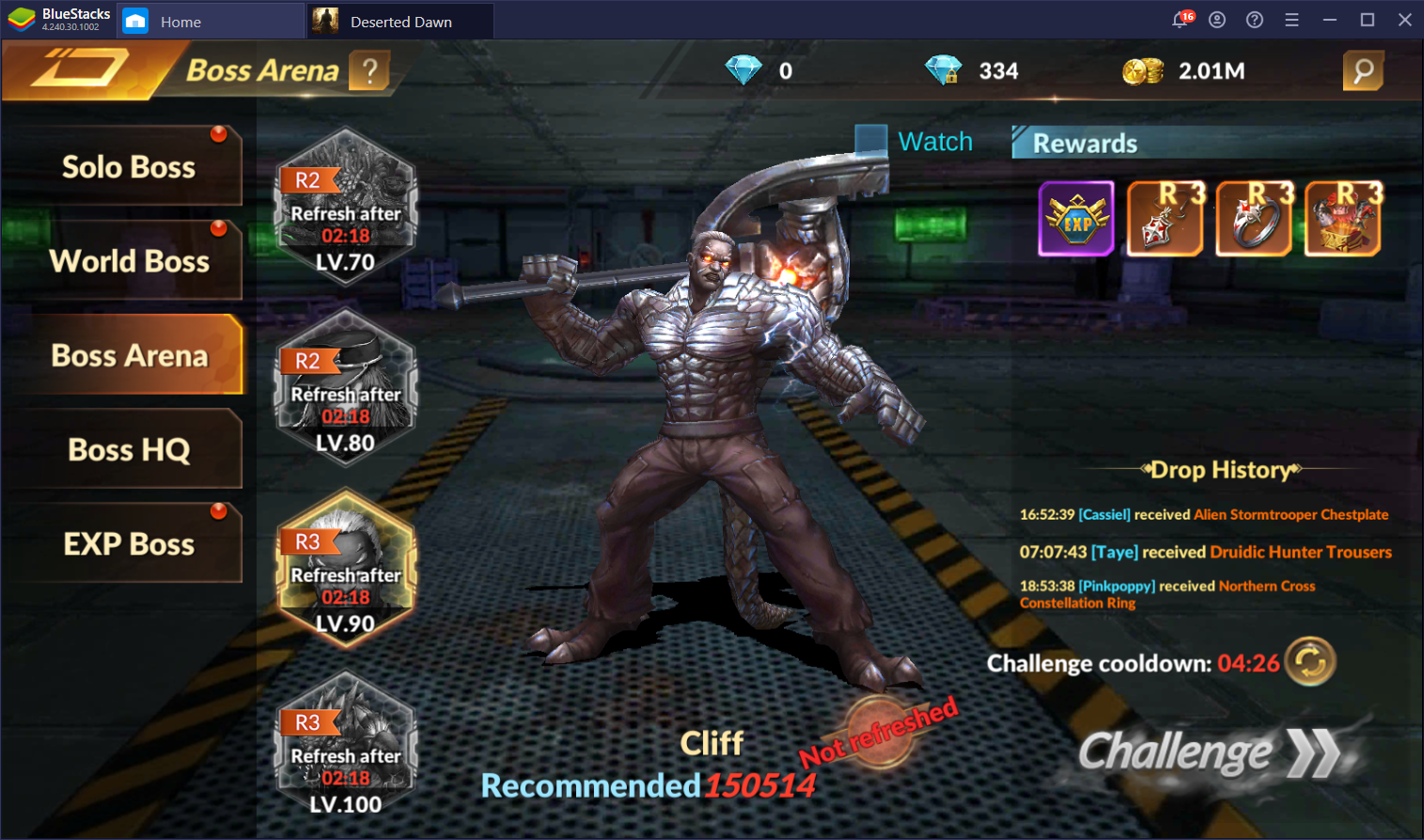 In Boss Arena mode, up to 20 players can fight a boss and the top two players who deal the most damage win the rewards. Regardless if you win or not in the Boss Arena, you will need to wait for a challenge cooldown timer to end.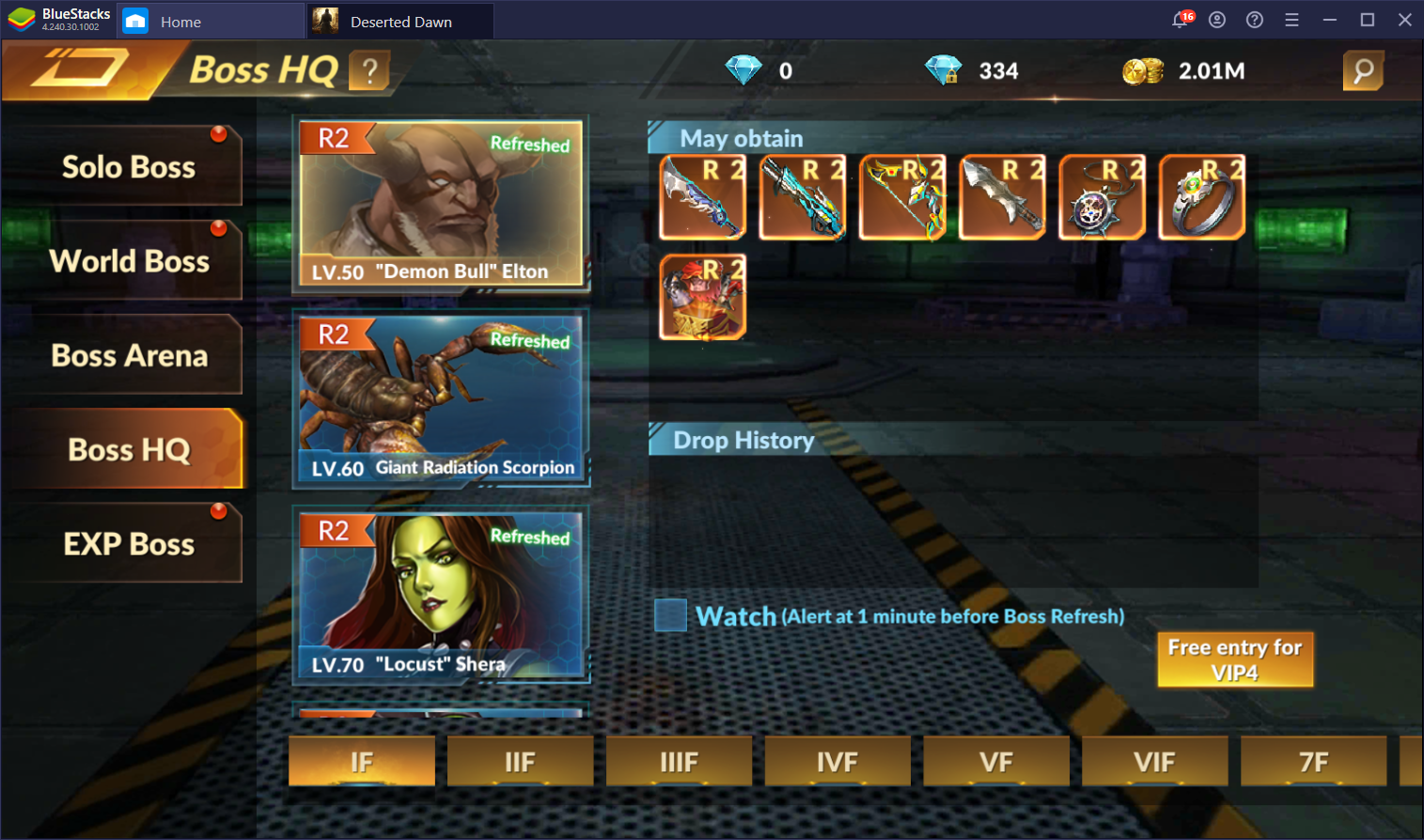 In Boss HQ mode, you fight against multiple bosses located within multiple floors. This mode functions similarly to a "dungeon", meaning that you need to clear all bosses on one floor first before proceeding to the next.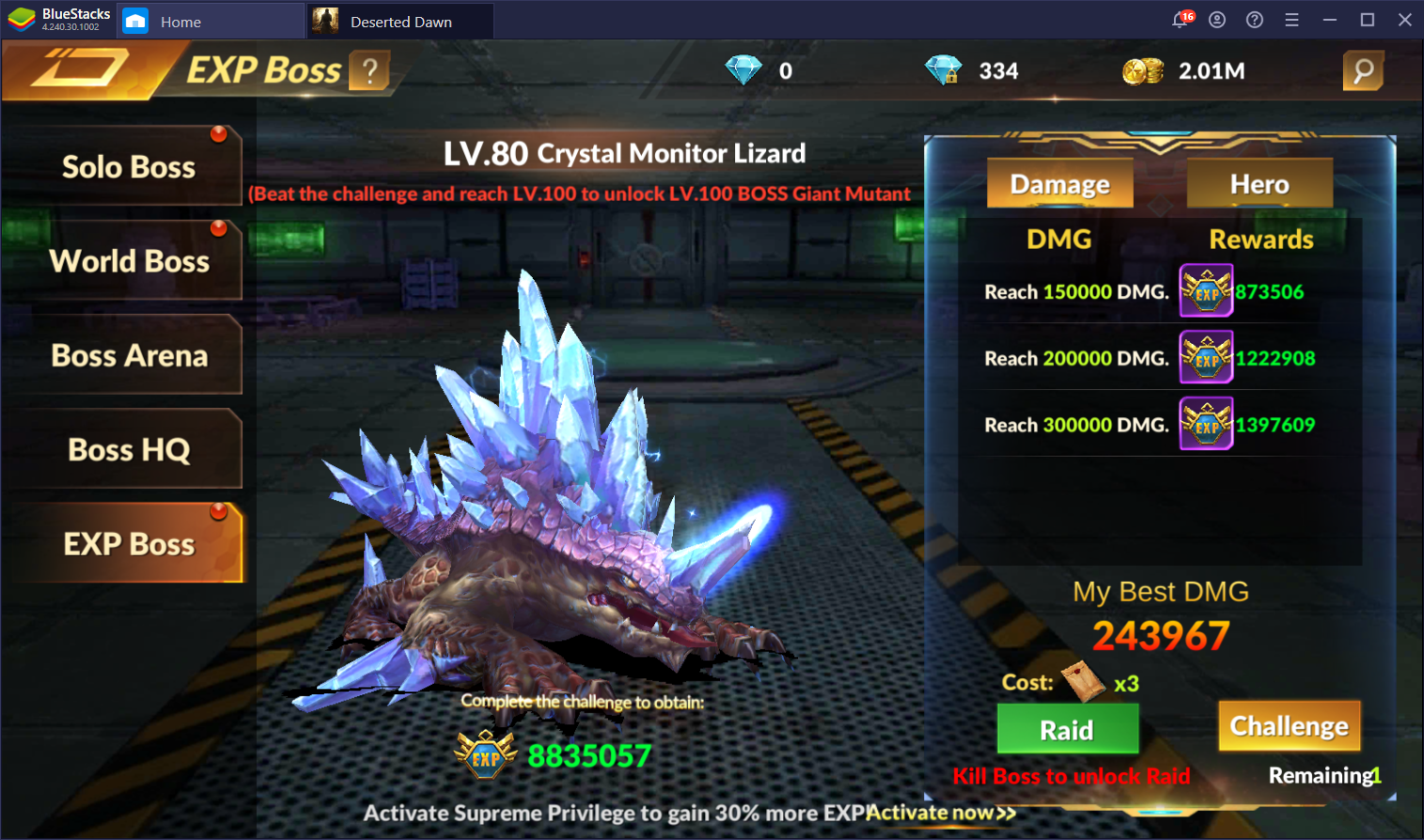 Lastly, in EXP Boss mode, you fight solo bosses (up to two times per day) but the main goal is to farm EXP. The amount of EXP you'll receive depends on the amount of damage you deal to the boss. Note that there is a three-minute time limit to each EXP boss fight.
Boss fights are quite underrated and we recommend doing these frequently aside from the main and side quests. Not only can you earn a ridiculous amount of resources but you can also test the strength of your character by going up against tough and intimidating bosses.
Efficiently Fighting Bosses
We talked quite a lot about bosses in the previous paragraphs. So now, how exactly do we fight them?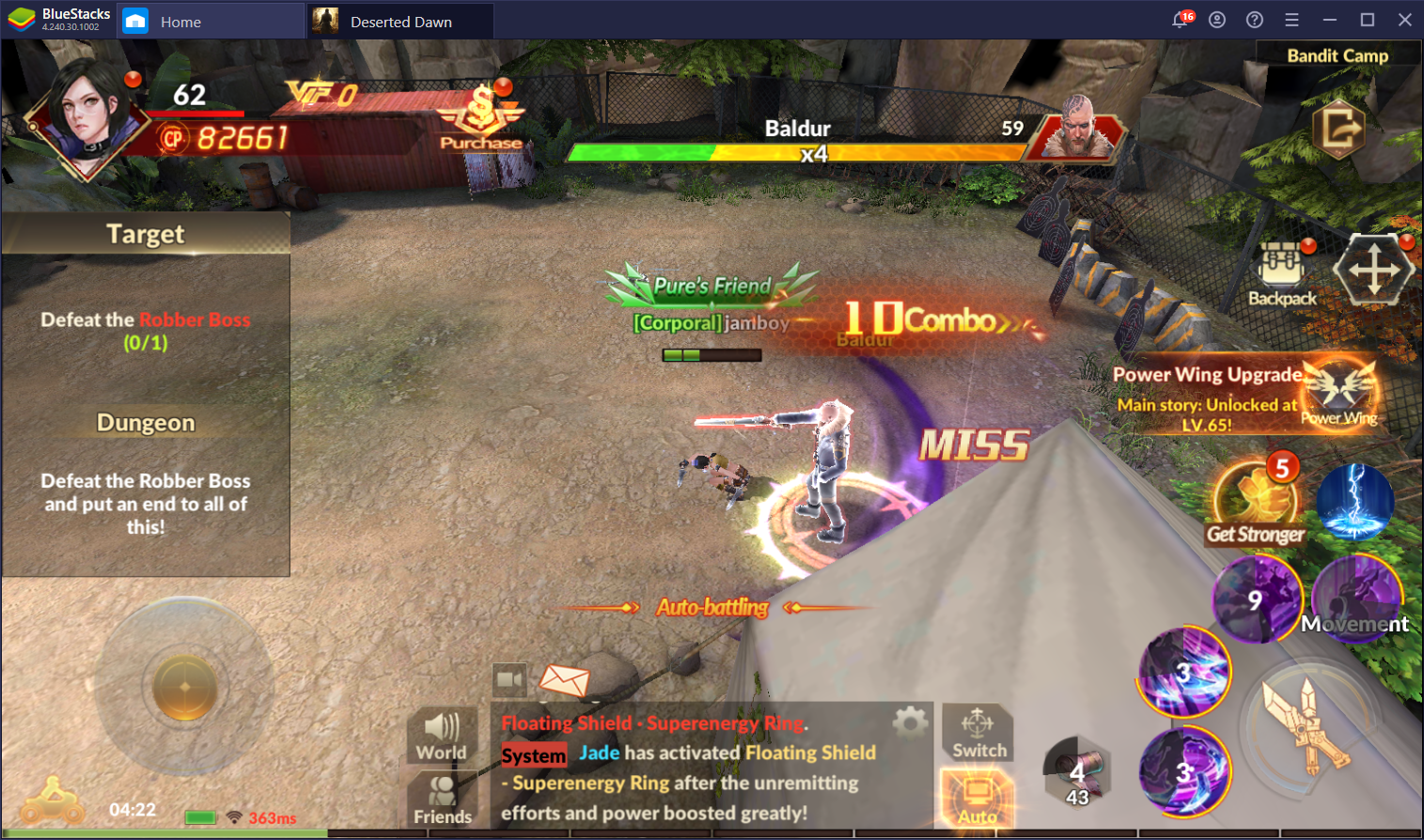 Boss fights can be slightly long because bosses have multiple health bars that need to be drained for a certain number of times for them to actually die. With this, it is highly recommended to just fight bosses using Auto mode. Just let your character automatically do the work until the boss dies.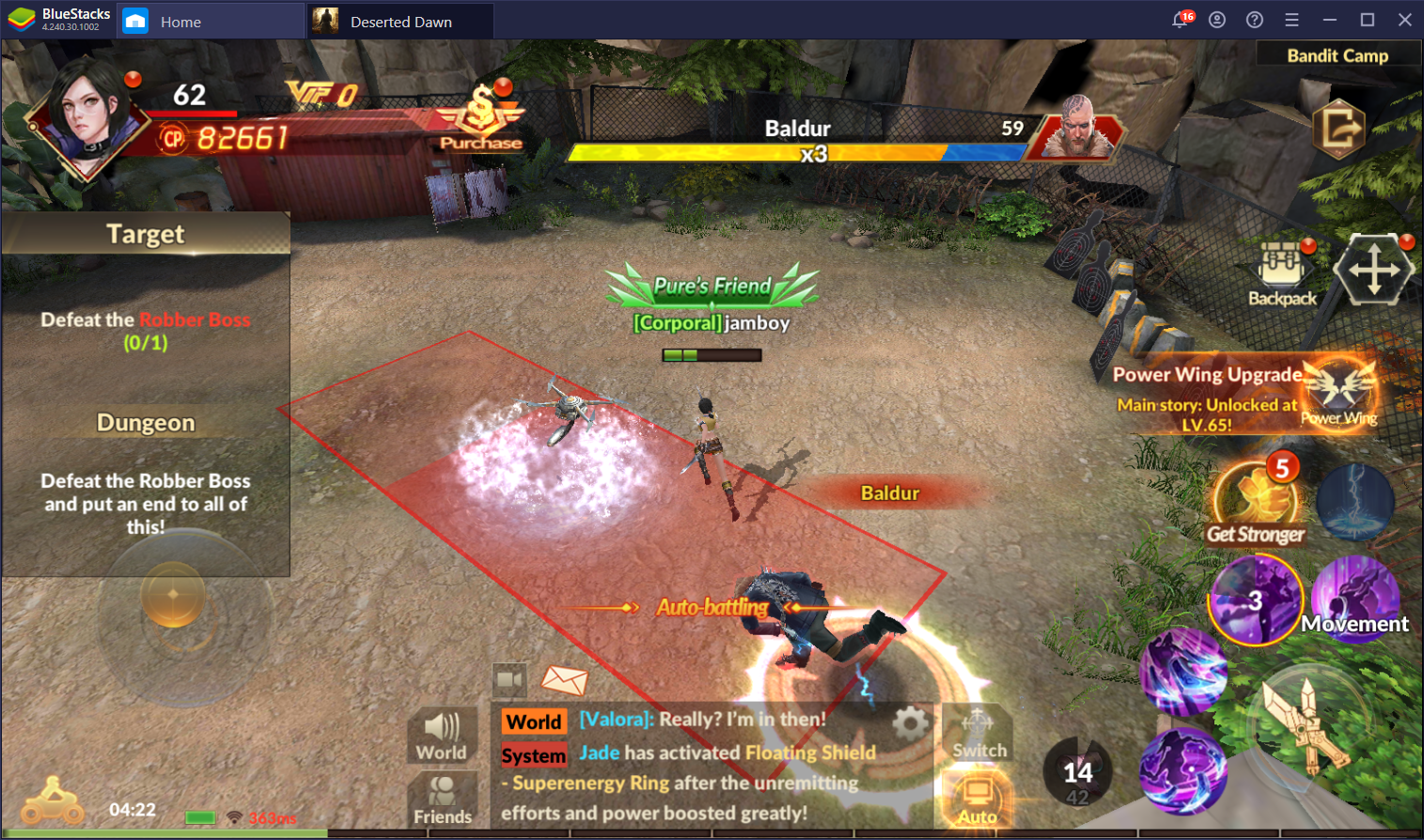 However, you cannot really keep doing this forever because some bosses will unleash unblock able attacks that can pack a huge punch to your character. The area of effect of these attacks are marked by a red rectangle and you must evade this in order to avoid taking massive damage.
In summary, just use Auto mode to fight bosses but always monitor your character to protect them from the special attacks. This is especially true when you are fighting against higher-level bosses.
Receiving Buffs with Medicine
Medicine is an in-game item that may aid you in fighting not only bosses but every enemy in general. To access medicines, click on "Backpack" and then click on "Medicine".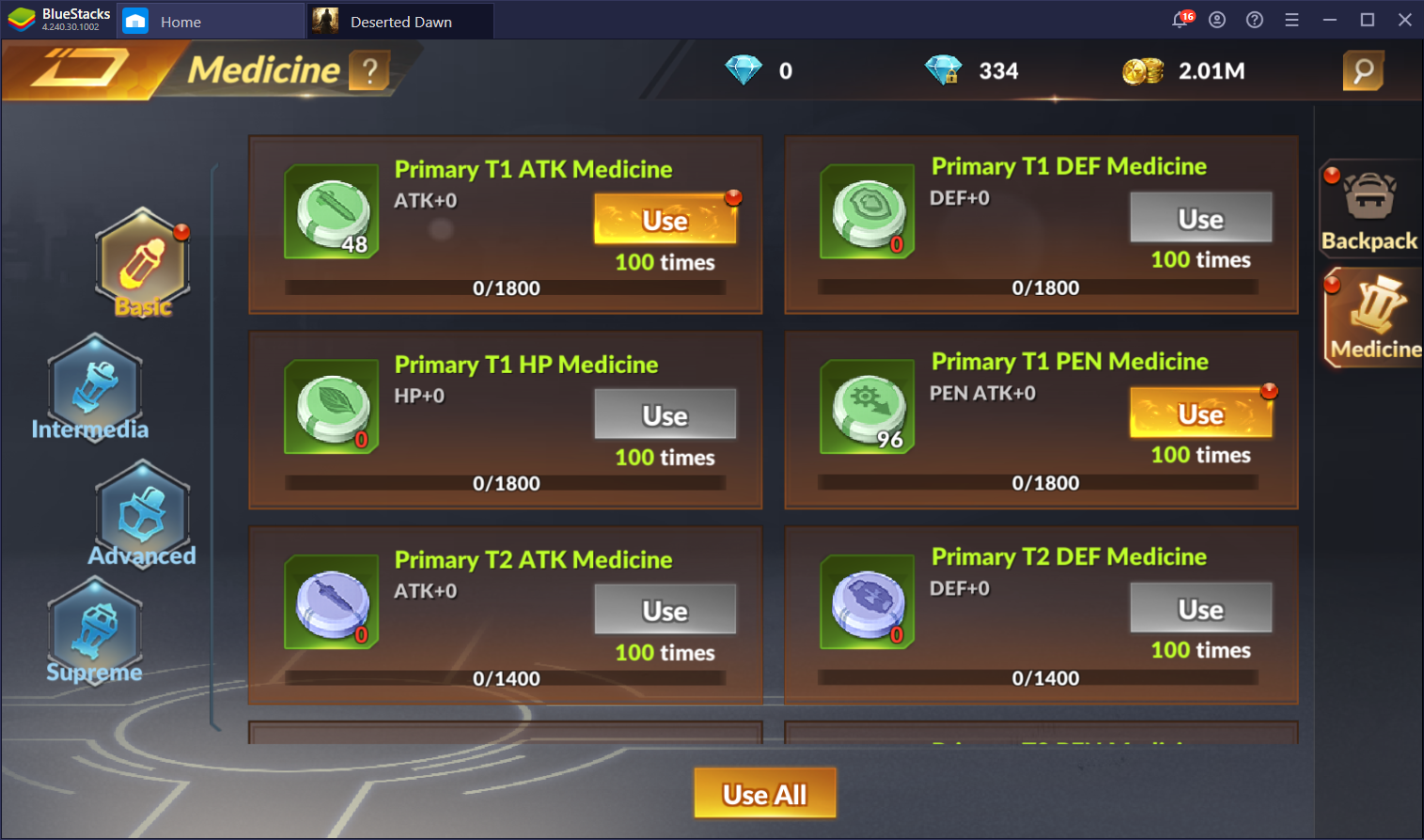 Taking medicine provides your character with temporary stat boosts. The affected stat will depend entirely on the type of medicine that was used. Additionally, the potency of a medicine is contingent upon its rarity. The hierarchy goes from Basic, Intermediate, Advanced, and Supreme, with Basic medicine providing the least potency and Supreme providing the most.
Upgrading Skills
As discussed in a previous guide (A Beginner's Guide to the World of Deserted Dawn), your character has a normal attack as well as four different skills that they can use to combat enemies. You can actually upgrade these once you reach Level 70.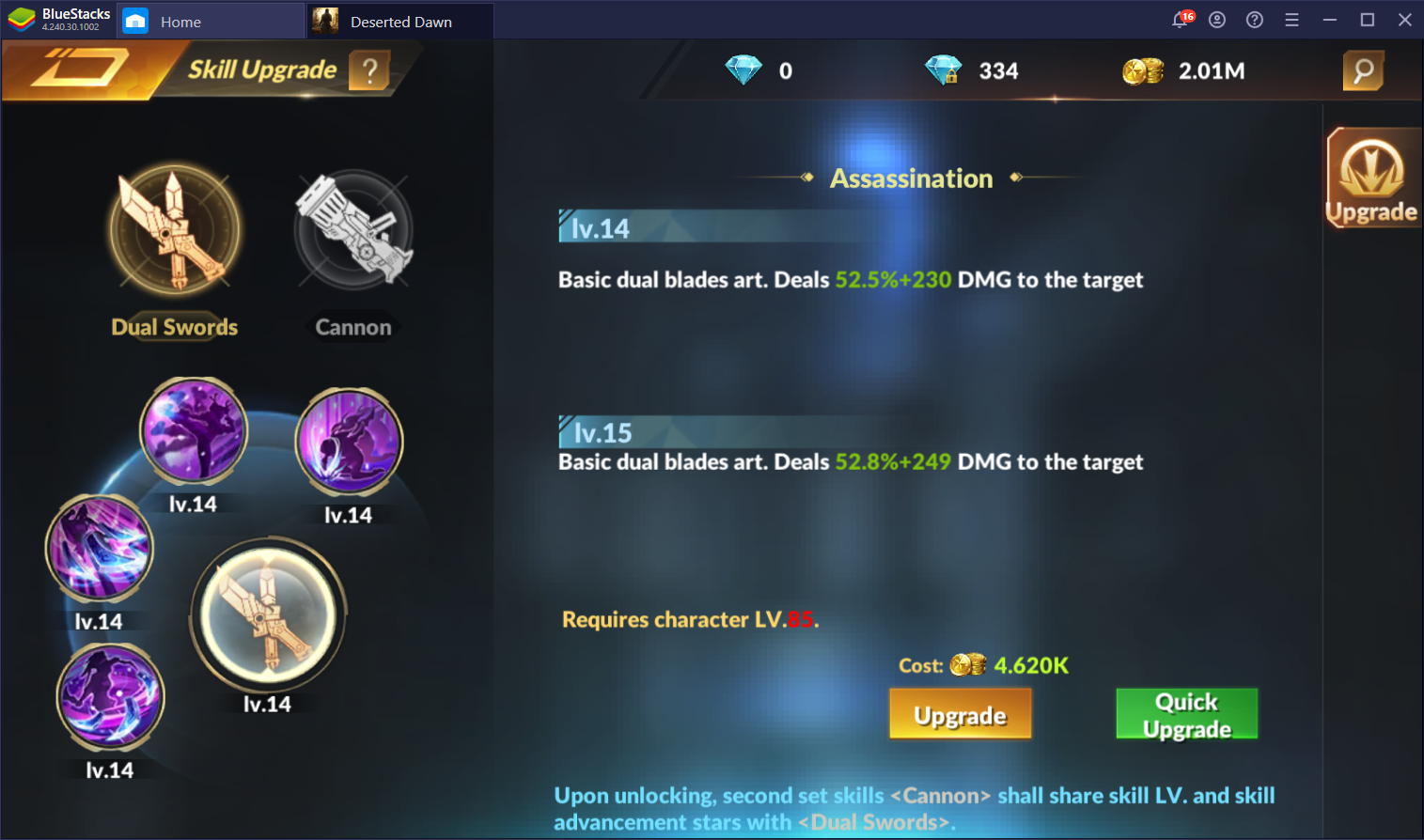 After reaching this level, click on the arrow-headed cross under the mini-map and click on "Skill". Gold is required for upgrading. There is an upgrade cap and you must reach a certain level to be able to upgrade further. Eventually, your character will unlock their second weapon and whatever the stats of your first weapon are, these will be duplicated onto the second one.
These are several features and mechanics of Deserted Dawn that we deem are important and very beneficial to your journey. Take note of all of these and properly apply them in-game and you'll be saving your home from the Overnight Army in no time.