Game Guides
Defend Your Home – How to Play Deserted Dawn on PC with BlueStacks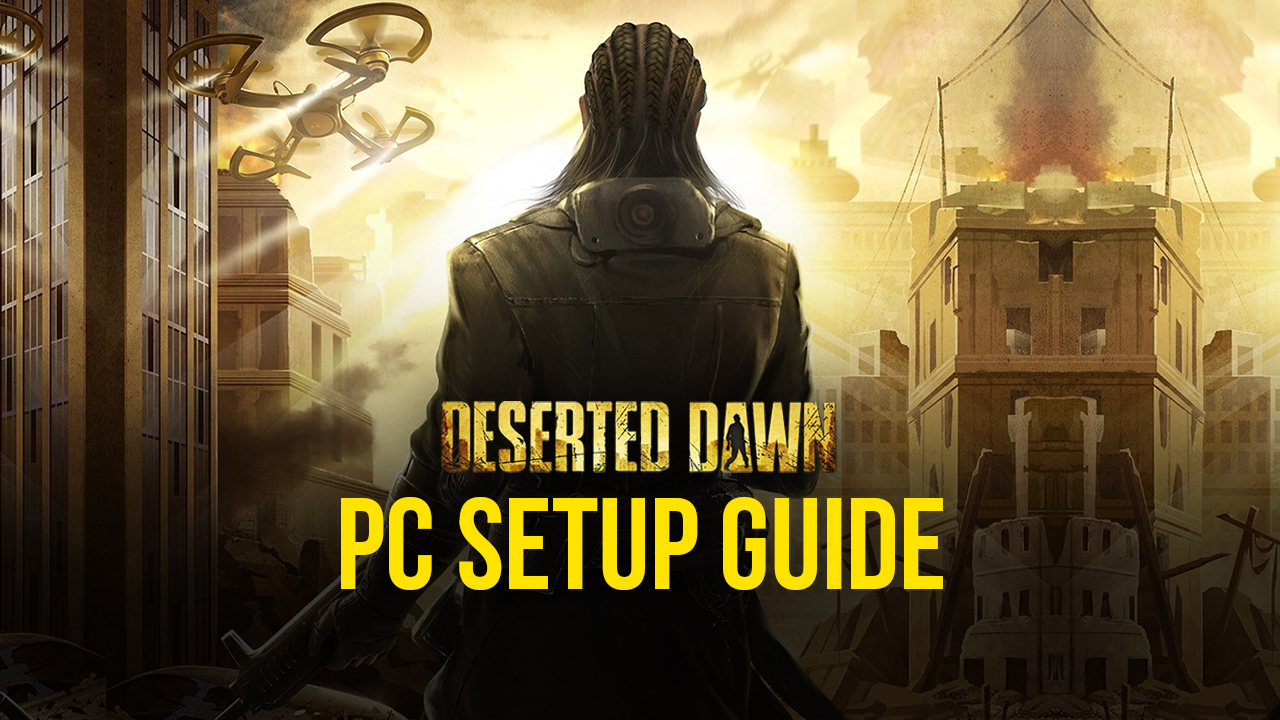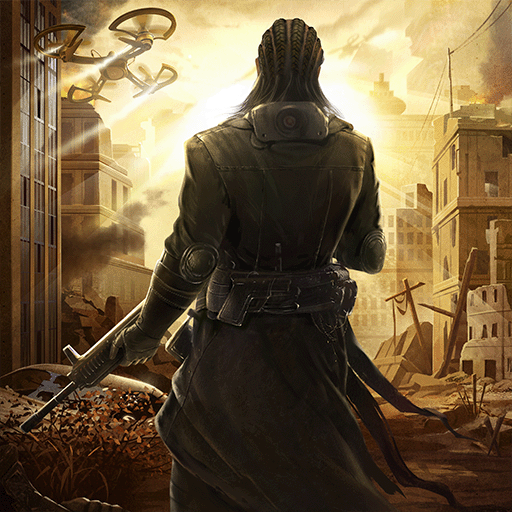 In the aftermath of a devastating war, Earth became nothing more than a planet filled with the ruins of the old civilization. Aside from the fallen societies, the planet has also become overrun with hideous and mutant undead creatures. The world, as mankind once knew it, is no longer the same as before. And all that is left to do now is to do whatever it takes to survive from the constant dangers of the war-torn world of Deserted Dawn.
How to Install Deserted Dawn
There is still hope and it is now your newfound duty to embark on a thrilling adventure to bring Earth and humanity back to their former glory. Save the world by playing the action-packed MMORPG Deserted Dawn. Play it now by installing it on your PC or Mac with BlueStacks in order to utilize exclusive features that can help you on your journey.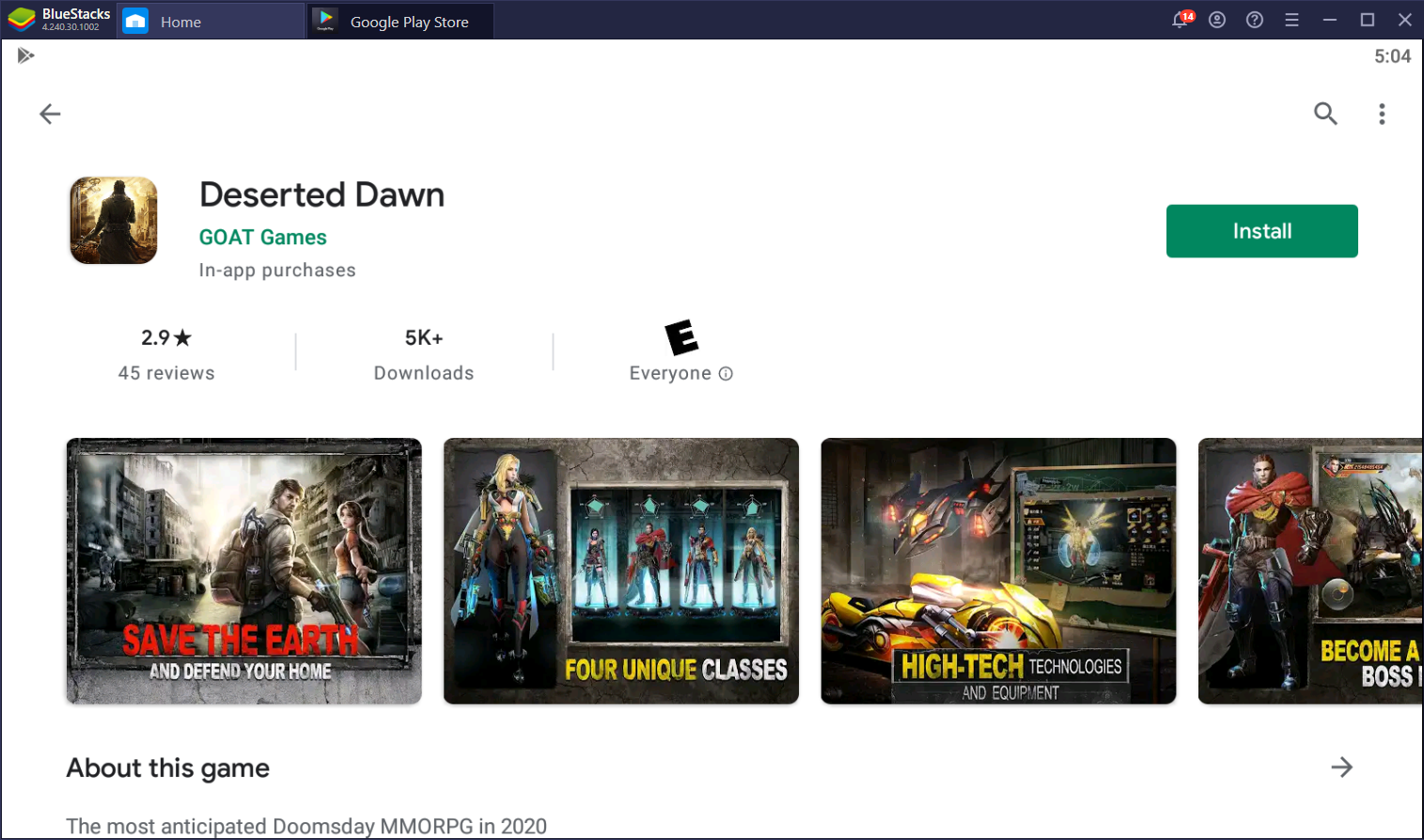 Download and install BlueStacks

on your PC.

Complete Google Sign-in to access the Play Store, or do it later.

Look for

Deserted Dawn

in the search bar at the top-right corner.

Click to install

Deserted Dawn

from the search results.

Complete Google Sign-in (if you skipped step 2) to install Deserted Dawn.

Click the

Deserted Dawn

icon on the home screen to start playing.
Fight Various Post-Apocalyptic Creatures
You will encounter various enemies as you explore the ruins of Earth in Deserted Dawn. From the dangerous undead to malicious bandits, every step of the way will be constantly filled with danger.
In-game enemies frequently spawn as groups and different variations of them are scattered all across the map. Enemies will actually infinitely respawn within their respective groups and this makes it possible to idle the game and perpetually farm EXP to upgrade your character. Fortunately, BlueStacks contains some features that can aid you in idling the game, such as an Eco Mode. Moreover, you can even farm two separate accounts at the same time with Multi Instance.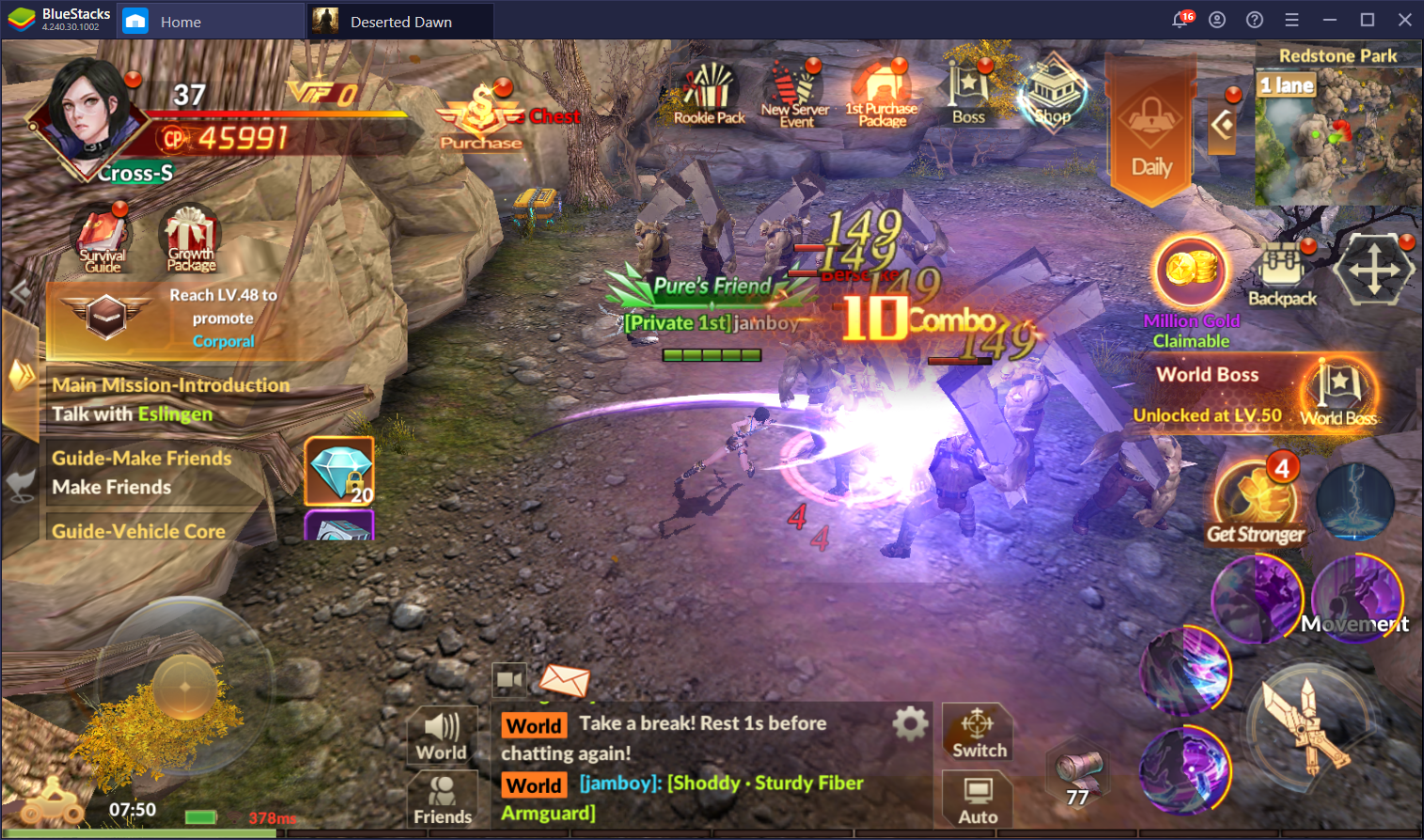 Aside from farming, you can use the endlessly spawning enemies to practice or show-off your character's vast array of combat skills.
Combat in this game is quite similar to other mobile MMORPGs. More specifically, the controls and gameplay of Deserted Dawn are quite similar to those of Mobile Legends: Bang Bang. Your character has a normal attack, which you can spam repeatedly without limit. Additionally, you can also use your character's special attacks, which provide different ways of dealing damage to enemies. These special attacks are limited you will eventually need to wait several seconds before using it again.
The kinds of attacks that you can use to kill enemies will depend on the class of your character.
Choose Your Class
Right from the beginning, Deserted Dawn offers you the choice among four classes. These are the: Ranger, Assassin, Medic, and Guardian.
Each hero class has a different set of weapons that all correspond to a unique set of attacks.
The Ranger class has a gun and boxing gloves.

The Medic class has bows and guns.

The Assassin class has swords and cannons.

The Guardian class has blades and hammers.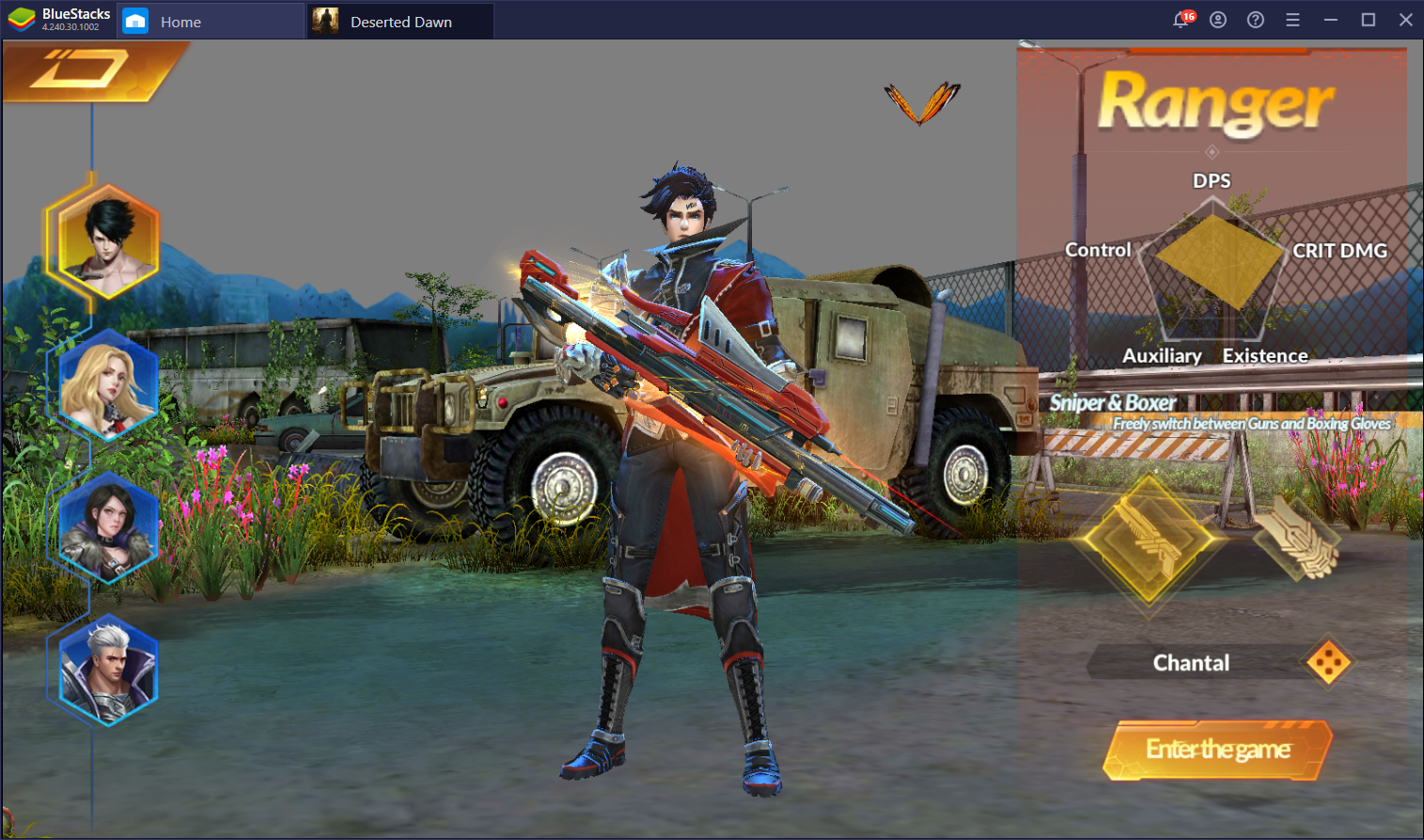 There is really no best class in the game so we recommend picking a class based on your combat preference. If you like attacking from distances, then perhaps the Ranger or Medic class will work best for you. On the other hand, if you wish to go up close and personal to enemies, then you can go with the Guardian or Assassin class.
If you are still undecided, do not worry because the game actually allows you to play the other classes. The game offers you three spare character slots which you can use to pick a different class and experiment with it. Feel free to play with all the classes and discover what is best suits your playstyle.
Customize Your Gear and Vehicle
Deserted Dawn is enriched with weapons and items that your character can use throughout their journey. Aside from the usual gear, your character can also have their own vehicle, drone, and the like.
Gear is essential to your path into becoming stronger in Deserted Dawn. Each gear boosts a certain stat (i.e. ATK, DEF) and these can also be individually upgraded. You can either upgrade them with in-game resources or explore the world to scavenge for better gear.
Your character will eventually have their own vehicle and this can help them travel faster from point A to point B. You can routinely level up the vehicle and it can even climb to a higher rank after reaching a certain level.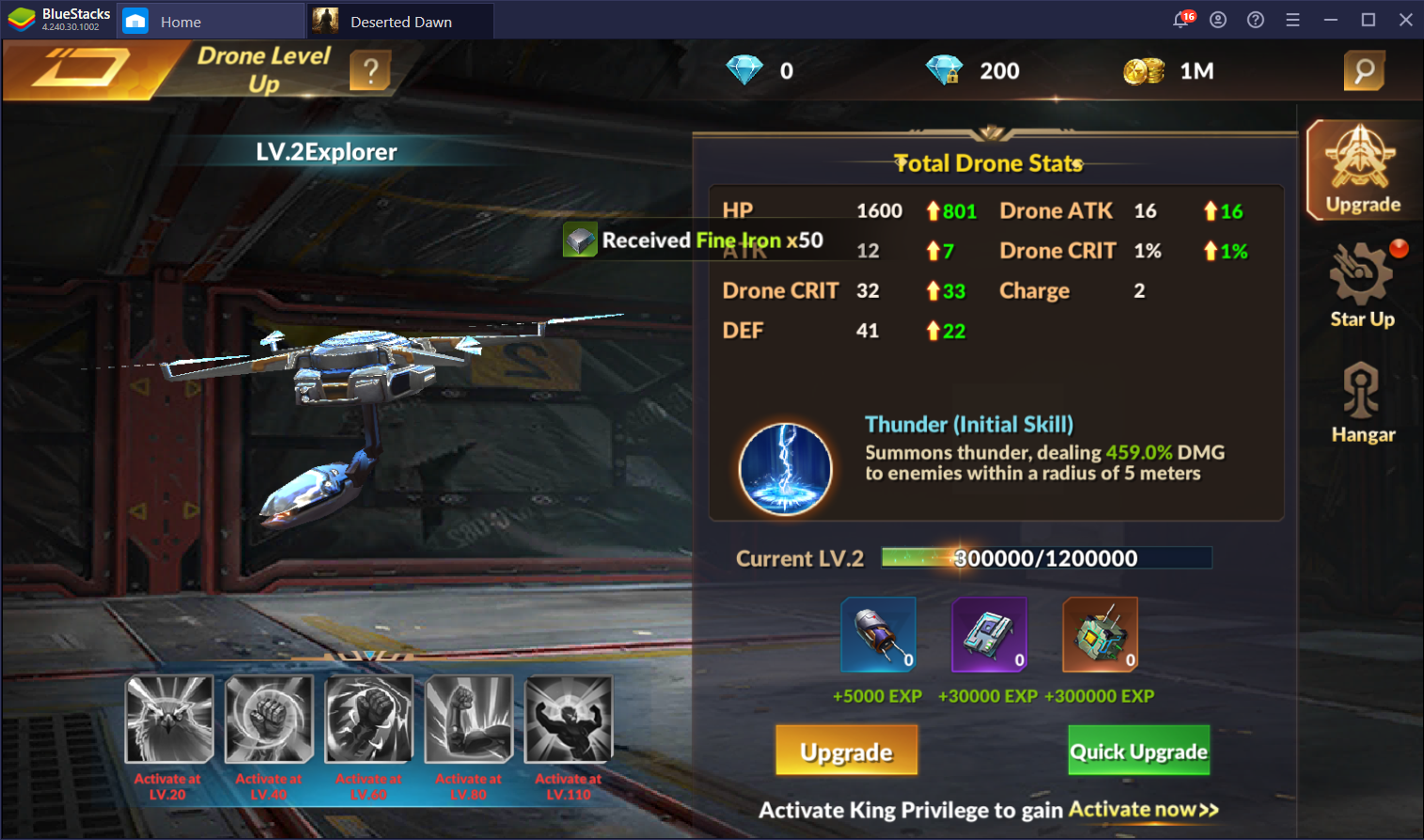 The drone is a useful companion that aids you in fighting enemies. Upgrading them will not only increase their stats but also give you more special attacks that you can use to further deal damage to enemies.
These items are going to be very important in completing quests throughout your adventure.
Complete Quests and Rank Up
The world of Deserted Dawn is a vast landscape consisting of ruins of the former civilizations but also clusters of newly established communities. There are a myriad of quests that the game offers and these quests generously give rewards upon completion. Some main quests will even give you new gear to use in your journey (such as the drone).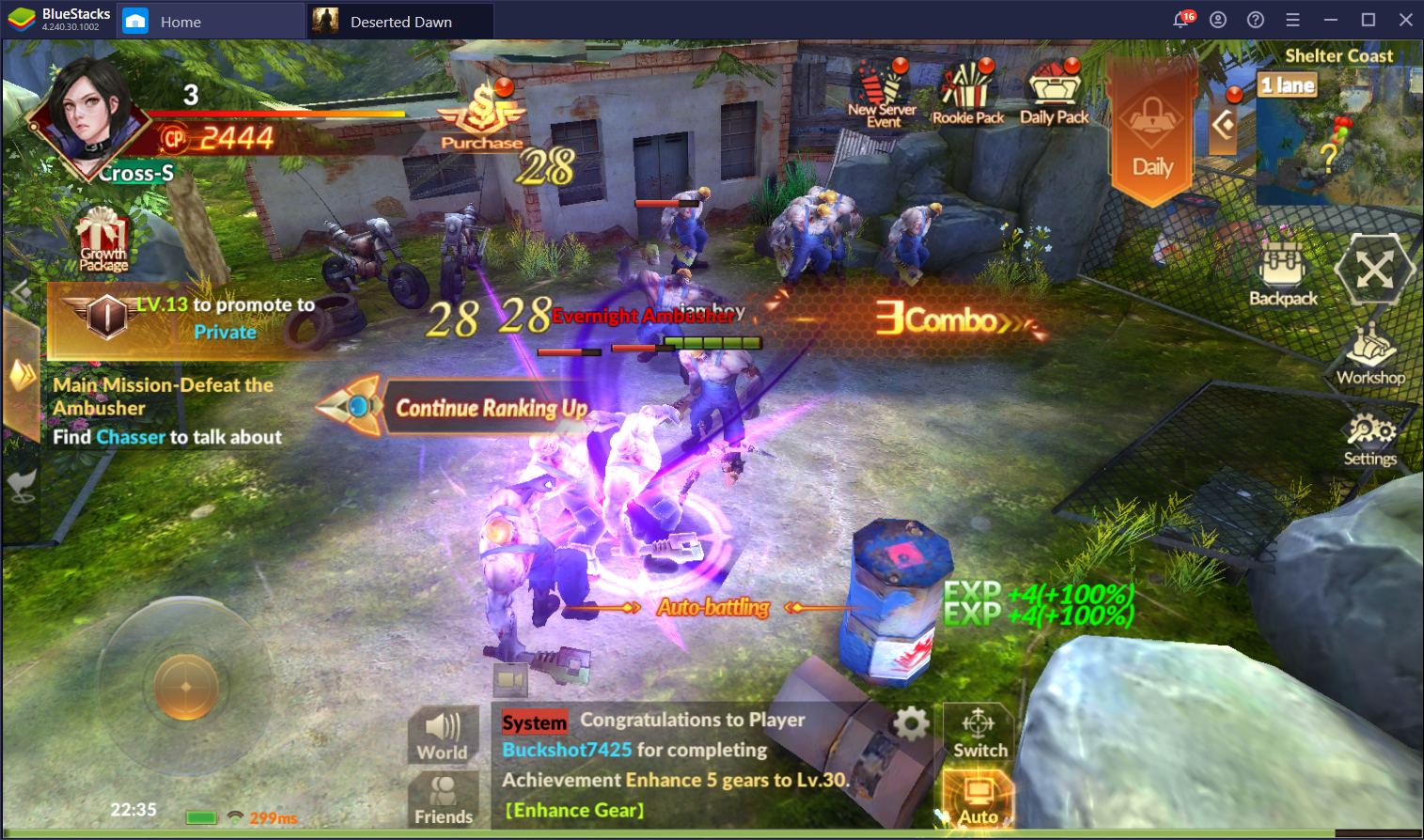 You earn EXP as you accomplish quests as well as eliminate enemies. After reaching a certain level, you can receive a rank as well as the stat boosts that come along with it. However, you need to complete a trial first in order to rank up and the trial requires you to win in a boss fight.
Save the World Now with BlueStacks
The intense adventure you will experience in Deserted Dawn is best played from the comfort of your own PC or Mac and BlueStacks is the ideal platform for that. Aside from the aforementioned Eco Mode and Multi Instance, you can fully customize the game's controls with BlueStacks' flexible controls editor. You can even compile a sequence of actions in just a single button with Macros.
Be mankind's next hero now by installing and playing Deserted Dawn with BlueStacks. Choose your class and embark on a heroic journey. What class did you pick and why? Let us know in the comments below.