Game Guides
Staying Sharp in Disney Sorcerer's Arena: Levelling Up Guide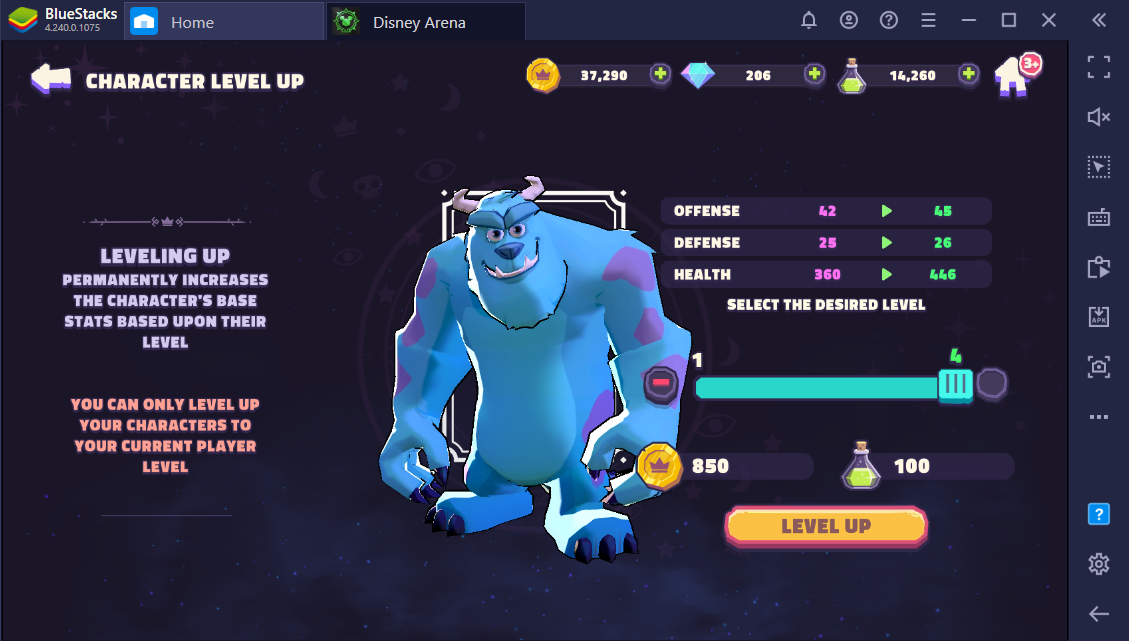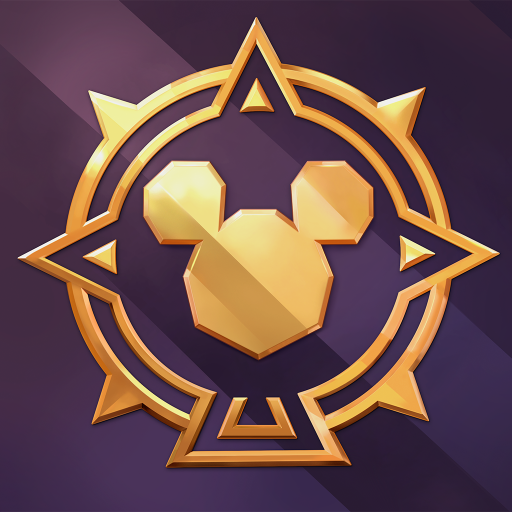 As is the case in many games, levelling up is a vital component of playing Disney Sorcerer's Arena. Not only do you as a player grow in strength by levelling up throughout the course of the game, but your team of well-known Disney characters need to level up to. In fact, there are three different ways of levelling up in Disney Arena, each with its own requirements and each as important as the last. The challenges of the arena get progressively harder at quite an impressive pace, so it is absolutely vital that you keep your team at the very top of their game if you want to keep those winning streaks alive.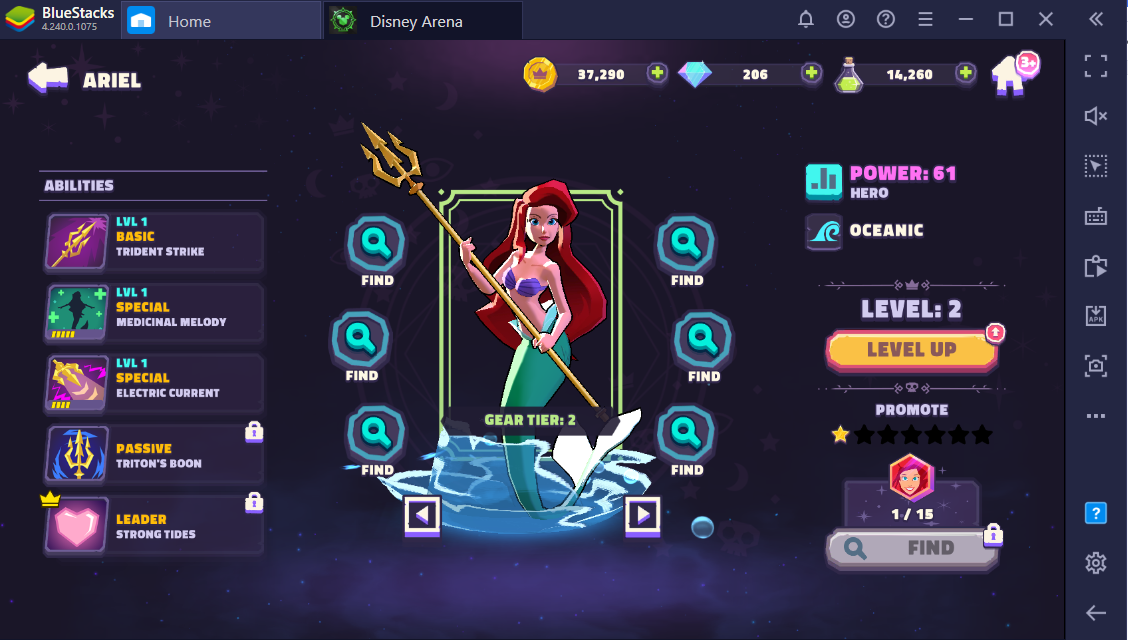 Levelling Up
This is the simplest and most common way of improving your characters in Disney arena. By spending Level Up potions, you can manually upgrade your heroes, buffing their stats and making them that much more effective on the battlefield.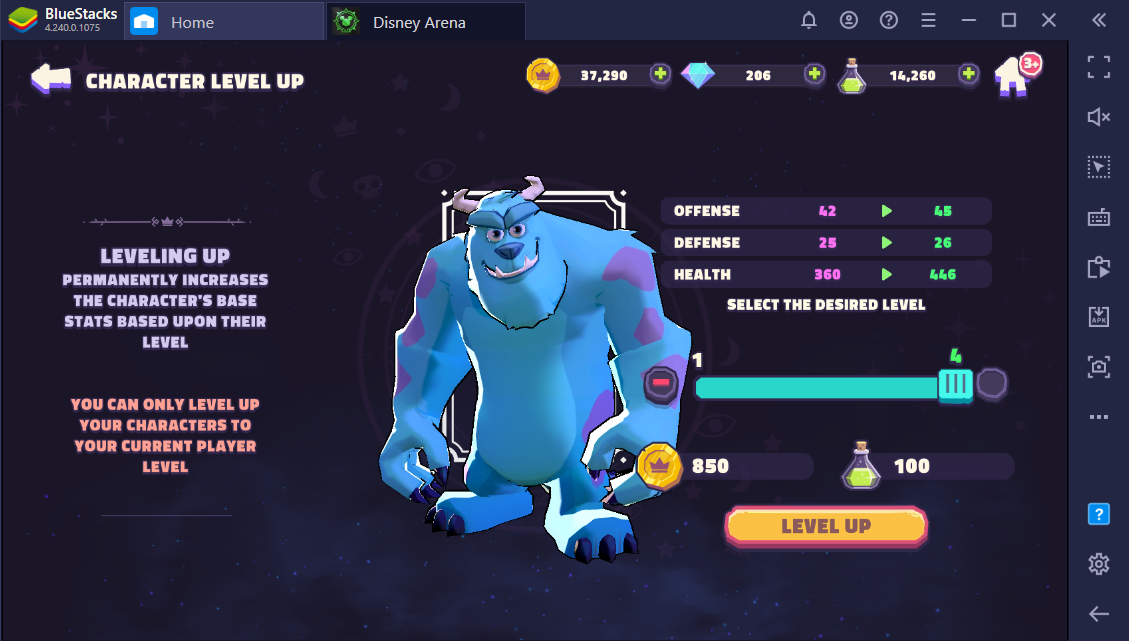 Thankfully, Level Up potions are one of the most common resources in the arena, so you are unlikely to ever be without them for long. However, if you do find yourself a little low on the potion front, you may have to decide which heroes to upgrade and which ones to leave until more potions become available.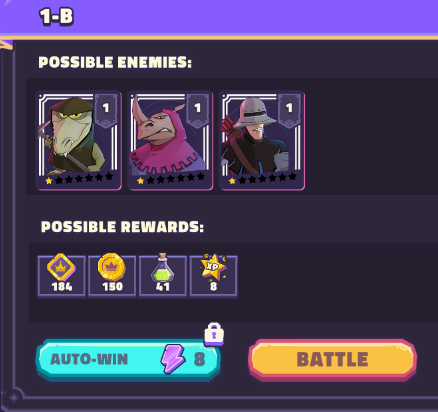 Our advice in this situation is to max out your most powerful heroes at every opportunity. Characters can be upgraded to the same level as you, so you should always make sure that your best fighters are matching your hero level at any given time. Every time you go up a level, make sure you take the time to go through your team and level them up too. It's all too easy to get carried away playing, only to find that you're playing with an underpowered team in a few battles time.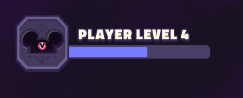 Promoting
In order to unlock characters in Disney Arena on PC, you have to collect a certain amount of character tokens for that hero. Once you have obtained said number of tokens, which differs from character to character, you can unlock the relevant hero and use them in your team. The thing is, just because you have unlocked a character doesn't mean that you will stop finding tokens for them. So, what can you do with them?
Once you have unlocked a character, it is still worth collecting their tokens because you can use them at a later date to promote them up a rank. Just like when you are unlocking heroes, each existing member of your team will require a certain number of tokens to be promoted to their next rank. The number required will naturally increase with each rank you promote them by.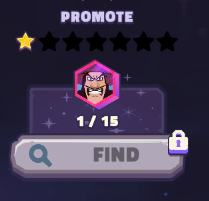 As you can probably imagine, finding enough tokens to not only unlock a character, but then also promote them, is no easy task. Tokens are one of the most valuable commodities in the arena and so they are nowhere near as easy to come by as level up potions. As a result, promoting a character is a rare opportunity, and one that should be planned for.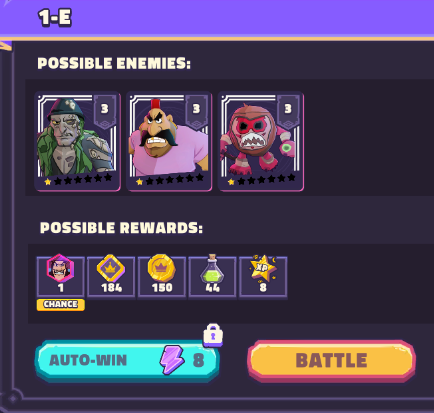 Promotions significantly increase the stats and power of your heroes so, just like with levelling up, you should probably be looking to promote your most powerful team members first. Rather than just waiting to stumble across the right tokens for your chosen character, keep an eye out for battles and challenges that grant the tokens that you need. Battles, in particular, are great, because once you have earned a three star victory on a particular battle, you can use the quick play function to farm for your desired tokens with the just the click of a button, no fighting necessary.

Gear Tiers
Throughout the Disney Sorcerer's Arena, you will find items of gear that, when equipped to your characters, will buff their stats and improve their performance. Each of your heroes has six gear slots that can be filled with these beneficial items but, unfortunately, not every item is equipable to every gear slot. Each of a characters six gear slots will require their own specific piece of gear and, just to complicate things, these requirements can also differ from character to character.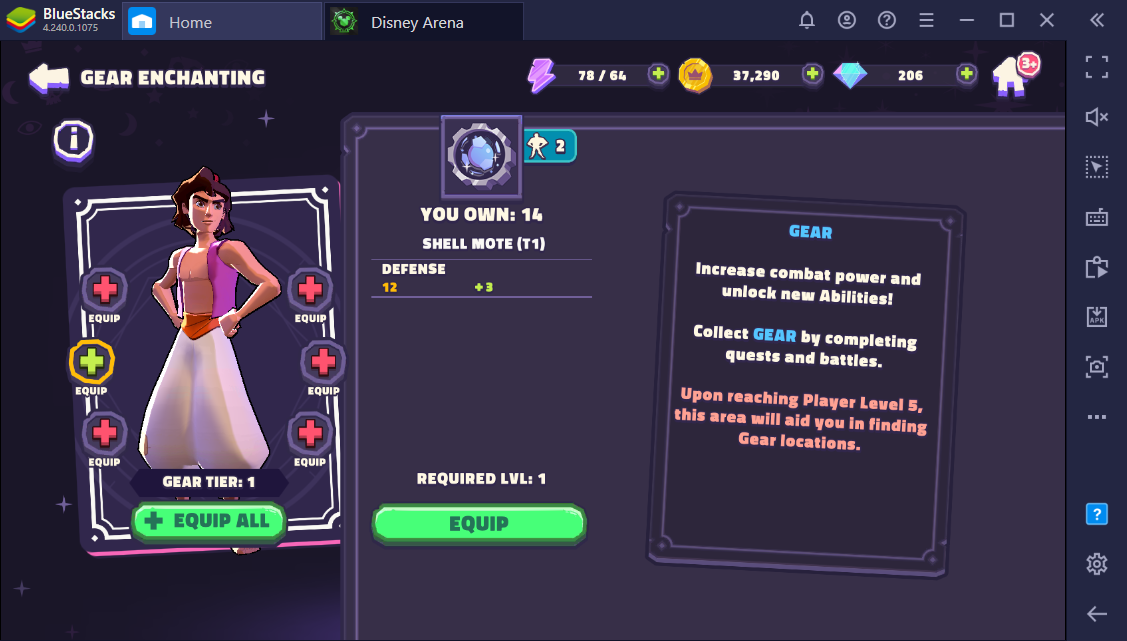 Sounds like an awful lot of trouble, doesn't it?
However, trust us when we tell you that the trouble is totally worth it. See, the thing is, while individual pieces of gear do buff your characters in small ways, they become a lot more powerful when part of a full set of 6 pieces. Once a character has been fully armed with all the gear they could need, you can trade their full armoury for a Gear Tier, which not only massively buffs their stats, but may also unlock new abilities for them to use on the battlefield.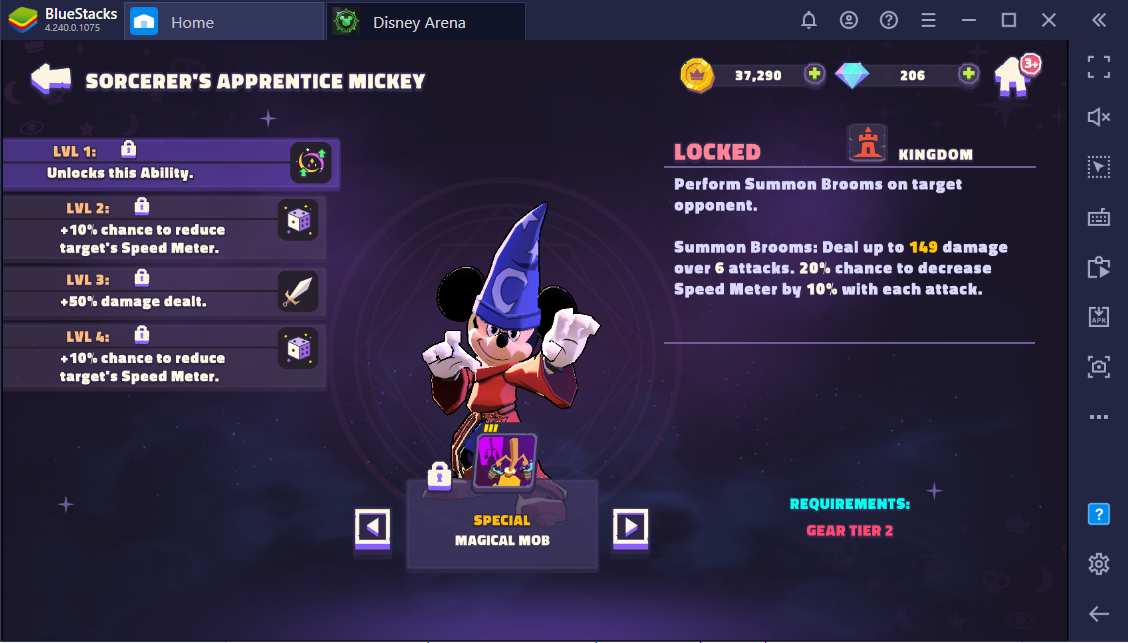 So, whilst it may be annoying that all the gear disappears and you are once again faced with the arduous task of filling those six slots with brand new equipment, your hero will be all the more powerful because of it, and may have a brand new move for you to deploy against your opponents in the heat of battle.
Gear can be found strewn throughout the arena, though it is not even close to being as common as level up potions. Like tokens, gear can be found at certain battles or places and then farmed using the quick play function once you have achieved three stars on the relevant battles. This is a very effective way of getting the gear that you need without going to the trouble of actually sitting through a dozen fights that your team could win in their sleep.