Game Guides
New Mobile Strategy Game 'Dystopia' Features UFC's Conor McGregor as Guest Star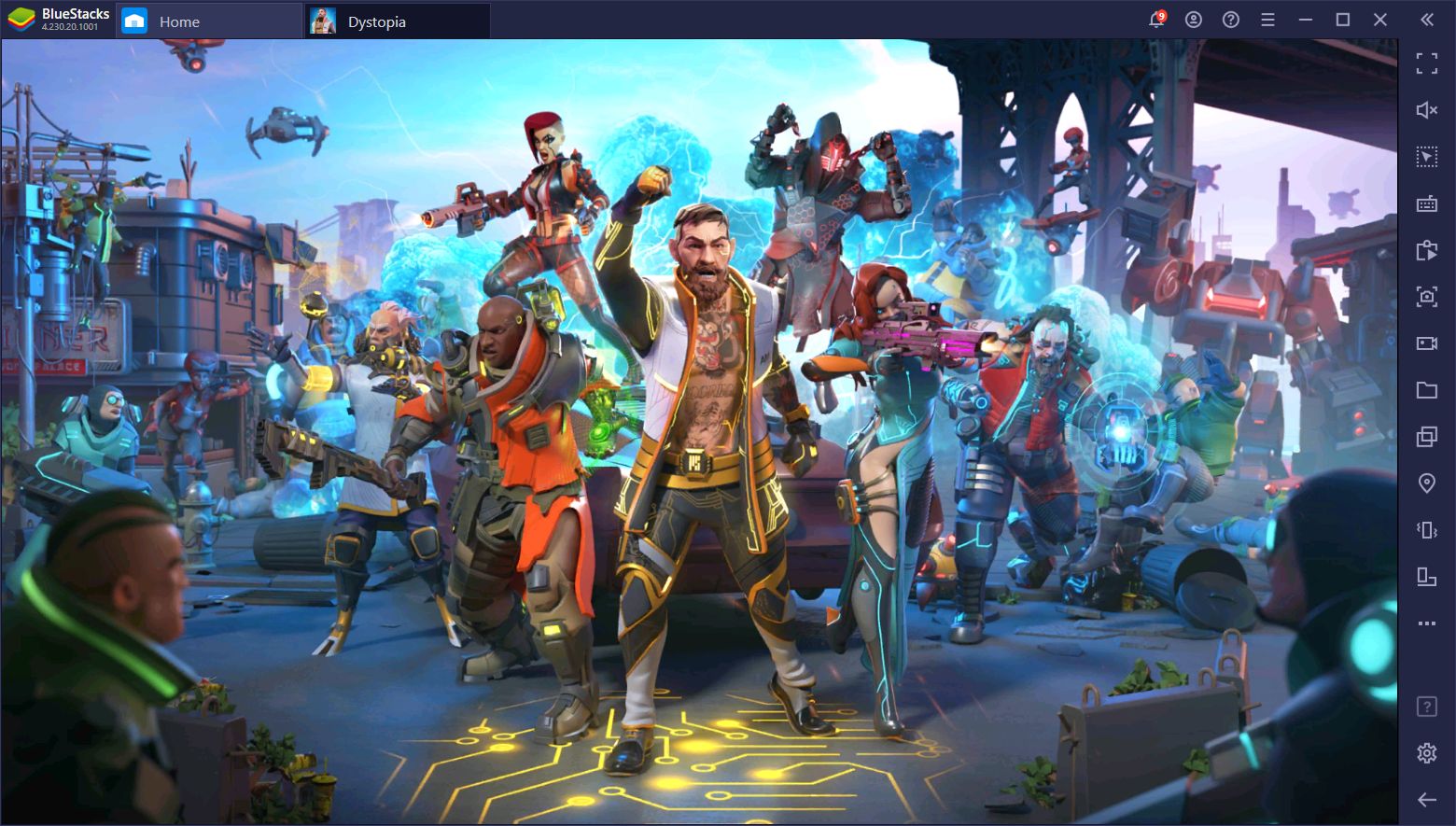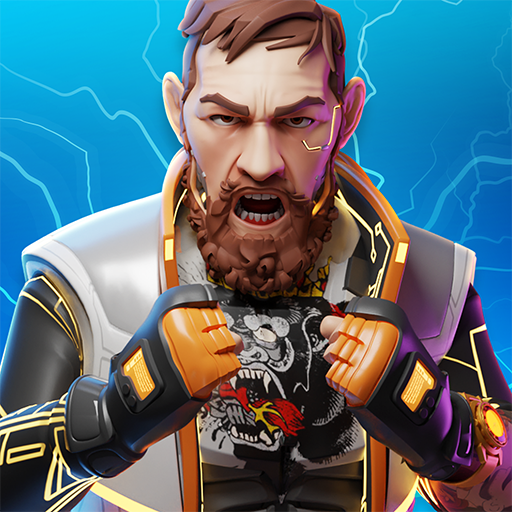 We recently came across a brand new strategy game called Dystopia which, while fairly decent in its own right, captured our attention due to the fact that UFC star Conor McGregor is actually featured not only as part of its marketing campaign, but also as a character in the game itself. Now, while most of you who don't care about MMA won't really be interested in this fact, this is actually quite an important event, considering it's a game about strategy combat guest starring one of the world's most successful mixed martial arts combatants.
However, behind this awesome guest star is also a great game, and we'll be taking a sneak peek at Dystopia, as well as explain how to play this mobile game on PC, in this article.
What's it About?
As a game, Dystopia features many elements of different genres such as base building, hero recruitment, and troop training, among others. In this regard, it resembles Rise of Kingdoms since the game gives players free rein to build their base however they see fit, down to the specific spots where they wish to place each individual structure. The objective here is to develop your base and to keep your army stocked so that you can venture out and clear the game's challenges.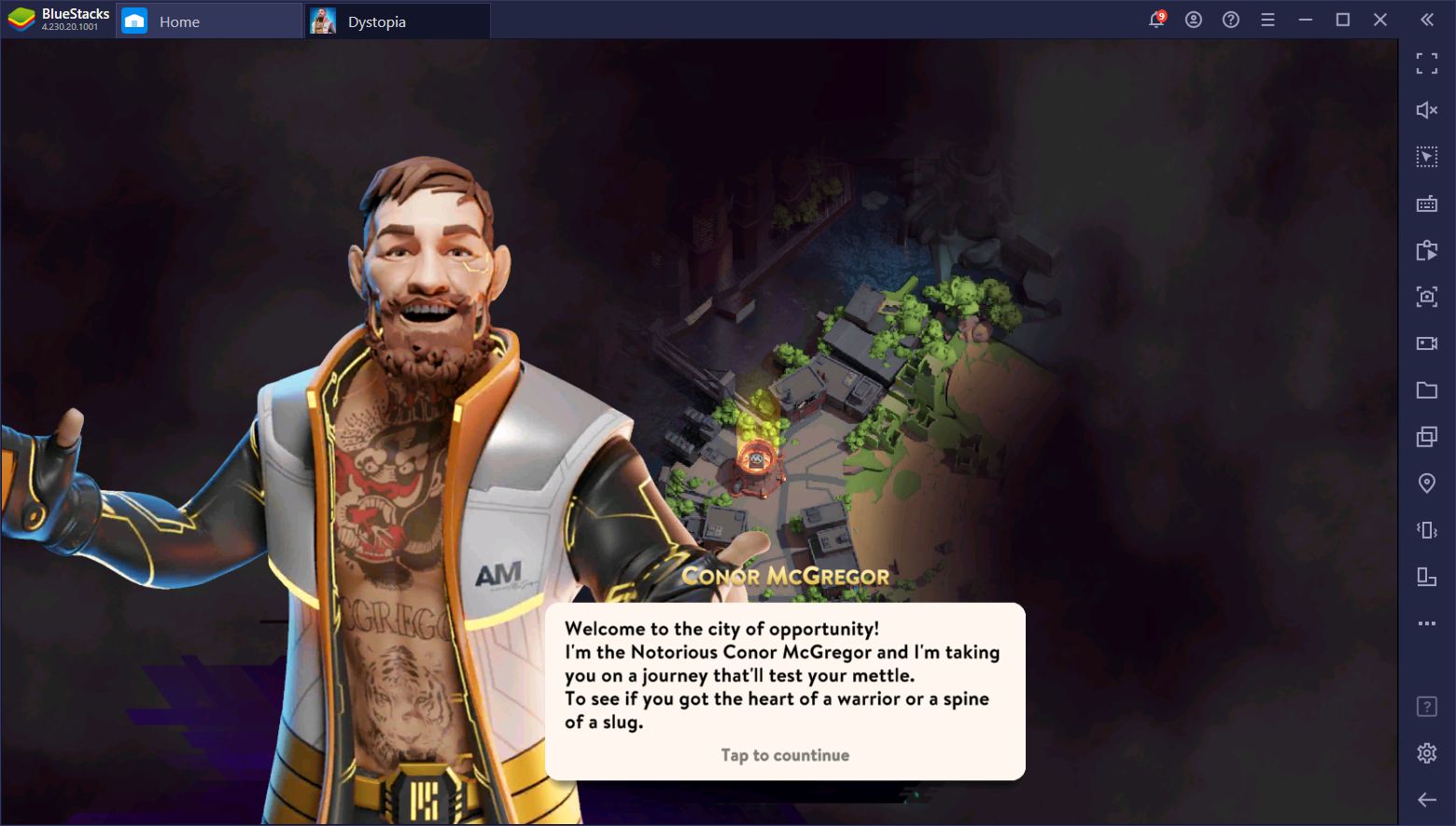 The brunt of the game's combat takes place in real time and in a separate combat screen. In combat, players can decide when and where to deploy their troops so they can engage the enemy and destroy their buildings. Spearheading the assault are your heroes, which can use special abilities with different effects, all with the goal of overrunning the enemy and demolishing their base. Most of the combat takes place automatically, with your soldiers marching and attacking autonomously, similar to games like Clash Royale.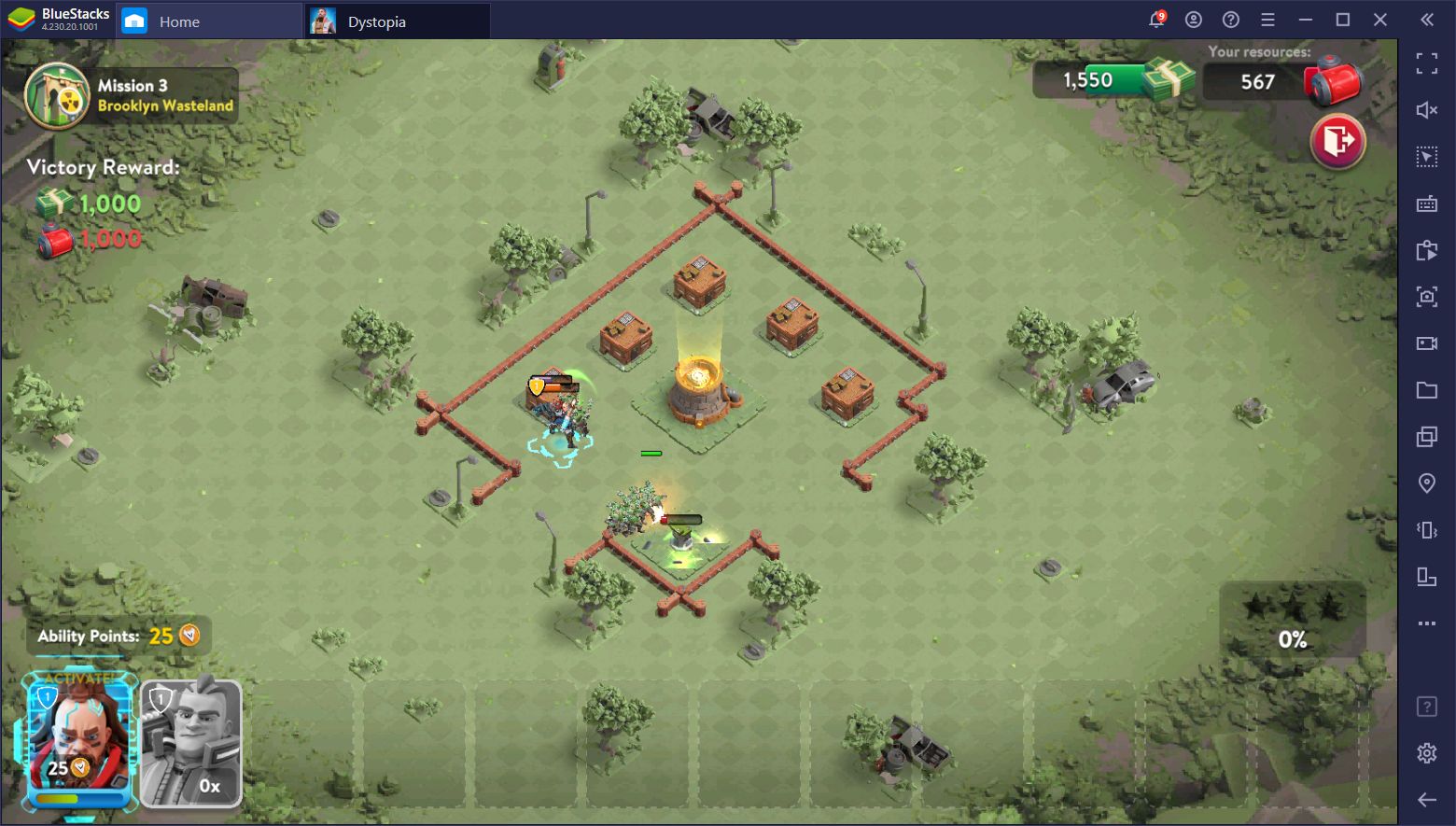 Your input in combat is essential, however, as you can decide where and how to deploy your troops, and when to use your special skills; decisions that are often enough to turn the tide of battle in your favor. Moreover, you can also equip your heroes with different pieces of gear that can enhance their stats and make them much stronger in combat.
There are countless levels and stages to complete in Dystopia, which can get increasingly tougher as you progress. In this sense, you'll need to stay on top of your daily quests and upgrades in order to keep your troops and heroes powered up at all times.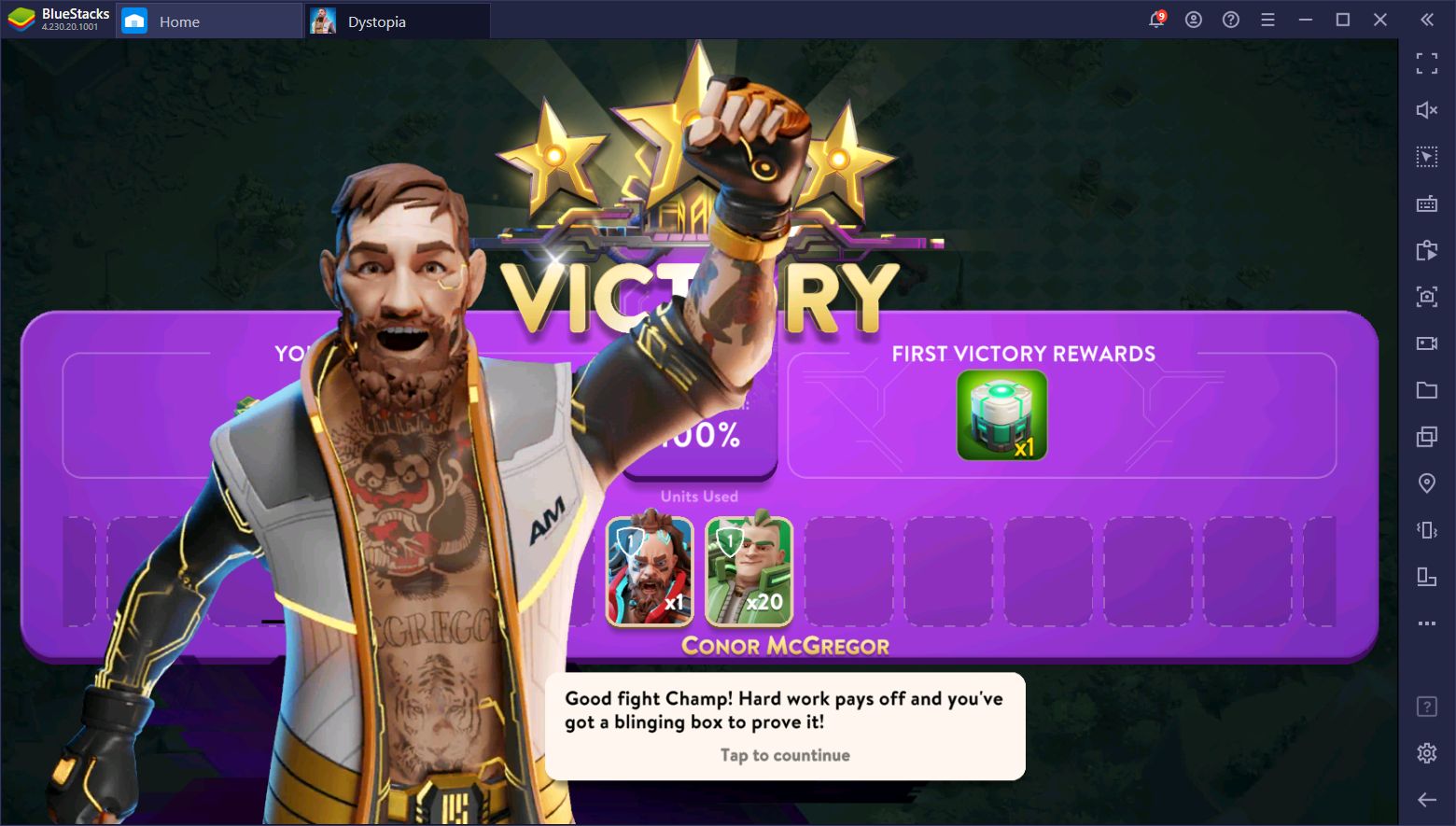 How to Play Dystopia on PC With BlueStacks
You can enjoy Dystopia on your computer, with the best graphics and performance, by playing it on BlueStacks, our powerful Android emulator. Our app player is both easy to install and intuitive to use, and you can set it up in a few simple steps:
Download and install BlueStacks

on your PC.

Complete Google Sign-in to access the Play Store, or do it later.

Look for Dystopia using the search bar on the top-right corner.

Click to install Dystopia from the search results.

Complete Google Sign-in (if you skipped step 2) to install Dystopia.

Click the Dystopia icon on the home screen to start playing.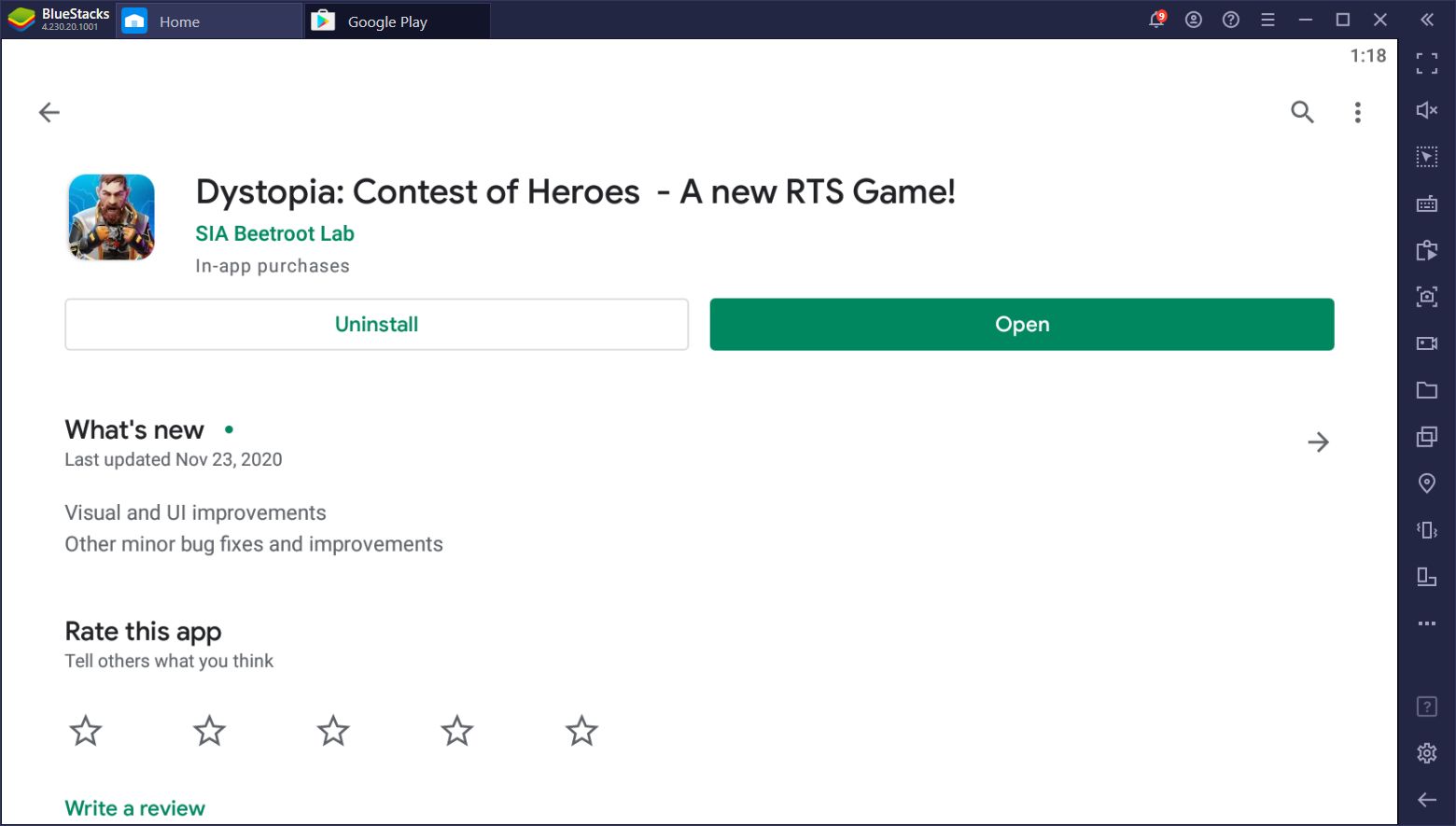 While Dystopia is designed and developed to be played on phones, you can enjoy it on your PC in just a few minutes, and with none of the drawbacks of mobile gaming such as overheating and battery issues. What's more, you don't need to break the bank by buying an expensive phone that can run the game with decent performance and will even get access to special and unique tools to improve and streamline your experience.
If you have any questions about how to install and play Dystopia on PC with BlueStacks, feel free to leave them in the comments below.