Game Guides
Progress as You Play with This Beginner's Guide to Echocalypse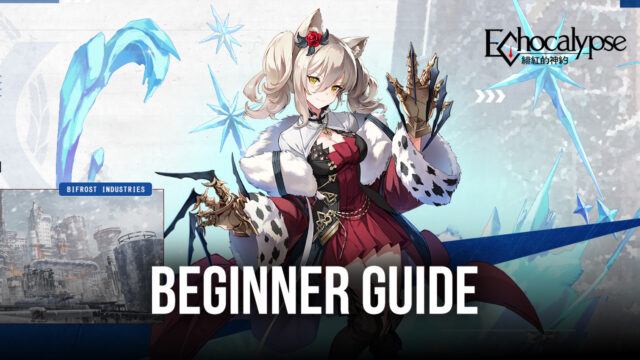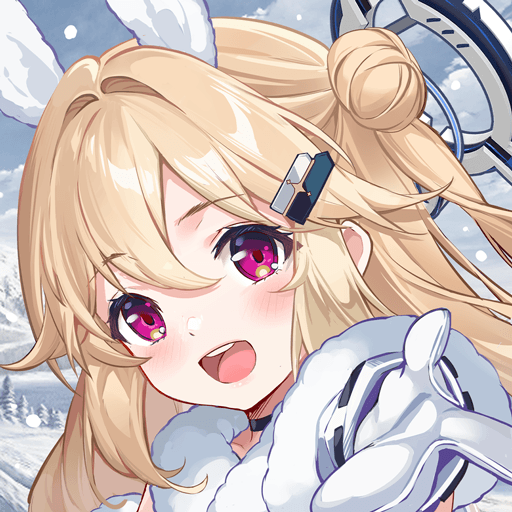 Echocalypse is soon to be released globally and currently operates in a Closed Beta state to test the stability of the game. The YooZoo Inc developed game is classified as a Sci-Fi SRPG where players role-play as an Awakener who is tasked with training an all-girl warrior squad known as Kemono Girls. The characters, called "Generals" in-game, are uniquely designed and represented by their chibi live 2.5D forms in battles. The game follows a classic drag and drop stylized gameplay where players make up a formation of multiple heroes to take them to battle. The players have little to no control over their heroes except their special abilities that they can trigger anytime the character's rage bar is full. Echocalypse will be available as a free-to-play game on both the Google Play Store and iOS App Store.
Echocalypse also has its own unique elements that are not usually seen in these genres of games such as the city-building features. Players are able to create a base for their collected Generals where they can further interact with them. The game takes Role-Playing in RPG games a step further as it allows the player to even marry/date their favorite generals along with customizing them according to their wishes. Players can do so by changing the General's voice lines, changing their costumes and accessories, and changing their dialogues. Players can gift their Generals to show their appreciation which helps in increasing their affection level with the particular General. Echocalypse also takes pride in its professional voice acting done by the likes of Yoshimasa Hosoya, Sora Amamiya, Rina Hidaka, Misato Fukuen, Hisako Kanemoto, Yumi Hara, Asami Seto, Sumire Uesaka, Chinatsu Akasaki, Mai Nakahara, Minami Tanaka, Reina Ueda, Maki Kawase, Aki Toyosaki, Haruka Shirashi, Yuka Iguchi, Ayane Sakura, and Chiwa Saito.
In this beginner's guide for Echocalypse, we will be explaining some of the most unique and important systems of the game that will be required to be used by the players in order to progress in the game efficiently. We highly recommend players try out the game themselves and follow their own path to get the most joy out of the game. Hence, we will only be providing an in-depth guide for these systems but not setting guidelines. Players can make choices according to their own wishes as games like these are not a sprint but a marathon where players will often run out of resources and wait for the next day to replenish. Players can enjoy Echocalypse the best by installing and playing Echocalypse on their PC with BlueStacks using a keyboard and mouse.
Draw – The Summoning System
Echocalypse is a hero collector game that makes use of the gachapon mechanics to obtain the heroes. Players need to summon them from the summoning system called Draw which is located on the right-hand side of the main menu. Players will be able to access the different summoning banners that exist by clicking on Draw. Each of these summoning banners comes in different types and offers different types of Generals. There exist 2 main banners currently in the closed beta phase of the game:
Advanced Draw Banner

– Players can summon R-SSR Generals on this banner and there is a certain expiration date for this banner.

Rate-Up Draw Banner

– Players can summon R-SSR Generals on this banner and some specific General(s) are having a higher rate to be summoned on this banner. These banners are usually associated with an expiration date. These banners are used to feature the newest Generals introduced in the game.
Players can summon different rarity of Generals at different rates available in the game from the above-mentioned 2 banners. The rates of summoning the generals are entirely dependent on their base rarity. Here are the different base rarities and the rates to summon them from the banners:
SSR (Super Super Rare) Generals

– Base 3% probability to be summoned

SR (Super Rare) Generals

– Base 14.7% probability to be summoned

R (Rare) Generals

– Base 82.3% probability to be summoned
As we can see from the data above, the highest rarity of generals is having the lowest base rates to be summoned while the lowest rarity of generals is having the highest base rates to be summoned. This is a very standard theme in gacha games as they like to make acquiring the rare heroes more difficult. Each time the players want to summon on any banner, they will need 200 of Iridimorphite. Players can either perform 1 summon at a time or 10 summons at a time. Echocalypse does include a pity system for the joy of the free-to-players who do not have ample summoning resources. The pities are separate for different summoning banners.
The Pity system in Echocalypse exists has 2 different sub-systems:
Hard Pity:

Players are guaranteed to obtain an SSR General within 50 summons. If the player is unable to obtain an SSR General in 50 summons, then the next General will be guaranteed to be an SSR General.

Soft Pity:

Players are guaranteed to obtain at least 1 SR General for every 10 Advanced Draws made on the banner. If the player does not summon an SR rarity General within 10 summons, then the next General summoned is guaranteed to be of SR rarity.
Different Currencies in Echocalypse
The best way to progress in games like Echocalypse where many aspects of the game are time-limited or time-specific is to understand the different currencies that are at play. These different currencies are extremely important for the base systems of the game as they dictate the pace of progression many players make when they start the game. In Echocalypse, we will be taking a look at the 3 main currencies used for making progress in-game:
Action Points
Tribute Points
Goldflower
Action Points are one of the most important currencies and resources in Echocalypse. Action Points or AP are important as it is required in abundance to play the game itself. Players need AP to participate in the main story of the game called Expedition and its different case files. AP is also required to deploy heroes in the Patrol and farm equipment. Action Point is a recurring resource which means it refills on its own, although at a slow rate. The AP regeneration happens slowly and players will be able to increase the limit of storing AP by increasing their player rank. Players can further refill AP by using their Goldflower, the premium currency, or by using their collected Nutrient Solutions.
Goldflower is the most premium currency that is used for majorly summoning on the Draw system. Goldflower is the currency of the rich, quite literally as they can only be bought using real-life money or be obtained in-game through completing certain events and activities. At the beginning of the game, obtaining Goldflower is easier because they are quite abundant in the Expedition by 3-Star clearing all the stages. Goldflower is required to purchase Nutrient Solutions, Elementiums, Admission Tickets, and much more.
Tribute Points are also one of the 3 most important resources available in the game. Tribute Points or TP are also available in great abundance due to their usage in almost every aspect of strengthening your generals. Tribute Points are used primarily to level up your generals, augment your generals, perform breakthroughs for your generals, level up the skills of generals, etc. Tribute Points are mainly obtained through daily missions, events, expedition stages, etc.
Make Your Generals Stronger
Echocalypse is a hero collector game where players need to make their collected heroes called Generals stronger. Making them stronger will directly help the players in order to clear the different stages of the expedition or case studies. Hence, a combination of strong Generals is the key to progressing faster than your peers in games like these. Having a strong formation of 6 different generals will not only help players in PvE content but also PvP content and game modes. PvP game modes like the Cage Fight are important sources of premium currency. Having strong formation matters a lot in order to rank higher in the Cage Fights
Players can contain multiple formations according to their liking and rename them as well. Each formation consists of a maximum of 6 different Generals. Hence, it's recommended that players have at least 6 strong generals to make a strong formation. There are various methods to empower and enhance your Generals like the following:
Leveling Up
Breakthrough
Augment
Skill Enhancement
Leveling Up is the main way of making your Generals stronger in Echocalypse. By leveling up, players will be able to directly increase the base stats of the Generals they own. In Echocalypse, players are greeted with a level cap on their Generals where each general can be leveled up to the maximum level directly proportional to their player rank. Hence, it's always advised to increase the player rank by clearing the different expedition stages. Players can make use of the Quick Battle system to complete multiple battles instantaneously and reap the rewards as well. Players will be able to level up their generals using different rarities of Mission Data currency. The higher the rarity of these Mission Data, the more amount of experience they provide to the General. Mission Data can be farmed from the expedition stages and can be obtained through events.
Breakthrough is also one of the most important methods of empowering your Generals. Players can engage in breakthrough methods by going to the selected General from the Case Menu. Players require duplicate copies of the same general to be able to break through them. These copies can be acquired through summoning from the Draw summon system and the duplicate copies are converted to Bio-Chips of the general. Breakthrough increases the base stats of the General as well as provides them a bonus stat called Artifice. The higher the breakthrough level, the higher the Artifice level. Each Artifice provides the General with different stats like Critical Hit Rate, Pierce Rate, Attack%, etc.
The augment method is also one of the most lucrative methods of obtaining power in Echocalypse. Augment comes in different tiers that are numbered according to their current level. For example, Tier 1 represents the 1st level of the Augment upgrade and Tier 2 represents the 2nd level of the Augment upgrade. Players will be able to upgrade the Augment tiers of their Generals by submitting different materials in the Augment screen. These materials can be obtained from the different expedition stages of the main story. By clicking on a specific material, the player will be able to see the location of the material and where to obtain it from. Augmentation improves the base stats of the Generals like Attack, Defense, HP, etc, and provides them with additional active/passive abilities.
Skill Enhancement refers to upgrading the different active and passive abilities of the General. Players can engage in skill enhancement either by breakthrough method or by increasing the Augment tiers of the generals. When enhanced, the abilities deal more damage, increase the duration of the crowd control effects, or simply hit a greater number of enemies. In short, they increase the damage or utility of the general depending on their class.
Missions
Daily Missions are your short and easy-to-complete quests that every player is assigned at the start of the day after server reset. They are quite easy and not challenging to complete which makes them a source of infinite resources as they reset daily. The daily missions are as follows:
Complete any Expedition Stage 1 time.

Level up Generals 3 times.

Participate in Cage Battle 1 time.

Type in the World Chat 1 time.

Log in once a day.
To Play Echocalypse more efficiently and in an optimized manner, we highly recommend playing Echocalypse on your PC with BlueStacks using a keyboard and mouse.