Game Guides
Be a Legend – How to Install Gemstone Legends on PC with BlueStacks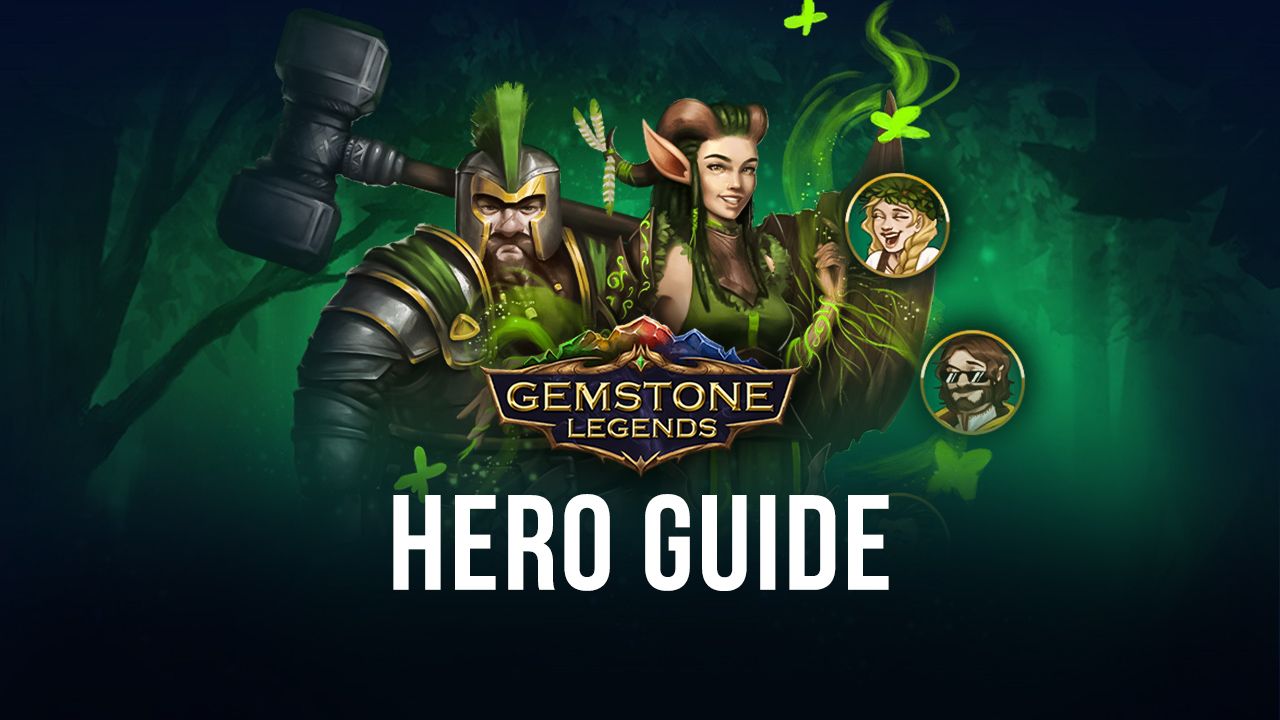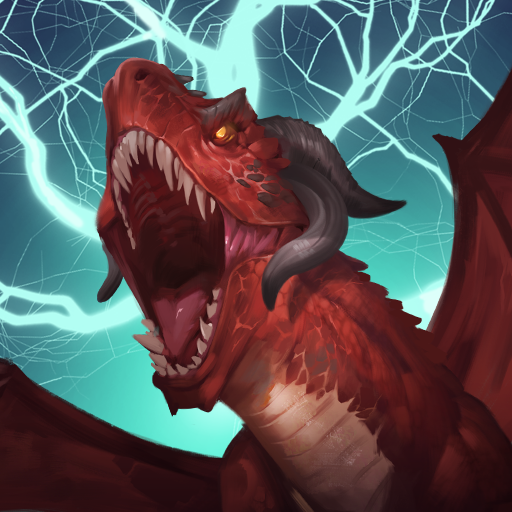 Everything was fine and dandy in the Chrono Realm until dark magic suddenly came and brought maleficence and annihilation all around the world. It is now time to save the realm by embarking on an epic journey with a variety of heroes with a variety of abilities.
Be the legend of the Chrono Realm now by playing Gemstone Legends on your PC or Mac with BlueStacks.
How to Install Gemstone Legends
Download and install BlueStacks

o

n your PC.

Complete Google Sign-in to access the Play Store, or do it later.

Look for

Gemstone Legends

in the search bar at the top-right corner.

Click to install Gemstone Legends

from the search results.

Complete Google Sign-in (if you skipped step 2) to install Gemstone Legends.
Click the Gemstone Legends

icon on the home screen to start playing.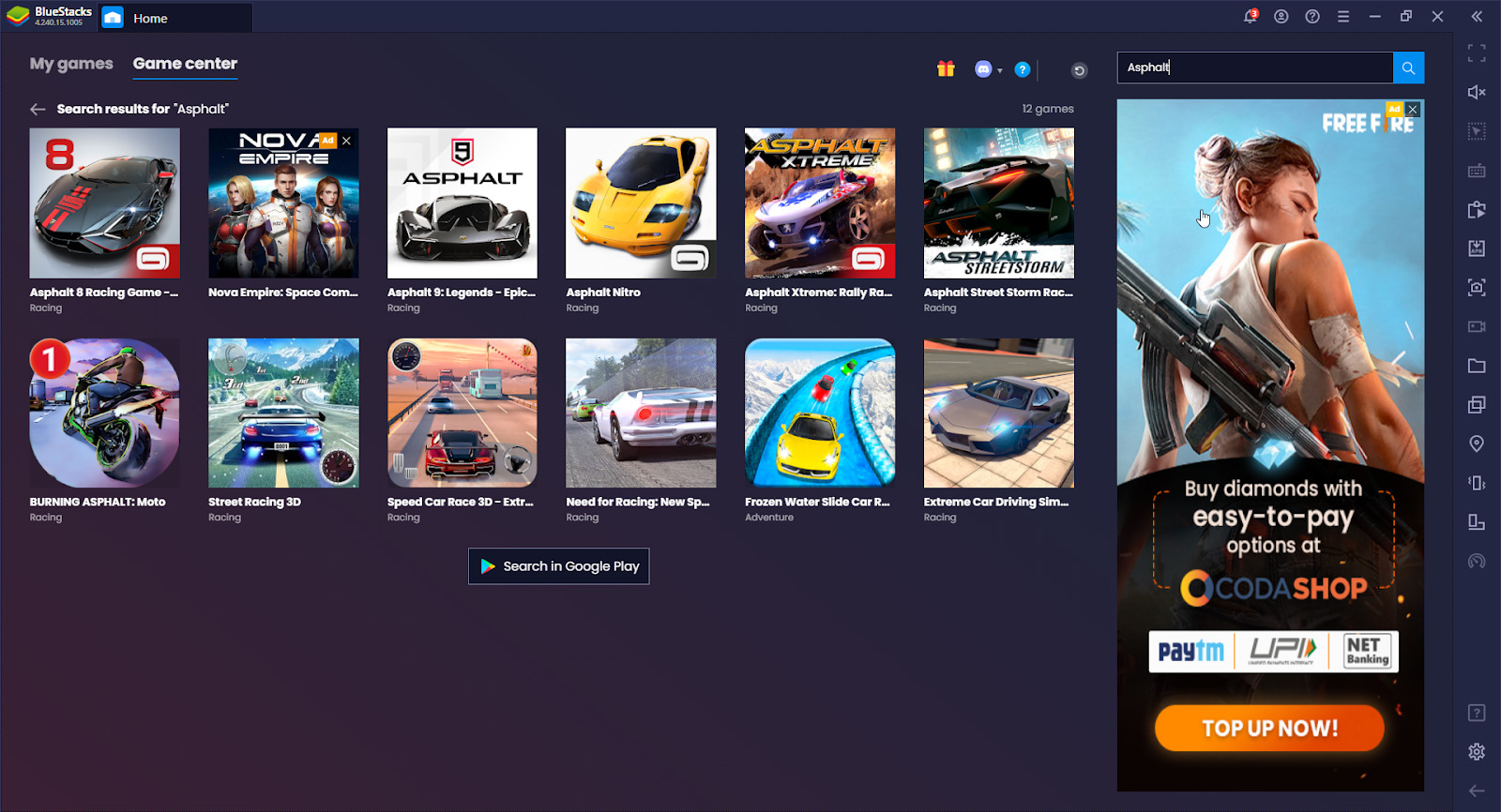 Engage in an Epic Adventure
Gemstone Legends features a long epic campaign set all across the Chrono Realm. The map is separated into various campaigns with each campaign set in unique biomes.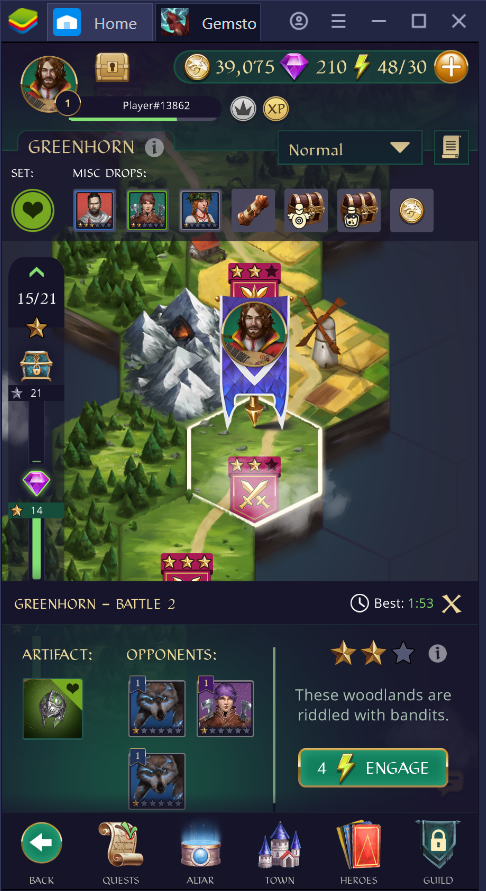 Progression is similar to match-three puzzle games in a sense that the map is separated into individual levels that need to be cleared in order to move to the next. In Gemstone legends, your progress the map through campaigns. Each campaign level contains about two waves of enemies that need to be eliminated. Consequently, you win rewards, such as artifacts (more on this later), for completing levels.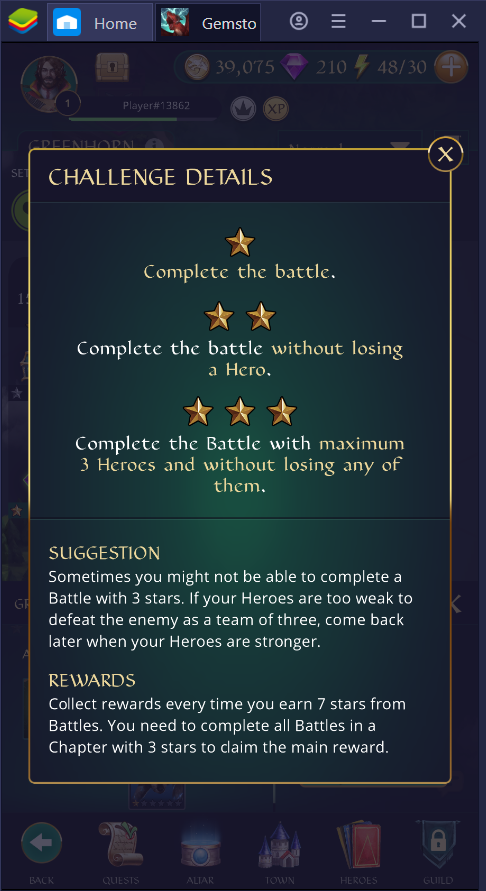 Additionally, completion of levels is rated with a three-star system. One star is earned for just being able to complete the level. Two stars for beating the level without losing any heroes. And lastly, three stars for finishing the level with only three heroes and without losing any of them.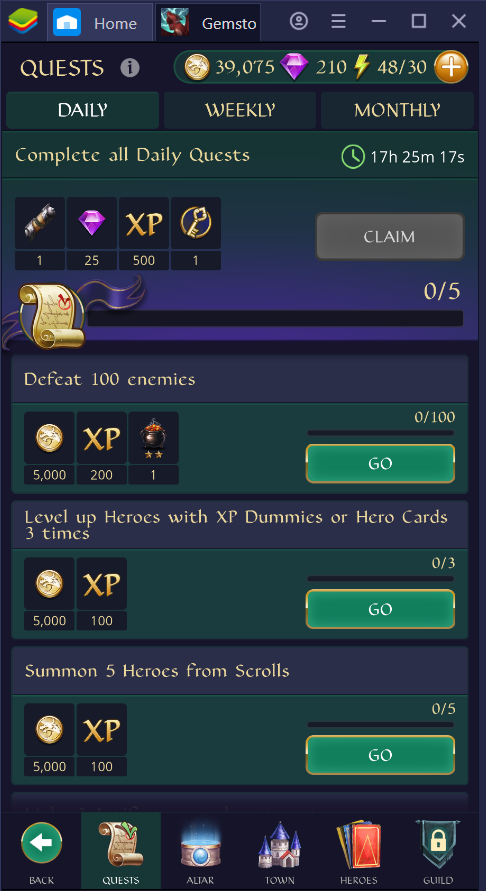 Aside from the main campaign, you can engage in tavern quests. These are essentially side quests that give bonus rewards upon completion. Tavern quests are separated into three categories which refresh daily, weekly, and monthly respectively.
Test your Puzzle Solving Skills
The combat in Gemstone Legends plays out in the form of a tile-matching puzzle, similar to games like Candy Crush Saga and Bejeweled Classic. In these games, matching at least three tiles translate to a score; however, in this game it translates to damage that is dealt to enemies.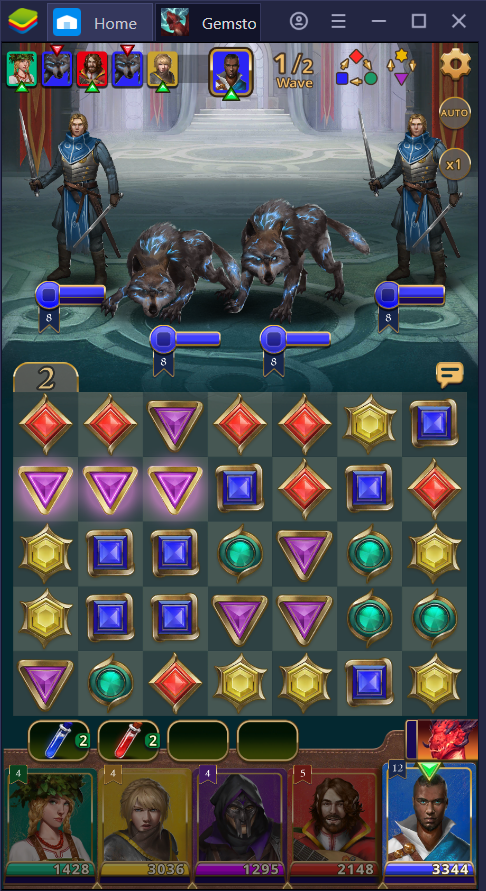 The tile-matching aspect of the combat is partnered with a turn-based system. In every level, you have several heroes on the playing field. Each hero contains at least three moves and each of those three moves are spent on every swipe that you do on the puzzle (regardless if you match at least three "gems" or not). After all the hero's moves are spent, the next hero or even the next enemy takes their turn.
What is interesting is that you can not only move the gems vertically or horizontally but also diagonally. This allows you more flexibility in solving the puzzle. As much as possible, your moves should always result in matching gems in order to maximize damage.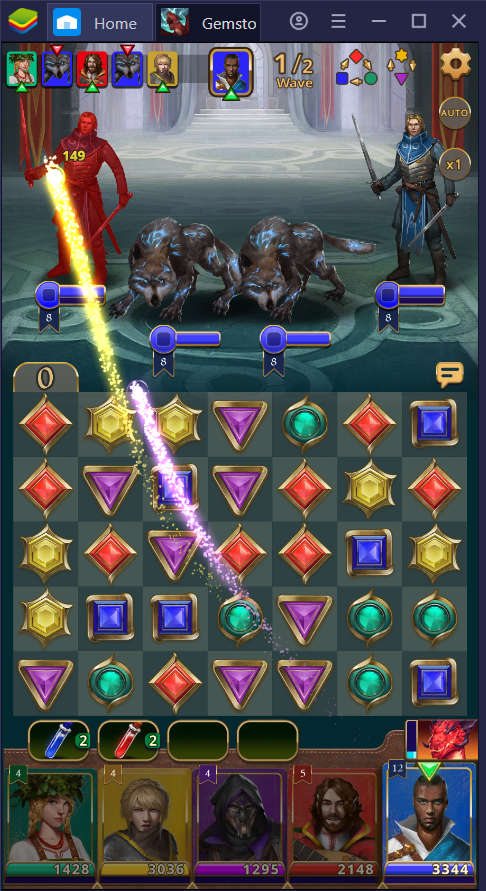 Speaking of matching gems, doing so will also give your heroes man, which is a resource needed to activate their special ability. Essentially, gems and heroes have specific colors. In order to give mana to a particular hero, you must match gems of the same color as said hero. For instance, a yellow hero's mana will be filled if at least three yellow gems are matched.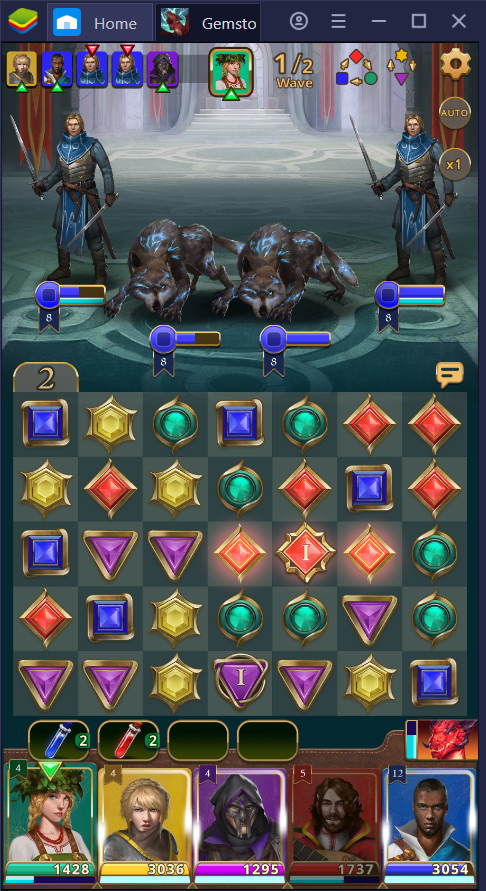 Moreover, matching four or more gems together will result in a power gem. Matching power gems with gems of the same color will multiply the affected hero's attack points.
If you want to know more about the challenging and awesome combat system of Gemstone Legends, check out this guide here.
Build Your Army of Heroes
Gemstone Legends boasts a vast array of heroes to unlock and play as. More specifically, the game offers – as of writing – a whopping 217 heroes.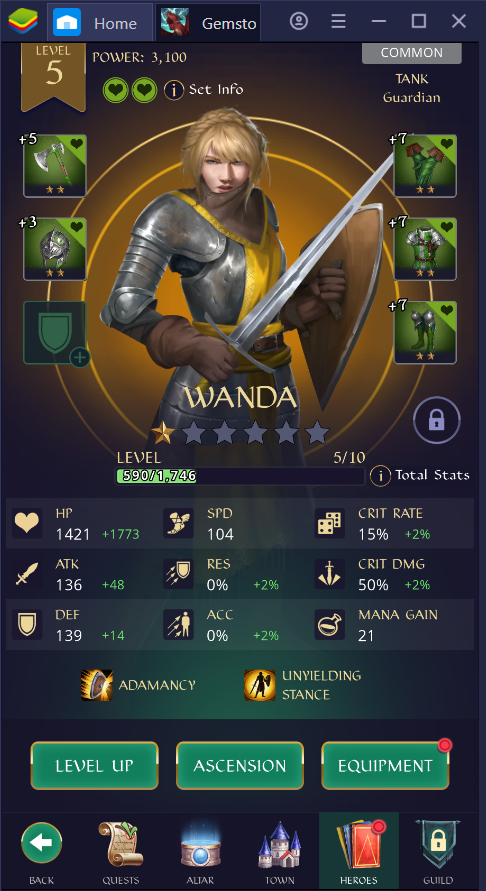 Each of those 217 heroes contain unique characteristics such faction, roles, and the like. For example, heroes are classified into attack, specialist (support), and tank roles. Furthermore, every hero also has a special ability, which can be activated during combat to gain a huge advantage over the enemy. A hero's special ability is contingent on their specified role so some support roles can heal other heroes while some attack heroes focus on collective damage.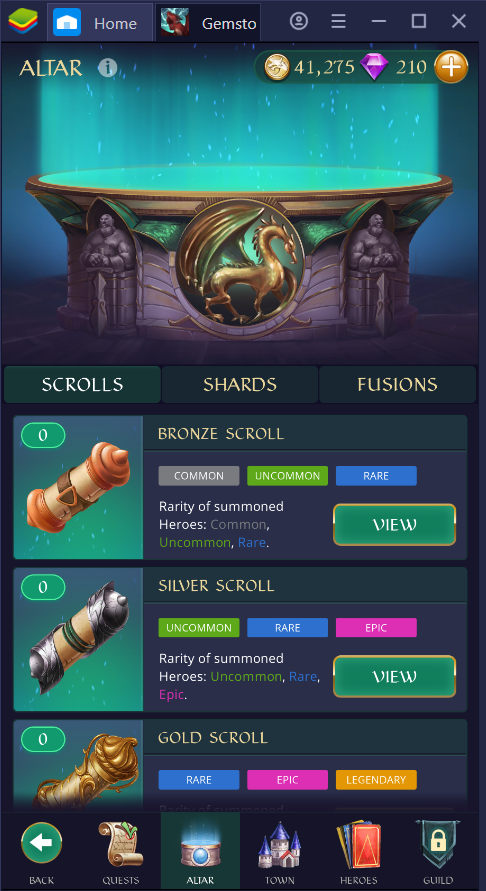 You can expand your roster of heroes by opening scrolls. There are several types of scrolls that you can open and each type offers heroes of different rarities. The rarer the hero, the stronger they are; but, of course this means that they are more expensive.
Know more about the heroes of Gemstone Legends in this game guide.
Save the Empire with BlueStacks
Save the Chrono Realm now by installing Gemstone Legends on your PC or Mac with BlueStacks. You can take advantage of BlueStacks' adjustable and flexible interface to play the game however you see fit. Moreover, you can even reroll your account and relive the epic journey with Multi-instance.
Who is your favorite hero so far? Let us know in the comments below.