Game Guides
How to Play GOT: Winter is Coming on PC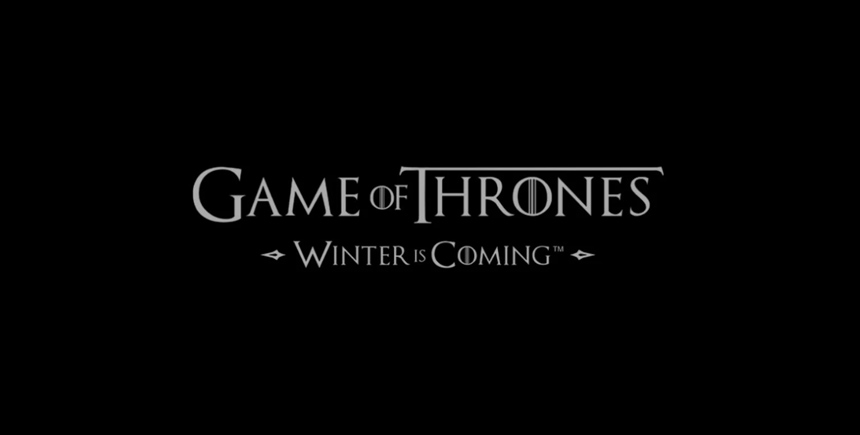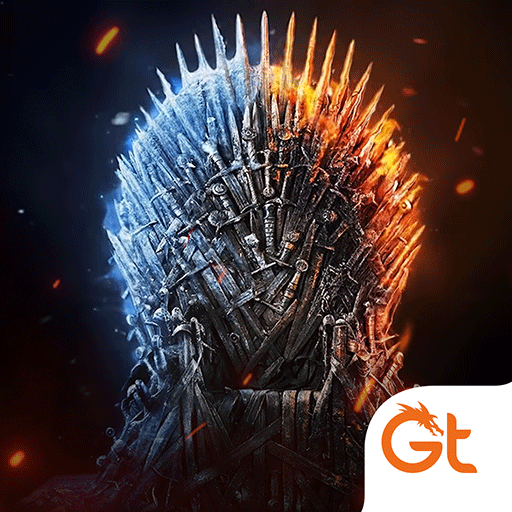 Dive into the land of Westeros in Game of Thrones: Winter is Coming, the popular browser game that is being released on Android and iOS. However, even though the ability of being able to play on your phone is great and convenient, gaming on your mobile device leaves a lot to be desired, especially when it comes to the graphics and performance. In this sense, if you're looking for the best experience, you're definitely going to want to play it on your PC using your superior hardware.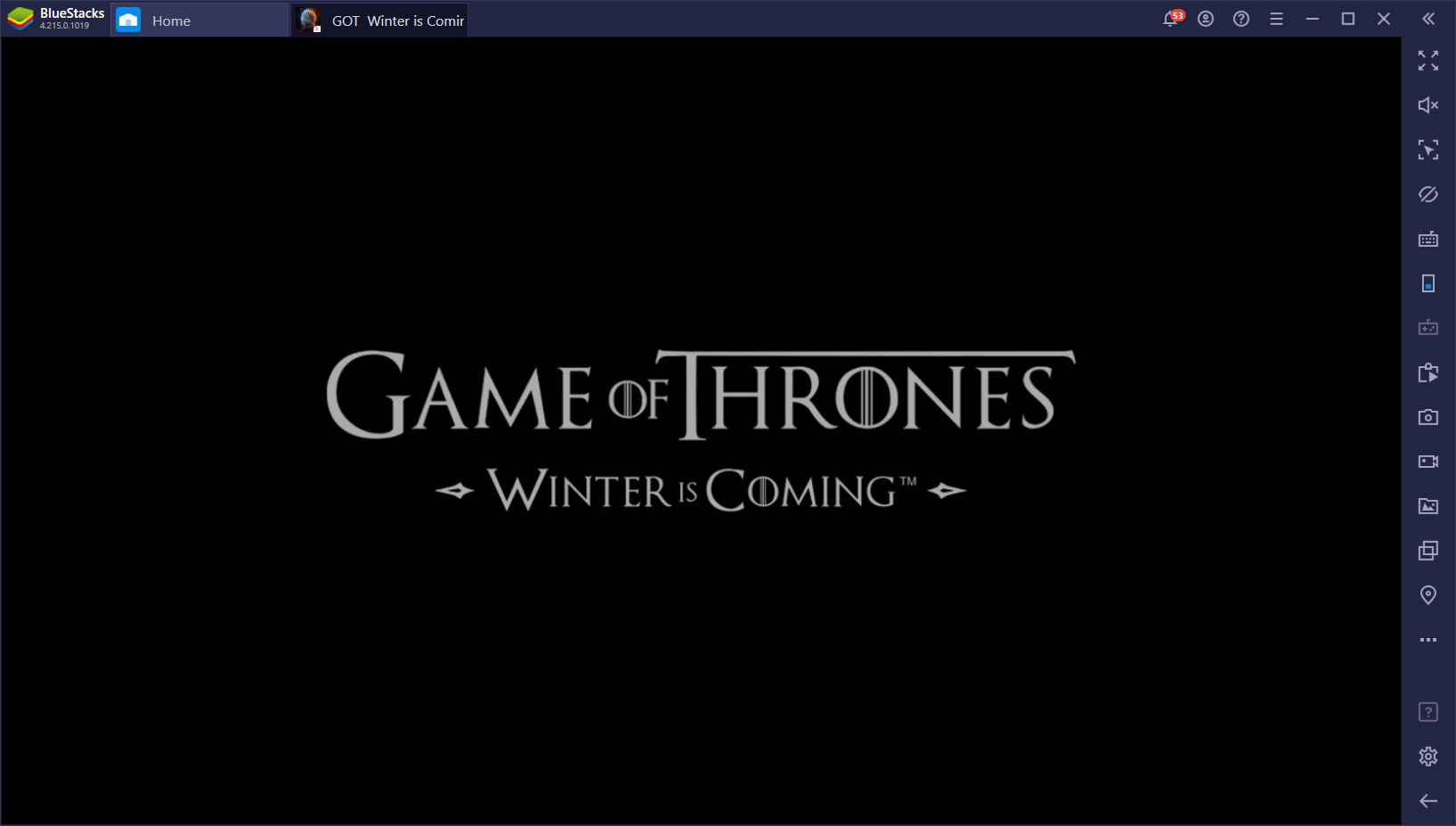 We're going to show you exactly how to do that in this Game of Thrones: Winter is Coming PC Guide.
How to Install GOT: Winter is Coming M on PC
The best way to enjoy your favorite mobile games on your computer is by playing on BlueStacks, our powerful Android app player that can emulate any phone game, with the best possible performance, and with no slowdown or lag whatsoever. Please follow these steps to install GOT: Winter is Coming on PC:
Go to our website and download the latest version of BlueStacks. It's free!
Run the installer and wait until it finishes, after which the app player will launch automatically.
Using the text box in the BlueStacks home screen, type in the name of the game.
Click on the game's picture in the search results, and install it like you would with any other app on your phone.
To launch your newly-installed game, click on its icon on the home screen.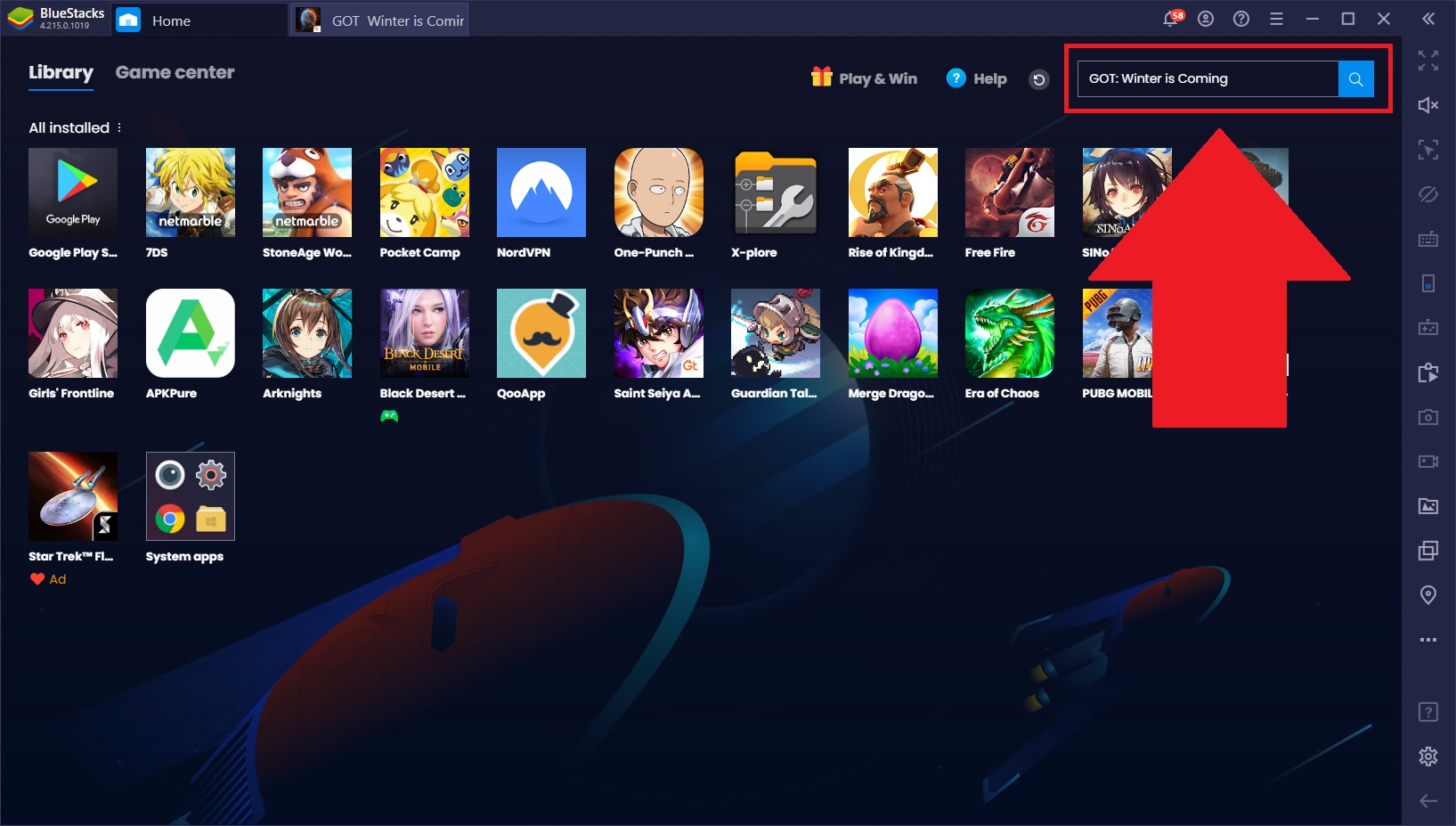 BlueStacks is compatible with virtually any game, including new releases. And even those that aren't compatible when they first launch are quickly patched into the new versions of our Android emulator.
By playing GOT: Winter is Coming on PC with BlueStacks, you'll not only have a better experience than by playing on your phone thanks to the superior graphics and performance, but also because of all the tools that our emulator has to offer, all of which are designed to dramatically improve your gameplay and give you an edge against other players.
Benefits of Playing GOT: Winter is Coming on PC with BlueStacks
First and foremost, the game runs better. Well, let's rephrase that: Unless you have a very expensive mobile device, BlueStacks will offer you better performance with any mobile game. And even if you have a costly phone, our emulator is proven to be over 6 times more powerful than most high-end phones on the market. As mobile games become more complex and offer better graphics, you'll have to switch to an even more expensive phone to play them, whereas this is not the case with BlueStacks—as long as you meet the recommended requirements for our emulator, you'll be able to play any mobile game, without so much as slowdown, lag, or any type of performance issues.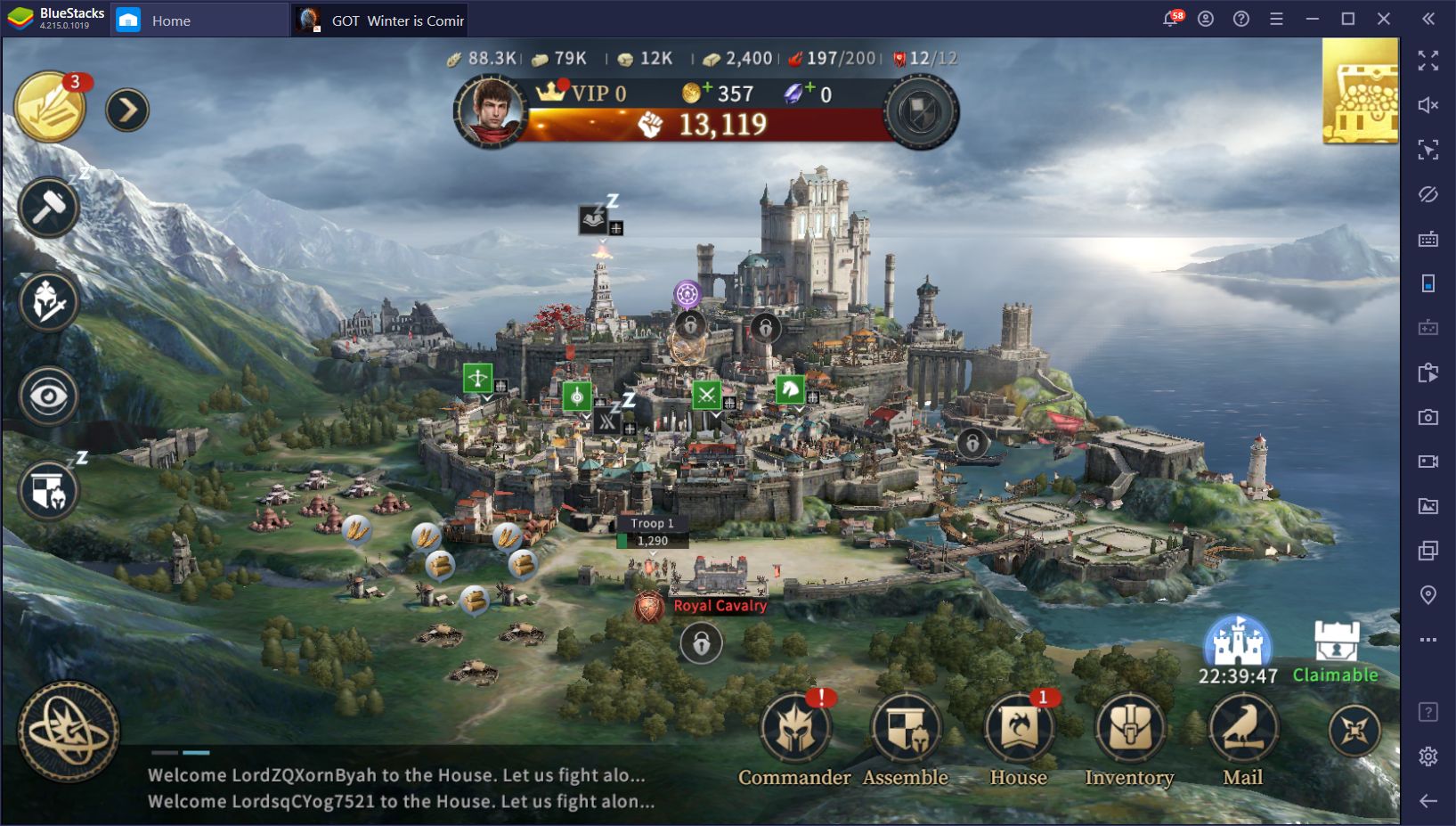 However, while some Android emulators settle for simply allowing you to install and play mobile games on PC, BlueStacks goes one step further and offers plenty of tools to assist you and improve your general experience with any title.
Navigate Westeros With the Keymapping Tool
Strategy mobile games like GOT: Winter is Coming all have one thing in common: most of their gameplay takes place on menu screens. It's just the design of these titles; you play as more of a strategist than an actual soldier or commander in the field, which means that you'll basically make important decisions while your minions enforce your will across the land. Whether it's deciding what structures to build in your castle, or marching to the field and engaging the enemy, all of it takes place in menus.
If you're playing on your phone, you'd have to click on everything individually in order to access and navigate through each and every menu. However, with BlueStacks, you can use our Keymapping Tool to create a personalized control scheme and add shortcuts to your screen, which will allow you to control most of the action in the game simply with your keyboard. Just like an RTS game on PC, you will be able to navigate most of GOT: Winter is Coming through keyboard shortcuts.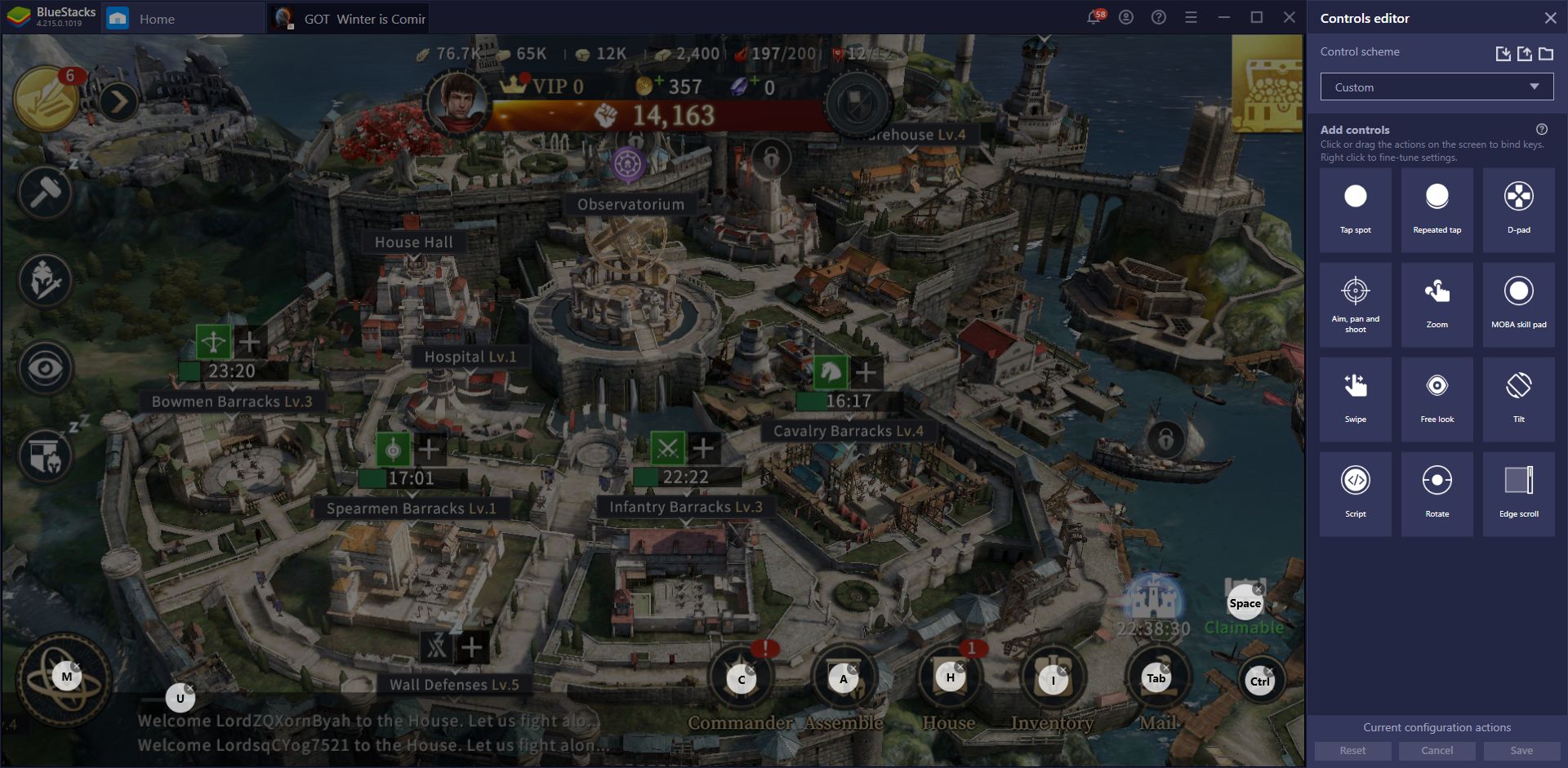 And the best part about this feature is that it's completely customizable. Simply open the Keymapping Tool by pressing Ctrl + Shift + A, and use the list of built-in functions to place shortcuts on any part of the screen, followed by assigning them a keyboard binding. Before long, you'll be easily and quickly navigating through any screen in the game like a true master.
Automate the Grind With the Macro Recorder
As a mobile conquest game, you'll find yourself constantly repeating many actions in GOT. Specifically, in the early stages of the game, you will need to constantly gather resources from the map in order to fund your development efforts while continuously training new troops. However, sending out troops to gather can quickly become a tedious chore, especially if you're doing it countless times every day.
With BlueStacks, this isn't the case as you can simply create macros with the Macro Recorder to reduce this process to a single button press. In this sense, you only need to record yourself doing it once, and then use the resulting macro to automate it in any other subsequent attempt. You can even set these macros to repeat automatically after a certain time period. For example, if you're gathering food from the kingdom map, and it'll take 40 minutes to complete, you can set the macro to repeat after 41 minutes have passed, and you'll have gathered twice the food without having to press a single button.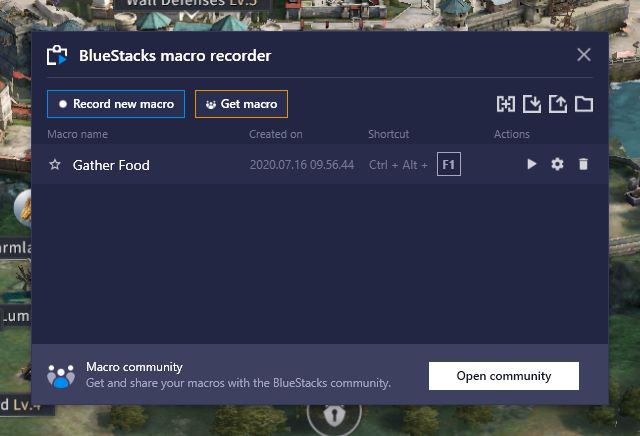 You can access the Macro Recorder at any moment in-game by pressing Ctrl + Shift + 7.
Develop Multiple Cities Simultaneously With the Instance Manager and Multi-Instance Sync Features
One of the particularities of most mobile conquest games is that, when it comes to developing your cities, this process requires tons of resources. For this reason, most players use multiple accounts to develop several other cities alongside their main city, and use the former to generate resources for the latter. These resource-producing cities are usually referred to as "farm accounts," and creating them is a common practice for games in the genre.
With BlueStacks, you can simply use the Instance Manager to create several instances of our emulator, and use each of them to access GOT simultaneously. This allows you to easily develop multiple cities at the same time, especially when coupled with the Multi-Instance Sync tool. This latter feature allows you to control all your BlueStacks instances when playing only on your main window by having BlueStacks mirror your actions across all active instances. In this sense, you could begin multiple accounts at one time, and then progress in all of them simply by playing on your main window with the Instance Sync feature activated.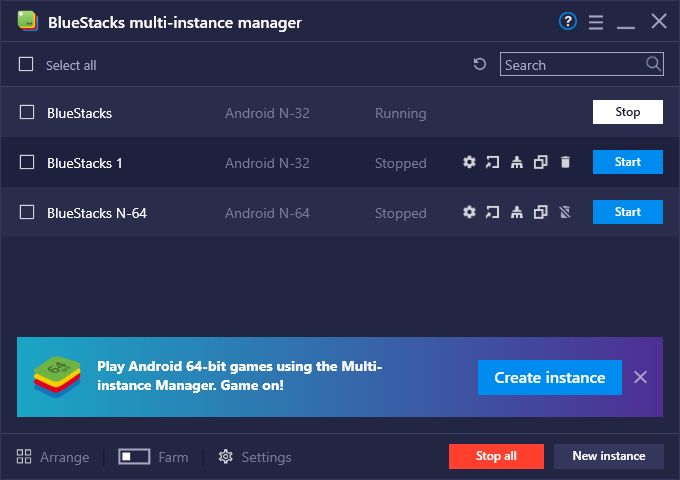 There are many advantages to playing Game of Thrones: Winter is Coming on PC. While you might want to play the browser game if you're already on your computer, you'd be missing out on all the awesome features that BlueStacks offers you. So head on over to our website, download the latest version of our app player, and start playing today!