Game Guides
How to Play Hearthstone on PC with BlueStacks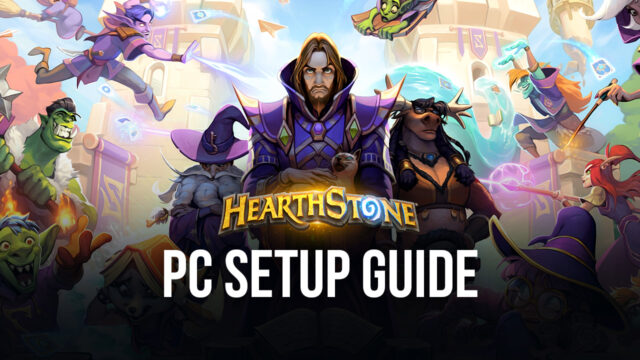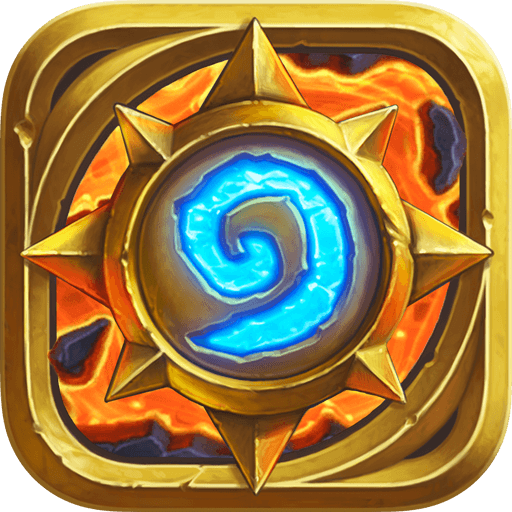 Hearthstone is the most popular digital CCG on both the PC and Mobile platforms because of its direct connection to the ever-famous MMORPG – World of Warcraft – both were developed by Blizzard Games. Hearthstone has been giving players some of the best real-time PvP experiences for seven years. The game gives players the satisfaction of competing against players around the world, competing in a game of strategy and luck as the players duke it out using Azeroth's most recognizable characters.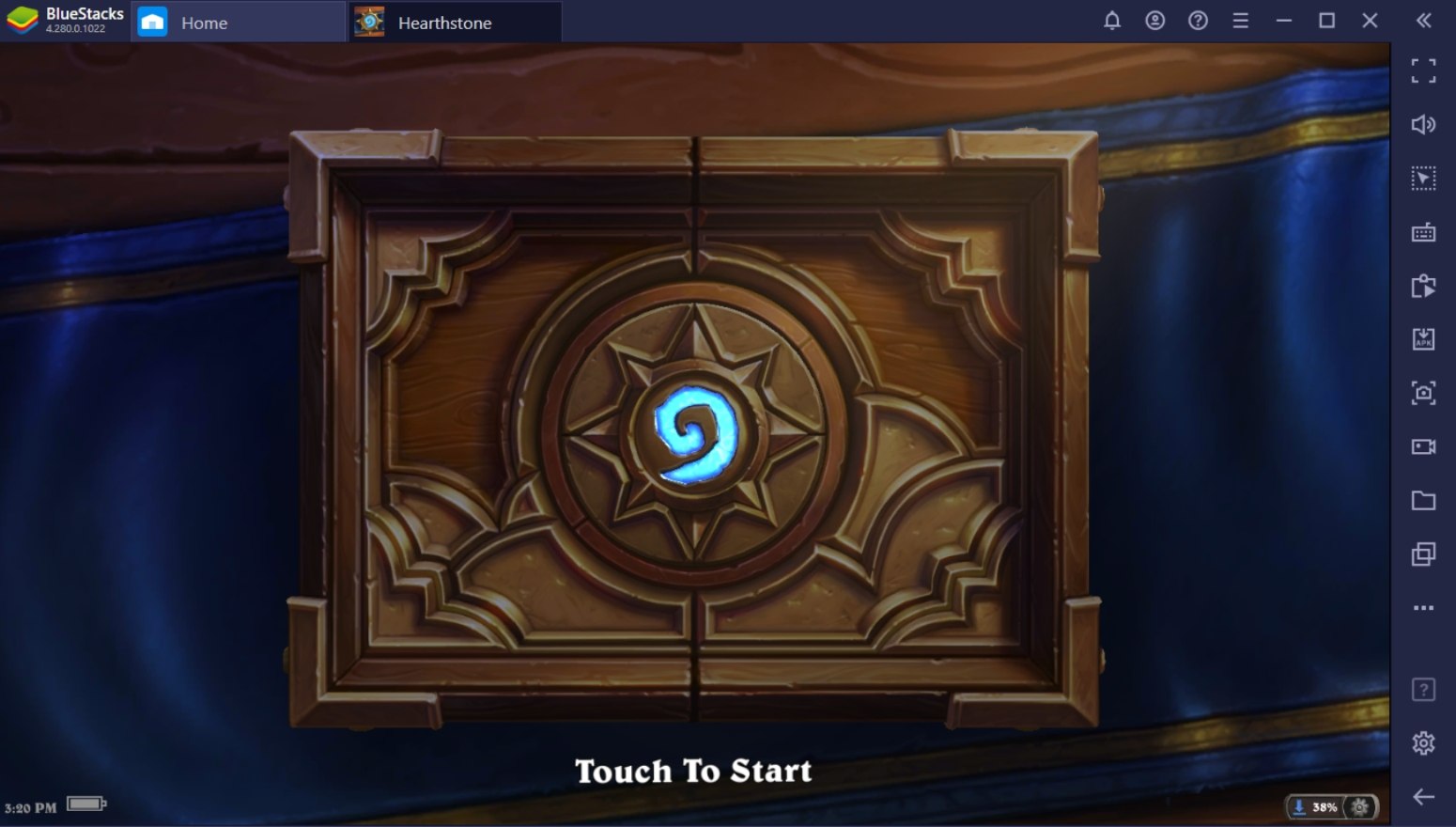 Despite the fact that Hearthstone has its own independent PC version, BlueStacks still recommends that players use the emulated version of the game to benefit from multiple perks that are available in neither the PC nor the Mobile version of the game. The TCG and CCG communities take playing card games to the next level; they'll do anything that gives them even the slightest advantage to get the cards they want, as it even appeals to them on a spiritual level.
How To Set Up Hearthstone on BlueStacks
As we just mentioned, BlueStacks has some features that some of the more serious players will want to try out when playing Hearthstone or when planning to start playing the game. Aside from the smaller download size that the mobile version has compared to its PC counterpart, you'll be able to have more utility while playing this game when using a basic PC setup. Here are the steps that you should follow if you're planning to start playing Hearthstone on the BlueStacks platform.
Download and install BlueStacks

on your PC.

Complete Google Sign-in to access the Play Store, or do it later.

Look for Hearthstone in the search bar at the top-right corner.

Click to install Hearthstone from the search results.

Complete Google Sign-in (if you skipped step 2) to install Hearthstone.

Click the Hearthstone icon on the home screen to start playing.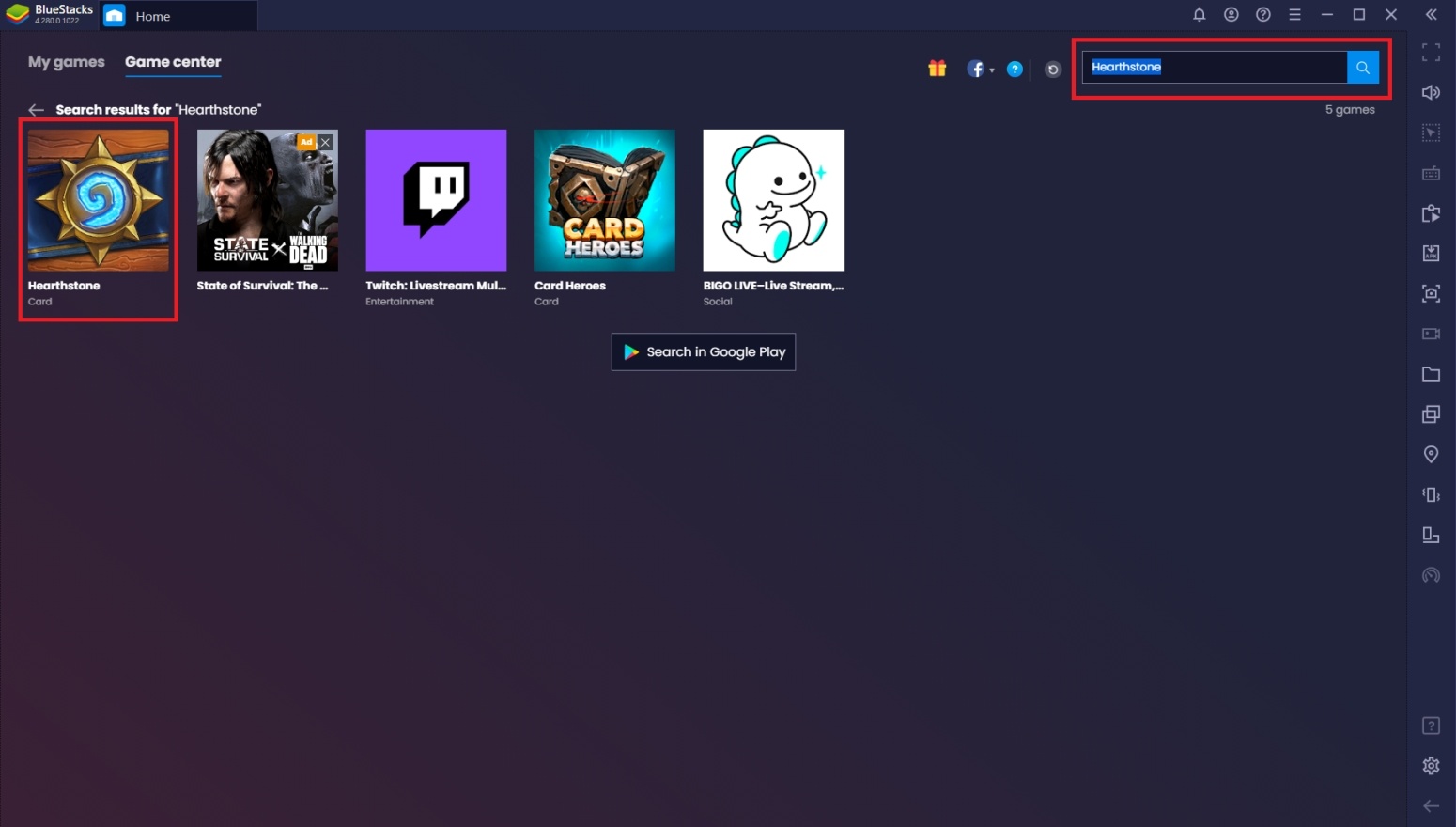 Useful Features When Playing Hearthstone on BlueStacks
Now that you've downloaded Hearthstone on your BlueStacks device, it's time to show you which features will give you the best advantages when playing this game on an emulator. Hearthstone has some mechanics that work best when the player has more utility options available on the platform that they are using. Here are some of the most useful features that you can use when playing Hearthstone on the BlueStacks platform on your PC.
Hearthstone is highly competitive and can be pretty harsh on the newer players that may not have the financial ability to build a strong deck from the limited resources provided early in the game. The best way for players to get as many Crystals as possible is by rerolling accounts that have a good amount of legendary cards from the Class that they are using. This will give players a fighting chance at competing in the ranked ladders immediately.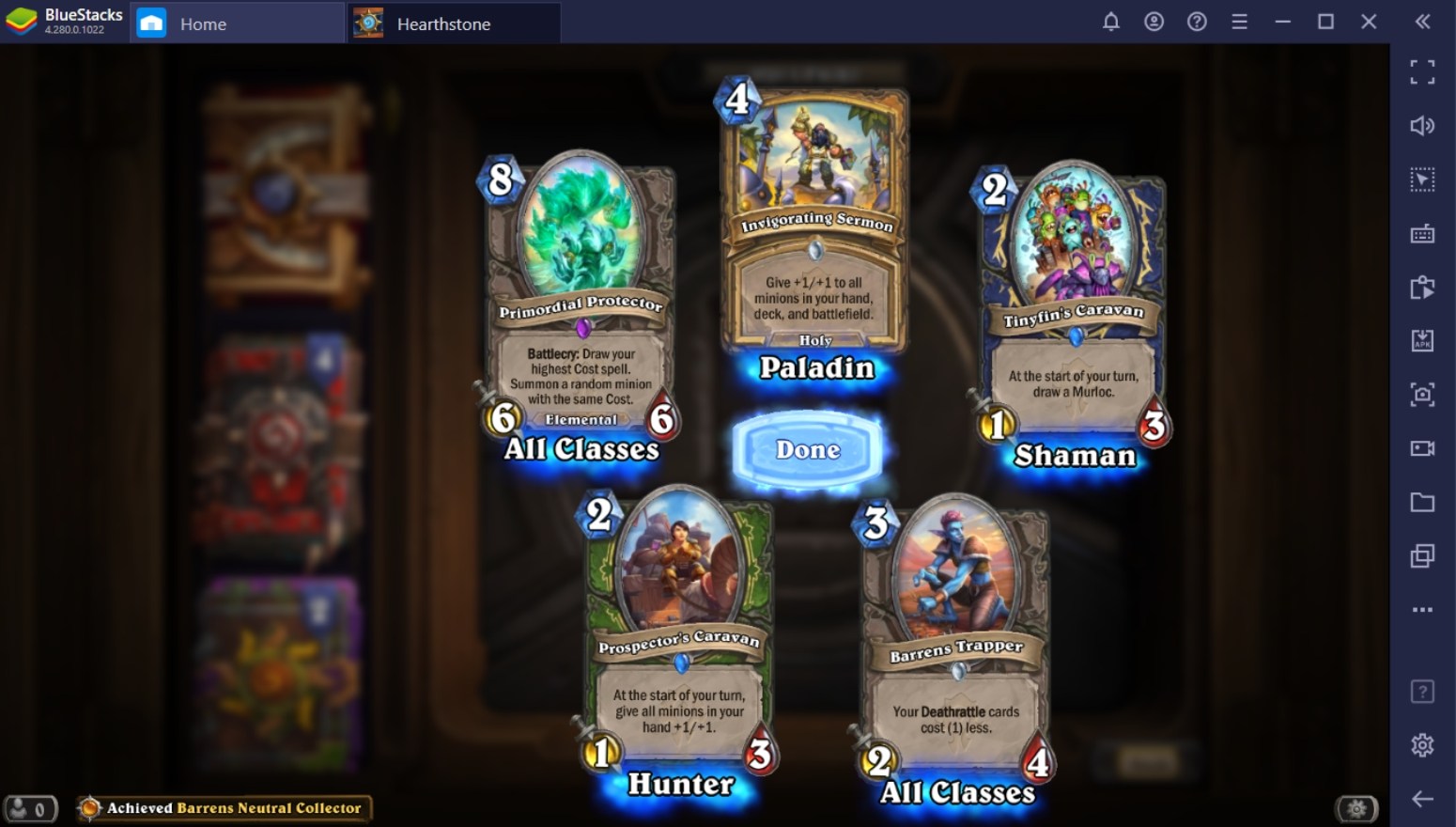 The biggest hurdle in rerolling is the time consumption both from the initial tutorial you have to play through and the act of rerolling itself. As long as you don't bind an account to the game immediately, you can reroll as many times as you want. Use the Multi-Instance feature to open multiple devices to play Hearthstone on multiple instances while combining it with the Macro feature so that players will be able to play through the tutorial automatically.
Another great thing about playing Hearthstone on BlueStacks is that you have the flexibility of resizing and relocating your game window instead of it staying static in one place. This feature is mostly for players that like to multitask on their computer, especially if they don't have a 2nd monitor. Having window flexibility will also prevent players from having to [ALT + TAB] between windows, as it might cause your computer to freeze up or close the game unintentionally.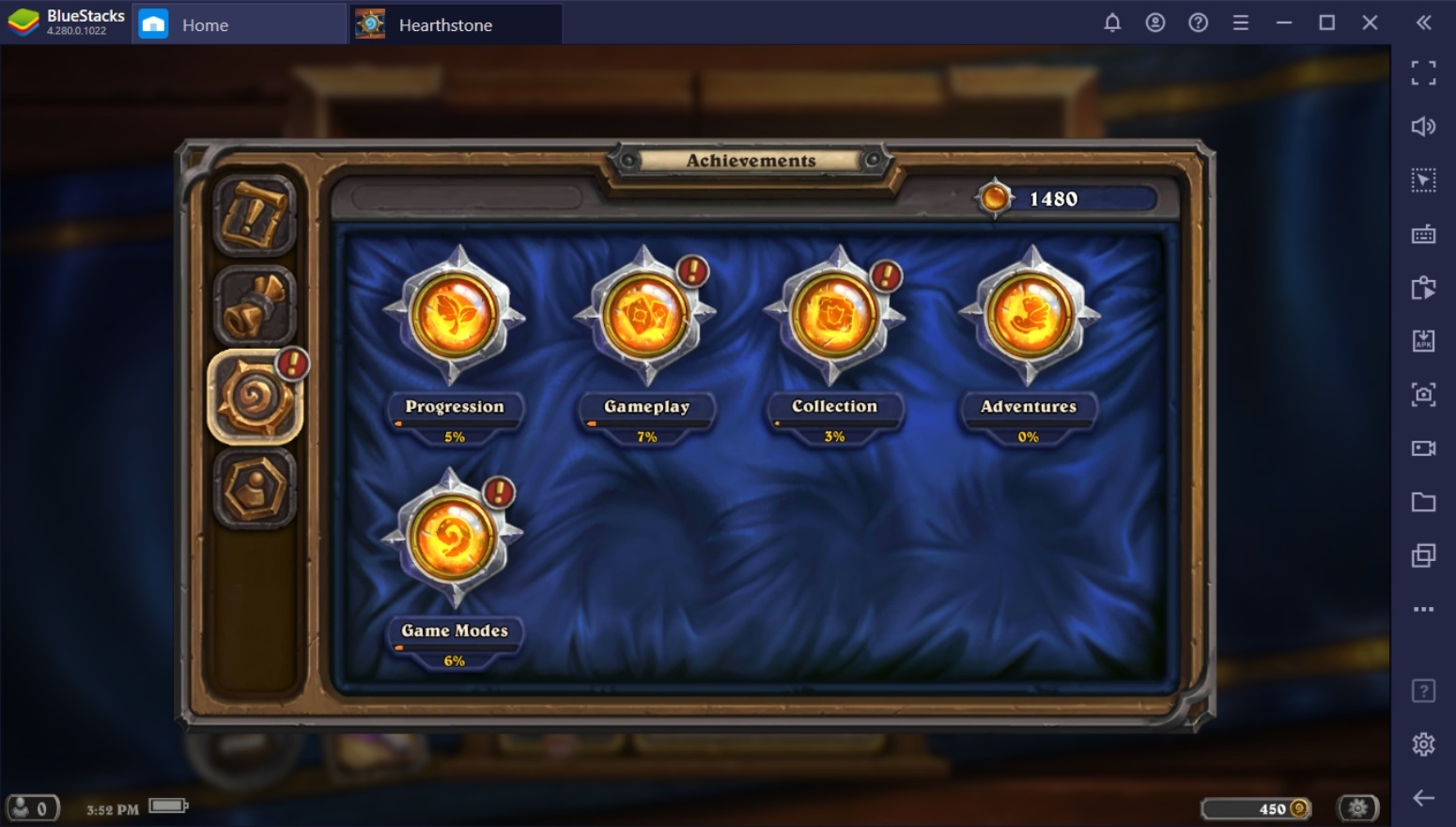 Now you'll be able to do your work or watch your favorite shows while also monitoring your opponent's movements on the side. The efficiency of doing so means that you'll never again have to waste time reviewing what your opponent did during his/her turn because you'll be able to watch it alongside what you were doing in real-time. Time is an important thing in any card game, especially if you're playing a technical deck like a control or combo deck that requires a lot of thinking time.
If you want to showcase your gameplay to the internet, the BlueStacks Screen Recorder function is definitely a useful tool to have. Recording games on the mobile platform can often be near-impossible; such devices often lag and overheat because of the enormous processing requirements being asked of such a small device. There is also the issue of PC platforms where the file size of the screen recording turns out too large to be uploadable.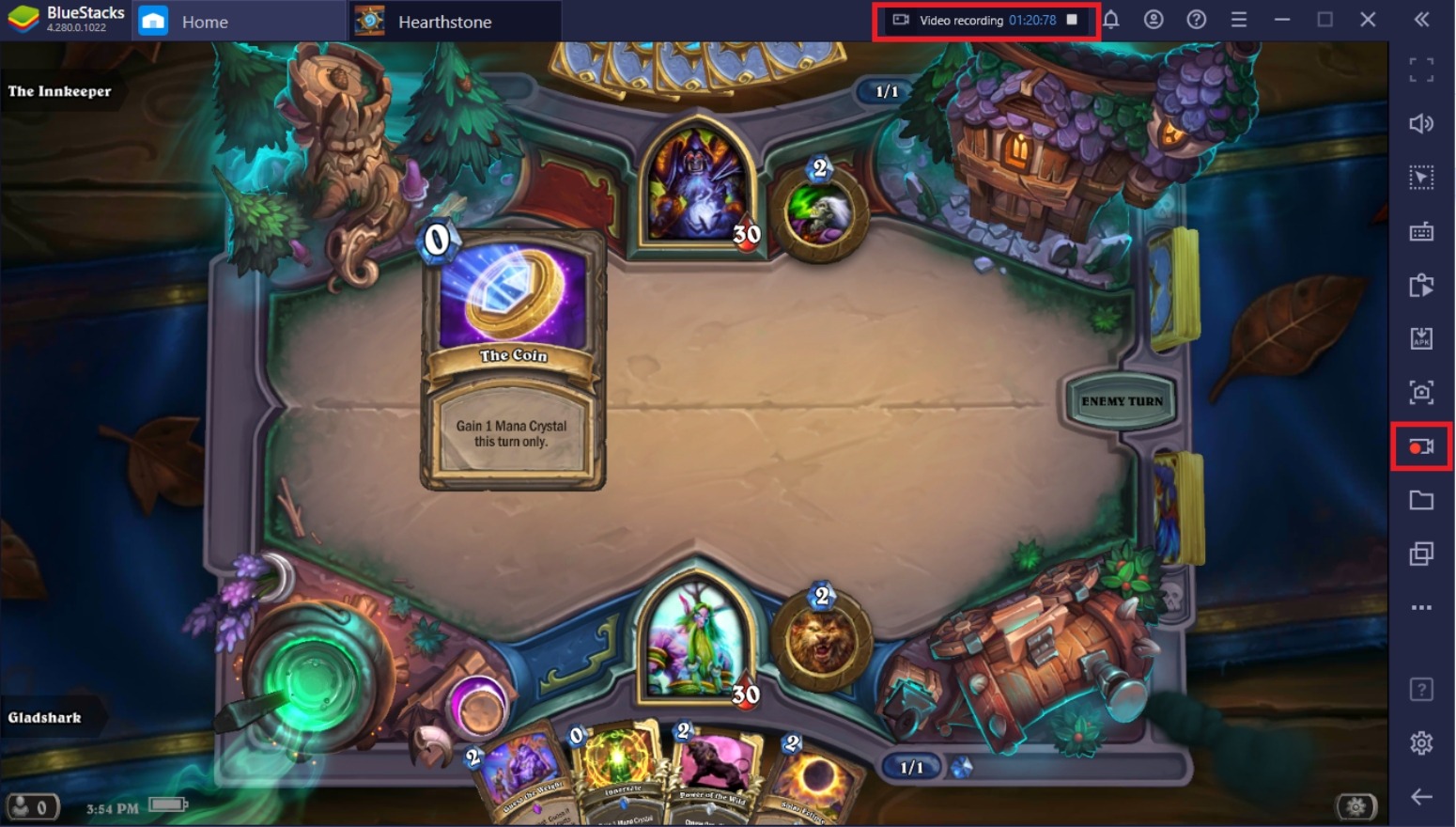 BlueStacks has quite a smooth screen recording function that uses the basic processing of mobile games while using the entire power of your computer. Even if you have a very simple PC setup, you can smoothly run the screen recorder on your BlueStacks platform without worrying too much about it lagging in the background.
Stand Up To The Competition in Hearthstone
It's time to show the world what you're capable of! Compete against some of the top players around the world using the deck that you're most comfortable with. Choose one of 10 different classes to use and build a 30-card deck from about a hundred cards to choose from. Hearthstone introduces new sets every season. In doing so, they cycle out old cards and refresh the meta to keep the environment innovating every season.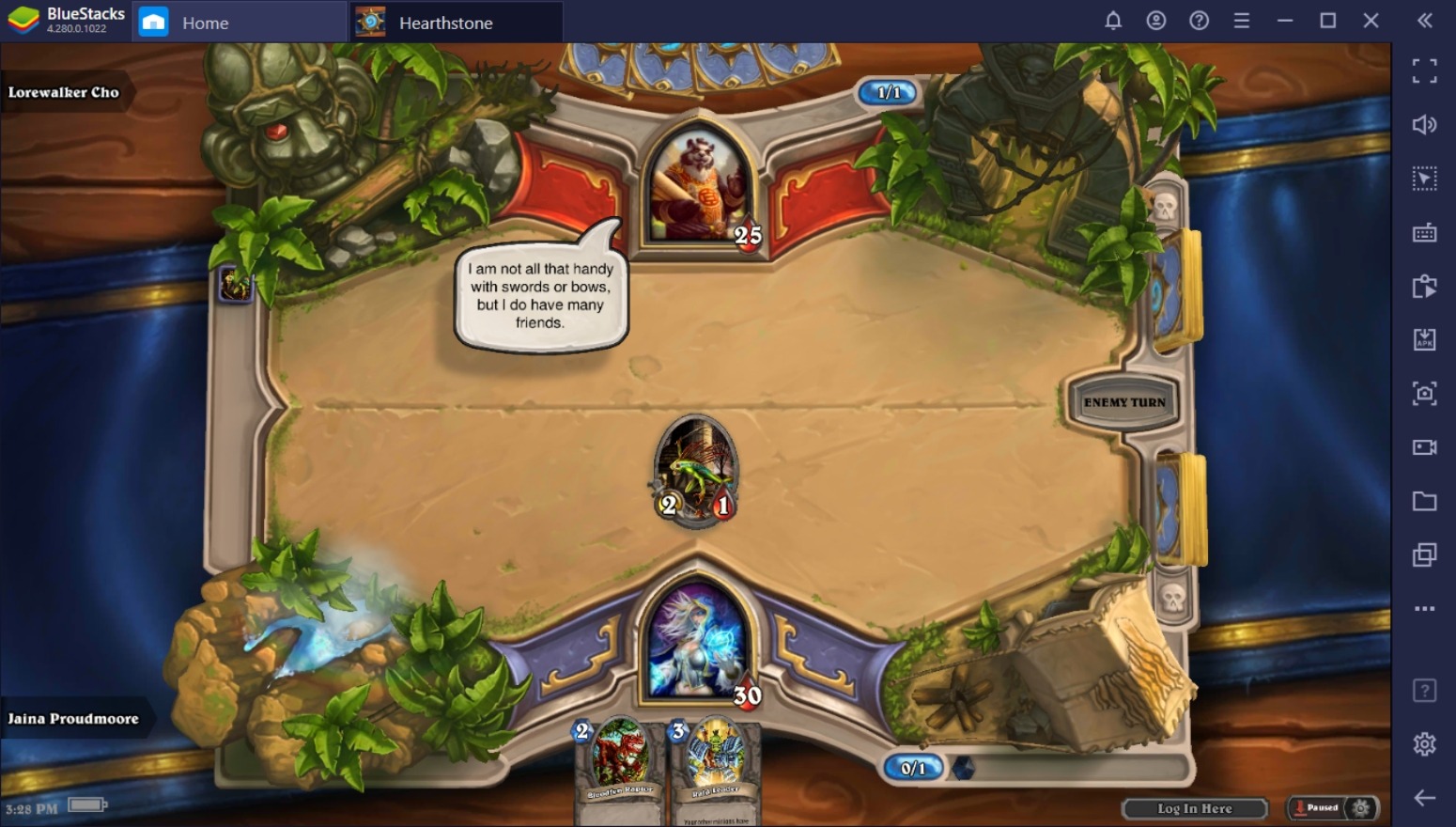 Hearthstone is a game that can showcase the strategic mind of a person. You have to be able to think multiple steps ahead to expect moves and counterplays depending on the enemy's Class. It's time for you to step up your game as a top-class player by seizing every advantage you can get, especially if you have options like BlueStacks to back you up. Challenge the world and show them that you can fight some of the most formidable players that you will find in the TCG community.