Game Guides
A Beginner's Guide to Hot Wheels Unlimited on PC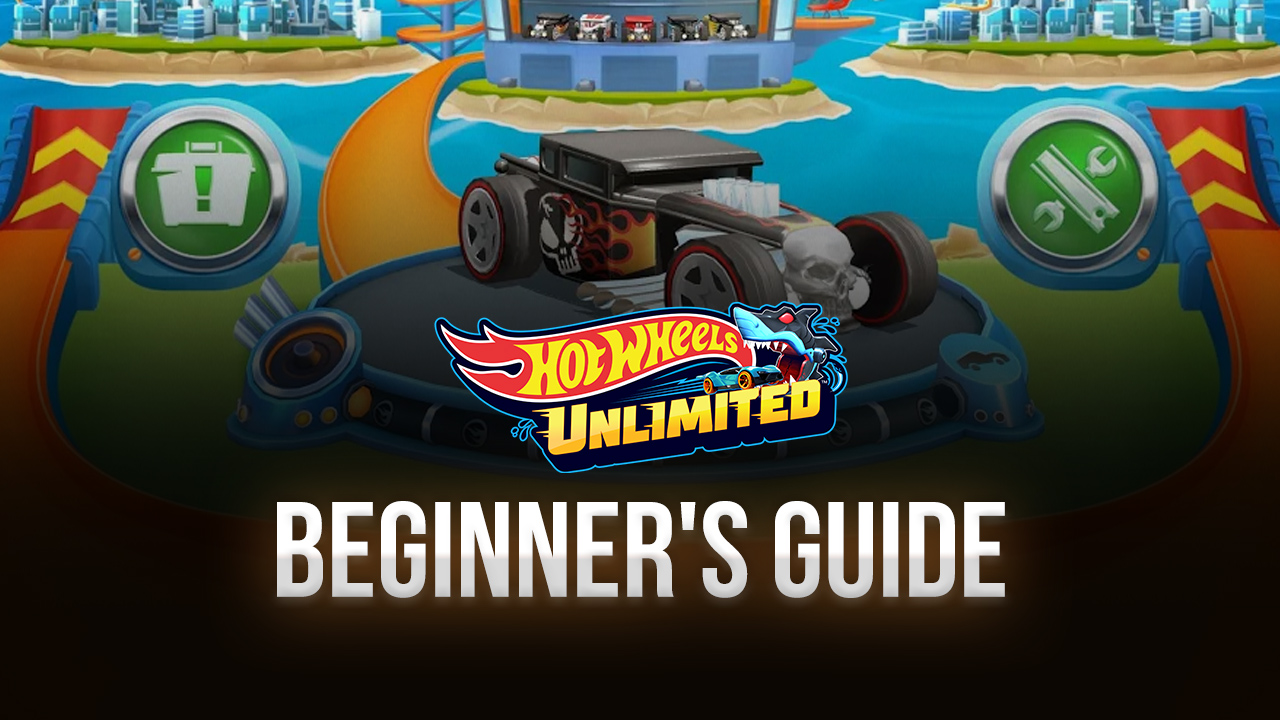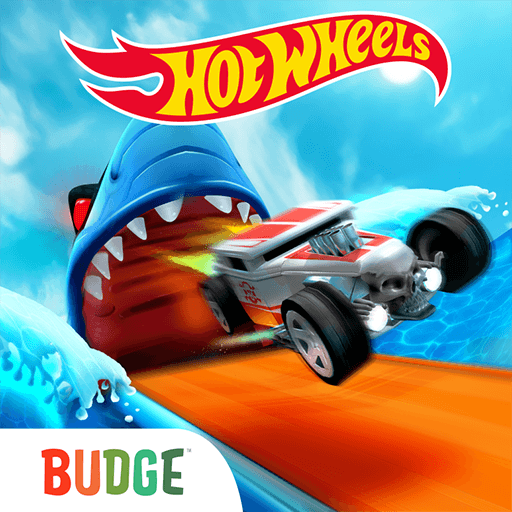 Hot Wheels Unlimited is compresses the awesomeness of the real Hot Wheels toys and rack tracks into one mobile game. From collecting various vehicles with unique designs to letting your imagination run wild by creating your own race tracks, this game does not disappoint in giving an entertaining virtual experience of the renowned toy line.
This article will guide you through the features that Hot Wheels Unlimited has to offer. We'll explain the basics of controlling your Hot Wheels vehicles, how you can unlock more of said vehicles, and also their "edges" – which can give you a great advantage during races. Lastly, we'll also give you an in-depth guide to the game's addicting Build-A-Race Festival wherein you can create your own astounding race tracks. So get your engines ready!
Basics of Racing
The controls of Hot Wheels Unlimited are very simple. By default, you steer your car left with the A key and right with the D key. The game provides a guide arrow to help you in navigating the race tracks; however, you can turn this off in the in-game settings if you wish a more challenging experience.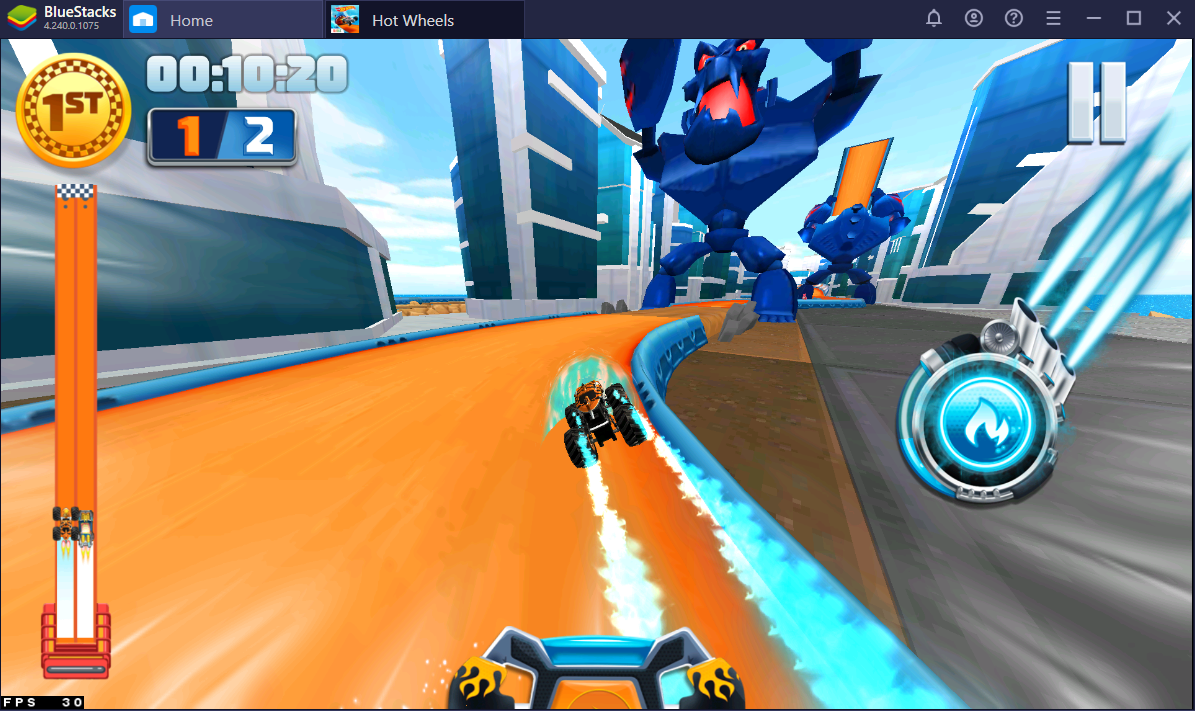 Your vehicle is runs at an average speed throughout the race. Because of this, you need to activate your speed boost – which you can do by pressing the spacebar. Doing this will make your vehicle move at insanely high speed for a short while, allowing you to steal the first place from your opponent with ease.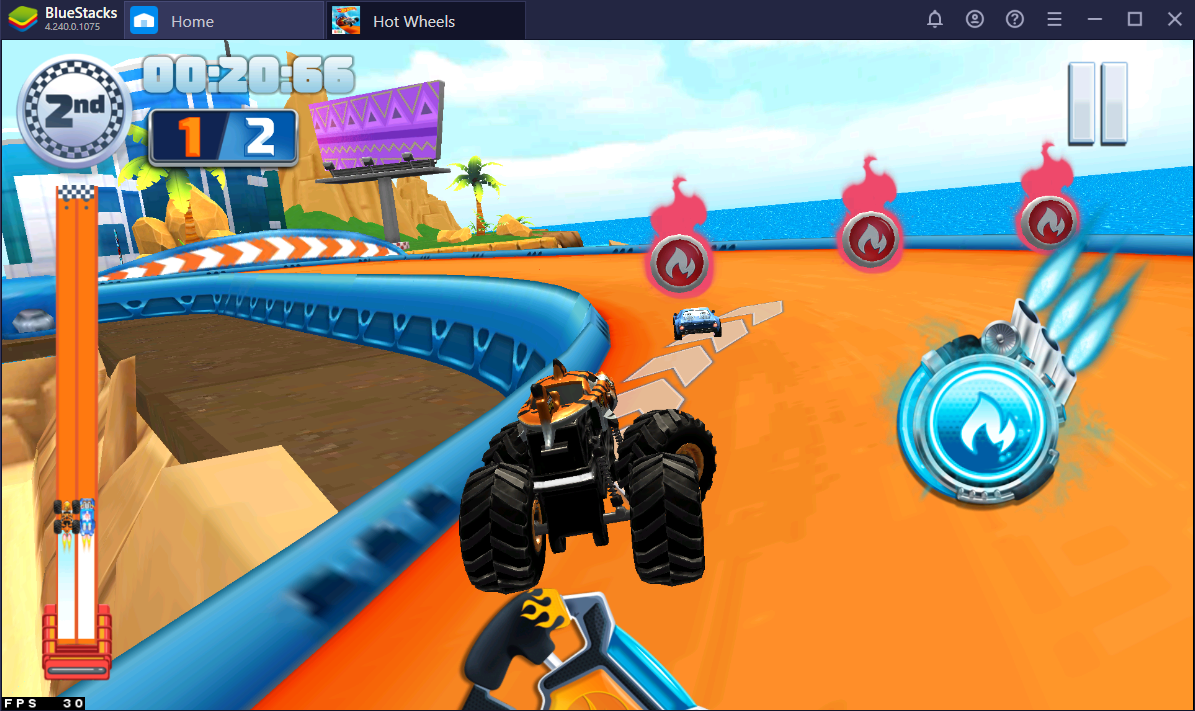 Be wary though since the speed booster will take a few seconds to fully recharge before becoming usable again. But don't fret because you can collect speed boosts during the race to get you back on track. They are represented by red flaming icons hovering on the race track. Make sure you don't miss them though.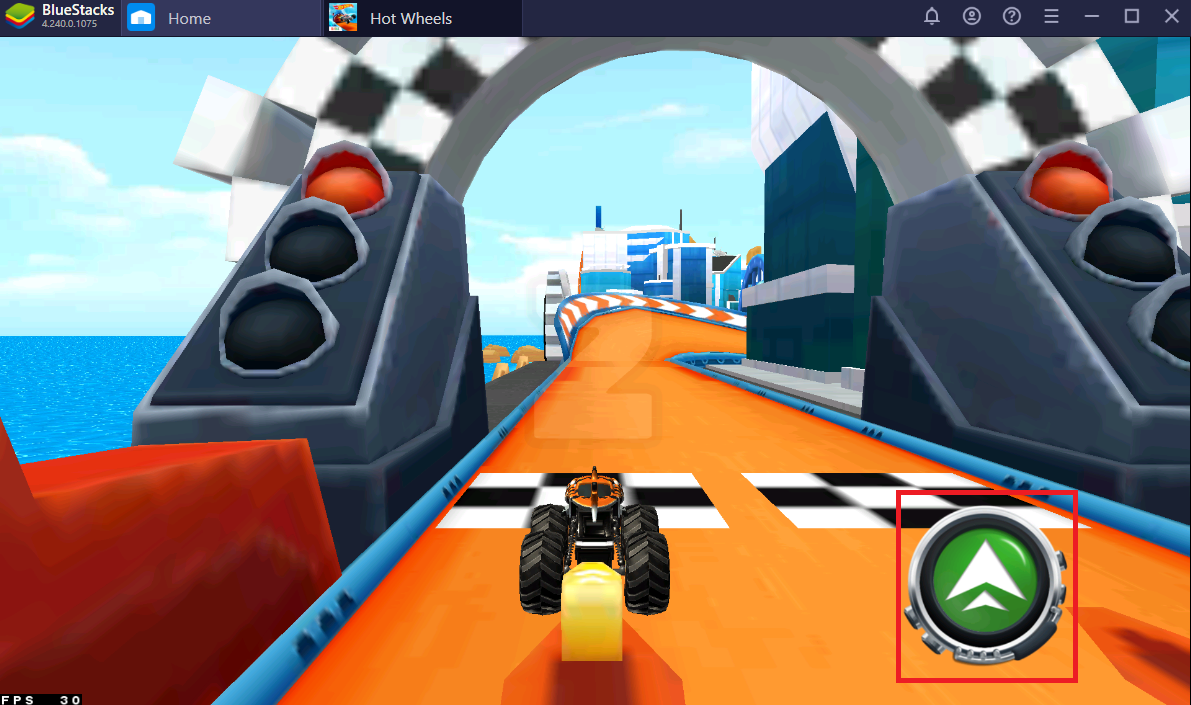 If you want to have a head start in the race, make sure to click the big green button during the race countdown since this will allow a mechanism to pull your vehicle back and then launch it in a slingshot-like manner. The faster you click, the further you can get ahead of your opponent. Fortunately, this task can be easier with BlueStacks' Macro Tool which can allow you to assign a "Repeated Tap" button on the launcher's button. That way, one press of a key will be equivalent to five taps to the game.
Vehicles and "Edges"
Hot Wheels Unlimited has over 30 drivable vehicles. Aside from the cars having their distinct design, they also have their own special capabilities called "edges". Edges are essentially either active or passive perks that give your vehicle an advantage during a race. These edges include, but are not limited to: Boost (increases boost speed and decreases its cool-down period), Speed (faster overall speed and acceleration), Sturdy (gives a small boost whenever the vehicle crashes through obstacles).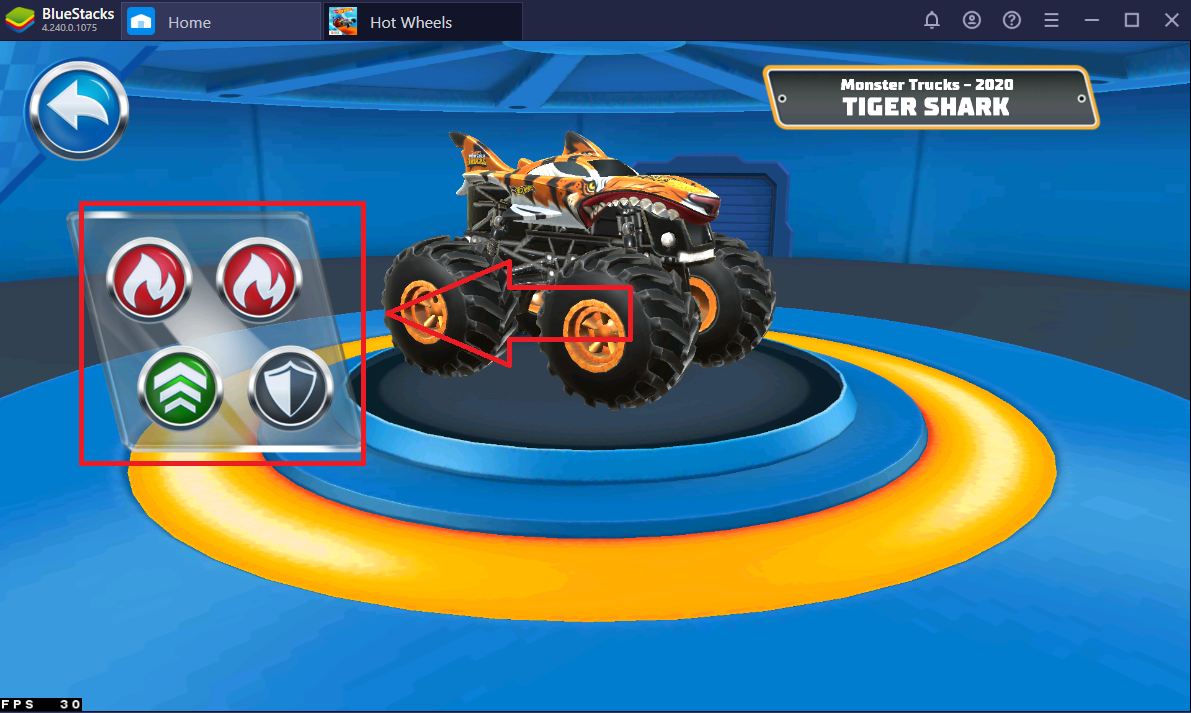 To know which edge your vehicle has, go to your garage and select your vehicle. From there, you will see several icons to the left and these pertain to the vehicles edges. For the Tiger Shark, it has two Boost edges, one Speed, and one Sturdy.
There are more edges in the game than just these three. If you want to know more about your vehicle's edges, just click on the icon and the game's narrator will tell you what the particular edge does. Go to your garage now and see what edges your vehicle has. Which vehicle do you think has the best set of edges?
Complete Daily Challenges to Collect Red Wheels
If you find that your garage is still mostly empty, don't worry since you'll unlock more vehicles by collecting Red Wheels through the game's daily challenges. Every day, you can complete either a puzzle or a race challenge to earn up to three Red Wheels every day. If you have the Ultimate Pass (the game's subscription service), you can earn up to six of those in a day.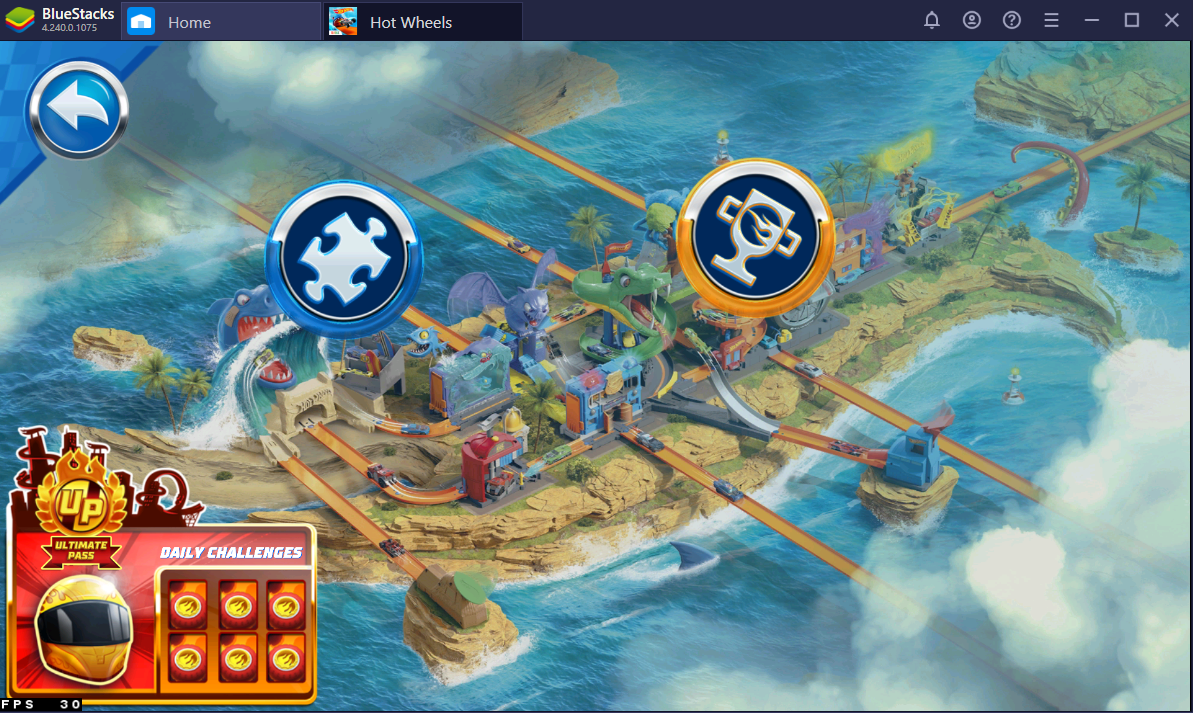 The puzzle challenge is easy enough for children and adults to solve. All you need to do is complete the race track with a limited number of parts given. If you're happen to have a hard time solving the puzzle, you can call a jet which will give you a hint as to where the next piece should go. You can call the jet by clicking on the jet icon located on the top-left of the screen.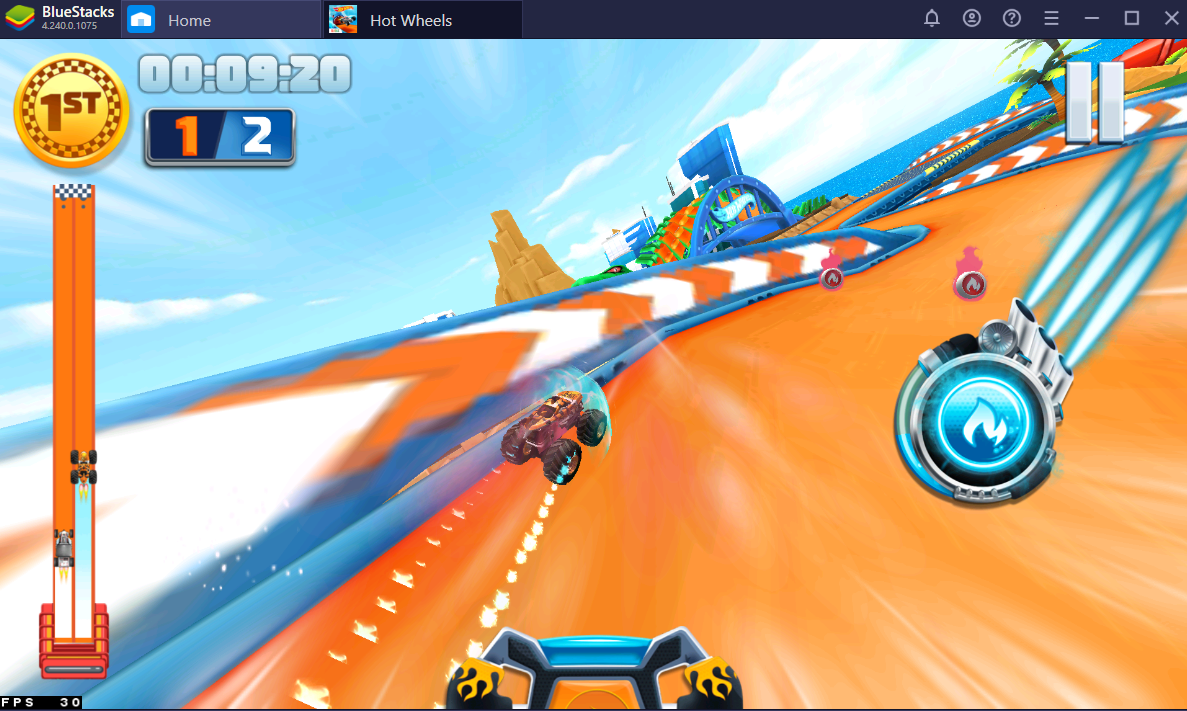 If you want something more thrilling, you can compete in a race against an AI-controlled opponent. Make sure to pick a suitable vehicle for this one and also wisely make use of your speed boosts. Do these for two laps and you'll beat you opponent in no time.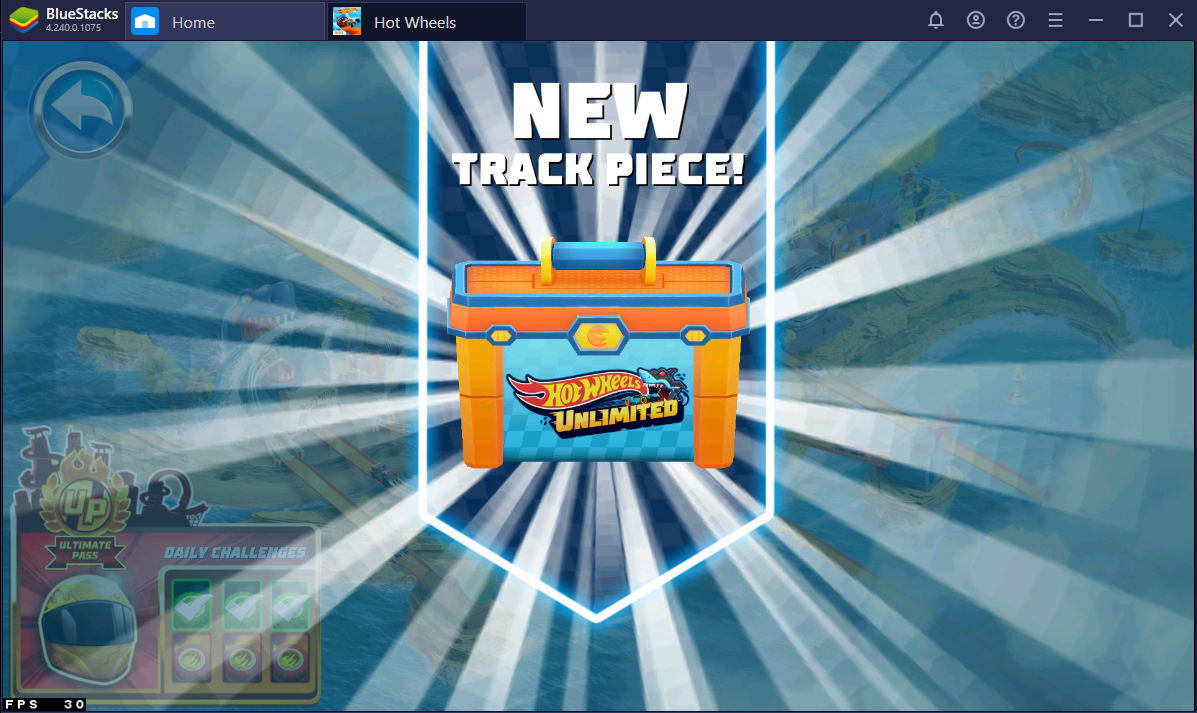 After doing some challenges, you will sometimes get the opportunity to open a mystery box which will give you a new track piece – which you can use to make custom race tracks. Be diligent in doing your daily challenges so that you'll get the most out of your Hot Wheels Unlimited experience.
How to Build Race Tracks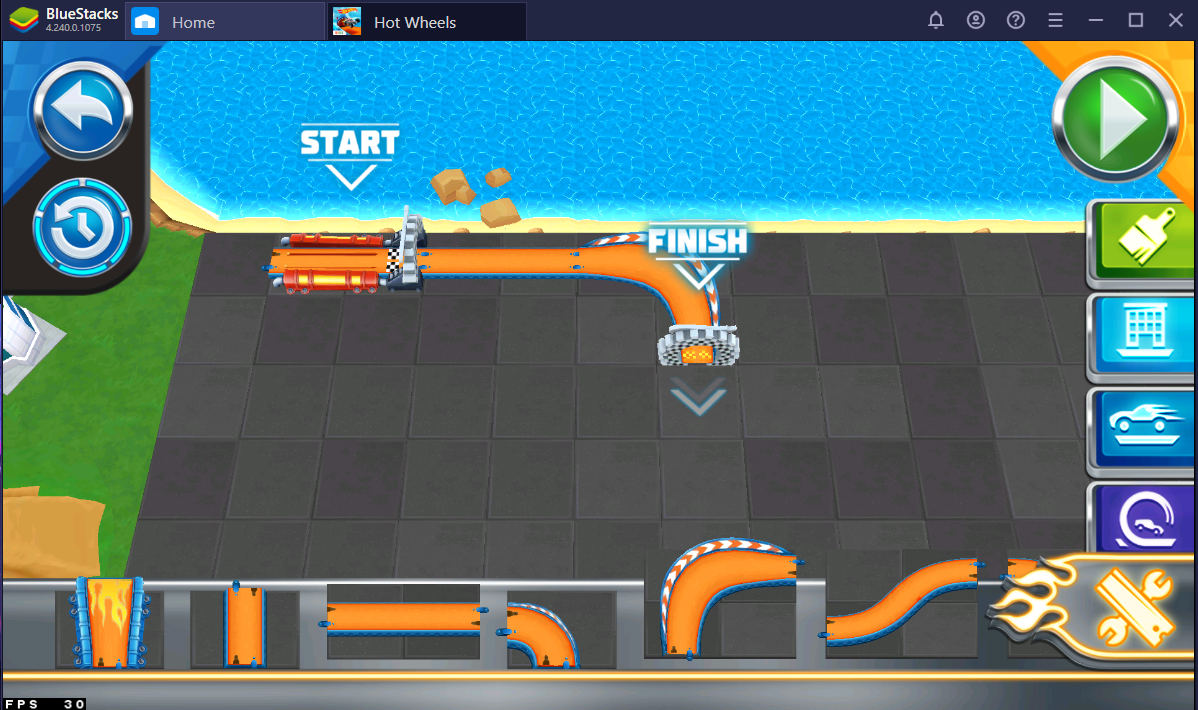 Hot Wheels Unlimited features the Build-A-Race Festival in which you can create your own race tracks with a variety of track pieces similar to those found in actual Hot Wheels playsets. The first category of the track builder provides you with the basic orange race tracks of different shapes and sizes. There's a straight track, a sharp curve, and even a ramp which you can use to let vehicles go over other race tracks. You can unlock more of these through mystery boxes obtained by completing daily challenges.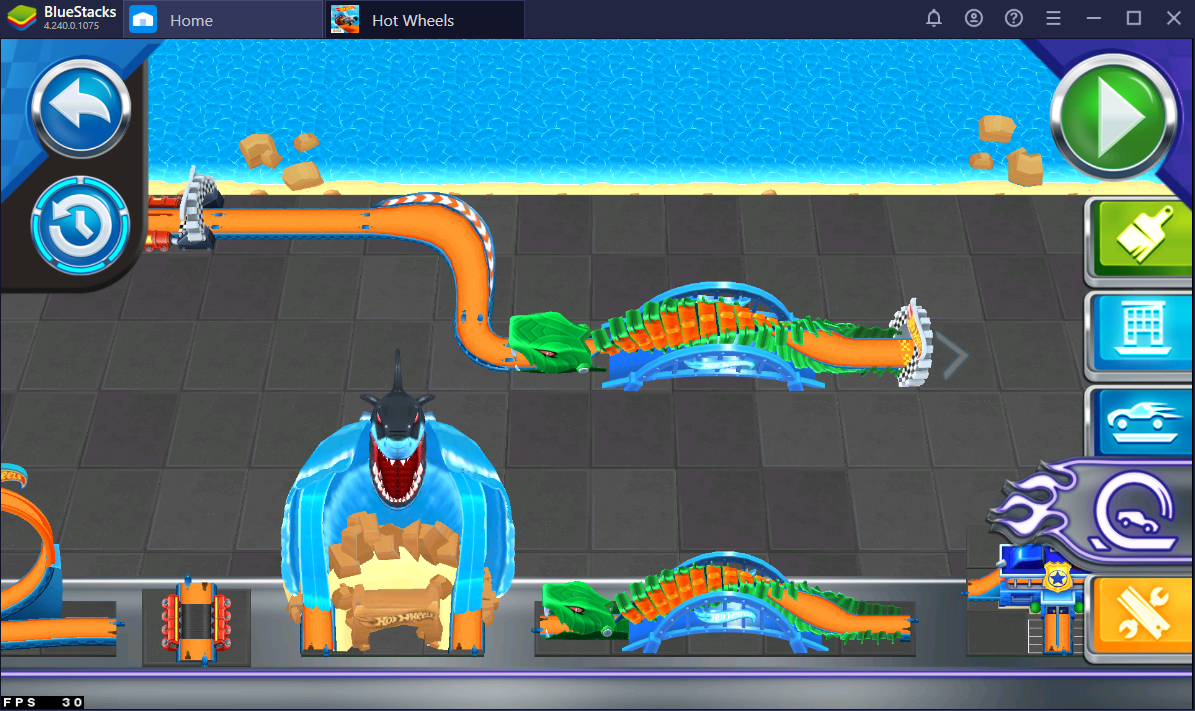 Aside from ordinary track pieces, you also have special ones that add more extremity to your race track. These include the well-known loop track, special tracks with a shark and dinosaur design, and much more awesome pieces that give variety and aesthetic to your race track.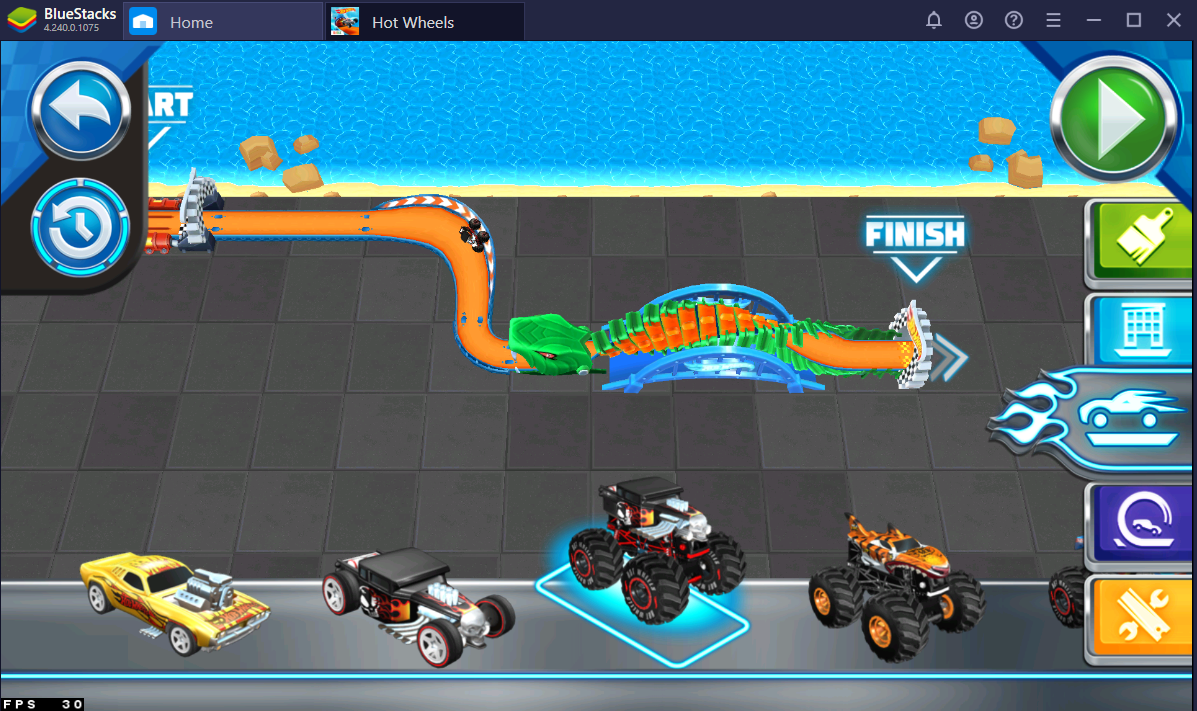 You can also test your race track while you're building it. Just drag and drop any vehicle from your garage to your race track and let it blaze through your creation. With this, you can see if there are parts of your race track that will lead vehicles out of bounds (cars explode when they go beyond the track).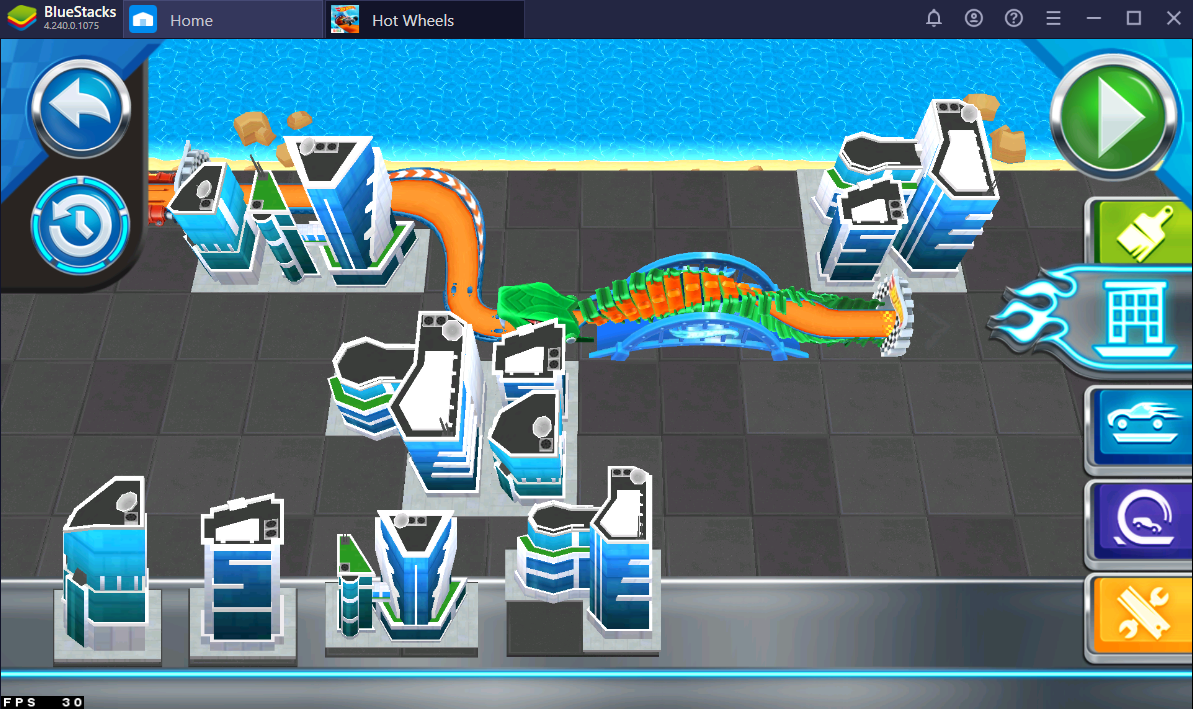 Add some decorations to your creation by adding props. You can choose between four city buildings to place on your race track. Additionally, you can rotate the props to give them a bit more variety.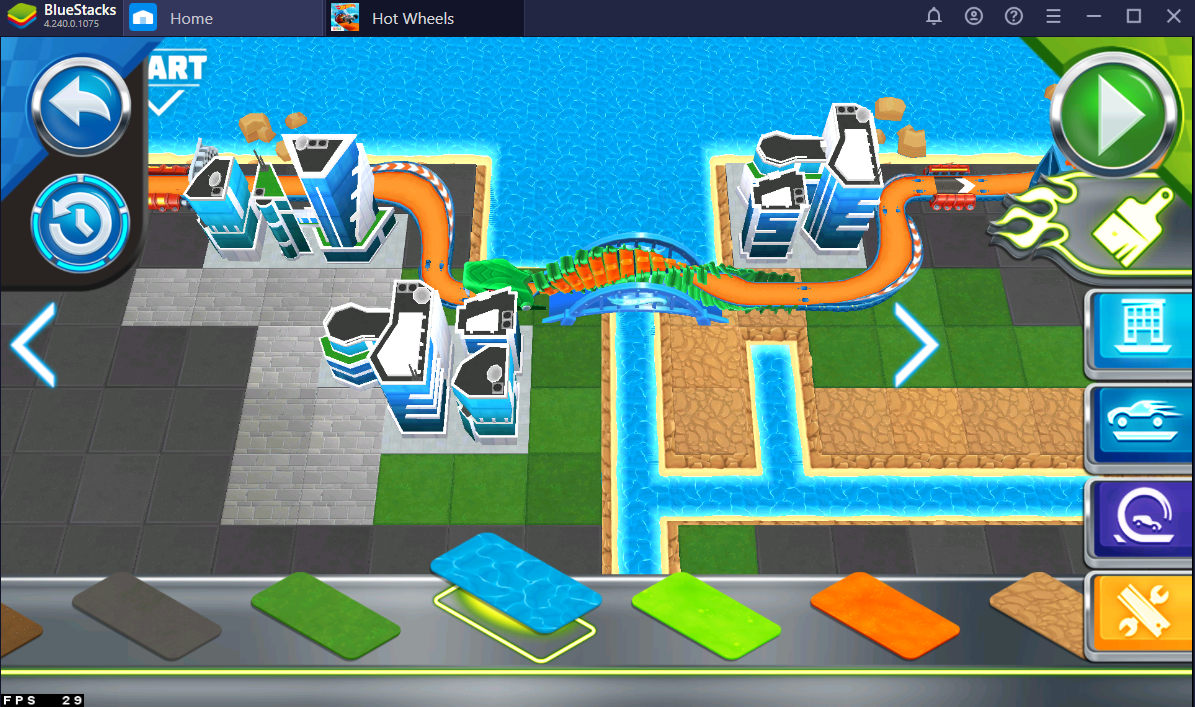 To further give your map more detail, give it some color by painting the surface with textures. You can paint your map with a lush green grass texture to give it a more natural look or you can create a city-themed track by painting it with the gray stone brick texture. You can also add either water, slime, or even lava to your map to give it more detail.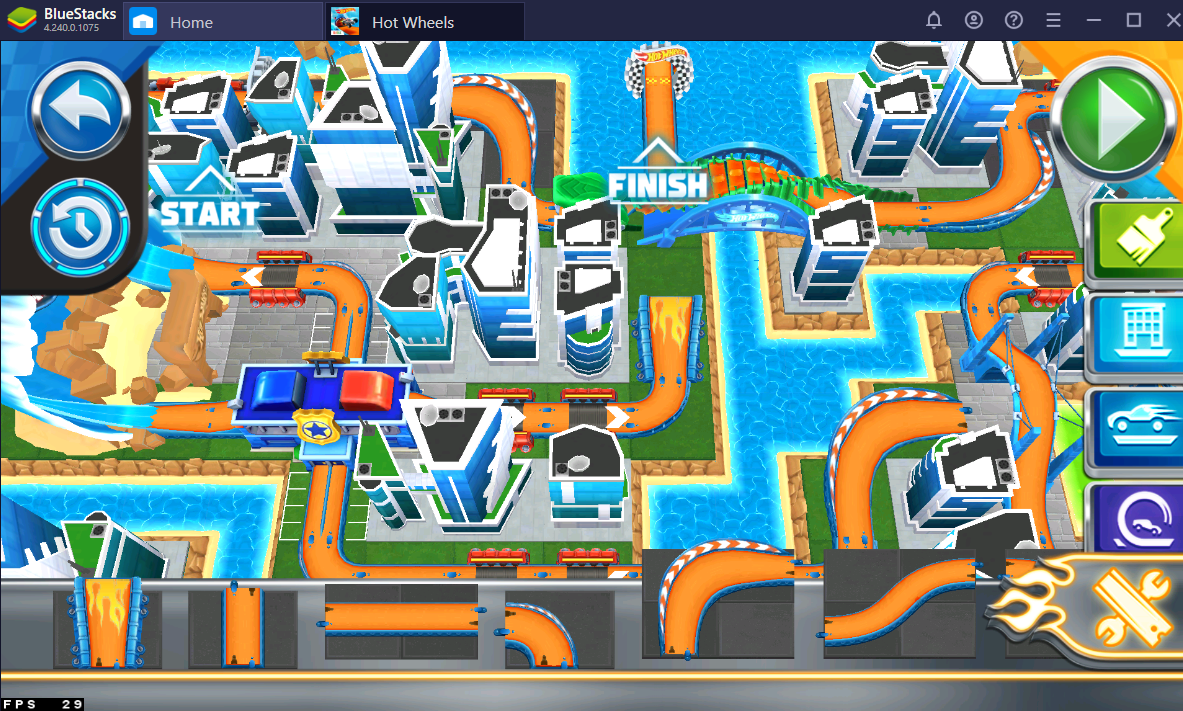 Now that you know the basics of creating race tracks, feel free to be artistic and let your imagination run wild. We suggest taking the time to experiment with different ways to combine race tracks and props.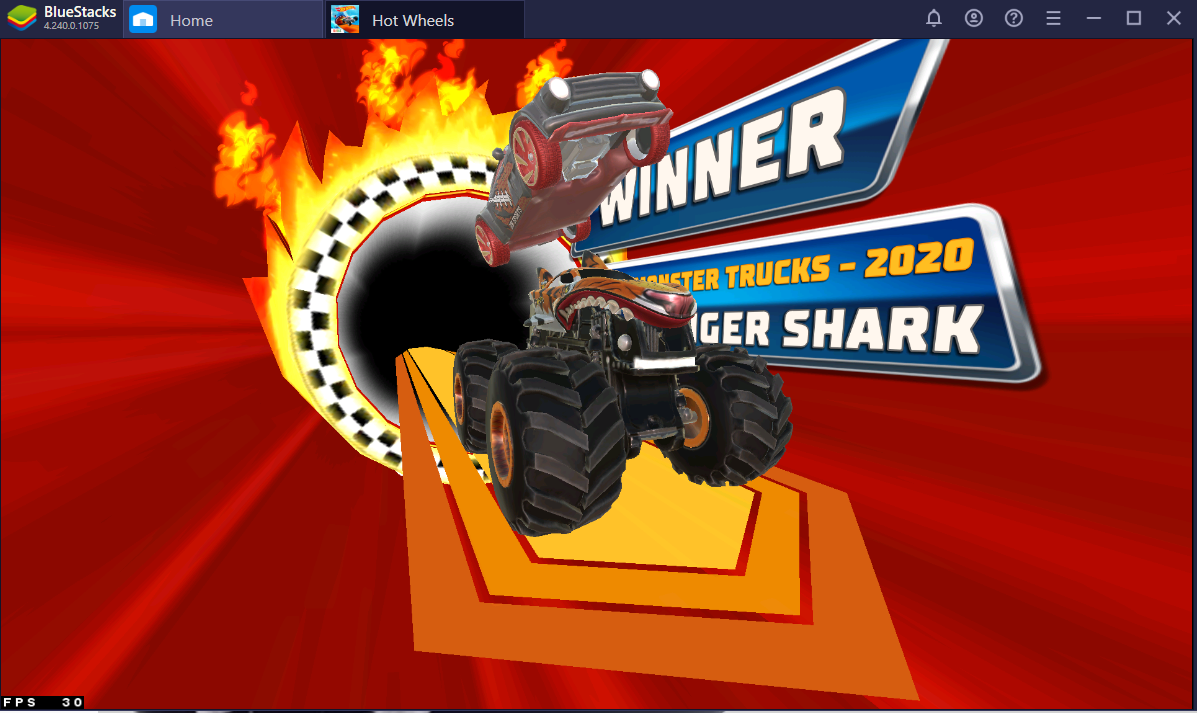 After finishing your masterpiece, test it out in an actual race against an AI-controlled vehicle. Alternatively, you can also play against another player via the game's 2P mode.
Race and Create
Hot Wheels Unlimited does a great job in recapturing the fun of playing with real Hot Wheels toys in the comfort of your own device. Albeit the puzzles and the challenge races are good in and of themselves, the built-in race track creator of Hot Wheels Unlimited is arguably the best feature of the game. You will undoubtedly get very addicted to this mode once you play it, especially when you play it on your PC or Mac with BlueStacks.