Game Guides
Everything you need to know about playing Hungry Shark World on PC with BlueStacks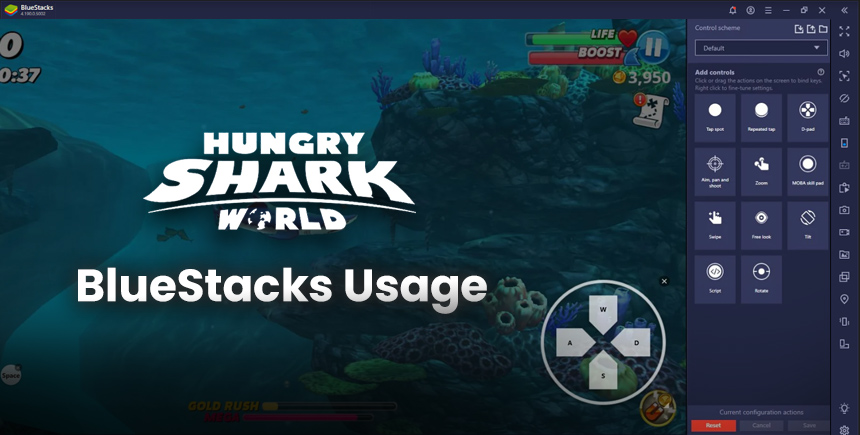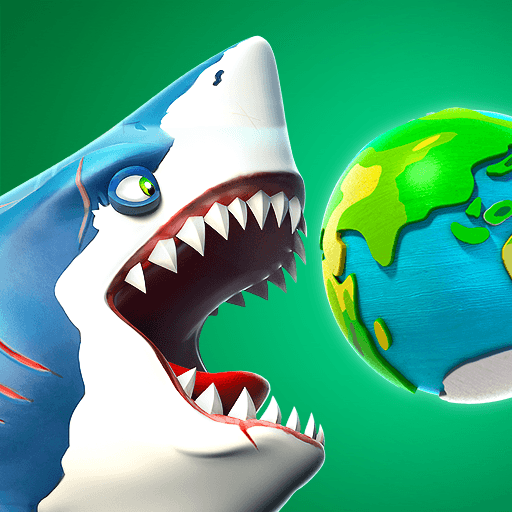 The Hungry Shark franchise of mobile games has caused quite a lot of waves (see what we did there?) in the mobile gaming community as it offers fun times as you control a shark devouring other types of aquatic fauna—do we have to say any more? Puns aside, Hungry Shark World is the latest installment in the series, offering some of the best graphics and gameplay of them all, which is awesome since that's exactly what we're going to talk about today.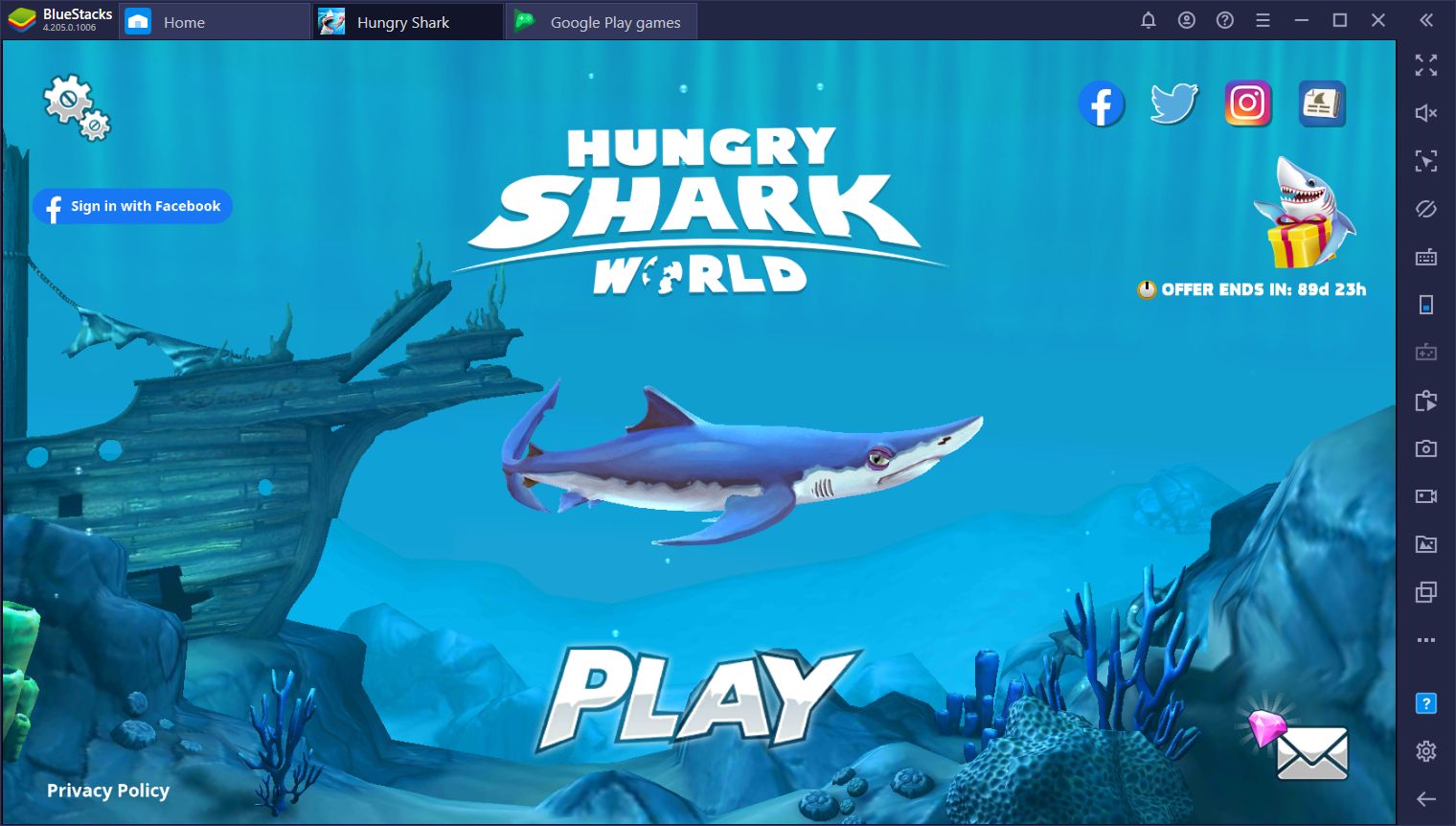 Like we mentioned above, the objective in this game is simple: You take control of a hungry, ravenous shark, and it's your objective to swim around the level devouring everything in your way. Depending on the type of shark that you have selected, you may eat prey of different sizes. However, if you're just beginning and only have the XS shark, odds are that you will be easy prey for larger predators early on. But that's a topic for another article.
In order to enjoy everything Hungry Shark World has to offer, you're definitely going to want to play it on a PC and with a large monitor, especially since the different maps are chock full of aquatic life and you'll need to correctly identify your prey before attacking, or you'll run the risk of biting off more than you can chew. Furthermore, considering how you'll need to do some quick maneuvers to chase your target down before eating it, you will also benefit tremendously from playing Hungry Shark World with a keyboard instead of the usual virtual joysticks that you have when playing on your phone.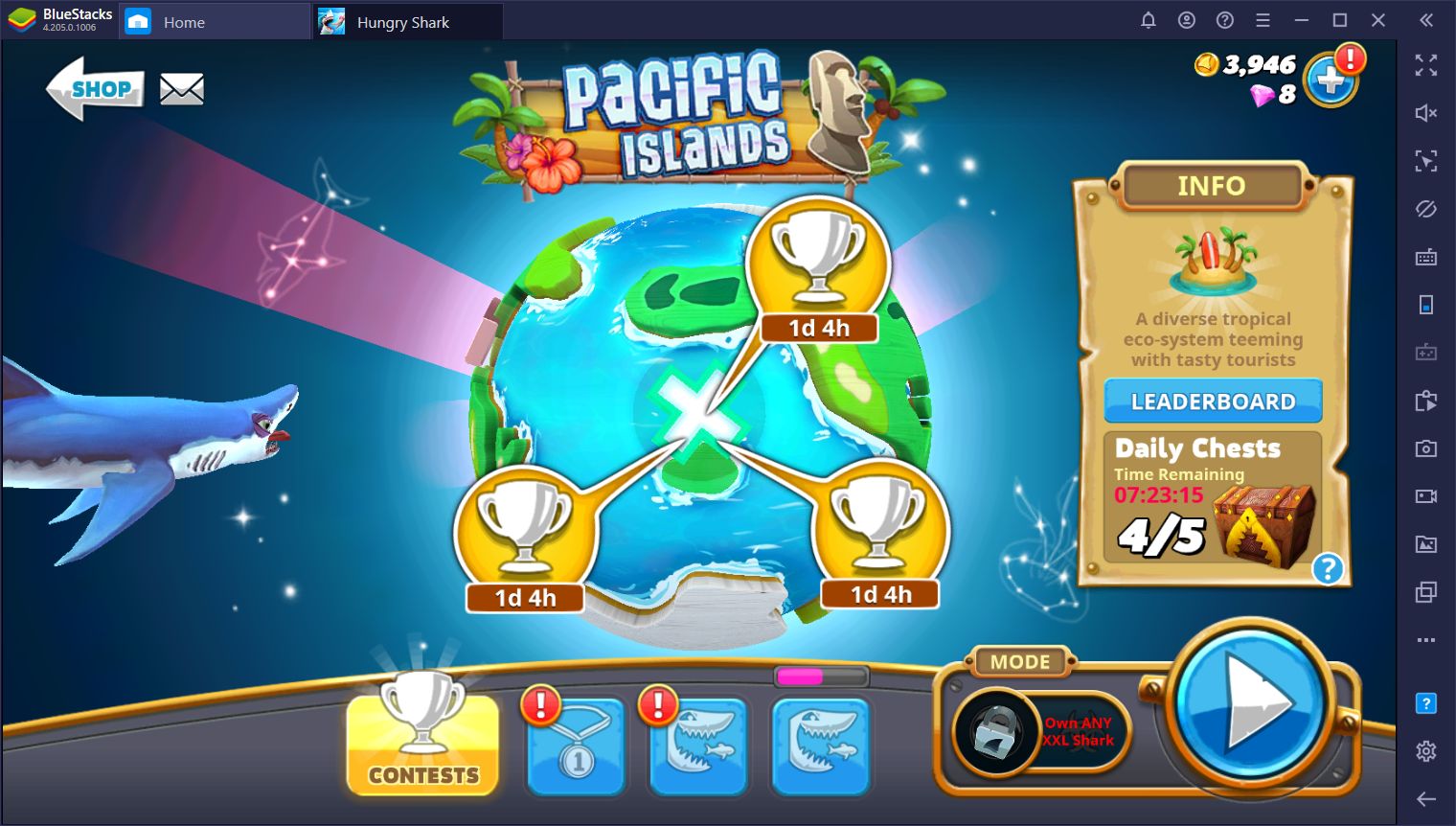 Luckily, installing Hungry Shark World on your PC is quite simple and can be achieved in a matter of minutes, which is exactly what we aim to explain in this guide.
Read on!
1. Installing Hungry Shark World on PC
Hungry Shark World can be easily installed and enjoyed on your PC through BlueStacks, our powerful android emulator. Our platform can bring virtually any Android game to life on your PC, allowing you to play them from the comfort of your desk, and with all the bells and whistles that come with playing mobile games on vastly superior hardware. Feel free to swing by our website to download the latest version of BlueStacks.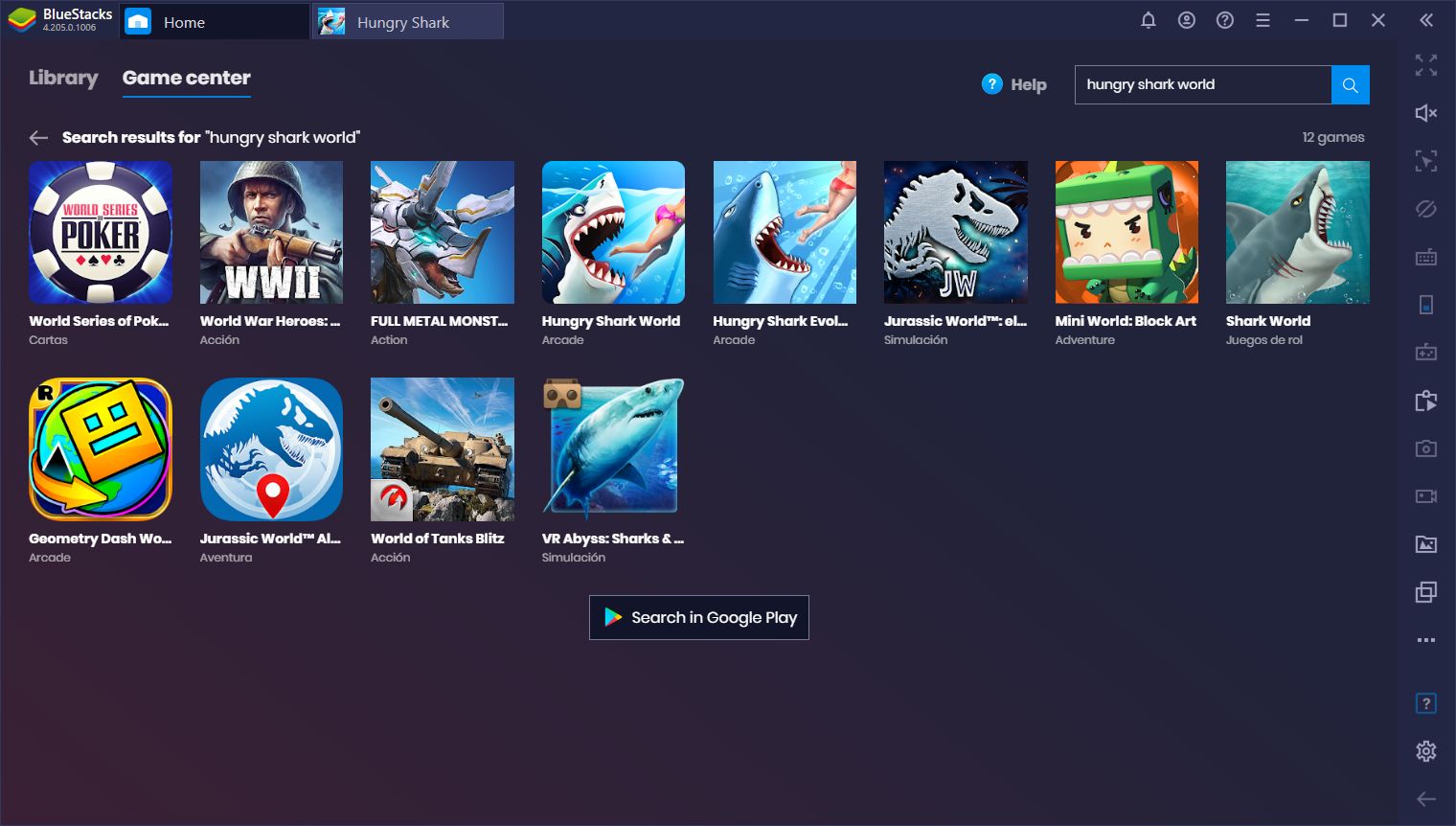 Installing Hungry Shark World is quite simple. After launching BlueStacks, you simply need to search for the game on our App Center by typing its name into the search box on the home screen. In order to actually find the game, however, you might need to click on the "Search in Google Play" button on the results screen. This will take you straight to the Play Store, where you'll be able to install the game just like you would on a regular smartphone. Once installed, launching the game is as simple as looking for its newly-created icon on the home screen and clicking on it.
2. Playing Hungry Shark World on BlueStacks
Right off the bat, you'll notice that the game looks and runs much better than on your phone. This is because BlueStacks is over six times more powerful than even the most expensive mobile devices on the market. This means that you can run most Android games on your PC, at a fraction of the cost of an expensive phone.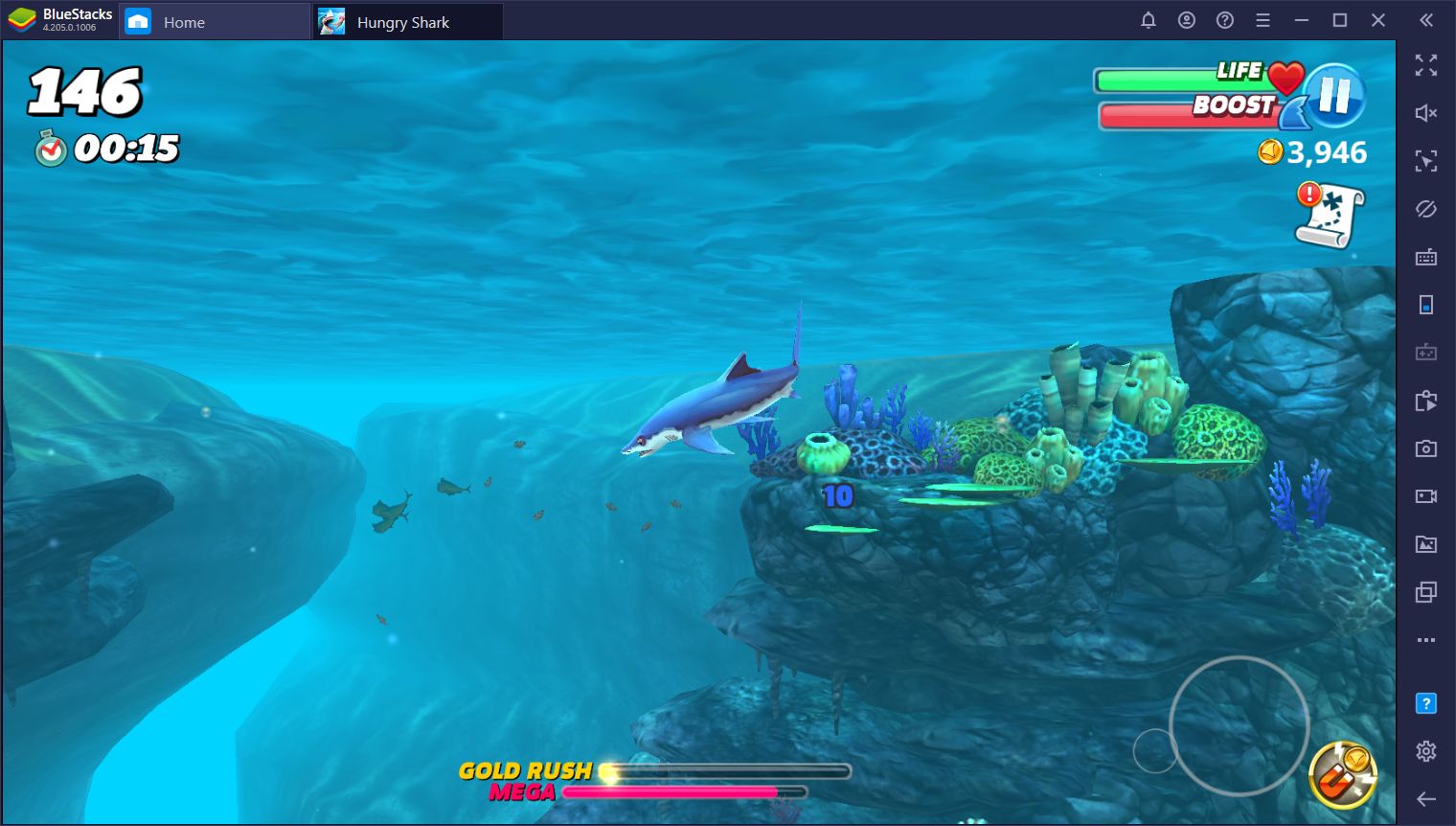 However, performance aside, BlueStacks offers quite a few benefits when playing Hungry Shark World compared to gaming on your phone. Specifically, our emulator has numerous features that can assist in this game, and that will be extremely useful when navigating the watery depths in search of prey to gobble up.
First up, we have the Keymapping Tool, which will be crucial for your success in Hungry Shark World on PC. This is because, instead of having to drag your mouse across the screen to control your shark, you could simply move around by using your WASD keys. By having your movement controls bound to this simple control scheme, you will enjoy unparalleled control over your toothy minion. Moreover, you can also bind the boost to something like your Spacebar, allowing you to both move around and zip through the water at high speeds all on one hand.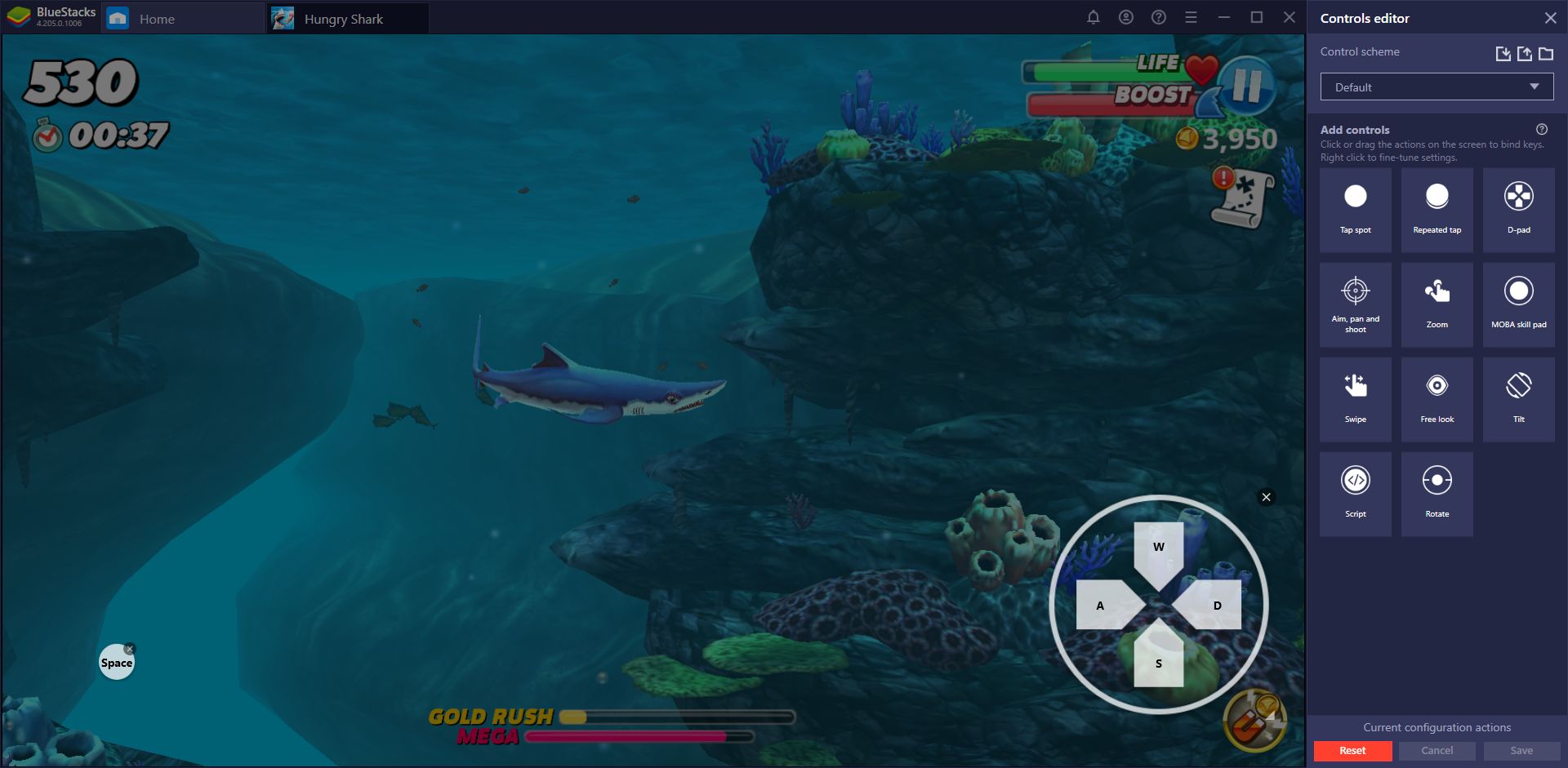 While the Keymapping Tool is one of the best features that BlueStacks has to offer when it comes to enjoying Hungry Shark World on PC, we also found that the BlueStacks Recorder is quite convenient in many situations, especially if you like streaming, creating content, or just showing off your sick skills. This feature, once activated, records everything happening in your BlueStacks window, and is a great way to record clips and videos that you can edit or share with anyone. Since this game has such a high skill ceiling, it's a great candidate for creating awesome clips of your high scores and best plays.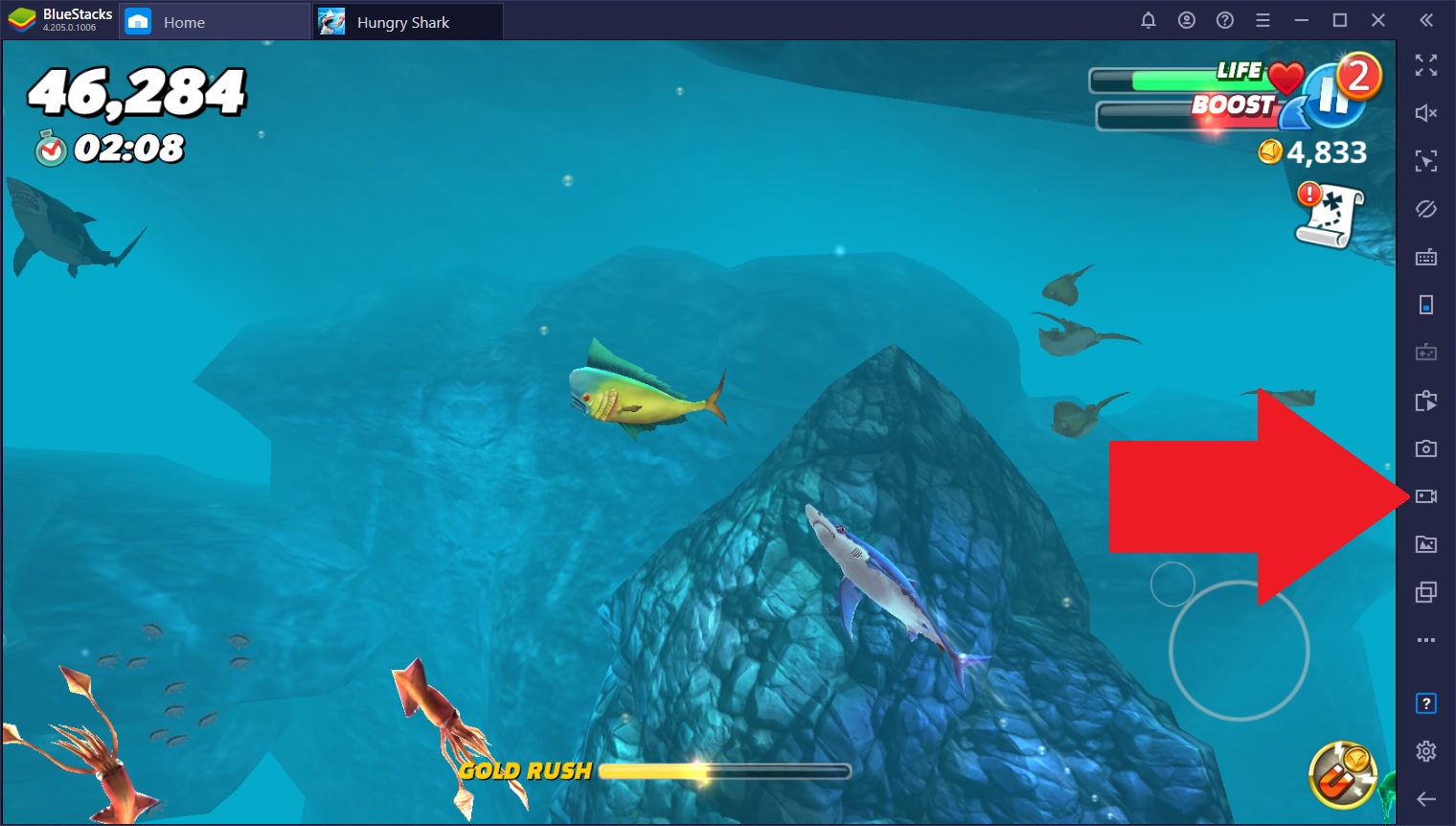 Lastly, the Instance Manager is a great tool for trying out different sharks without having to miss out on the others. This tool allows you to create multiple instances of BlueStacks and to access the game with different Google accounts. This essentially lets you make different decisions on every instance and experience a lot of what the game has to offer without having to grind too much. Imagine instead of having to pick between the sharks of any tier, you could purchase a different one on each instance and give them all a try before deciding which one to buy on your main account. This is exactly what the Instance Manager is for.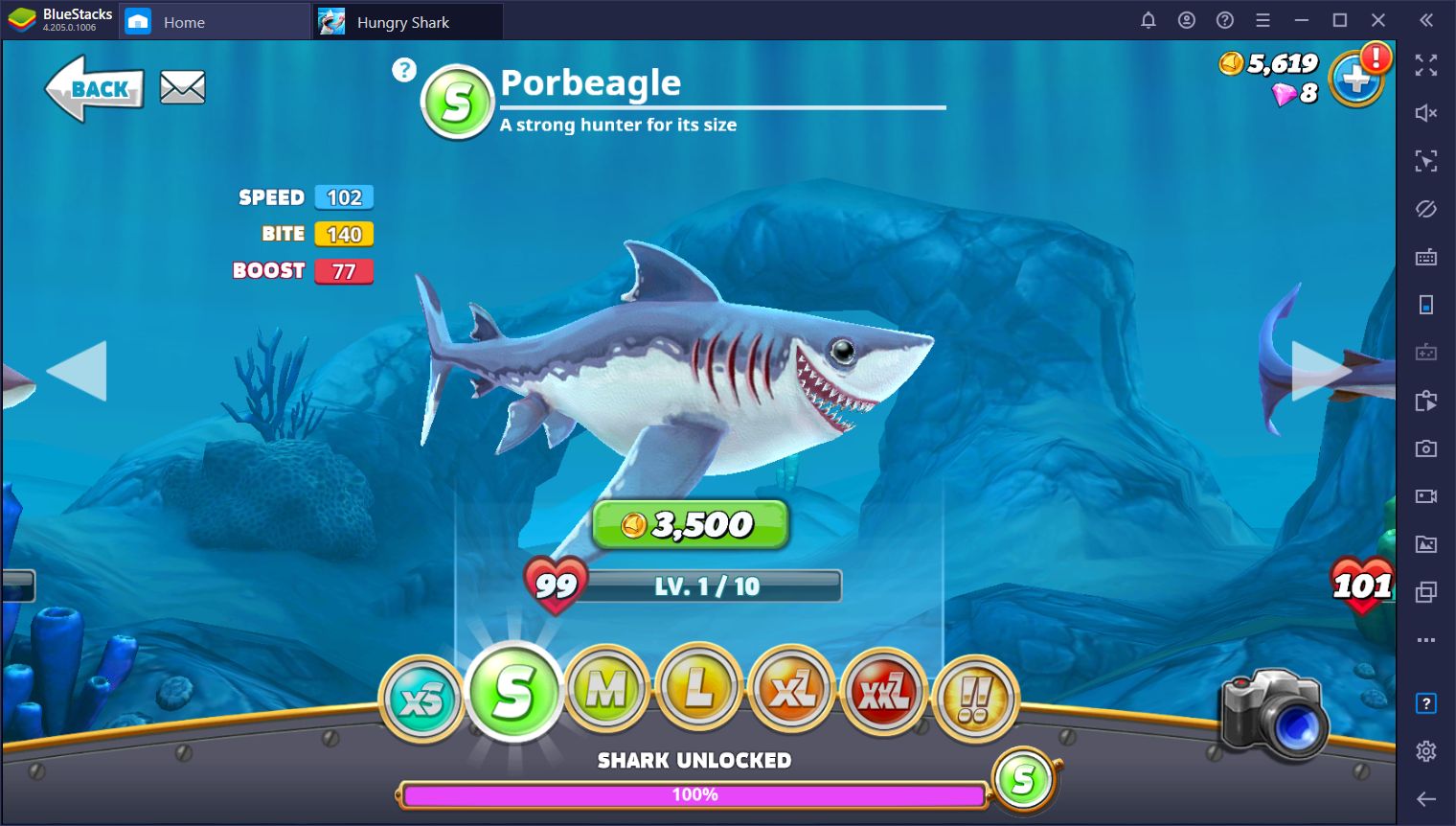 Between the superior performance and numerous useful tools, BlueStacks is the best way to enjoy Hungry Shark World on PC. We'd love to hear your thoughts and opinions, so feel free to leave us a comment in the section below!