Game Guides
How to Farm Resources for Upgrades in Immortal Legend: Idle RPG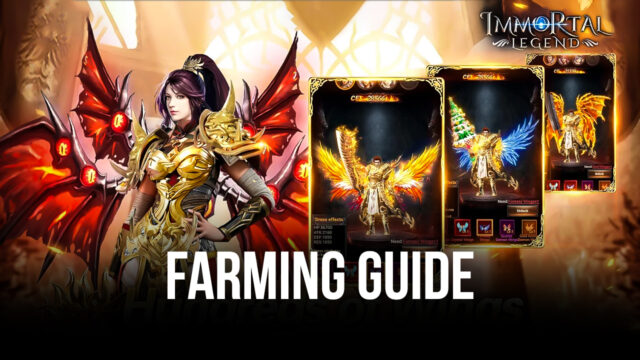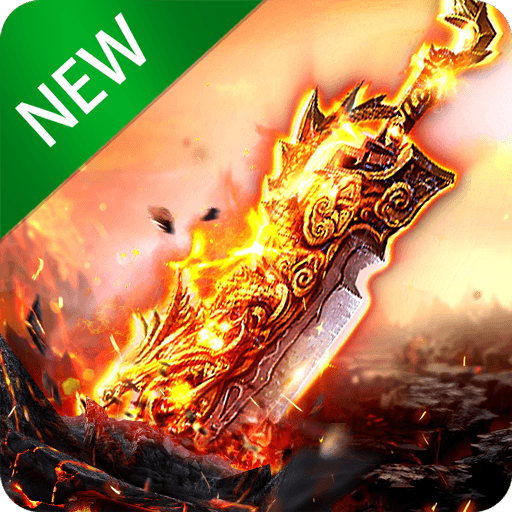 Immortal Legend: Idle RPG has abundant resources that you can use to upgrade your character. The game has three primary resources: EXP, coins, and diamonds. EXP is exclusively responsible for leveling up your character. Coins are primarily used to advance the Sacred Ring – which increments basic stats like Min. ATK and Total HP. And lastly, diamonds are often used to purchase premiums like sale packs.
Beyond all these, there are many more resources that are specifically utilized for specific items in the game. One good example is the Bless Stargem used for enhancing gear. This guide will discuss the ways on how you can farm basic resources in the game to help in kick-starting your legendary journey. Not all resources will be discussed here but the ones that will be are those that can be accessed early on in the game.
Completing Quests
Let's start off with quests! Completing quests grants you a large amount of EXP which makes leveling up even faster.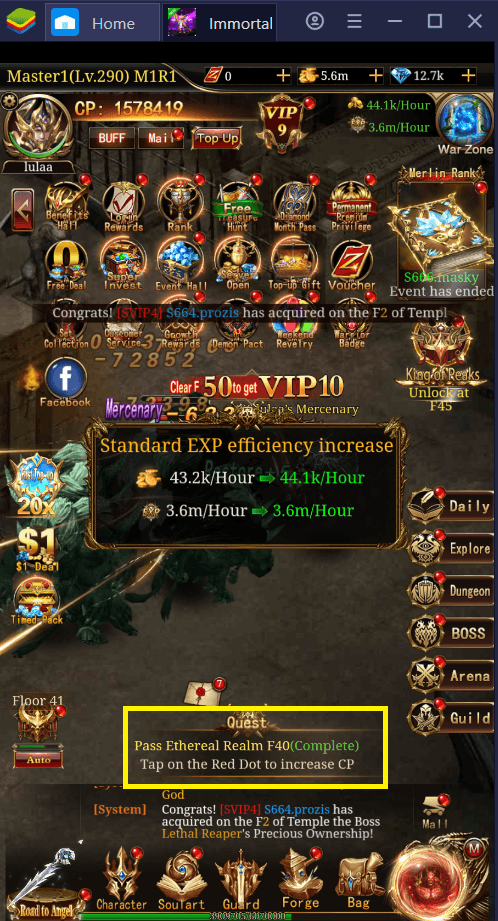 Aside from gaining EXP, quests also serve as very useful guides in progressing through the game. Basically, you will never lose track of your progress if you keep following quests. So always complete them if you want to quickly reach the far parts of the game.
Clearing Ethereal Realms
Ethereal Realms are the primary levels of the game and are integral in continuing your journey in the game.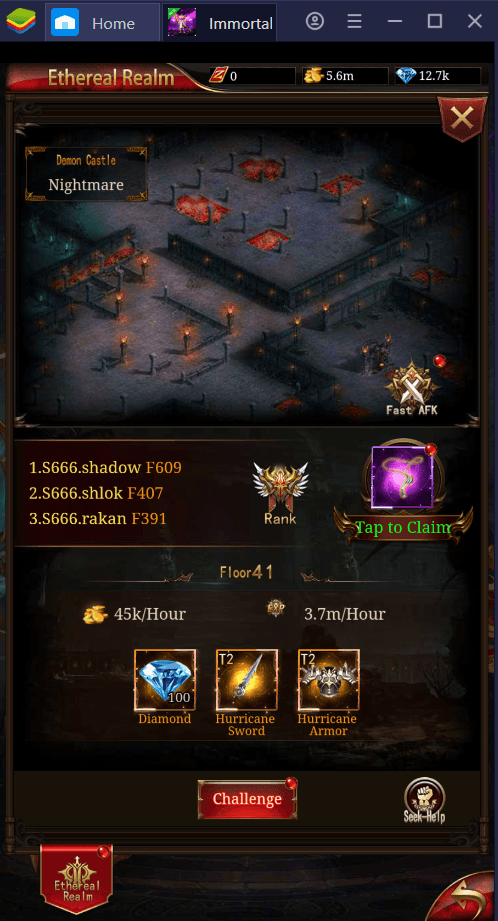 Clearing the Realms involves your character fighting a boss. It should not take too long, especially if your character is equipped with the highest upgrades possible. Upon defeating them, you are rewarded with diamonds as well as some decent gear that your character can equip. Additionally, completing a specific Ethereal Realm can rank up your VIP privilege and when that happens, you receive rare rewards like high-tier soulgear and plenty of coins or diamonds.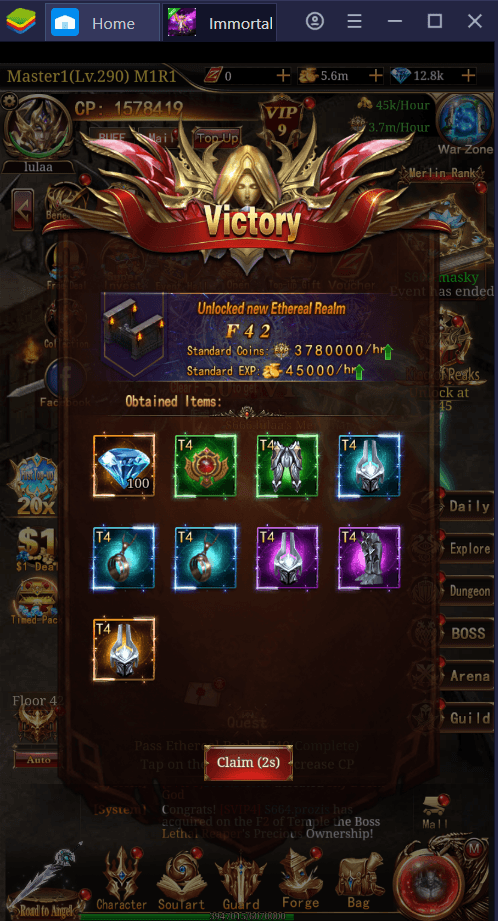 You may receive redundant gear after clearing Realms. But, even if the gear you receive are ones that you have already, you can smelt them anyway which will consequently give you EXP, coins and Bless Stargems.
Smelting Redundant Gear
As you keep earning new gear, your bag will eventually be completely filled up (NOTE: you can increase your bag's capacity by spending diamonds) and that will warrant a need to get rid of the excess. Fortunately, you can "trade" your excess gear for basic resources via smelting.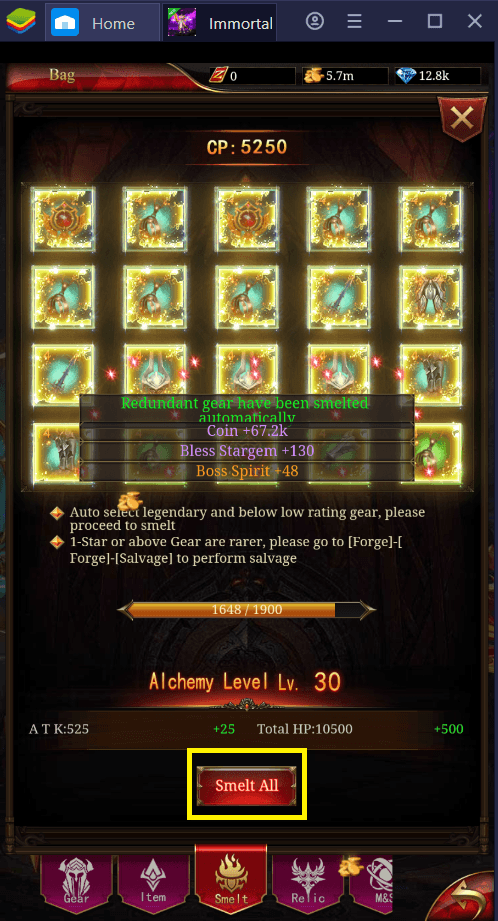 To smelt, click on Bag and then click on Smelt All to convert all of the excise gear into various resources such as EXP, coins, and Bless Stargems. Smelting is arguably the quickest way to earn all basic resources at the same time so always monitor your bag to check if it is nearly reaching full capacity.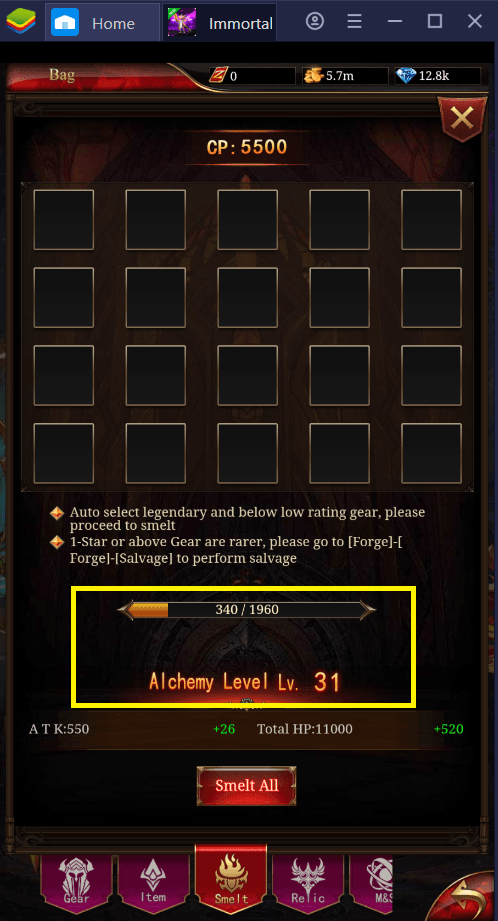 Moreover, smelting will fill up your Alchemy Level bar. As the alchemy level increases, your character receives additional boosts to their ATK and Total HP.
Completing Daily Dungeons
Dungeons provide great opportunities to farm resources. Daily dungeons are very interesting because you can actually farm for just one specific resource.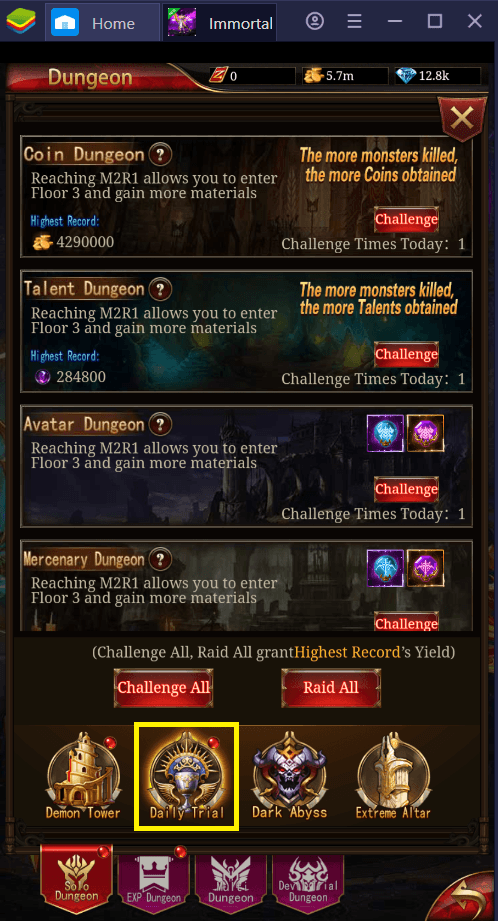 You can select which resource you would like to focus on. Upon entering the dungeon, you are given a time limit to kill as many enemies as you can, effectively farming a number of resources within a short span of time. In addition, killing enemies will also give you talent points but you can only redeem this upon finishing the time limit. You cannot redeem them if you deliberately exit the dungeon.
These dungeons can only be done with a limited number of attempts. But do not fret because the attempts reset every midnight (based on your server time).
Daily Rewards
If you are a consistent player, you can be blessed with additional resources through the game's daily rewards. There are two primary sources of daily rewards: the Benefits Hall and the Login Rewards.
Benefits Hall
The Hall contains plenty of mini-tasks that can be accomplished within a day. Completing this rewards you with diamonds as well as some training stones that can be used to upgrade your guards (companions who fight alongside you). When you complete all of the tasks in the Hall, you have to wait until midnight for the next set of tasks to take over.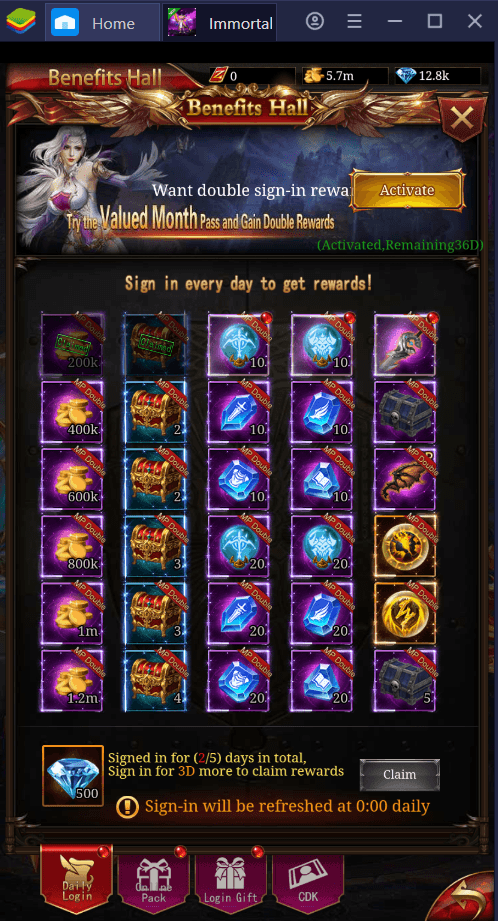 Login Rewards
By playing every day, you can be rewarded with a fair amount of Bless Stargems, diamonds, and the like. The rewards become bigger and better as each day progress; so, never forget to log in each day!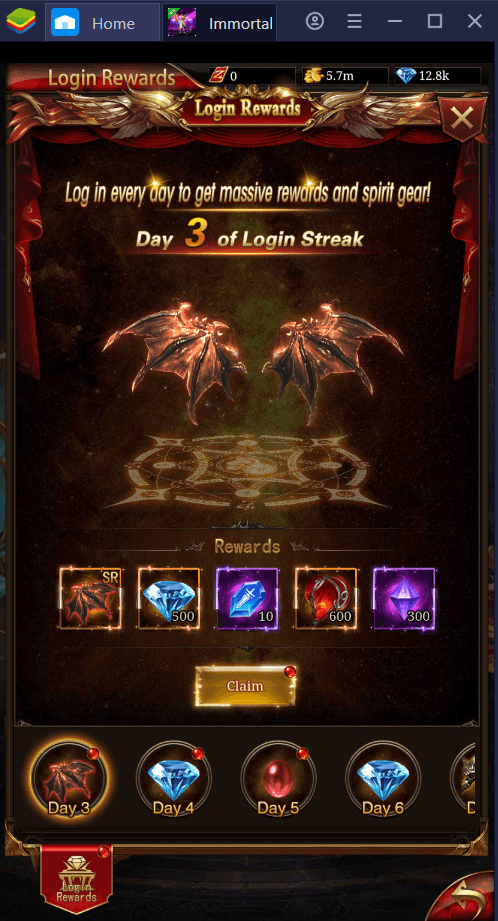 Achieving Milestones
There are plenty of achievements that can be earned in the game and you can gain rewards upon doing so. You can acquire them from Growth Rewards, Angel Titles, and Daily Trials.
Growth Rewards
Growth Rewards are won by completing major milestones in the game such as reaching a particular level (i.e. Level 300). Rewards consist of diamonds, Bless Stargems, and even chests that contain soulgear.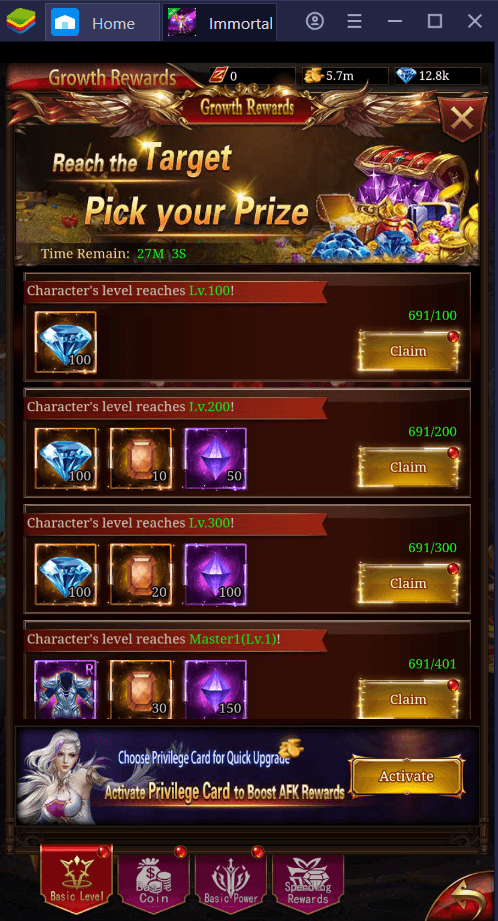 Angel Title
Angel Titles work similarly to growth rewards. You are not only rewarded with diamonds but you are also rewarded with additional buffs to your ATK, Total HP, and DEF. Completing Angel Titles also earns Angel Points which is used to fill up an orb. When full, the orb advances to the next level (represented by a blue crystal) until it eventually reaches the next tier. At that point, you will receive an Archangel Chest which contains a fortune of rewards like 800 diamonds and 200,000 coins.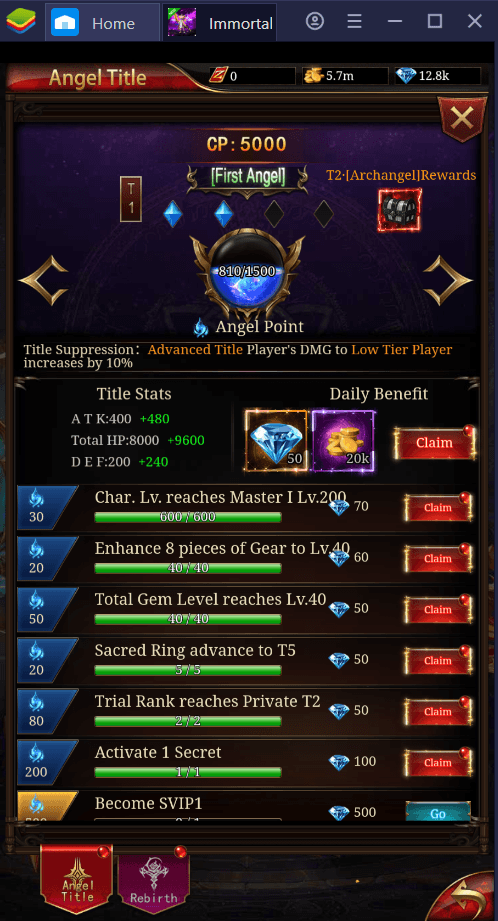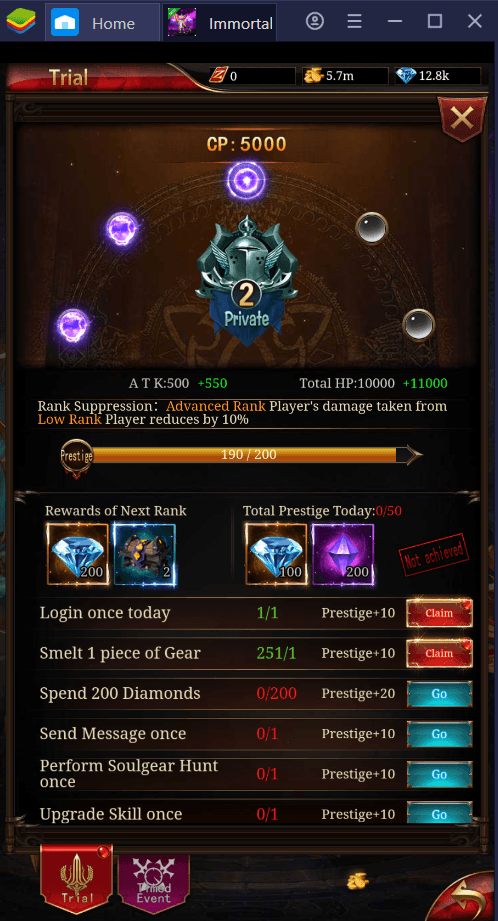 Daily Trial
Completing daily trials fills up a prestige meter which gives you rewards like diamonds as well as a soulgear chest when filled up completely. Like the Angel Title, you can also receive stat boosts.