Game Guides
Guards, Bosses, and More – Tips and Tricks for Immortal Legend: Idle RPG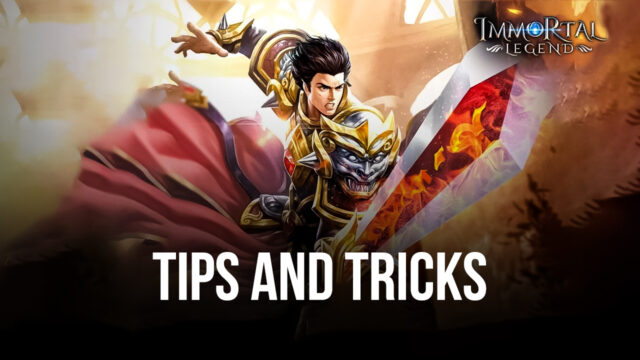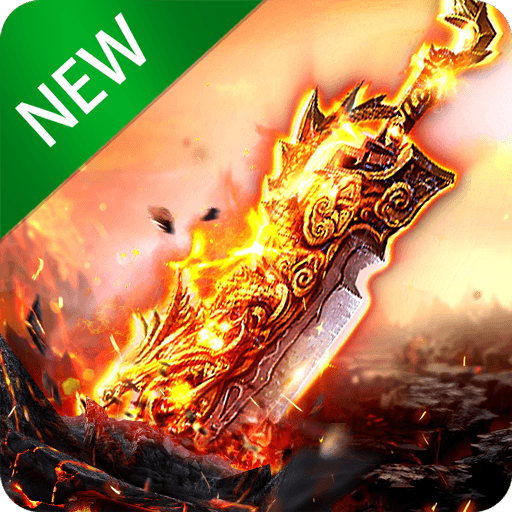 There is a vast amount of content in Immortal Legend: Idle RPG and some of them can be overshadowed easily. Aside from the core ways of upgrading your character as well as obtaining resources for it, there are some other underlooked ways of giving more power to your character.
In this guide, we'll discuss several features that you should look into while playing Immortal Legend if you want your character to become even stronger.
Upgrading Guards
You do not fight alone in the game. In fact, you are accompanied by three companions who fight alongside you and make killing enemies easier. They are the Avatar, Mercenary, and Fairy.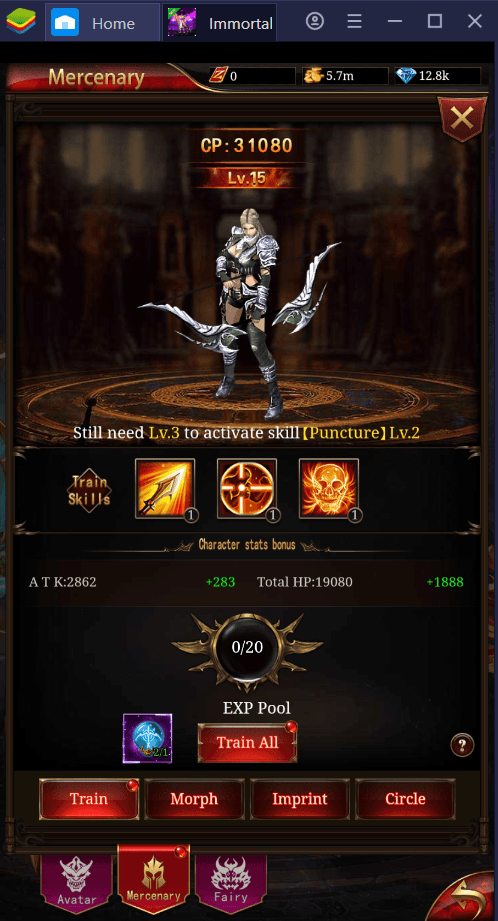 These three companions are called Guards and all of them utilize the same four methods of upgrading: Train, Morph, Imprint, and Circle. For this guide. However, only Train and Morph will be discussed as these are ones you will have the earliest access to.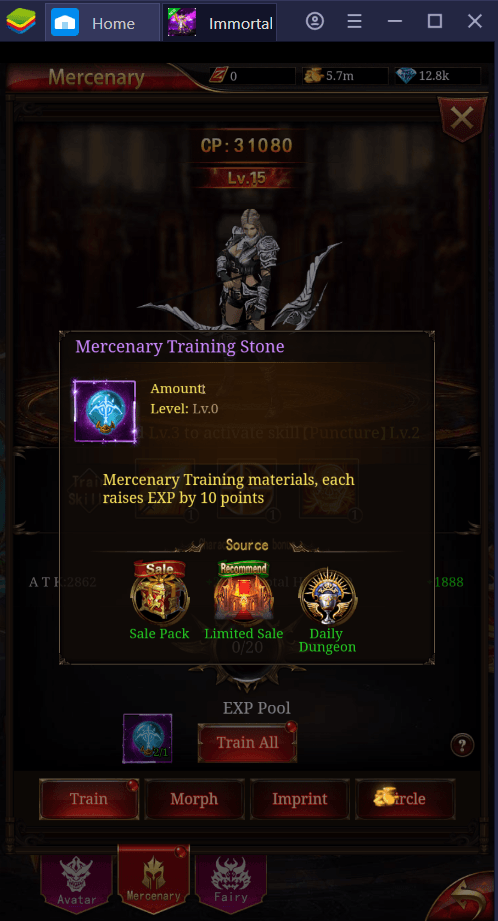 Training Stones are used for training your guards. It is important to note that each guard has their own Stone so it is impossible for sharing to occur.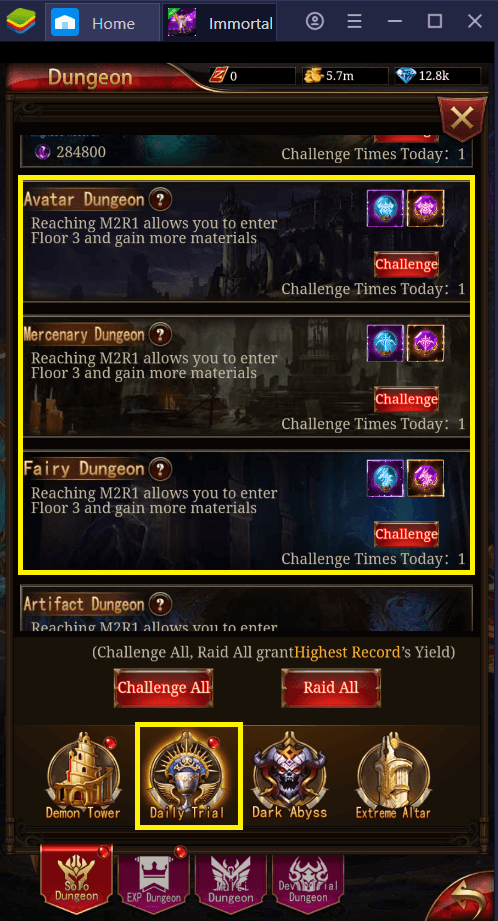 The Stones are usually garnered in daily dungeons. More specifically, they can be acquired from dungeons that are specifically meant for the guard you wish to upgrade. For instance, if you want to upgrade your Avatar, then you need to complete an Avatar Dungeon to win Avatar Training Stones. Additionally, you can also obtain Training Stones by purchasing premium packs at the cost of a hefty amount of diamonds.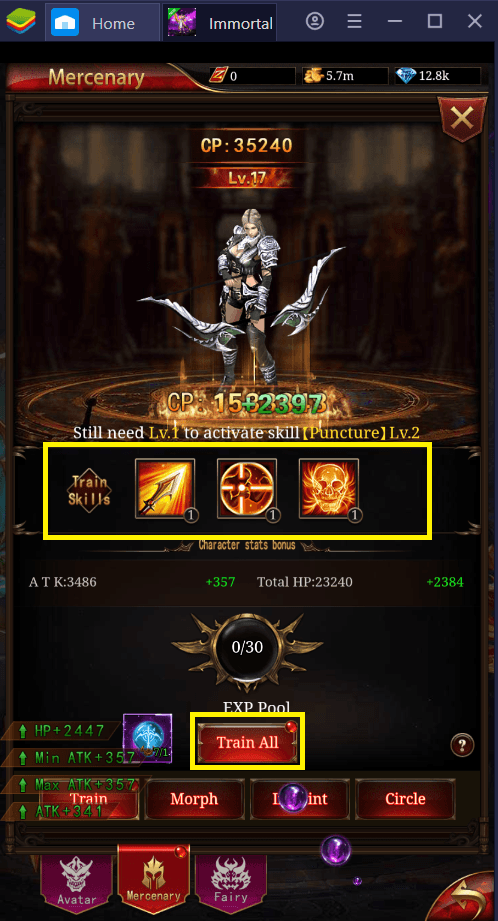 Training your guards increases their level. When they reach a certain level, a Train Skill is unlocked which can be used during combat. Each guard can unlock up to three of these. You can even upgrade these skills after reaching a particular level.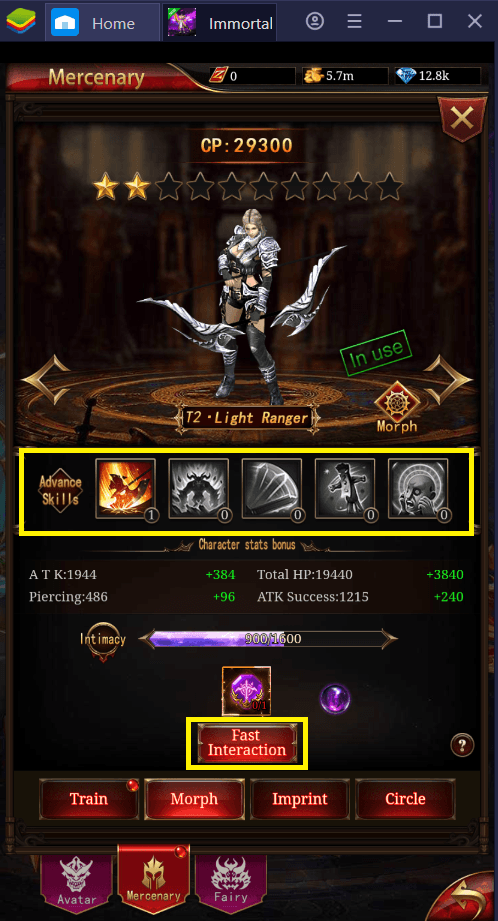 Morphing your guards is different from training them but nonetheless, it still adds more power to them. Advancore is used to morph guards and these can be acquired from the daily dungeons alongside the Training Stones. Using up Advancore increases intimacy with the guard and when this completely fills up, they earn one star. Earning a total of 10 stars gives access to Advance Skills, which are functionally similar to Train Skills.
Defeating Bosses
Bosses are inherent in RPG games and Immortal Legend is proud to emphasize that. There are countless bosses that you can fight in the game and defeating one can give you rare and premium rewards like high-rarity weapons and delicate gems that you inlay to your weapons.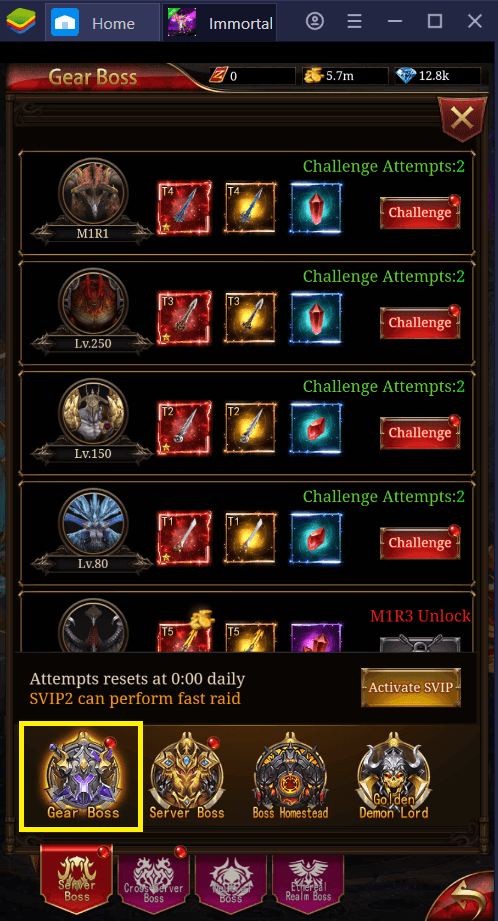 Defeating Gear Bosses awards you with strong weapons upon completion. It will also reward you with gems to accompany your newly acquired gear. Keep in mind that you only have a limited number of attempts to fight the boss and this decrements regardless of whether you win or lose the battle. Additionally, you can actually replay the boss fight after beating them but you will have to wait for the cool-down time to end. When all of your attempts are used up, you have to wait until midnight (based on server time) for them to reset.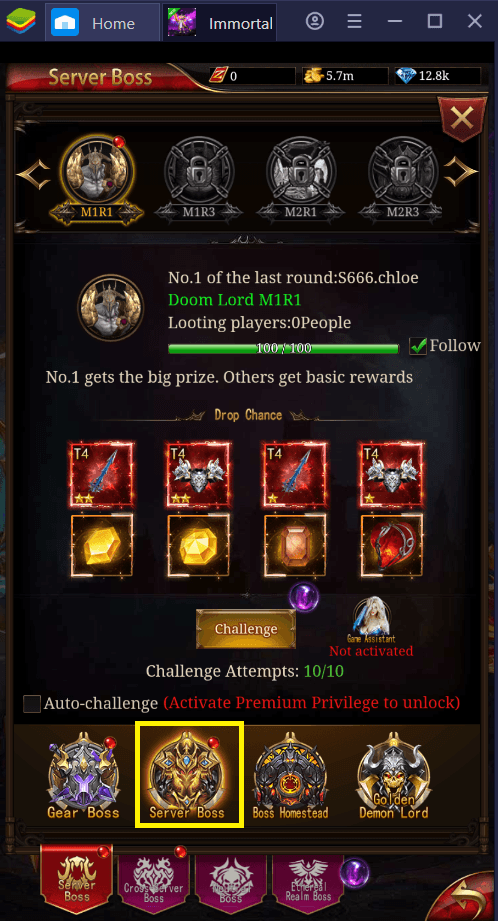 Server Bosses are bosses that can be fought alongside other players who happen to be in the same server as you and happen to fight the same boss. Fighting these bosses can become quite competitive as the game monitors the amount of damage that each player inflicts on the boss. The player who deals the most damage gets to reap the best rewards while the others reap basic ones. It does not hurt to try though, especially because you are given 10 attempts to fight Server Bosses.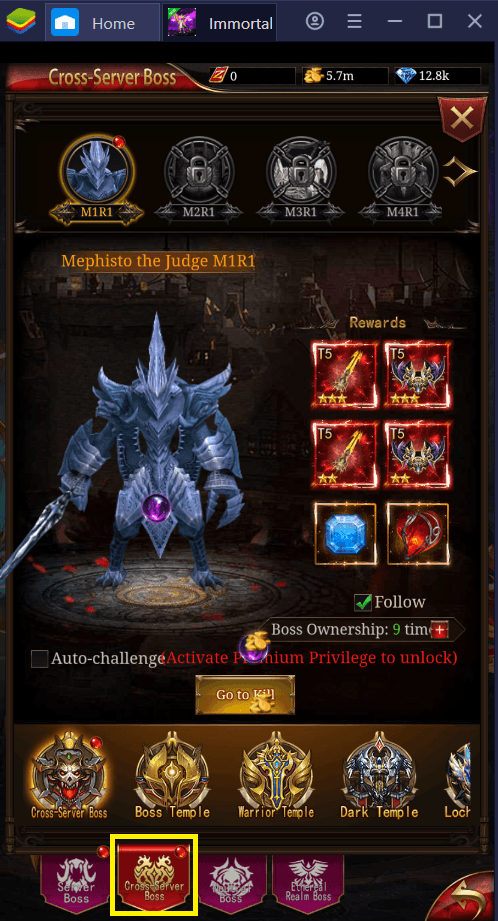 You can even fight bosses from other servers too and defeating them can give greater rewards than defeating local server bosses.
Treasure Hunting
Treasure Hunts function like a raffle system in which you gain a chance to win one of many premium rewards.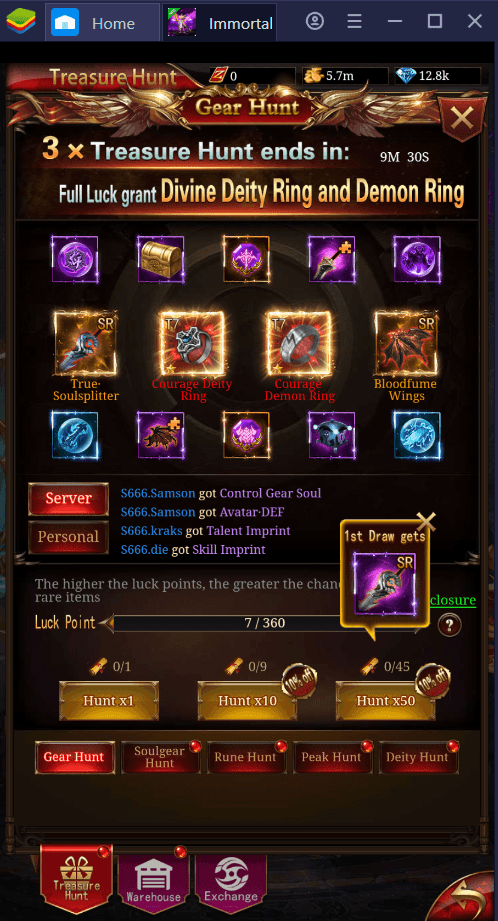 There is a Treasure Hunt for gear, soulgear, and the like so there are plenty of opportunities for those who feel lucky. Each category in the Hunt utilizes its own tokens. They are primarily acquired in exchange for diamonds but some can be acquired by completing dungeons. For instance, the token for Soulgear Hunt (named Soulgear Map) can be obtained by clearing Demon Tower floors.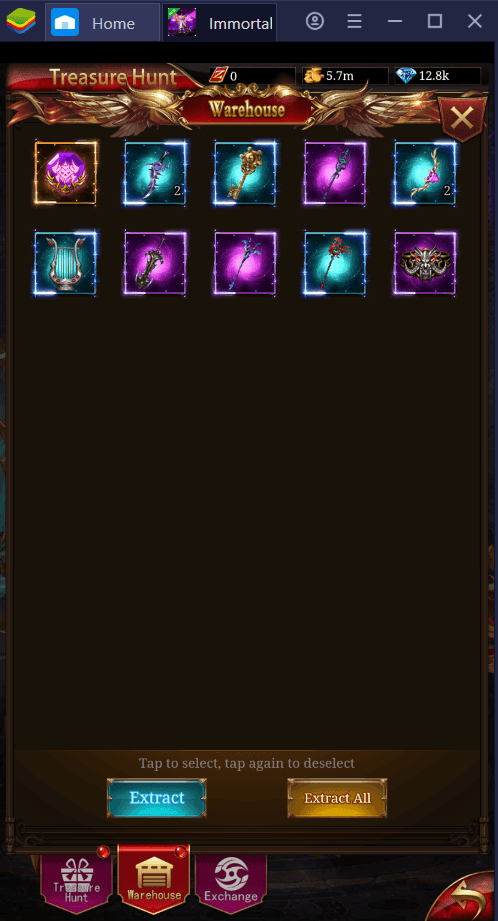 All of the rewards that you win in Hunts are automatically transferred to the Warehouse. You need to extract them first if you want to transfer them to your bag.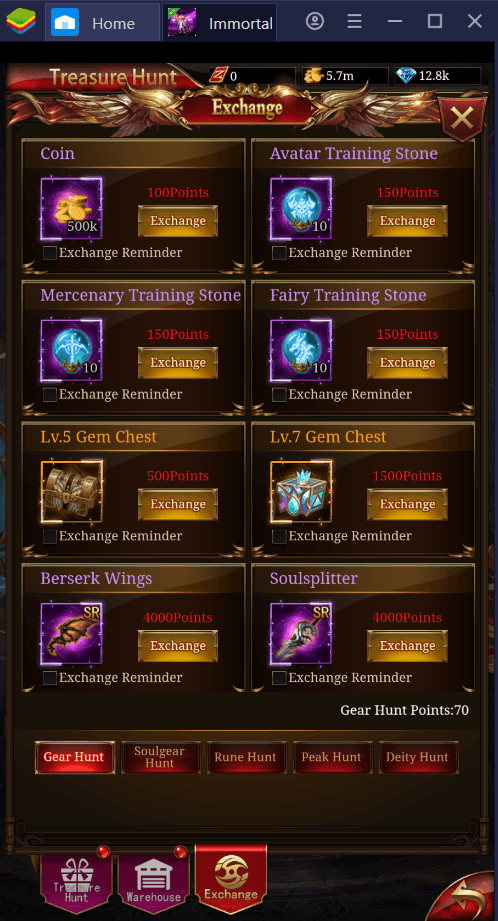 Another interesting mechanic of the Treasure Hunt is the ability to exchange points for items like chests. Each category has its own set of items that are available for exchange. You need to acquire a sufficient amount of points in order to claim an item. Points are added whenever you hunt. Do note that each category has its own points and cannot be shared. You cannot use Soulgear Hunt points to purchase an item from the Gear Hunt's collection of items.
Set Collection
Gear sets give you bonus buffs when the gear that your character is equipping is activated or "lit up".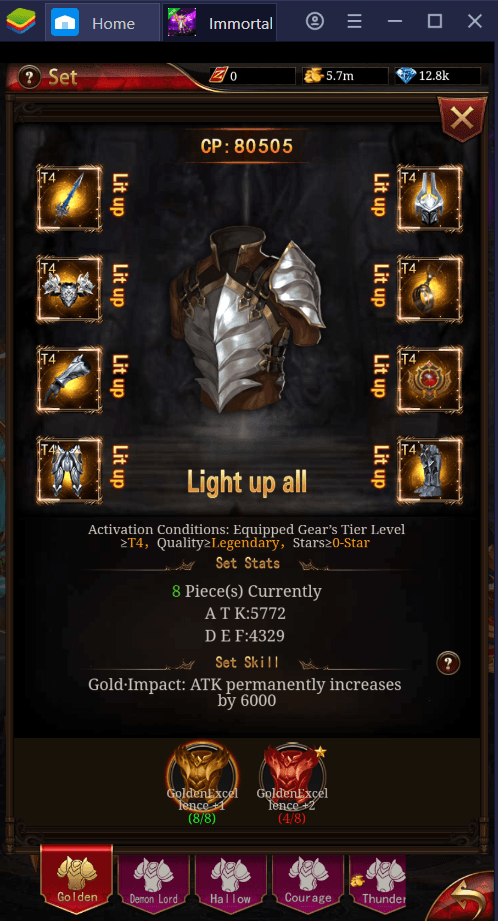 In order for a gear item to be lit up, it needs to satisfy several conditions that usually involve the gear's tier level, their quality (represented by the color of the background of their icon), and the number of stars it has. When all gear is lit up, you unlock a set skill which can provide a huge benefit to your character. For example, the set skill of the Golden set increases ATK by as much as 6000 points. Moreover, you can unlock another set skill from within the same set just by satisfying a new set of conditions.
VIP Privileges
You can receive premium rewards like high-end gear, plenty of coins/talent points/diamonds, and the like through VIP privileges.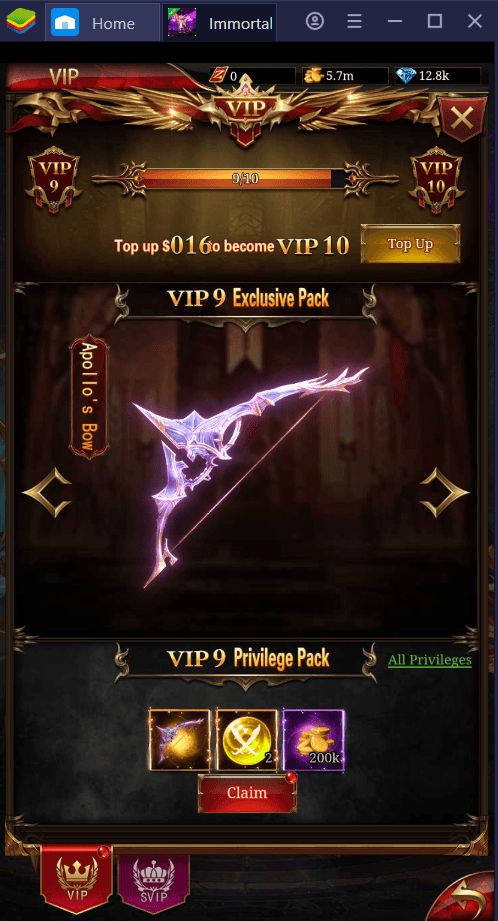 VIP level is increased upon clearing a specific Ethereal Realm. The realm that you need to complete is always displayed above your character. Aside from premiums, a higher VIP level also increases your character's basic stats like ATK, DEF, and HP. Furthermore, it even increases the amount of EXP and coins you earn during AFK!