Game Guides
How to Play Immortal Legend: Idle RPG on PC with BlueStacks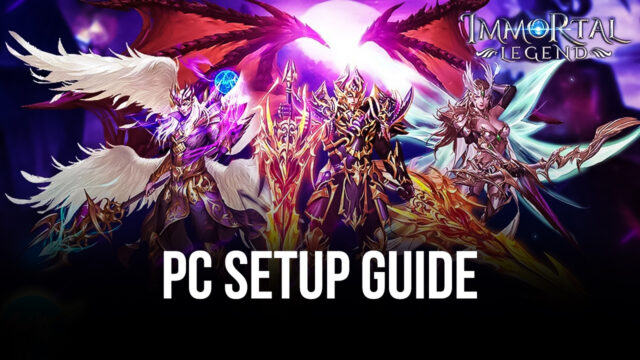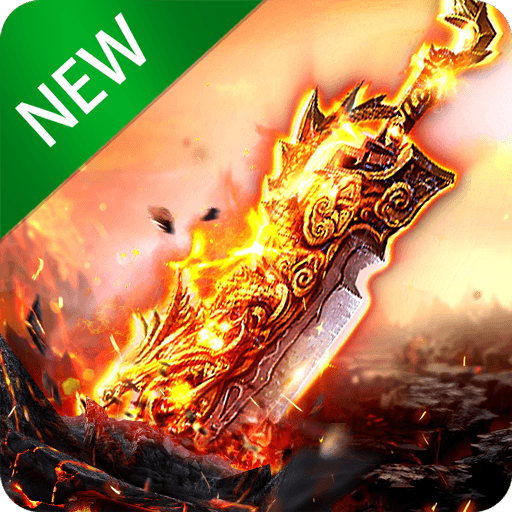 If you are a fan of games that can be played with only one hand, then Immortal Legends: Idle RPG is an ideal game for you. Made by UnlockGame, Immortal Legends is an exciting role playing game that is filled to the brim with content. As a warrior in a mystical realm, your only goal is to become as strong as possible.
Start your legendary journey now by installing and playing Immortal Legends: Idle RPG now on BlueStacks. Progressing through your epic adventure may be satisfying when played on your phone but with BlueStacks, you will receive a better experience as you gain access to exclusive features that can help you in ways that mobile phones cannot provide.
How to Install Immortal Legends: Idle RPG
Download and install BlueStacks

on your PC.

Complete Google Sign-in to access the Play Store, or do it later.

Look for

Immortal Legends: Idle RPG

in the search bar at the top-right corner.

Click to install

Immortal Legends: Idle RPG

from the search results.

Complete Google Sign-in (if you skipped step 2) to install

Immortal Legends: Idle RPG

.

Click the

Immortal Legends: Idle RPG

icon on the home screen to start playing.

A Relaxing RPG Experience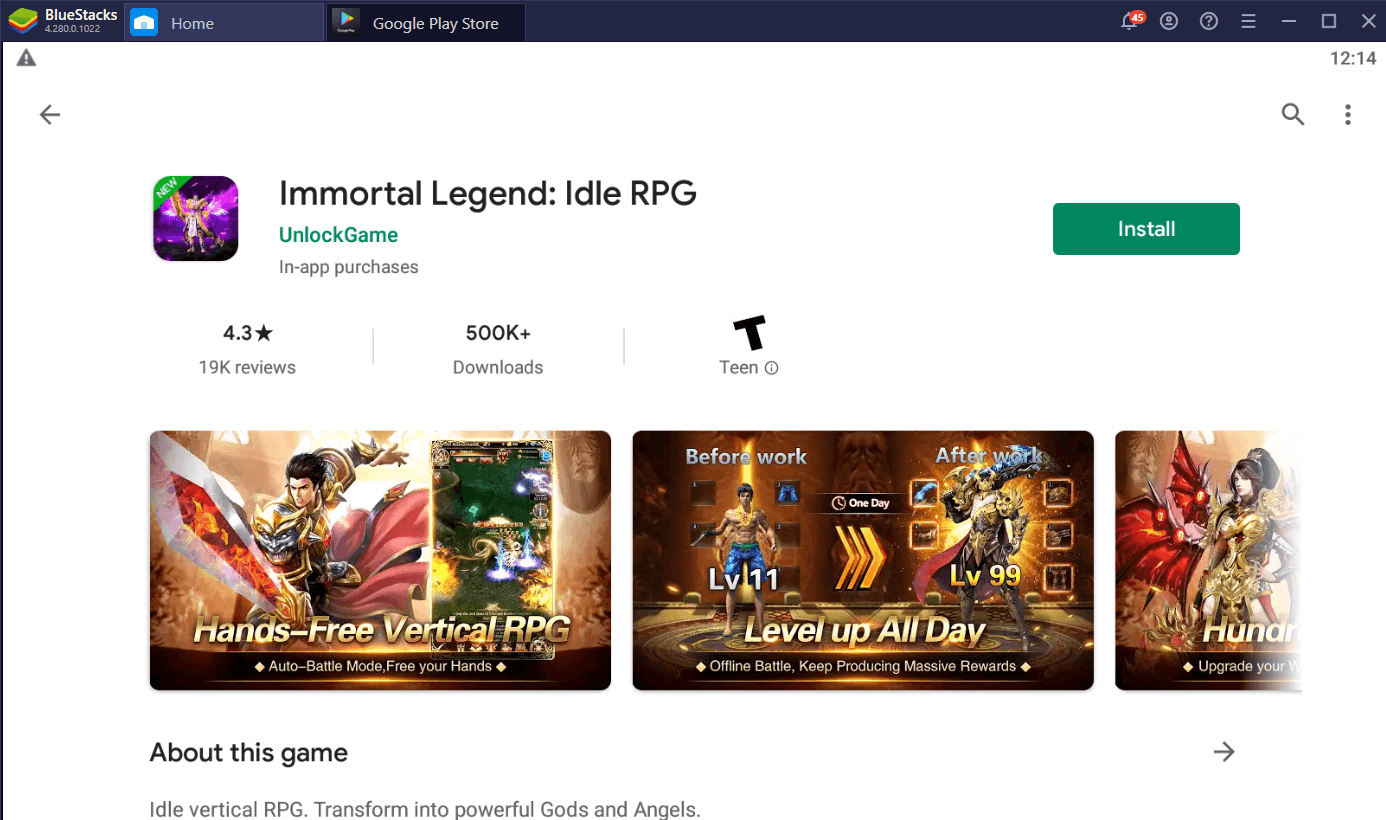 Immortal Legends boasts an AFK mode where every action of your character is completely automated. This means that all of the killings of enemies, acquiring of resources, and the like are done for you so all you need to do is sit back and watch or do something else while the game runs in the background.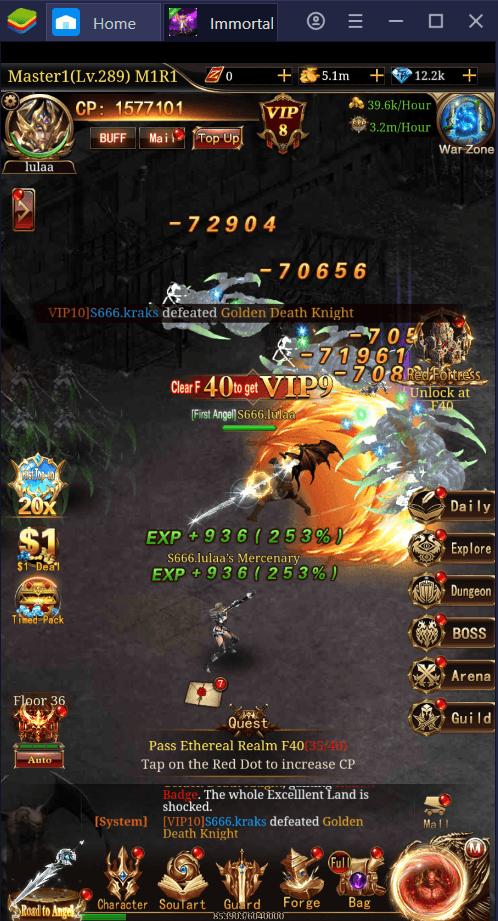 Your character moves around endlessly and kills any enemy that it encounters. As this is happening, resources such as EXP and coins are earned which can be used to upgrade your character.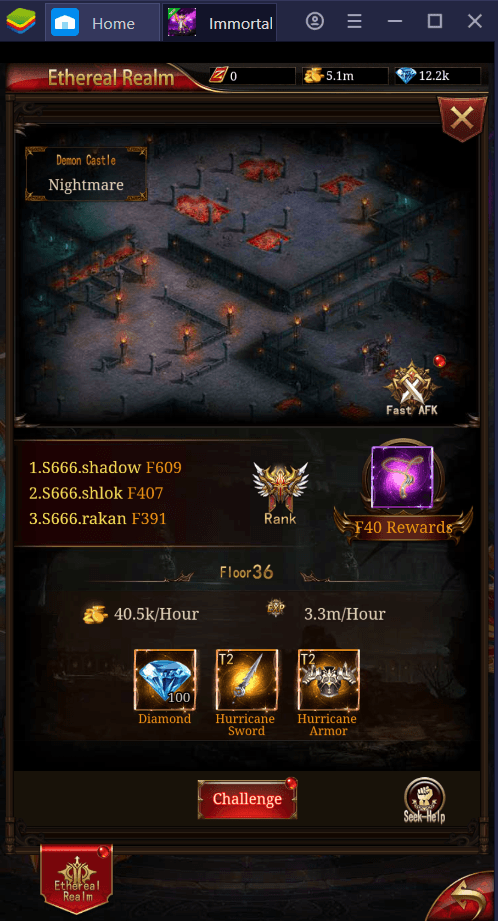 As your character becomes stronger, they will need to face enemies that are of their own size. You can progress through the game primarily by clearing Ethereal Realms. Each realm consists of a boss that is blocking your way. Defeat the boss and you can win premium rewards which can further buff your character!
Upgrade Your Character Endlessly
Upgrading your character is the core of Immortal Legends: Idle RPG and there are a myriad of ways to do so.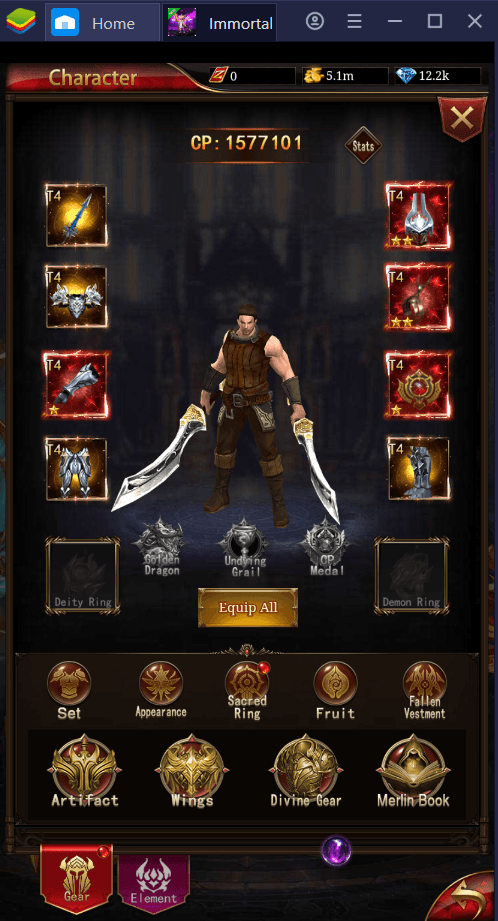 For one, you can equip stronger gear such as weapons and armor to your character. Each gear item is ranked according to tier and a higher tier number indicates a stronger gear item. Additionally, some gear items have stars embedded to them which effectively makes the item much rarer. Countless gear can be acquired during AFK mode and what's convenient is that the game automatically equips the strongest gear for you.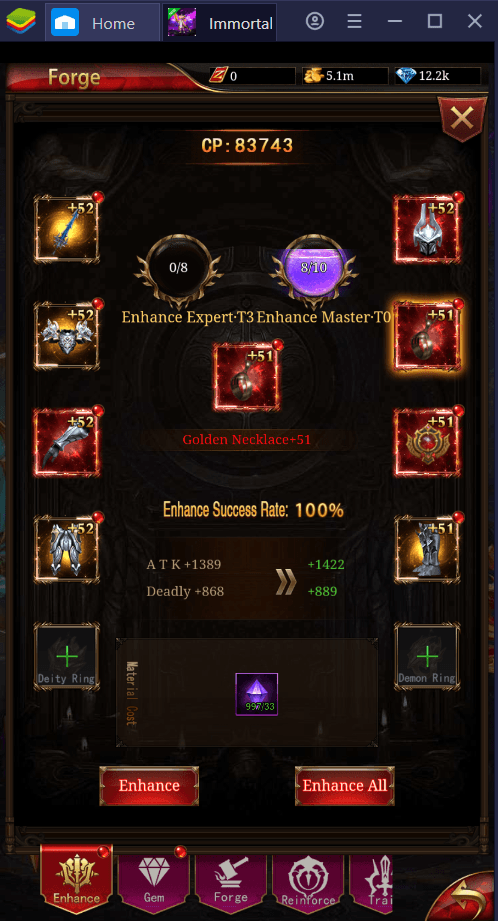 You can even upgrade your character's gear through the Forge. With a resource called Bless Stargem, you can enhance a gear item by incrementing its stats. Don't worry if you run out of Bless Stargems because you can quickly replenish your supply by smelting excess gear. Smelting essentially converts excise gear to usable resources like Stargems. In a game where you constantly gain a number of new items every minute, it is quite unlikely that you will ever experience a resource shortage.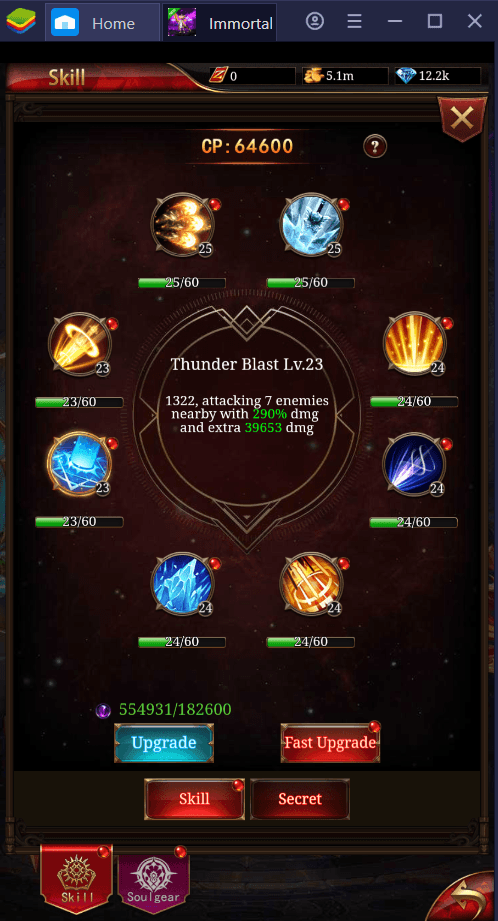 If gear is not enough to strengthen your character, you can take it to the next level by upgrading their skills. Skills are the attack moves that your character executes to eliminate enemies so upgrading them is very beneficial if you want to increase their time to kill. Consequently, the faster that you kill enemies, the faster you gain resources!
Know more in-depth details about upgrading your character in Immortal Legends by reading this guide here.
Fight with Strong Companions
No man is an island after all, so it is imperative that you have some companions by your side to help you take out enemies. In Immortal Legends, special characters called Guards are your trustworthy allies who will fight alongside you.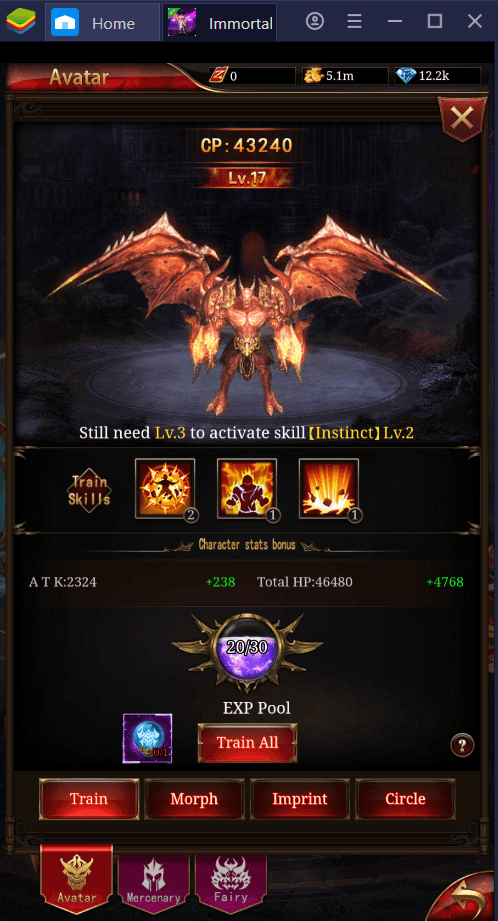 There are three Guards in the game: the Avatar, the Mercenary, and the Fairy. All of them have the same purpose of aiding you in battle, whether it would be through direct means (i.e. unleashing additional attacks towards enemies) or through passive ones (i.e. healing). Each Guard has its own stats so upgrades have to be done individually. Moreover, each uses its own resource and you cannot share this with other Guards.
There are several ways to upgrade Guards in the game and you can learn how two of those ways work with this guide.
Engage in Countless Quests and Tasks
Immortal Legends: Idle RPG is rich in content so it is quite difficult to run out of things to do in the game. In fact, even in spite of the game's idle nature, you can easily become hooked on accomplishing the various quests, dungeons, and other tasks.
The game's quests are the primary guide to your legendary journey and completing those rewards you with plenty of EXP – effectively making your character level up faster than when they are just fighting in AFK mode.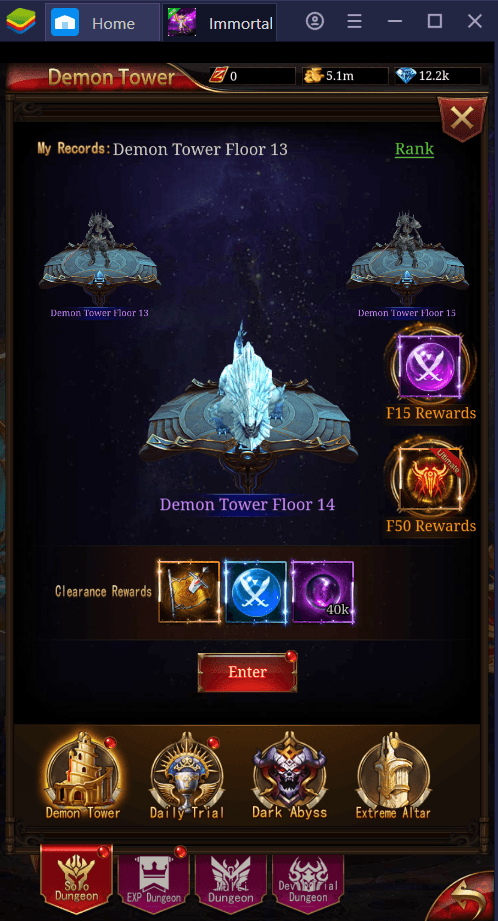 If you start to find quests exhausting, you can try to clear the many dungeons available in the game. There are a multitude of dungeons that you can play in and successfully clearing those gives you rare rewards – ones that you can't even acquire from normal quests. These include new and strong weapons, some gems that can provide bonus buffs to stats, and more!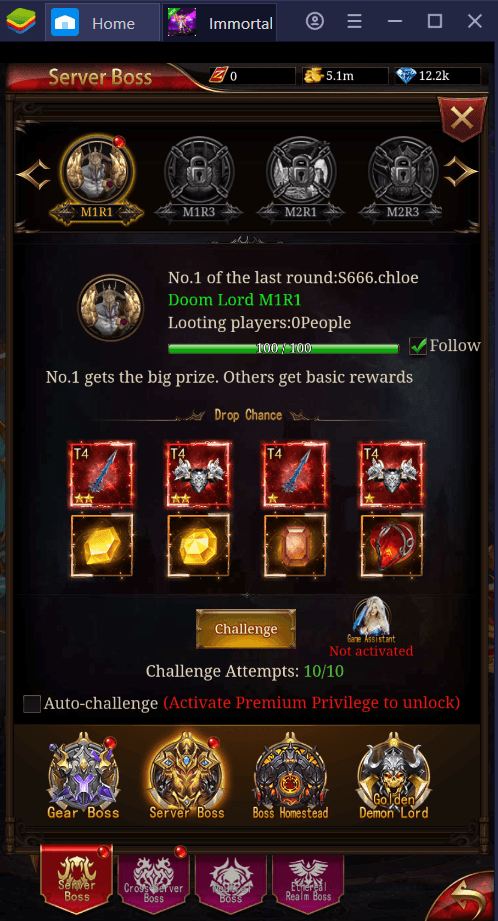 There are also plenty of bosses whom you can fight for premium rewards like high-grade weapons. You can even join the competitive scene of the game and battle in server boss fights in which the player who inflicts the most total damage to the boss wins the best rewards. The competition does not stop there as you can even fight the bosses found in neighboring servers.
The aforementioned are just some of the things that you can do in Immortal Legends. As you keep progressing through the game, you will unlock much more features that will further add to the idle RPG experience.
Regardless if it's a quest or a dungeon, you always receive resources like EXP, coins, Bless Stargems, and the like. You know more about resource acquisition in this in-depth guide.
Be a True Legend with BlueStacks
With BlueStacks' flexible interface, you can continue running the game in the background while doing other things. This makes managing quests and tasks easier. If you are a laptop user, then BlueStacks' built-in eco mode will run the game at lower performance to preserve as much battery life as possible while still ensuring your character becomes stronger and stronger.
If you wish to run multiple accounts of Immortal Legends, you can easily do so with the Multi-instance Tool which allows you to reinstall the game on a separate Android engine. What's even more interesting is that you can run two different instances of the game at the same time!
A truly legendary journey awaits you in Immortal Legends: Idle RPG and you can experience it now by installing and playing the game on your PC or Mac with BlueStacks.