Game Guides
Beginner's Guide to Playing Infinity Mechs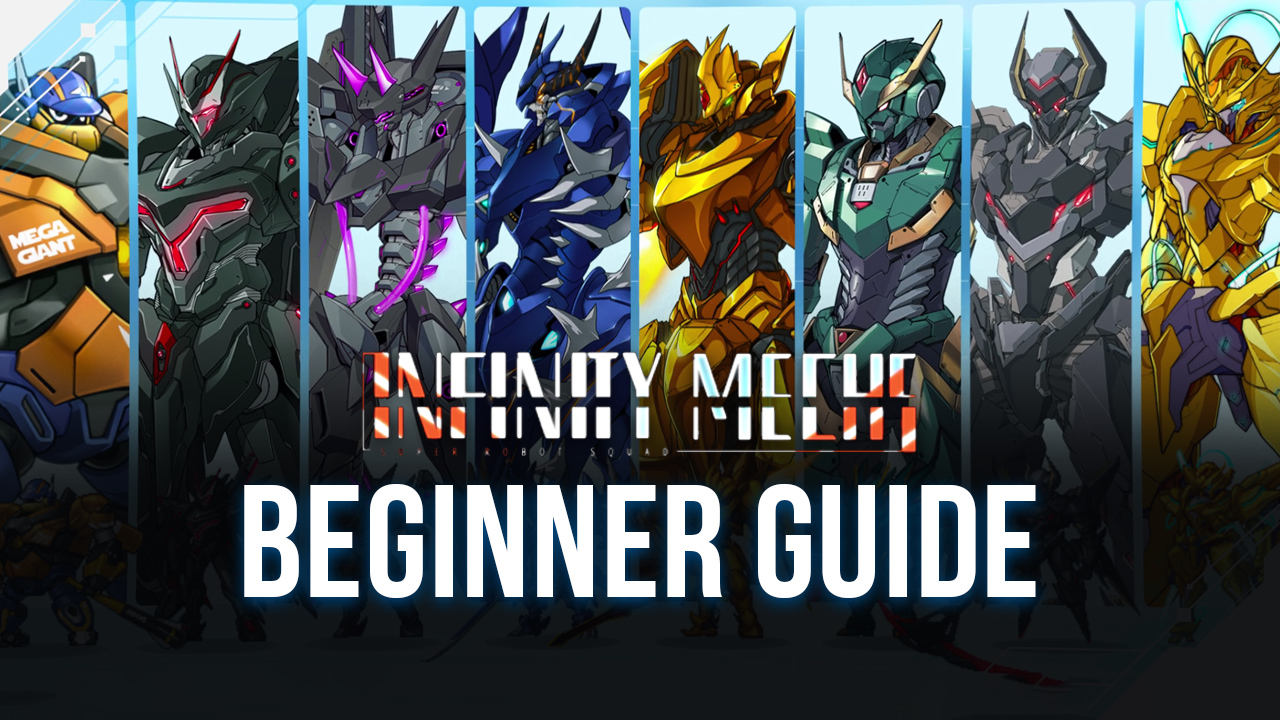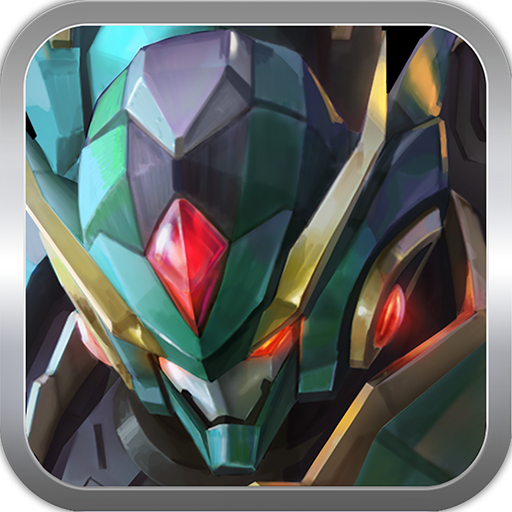 Infinity Mechs might seem like a do-nothing game, with its sole charm being simply watching monsters die regularly. However, with so many features and so little tutorial, it can be a daunting task for this genre's newbies to know what they need to do, let alone understand what's going on inside their screens. To understand incremental idle games further, here's a beginner's guide to help new players get the hang of playing Infinity Mechs properly.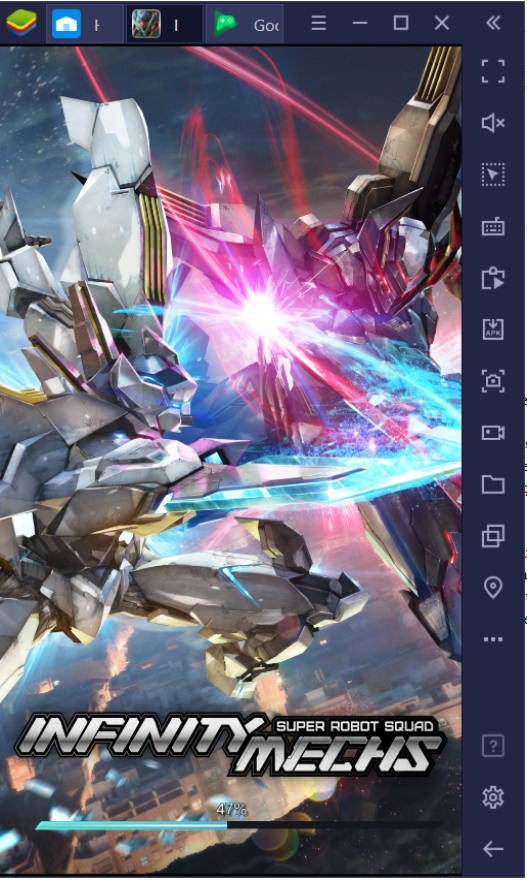 With so many functions added to a simple game, it can be quite intimidating to learn everything in detail. With a little bit of experimentation and game know-how, you'll quickly figure out these functions to make your life easier when playing the game. There are only a handful of things that you need to learn when playing the game as a noob, but later on, it'll require a bit more grinding if you want to play in the competitive scene. You can accomplish that by building a strong team to climb the server rankings.
Unlock and Upgrade Quests
If you're a newbie, you might think that the primary source of gold in the game is killing enemies. In truth, the best way to generate gold is by going to the Quests tab and upgrading all your Quests so that they generate higher amounts of gold. Before upgrading your troops, you should prioritize unlocking and upgrading your Quests so that you'll be able to afford better upgrades for your mechs. Don't be afraid to spend all your money on Quests; it'll reward you in the long run.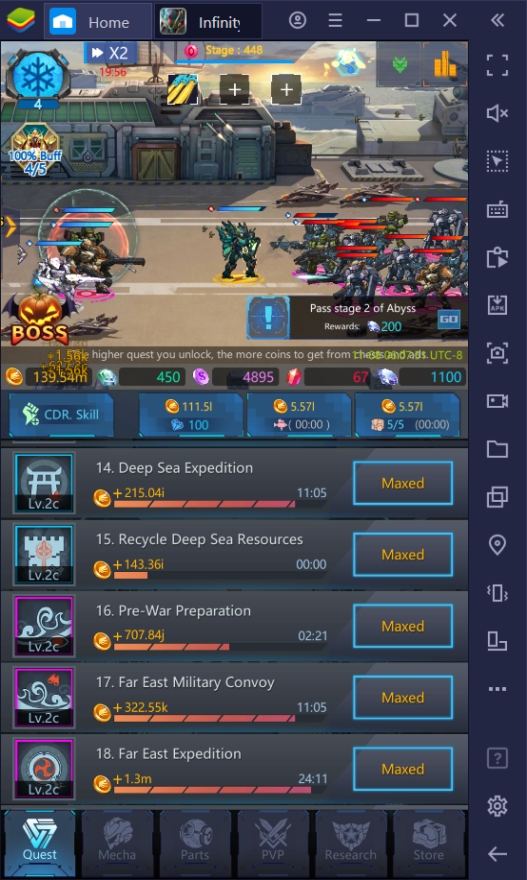 The basic strategy whenever you play these kinds of games is to aim to max out your Gold generating inputs first. Once you have the first five Quests at max, you can easily level up your mechs to levels 200-300 in an instant. There's no need to upgrade your mechs beyond that point until you reach stage 100. Make sure to upgrade all your Quests to at least level 30 so that you don't have to manually activate them each time they need to collect gold.
Complete Missions and Achievements
Quests and achievements provide loads of Gems that you'll need to unlock tons of useful stuff. You can find out what your quests and achievements are by clicking on the tabs at the side of your screen. There are six sources of gems: Missions, Novice Rewards, Achievements, Mech & Part Pedias, Milestones, and from the mailbox if there are any rewards from events. You should always check out what tasks you need to complete to get gems and save up on meaningful upgrades.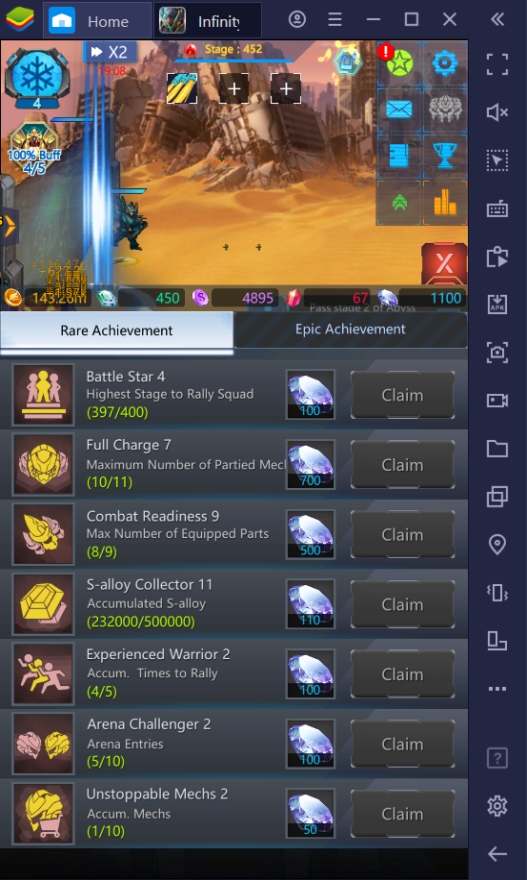 Spend Your Gems
Gems are the game's premium currency, but you can get a reasonably large amount of it after completing missions, achievements, or by collecting rewards from the mail. You don't have to limit spending your gems only to the Research Tab – the place where you try to summon new mechs to join your team. You'll need to spend your gems on buying new Battle Deck slots to increase the number of Mechs you can use. You can also do this on the Parts tab to increase the max number of parts.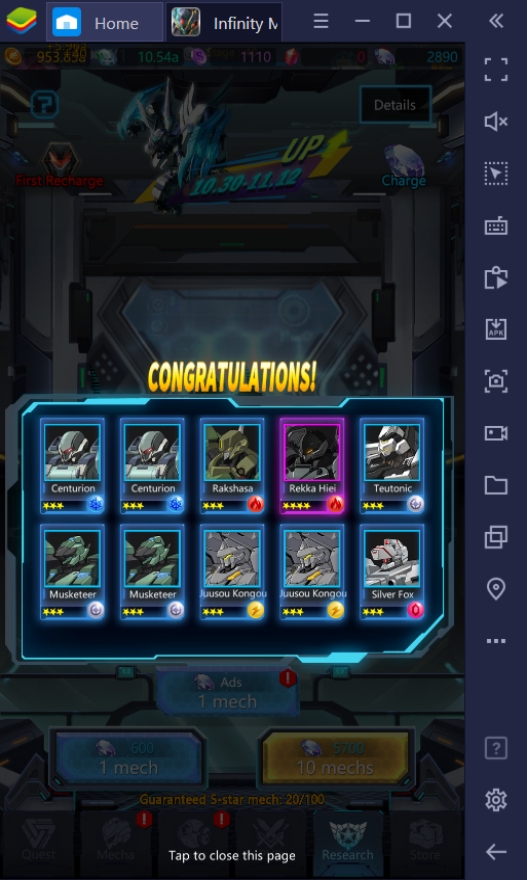 Gems are flexible resources; you can spend them on almost anything in the game. You can use them for buying new mechs in the mechs shop or skipping timers to earn more gold immediately. However, some of these functions are traps to make you spend your gems on completely unnecessary things. When it comes to spending gems, there are only three options worth draining them on: Mech Research, Battle Deck Upgrades, and Parts Slot Increase. Otherwise, you can spend it on stuff from the Gems Shop.
Rally Squads
Once you reach stage 200 or above (depending on how far you've rallied your squads the previous times), you'll want to use the Rally Squad function, which is the button that says "100% Buff". Doing this will reward you with S-alloys that you'll need to increase your mechs rank permanently. Take note that Rallying will reset your Mechs' level and your Quest Upgrades, but rest easy knowing that doing this is worth the rewards you are getting in return; besides, starting from scratch isn't such a bad thing.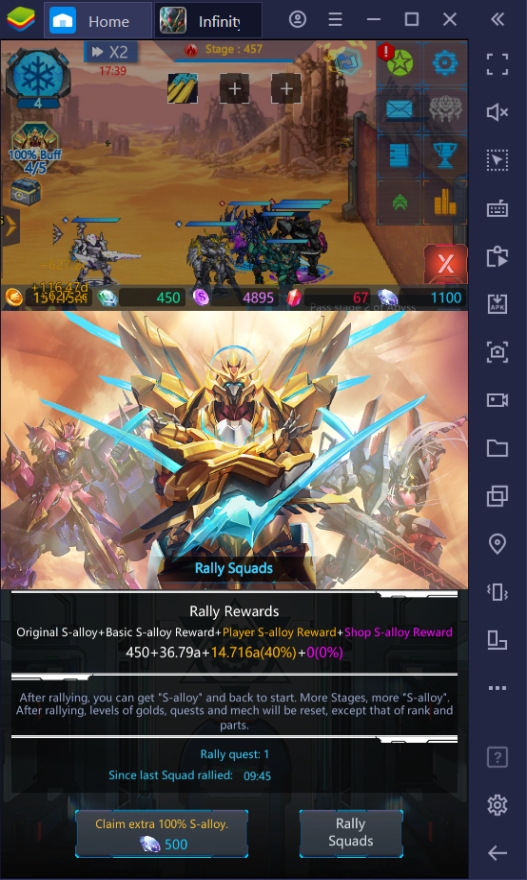 Don't Dismantle Your Mechs
Whether it's a duplicate of a 4-star mech you own or some trash 3-star mechs, don't be hasty about dismantling these mechs quickly. The game features a function called Retrofit, which will need you to sacrifice low-rank mechs to permanently give your active mechs some bonus skills. Dismantle mechs only once you've fully upgraded your team or when there is a mech in the store that you need to buy. You can get mechs anyway from the Mech Research tab.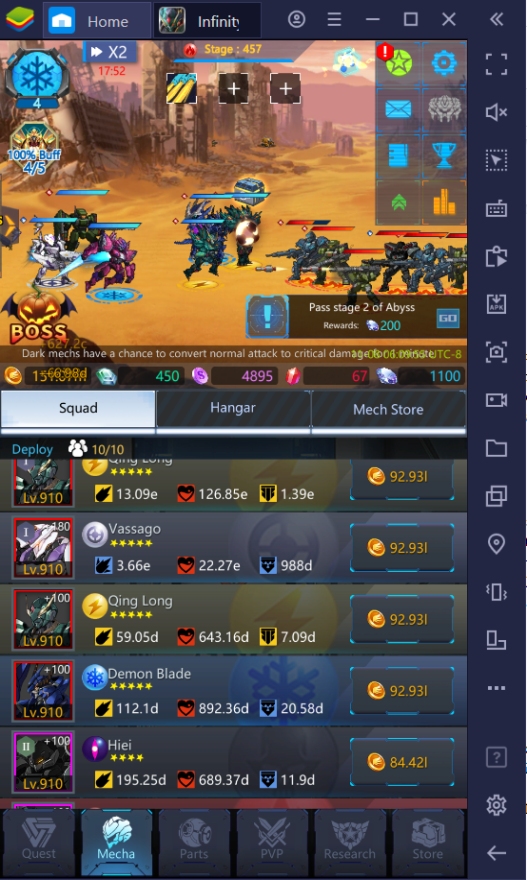 Challenge Bosses Daily
Each day you can challenge up to five bosses – this number increases if you watch ads. Bosses drop upgrade materials that you'll need for your Parts. Most new players will only get low-rarity parts that don't need that many resources to upgrade, but as you proceed in the game, the parts become rarer, and the required resources become more demanding. It's a good idea to challenge five different bosses each day to maximize what resources you're getting for your upgrades.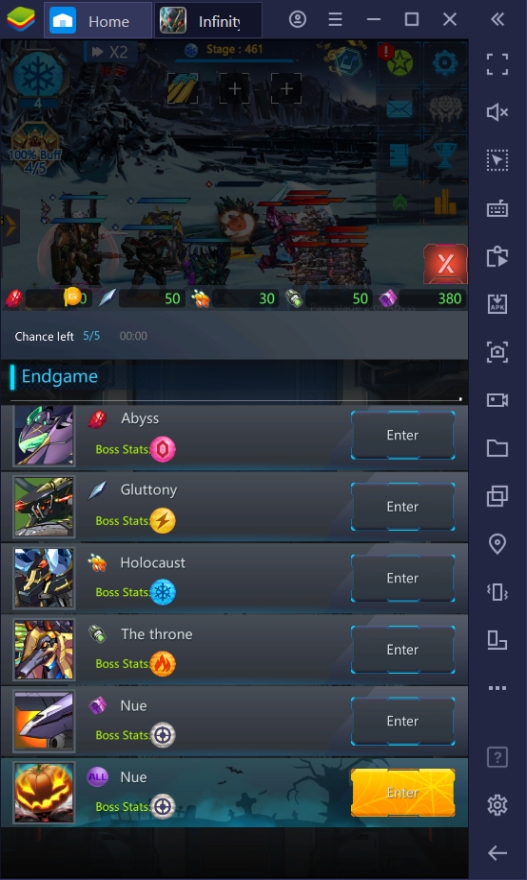 Use the 10-Mech Summons
Experienced Gacha gamers know that when you need to summon, you'll want to choose the 10-summon option instead of the individual summoning option. This is because the 10-summon option allows you to get at least one 4-star or higher unit, as compared to doing it one-by-one, which might give you ten 3-star mechs. Unless you're in desperate need of 3-star mechs, it's better to always stick to the 10-summon since there's a higher chance you'll get a 5-star unit from this.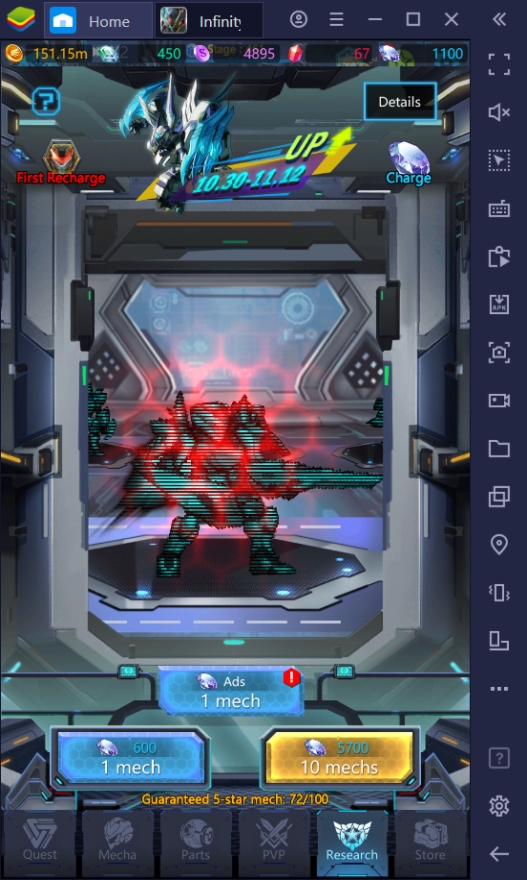 Don't Be Shy About Watching Ads
Watching 30-seconds ads generally suck, but the useful functions that you get from doing this are worth the 30-seconds. For example, you can get 300 gems each day by watching ads in the Premium Shop, which isn't too bad. You can also increase your game's speed to make progress faster. Compared to the 30-second ad, this boost will cut down your progression speed by half for 20-minutes. Other functions can also be unlocked by watching ads, but that's really a matter of preference.