Game Guides
Infinity Mechs on PC – Preparing for PvP Battles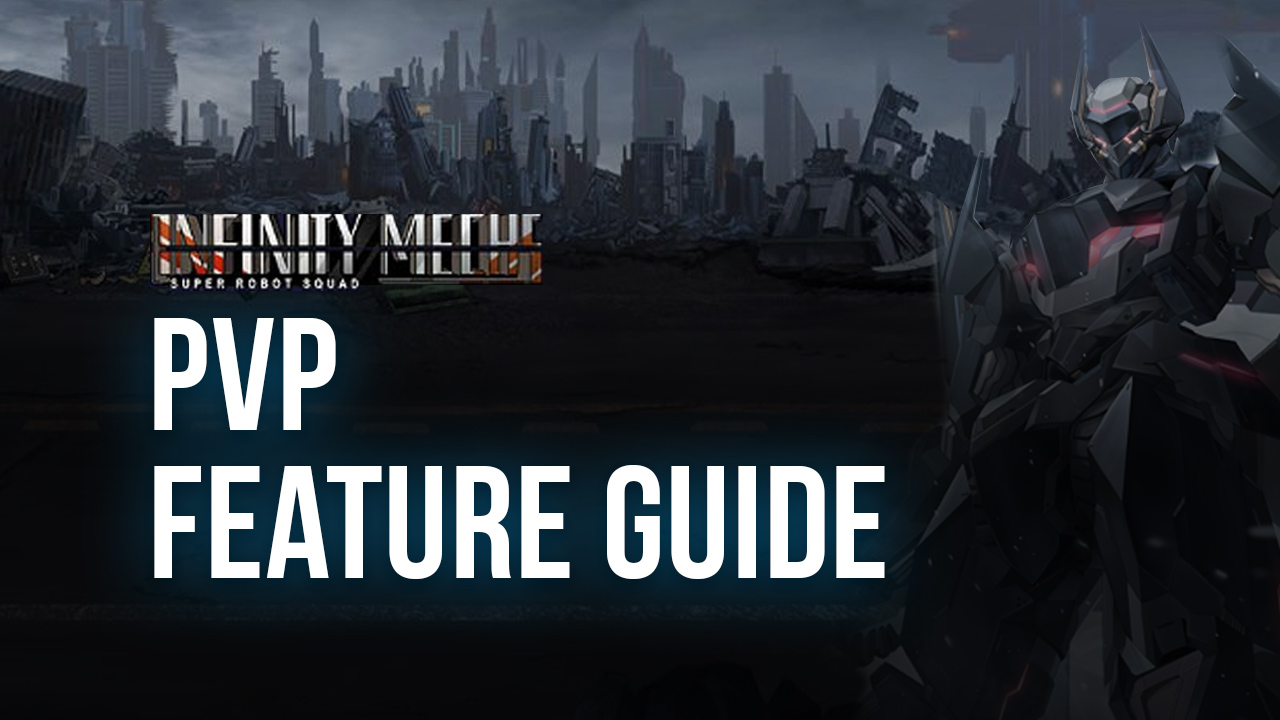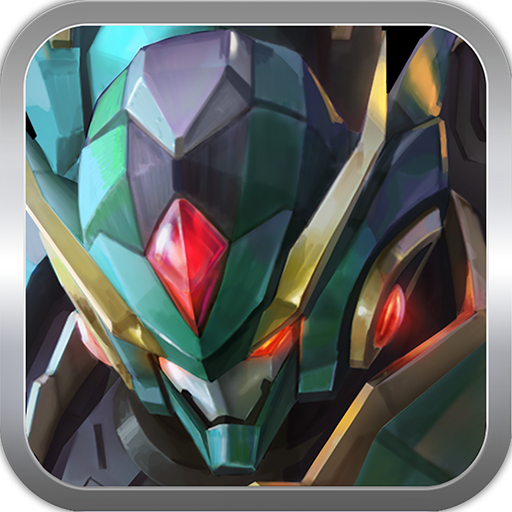 Infinity Mechs [How To Play Infinity Mechs On PC With BlueStacks] features an exciting PvP feature that challenges players to put together the strongest mech squad in order to fight against other players. Despite being an idle game, Infinity Mechs contains many features that competitive players will need to take seriously if they want a chance of climbing the ladder and facing against the strongest opponents. Preparing for PvP demands a player's full attention; doing tasks, and upgrading your character will require hours of play.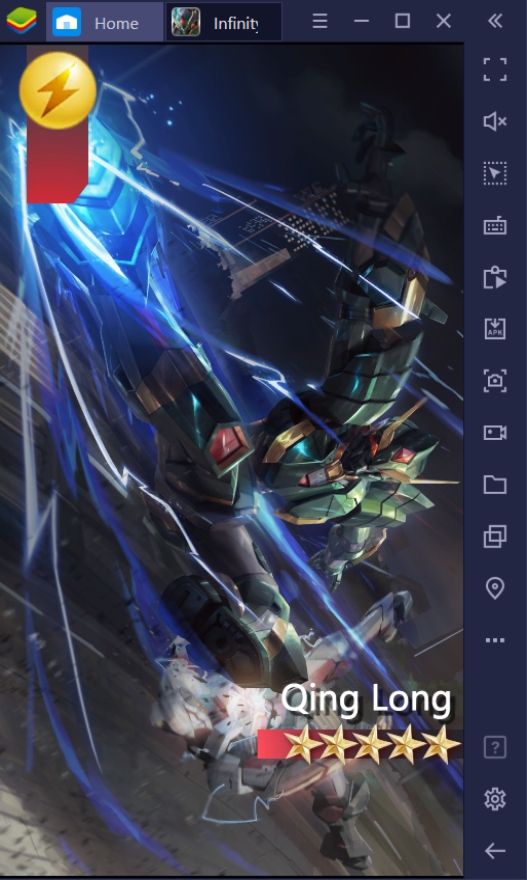 The PvP system in the game isn't discriminatory in a way that players can get paired with players on the Top 100 even if they haven't reached a competitive level in the game yet. This becomes a huge disadvantage if you're only starting out and don't want to accumulate losses at the beginning of the game. However, with the amount of preparation time you have, you can hold off fighting strong opponents until you can confidently beat them without as many risks.
Rank Upgrades
Upgrading a mech's level up to the maximum capacity might seem like your ticket to winning in Infinity Mechs but the truth is that a mech's level isn't relevant when it comes to the arena. To make your mech stronger in the arena, you'll need to upgrade their Rank which you can do by going to the Squad tab and clicking on the mech's picture. This should lead you to to the options where you can either Undeploy, Upgrade, or Retrofit the mech you've selected to permanently increase its stats.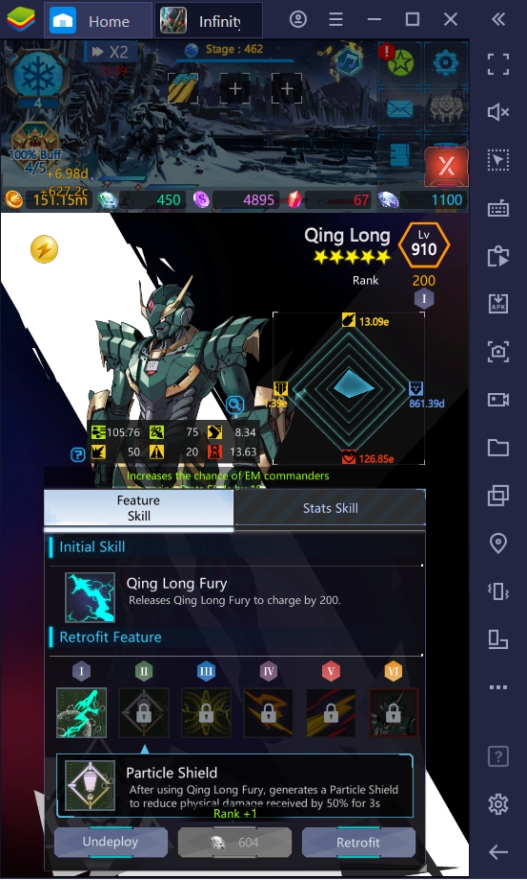 To upgrade your mech's rank level, you'll need to collect S-allots that you can collect after Rallying your squad. Rallying your squad will reset your squad's mech levels and reset all your quests but ranks, part upgrades, and retrofits will retain their levels. You can't max a single units rank levels alone since the game requires you to balance out all ranks in your squad before you can proceed. Rally squads on higher stage levels to gain more rewards to upgrade your mechs faster.
Increase Mech and Part Capacities
The more mechs you have in your team, the more firepower you'll have. Ideally, you should spend your gems to maximize your Squad slots immediately but if you don't have that many 4-star or 5-star mechs, it becomes pointless to have so many slots since 3-star units are relatively weak. Try to balance using your gems to summon new mechs and when you are lucky enough to find a strong one, upgrade your team's capacity so that you can add this mech into your squad.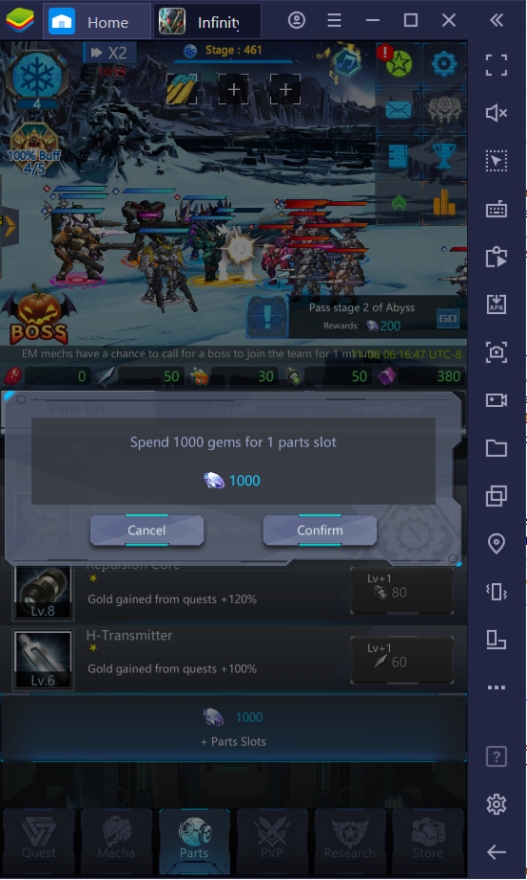 Parts also function the same way. Aside from the default 3-slots that the game gives you, you'll need to unlock new slots in case you get good parts. Free-to-play users can be less stingy when it comes to utilizing slots by adding in Green or Gray quality parts as long as they have good passive bonuses. Make sure to always check up on your parts store to purchase new parts and luckily unlock a mech part that's Green quality or higher to progress faster competitively.
Retrofit Mechs
Retrofitting is probably the hardest task to do in this list since it requires you to sacrifice 4-star or below mechs that you own. The act of Retrofitting upgrades or unlocks a mech's abilities to make them strong in battle. 5-star mechs are more expensive to retrofit since they require sacrificing 4-stars and 5-stars mechs that you own and are not on your current squad. 4-star mechs are much cheaper since they only require 3-star mechs that are probably flowing in your Hangar.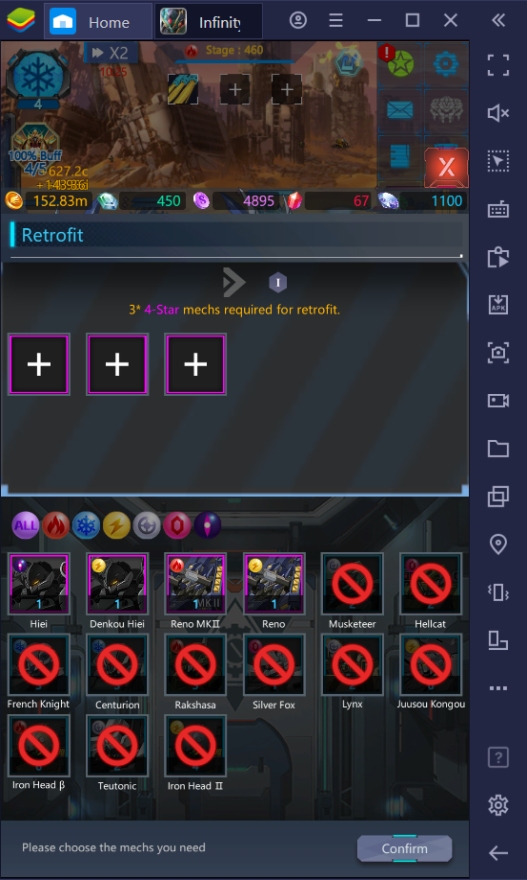 Arrange Your Mechs
Each mech has a role to play in the team so getting strong ranged mechs can lead to disaster as you can get easily wiped out without a reliable frontline to protect your most vulnerable assets. You should be able to see if a mech specializes in either defense or offense by checking their stats on the mech's profile menu. You should also think about the element of the mech you're using depending on the part bonus you have in order to maximize the efficiency of those items.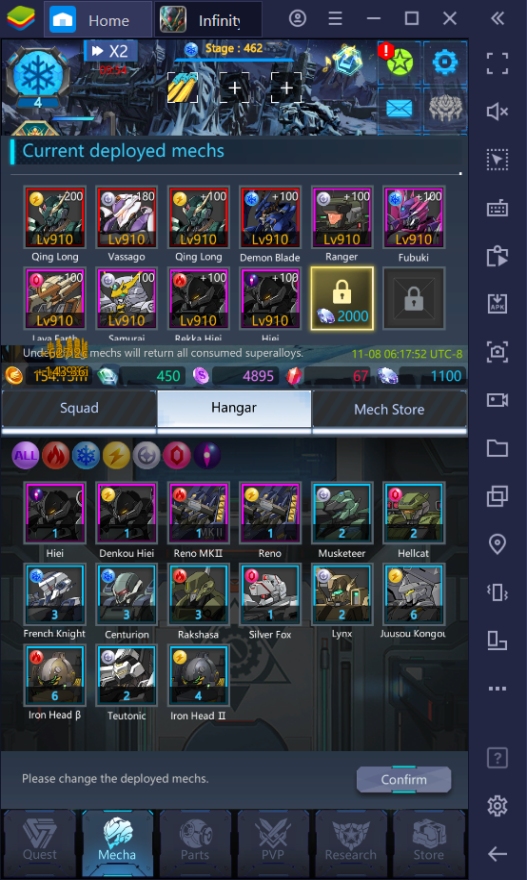 Get Stronger Mechs
The rarity system in Infinity Mechs isn't just for the aesthetic value of each mech. Higher rarity mechs which are the 5-star units tend to have stronger stats and useful abilities compared to the other mechs available in the game. Try to get as many 5-star mechs as possible. You can put duplicates of 5-stars at the early stages of the game but you'll eventually need to sacrifice those duplicates for your units retrofit in order to make your team stronger significantly.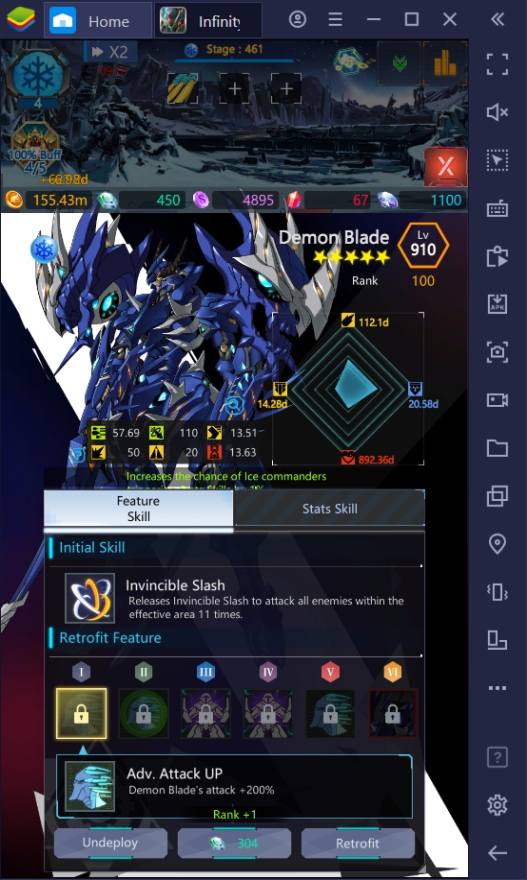 Choose Your Opponent
In order to get a higher ranking in the competitive arena, you'll need to have more wins than losses. To do this, you should choose your opponents carefully and not simply challenging whoever the AI throws at you. Look at the opponents' lineup and determine if the difference in Rank levels and Retrofits are to your advantage or disadvantage. You can change your opponents by spending 10 gems but you shouldn't do this too much or else you'll end up losing too much for other things.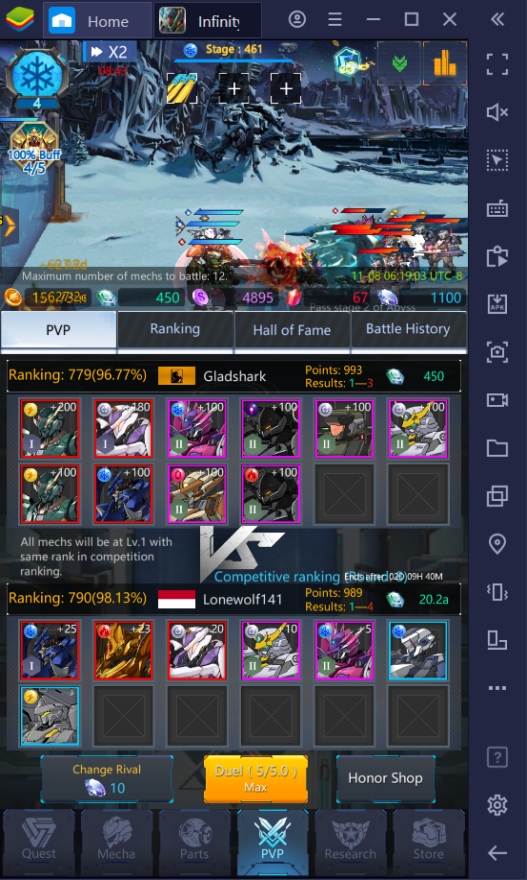 Rise to the Top of the Rankings
Infinity Mechs definitely spices up the genre by adding the competitive PvP feature that gives players an added goal to the game other than endlessly upgrading their mechs to the point that they can sweep through floors effortlessly. The PvP system in any game offers the players a sense of pride and is a fun way to test whether all the effort you put into upgrading the mechs you own is paying off.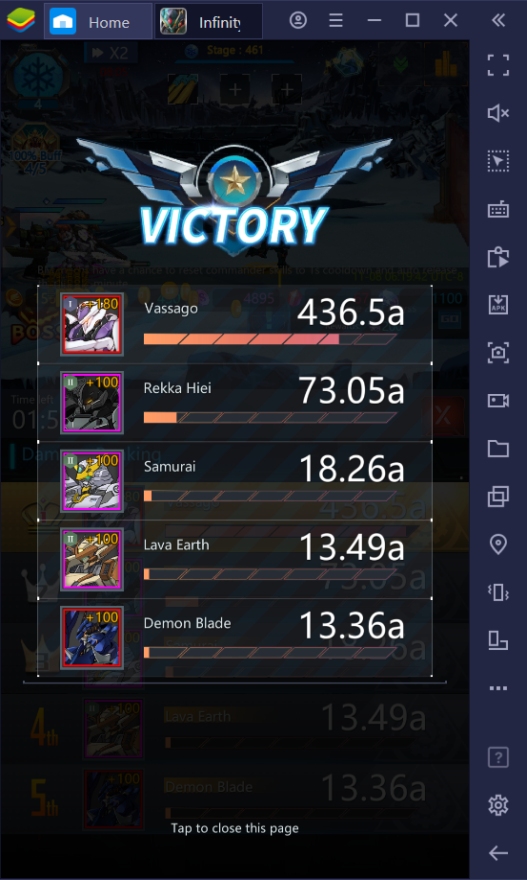 Needless to say, climbing the competitive ladder isn't an easy task to do especially with so many players who have had a headstart. It might feel discouraging losing a few times but with the right tools, you can put yourself at the top of the league in no time. Players who enjoy BlueStacks countless features to play this game have definitely got the edge, so try testing your gameplay today in the world's top Android emulator!