Game Guides
Kingdom of Heroes: Tactics War – How to Play This New Mobile Strategy Game on PC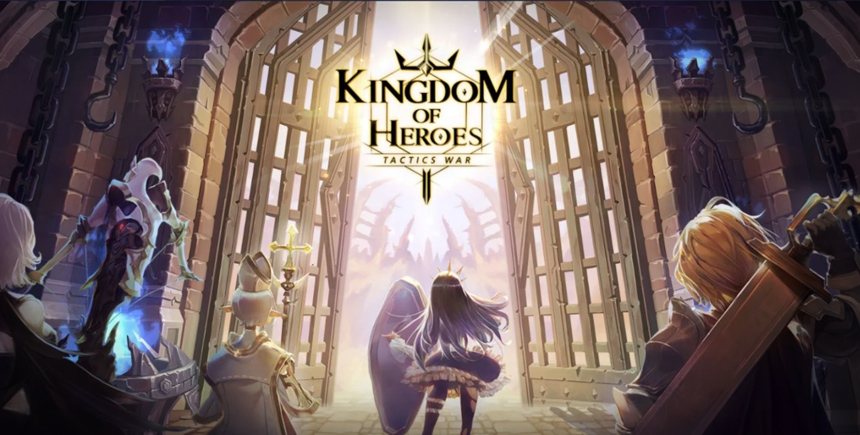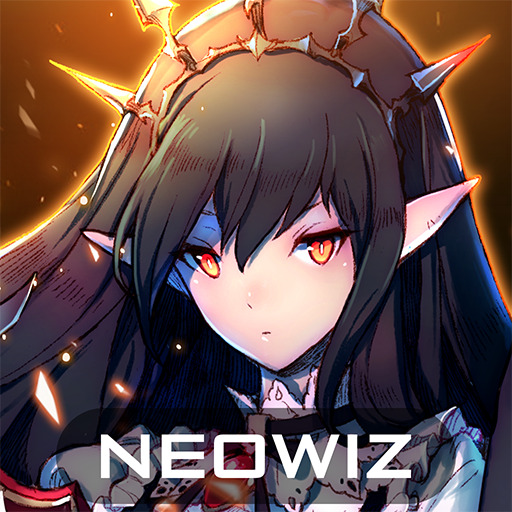 Kingdom of Heroes: Tactics Wars launched just a few weeks ago in July, offering elements that, when it comes to mobile games, are quite uncommon. Tactics War is a grid-based strategy game where the characters take turns moving and attacking until only one group is left standing. The gameplay is reminiscent of other niche titles like Langrisser or Fire Emblem Heroes, but featuring much smaller maps and more contained levels. In a way, Kingdom of Heroes is like an arcade version of the aforementioned titles, offering lots of strategy gameplay and a wide slew of unlockable characters, all tucked into a neat package.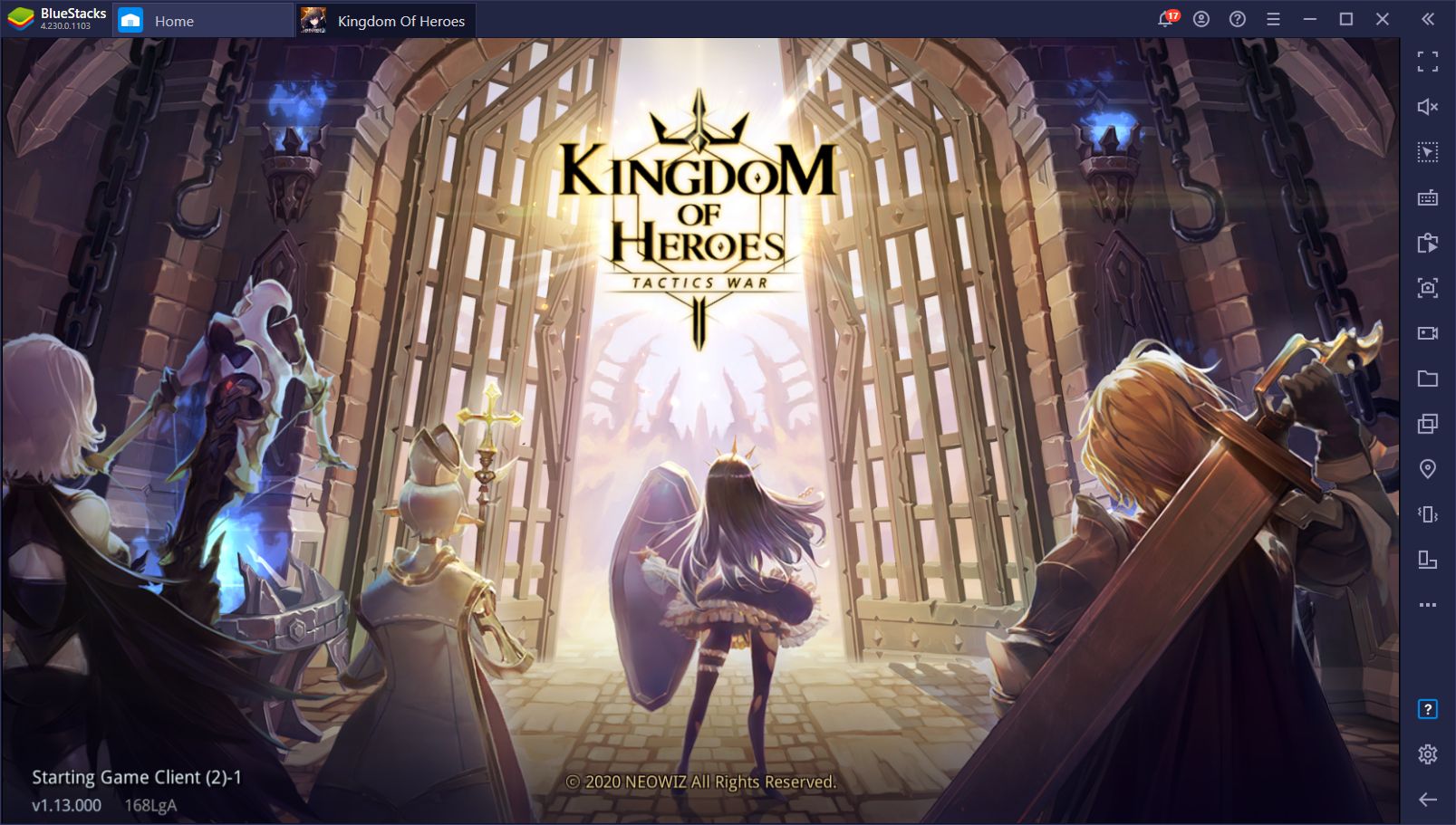 As a mobile game, Kingdom of Heroes was designed to be played on phones, with elements such as large buttons and small levels to make it easier on the player to navigate them. However, while these measures definitely help when it comes to playing on your phone, we can't help but wonder how much better would it be when playing it on a proper gaming platform. Luckily, we didn't have to wonder for too long as Tactics War can be easily installed on PC with BlueStacks.
In this article, we're going to explain how to download and install this strategy game on your PC so you can enjoy it on your large computer monitor, using your comfy gaming mouse, and with access to many tools to help improve your experience.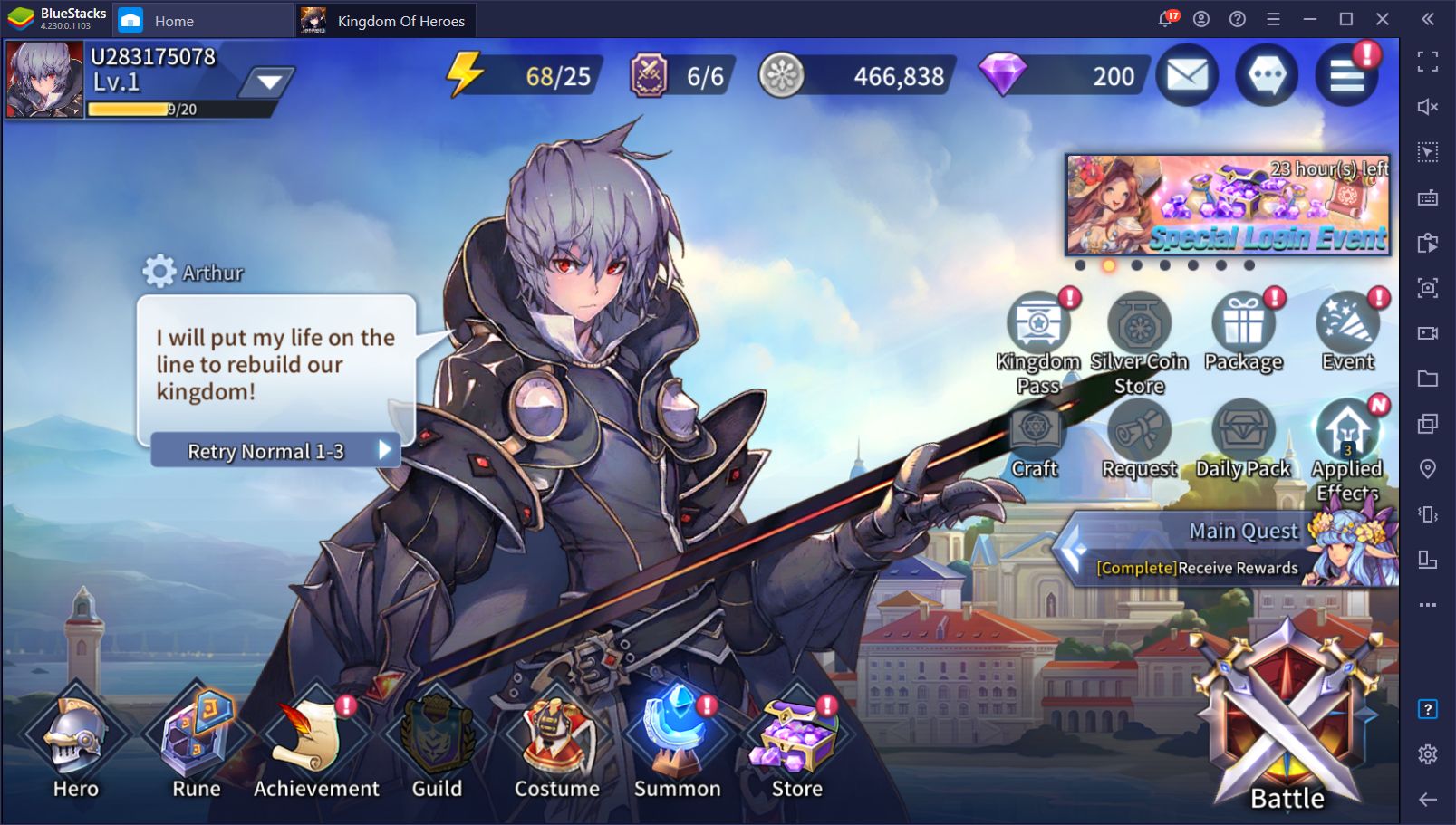 How to Play Kingdom of Heroes: Tactics War on PC
Installing this game on your PC is quite simple and can be achieved by following these 4 short steps:
Download the latest version of BlueStacks from our website. Run the installer and wait for it to finish, after which the app player will launch automatically.
Once on the BlueStacks home screen, use the search bar to look for Kingdom of Heroes on our App Center.
Click on the game in the search results and install it like you would with any other mobile game on your phone.
Once you're done, you can launch your newly-installed game by clicking on its icon in the BlueStacks home screen.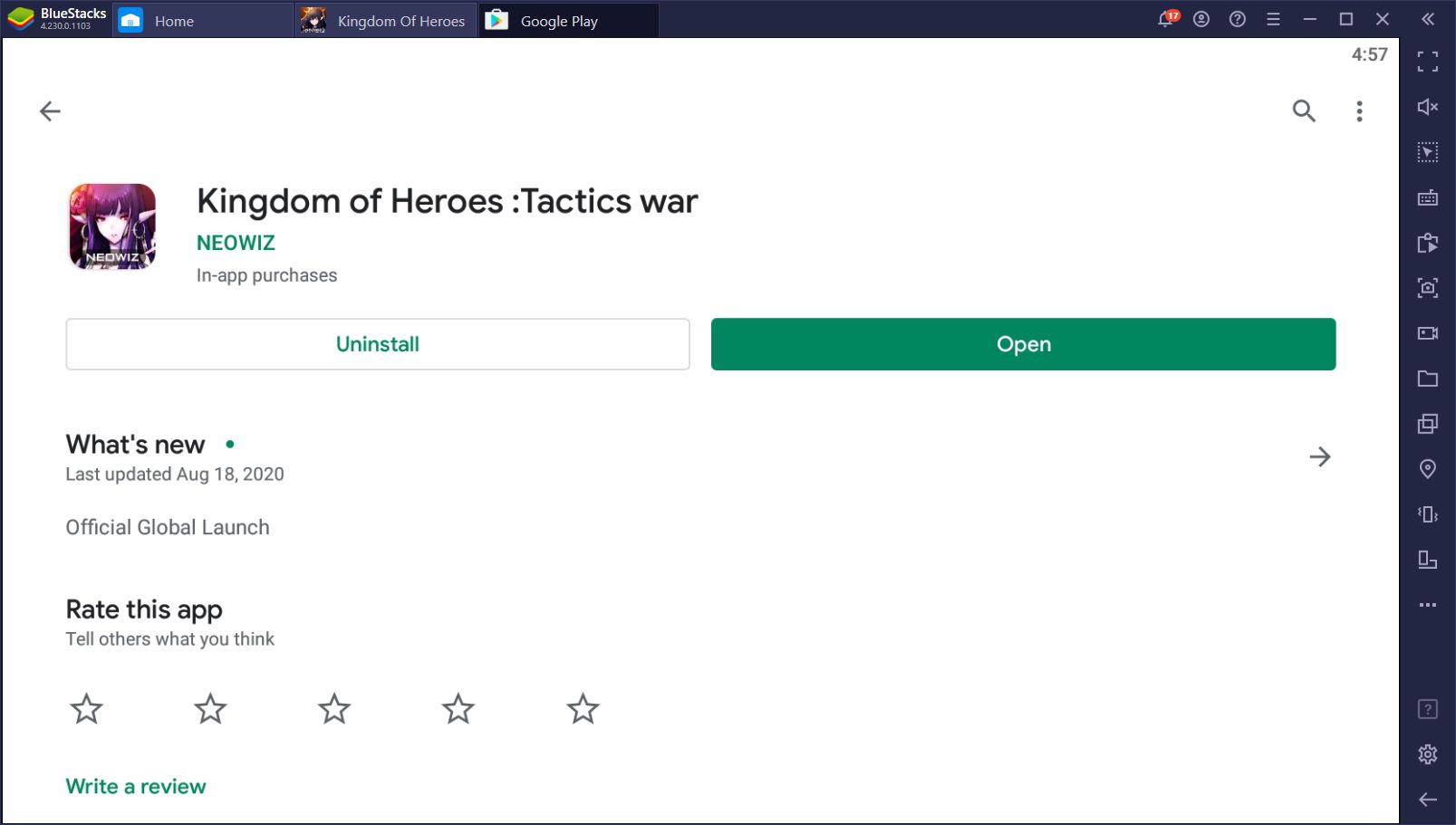 Before long, you'll be playing Kingdom of Heroes on PC with BlueStacks, through which you can enjoy the best graphics and performance.
In fact, one of the first things you'll want to do after installing up your game is going to the settings menu and cranking the graphics to the limit and enabling 60 FPS. Usually, these settings would require one of the most expensive phones on the market to run smoothly. However, by playing on BlueStacks, you can easily enjoy these settings without even breaking a sweat, given that your PC fulfills recommended requirements, which are actually very accessible.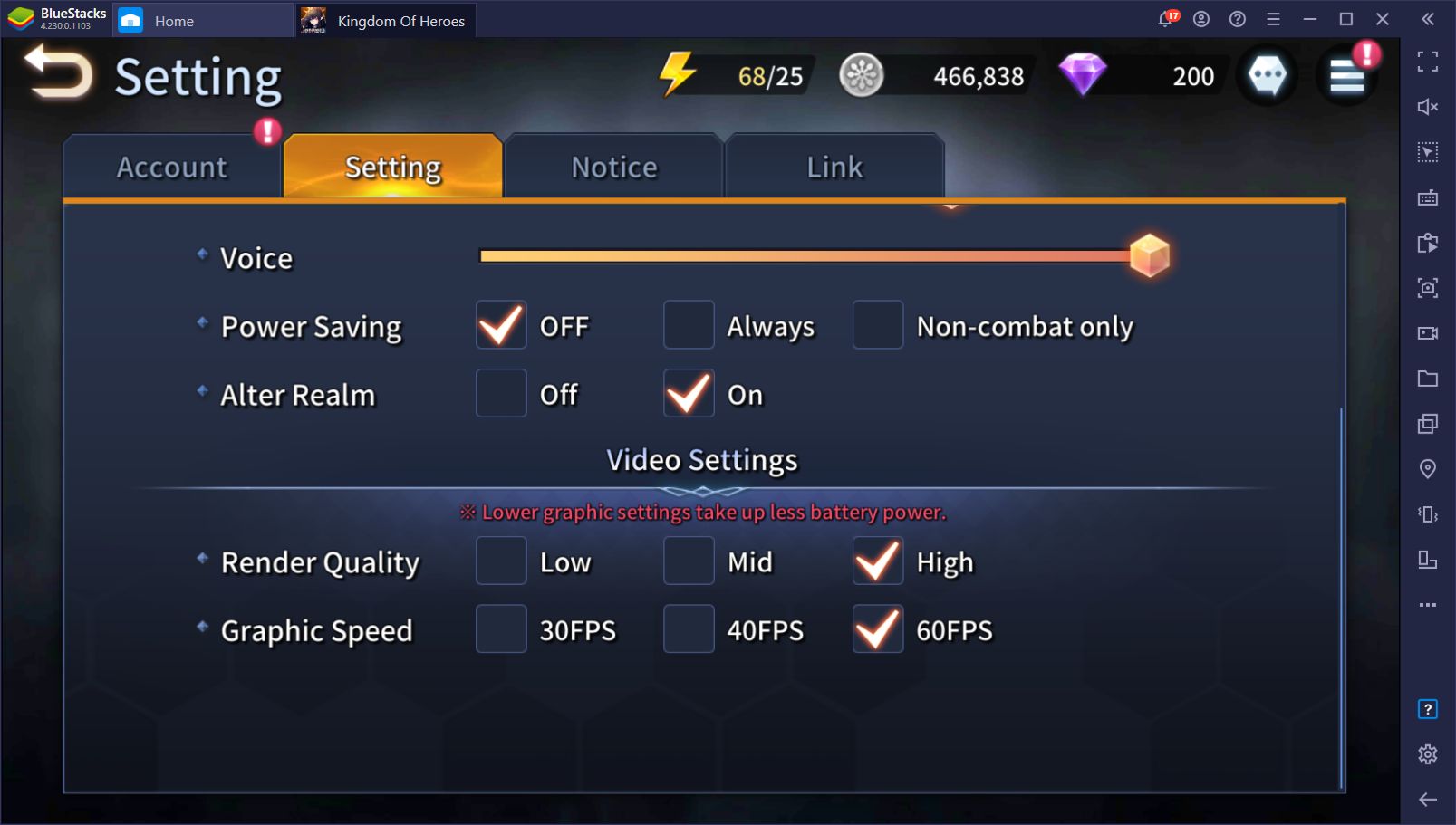 Improving Your Experience With Our BlueStacks Tools
Aside from much better performance than even the most expensive phones out there, BlueStacks offers a variety of different tools that can help to improve the way you enjoy your favorite mobile games on PC. For Kingdom of Heroes, this means that you can streamline your gameplay through the Keymapping Tool, and even have a better time rerolling for your favorite heroes with the Instance Manager and Multi-Instance Sync tools.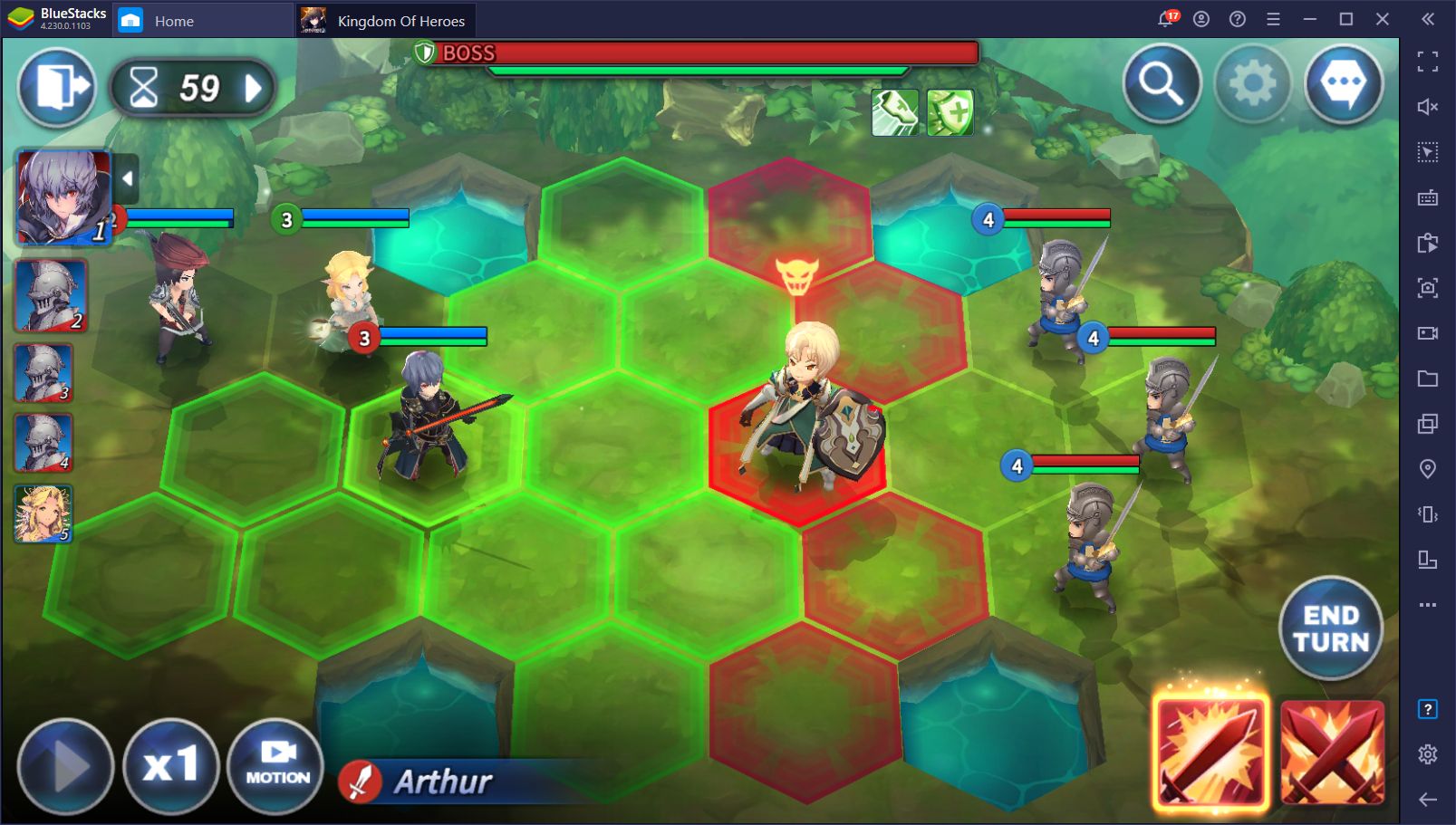 Enjoy Superior Controls With the Keymapping Tool
First thing's first; Kingdom of Heroes doesn't require much in the way of button presses—most of the action is controlled by clicking on the screen to make your characters move and attack. While it's much easier for us to do this with our mouse than with our fingers, there are still ways in which we can improve this control scheme when playing on BlueStacks.
Whenever we're battling, we must choose to move and attack with every character. However, every hero has access to many different skills, which you need to choose from a list on the bottom right corner. Usually, you'd simply click on the desired skill, and then go back to clicking on the field to move and attack. However, with the Keymapping Tool, we can simply choose our abilities by using the number keys on our keyboard, and then just using the mouse to select our targets. This is much better than moving our cursor back and forth between choosing the skills and the targets, and makes battles go much more smoothly.
Moreover, the Keymapping Tool is completely customizable. While Kingdom of Heroes already comes with a predefined control scheme, you can easily modify it through the tool itself, by pressing Ctrl + Shift + A.
Reroll and Unlock the Best Heroes With the Instance Manager
Despite being a tactical RPG in its gameplay, this game has lots of gacha mechanics through which you will summon and recruit most of the characters in your team. Shortly after finishing the tutorial, you will summon your first companion, which will always be the Crossbowman. However, every subsequent summoning after the tutorial will be a random character.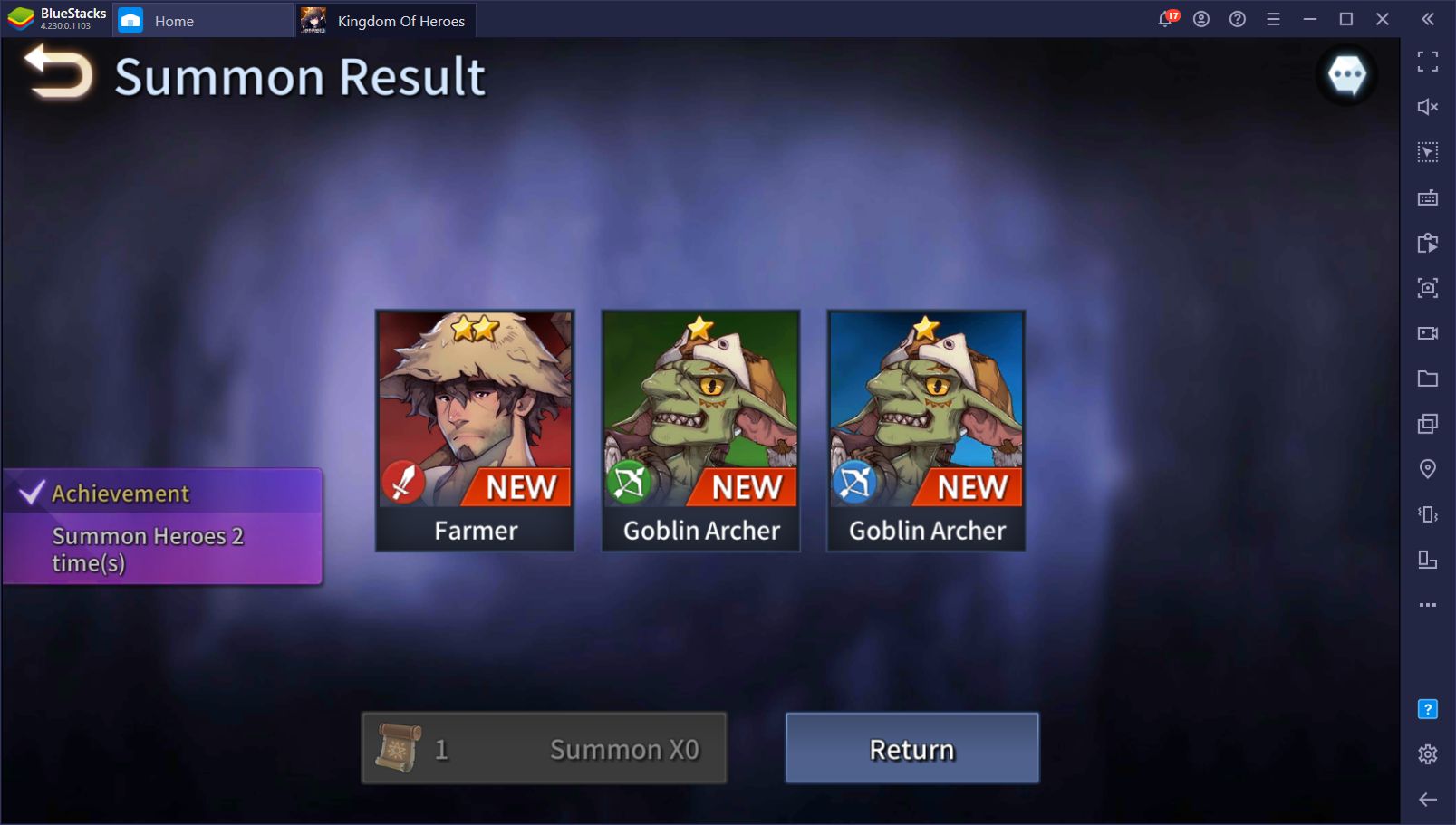 While many characters can be good under the right circumstances, there are some heroes that are inherently better, in general. For this reason, players usually want to summon the best characters from the very beginning, right after completing the tutorial. A good way to go about this is by rerolling.
Simply put, the process of rerolling consists of starting a new game, advancing to the point of performing your initial summoning, and starting over if you're not happy with the results. In Kingdom of Heroes, you need to follow these steps for rerolling:
Begin your journey and complete the tutorial.
Farm 300 Crystals, either by claiming your pre-registration rewards (if applicable), or by grinding them through completing challenges.
Perform a 10x heroic summoning once you have enough crystals.
If you're not happy with the results, you need to reset your game via the settings menu and clicking on the "Delete Account" button, which will allow you to start over from the beginning.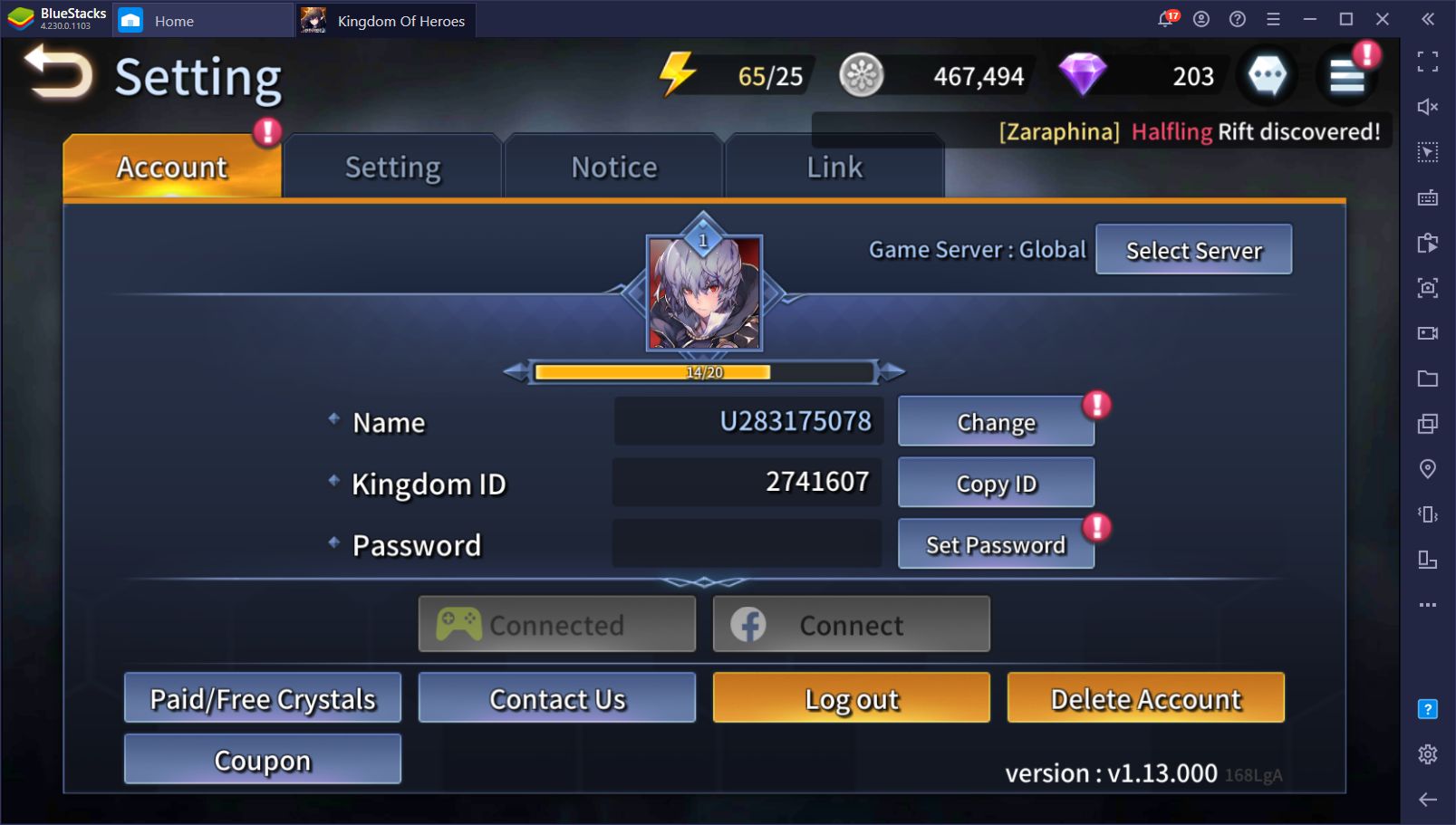 You'll need to repeat these steps as many times as necessary until you summon a few strong characters to give you a headstart in your journey. This can take minutes, or even hours, depending on your luck. However, by playing Kingdom of Heroes on PC with BlueStacks, you can significantly speed up the process by essentially playing on multiple accounts at the same time.
With the Instance Manager, you can create several BlueStacks instances and play the game with multiple accounts simultaneously. In this sense, you can reroll with two, three, or as many instances as your PC can handle. The more instances you create, the more summonings you'll be able to perform. And if you add the Multi-Instance Sync tool to the mix, you won't even have to bother with controlling each instance individually as BlueStacks will do it for you. All you have to do is activate the Sync feature and play on your main instance like normal. BlueStacks will mirror the actions you perform across all other active instances, allowing you to progress with multiple accounts at the same time.
If you want to have the best experience with Kingdom of Heroes: Tactics War, then you'll definitely want to play it on PC with BlueStacks. If you have any other questions about how to set up the game, please leave us a comment in the section below and we'll get back to you ASAP.