Game Guides
King's Throne: Game of Lust – How to Install and Play It on BlueStacks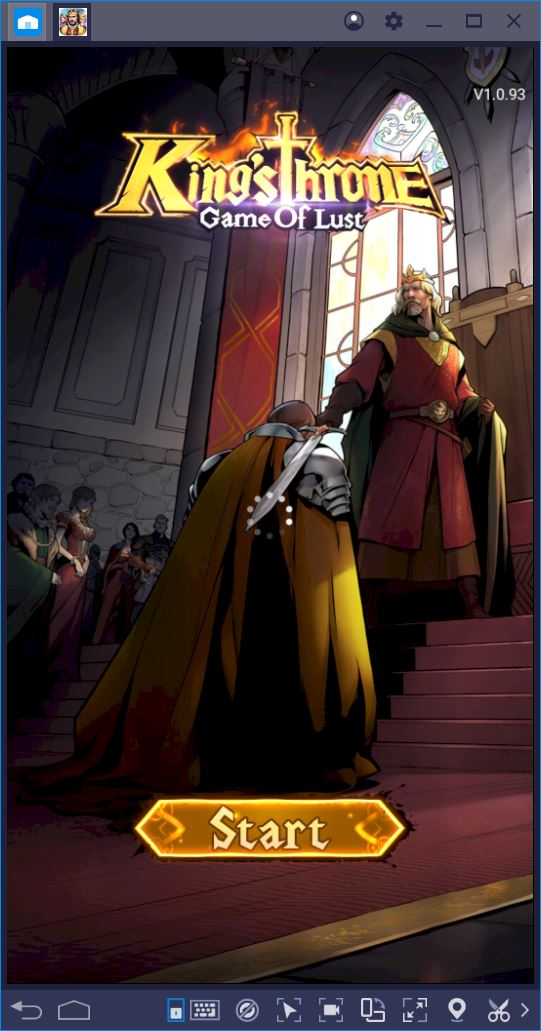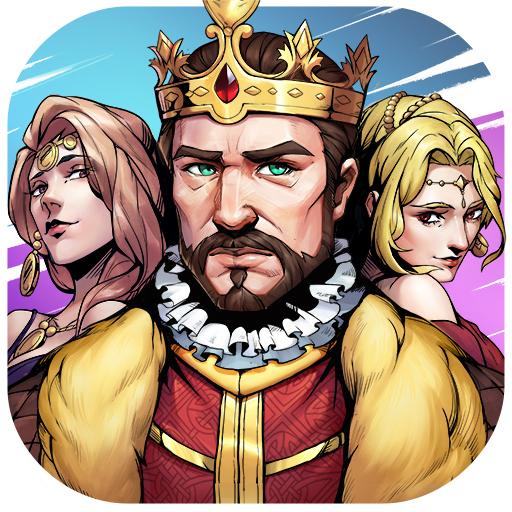 As we've already discussed at length in our review of King's Throne: Game of Lust, this mobile empire management game has a unique take on the genre, which we absolutely love. Sure, its very existence seems to confirm (ever so slightly) the worst theories put forward by the dystopian series The Handmaid's Tale, but, even as a woman player, you do get a little excited at the prospect of "siring" a handsome, bright, and talented dynasty of children. King's Throne is, after all, a game and should be treated as such.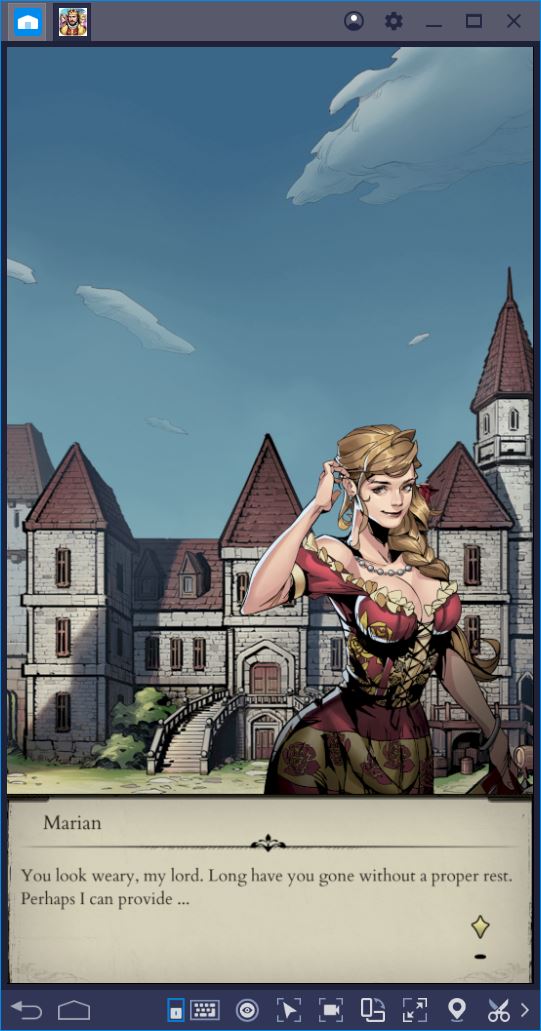 Besides, the satisfying feeling one experiences when maiden after beautiful maiden throws herself at one's feet soon vanishes into a mountain of kingly and paternal duties to be fulfilled with diligence. At the end of the day, this is a serious empire we're trying to consolidate! There are wars to attend to, children to educate, heroes to improve, people to please, and much, much more.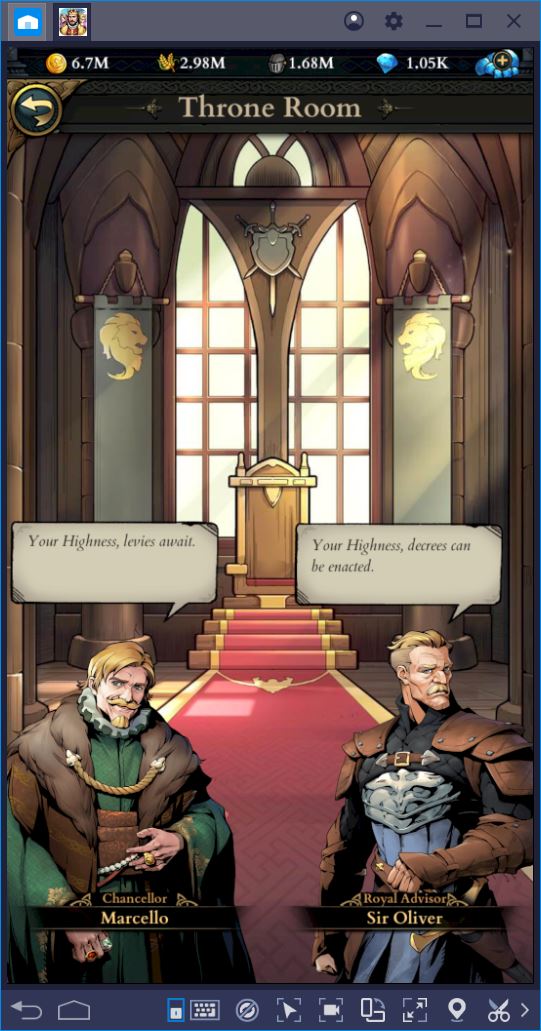 Still, you can rest assured that if it all becomes too stimulating – so to speak – several BlueStacks tools can significantly reduce the dreadful time you spend outside the royal bedchambers. Since King's Throne has not yet had a Western release, we'll first show you how to install the game using BlueStacks. Then, we'll look at ways you can improve your gameplay using the Keymapping Tool and the Combo Key.
Install King's Throne: Game of Lust on BlueStacks in 5 Simple Steps
King's Throne: Game of Lust is still some time away from being released in Europe and the US. However, if you just can't wait to get your hands on these maide… erm, this game, we mean… we have the solution. All you have to do is start up BlueStacks on your PC and follow our quick installation guide.
Step #1 – Download X-Plore File Manager
While in the Google Play Store, search for "X-Plore File Manager" and install this application on your BlueStacks platform. Because we cannot download King's Throne straight from the Store, we'll need the file manager to unzip and copy part of the contents of the APK folder to the correct location.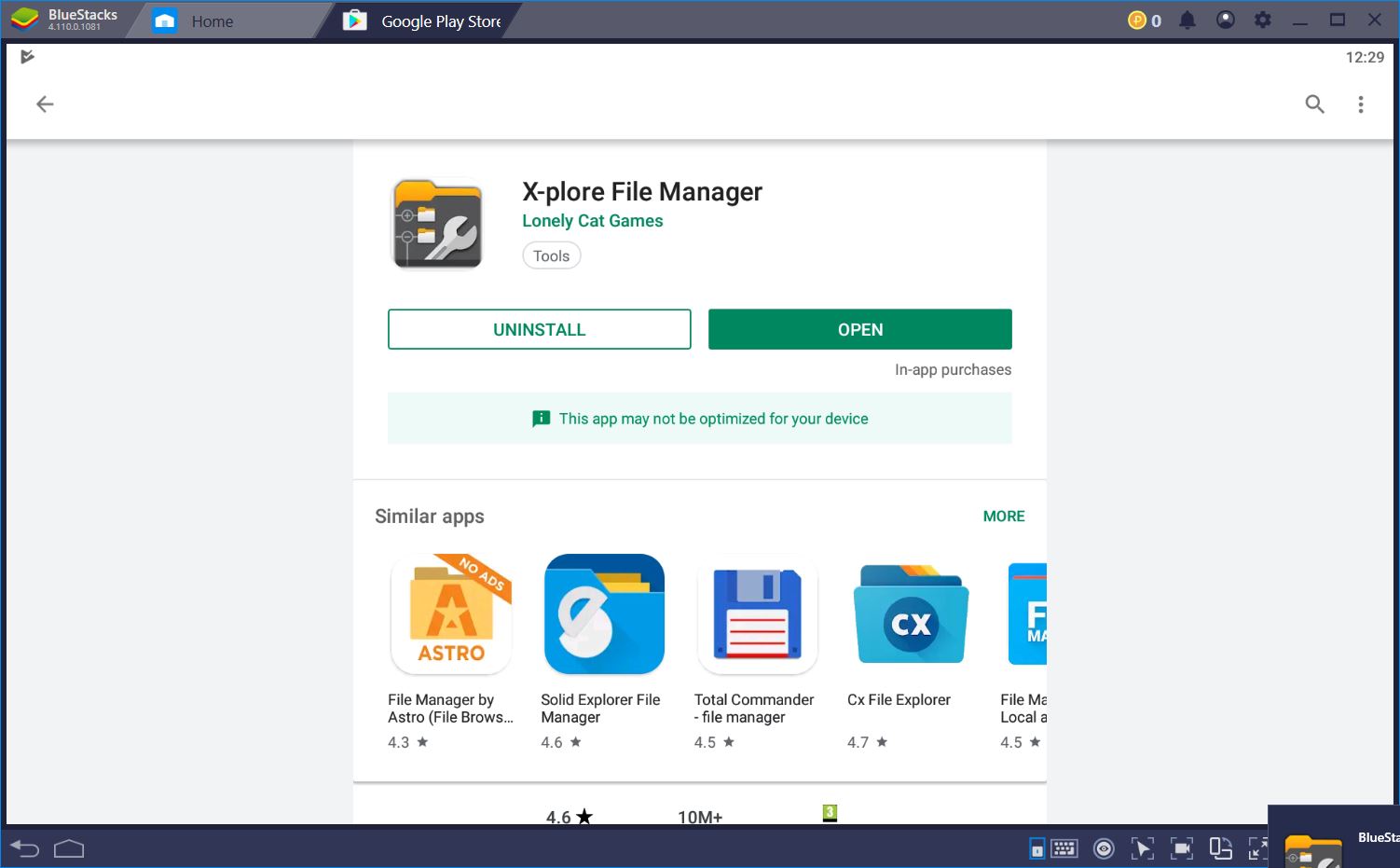 Step #2 – Download the APK
You can download the APK from relaible source. The folder comes with an .xapk extension, which means we will need to unzip it before we proceed.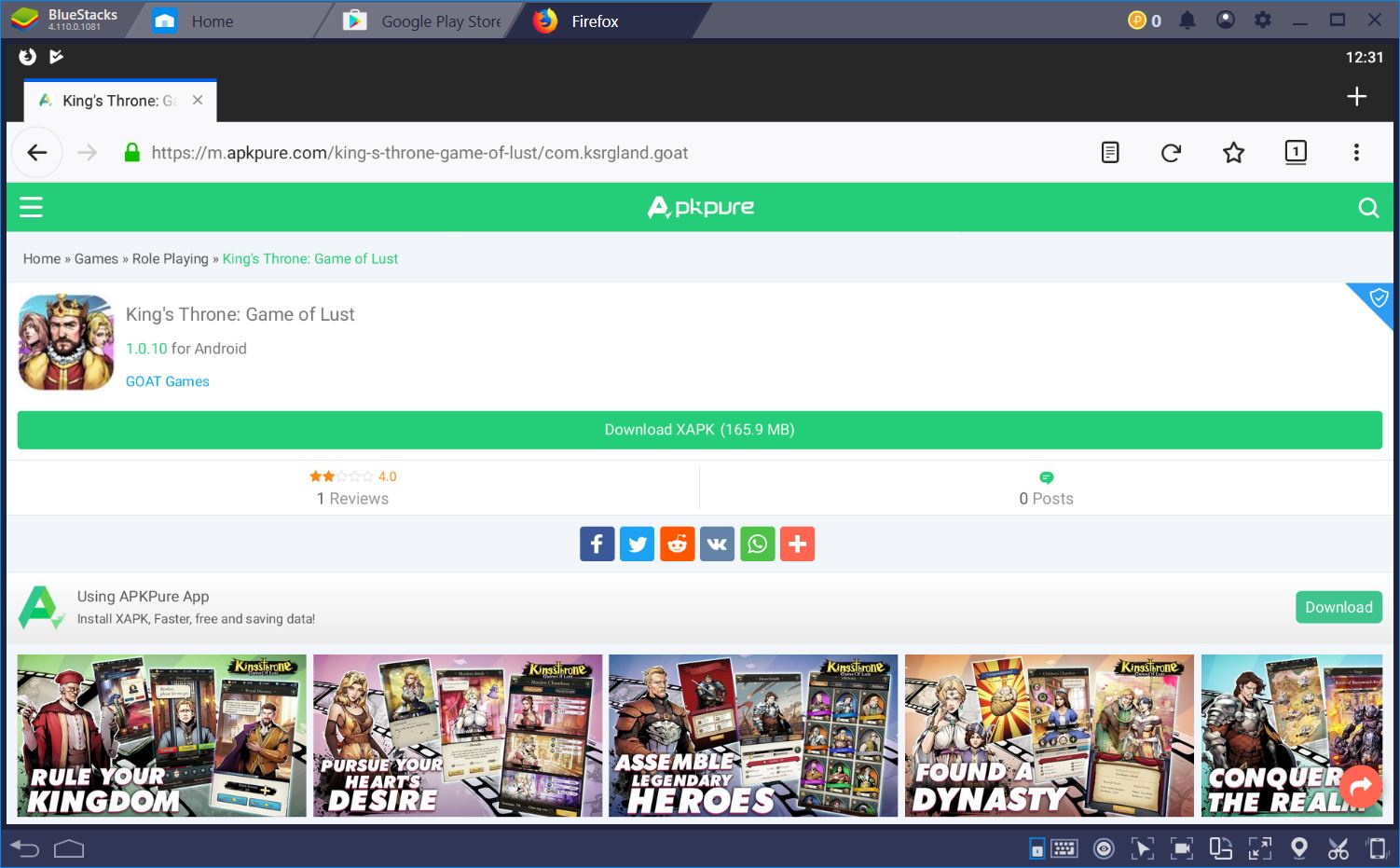 To avoid using additional software, open X-Plore File Manager and find the folder under Internal Shared Storage > Download. Hold left-click on an archived folder and select "Rename" from the drop-down menu. Then, simply replace the .xapk extension with .zip.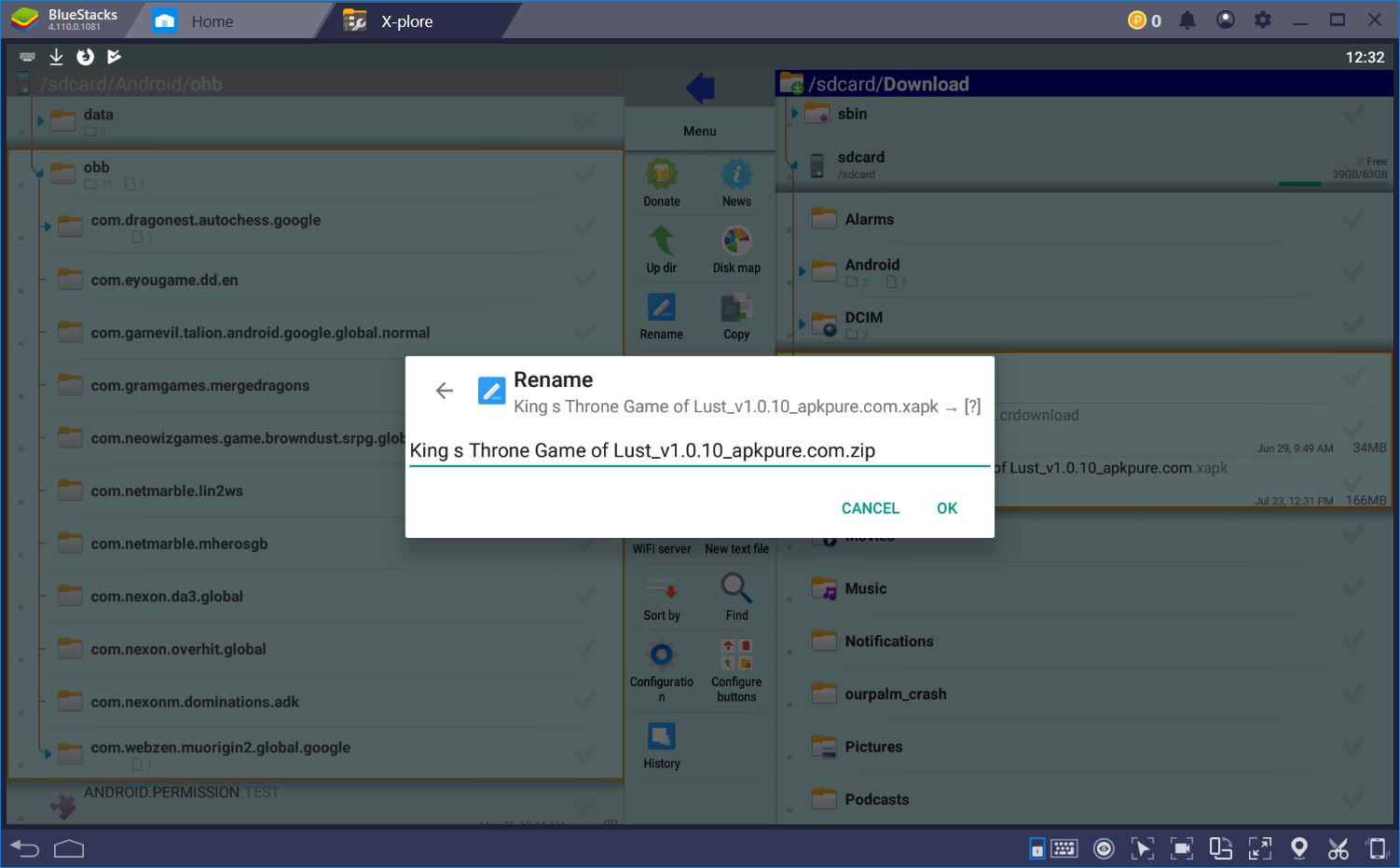 Step #3 – Copy the Contents of the OBB Folder
While we're here, we can manually copy the contents of the installer's OBB folder onto the platform. On the side of the file manager that you haven't used yet (the left side, in our example), go to Internal Shared Storage > Android > OBB.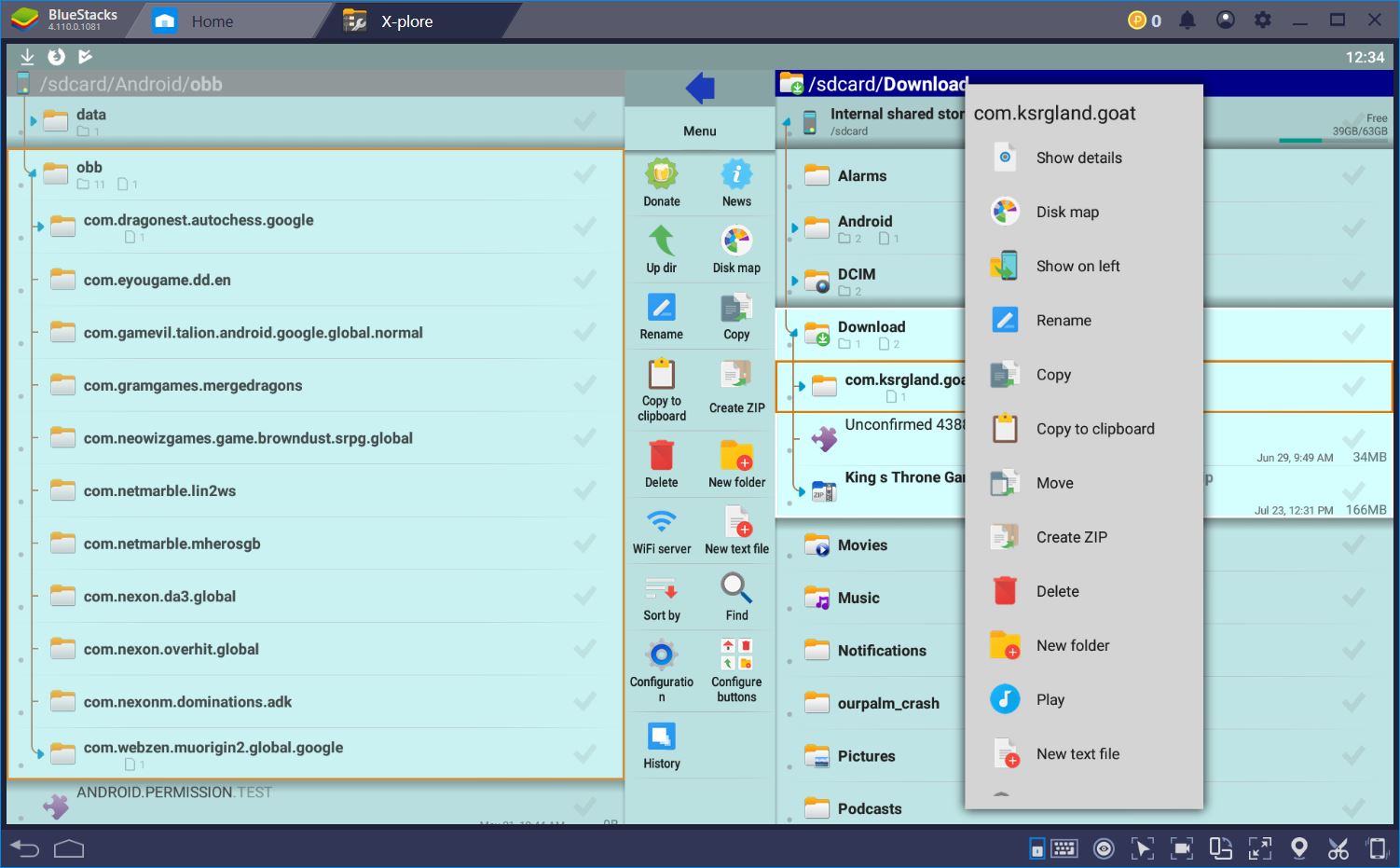 Then, return to the first side and access the game's OBB under "King s Throne Game of Lust…" (the zipped folder) > Android. Copy its contents (the "com.ksrgland.goat" folder) into the platform's OBB location, under Internal Shared Storage > Android > OBB.
We're almost there!
Step #4 – Run the APK
Still inside the zipped folder, locate the .apk file and copy it directly under Download. Finally, it's time to run the extracted APK and allow the game to install its contents. If everything goes smoothly, you will soon receive a notification that King's Throne has been installed.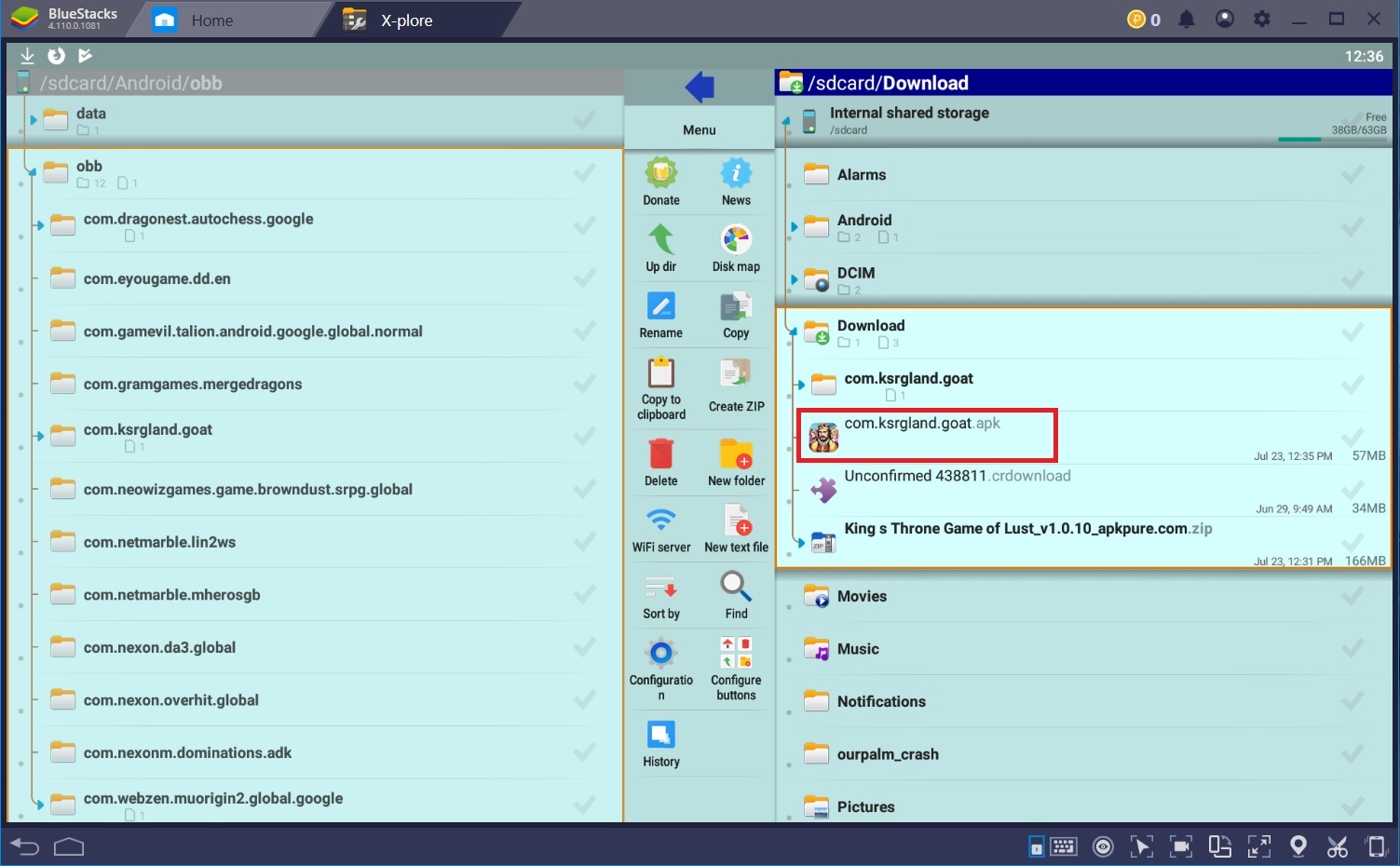 Step #5 – Play the Game
That's it! You can now exit the X-Plore File Manager and press the game icon from the main BlueStacks screen. It's time to take the reins of your kingdom.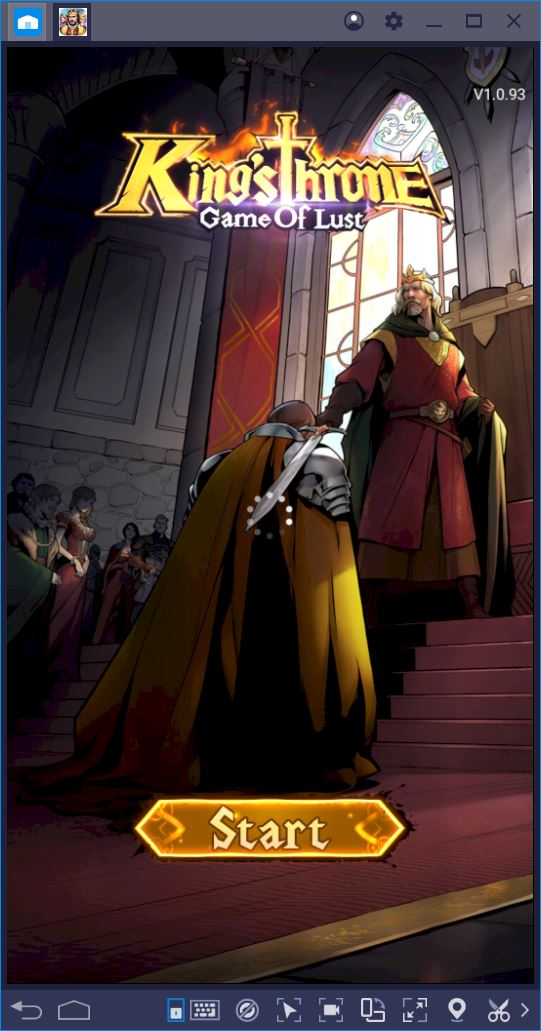 Use the Keymapping Tool to Make Your Life (Even) Easier
A life of entertaining gorgeous and willing young women might seem easy enough for some, but if there's anything we can do to make it even more pleasurable, we will do it. This is where BlueStacks can help us the most.
Just think of all those levies you have to collect once every 5-10 minutes (depending on the level of your empire). Unless you spend real currency to upgrade your VIP membership, you have to manually click to for each levy. That's about 30 clicks at a time – at the very least. The BlueStacks Keymapping Tool can change this for you. Just press the keyboard icon at the bottom of the screen to bring up the advanced game controls and use the "Repeated Tap" option to drag a button onto the screen.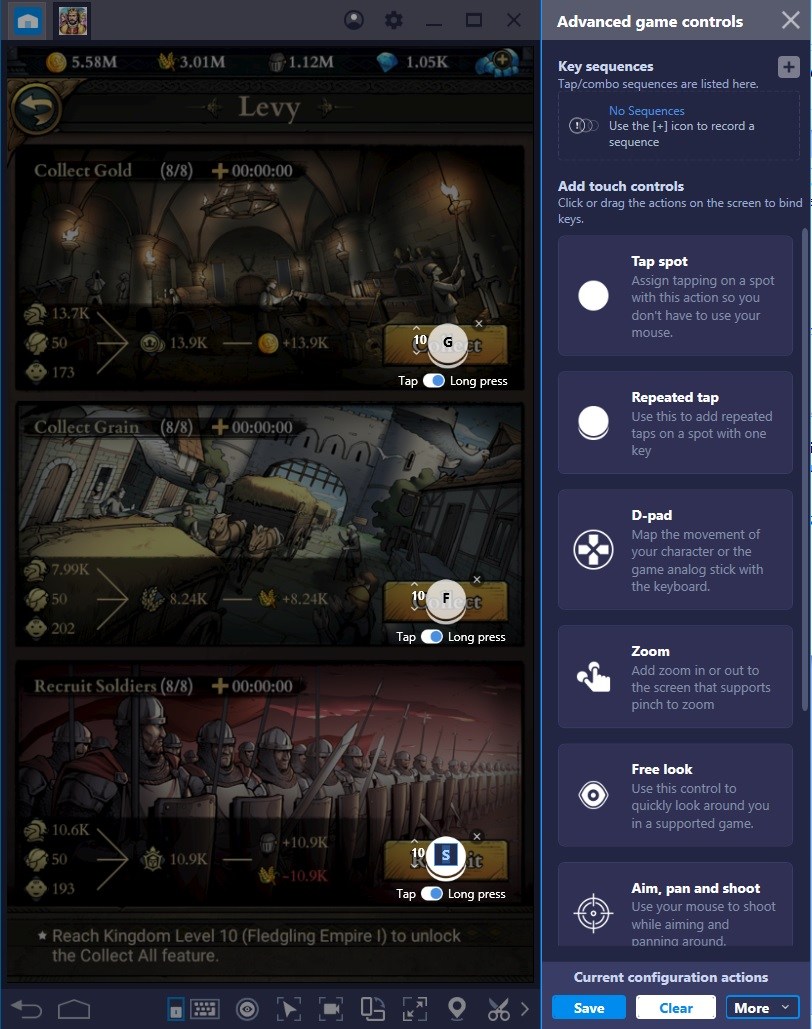 In our setup, we just have to keep "G" pressed to collect all gold levies, "F" for food or grain, and "S" for soldiers. Neat!
Automate Your Kingly and Paternal Duties with the Combo Key
Siring heirs is surely a fantastic process in King's Throne, but educating them can become a bit of drag if you don't have enough diamonds to unlock all 5 chambers… unless, of course, you're playing the game on BlueStacks. Using the Combo Key, you can automate the entire system and educate your progeny by pressing a single button at a time.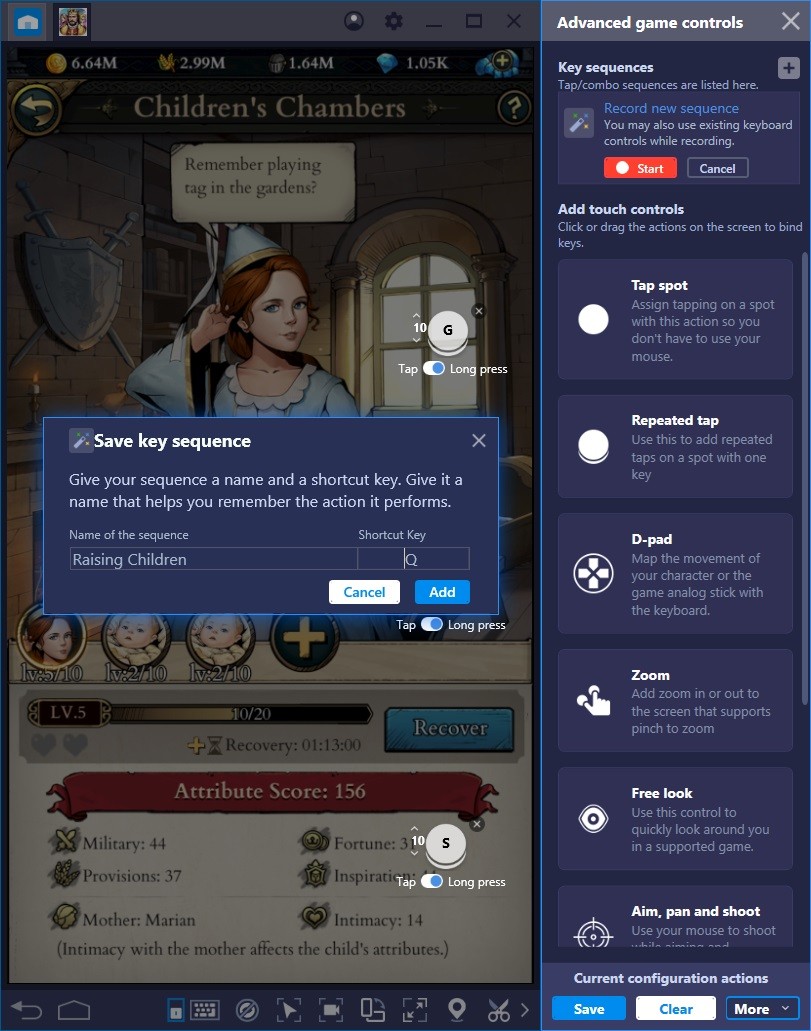 To create your own Combo Key, bring up the advanced game controls and add a Key Sequence by pressing the "+" button at the top of the menu. Start recording while you are in the Nursery, raise all of your children twice, then stop the recording. Bind the Combo to an appropriate key and voila! You can now fulfill your paternal duties in a matter of seconds and free up the rest of your time to improve your relationship with all the mothers. As we've mentioned in our beginner's guide to King's Throne, keeping an intimate connection with the mothers of your children is not only fun, but also essential for the development of your heirs.
Isn't being an emperor so much more pleasurable when you get to spend all of your in-game time doing things you actually enjoy? The magic doesn't stop at levies and raising children, either. You can use the BlueStacks Keymapping Tool and Combo Key features to automate nearly everything in King's Throne and drastically optimize your playtime. All in the name of a more prosperous empire, of course.