Game Guides
How to Play Kritika: The White Knights on PC With BlueStacks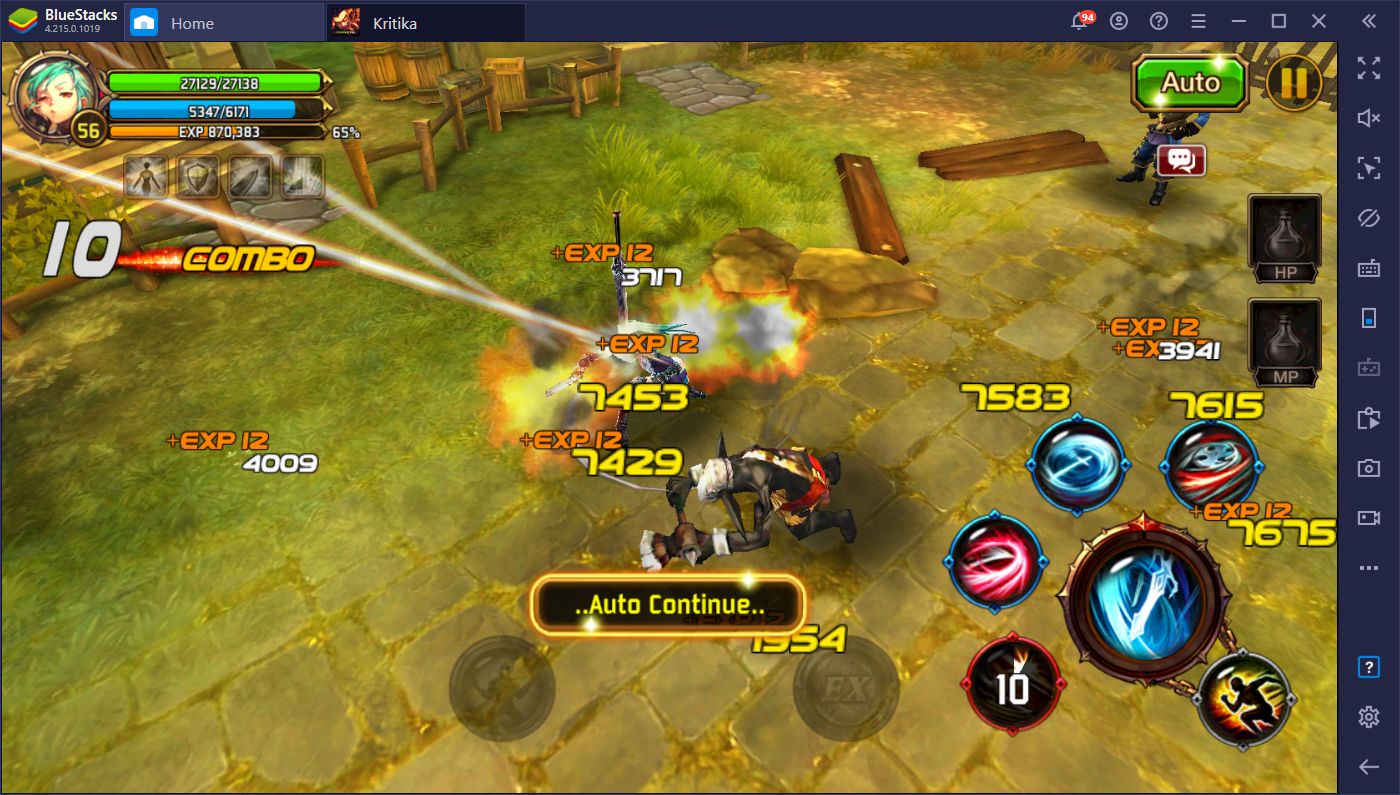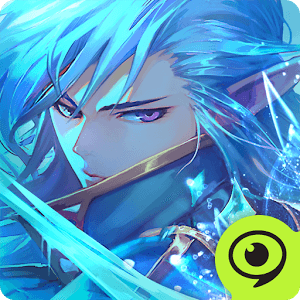 Action games are some of the most addictive titles in the market. They tap into a primal instinct by allowing us to run around slashing at hordes of enemies with all sorts of different weapons, and get a ton of prizes after defeating them. It's a fine balance of satisfying combat and looting that keeps us coming for more. Kritika: The White Knights is one of such titles, in which you get to control your characters and engage in real-time combat against throngs of enemies, and keep them stunned with a barrage of blows until they're defeated.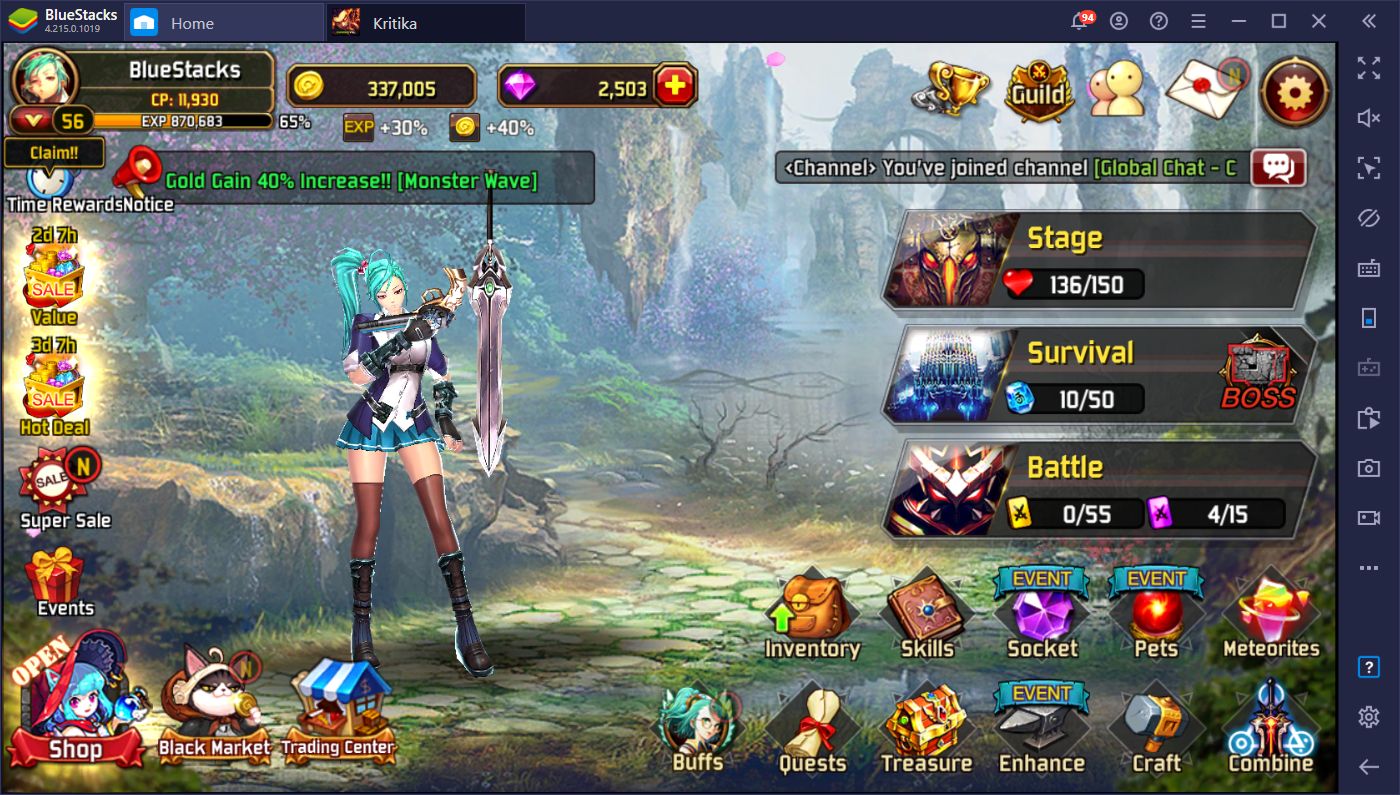 Now, these types of action games are certainly nothing new, even when it comes to the mobile platform. However, few of these titles are actually as streamlined and optimized as Kritika. In other words, not only does this game look absolutely fantastic both in and out of battle, but it also controls perfectly, providing an immense sense of satisfaction with every swing of your sword, every fireball you toss, or for every enemy you utterly defeat.
However, despite its awesome controls, at least for mobile game standards, Kritika can be so much better if it only had a better platform. In other words, if you could play Kritika: The White Knights on PC, you would have a much better time. Luckily, this is exactly what we're going to demonstrate in this handy article.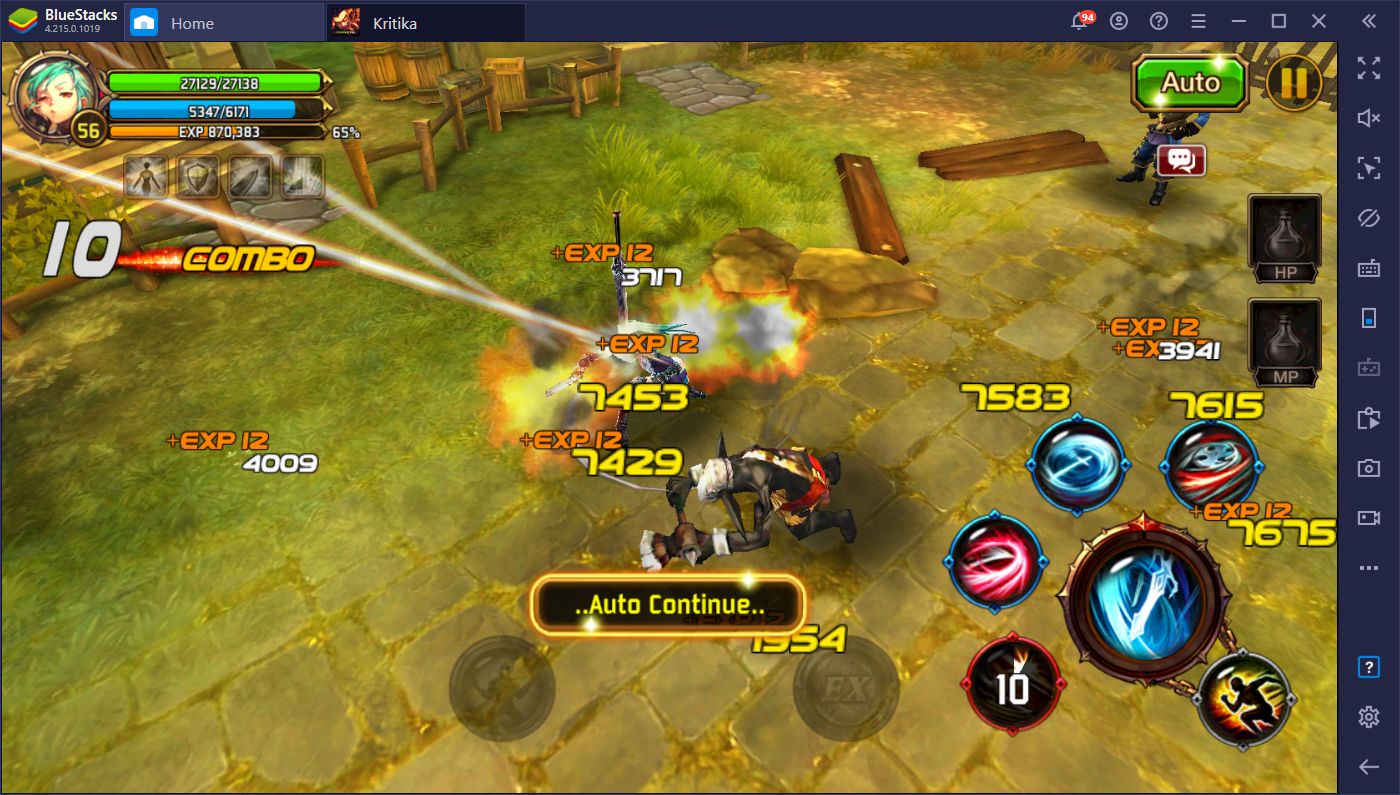 Downloading and Installing Kritika: The White Knights on PC
Gaming on your phone leaves a lot to be desired when you're sitting comfy at home and want to enjoy a few rounds of your favorite game. Fortunately, installing mobile games on PC is quite simple.
In order to install Kritika: The White Knights on PC, please follow these steps:
Download and install BlueStacks, our Android app player, from our official website.
Install the client by running the installer. Once finished, the emulator will launch automatically.
Search for Kritika in our App Center by typing its name in the search box on the home screen.
Install the game by clicking on its picture in the search results.
Once installed, launch it by clicking on its icon in the home screen.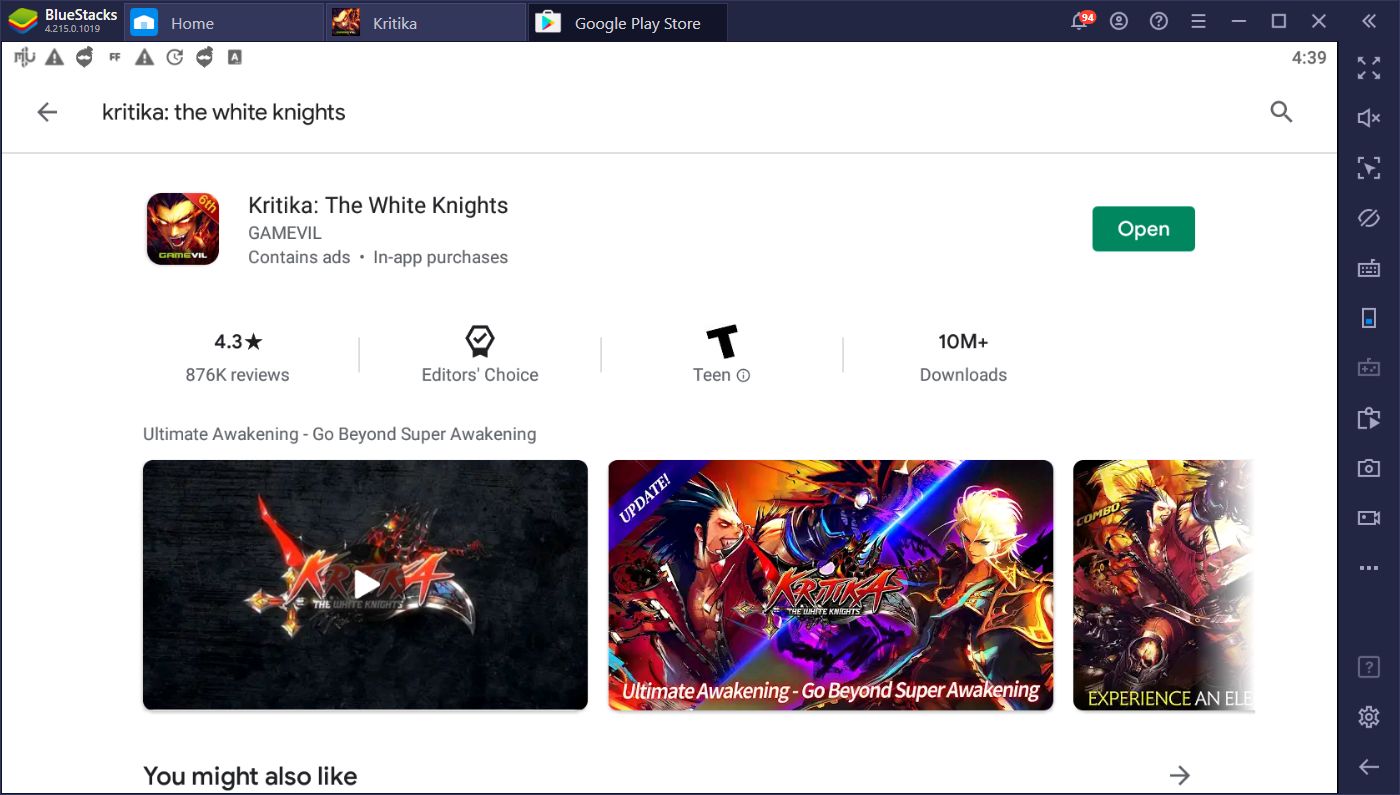 In order to enjoy everything that this game has to offer, you'll need to play it on a good platform. Sadly, if you have any but the most expensive phones on the market, odds are that you'll have to sacrifice quality for performance. Heck, even if you have a powerful phone, you'll want to avoid setting your graphics to the max since this will eat up your battery in no time.
As we said, mobile gaming has lots of advantages. Namely, the fact that you can play it from literally anywhere. However, if you're already at home, wouldn't you want to enjoy the best graphics, without having to sacrifice performance? This is precisely what BlueStacks allows you to do.
However, aside from enjoying better graphics, at a silky smooth 60 FPS, there are also many other benefits that you can enjoy from playing Kritika on PC with BlueStacks.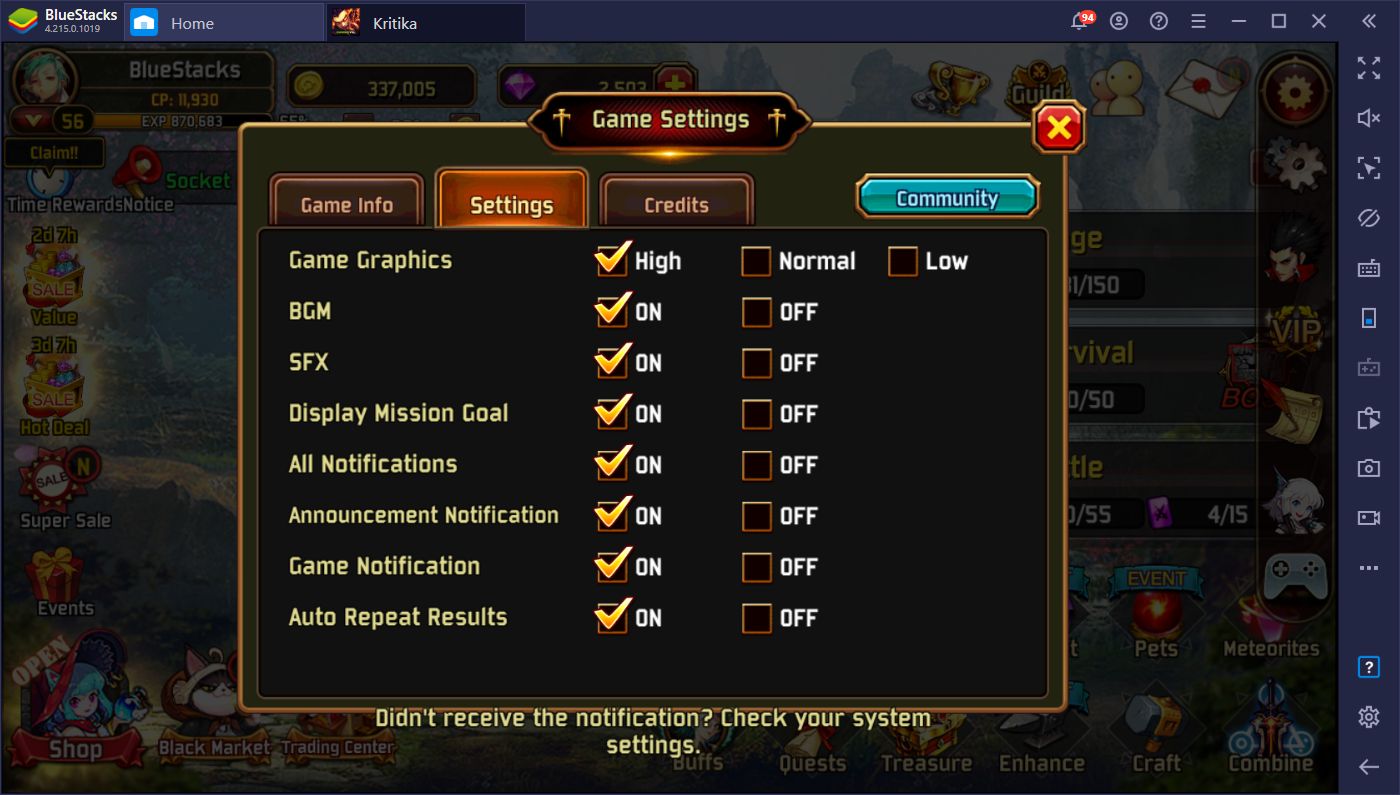 Dominate the Battlefield With the Keymapping Tool
One of the particularities of Kritika is that you'll be running around different maps nonstop, fighting against enemies and wiping them out. By default, you'd control your character with the left virtual joystick, and attack using the buttons on the right. However, we don't really have to tell you how bad virtual touchscreen controls are when it comes to precise inputs in most games.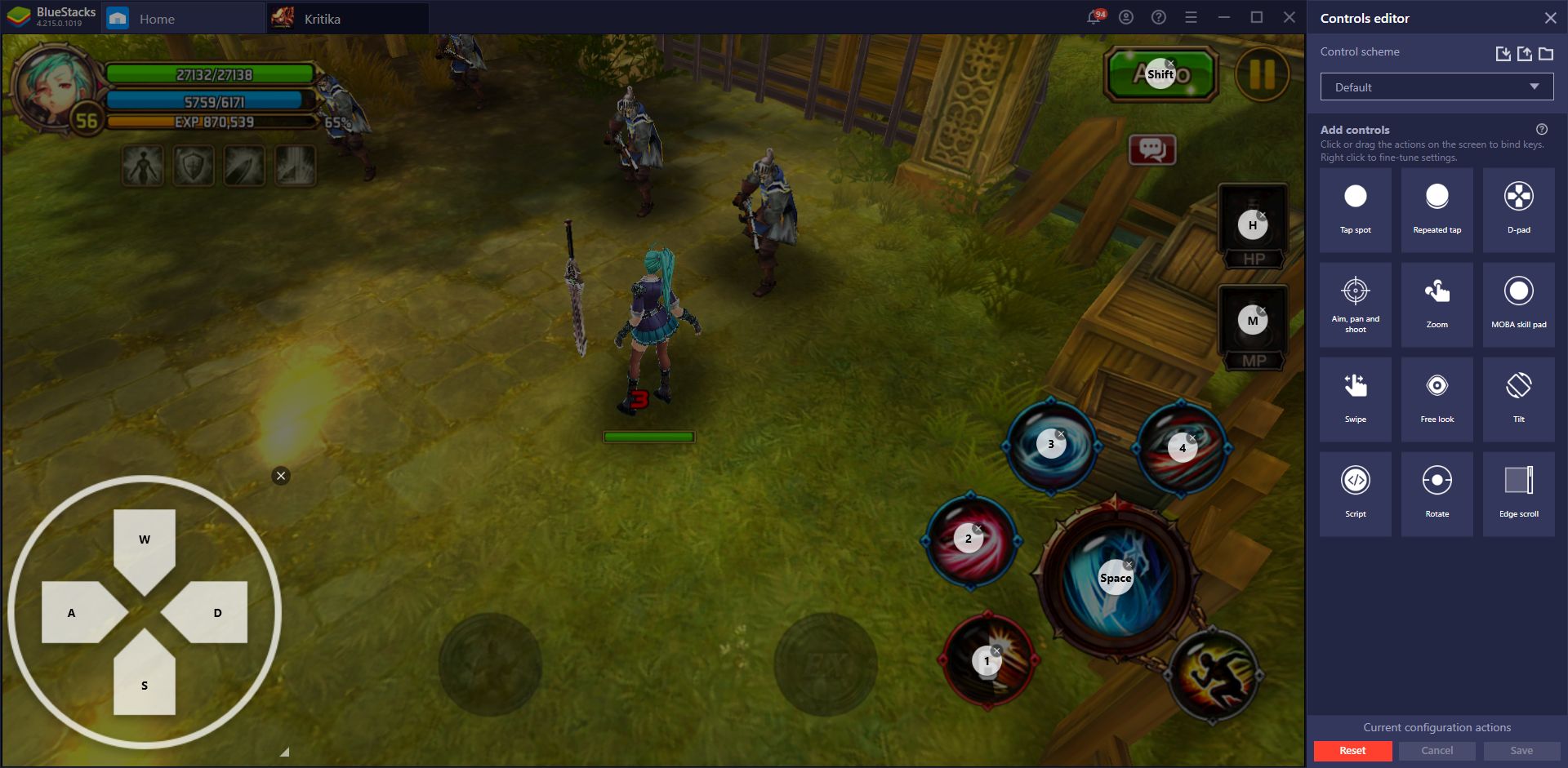 With the Keymapping Tool, however, you can control all the action in the game by using your mouse and keyboard. Instead of swiping at your screen, you can move your character with the WASD keys, and activate his or her skills using the number keys. In this sense, you can move around freely while keeping the pressure on your enemies, while also gracefully avoiding any enemy attacks.
Moving and attacking in Kritika is so much easier when you have physical buttons instead of virtual controls. You can even combine your inputs with the game's built-in auto-combat to attack the enemies automatically, and simply move out of the way with the WASD keys every time the enemy is about to launch a dangerous attack.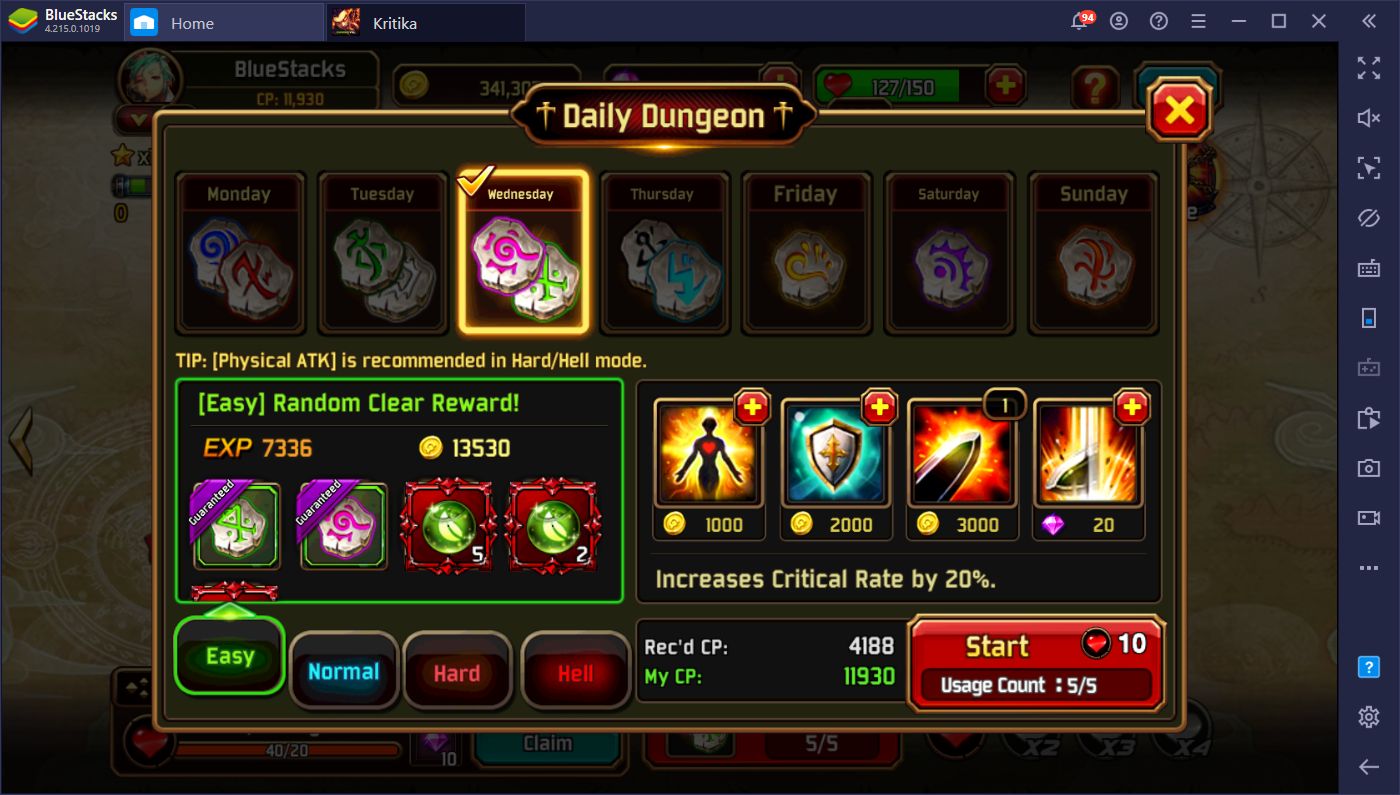 And the utility of this feature extends beyond helping in combat. Since a good part of the game is spent navigating through menus, you can set many shortcuts on the main screen in order to help streamline opening and accessing the various windows and menu screens.
Farm Stages With the Macro Recorder
After playing Kritika for some time, you'll come to a point when you'll need to farm certain stages in the higher difficulties, either to grind for specific materials or for XP. This can take a bit of time, especially in the higher difficulties and if you're struggling to beat basic enemies when you're not strong enough. Luckily, BlueStacks can help to automate the grind by allowing you to automatically enter and exit levels without having to manually navigate through the menus.
With the Macro Recorder, you can automate the grind by recording yourself entering a level, exiting after you're done, and then re-entering the same level, as many times as you want. In this sense, by running a simple macro, you can clear a stage as many times as you want and without having to monitor your game. In practice, you can simply activate the macro, minimize your game, and let BlueStacks handle the rest.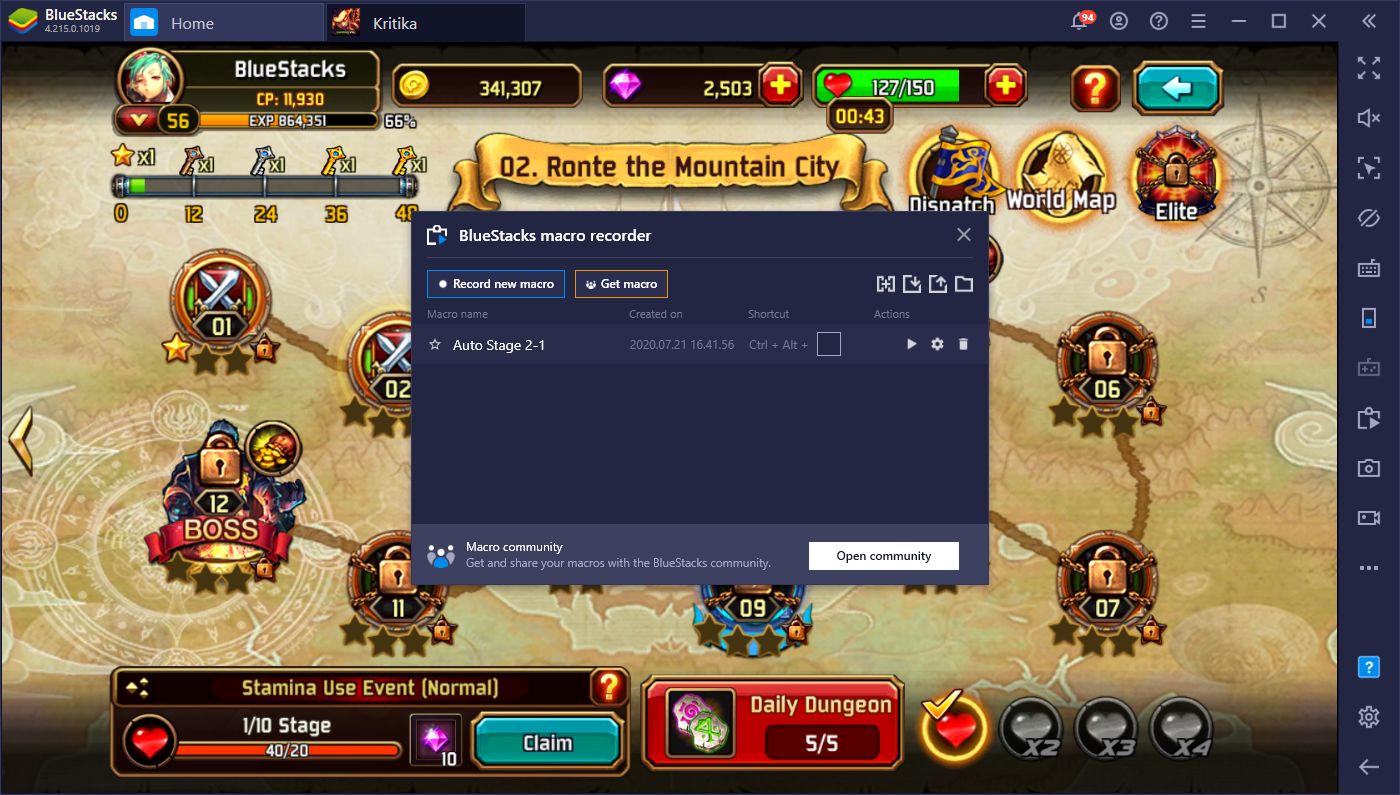 This is particularly useful for those tough stages when you can't rely on the auto-combat feature since the AI isn't the best at making decisions. However, since the stages are always the same every run, you can effectively automate them via a macro, while also staying safe. It's kind of like scripting the stages, only with BlueStacks executing your script automatically instead of you having to master it on your own.
There are many benefits to playing Kritika: The White Knights on PC with BlueStacks. Between the powerful automation features, and the versatile control schemes, you'll be focusing more on enjoying the game and less on struggling with clunky controls or excessive grind.