Game Guides
How to Play Magic: The Gathering Arena on PC with BlueStacks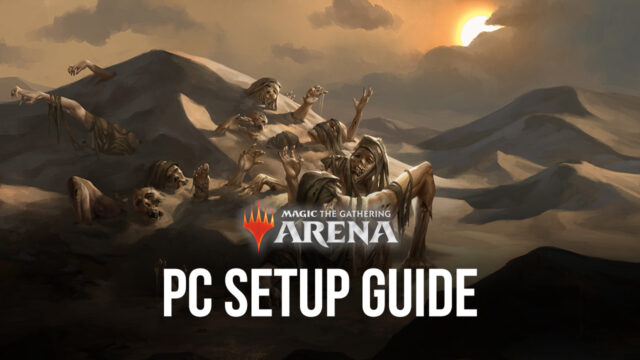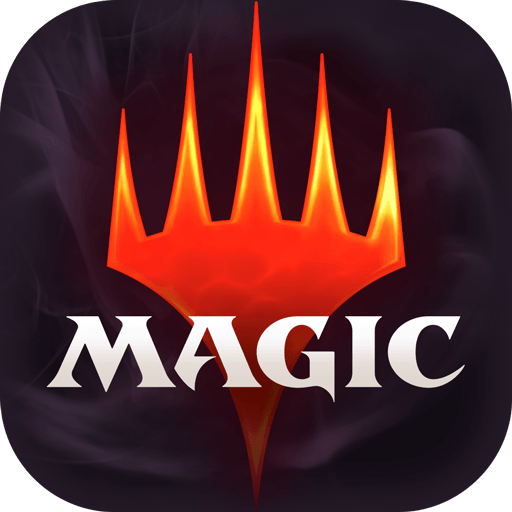 Learn to play Magic: The Gathering Arena today as you join millions of players in the competitive environment in the hopes of being a top player on the server. Whether you play MTG physically in real life or just want to try out the game that you've heard about multiple times before, this is the place where you want to try it out. It's time to build a powerful deck that will allow you to climb the ladder on the format of your choice and beat the competition that stands against you!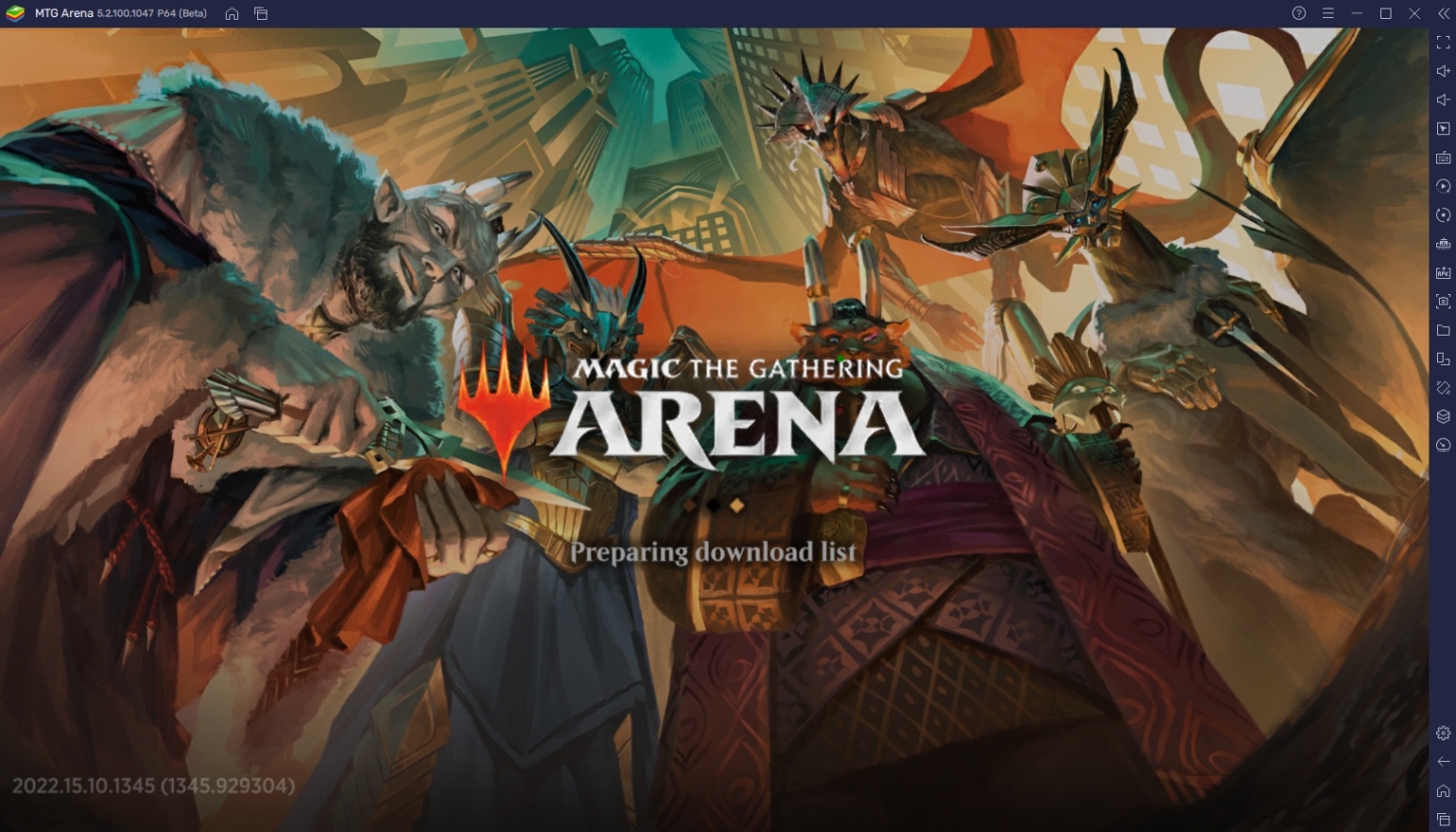 Magic: The Gathering Arena is a collectible card game that features decades' worth of unique cards that you can collect. Hundreds of thousands of players compete every day on rated and unrated game modes to test their decks. With dozens of competitive deckbuilding options and even more if you're the type to try our weird variations. The only thing left for you is to create an account and start from the bottom up by collecting the cards you'll need to build a deck!
How To Set Up MTG Arena on BlueStacks
We know that Magic: The Gathering Arena is also available on PC directly for download, but we'll show you that there are perks to playing this game on the BlueStacks platform that you'd otherwise miss out on the PC version. It may sound like a redundant idea to install a game with a PC version on an emulator, but the features available on BlueStacks give you a completely different experience, so you should take this opportunity to learn how to install the game.
Download and Install BlueStacks

on your PC.

Complete Google Sign-in to access the Play Store, or do it later.

Look for MTG Arena in the search bar at the top-right corner of the Game Center or the Google Playstore.

Click to install MTG Arena from the search results.

Complete Google Sign-in (if you skipped step 2) to install MTG Arena.

Click the MTG Arena icon on the home screen to start playing.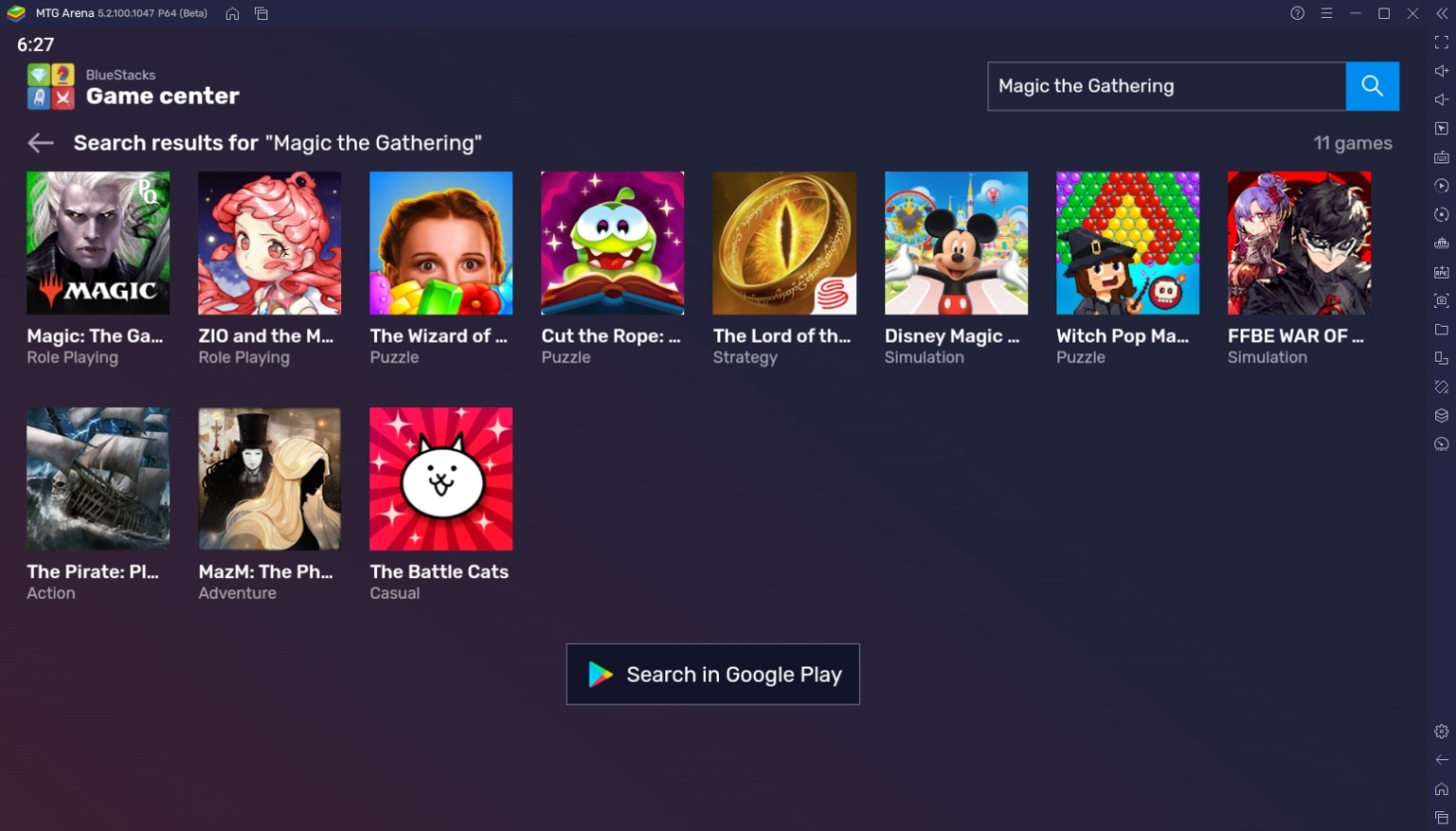 Useful Features When Playing MTG: Arena
BlueStacks isn't just a place where you can play mobile games. If that were the case, you'd be convinced to download the game directly on PC because it's a lot easier. The platform offers so much more for gaming that most computers and mobile phones have had trouble executing process-heavy applications like Magic: The Gathering Arena. Let's look at some of the best features that you can take advantage of when you play MTG Arena on BlueStacks.
Multi-Instance Function
The Multi-Instance Function is one of BlueStacks' most prominent features. This feature allows players to open two or more instances of BlueStacks, which they can use to play multiple games at the same time. Most players are always craving different ways to play multiple games simultaneously, but most of the time, their PCs aren't optimized to give them that opportunity. Luckily, mobile games are intended to run on less powerful devices so that you can take advantage of them better.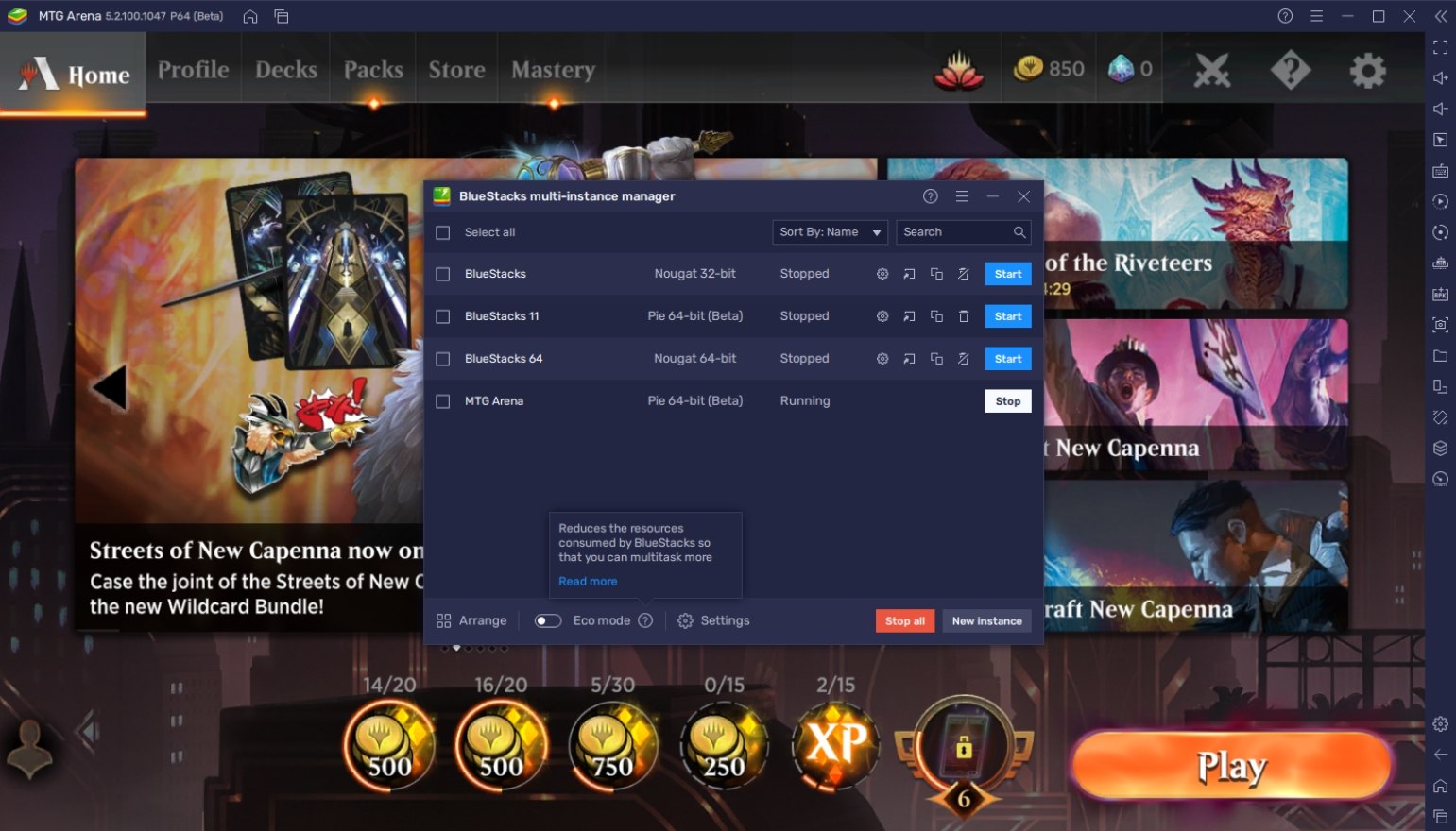 Magic: The Gathering Arena is a game that you can play for hours and never get bored, but after a few losses, you'll need a bit of time to cool down so that you don't end up getting salty about the results. You can also try using those two or more instances of BlueStacks to play multiple MTG Arena applications at the same time. It's up to you how you can take advantage of this feature since it's extremely flexible and allows users to maximize their playing experience.
Keymapping Tool
The BlueStacks Controls Editor Function allows players to map out their keyboard buttons as command prompts to emulate the touch screen controls. This feature makes it easier to transition from playing on the smartphone to the PC. Games with complex movement feature benefit from this feature because they make maneuver easier. If you don't like the idea of mapping out keys by yourself, BlueStacks already has a default set of controls prepared for you.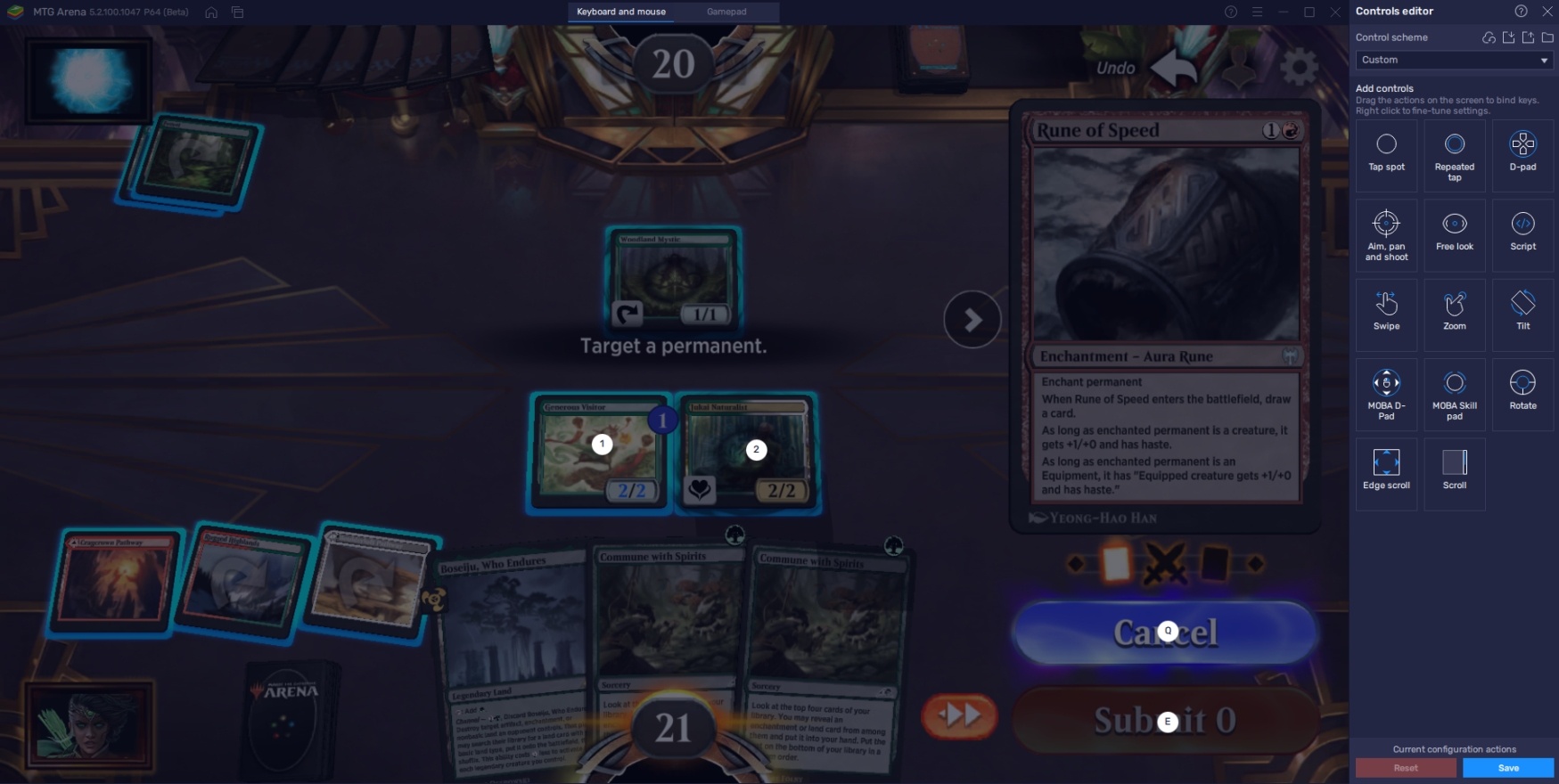 This feature is handy if you're playing MTG Arena. For those who have already played the game before, you know that it's completely lacking in quick commands that you want to reduce the constant need to click on card interactions that can prove annoying. This means that you can play the game at a faster pace. You also don't have to worry about misclicking on cards or commands that almost always result in you losing the game, which most players struggle with the game.
Start Building the Strongest Deck!
Now that you're ready to play MTG Arena, the first step you need to take is building your very first deck! Even though the physical version of the game requires you to spend a good amount of money on building a decent deck, MTG Arena allows players to build a deck without paying any cash. For F2P users, all you need to invest in the game is your time and dedication to complete various tasks that allow you to earn boosters and other types of resources.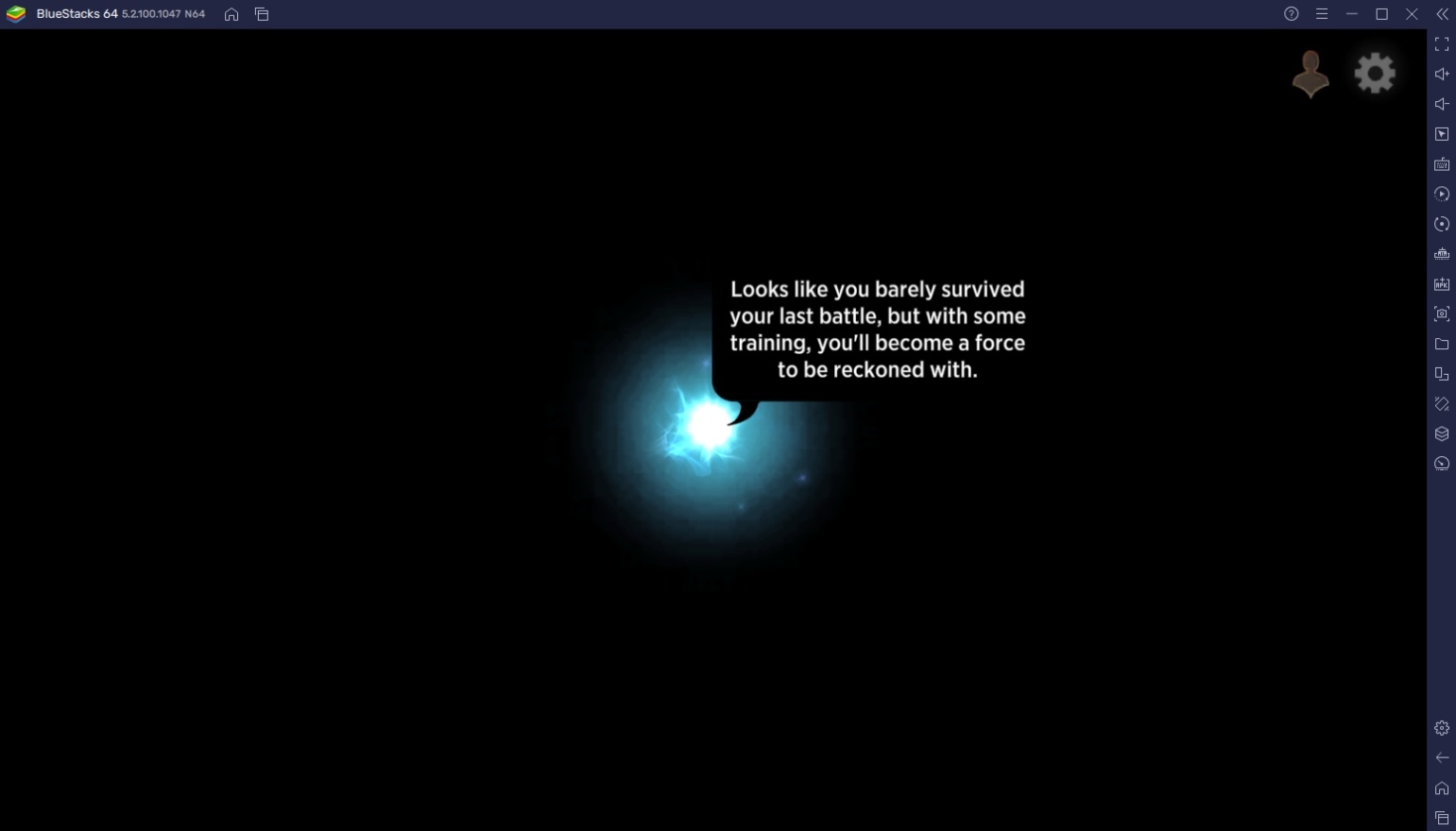 Once you've built a deck you want, you can start climbing the ladder and try reaching the top of the rankings and making a name for yourself. The best of the best even compete in esports competitions, winning large sums of money when they take home the trophy. This can be a dream that you can strive to achieve, and it all starts with building your first deck in the game that you can use to build even better decks in the future!