Game Guides
How to Improve Your MLB Team in MLB Tap Sports Baseball 2021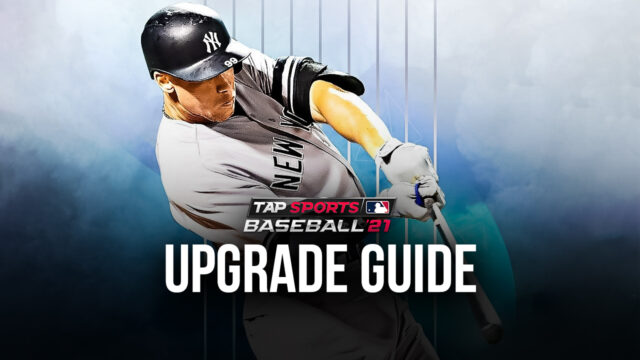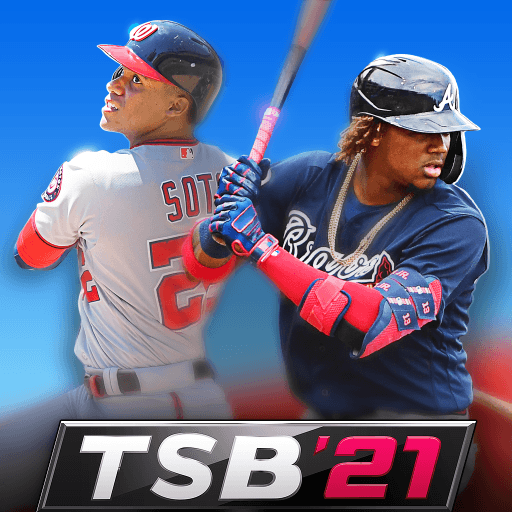 If you want your team to prevail in MLB, you are going to need to constantly give them all the upgrades available. You can have an idea of how strong your team currently is relative to other teams by going to the 'Team' tab and looking at 'Team Strength'. The value of Team Strength is dependent on numerous variables and you need to manipulate said variables in order to increase your team's overall strength.
Improving your team is a must in order to have a good win/loss ratio in MLB Tap Sports Baseball 2021 and this guide will show you the ways by which you can positively increase the variables that make up your team. By routinely enacting the methods in this guide, your MLB team can win any tournament with little to no sweat.
Leveling Up Players with XP
The first step that you should take is to upgrade your players individually. This can be done by going to the 'Team' tab and selecting 'Improve'. Before spending any resources, you must first know that each player has a different role in the game depending on their location in the baseball field and this is important to consider. The roles are: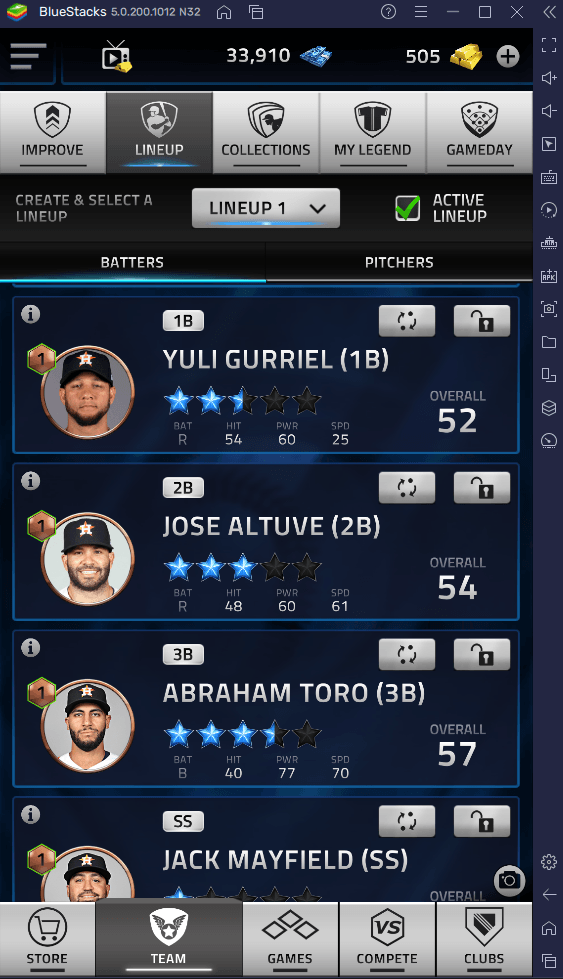 Location
Role
Role Abbreviation

Outfield (OF)

Left Fielder

LF

Center Fielder

CF

Right Fielder

RF

Infield (IF)

First Baseman

1B

Second Baseman

2B

Shortstop

SS

Third Baseman

3B

Pitcher's Mound

Pitcher

P

Catcher's Box

Catcher

C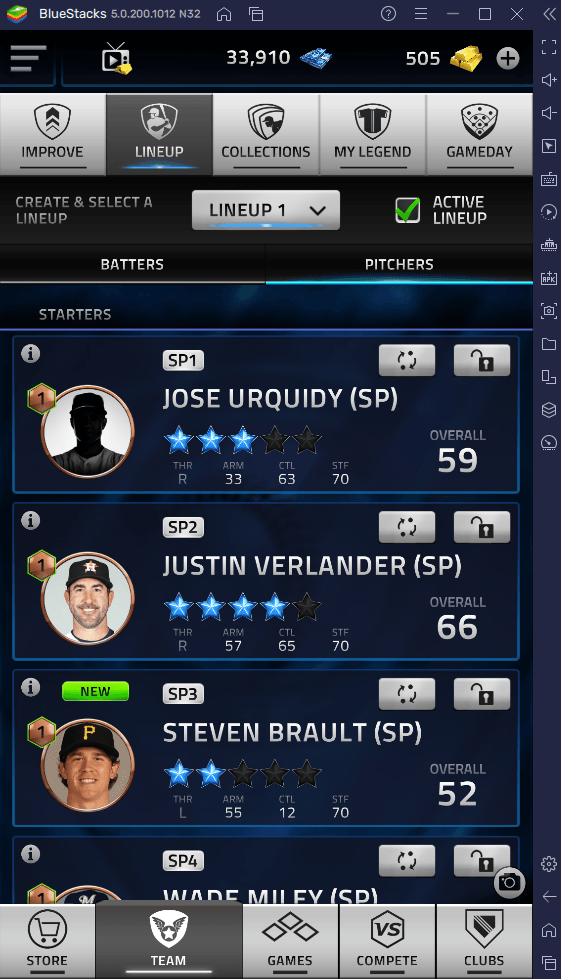 An important thing to note is that pitchers have several designations that tell you important information about the pitcher such as their endurance. As a pitcher becomes more exhausted during the game, their pitching performance decreases.
| | | |
| --- | --- | --- |
| Role | Role Abbreviation | Description |
| SP | Starting Pitcher | The first pitcher of the inning. |
| SR | Short Relief | Becomes faded (very exhausted) after one inning. |
| MR | Middle Relief | Becomes tired at first and eventually faded after several innings. |
| LR | Long Relief | Stays energetic throughout several innings and takes long to be faded. |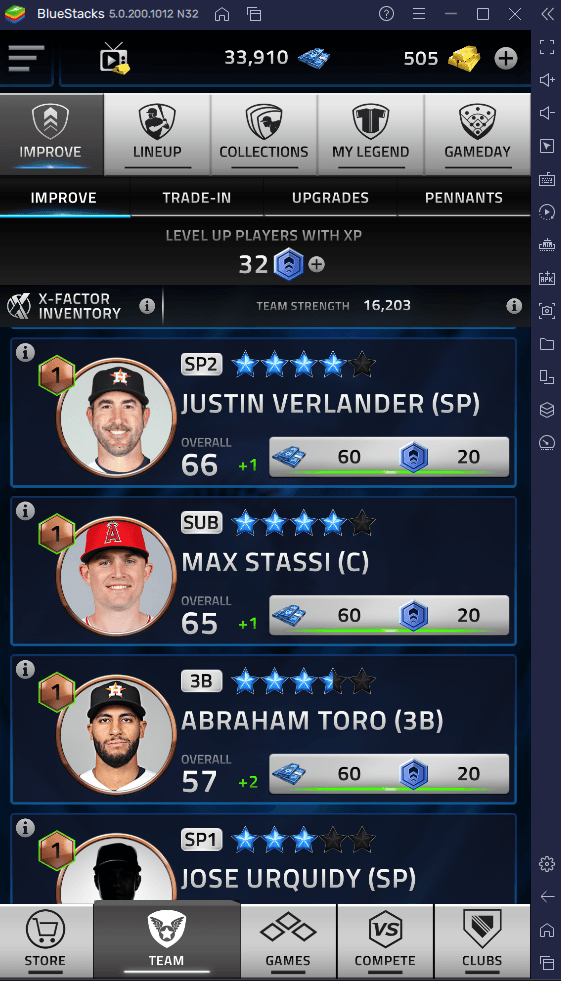 To level up a player, you are going to need two things: cash and XP. In the 'Improve' tab, just select a player that you want to upgrade and click on the tab that contains the amount of cash and XP that you need to spend.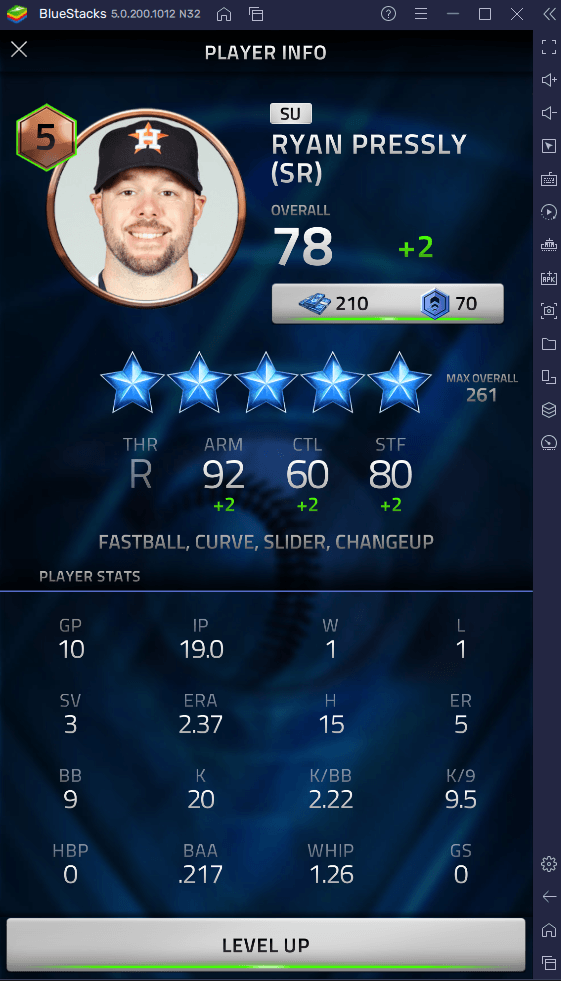 Leveling up a player increments each of their stats and consequently increases their 'Overall' value – which is just like 'Team Strength' but for the individual players.
When upgrading your players, it is best to give each role equal treatment. Make sure that the roles have the same level to maintain team balance. If you happen to have two players with the same role, then level up the player with the higher base stats.
Spend Cash to Upgrade Training
Aside from upgrading your players individually, you can also upgrade your team collectively. In the same 'Team' tab, you can purchase better training for your team under 'Upgrades'.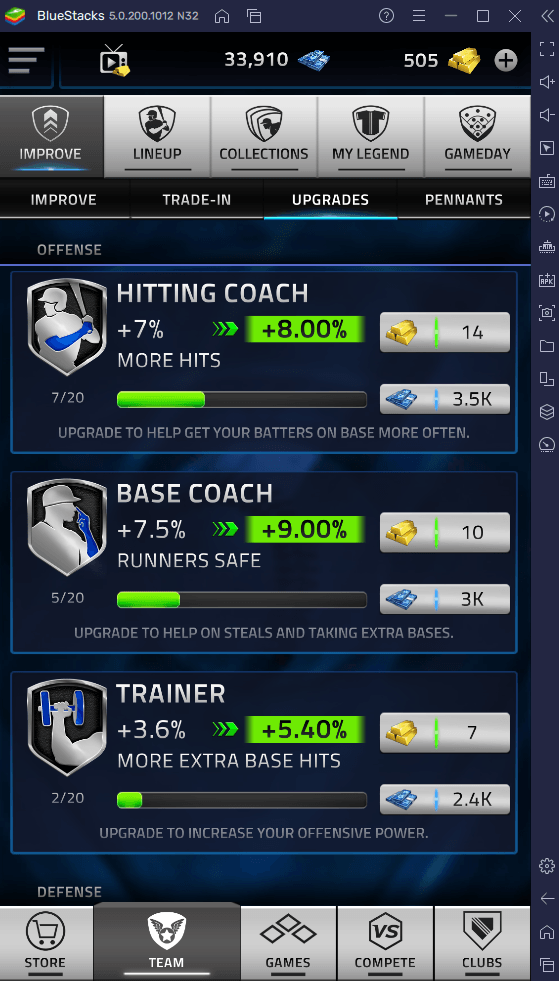 You can purchase trainings with either cash or gold. Each training has a limit of 20 and the cost becomes more expensive as you reach closer to that number.
Moreover, the trainings are also categorized according to offense training and defense training. It is a wise idea to prioritize buying offense training opportunities because the only part of the game wherein you can control your team is the half inning where your team is on the offensive side. However, this does not mean that you should completely neglect the defensive aspects.
These are the training upgrades that you can purchase for your team:
| | |
| --- | --- |
| Upgrade | Description |
| Hitting Coach | Trains batters to reach base more frequently |
| Base Coach | Make more steals and take more bases |
| Trainer | Increases the team's overall offensive power |
| Pitching Coach | Improves pitcher performance |
| Pitch Calling | Make it harder for enemy batters to successfully bat the baseball |
| Catcher Arm | Stop more opponents from stealing bases |
| Infield Hands | Reduce infield errors |
| Outfield hands | Reduce outfield errors |
| Outfield Arms | Throw out more enemy runners and force them to hold |
Recruiting More and Better Players
Sometimes upgrading your players and your team's training may not be enough and you may need to recruit new players. You can acquire new players by going to 'Store' and then going to 'Players'. From there, you have three options to recruit new players.
Draft Picks
Draft picks give you a random player once opened. The rarity and the quality of the player that you can acquire is entirely dependent on the type of draft pick that you open. The #1 Draft Pick is the best pick that you can open however it is very expensive as it costs 300 gold – just to acquire one player that may or may not even be a five-star one.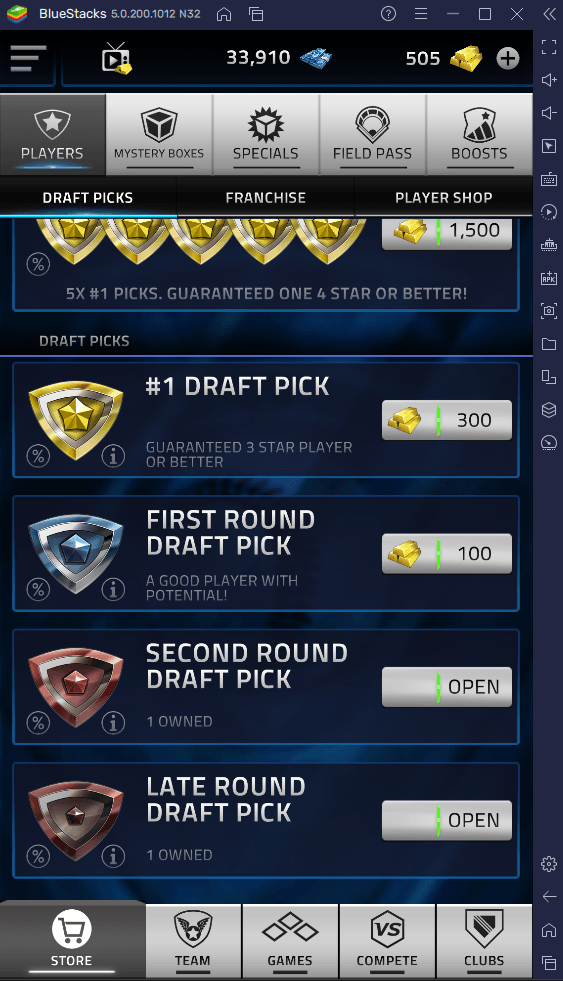 Each draft pick has a set of chances of garnering a particular rarity of players:
Draft Pick

Chances (out of 1000)

#1 Draft Pick

5-star = 25

4.5 star = 75

4-star = 250

3.5 star = 300

3-star = 350

1

st

Round Draft Pick

5-star = 5

4.5 star = 20

4-star = 50

3.5 star = 100

3-star = 145

2.5-star = 300

2-star = 380

2

nd

Round Draft Pick

4-star = 20

3.5 star = 35

3-star = 50

2.5-star = 265

2-star = 290

1.5-star = 340

Late Round Draft Pick

3-star = 10

2.5-star = 90

2-star = 300

1.5-star = 300

1-star = 300
Franchise
Franchise players are extremely good players that can be hired with franchise coins; however, some can be purchased with cash (albeit a large amount of it).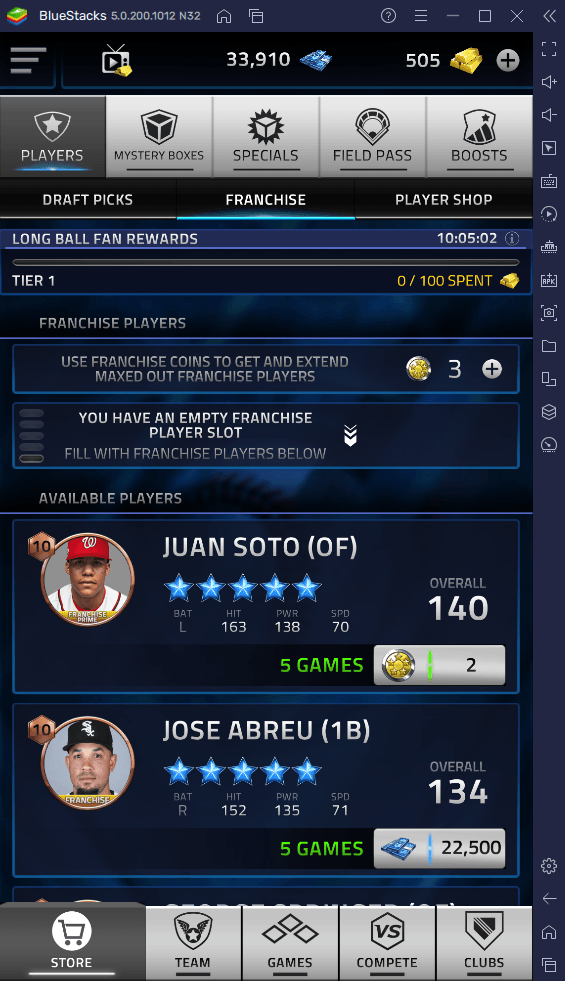 The caveat is that these players can only be used for a limited number of games. Nevertheless, consider renting franchise players when you have spare franchise coins or cash to spend as they can greatly increase you team's chances of winning.
Player Shop
You can buy players directly with cash by going to the player shop.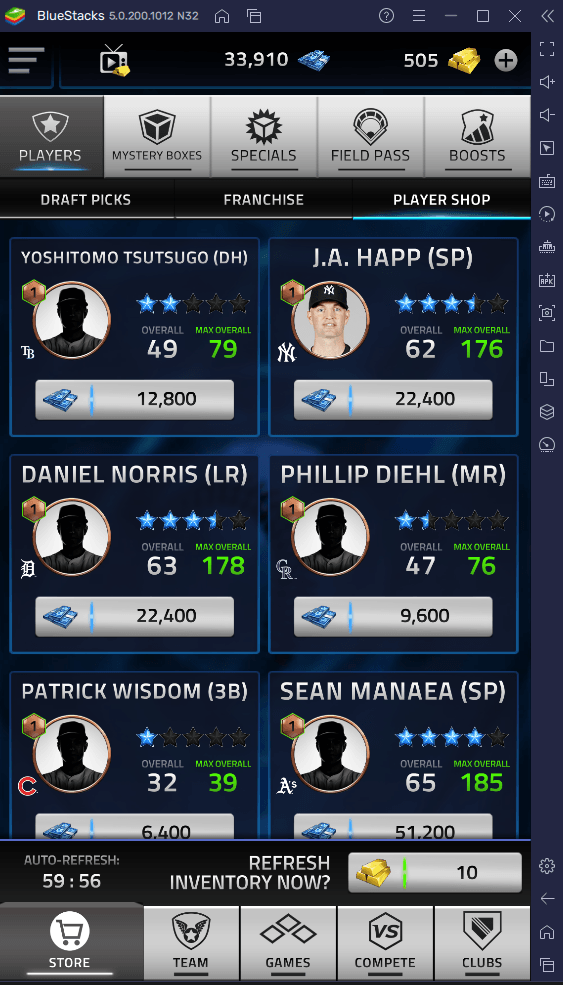 When shopping for players, always look at their 'Overall' value and more importantly their 'Max Overall' value as this tells you about the limit of their upgrades.
The inventory of the player shop refreshes every day so take that into account as well.
Using Boosts
Before starting a game or even while the game is ongoing, you can use consumables for your team to help them win the game.
Prior to a match, you can spend gold to give buffs to your team. You can watch an advertisement to gain a 5% hitting boost and it is recommended to always do this to gain that said boost.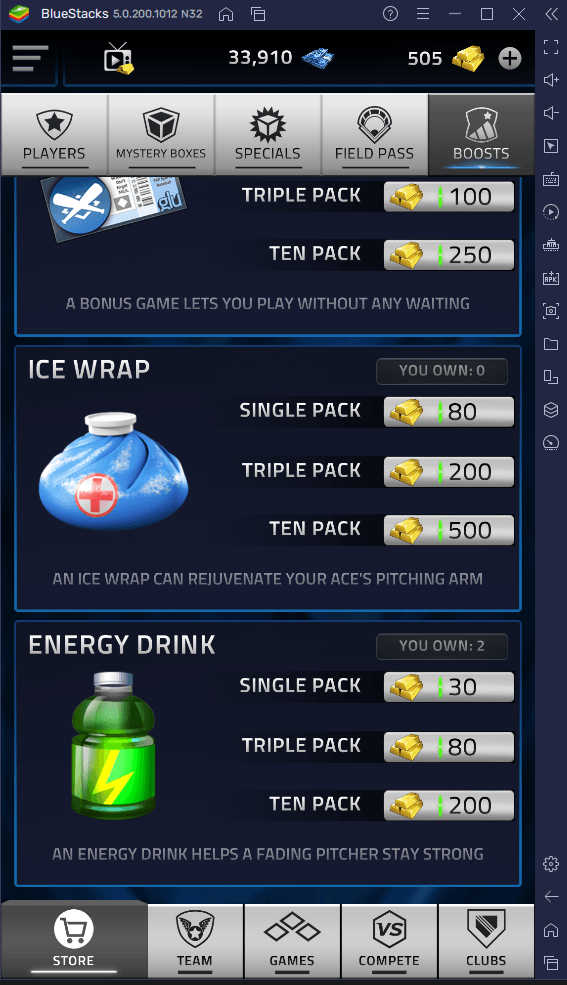 Additionally, you can use consumables such as Ice Wrap and Energy Drink to help your pitchers. The Ice Wrap can revitalize your best pitcher's arm while the Energy drink can instantly remove the exhaustion of a faded pitcher. These consumables can be bought with gold in 'Store' under the 'Boosts' tab.