Game Guides
My Hero Academia: The Strongest Hero – Beginner's Guide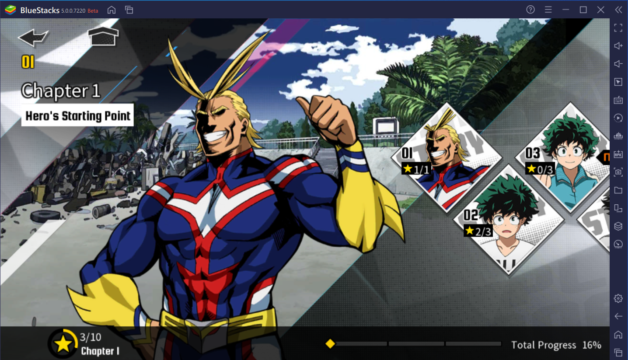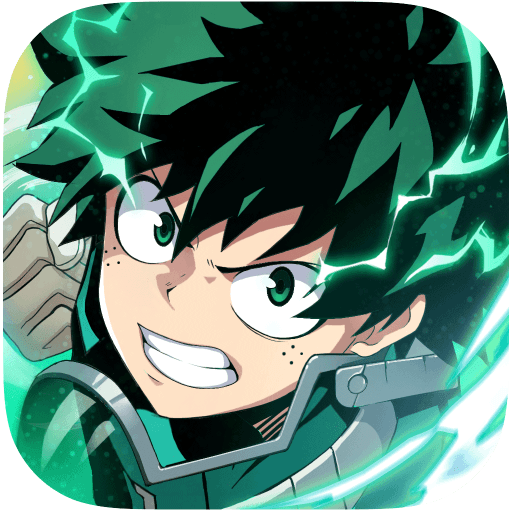 Sony Pictures Television Network Games have officially published the popular My Hero Academia IP open-world Action RPG MMO game My Hero Academia: The Strongest Hero for Europe and North America regions on Android and iOS. The game is free to play and download but contains in-app purchases for the premium currency and extras. My Hero Academia: The Strongest Hero features an ARPG stylized combat system where players can execute fast-paced combos using the abilities of their favorite heroes in the game. The game is backed by the popular My Hero Academia franchise which is in itself a big marketing point. The game also runs very fluidly at 60 FPS and controls are extremely responsive to touch and key binds both.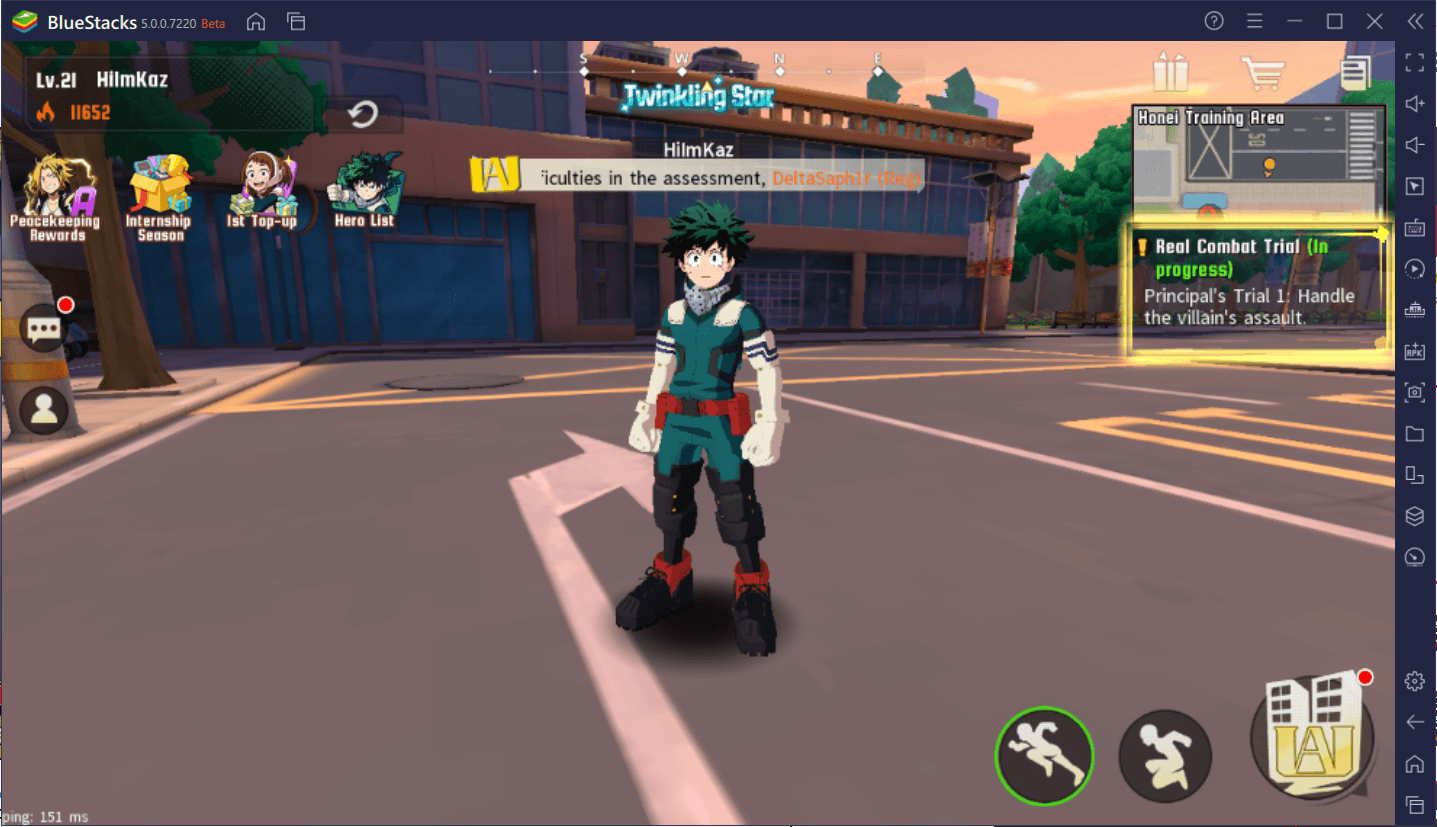 My Hero Academia: The Strongest Hero is a 3D ARPG with elements of gacha being added via the Summoning system. Players can compare the game to the likes of Honkai Impact 3rd but with characters from the My Hero Academia franchise. However, unlike the former game, My Hero Academia: The Strongest Hero features an open-world aspect where players can interact with different side stories and complete different quests for more rewards. The game does have a "multi-server" system which restricts players of different servers to play together even if they are of the same region.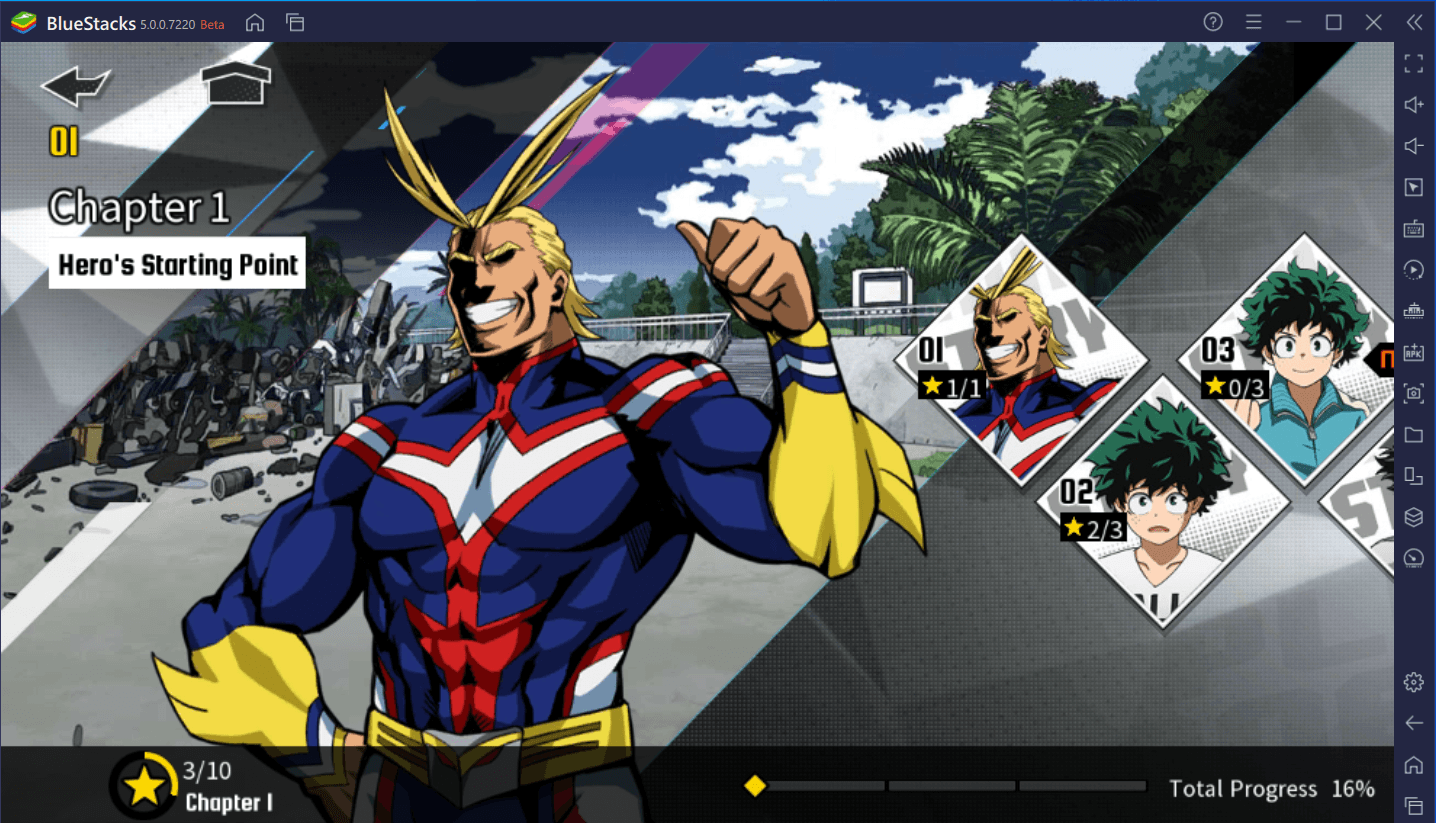 My Hero Academia: The Strongest Hero is a gacha game with a team-building aspect attached to it. The game features popular heroes from the Manga/Anime franchise My Hero Academia like Izuku Midoriya, All Might, Denki Kaminari, Ochako Uraraka, and Momo Yaoyorozu. Heroes come in different rarity and every hero has 4 different skills with an attached passive ability as well. The rarities start from B rank and end at S rank but every hero can be powered up till SSS+ rank by using the specific hero's shards/fragments. Players have to build a team of 3 heroes to compete in PvP or PvE modes except for the CO-OP mode where only 1 hero is required with 2 others being other players.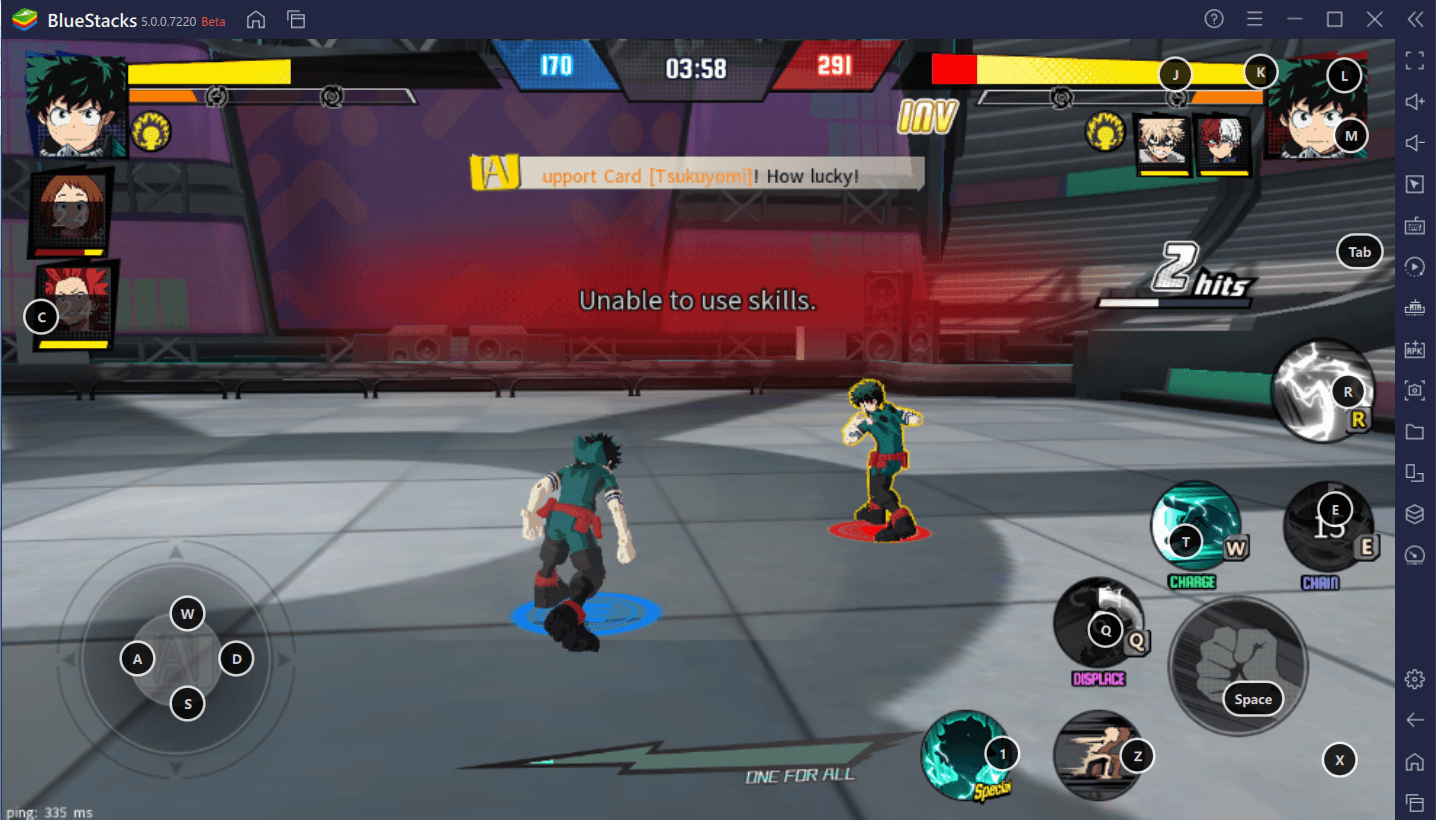 The Battle mechanics for My Hero Academia: The Strongest Hero are simple to use with fluid combat mechanics and innate dodge skills. However, they are tough to execute as there are multiple combos to execute within a short period. Players can manually control their characters or let them play themselves using the Auto feature in-built. Players make a team formation of 3 heroes which are sent to different areas of the stages to fight different enemies. Every hero has their CP (Combat Power) rating and all PvE stages require a certain CP rating which they deem recommended for completing the stage.
We are here to tell you about everything there is to know in the beginner's guide for My Hero Academia: The Strongest Hero.
Understanding the Currencies and UI
My Hero Academia: The Strongest Hero is a gacha hero collector game where the user has to summon through various banners to get their favorite heroes. Heroes are divided into different rarities – B, A, and S. These are the base ratings; however players can further take any character to SS and SSS ratings depending on how many shards of that hero they have. Players can increase their hero ratings by using the hero shards for the particular character. These hero shards can be obtained via summoning, co-op events, and log-in bonuses. Increasing the rarity of heroes is important to make them stronger.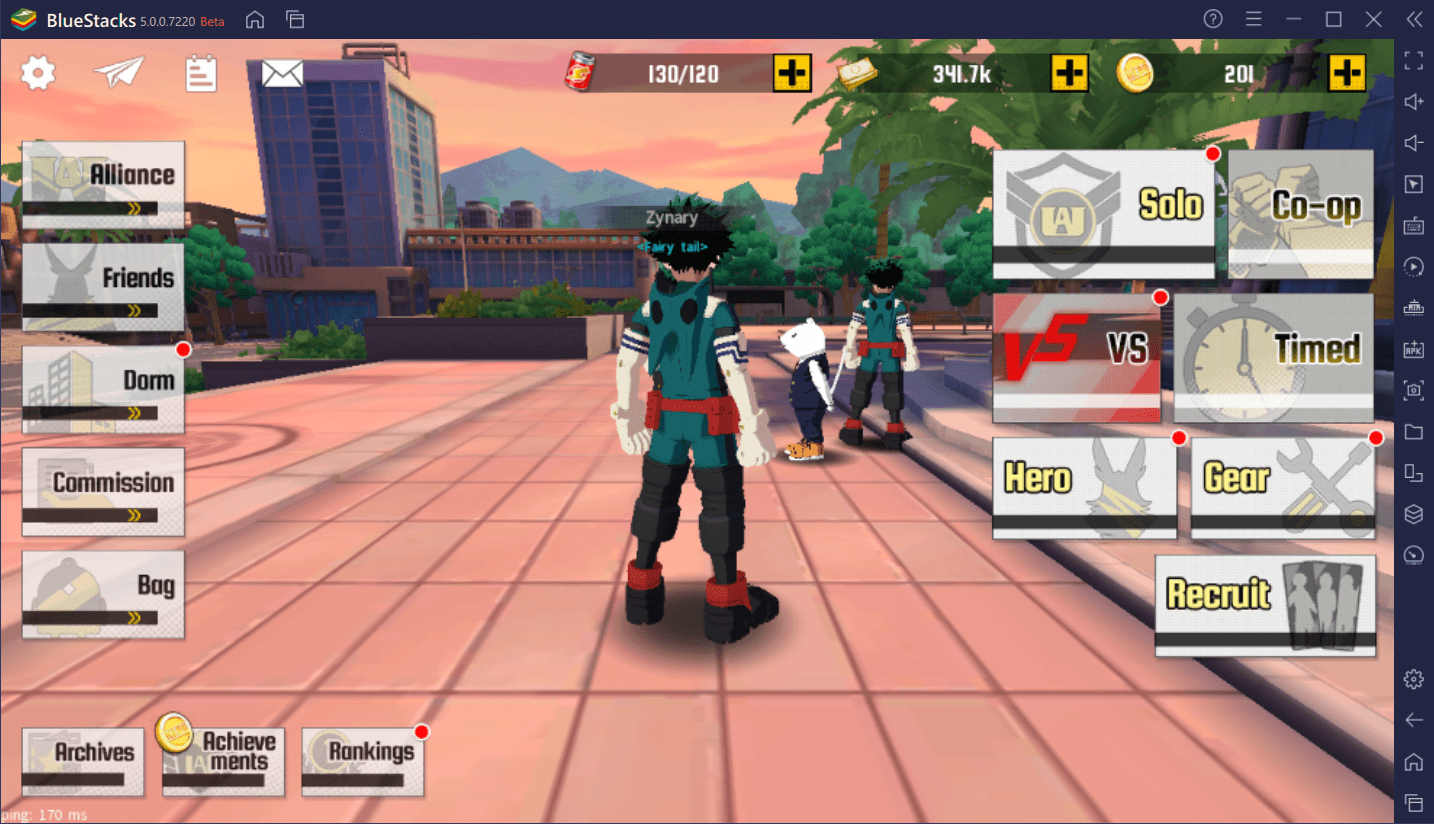 Coming to currencies, we have 3 main currencies used in My Hero Academia: The Strongest Hero:-
Money is the currency that is primary and can be obtained in abundance. This is used for upgrading gear, upgrading heroes' abilities and skills, increasing the rarity of heroes, buying things in the market, leveling up heroes, etc. Although the supply is more, the demand is high as well especially when your heroes start getting stronger. Hence, we recommend focusing on only a set number of heroes and not powering up all at the same time as it could put a serious load on your Money and you might face issues.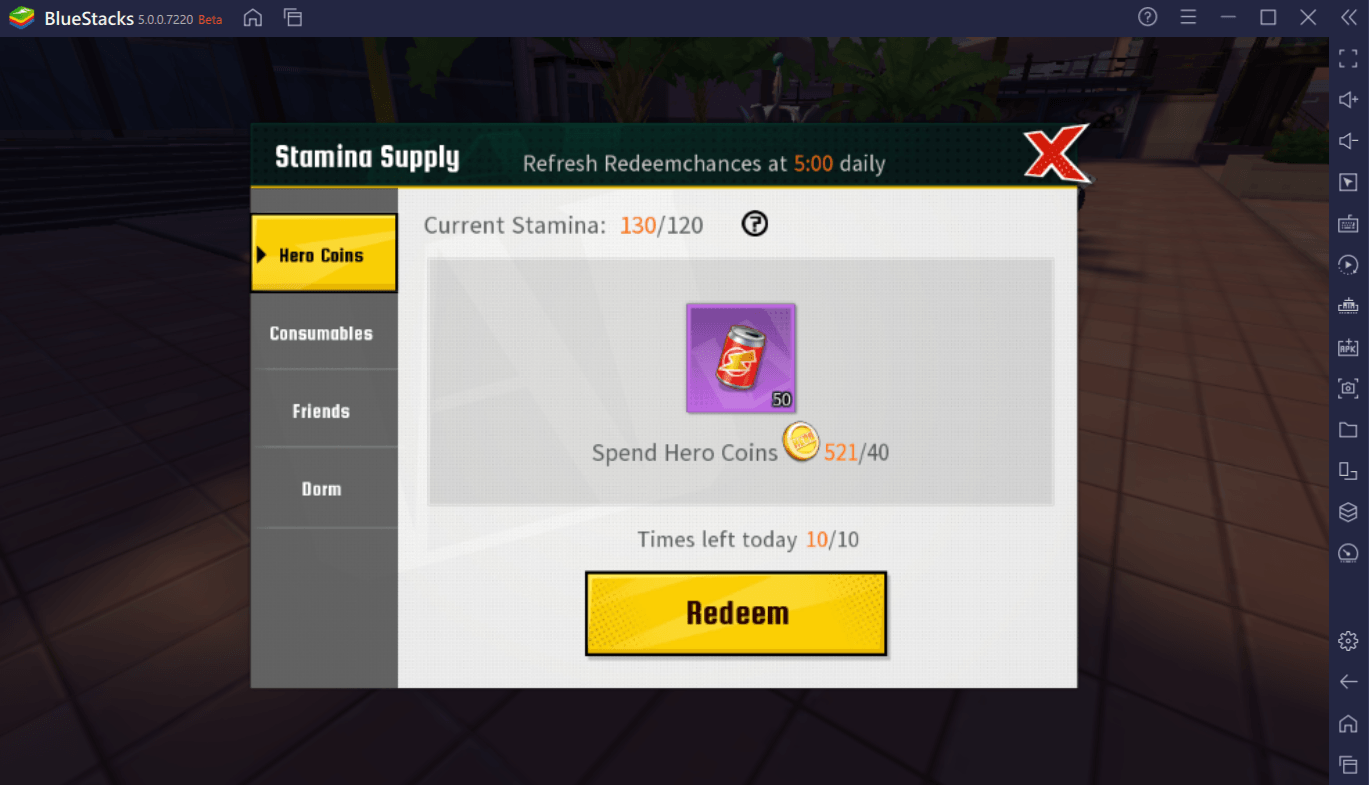 The next currency is Stamina which we talked about at the beginning. Stamina is the main currency used to play the game in most of the PvE modes. Players can choose to skip the gameplay using Skip tickets which are limited but skipping the gameplay will still cost you the same amount of stamina. It will save time, though. We recommend buying as much Stamina refreshes through spending some Hero Coins if needed. This is so that we can grind for the Aizawa event which is currently ongoing. The stamina regeneration is also massively low and hence, we recommend always using stamina as soon as possible and not letting it sit idle.
Hero Coins are the premium currency in My Hero Academia: The Strongest Hero and are used for summoning, buying daily packs, refreshing Stamina, etc. Players need to judiciously use this currency as it is hard to come by, especially when you are playing at the lower level. Players can earn this currency through various events, co-op arena, achievements, and by playing the story missions. We recommend saving these coins for refreshing stamina to complete events or buying event tickets when a good hero banner like All Might or Endeavour in the future shows up. Players can use Blue Recruit Tickets for summoning on the Class 1-A banner.
Getting Stronger and Increasing CP
My Hero Academia: The Strongest Hero is a game that relies on powering up your heroes to increase their stats and damage numbers. This overall strength of every hero is measured by a single number known as Combat Power (CP). Players need to increase their hero's CP for improving their stats. The CP rating is usually a good estimate of how strong the hero is. There are many ways to increase heroes CP. Let's take a look at some of the ways:
Train
Resonance
Skill
Talent
Assist
Chip
Support Card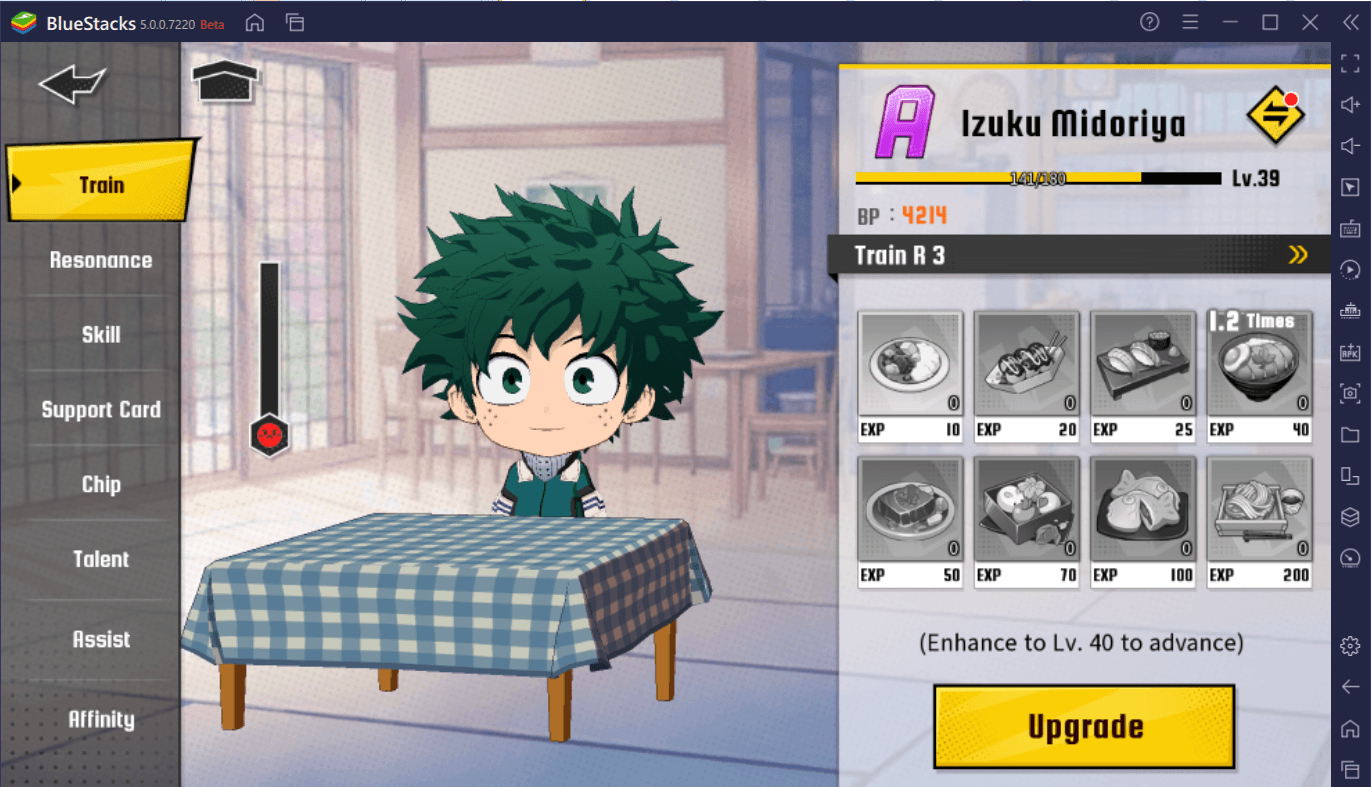 Training is the most basic method where players can increase their favorite heroes levels and increase their CP by increasing the base stats. Players can train their heroes by making them consume dishes like Taiyaki, Sushi, Spicy Curry, etc which are available through main story farming. We recommend farming these stages and getting as much food as you can for leveling up a select roster of characters for a massive boost in CP.
Resonance is the way players can increase their hero's rarity by consuming their hero shards for the particular hero. This also boosts their stats like Attack, HP, and Defense as well as Speed. Increasing rarity will increase the hero's CP massively as well.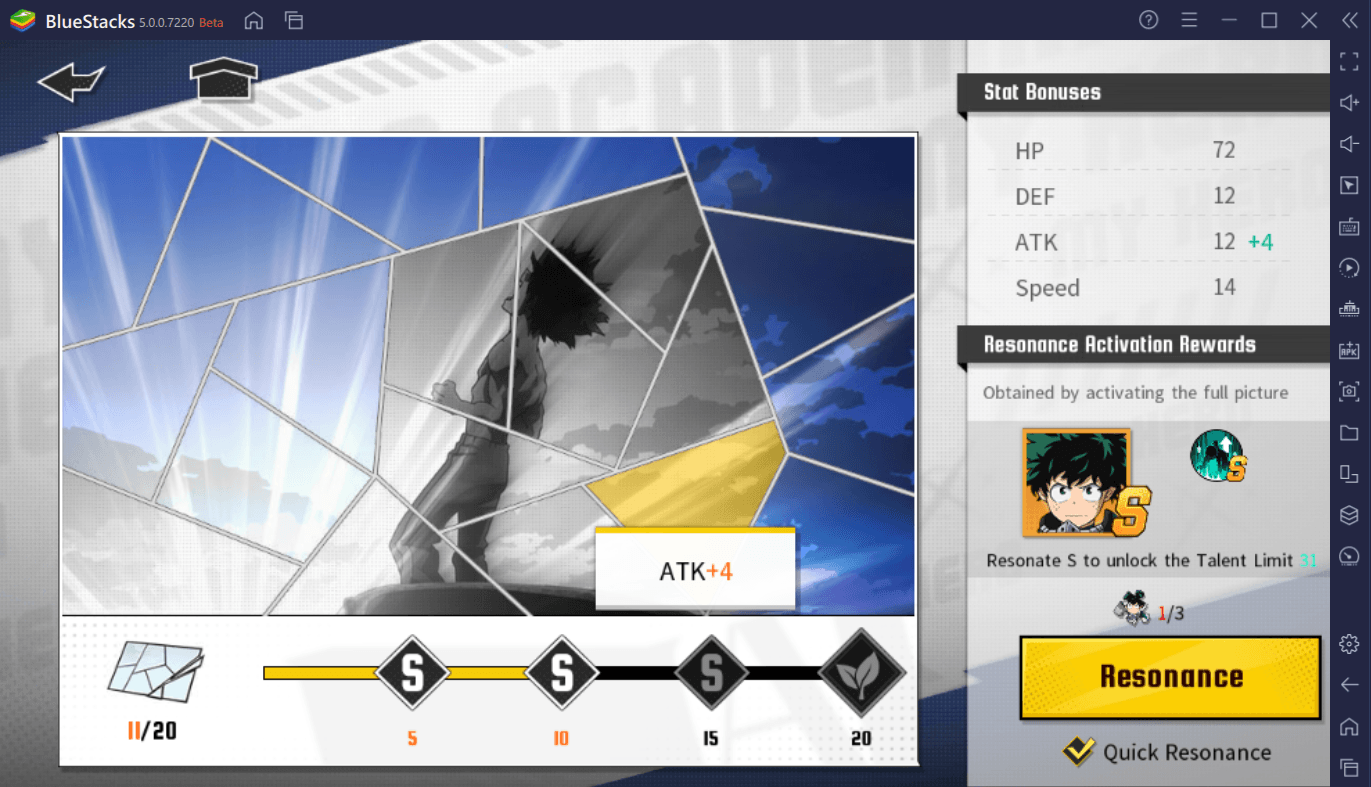 Every hero has their specific set of skills which can be upgraded by paying a certain amount of money. Players have to unlock the threshold required to upgrade these skills first and then pay the amount of money to upgrade the skills. The damage increase through these skills leads to an inevitable increase in CP.
Players can invest in any hero's talent tree to power up their abilities or give them bonus stats. The talent tree requires talent currency called Factors and they are divided into 3 types – P Factor, S Factor, and T Factor. Depending on the type of hero, one of them is consumed in massive amounts to increase their talents. These can be farmed through daily quests or can be bought in the Battle shop.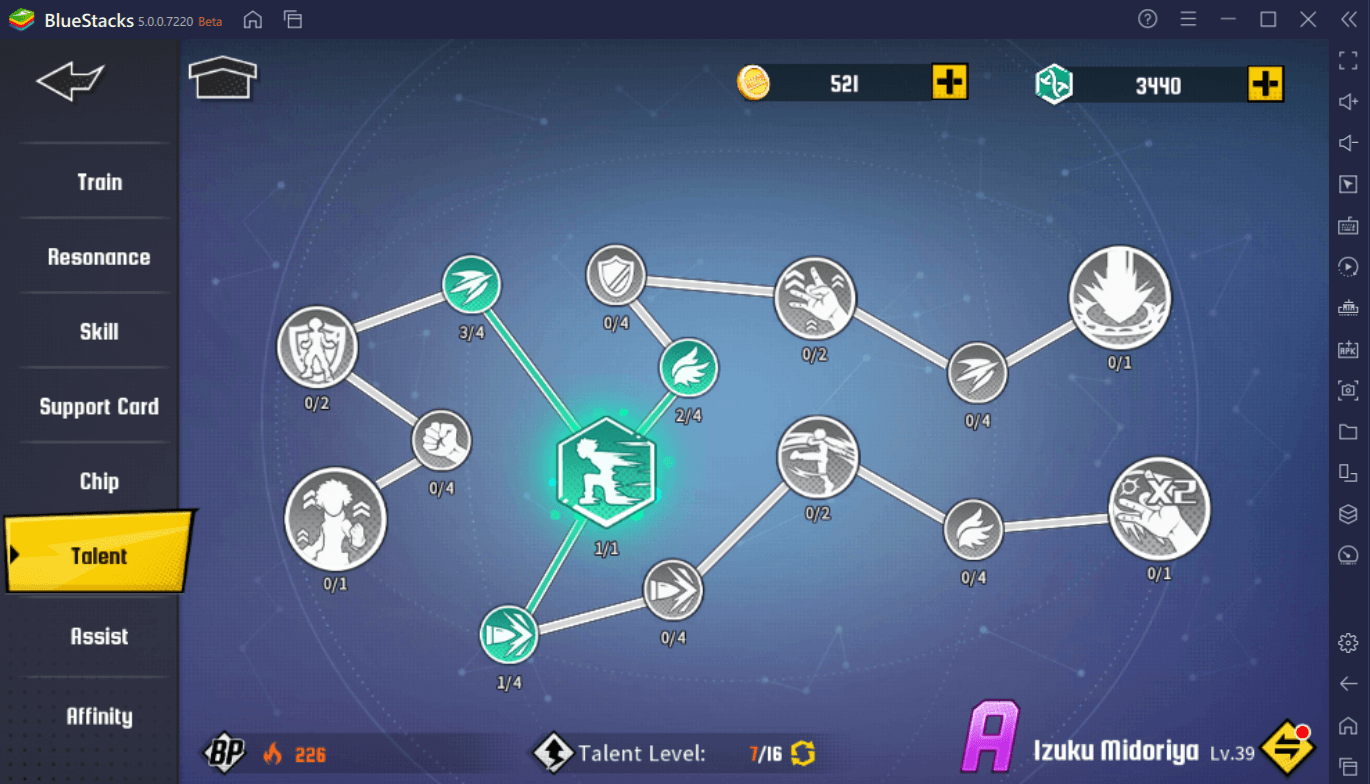 Chips and Support Cards are another set of power-up options that increase your character's CP massively. Support Cards are obtained via gacha through card summons and come in different rarities just like heroes. These cards are of 2 types – Actives and Passives. Active cards can be used in battles and passive cards give an effect to the particular they are equipped to. They also give additional stats to the heroes they are equipped to like Attack, Defense, HP, and Speed.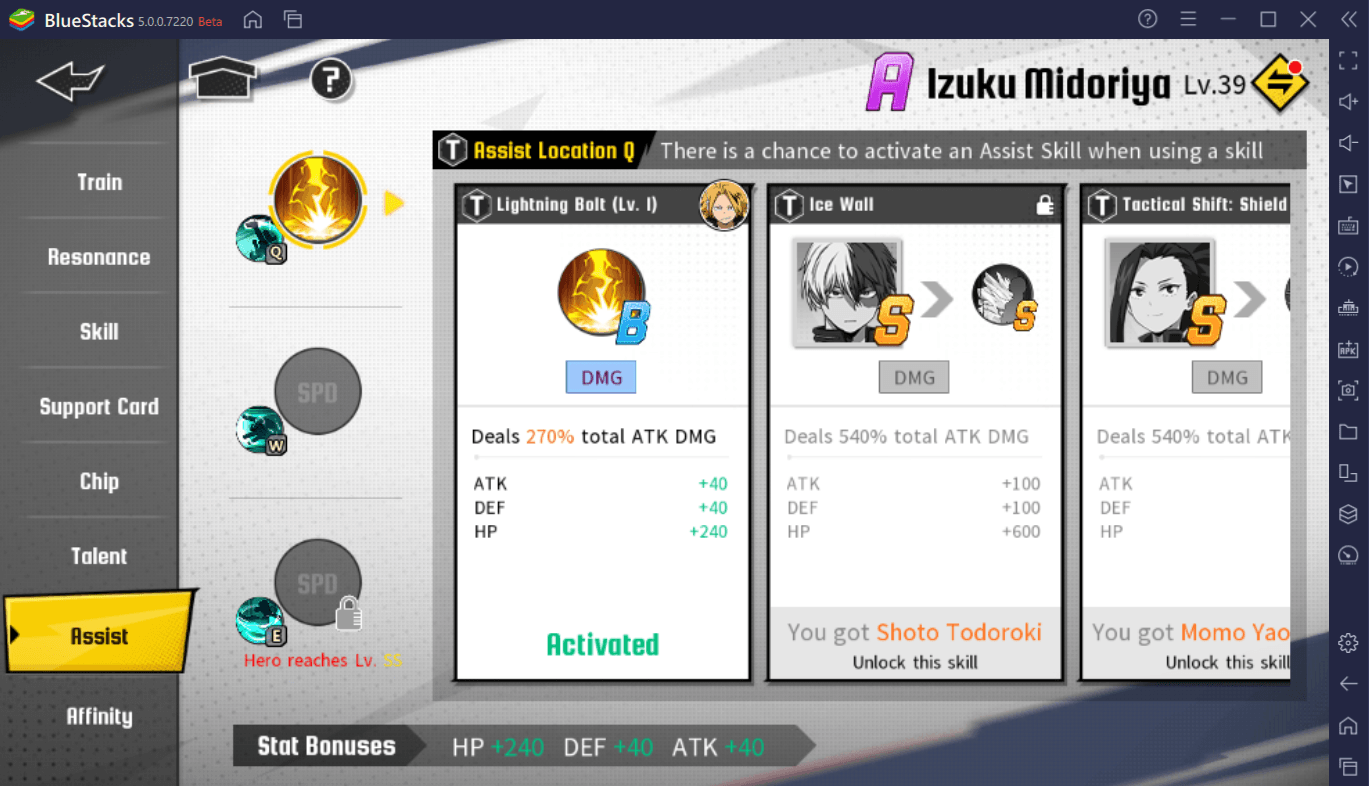 Assist is a feature where players can link their heroes with other heroes to give them bonus stats. For example, Ochako and Denki Kaminari have an assist feature with Ochako's Q ability. These assists provide bonus stats as well as bonus active damage when used in battles. Therefore, collecting different heroes provide an incentive as players can connect all their assists to get more CP.
PvP and PvE Gameplay Modes
My Hero Academia: The Strongest Hero is a game that features a diverse variety of PvE as well as PvP modes. PvP modes are of 2 types – Real-Time PvP and Super COOP Arena. Let's take a look at PvP modes first.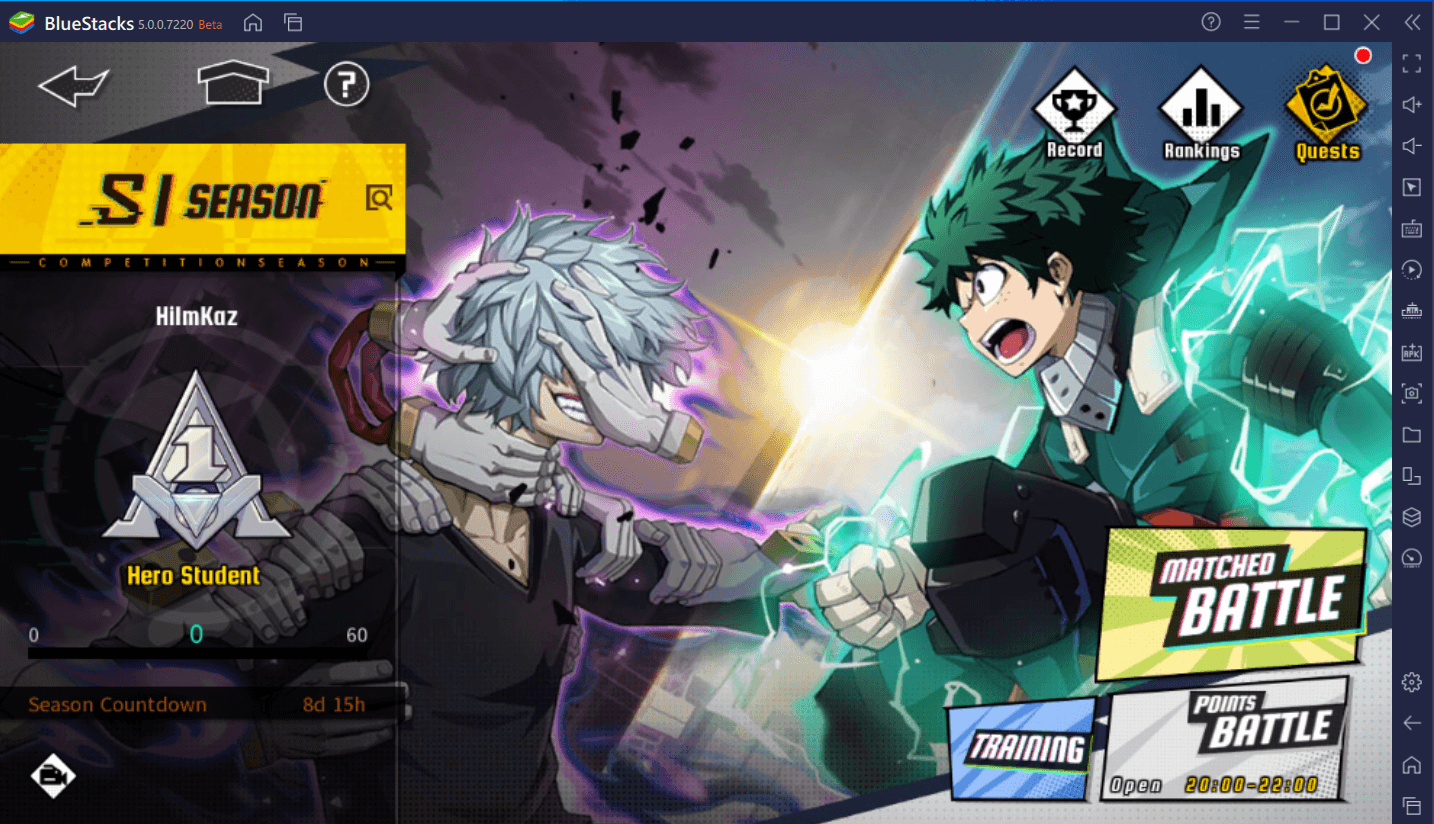 PvP modes can be seen in the V/S tab when players go to the main UI. Players can play against real players in a classic Action RPG style combat with their formations in the Arena mode. Each player chooses a formation of 3 heroes and fights them 1v1. During the battle, these heroes can be switched by clicking the hero icons of other heroes. The arena has 3 modes:- Training, Matched, and Ranked mode. Training is the mode where players can practice their heroes against AI-controlled NPC. Matched mode is normal real-time PvP against other players. In Ranked mode, players can compete for ranking points to increase their rank in the leaderboards. The stats are also balanced out in this mode between the players for fair play. However, this mode is only available for 2 hours in a single day. In Super Co-Op Arena, players can watch their formation of heroes fight other player's formation of heroes in an AFK mode where players can't control them.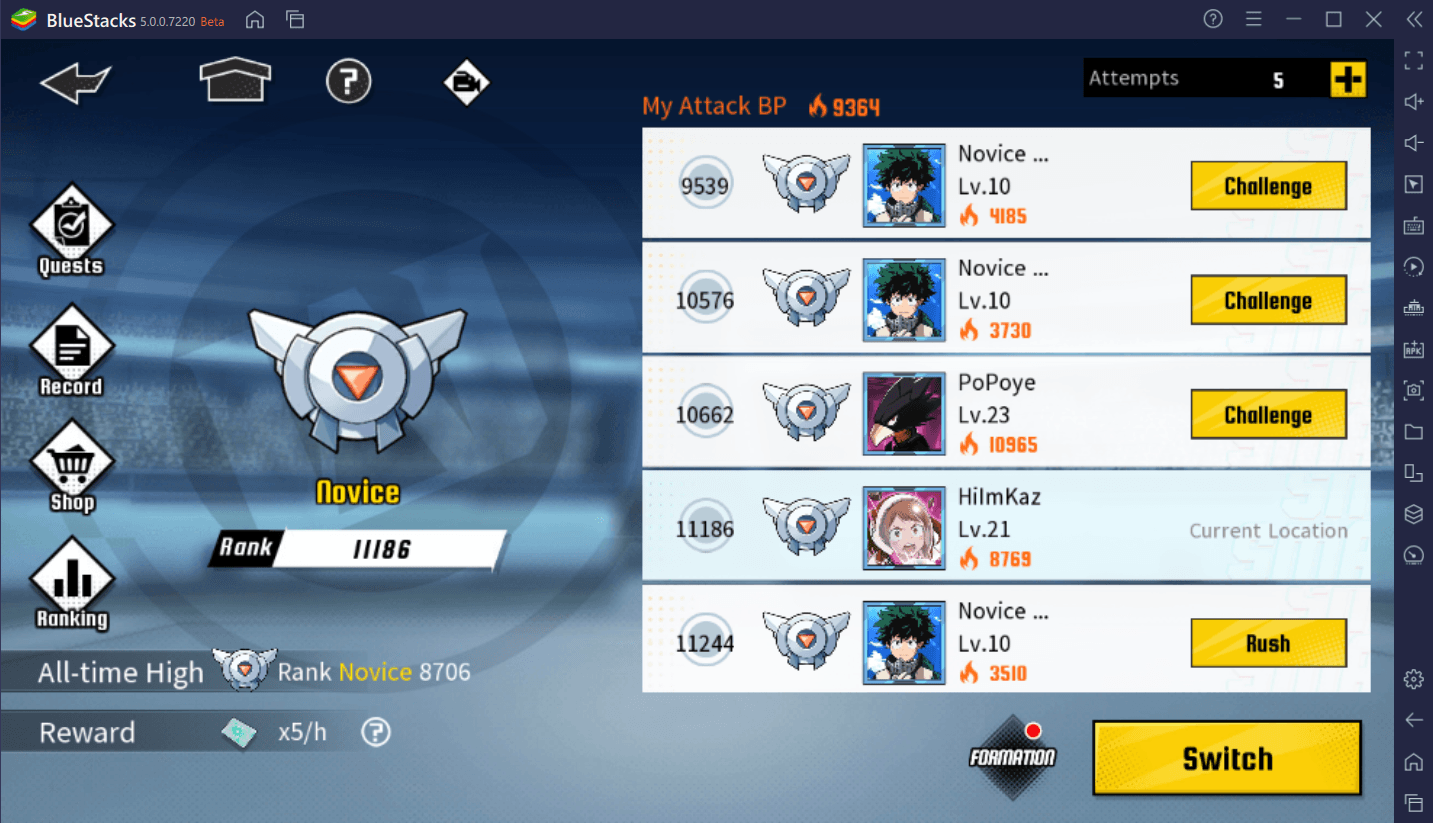 PvE modes are modes where players can clear them solo or in a group. These modes are usually gated by Stamina as they require Stamina to play them. In the starting, there is the story mode where players can complete the main story and get juicy rewards like Recruit tickets and hero shards for Izuku Midoriya, Denki Kaminari, and Eijiro Kirishima. Other PvE modes include the likes of Peacekeeping Handbook, Supply, Hero Trials, and Operation X. Players can complete the side story missions and get all the rewards daily. Players can view the story of Izuku Midoriya and his trials in the Hero Trials to get Hero Coins. Peacekeeping Handbook is a mission where players have to complete certain missions under specific conditions to get 3 stars and reap the juicy rewards.
Other modes include Timed modes like Mock Contest, Virtual Battlegrounds, and Boss Raids which is a massive Co-Op mode where players collaborate to defeat the week's raid boss. Players can also take part in other Co-Op modes in the Co-Op feature which includes Agency Assessment, Joint Operation, and Emergency modes. The content in My Hero Academia: The Strongest Hero is fairly diverse and takes time to complete. Players are supplied with an ample amount of content with more to come in the future.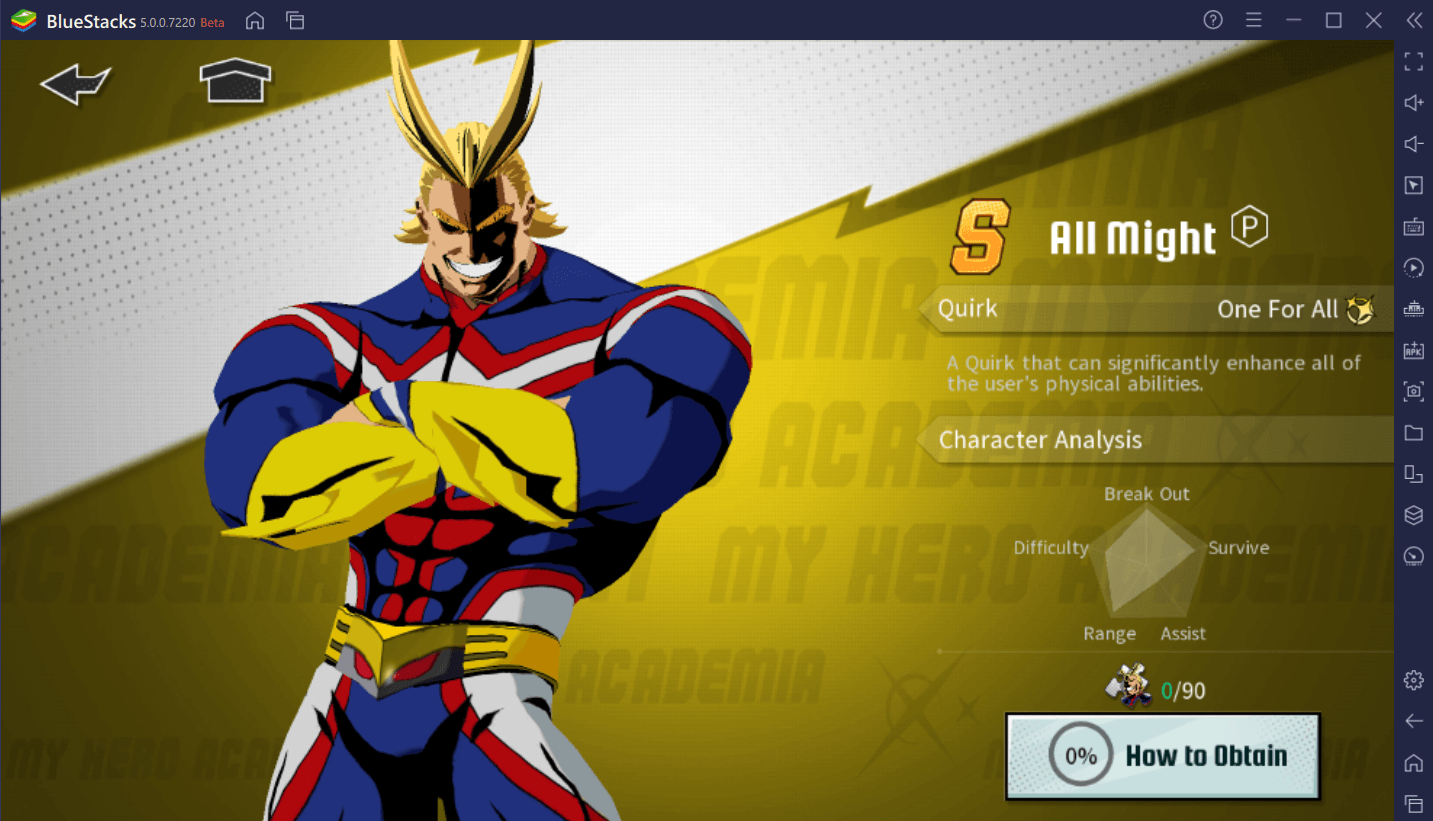 Games like My Hero Academia: The Strongest Hero which is heavily PvP oriented and features real-time battles need constant input at lag-free instants to effectively win the battle. They are also susceptible to battery drainage on the smaller capacity of mobile phones. Playing My Hero Academia: The Strongest Hero on a bigger screen without worrying about battery drainage and lag-free gameplay is highly recommended. Hence, we recommend playing My Hero Academia: The Strongest Hero on a PC with BlueStacks using a keyboard and mouse.